The BEST Episodes of The Muppet Show
Every episode ever - ranked by fan votes!
Last Updated: Sep 26, 2019
The Muppet Show is a British-American television program produced by puppeteer Jim Henson and featuring Muppets. After two pilot episodes were produced in 1974 and 1975, the show premiered on September 5, 1976, and five series were produced until March 15, 1981, lasting 120 episodes. The program shows a vaudeville- or music hall-style song-and-dance variety show, as well as glimpses behind the scenes of such a show. Kermit the Frog stars as a showrunner who tries to keep control of the antics of the other Muppet characters (and his temper), as well as keep the guest stars happy. The show was known for outrageous physical slapstick, sometimes absurdist comedy, and humorous parodies. Each episode also featured a human guest star. As the show's popularity rose, many celebrities were eager to perform with the Muppets on television and in film.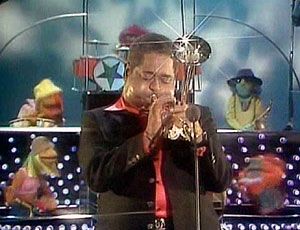 #1 - Dizzy Gillespie
Season 4 - Episode 17
Statler is sick (of the show), so Waldorf brings his wife Astoria to the show. Meanwhile, Inspector LaBrea of the County Environmental Department arrives backstage to monitor the noise level of the show. LaBrea tells Kermit that to keep the noise down, he has to cut the trumpets for the show. Kermit tries to keep LaBrea busy while Dizzy performs.
19 votes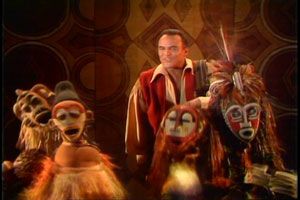 #2 - Harry Belafonte
Season 3 - Episode 19
Sketches/Songs: ""Day-O"", ""Tea For Two"", ""Pigs In Space"", ""Honeysuckle Rose"", Animal and Harry play the drums, ""Muppet Sports"", ""Turn the World Around""
10 votes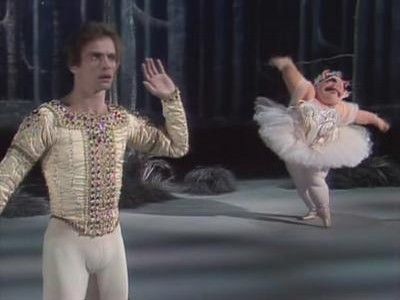 #3 - Rudolf Nureyev
Season 2 - Episode 14
Sketches/Songs: The Electric Mayhem, A Wagner opera performed, ""Swine Lake"", ""Something's Missing"", ""Veterinarian's Hospital"", ""It's Cold Outside"", ""Clair De Lune"", ""Top Hat""
12 votes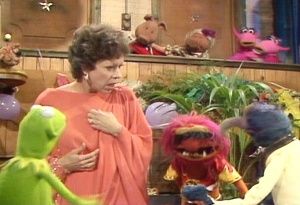 #4 - Carol Burnett
Season 5 - Episode 14
There's no show today, almost; the theater is turned into a dance marathon hosted by Gonzo.
8 votes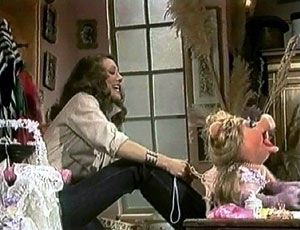 #5 - Marisa Berenson
Season 3 - Episode 14
Sketches/Songs: ""Russian Pig Dance"", ""Dance"", ""Muppet Sports"", ""Someone to Watch Over Me"", ""Do-Re-Mi"", ""Our House"", ""The Wedding""
4 votes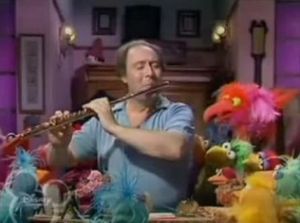 #6 - Jean-Pierre Rampal
Season 5 - Episode 9
Miss Piggy is cornered by flautist Jean-Pierre, who wants to speak French with her. She claims to have laryngitis, whispering, "My vocal coach told me not to speak French. I'm not even supposed to eat French fries!"
8 votes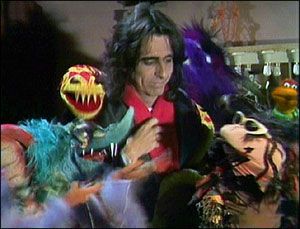 #7 - Alice Cooper
Season 3 - Episode 7
Sketches/Songs: ""Welcome to my Nightmare"", ""Muppet Labs"", ""Toothache"", ""Somewhere Over the Rainbow"", ""Once a Year Day"", ""You and Me"", ""Pigs In Space"", ""School's Out""
25 votes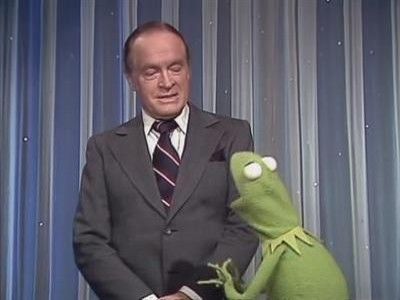 #8 - Bob Hope
Season 2 - Episode 17
Sketches/Songs: ""The Pig Calypso"", ""For What It's Worth"", ""Muppet Newsflash"", ""Swedish Chef"", ""Muppet Newsflash"", Rowlf plays piano, ""Long Long Ago"", ""Muppet Labs"", Rowlf plays piano, ""Don't Fence Me In""
13 votes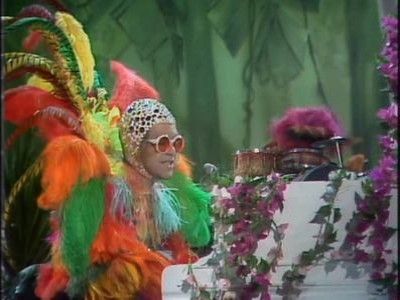 #9 - Elton John
Season 2 - Episode 16
Sketches/Songs: ""Crocodile Rock"", ""Swedish Chef"", ""Benny and the Jets"", ""Veterinarian's Hospital"", ""Any Old Iron"", ""Goodbye Yellow Brick Road"", ""Pigs In Space"", ""Don't Go Breaking My Heart""
17 votes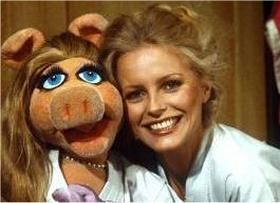 #10 - Cheryl Ladd
Season 3 - Episode 8
Sketches/Songs: ""True Love"", ""South Rampart Street Parade"", ""Pigs In Space"", ""There's a New Sound"", ""I Enjoy Being a Girl"", Gonzo's Act, ""Sunshine on my Shoulder""
10 votes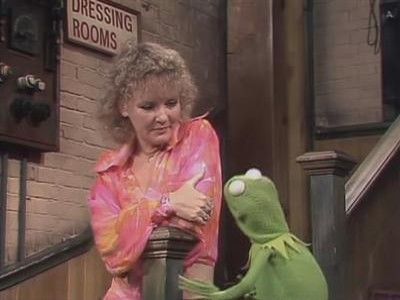 #11 - Petula Clark
Season 2 - Episode 22
Sketches/Songs: ""Sea Chantey"", ""The Boy From Ipanema"", Saloon sketch, ""At the Dance"", ""Upidee"", ""Too Shy To Say"", ""Veterinarian's Hospital"", ""Swedish Chef"", ""Tomorrow""
8 votes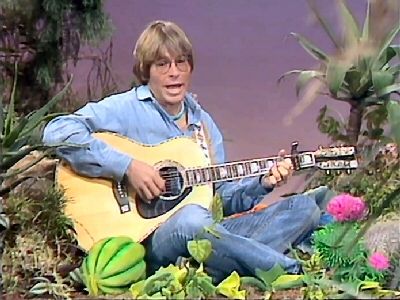 #12 - John Denver
Season 4 - Episode 1
John and Kermit have a surprise for the cast; they're all going to Kermits' home the swamp! But even Gonzo, even with his love of the nasty and strange, thinks it's a bad idea and no one is willing to take him up on the offer even when Kermit offers them to go.
15 votes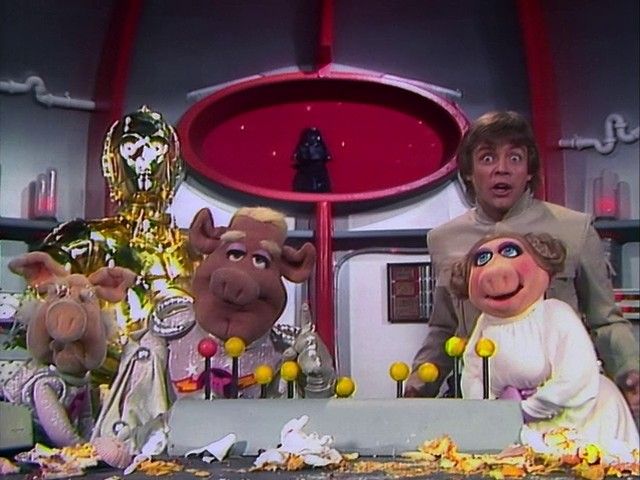 #13 - Mark Hamill
Season 4 - Episode 16
The regularly-scheduled guest (a terrible singer) is bumped when four stars of Star Wars Episode IV: A New Hope suddenly appear in the theater. It's a natural for the Pigs in Space.
22 votes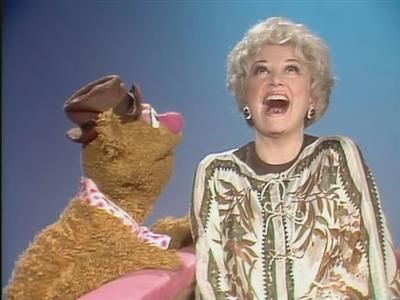 #14 - Phyllis Diller
Season 1 - Episode 20
Jim's love of jazz is evident in the performance of "Hugga Wugga". This sketch had evolved from a longtime favorite Henson sketch originally titled "Sclrap Flyapp" in the early sixties. It was originally performed on "The Today Show", "The Tonight Show" and "The Ed Sullivan Show". Jim played with the idea of combining eerie music, visual imagery and special effects. He tied-in one of his favorite songs, "You Are My Sunshine" with this sketch. It was renamed "Hugga Wugga" for Nancy Sinatra's early seventies' Las Vegas show.
24 votes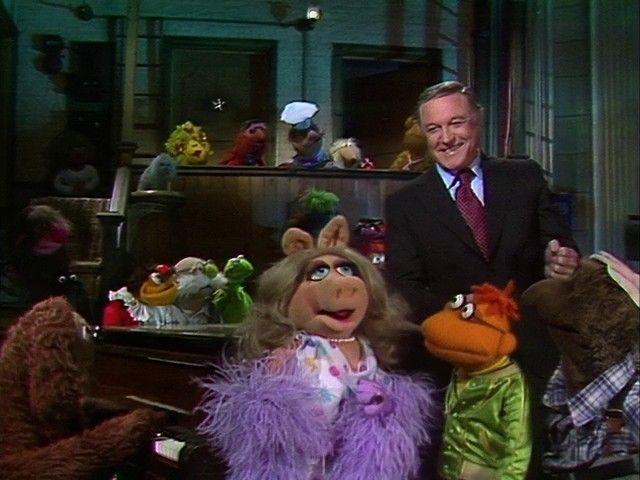 #15 - Gene Kelly
Season 5 - Episode 24
Gene is under the impression that he's a "guest" -- that is, he's going to sit and watch, but not perform onstage. Frantic, Kermit tricks him into performing by asking him to give him a dance lesson on-stage. Kermit plans a surprise closing number, "Singin' in the Rain," Gene refuses, saying that he doesn't think he'll ever sing the song as good as he did in the movie, but he does eventually sing it backstage. Meanwhile, Scooter uses his Tarot cards to predict that the world is coming to an end. Beauregard believes him, and tries to convince the rest of the cast the apocalypse is near.
7 votes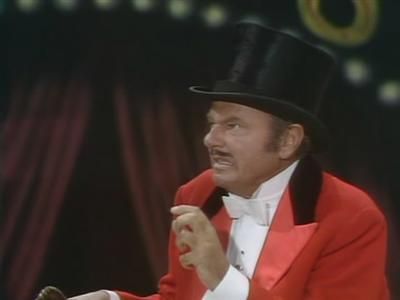 #16 - Harvey Korman
Season 1 - Episode 13
Finally, success with Fozzie's comedy spot! While maybe not "the world's funniest joke", this routine is by far the funniest of the season. The experimentation that the writers have been taking finally pays off. The key ingredient being the interplay between Fozzie and Kermi. The rest of the season will return to the monologue format, but as a result, more interplay between the bear and the frog will be seen backstage leading to the redemption of a possible failed character. Next season will see more experimentation occur in Fozzie's act as he tries roller skating, ventriloquism, and in another classic pairing with Kermit, a phrenology demonstration! A side benefit of Fozzie having more involvement in backstage plots will be more character development as we learn more about his offstage persona. Most of Fozzie's stories this season will concern his struggling for success, be it overcoming Statler and Waldorf's heckling, the threat of being canceled or replaced when he's stuck in a magician's box, and bringing in his agent to negotiate his contract. Second season episodes will deal with Fozzie's desire for acceptance as he meets his idol, tries to impress his mother in the audience, finds ways to improve his act, and takes on more backstage responsibility. Then in the third season, we'll follow Fozzie confronting his insecurity by going to group therapy, asking Kermit for a list of his good points and bad points, and trying to become more assertive. Harvey Korman would later have the honor of being the only actor to perform in both of the Flintstones movies (with contributions by The Jim Henson Creature Shop) in different roles (The Dictabird and Colonel Slaghoople).
35 votes
#17 - Dom DeLuise
Season 2 - Episode 4
Sketches/Songs: ""Don't Dilly Dally on the Way"", ""Merdlelidop"", ""Drum Solo by Animal"", ""Veterinarian's Hospital"", ""Henrietta's Wedding"", ""Don't Blame the Dynamite"", ""Animal Shelter"", ""We Got Us""
12 votes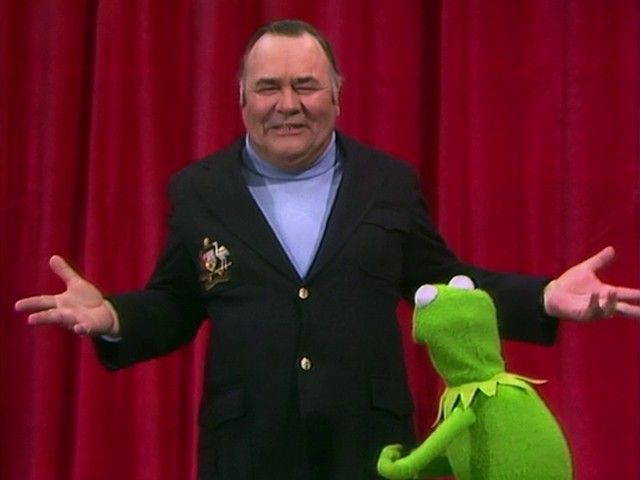 #18 - Jonathan Winters
Season 4 - Episode 19
Jonathan is convinced that a gypsy has put a curse on the show, and while Kermit scoffs at the idea, he does notice that everything is going wrong. A few acts have to be canceled, but Kermit refuses to believe there's a curse until a meteorite falls on his flipper. In the final stage of the curse, everyone begins to speak in mock Swedish.
8 votes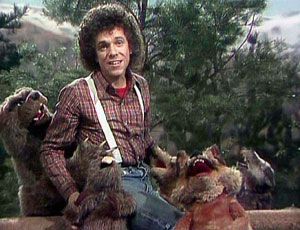 #19 - Leo Sayer
Season 3 - Episode 12
Sketches/Songs: ""You Make Me Feel Like Dancing"", ""Carbon Paper"", ""The Daffodills"", ""The Show Must Go On"", ""She was a Dear Little Dicky Bird"", Fozzie's Act, ""When I Need You""
9 votes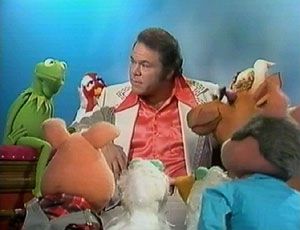 #20 - Roy Clark
Season 3 - Episode 2
Sketches/Songs: ""Rocky Top"", ""Swedish Chef"", ""Pigs In Space"", ""Yesterday When I Was Young"", ""I Don't Want to Set the World on Fire"", ""Talk Spot"", ""At the Barn-Dance"", Gonzo's Act, ""Sally Was a Good Ol' Girl""
10 votes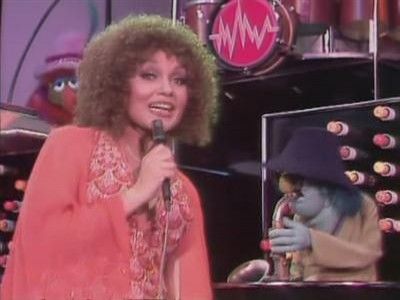 #21 - Cleo Laine
Season 2 - Episode 23
Sketches/Songs: ""Limbo"", ""Ain't Got That Swing"", ""Pigs In Space"", Bruce Schwartz, ""Mad Dogs and Englishmen"", ""Swedish Chef"", ""(I Wonder Why) You're Just In Love"", Fozzie's Act, ""If""
10 votes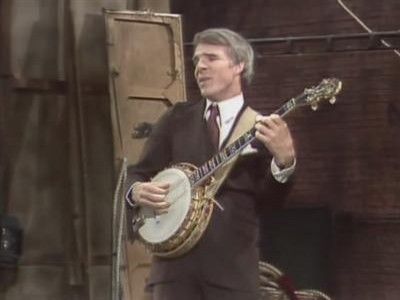 #22 - Steve Martin
Season 2 - Episode 6
Kermit auditions new acts for the next show. Songs/Sketches: ""The Garbage Can Can"", ""Swannee River"", balloons, ""Tie a Yellow Ribbit Round an Ole Oak Tree"", Baskerville auditions as comedian, Lenny Lizard auditions for emcee, The Four Fazoobs, ""Gonzales & Yolanda"", ""Old Man River"", ""Ramblin' Guy"", ""Varisity Drag"", ""Yes, We Have No Bananas"", ""Jugglin' Guy"", ""Flying Zucchini Brothers"", Steve plays with Lubbock Lou & the Jug-Huggers.
28 votes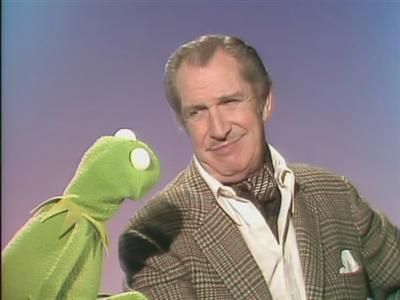 #23 - Vincent Price
Season 1 - Episode 18
The Muppet Show's first (and the debut season's only) theme show. The spookiness and Muppet Monster motif will be reprised in season three's episode starring goth rocker Alice Cooper. This episode largely features some refurbished versions of several puppets...a more polished and deep blue version of Sam Eagle appears along with a more detailed design of Boppity and a more refined Janice. Dismembered body parts are a running gag throughout the episode. In addition to the "let me give you a hand" gag being done twice within five minutes, a lone hand can be seen walking off Kermit's desk earlier in the show and a monster also helps another one "get a head". Thudge McGerk scares Statler out of the balcony in one of the earlier balcony scenes only to be replaced by Statler again throughout the rest of the episode up until the closing scene. Perhaps the first Thudge scene had been initially intended to appear later in the show but got bumped up because it had to follow an onstage piece with Vincent. Out of the four Talking Houses, this is the only episode to focus on the two on the right. For the first time, we see the Muppet Newsflash happening on another character's television screen. Even though this in itself is a significant departure from the norm, more noteworthy is the fact that at the end of the sketch, the Newsman's desk starts to attack him. Up until now, the humor in the News Flashes either derived from the oddness of the stories he was reading (which most likely flew completely over the children in the audiences' heads) or from a chromo-keyed interview the reporter would perform with the guest star playing a character. Beginning in the second season, the News Flashes would typically feature physical comedy with the Newsman often becoming victim of his own story. The Newsman refers to Sheriff David Goelz (performer of Gonzo and Zoot) in his broadcast. Vincent Price would have a reunion with Uncle Deadley and the rest of the Muppets when he appears as one of Kermit's guests during his guest-host stint on "The Tonight Show" in 1979.
35 votes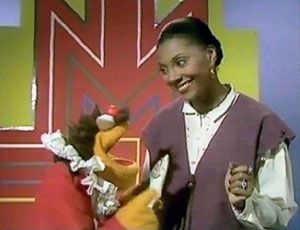 #24 - Leslie Uggams
Season 3 - Episode 24
Sketches/Songs: ""Hey There, Good Times"", ""Muppet Labs"", ""Here You Come Again"", ""Mad About the Frog"", ""Bear on Patrol"", ""Vendawish"", ""Camilla"", ""Love Will Keep Us Together""
6 votes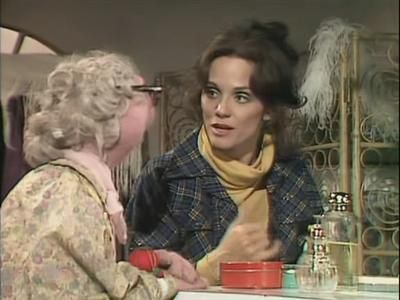 #25 - Valerie Harper
Season 1 - Episode 10
This is one of only a few Muppet Show episodes that open the show after the theme song with some kind of offstage scene. There's also a couple of scenes with the guest star in her dressing room conversing with Muppets instead of onstage in the Talk Spot. The dressing room would become more heavily integrated into the structure of the show in its second season. In last week's "At The Dance", Boppity danced in drag with another monster. This week Boppity appears as normal but his partner is in drag. In both instances, he ends up headless.
30 votes