The BEST Episodes of Terror in Resonance
Every episode ever - ranked by fan votes!
Last Updated: Sep 21, 2021
In an alternate version of the present, Tokyo has been decimated by a shocking terrorist attack, and the only hint to the identity of the culprit is a bizarre video uploaded to the internet. The police, baffled by this cryptic clue, are powerless to stop the paranoia spreading across the population. While the world searches for a criminal mastermind to blame for this tragedy, two mysterious children—children who shouldn't even exist—masterfully carry out their heinous plan. Cursed to walk through this world with the names Nine and Twelve, the two combine to form "Sphinx," a clandestine entity determine to wake the people from their slumber—and pull the trigger on this world.
Watch Now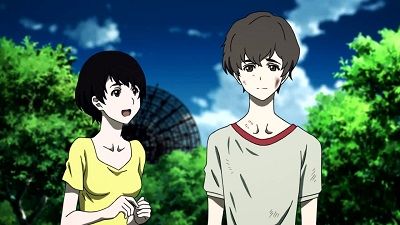 #1 - VON
Season 1 - Episode 11 - Aired Sep 26, 2014
Tokyo is in a state of emergency as the country readies itself for the atomic bomb explosion. Will the mystery of Sphinx finally be solved?
170 votes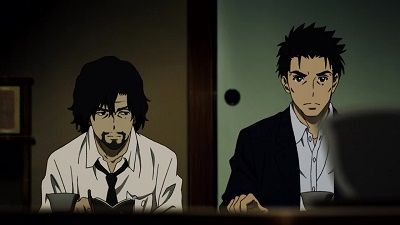 #2 - Highs & Lows
Season 1 - Episode 9 - Aired Sep 12, 2014
Twelve goes off to save Lisa while Shibazaki and Hamura learn more about the Athena Plan and the Rising Peace Academy.
151 votes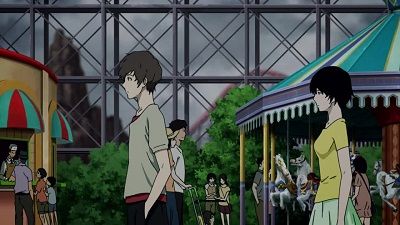 #3 - Helter Skelter
Season 1 - Episode 10 - Aired Sep 19, 2014
Things come to a head as Nine and Twelve go their separate ways and Shibazaki talks to Mamiya, the man behind the Athena Plan.
145 votes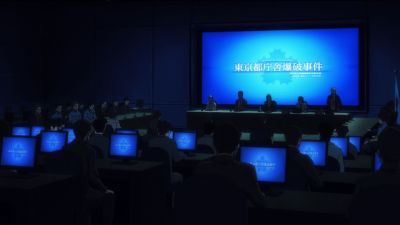 #4 - Call & Response
Season 1 - Episode 2 - Aired Jul 18, 2014
It is revealed that the bombing and subsequent building collapse, despite the large scale of destruction involved, left several with minor injuries, and no fatalities. Lisa returns home from the incident shaken, but her mother (unaware of Lisa's location during the bombings) breaks down and berates her for ignoring her text messages. During her tirade, she reveals that Lisa's father has left the family. Nine and Twelve return without Lisa to their residence, to start work on a cell phone bomb. The police force gathers for a comprehensive briefing of the day's events, where they become aware of the video on social media. Nine and Twelve, aware of this, release a second video with a riddle from Oedipus Rex referring to the location of their next bombsite. After finding what appears to be the answer to the riddle, police move on the suspected location, a DNA laboratory. Shibasaki phones the chief of police with alternate interpretation to the riddle, and suggests that the bomb will be in a police district office. After the bomb discharges in the district office instead of the lab, the chief asks for Shibasaki to involve himself in the case. In privacy, the chief reveals the theft of plutonium to Shibasaki, and his suspicion of the connection to the bombers. Lisa follows Twelve on the street, where he reminds her that if she reveals their secret, he will kill her.
243 votes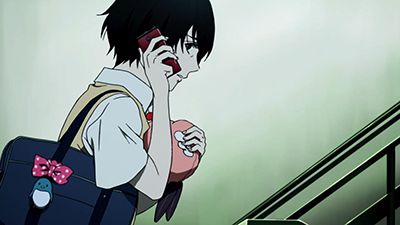 #5 - Falling
Season 1 - Episode 1 - Aired Jul 11, 2014
In Aomori, Japan, plutonium was stolen from a nuclear fuel reprocessing facility during a snow storm. A perpetrator left the message "VON" at the scene of the crime in red paint. Six months after the event, a mysterious video was posted on social media. Referring to themselves as Sphinx 1 and 2, they claimed "Tokyo will be enveloped by darkness after 3:00 PM and large sparks will fly, scattered around the Shinjuku area." Despite the video coming to the attention of former detective Shibasaki, he does not initially report it. Nine and Twelve interrupt Lisa Mishima's classmates as they bully her, then take their place undercover in her school. Lisa withdraws further and begins showing signs of an eating disorder. In her frustration, she wishes everyone would disappear. At that moment, the greater Tokyo prefecture loses power and citizens in the building are evacuated without Lisa. Assuming the government office building free of surveillance, Nine and Twelve place stuffed animals containing thermite-based explosives beneath the sprinkler systems of the main building. When Twelve is interrupted by Lisa, he gives her one of their stuffed animal bombs and flees the building. He asks Nine to decide whether they should kill her or keep her alive. Nine's terse answer is that he will ask her directly. Lisa responds that she does not want to die, sending Twelve to extract her as the building crumbles down. Nine takes a photo of the destruction with his phone. Twelve and Lisa return unharmed, but Nine informs her as a result of her decision to live she has decided become their accomplice. Lisa is left speechless by this.
271 votes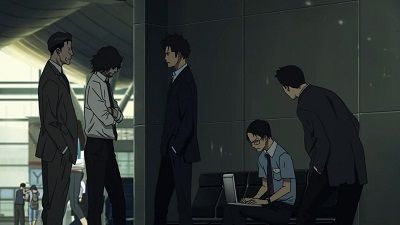 #6 - Deuce
Season 1 - Episode 7 - Aired Aug 22, 2014
The game is on at the airport and lives are at stake as Shibazaki and his team stumble into the middle of Nine and Five's dangerous game of chess.
186 votes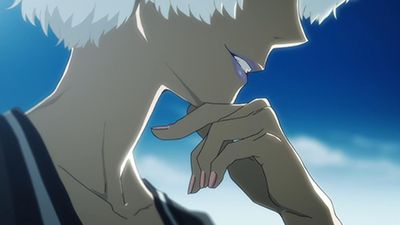 #7 - Hide & Seek
Season 1 - Episode 5 - Aired Aug 8, 2014
As Lisa recuperates at Nine and Twelve's place, Sphinx sets another bomb and posts another riddle, but things don't go as planned this time.
199 votes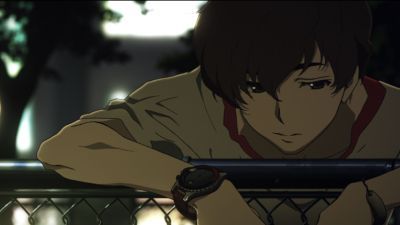 #8 - Break Through
Season 1 - Episode 4 - Aired Aug 1, 2014
Nine successfully hacks into the Metropolitan Police Department database in search of something. Twelve goes out to follow Lisa, expressing his concern that her running away from home will jeopardize the mission. Nine sends a fourth video, titled "Time Shock Bomb", where he and Twelve give another riddle related to Oedipus Rex and then state their hopes that their game would be played "without cheating", otherwise a hidden bomb will explode. Using the riddle, Shibasaki finds a website created by Nine and Twelve, which asks for a password related to three maxims inscribed at the temple at Delphi. Realizing that time is running out, the police decide to search an apartment building where Nine was recorded dropping off a suspicious package, although Shibasaki is still intent on solving the riddle. Twelve finds Lisa and tells her to go home, but she refuses, then comments she was stupid for running away before fleeing. Police officers breach the apartment, only to find no bomb and a laptop instead. Time runs out, even though Shibasaki manages to solve the password (his surname). Seconds later, police investigation reports of the attacks are leaked online, drawing a shocked reaction from the public since the reports conclude the perpetrators are always one step ahead of them. Simultaneously, Twelve rescues Lisa from two security guards. While on their way to Nine's location, Lisa asks Twelve if he is going to destroy the world, to which both laugh; Lisa then comments she hadn't laughed like that in "a really long time". At Nine's location, he disapproves of Lisa staying with them, just before she suddenly collapses.
199 votes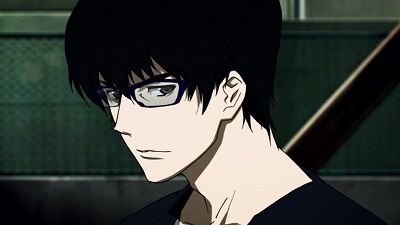 #9 - Search & Destroy
Season 1 - Episode 3 - Aired Jul 25, 2014
Shibasaki transfers to the police agency heading the investigation, much to the dissatisfaction of several employees. As he constructs another bomb, Nine deduces from the presence of counter-nuclear terrorism special forces that the police are aware of his and Twelve's stealing of the plutonium from the Aomori nuclear facility, but intends to confirm his suspicions through another attack. Talking with the chief of police, Shibasaki learns one of the men who stole the plutonium worked at the nuclear facility for a short time, and had his identity erased after the incident occurred. Shibasaki then laments to the chief that, as a Hiroshima native, he hated summer due to the fears held by the older townspeople who experienced the town's atomic bombing during World War II. Nine and Twelve send a third video with another riddle related to Oedipus Rex. Finally unable to bear with her mentally-unstable mother, Lisa runs away from home. Solving the riddle, the police streams a live recording of Shibasaki all over Japan, in which he announces the location of the newest bomb. He then issues a direct challenge to Nine and Twelve before the police is forced to cut off the livestream. Viewing news and surveillance footage and realizing the officers were wearing hazmat suits, Nine realizes the police have definitely connected them to the stolen plutonium. The chief of police reveals to other officers the reason behind Shibasaki's demotion, as Shibasaki steps outside the building and comments, "Today's another hot day."
198 votes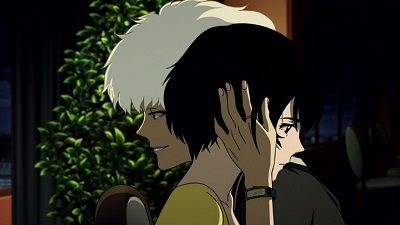 #10 - My Fair Lady
Season 1 - Episode 8 - Aired Sep 5, 2014
After the incident at the airport, Nine and Twelve are forced to abandon their hideout, and Shibazaki is suspended but keeps searching for the truth.
148 votes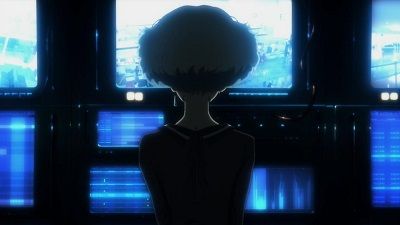 #11 - Ready or Not
Season 1 - Episode 6 - Aired Aug 15, 2014
Five takes over the battle of wits against Nine and Twelve as Lisa tries to find her place in their group, but Shibazaki isn't happy sitting by idly.
185 votes