The Best Episodes of Spider-Man: The New Animated Series
Last Updated: Oct 27, 2018
Spider-Man, the animated series, continues where the successful live action feature film of the same name left off. The series follows the adventures of superhero Peter Parker and his friends, Harry Osborne and Mary Jane Watson, during their first year of college at Empire State University. Parker must juggle academics, a job as a Web designer/photographer for the Daily Bugle and an on-again, off-again relationship with the love of his life, all while fighting to protect the world from super-villains. Neil Patrick Harris (Doogie Howser, MD), Ian Ziering (Beverly Hills 90210) and Lisa Loeb (folk-pop singer) show off their vocal talents in this new, thrilling computer-animated series.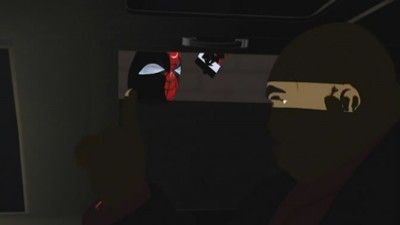 #1 - Royal Scam
Season 1 - Episode 2
Spider-Man is approached by FBI agents to steal the TX-1 chip, which can allow access to private bank account transfers and be very damaging to the world economy. He succeeds in stealing the chip and hands it over to them, only to learn later that the whole thing was a ruse set up by the criminal mastermind, the Kingpin. Spider-Man now has to stop the Kingpin before he uses the chip to steal billions from the world's major banks. None of this helps Peter's social life, though, as he keeps missing Mary Jane's latest acting gig.
Watch on Amazon
Buy on iTunes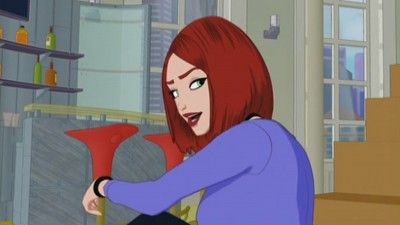 #2 - Sword of Shikata
Season 1 - Episode 4
Richard Damien has an interest in rare animals and hires the infamous Shikata to capture the next addition to his collection: Spider-Man. But Shikata makes different plans for the webslinger after their first confrontation and plans for a fight to the finish.
Writers:
Todd Felderstein

,
Morgan Gendel
Watch on Amazon
Buy on iTunes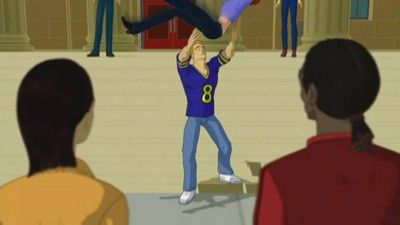 #3 - Flash Memory
Season 1 - Episode 9
Peter Parker's high school nemesis, Flash Thompson, is used in an illegal experiment to increase intelligence. Now, the usually thick-headed jock has an intelligence to rival Peter's! While this is happening, Spider-Man has to deal with two thugs that show similar signs of intelligence.
Writers:
Whip Lipsey

,
Scott Lipsey
Watch on Amazon
Buy on iTunes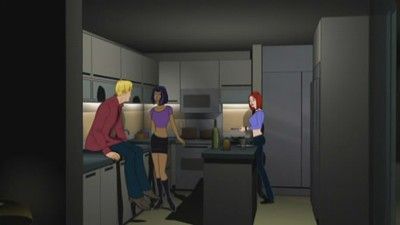 #4 - Keeping Secrets
Season 1 - Episode 5
Spider-Man encounters a thief called the Talon during her latest crime. Though she gets away, he manages to get a look at her actual face. This complicates things for Peter, however, when he learns that her real name is Cheyenne Tate and that she just became Harry's girlfriend.
Writers:
Marsha F. Griffin
Watch on Amazon
Buy on iTunes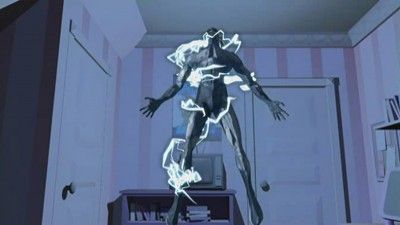 #5 - When Sparks Fly
Season 1 - Episode 11
Long after his last battle with Spider-Man, Max Dillon/Electro resurfaces and makes contact with Sally, a girl he fell in love with before his transformation. He wants to be with Sally and decides the only way to do that is to make her undergo a similar transformation.
Watch on Amazon
Buy on iTunes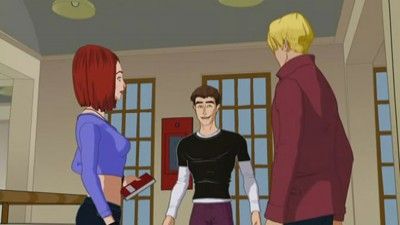 #6 - The Party
Season 1 - Episode 8
An old friend of Peter's, Max Dillon, is trying to get into a fraternity, but the members don't plan on letting him in. When they reject and embarrass him at a party, he runs out into a storm and gets struck by lightning, transforming him into Electro. Now Spider-Man will have to stop him from exacting revenge.
Writers:
Brian Michael Bendis

,
Morgan Gendel

,
Marsha F. Griffin
Watch on Amazon
Buy on iTunes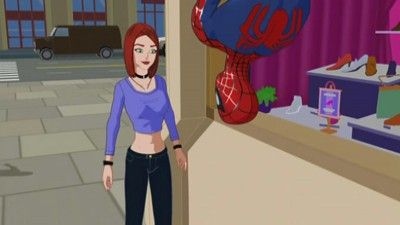 #7 - Mind Games (1)
Season 1 - Episode 12
Spider-Man thwarts the escape of two twins with mind control powers who are freed during a transfer. Shortly afterward, other Spider-Man foes -- Pterodax, Kraven and Sable -- break out and go after Spider-Man. Peter reveals his identity to MJ just before Kraven kills her. Then a man offers Peter the chance for revenge ... and it turns out the whole thing is a mind game being played by the twins to control Spider-Man and get revenge on Kraven.
Watch on Amazon
Buy on iTunes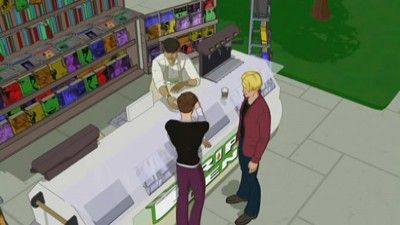 #8 - Spider-Man Dis-Sabled
Season 1 - Episode 10
After filming a press conference, Spider-Man saves the mayor and a European Union guest from an attempted assassination. Peter also unknowingly filmed the assassin, Silver Sable, and she knows it. She wants the tape since it's evidence against her and goes as far as holding Peter's friends hostage to get it. But Peter learns things aren't exactly what they seem after he discovers her true mission.
Writers:
Morgan Gendel

,
Rick Suvalle
Buy on iTunes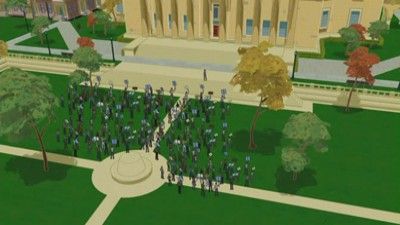 #9 - Heroes and Villains
Season 1 - Episode 1
Protests break out at ESU after it's announced Villeroy Towers will be torn down, leaving the residents homeless. However, the residents begin getting a lot of money to support their cause. Someone called Turbo Jet is responsible for this and is seen as a hero by the residents and protesters for what he's doing. The only problem is that Turbo Jet is accomplishing all this by committing crimes and he refuses to let anyone stop him, even Spider-Man.
Watch on Amazon
Buy on iTunes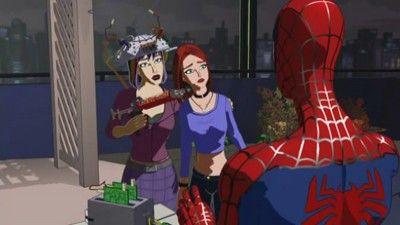 #10 - Head Over Heels
Season 1 - Episode 7
Peter winds up getting partnered with the intelligent, but weird, Christina for a class experiment and it turns out she has a big interest in Spider-Man. She's also managed to create a mind reading device, but it short circuits and badly affects her mind. She now thinks Spider-Man is communicating with her and is bent on doing whatever it takes to be with him.
Buy on iTunes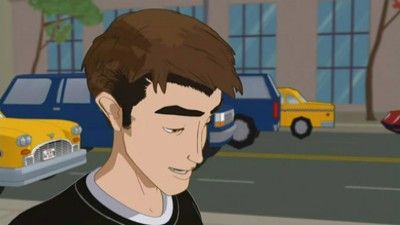 #11 - Tight Squeeze
Season 1 - Episode 6
A high tech group of criminals calling themselves Pterodax attempt to steal a powerful type of diamonds, but Spider-Man stops them. Peter then manages to sell a video of the attempted robbery to the Empire 1 channel with the help of a researcher named Indy. Later, Pterodax take hostages at Empire 1, demanding Spider-Man come within two hours or everyone dies. Unfortunately, Peter is a hostage himself.
Watch on Amazon
Buy on iTunes
#12 - Law of the Jungle
Season 1 - Episode 3
Peter has a new and busy job working for Doctor Connors, who is in the middle of an experiment involving reptile DNA. Hoping it will restore his lost right arm, Connors performs the experiment on himself, but the unforeseen side effects transform him into the Lizard. Meanwhile, Harry faces the approaching anniversary of his father's death and begins looking through his things.
Watch on Amazon
Buy on iTunes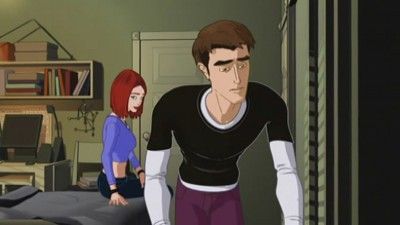 #13 - Mind Games (2)
Season 1 - Episode 13
Spider-Man attacks Kraven at his hideout and almost kills him, but he realizes he's being tricked soon after before he really does end Kraven's life. Spider-Man eventually locates the twins and saves Mary Jane, but while fighting them, they use their mental powers to trick him into knocking "Indy" off a roof. Indy is hospitalized, and Spider-Man tracks the twins down again, this time defeating them. \With them in custody, and upset at what's happened, Peter takes his Spider-Man costume and tosses it into the ocean, possibly meaning that this could be the series' final episode -- not just a season finale.
Watch on Amazon
Buy on iTunes