The BEST Episodes of So You Think You Can Dance Australia
Every episode ever - ranked by fan votes!
Last Updated: Mar 27, 2020
It's time for dancers all over Australia to strut their stuff and show the country what they've got. Based on the popular American show of the same name, So You Think You Can Dance Australia brings both professionals and amateurs to one place, dancing everything from Hip-Hop to Ballet in a competition where they will compete against each other and show they have what it takes to become Australia's number 1 dancer.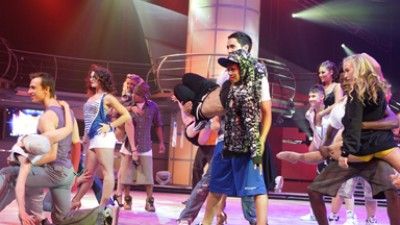 #1 - Final 18 Performances
Season 1 - Episode 8 - Aired Feb 24, 2008
Jaws dropped and salty tears were shed when the lovable Courtney and Khaly had to bid farewell to the SYTYCD crew last week, and everyone realized that this was real: the pressure was on! It was time to pull out all the stops as the search continued for Australia's favourite dancer… Kate and Hilton: Both dancers were at a disadvantage having only a week with each other as a partner, plus nursing bruised egos as a result of being in the bottom six. They had something to prove – and they proved it. Matt hit the nail on the head when he named the routine as elegant, sexy and slick. However Bonnie and Jason both warned Hilton he'd need to up his game to stay on par with the performance maturity displayed by Kate, and not to let Kate outshine him. Kate named Hilton as the light at the end of the tunnel of the Monday night eviction. Are these dancers your light? If so – vote!! Camilla and Sermsah: With all the pent-up energy of prisoners on the run, Camilla and Sermsah burst onto the stage with a hardcore Hip Hop routine. Matt said the pair were on the floor with 150% energy but he didn't think the genre sat well with either of them. He said Sermsah's energy was too out of control and he was losing the steps. Bonnie said she hoped neither them were disappointed because they did a fantastic job and she could see Camilla creeping up there. Jason commented the pair needs to work on their unison, and to pull back their energy levels in order to produce consistency. If you wanna keep these dancers in the competition, you have to vote!! Kassy and Graeme: This routine saw Kassy and Graeme dancing Lyrical Contemporary, a story which took us into the mind of Graeme as he remembered the best parts of a relationship with Kassy. Set to the Ray Charles version of The Beatles classic 'Yesterday', this nostalgic routine demanded some punishing floorwork from the spunky hotties. Matt commended the performers on the dangerous lifts, which had him on the edge of his seat. B
27 votes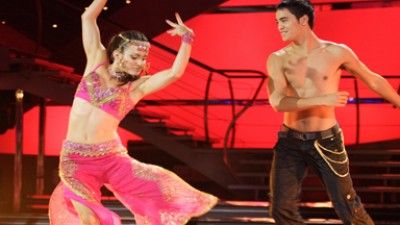 #2 - Final 16 Performances
Season 1 - Episode 10 - Aired Mar 2, 2008
From Paso Doble to Krumping, from Soul Swing to Bollywood, if tonight's show was a box of chocolates, this would be something fresh off Willy Wonka's insane factory floor. With guest judge Mary Murphy fresh off her hot tamale train from the US to get excited our country's best dancers, the d-floor was set for hot hot heat of the very best kind. Demi and Jack: Last week they sizzled in Samba, this week the cute couple stepped up the challenge of Indie Jazz. Could they keep raising the bar? Poured into tight black jeans, Demi and Jack quickly set about pulling out all the stops to the Artic Monkeys. The crowd loved it, but what about the judges? All four judges agreed that while Demi owned last week's routine, this week it was all about Jack. Overall it was still sexy and fun, but Demi needed more Jazz mojo in order to nail it. Do you wanna see these two in the Top 14? Vote now! Vanessa and Henry: Dancing Contemporary Disco were last week's Animated Hip Hoppers, Vanessa and Henry. Mary said the routine, for her, was bizarre – and Jason agreed – there was no Disco in it. She said the assisted lifts were terrific, but overall she just seemed confused. Mary and Jason both named Henry as versatile, and a major contender in the competition. Matt commented that for the first week Vanessa looked relaxed, comfortable and seemed to enjoy it. Bonnie berated Henry for being late to rehearsal, while Jason said that for the third week in a row, Henry had stolen the routine. Camilla and Sermsah: From last week's Hip Hop to a strong, powerful and innovative Martial Arts dance routine. Mary started the ball rolling by saying that Sermsah and Camilla had more stage presence in the first thirty seconds than the other two performances so far. Matt said he was drawn in, and the style sits so much better with the pair. It felt real, connected and engaging. Bonnie said it was a great achievement, especially to nail both the dancing and acting. Jason's comments were little more
27 votes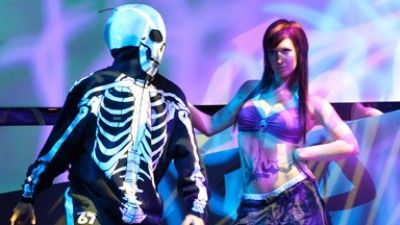 #3 - Final 14 Performances
Season 1 - Episode 12 - Aired Mar 9, 2008
Too close for missiles - we're switching to guns. It seemed just the other day twenty twinkle-toed dancers were zipping round the shiny Carriagework stage with the electric energy of top-ranking fighter pilots. Well Maverick, the need for speed has cut that Top 20 to fourteen. You don't have time to think up there. If you think, you're dead. Which dancers are writing cheques their bodies can't cash? Tonight's performance show decides (and the Top Gun references stop…. now. Sir, yes sir). After picking up the Cadbury Breathtaking Moment two weeks outta three, Rhys and Jemma have been flying skyhigh… and that also meant the power couple were feeling the pressure to maintain the kickarse standard they'd set. This week the couple was hoping for Hip Hop - and they got it! From the cheekiest beginning to a routine so far (check the vids, y'all), this ghettofabulous, Afro-Cuban routine positively burnt up the stage! The judges were in agreeance about this supersexy urban routine, with all three experts praising the pair for their growth, versatility and ability to act as chameleons in whatever routine was thrown at them. Matt commented he felt there could have been more energy onstage, an opinion not shared by Bonnie. It was raunchy, it was sexy, and it had the audience salivating for more. Last Sunday they sizzled with Samba, and now Demi and Jack are serving up a slice of sexy Rumba. This sophisticated routine showcased a more serious side to our cheeky duo, as well as these dancers' flexibility and fluidity. A highly technical dance, the sensual Rumba demands emphasis on posture and placement of feet. Last week the judges felt Jack outdanced Demi, and the week before that, vice versa. What was their feeling this week? Matt commented it was good to see the dancers in a different emotion apart from fun, fun, fun. The general feeling was there wasn't enough of a connection between the pair, and it could have been a little more touchy-feely. The judges felt Demi c
27 votes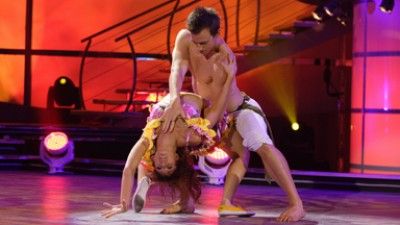 #4 - Final 12 Performances
Season 1 - Episode 14 - Aired Mar 17, 2008
How crazy to think we're this close to carving our countries best 20 dancers clean down the middle. Every dancer has their eyes on the prize: whose gonna make it? These performances will decide… Riding high on the praise of performing the best Contemporary routine so far in the competition (according to Sir Jason Coleman) AND being safe from the bottom three on Monday, Kate and Graeme were the first couple to kick off the show. In wack black Mad Max costumes placing them somewhere in a dystopian sci-fi adventure, the pair owned the stage with their hardcore thrash Jazz routine. The connection between these performers just seems to grow every week, and what better way to start than with a crowd pleasing song like the classic Guns 'n' Roses track, 'Live and Let Die'. First up guest judge Kelley Abbey (who viewers at home will remember from such shows as Top 100 week) said she thought they worked so well together. She said Graeme was clear and plugged in, while Kate was sexy and strong. Matt couldn't tell Kate had pinched a nerve in her neck, and liked the highs and lows, the light and the shade of the routine. Bonnie said the routine should be called 'Live and Lets Dance', while Jason said it had real impact, that he couldn't tell Kate had an injury and that Graeme had done a ballistically good job. Next up, we bore witness to two kickass challenge routines, cuz this week, each couple had to choreograph and style their own routine for you guys out there in TV Land. Pocket rocket Rhiannon and the supersmooth J.D. got the ball rolling to Mika's quirky disco-flavoured 'Big Girl (You Are Beautiful)' before Jemma and Rhys wasted no time riding their ponies in a cheeky routine which seemed to take that X-rated theatre date and raise it by a dirty weekend away! Hot, hot, hot! From last week's African Samba to graceful, strong Capoeira. Straight from the streets of Brazil, Capoeira is an Afro-Brazilian blend of martial arts, game, and dance. The style requires Vane
27 votes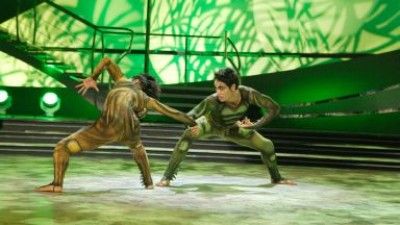 #5 - Final 10 Performances
Season 1 - Episode 16 - Aired Mar 30, 2008
And… we're back! Firing on four cylinders from Sydney's Carriageworks comes the brightest, the most beautiful, the best dancers in this big brown land of ours. With only ten dancers left in the competition, tonight we're treated to a massive 15 new routines! That's five duos and ten solos, with each solo being danced to a song from a popular movie. Your Top Ten have survived all manner of injuries, being tossed out of their comfort zones and various brushes with the bottom three, but their talent and the judge's favour have kept them on the stage. Your votes keep them there. Who takes your fancy? Opening the show was a duo routine from the lovely Vanessa and the lovable Jack. Paired together for the first time, these two were super-excited to tackle the technical world of Lyrical Contemporary. Their raw, poetic routine to Seal's emotional love ballad 'Kiss From a Rose' had the judges in agreeance – it was beautiful, quality and wonderful. All up, an excellent start to the show! Having survived a seatbelt-free rollercoaster ride – and no less than three partners – to get her to Top Ten, Kate has proved herself to be one of the competition's fighters. Crowd fave Rhys breezed through Top Ten, never once being voted into the bottom three. Together, they cut more than a formidable figure on the d-floor. Working with experienced Hip Hop choreographer Supple, who's worked with the likes of Madonna and JT, Kate and Rhys cleaned up with an assured intricate, sexy Hip Hop routine to a remix of 'Give It To Me'. Matt thought the intricacy was phenomenal while Bonnie liked the new match. Jason and Bonnie disagreed on whether Kate had a 'Jazz' face on, but the final words came from an impressed Jason, "Yes, yes, yes!!" First soloist to test the waters was Henry, performing a powerful, dramatic and strong routine to 'Come and Get Them' from the action film 300. From the flick Hitch, Rhiannon's solo to '1 Thing' showed off this bundle of trouble's cute, urban, slic
27 votes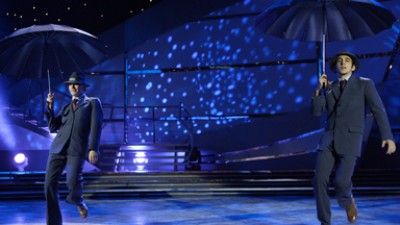 #6 - Final 8 Performances
Season 1 - Episode 18 - Aired Apr 6, 2008
It's football for chicks, it's how we get through Monday mornings, and it's the only place to be Sunday nights. Top 8 week hasn't just set a high standard, it's blown the standard out of the galaxy! Eight hot routines for you tonight to help you pick your favourite dancer! This week the lovely Vanessa paired up with the luscious Rhys, and the results were electric. First up for these two is old school Hip Hop, care of the very talented Supple. "I wanted to bring back the spirit in the early 90s using the styles of Hype and a current influence, New Style," explained Supple. "It's kinda like a brother and sister relationship, with Vanessa as the younger sister, and Rhys as the older brother." We've seen Rhys totally own several Hip Hop routines in the past, but it's Vanessa's first routine time in the baggy pants since popping with Henry in Animated Hip Hop. How would the lovely lyrical Vanessa handle being a b-girl? Matt said the pair did a good job representing the old school, however he thought Vanessa wasn't managing the isolation well enough and he wanted a little bit more from Rhys. Bonnie loved the work with hats and handkerchief, and thought the routine was a credit to Rhys, and he was just getting stronger and stronger. Jason thoroughly enjoyed it, but his big issue was unison. He thought they both did a good job in the two days they had, but reminded Vanessa to dance on the centre of the beat, and thought Rhys was a little bit under. However overall, he thought they were doing a great job in the competition. Vote to keep these guys in the competition! Next up it's power couple number two, Kate and Jack. To the strains of Michael Buble's sultry version of the classic Spiderman theme, these two were ripping up the d-floor with Quickstep. An international ballroom style with an emphasis of footwork, the classy, fluid Quickstep allows performers to fly across the floor with the greatest of ease. Looking stylish in sparkly black, these two had us in their w
27 votes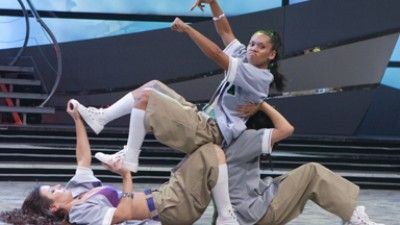 #7 - Final 6 Performances
Season 1 - Episode 20 - Aired Apr 13, 2008
The gorgeousKate has danced with all three boys left in the competition, so it was something of a sweet reunion when she pulled Rhys' name out of the infamous hat… and the excitement didn't stop when the word Rumba was the next thing revealed! And who else to choreograph this powerful, passionate dance of love than dance master extraordinaire, Mr Jason Gilkison. Dramatic, moving and emotive, this Rumba was about a man being in love with a woman and but never being able to tell her. Getting a standing ovation from the crowd, the routine had the judges in agreeance – simply spectacular. Matt said he totally bought it. He said that each week, Kate is given a new genre and she just tackles it, nails it, kills it and serves it; a brilliant way to start the show. Jason said it was just fantastic. They took ownership of the routine, and Kate was just exquisite. If the competition is about versatility, this showed why they're both still here. Bonnie said it couldn't be faulted. All up, another dance victory! Demi and Jack! We've been crossing our fingers these two lovable dancers will pair up again, and all our stargazing and eyelash wishing has come true! This time round, they're dancing a magically mechanical Contemporary routine to 'Strict Machine' by Goldfrapp. "They're embodying machines," explains choreographer Gary Stewart. "They work as one unit as a machine, and separately as well, with moments of sensuality. I want the audience to enjoy the rhythm of the movement as it rides the music, and also to enjoy the invention of the choreography." The result is quirky, controlled, and sophisticated. The crowd loved it, and the judges lapped it up. Jason said it was incredible that Demi, who has never done a Ballet class in her life, did so well with such a technical routine. Bonnie said it was amazing, and asked how the dancers bought emotion to the routine. Jack replied it was in the light and shade of the music, and Demi said it was in the musicality of the track.
27 votes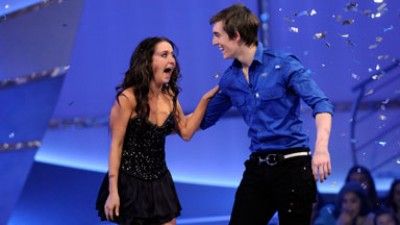 #8 - Grand Finale
Season 2 - Episode 25 - Aired Apr 26, 2009
Six months after auditions began, 18 year-old Talia Fowler has been crowned the worthy winner of the 2nd season of So You Think You Can Dance Australia. A former dancer with Queensland Ballet, Talia pipped Dubbo Hip Hopper Charlie Bartley, 19, for the $200,000 winner's cheque. Third place went to Gosford Lyrical dancer Amy Campbell and fourth place to Gold Coast Jazz dancer Ben Veitch. After a national tour with our Top 10, Talia will head to the States to perform on So You Think You Can Dance America. And not just any show. Nigel Lythgoe revealed tonight that Talia will dance on the Season 5 Finale before an audience of more than 20 million! A brilliant technician with extraordinary dramatic range, she will be a fantastic ambassador for Australia and Australian dance. Congratulations, Talia! Spectacular Kelley Abbey Opening Routine Kelley Abbey has produced some brilliant group routines this season but her spectactular opening number for our Grand Final put everything else in the shade. To the Global Deejay's anthemic "Everybody's Free", a cast of Top 100 dancers provided a drop zone as our Top 4 descended on red silk banners, drawing shrieks of delight from the audience. Nigel Lythgoe & Mary Murphy spring a surprise Creator Nigel Lythgoe and special guest judge Mary Murphy dropped in from Las Vegas to give their congratulations to our Top 4. But they had an amazing surprise too. Tonight's winner won't perform on just any SYTYCD America show – they will dance on this season's Finale!!! Top 4 Sarah Boulter Contemporary For the last time, Amy, Ben, Charlie and Talia danced together in a Sarah Boulter routine about the trials and tribulations of friendship. The track was "Broken Strings" from James Morrison (featuring Nelly Furtado). Selected Top 20 and Choreographers – "Kill Bill" Selected members of the Top 100 and the show's choreographers performed a Nacho Pop and Juliette Verne routine to a number from
27 votes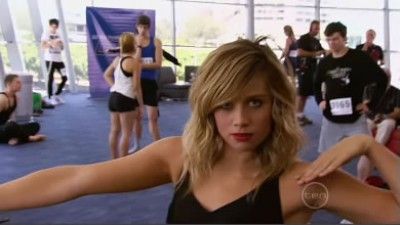 #9 - Auditions - 1
Season 3 - Episode 1 - Aired Jan 31, 2010
SYTYCD returns with a fresh batch of outstanding performers who are ready to step up and dance for your vote. Judges Jason Coleman, Bonnie Lythgoe & Matt Lee return with host Natalie Bassingthwaighte. But it will be the Australian public who will decide!
54 votes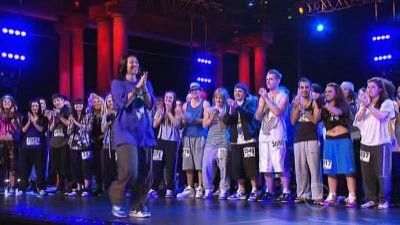 #10 - Top 100 + Top 20 Reveal
Season 3 - Episode 4 - Aired Feb 4, 2010
54 votes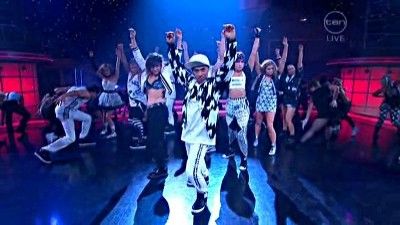 #11 - Finale
Season 3 - Episode 23 - Aired Apr 21, 2010
Who will be the most popular Australian dancer in 2010? This is the finale.
27 votes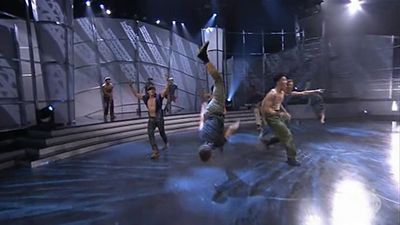 #12 - Top 20 Opening Night
Season 4 - Episode 4 - Aired Feb 23, 2014
The Top 20 perform for the first time tonight and sharing the stage with the contestants is superstar Robbie Williams performing his new single. Will your favourite impress the judges and Australia?
8 votes
#13 - Grand Final
Season 4 - Episode 13 - Aired May 1, 2014
This is it - the grand finale and we pit the final four dancers against each other one last time. Who will be crowned Australia's favourite dancer? Tune in to find out!
8 votes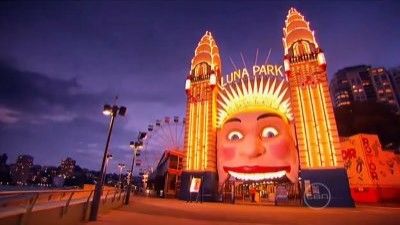 #14 - Sydney Auditions
Season 3 - Episode 2 - Aired Feb 2, 2010
54 votes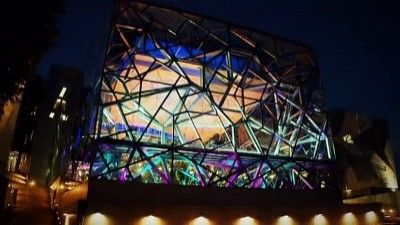 #15 - Melbourne Auditions
Season 3 - Episode 3 - Aired Feb 3, 2010
54 votes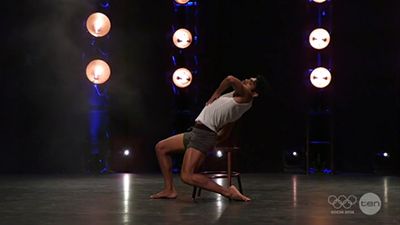 #16 - Top 100 Dance-Off
Season 4 - Episode 2 - Aired Feb 10, 2014
With the nail biting challenge behind them, the heat has been turned up for the dancers who survived last night's elimination. Having proven they are the best in their genre, the dancers take on a new challenge.
9 votes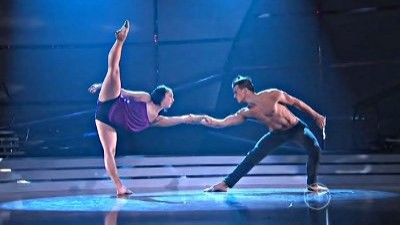 #17 - Top 16 Performance
Season 3 - Episode 10 - Aired Mar 2, 2010
27 votes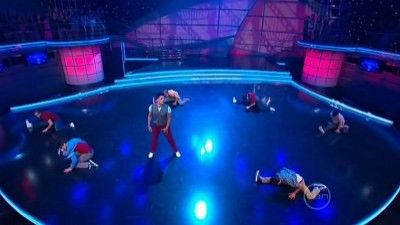 #18 - Top 14 Performance
Season 3 - Episode 12 - Aired Mar 9, 2010
27 votes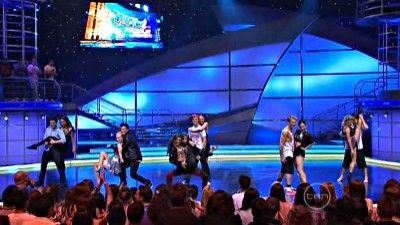 #19 - Top 12 Performance
Season 3 - Episode 14 - Aired Mar 17, 2010
54 votes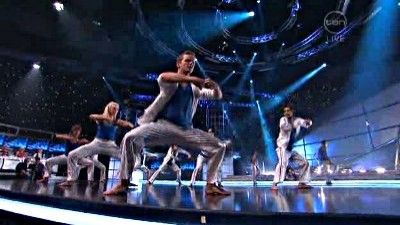 #20 - Top 12 Results
Season 3 - Episode 15 - Aired Mar 18, 2010
54 votes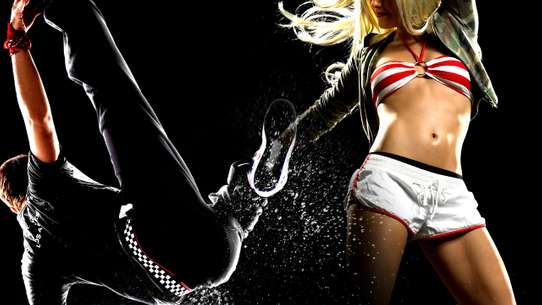 #21 - Top 10 Performance
Season 3 - Episode 16 - Aired Mar 24, 2010
27 votes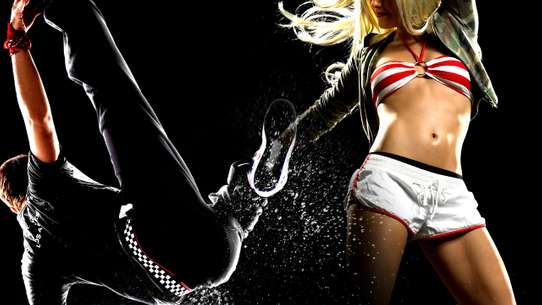 #22 - Top 10 Results
Season 3 - Episode 17 - Aired Mar 25, 2010
54 votes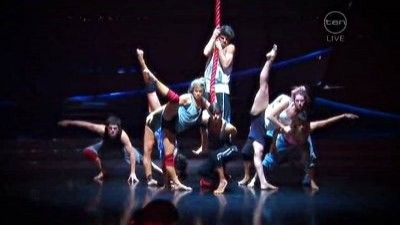 #23 - Top 8 Results
Season 3 - Episode 19 - Aired Apr 1, 2010
Top 8 Results
54 votes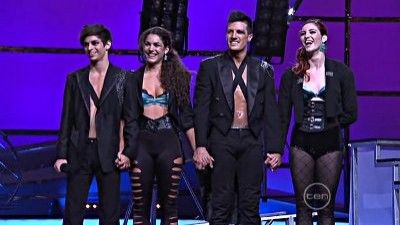 #24 - Top 4 Performance
Season 3 - Episode 22 - Aired Apr 14, 2010
Tyce Diorio visits Australia and is the choreographer of the opening number of the top 4.
27 votes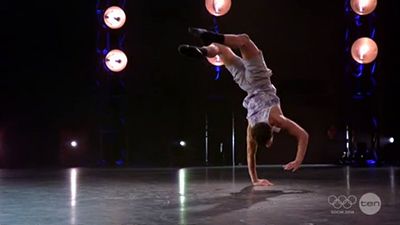 #25 - Green Mile
Season 4 - Episode 3 - Aired Feb 16, 2014
After weeks of blood, sweat and a whole lot of tears, our Top 100 dancers have been whittled down to a Top 32. But there's one more step, will your favourite make it through to the top 20?
10 votes