The BEST Episodes of So You Think You Can Dance Australia
Every episode ever - ranked by fan votes!
Last Updated: Oct 23, 2019
It's time for dancers all over Australia to strut their stuff and show the country what they've got. Based on the popular American show of the same name, So You Think You Can Dance Australia brings both professionals and amateurs to one place, dancing everything from Hip-Hop to Ballet in a competition where they will compete against each other and show they have what it takes to become Australia's number 1 dancer.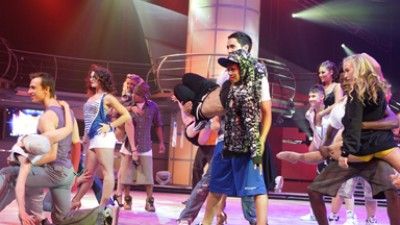 #1 - Final 18 Performances
Season 1 - Episode 8
Jaws dropped and salty tears were shed when the lovable Courtney and Khaly had to bid farewell to the SYTYCD crew last week, and everyone realized that this was real: the pressure was on! It was time to pull out all the stops as the search continued for Australia's favourite dancer… Kate and Hilton: Both dancers were at a disadvantage having only a week with each other as a partner, plus nursing bruised egos as a result of being in the bottom six. They had something to prove – and they proved it. Matt hit the nail on the head when he named the routine as elegant, sexy and slick. However Bonnie and Jason both warned Hilton he'd need to up his game to stay on par with the performance maturity displayed by Kate, and not to let Kate outshine him. Kate named Hilton as the light at the end of the tunnel of the Monday night eviction. Are these dancers your light? If so – vote!! Camilla and Sermsah: With all the pent-up energy of prisoners on the run, Camilla and Sermsah burst onto the stage with a hardcore Hip Hop routine. Matt said the pair were on the floor with 150% energy but he didn't think the genre sat well with either of them. He said Sermsah's energy was too out of control and he was losing the steps. Bonnie said she hoped neither them were disappointed because they did a fantastic job and she could see Camilla creeping up there. Jason commented the pair needs to work on their unison, and to pull back their energy levels in order to produce consistency. If you wanna keep these dancers in the competition, you have to vote!! Kassy and Graeme: This routine saw Kassy and Graeme dancing Lyrical Contemporary, a story which took us into the mind of Graeme as he remembered the best parts of a relationship with Kassy. Set to the Ray Charles version of The Beatles classic 'Yesterday', this nostalgic routine demanded some punishing floorwork from the spunky hotties. Matt commended the performers on the dangerous lifts, which had him on the edge of his seat. Bonnie said if you trust, you will conquer and that this routine was a little bit of magic and lotta heaven: light and lovely. Jason said he felt the routine was a little laboured. Don't agree? Vote to keep these dancers on your screens. Stephanie and Marko. No strangers to pushing the envelope, the feisty Stephanie and Marco were back this week with yet another mixed-genre double dose of eye-catching wackiness. But did the neon-coloured Swing Hip Hop (Swap) routine to 'Are You The One' by Sydney kings of dirty electro, The Presets, win the judges over? Matt felt that Steph seemed like a fish outta water and that she didn't have steps down. He felt Marco's lifts were laboured and the piece was a little wishy washy. Jason said Marco was a solid dancer but he felt Steph got left behind, and was outdanced by her partner. Do you agree with Jason that these dancers will be in bottom three? If not, you must vote now! Laura and Anthony: Are you living in the 70s? Without the use of some kind of time-travelling device, it's highly unlikely. But taking it back to the era of Xanadu, rollerdiscos and Farah Fawcett hair was this gold-draped sexy pair. With five lifts on the cards, could they pull it off? A glowing Laura said she was stoked to get Disco so she could share her fun, bubbly side with the audience while Anthony said he was happy to get Disco so he could smile and have fun. Did the judges share their joy? Matt said the pair were clearly a crowd favourite and it was definitely exciting, what with Anthony's sweet John Travolta-ish moves. Bonnie said she enjoyed it so much, and she could see Laura growing and growing every week. Jason wanted a bit more from Anthony, and Laura needed to work on her core strength. Did these disco divas win your heart? If so, vote them in! Rhiannon and J.D.: This week double trouble tackled the strong, clean, sharp world of industrial Contemporary Jazz, in a routine to 'Breathe' by the Prodigy. The result? Matt said Rhiannon danced the pants off J.D, and that J.D. had been too laidback. Bonnie said the routine was tough for J.D, and while he didn't have the technique, he did the very best he could and supported his partner. She said that whatever Rhiannon did, she'll come out trumps. She could see how Rhiannon made J.D. feel safer. Jason agreed with J.D.'s criticisms of his performance, in that it looked like he was chasing the routine, and that while Rhiannon was cute, hot and funky, she needed to be more open as a performer. Love these guys? Vote to keep them in. Demi and Jack: Put a b-girl in three-inch heels and whadya get? Samba baby, Samba!! This likeable pair sizzled this week in a loved up Latino routine, and Matt voiced what everyone was thinking when he enthused about just how sexy and sensual the South American dance was. Bonnie commented that it was a difficult routine to nail, with all the complex little steps, but they worked together to pull off a saucy, sassy number. Jack needed to work on his accuracy and Demi ripped it. Jason said that not only was he looking at a complete transformation in dancer Demi, but it was the routine of the night for him. Jemma and Rhys: Last week's breathtaking waltzers were back this week performing something with a little more bite: a modern take on the vampire mythology. Their sexy Jazz routine was choreographed by Top 100 contestant Michael Boyd. Matt said Jemma was out of her comfort zone and he could see her thinking throughout the whole routine, but all-in-all, great job. Bonnie commented she felt it wasn't rehearsed enough and she liked the character acting, but it was just a little under. Jason said it was good but not great. Do you agree? Vote if you wanna keep this red-blooded vampy couple in the competition. Vanessa and Henry: Last but not least, a Ballet dancer and a Ballroom performer taking on a genre they'd never heard of before: Animation Hip Hop. Vanessa was super nervous learning the complex, understated choreography, saying she felt like it was like learning a dance from Mars. Matt was impressed with the leaps and bounds the pair had made while Bonnie said she found the dance enchanting, and she was really proud of them both. The judge who had been hard to please all night, Jason, said he was impressed with the versatility that Henry had shown, and quite simply, he loved him in that routine. He felt Henry had stolen the show. He said he thought Vanessa would be crap at it, but she wasn't – she made the popping style look effortless and easy. We're looking for your favourite dancer Australia, so vote now to keep them in the competition!
1 votes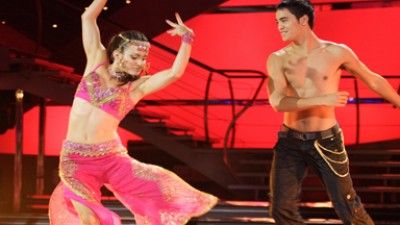 #2 - Final 16 Performances
Season 1 - Episode 10
From Paso Doble to Krumping, from Soul Swing to Bollywood, if tonight's show was a box of chocolates, this would be something fresh off Willy Wonka's insane factory floor. With guest judge Mary Murphy fresh off her hot tamale train from the US to get excited our country's best dancers, the d-floor was set for hot hot heat of the very best kind. Demi and Jack: Last week they sizzled in Samba, this week the cute couple stepped up the challenge of Indie Jazz. Could they keep raising the bar? Poured into tight black jeans, Demi and Jack quickly set about pulling out all the stops to the Artic Monkeys. The crowd loved it, but what about the judges? All four judges agreed that while Demi owned last week's routine, this week it was all about Jack. Overall it was still sexy and fun, but Demi needed more Jazz mojo in order to nail it. Do you wanna see these two in the Top 14? Vote now! Vanessa and Henry: Dancing Contemporary Disco were last week's Animated Hip Hoppers, Vanessa and Henry. Mary said the routine, for her, was bizarre – and Jason agreed – there was no Disco in it. She said the assisted lifts were terrific, but overall she just seemed confused. Mary and Jason both named Henry as versatile, and a major contender in the competition. Matt commented that for the first week Vanessa looked relaxed, comfortable and seemed to enjoy it. Bonnie berated Henry for being late to rehearsal, while Jason said that for the third week in a row, Henry had stolen the routine. Camilla and Sermsah: From last week's Hip Hop to a strong, powerful and innovative Martial Arts dance routine. Mary started the ball rolling by saying that Sermsah and Camilla had more stage presence in the first thirty seconds than the other two performances so far. Matt said he was drawn in, and the style sits so much better with the pair. It felt real, connected and engaging. Bonnie said it was a great achievement, especially to nail both the dancing and acting. Jason's comments were little more lukewarm – he liked the opening and the last 15 seconds, but the rest was a dance routine, not a fight scene. All judges commented this pair were really building as a couple. Do you agree? Vote to keep them in the competition! Jemma and Rhys: This routine was an example of how thinking outside the box can transform a familiar style into something mouth-wateringly memorable. The Paso Doble – that's Spanish, from Strictly Ballroom right? Not in the hands of these seasoned performers! Innovative choreographer Jason Gilkison's interpretation of the theme of love and romance, which underpins all the Latin styles, saw this routine set to the spine-tingling opening monologue of Mr Luhrmann's Romeo + Juliet. Yet again this dancing duo this had the audience raising the roof – and the judges certainly agreed. Mary said there was one way she liked her Paso Doble, and that was it! It was strong, passionate and fiery, and Matt agreed, naming it as engaging, real and dramatic. Jason named the choreography as world class, everything Paso Doble should be. Stephanie and Marko: Originating from South LA, Krumping is a new form of street dance which was born out of dancers needs to release pent-up emotion – often anger – in moves which are expressive and free. David LaChapelle's landmark documentary Rize showcased the artform in its infancy, stunning the world with this tough expression of life on the streets. So how would an army clad Ballroom dancer and Contemporary Jazz dancer, self-defined this week by Marko as the 'freaks of the competition', handle this aggressive dance? Mary, Matt and Bonnie were supportive of Marko and forgiving of Steph being a fish out of water, with Matt saying she faked it really well. Jason was a tad more blunt naming the routine a big, fat mess with not a single moment of unison. Do you agree? Your vote can save these dancers! Laura and Anthony: Last week they were Disco Divas, this week the loose and limber couple slipped into Soul Swing. It's New Orleans, but someone's spiked the red cordial. This fun routine has a distinctively cruisey feel to it, and was yet another fun style to showcase this couple's bubbly personalities. Did those spins and flips look as effortless to the judges as they did to the audience? Mary said the pair were phenomenal dancers, and Laura pulled it off and made it look easy. She felt the routine didn't really showcase Anthony as much as it could and Matt agreed, saying he felt the routine was a little lacklustre. Jason was unmoved either way and didn't have a lot to say – it wasn't hard and it didn't show them off. Love these guys? Vote to keep them swinging. Rhiannon and J.D. Sexy, slick and surprising. Donned up in a sharp-as tux and a dress sparkly enough to make the Milky Way jealous, this power couple owned the floor when they danced the sexy Tango… until a missed few steps stopped short an incredible routine. Mary said it started out so well, they were doing tremendously until they dropped the ball. Bonnie reiterated that we all make mistakes, and that everyone on the judging panel has been in that position before. Jason said it should be JD leading yet it was Rhiannon leading as the stronger dancer. Do you love these dancers? Vote to keep them in the Top 14 now! Kate and Graeme: With both dancers having experienced life in the bottom three and working with each other for the first time this week, the pressure was on. Would a flowing, bejewelled Bollywood routine be enough to keep them in the competition? Mary said it looked like having so much fun and that both of them had that X-factor, and they were both on the hot tamale train to Hollywood! Matt was impressed with the connection they had made with each other, and it looked like they had been dancing together for years Bonnie the loved the routine, but felt it was just a little under. Jason said this was an example of brilliant dancers in a bad routine: good dancers with bad choreography Who makes your Top 14. Tune in Monday to find out!
1 votes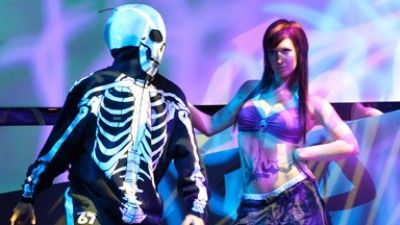 #3 - Final 14 Performances
Season 1 - Episode 12
Too close for missiles - we're switching to guns. It seemed just the other day twenty twinkle-toed dancers were zipping round the shiny Carriagework stage with the electric energy of top-ranking fighter pilots. Well Maverick, the need for speed has cut that Top 20 to fourteen. You don't have time to think up there. If you think, you're dead. Which dancers are writing cheques their bodies can't cash? Tonight's performance show decides (and the Top Gun references stop…. now. Sir, yes sir). After picking up the Cadbury Breathtaking Moment two weeks outta three, Rhys and Jemma have been flying skyhigh… and that also meant the power couple were feeling the pressure to maintain the kickarse standard they'd set. This week the couple was hoping for Hip Hop - and they got it! From the cheekiest beginning to a routine so far (check the vids, y'all), this ghettofabulous, Afro-Cuban routine positively burnt up the stage! The judges were in agreeance about this supersexy urban routine, with all three experts praising the pair for their growth, versatility and ability to act as chameleons in whatever routine was thrown at them. Matt commented he felt there could have been more energy onstage, an opinion not shared by Bonnie. It was raunchy, it was sexy, and it had the audience salivating for more. Last Sunday they sizzled with Samba, and now Demi and Jack are serving up a slice of sexy Rumba. This sophisticated routine showcased a more serious side to our cheeky duo, as well as these dancers' flexibility and fluidity. A highly technical dance, the sensual Rumba demands emphasis on posture and placement of feet. Last week the judges felt Jack outdanced Demi, and the week before that, vice versa. What was their feeling this week? Matt commented it was good to see the dancers in a different emotion apart from fun, fun, fun. The general feeling was there wasn't enough of a connection between the pair, and it could have been a little more touchy-feely. The judges felt Demi could have benefited more from wearing heels, a decision she bravely admitted to making herself. Bonnie said there was no bad news for Jack while Jason encouraged Demi to trust herself more. Vote to keep these guys in the competition! Last week's Soul Swingers, Laura and Anthony, both Danced For Their Lives on Monday, but made it through the wormhole to rise to the challenge of Contemporary. Performing to teen queen Avril Lavigne, this routine was hot, hot, hot! If the first two couples set the floor on fire, this routine had the whole of Carriageworks up in flames! Pulling out all the stops, this routine even saw Anthony leaping from the second floor balcony onto the stage? Was his leap of faith enough to impress the judges? Matt said he didn't get it, he felt it was ordinary, and not memorable. Bonnie said she felt the storyline of Laura being obsessed with Anthony came and went. She Anthony upped his game, but that Laura wasn't as good as Anthony. Jason said she didn't believe the routine's kiss or the scream. It's not enough to act sexy: they have to be sexy. He felt they'd done a good job with what they've been given – do you agree? Vote to keep them in! Next on the d-floor, it's a tight, compact, complex Hip Hop from former Martial Arts masters, Camilla and Sermsah. This hot couple are yet to be in the bottom three, but the last time they performed Hip Hop, judge Matt Lee said he didn't think the genre sat well with them. What would the panel of three say this time around? Matt said he thought this style of Hip Hop sat better on both of them, but he could read the thinking on Sermsah's face. Bonnie said she didn't get the ending, but that Camilla: always upped the game. She encouraged Sermsah to stop thinking about it and enjoy it. Jason said Sermsah wasn't dancing in the centre of the beat, and encouraged him to feel her and match her. He urged Sermsah to slow down and focus. Vote to keep these guys in the competition! Vanessa commented in this week's blog her choreographer was working on getting her to look more earthy and animalistic. And no wonder – fresh from successfully avoiding being sent home in last week's bottom six, Vanessa and Henry were lucky enough to work with choreographer extraordinaire Jason Gilkison in a raunchy African Samba routine. Matt said that Vanessa was stepping up, and he was happy to see her with a bit of oomph, and was starting to attack things. Bonnie said they were getting stronger as a couple. She loved the last ten seconds and praised Vanessa's genuine modesty. For her, the best tonight. For Jason this was an example of synchronicity; when all the elements of dance – choreography, lighting, costume etc - come together. Big praise all round for this routine. To the tears-on-your-pillow strains of the world's moodiest band, Coldplay, dancers Kate and Graeme took to the stage for an emotional Contemporary routine. Last week your votes kept this talented two out of the bottom three, so what was the judge's verdict on this physically demanding piece? Matt said this was quality dancers with a quality routine. Bonnie said she could feel the connection, and it was simply stunning; blew her away. The highest praise came from Jason who said it was the best contemporary routine they've seen in the competition. Loved it, loved, loved it. Looking sharp in sweet matching tuxedos, Rhiannon and J.D. hit the stage to the ridiculously catchy 'Somebody Told Me' by The Killers, for tonight's flashy finale. Last week the pressure got to J.D. midway through their Tango routine – would they nail it tonight? In the package J.D. said the public would see a breakdown change into a breakthrough… and he was right. Matt commented on how good it was to see J.D. having fun. Bonnie said they did great. She compared Rhiannon to a good bottle of champagne – pop open the cork, and out come the bubbles. Jason said they did what the choreographer wanted, and well done: Great start, great energy, great attack. Vote now to keep your fave dancers in the Top 12!
1 votes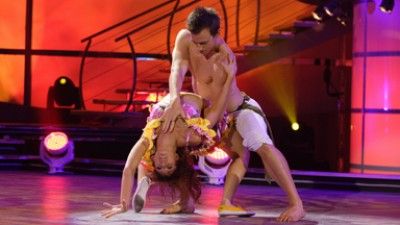 #4 - Final 12 Performances
Season 1 - Episode 14
How crazy to think we're this close to carving our countries best 20 dancers clean down the middle. Every dancer has their eyes on the prize: whose gonna make it? These performances will decide… Riding high on the praise of performing the best Contemporary routine so far in the competition (according to Sir Jason Coleman) AND being safe from the bottom three on Monday, Kate and Graeme were the first couple to kick off the show. In wack black Mad Max costumes placing them somewhere in a dystopian sci-fi adventure, the pair owned the stage with their hardcore thrash Jazz routine. The connection between these performers just seems to grow every week, and what better way to start than with a crowd pleasing song like the classic Guns 'n' Roses track, 'Live and Let Die'. First up guest judge Kelley Abbey (who viewers at home will remember from such shows as Top 100 week) said she thought they worked so well together. She said Graeme was clear and plugged in, while Kate was sexy and strong. Matt couldn't tell Kate had pinched a nerve in her neck, and liked the highs and lows, the light and the shade of the routine. Bonnie said the routine should be called 'Live and Lets Dance', while Jason said it had real impact, that he couldn't tell Kate had an injury and that Graeme had done a ballistically good job. Next up, we bore witness to two kickass challenge routines, cuz this week, each couple had to choreograph and style their own routine for you guys out there in TV Land. Pocket rocket Rhiannon and the supersmooth J.D. got the ball rolling to Mika's quirky disco-flavoured 'Big Girl (You Are Beautiful)' before Jemma and Rhys wasted no time riding their ponies in a cheeky routine which seemed to take that X-rated theatre date and raise it by a dirty weekend away! Hot, hot, hot! From last week's African Samba to graceful, strong Capoeira. Straight from the streets of Brazil, Capoeira is an Afro-Brazilian blend of martial arts, game, and dance. The style requires Vanessa and Henry to be fluid, controlled and poetic. Muscular bodies moving in time to Britney Spears – what would the judges think? Kelley said she assumed this would be a Capoeira-flavoured Contemporary dance – but she (in fact all four judges) couldn't see where the dance was. It needed to be edgy, and it was a bit messy. Matt said it looked like a martial arts routine while Bonnie expressed her admiration for the pair. Wanna see these guys in the Top 10? Vote now. Look sharp, other states of Australia, Camilla and Anthony are Team QLD! Yes, like the proverbial phoenix rising from the ashes of Laura and Suri, Team QLD formed this week, and the partnership certainly turned the frowns of these temporarily single dancers the correct way around…and not a moment too soon, because the style delivered to these two via bucket was the luscious, the libidinous Lambada. The sexy partner routine saw these dancers getting up close and personal to Enrique Iglesias' 'Not In Love', and Kelley thought they had a great connection, but warned Anthony not to scowl, but to find sexiness from the inside out, while Camilla was strong and controlled. Matt said they suited each other well, and they did a great job, a sentiment echoed by all four judges. Jason said the key element missing was sex. Was it sexy enough for you? Vote to keep these guys in the competition! Next up, a gold-draped Demi and b–boy Jack's challenge routine. Yet to experience life in the bottom three, this confident pair ripped it up, supastar style, to bootylicious Beyoncé's classic d-floor anthem, 'Crazy In Love'. Crowd response? A Mary Murphy style scream-fest! Jazz hands! The only other couple who haven't yet experienced the rollercoaster ride of DFYL, Jemma and Rhys, were back this week with Musical Theatre. Rhys wrote in his blog he couldn't help but smile when rehearsing, and it's no wonder! These kids are Dancing Fools, dancing to a showtime tune of the same name, from the musical Copacabana. Kelley said it was entertaining, but the problem was with unison. All four judges agreed the style sat really well with Rhys, with Kelley praising his warm personality shining through in the performances so far. She thought Jemma was crossing over beautifully and encouraged her to believe in herself a little bit more. Matt said he wanted to see the couple have a little bit more fun. Bonnie said Rhys looked relaxed, alert and energetic. Jason said that while Jemma was on and off the centre of the beat, this was his favourite routine of the night. Challenge routine kids Kate and Graeme were next onstage in matching blue and red tracksuits, channeling a bit of Fast and Furious 'tude to the Black-Eyed Peas' 'Pump It'. This routine was about personality, fun, and wow-factor, taking the dancers on a journey from competitiveness to lust. The forecast? Hot and humid nights can be expected. Rhiannon and J.D. got lucky this week with a tongue-twisting Nacho Pop Hip Hop Popping routine. Well in J.D.'s comfort zone, the routine was simple, clean and classic, and all about rocking the beat to Craig David's laidback 'What's Your Flava'. Nacho told us he was "passionate about the technique behind the dance – and there's no goddamn story". With no narrative to tell the story, what did the judges think? Kelley said it was a cute routine, and for J.D. this was his comfortable chair while Rhiannon coped really well being out of her comfort zone. Kelley said she wanted the understated style to inspire more of a feelgood look in Rhiannon, and that she felt a bit flat in the face. Bonnie disagreed – she liked the tough, hard Rhiannon, and that the complete change worked for her. For her, spot on. Matt said TV sucks out 50% of the energy so it was hard to get the energy levels up for the understated style. Jason's problems were with unison and energy. Wanna see these guys in your Top 10? You know what to do! Fresh from steaming up the floor with the Lambada, it was time for Team QLD to try their hand at choreographing their own routine, after just one week of dancing together. Blue and red tracksuits were quickly cast aside for a crowd-pleasing fight routine that saw both Camilla and Anthony throwing each other around the room, seeing Camilla emerge as victorious. Next to perform for the salivating crowd were Vanessa and Henry, with their challenge routine to Michael Jackson 'Black or White'. Henry as an undersexed nerd? Vanessa as seductress extraordinaire? You betcha! And the crowd goes wild!! And the final couple for the night, the always entertaining Demi and Jack. After dipping their toe in the raunchy world of Samba last week, the pair was venturing into the unknown territory of Contemporary. In a stiff tutu and all black attire, the pair performed a complicated, athletic routine to the Beastie Boys' 'Ch-ch-check It Out' Kelley said it was a really different challenge for Demi, but that it suits her b-girl energy… but it became a bit lost it in the end, and she could see her thinking. She said Jack had great energy, but to watch his facial expressions. Matt said the energy was a little manic. Bonnie felt there too much for Demi to cope with - so many lifts, so much floorwork – and as a result she lacked energy. Jason agreed, and felt it was a little under, wondering whether the general public would enjoy the routine as much as the dancing world would. Did you? Hey, what are you doing still reading this recap? Pick up your phone and vote to put your favourite dancer in Top 10!
1 votes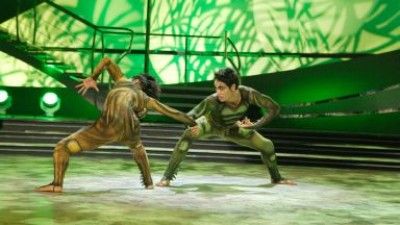 #5 - Final 10 Performances
Season 1 - Episode 16
And… we're back! Firing on four cylinders from Sydney's Carriageworks comes the brightest, the most beautiful, the best dancers in this big brown land of ours. With only ten dancers left in the competition, tonight we're treated to a massive 15 new routines! That's five duos and ten solos, with each solo being danced to a song from a popular movie. Your Top Ten have survived all manner of injuries, being tossed out of their comfort zones and various brushes with the bottom three, but their talent and the judge's favour have kept them on the stage. Your votes keep them there. Who takes your fancy? Opening the show was a duo routine from the lovely Vanessa and the lovable Jack. Paired together for the first time, these two were super-excited to tackle the technical world of Lyrical Contemporary. Their raw, poetic routine to Seal's emotional love ballad 'Kiss From a Rose' had the judges in agreeance – it was beautiful, quality and wonderful. All up, an excellent start to the show! Having survived a seatbelt-free rollercoaster ride – and no less than three partners – to get her to Top Ten, Kate has proved herself to be one of the competition's fighters. Crowd fave Rhys breezed through Top Ten, never once being voted into the bottom three. Together, they cut more than a formidable figure on the d-floor. Working with experienced Hip Hop choreographer Supple, who's worked with the likes of Madonna and JT, Kate and Rhys cleaned up with an assured intricate, sexy Hip Hop routine to a remix of 'Give It To Me'. Matt thought the intricacy was phenomenal while Bonnie liked the new match. Jason and Bonnie disagreed on whether Kate had a 'Jazz' face on, but the final words came from an impressed Jason, "Yes, yes, yes!!" First soloist to test the waters was Henry, performing a powerful, dramatic and strong routine to 'Come and Get Them' from the action film 300. From the flick Hitch, Rhiannon's solo to '1 Thing' showed off this bundle of trouble's cute, urban, slick moves. Next onstage, the always athletic Anthony, and his beautiful, moving, flowing performance to 'The Blowers Daughter' from the excellent film Closer. Finishing off the solo performances was Perth gal Jemma, dancing her very first solo of the show to 'Shake Your Tail Feather', from the cult classic Blues Brothers. Energetic, fun and entertaining – vote to keep any of these dancers in the competition! Next onstage were Demi and Graeme, dancing an Abstract Contemporary routine to The Strokes' 'Reptilia'. Here the dancer was imagined as insect, in an innovative, absorbing and imaginative routine which had the crowd enraptured. Matt said the dancers became the routine while Bonnie said that it got her adrenaline racing from the word go. They were incredibly difficult shapes to master, and it was just magic. Jason agreed, commenting that good dancing should evoke emotion, and that routine took him on a journey. Time for a smart selection of solos: first up, Ballet gal Vanessa with a graceful and romantic routine to 'How Do I Live', followed by Jack's tight, cinematic routine to the theme from Mission Impossible, which certainly packed a punch with it's ending. A super-sparkly Kate upped the wow factor with a sexy, fast-paced routine to Whitney Houston's 'Queen of the Night'. She was followed by partner Rhys and his strong, clean, industrial routine to 'Born Slippy' from everyone's favourite film about junkies, Trainspotting. Dancing together for the first time were Jemma and Anthony performing a flirtatious Cha Cha to a cover of the Prince classic, 'Kiss'. Blinding the crowd in a bright electric blue dress fit for a dancing queen, the pair sparkled. Matt said it got him excited, but the routine wasn't as strong as the music. He felt it was disjointed, but it was really good for what they were given. Bonnie said that Jemma got over the earlier comments made about her solo and was great. Jason was a tad blunter, saying that while Jemma has had a dream run on the show, tonight was not her night. It didn't cut it for him, he didn't feel it. Last two soloists to do their thang were Graeme with a Contemporary routine to the Queen classic 'Bohemian Rhapsody' from seminal comedy classic, Wayne's World. He was fast followed by the pint-sized ball of fun, Demi, and her cute, sexy locking routine to 'Sex Machine' from the film Legally Blonde. The last performance for the night came to us care of Rhiannon and Henry. Henry discussed the challenge the routine presented to him in this week's blog, saying he had never felt so much pressure in the competition this far, in that the pair were dancing choreographer Kelley Abbey's story of losing her soulmate in an accident at a young age. What followed was a heart-wrenching Lyrical Jazz routine to 'Fragile', which left both performers overwhelmed. Matt loved vulnerability, while Bonnie said it was the best routine of the night. Jason felt it was slightly under, but it was beautiful, honest and heartfelt. All in all, a stellar night! Now get voting to keep your fave dancer on the dancefloor!
1 votes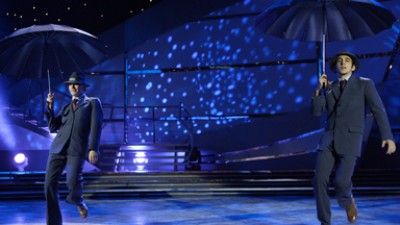 #6 - Final 8 Performances
Season 1 - Episode 18
It's football for chicks, it's how we get through Monday mornings, and it's the only place to be Sunday nights. Top 8 week hasn't just set a high standard, it's blown the standard out of the galaxy! Eight hot routines for you tonight to help you pick your favourite dancer! This week the lovely Vanessa paired up with the luscious Rhys, and the results were electric. First up for these two is old school Hip Hop, care of the very talented Supple. "I wanted to bring back the spirit in the early 90s using the styles of Hype and a current influence, New Style," explained Supple. "It's kinda like a brother and sister relationship, with Vanessa as the younger sister, and Rhys as the older brother." We've seen Rhys totally own several Hip Hop routines in the past, but it's Vanessa's first routine time in the baggy pants since popping with Henry in Animated Hip Hop. How would the lovely lyrical Vanessa handle being a b-girl? Matt said the pair did a good job representing the old school, however he thought Vanessa wasn't managing the isolation well enough and he wanted a little bit more from Rhys. Bonnie loved the work with hats and handkerchief, and thought the routine was a credit to Rhys, and he was just getting stronger and stronger. Jason thoroughly enjoyed it, but his big issue was unison. He thought they both did a good job in the two days they had, but reminded Vanessa to dance on the centre of the beat, and thought Rhys was a little bit under. However overall, he thought they were doing a great job in the competition. Vote to keep these guys in the competition! Next up it's power couple number two, Kate and Jack. To the strains of Michael Buble's sultry version of the classic Spiderman theme, these two were ripping up the d-floor with Quickstep. An international ballroom style with an emphasis of footwork, the classy, fluid Quickstep allows performers to fly across the floor with the greatest of ease. Looking stylish in sparkly black, these two had us in their web from the word go. Matt said he was so excited to see this couple, two of his favourite dancers. He thought it was light and energetic, with a distinctive modern element. Bonnie loved seeing such sharp, charismatic dancers onstage. She thought Kate was stunning, and displayed such determination. Jason said he ached for the routine, and it was so good, he could hardly breathe. It made him smile, and it was Fred-and-Ginger effortless. Don't forget to vote if you loved Kate and Jack! Look out, it's Ballroom Boy meets Breakin' B-Girl! Yup, Demi and Henry are double trouble and they're kicking off their partnership with House. Don't be fooled - we're not talking about the music craze of the 90s, we're talking about a style which rose to prominence back in the 70s and is a descendant of Disco. This had the crowd screaming the house down with joyous, fast-paced and complicated moves. Matt said it was a really great routine, but it wasn't executed well. He said their unison was out and Henry was ahead of the beat. An upset Demi admitted she had made a few mistakes in the routine prompting Bonnie to remind her how popular she is, and if she does, to get over it and get back on the horse. She is strong, she is invincible, she is Demi! Jason started by giving choreographers Project Moda props, then asked the question if the dancers did the routine justice? He pointed out the fact that Demi is an untrained dancer, but she needs to own the routines, and not to let any slip-ups get to her, and that Henry was off the beat. Vote to keep these dancers in the competition! Lock up your daughters -Rhiannon and Graeme are Burlesque babes! Graeme wrote in his blog this week he hopes sex sells, and wowsers, do we ever know what it means! The hotties had drawn the suggestive, saucy style Burlesque from the infamous hat and that meant was time to bust out bedroom eyes and whip it good! Poured into a lacy corset, racy Rhiannon was very much the vixen, but Matt started out his comments by expressing the difficulty the youngest dancers left in the competition had executing such a sexy performance. He thought they executed the steps well but didn't see a great connection. Bonnie said it was a tricky and difficult routine. She thought it was a shame Graeme didn't have more dance moves, as most of the routine was spent supporting Rhiannon. He thought it was pretty good, but not great. Jason loved the old school Burlesque feel. He thought it was a great and interesting routine, and reminded the audience at home that these performers are dancing ten hours a day, and are bruised and battered because of it. He said he started to buy Rhiannon about halfway through, and that Graeme was a little fresh. If you reckon these guys are fresh, vote to keep them on that stage! Back to Kate and Jack! Out of slinky black and back in sharp suits to nail a clever Hip Hop routine. Jack's first time onstage was as a young Cosmo Brown in 'Singing in the Rain', and now SYTYCD brings him back there. Another impressive routine from choreographer Supple – an intricate remix of the Gene Kelly classic. "I wanted to honor what that dance represents to a lot of dancers," he explains. "And to also honour all of the pioneers who have made dance what it is. It's a tribute." Matt said it was the second time tonight the pair have taken a classic theme or genre and made it modern. For him, Kate and Jack were the couple of the night. Bonnie loved it. From the word go she saw the body language, and said Kate was just exceptional. Everything was here in one routine. Jason said that was show business – the routine was pure entertainment. Dancing is supposed to look effortless, and they did that ten-fold. Next up Demi and Henry in a sweet Contemporary routine that imaged the pair as innocent young lovers, idling away an afternoon simply with infatuation. Matt said it was joyous, and they did a great job of a technical routine. It was playful. He pointed out it was Demi's third week of Contemporary, and how well she was doing adapting to the different styles. Bonnie thought they did a great job of using the floor. It was such a change from their styles and it was just beautiful to see young love. Jason said he felt it. He loved the top and the tail of the routine. He pointed out it was a very technical routine for the least technical dancers left in the competition, but their lack of technique matched, so they weren't left behind. He praised Demi's fantastic acting, and said he bought her and bought everything that she does. Showtime! Vanessa and Rhys were back with a flashy, entertaining routine to the famous song 'America' from the musical West Side Story. The routine required the usually demure Vanessa to transform into a powerful woman not afraid to say no – could she pull it off? Matt kicked off the comments by saying West Side Story is his favourite musical of all time, and 'America' is his favourite song, but Vanessa's portrayal of the dominant Puerto Rican female - a woman with shtick and attack – was a little under at first, but she soon got into it. He said Rhys had the strength required to bring it home. Bonnie agreed in that she felt Vanessa lacked the attack and vibrancy, and didn't get the connection, and that she should have been tantalizing Rhys. She said Rhys, as usual, was very, very good – it was a Rhys inferno! Jason said Vanessa looked fragile, and was showing a weakness where she needed to be strong. He said Rhys was amazing in the competition, and that he adopted everything going on, and while he did expect a little more from him, he is a formidable, versatile dancer. Closing the show to brand new Madonna was Rhiannon and Graeme donned up in black and white as undercover agents, Brad and Angelina-style a la Mr. and Mrs. Smith. The style? Jazz Funk Hip Hop! Matt said the routine was like a comfy pair of jeans for the two, and he loved watching them dancing this style – they got out there and killed it. Bonnie said right from the beginning she was captured by the moment. This week she felt both Rhiannon and Graeme upped their game. She felt they both worked well together, and Rhiannon was still trouble. Jason said all the dancers were trouble. It was a great night of great dancing with great choreographer providing the moves. He said the routine had synchronicity, and while they owned it, it was slightly overdanced it. But overall they rocked the house! Vote to keep your favourite dancer in the competition!
1 votes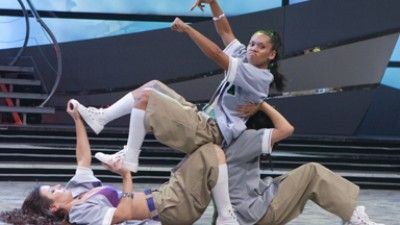 #7 - Final 6 Performances
Season 1 - Episode 20
The gorgeousKate has danced with all three boys left in the competition, so it was something of a sweet reunion when she pulled Rhys' name out of the infamous hat… and the excitement didn't stop when the word Rumba was the next thing revealed! And who else to choreograph this powerful, passionate dance of love than dance master extraordinaire, Mr Jason Gilkison. Dramatic, moving and emotive, this Rumba was about a man being in love with a woman and but never being able to tell her. Getting a standing ovation from the crowd, the routine had the judges in agreeance – simply spectacular. Matt said he totally bought it. He said that each week, Kate is given a new genre and she just tackles it, nails it, kills it and serves it; a brilliant way to start the show. Jason said it was just fantastic. They took ownership of the routine, and Kate was just exquisite. If the competition is about versatility, this showed why they're both still here. Bonnie said it couldn't be faulted. All up, another dance victory! Demi and Jack! We've been crossing our fingers these two lovable dancers will pair up again, and all our stargazing and eyelash wishing has come true! This time round, they're dancing a magically mechanical Contemporary routine to 'Strict Machine' by Goldfrapp. "They're embodying machines," explains choreographer Gary Stewart. "They work as one unit as a machine, and separately as well, with moments of sensuality. I want the audience to enjoy the rhythm of the movement as it rides the music, and also to enjoy the invention of the choreography." The result is quirky, controlled, and sophisticated. The crowd loved it, and the judges lapped it up. Jason said it was incredible that Demi, who has never done a Ballet class in her life, did so well with such a technical routine. Bonnie said it was amazing, and asked how the dancers bought emotion to the routine. Jack replied it was in the light and shade of the music, and Demi said it was in the musicality of the track. Matt said there were a few unison problems, but all up, stunning. Having both survived life in the bottom four last week, Vanessa and Graeme knew they'd have to once again have to up their game if they wanted to make it to Top 4. The pair pulled out all the stops in a colourful, playful, Broadway number to 'Money' from the musical Chicago. In a word? Wacky. Jason loved this great routine, naming it as cute, entertaining, and different to what we've seen so far. He said the staccato was a slight problem in the second half of the routine, but it was a great routine for both of them. Matt said that musical theatre is so easy to watch and so much fun for the audience, and that Graeme was very smooth. Bonnie was gonna call our Ballet babe Versatile Vanessa from now on, and she loved a bit of slapstick. Overall, superfun and cute. We've seen so much over the first series of SYTYCD but the powers-that-be still had one trick up their sleeve – trio performances! Yep, your top three girls and your top three guys are together onstage for the very first time! What do you get when you cross a Ballet babe, a bold B-Girl and a gorgeous jazz dancer? Fresh Hip Hop of course! "Vanessa is supposed to be a sexy girl that turns gangster," explains choreographer Nacho Pop, "and the other two are gangster girls who turn sexy. The whole vibe is supposed to be chilled, laidback, West Coast." It's Charlie's Angels goes gangsta – but the judges weren't convinced. Matt said, as a choreographer, he would have gone in a different direction, and for him, not so great. He didn't buy Vanessa's sex appeal, and the unison was out. Bonnie said she loved seeing three girls dancing together onstage but Jason said he didn't see three girls dancing together, he saw mostly saw girls dancing out of unison. He felt Nacho's routine left them exposed, and showed off their weaknesses. He said b-girl Demi took ownership of the routine, and he bought Kate as a gangsta girl in an East Side kinda way. But overall, a difficult routine to comment on. Wack attack! Inspired by three wild animals posing as the Three Stooges, it's Larry, Curly and Moe – no, it's Rhys, Graeme and Jack, channeling the classic pranksters in a whole new way. This routine from the ridonkulously talented Supple had jaws dropping from here to Perth. Matt said it was a clever concept executed well, which showed how strong all three performers are. All up, very cool. Bonnie said she loved seeing all three boys dancing together. It was so entertaining, and proved that individually, each boy was extremely good at what they did. Jason said it was a brilliant routine - great concept, theme, lighting, costume – but he only saw 12 counts of unison in total, which made it hard for him to decide which of the three boys were really standing out. But overall, sheer brilliance. OK, 'nuff reading, time to get voting! Who will make your Top 4?
1 votes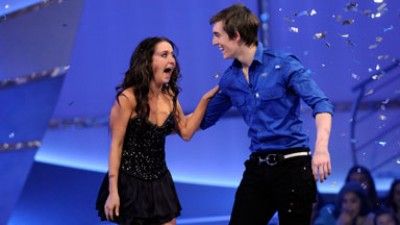 #8 - Grand Finale
Season 2 - Episode 25
Six months after auditions began, 18 year-old Talia Fowler has been crowned the worthy winner of the 2nd season of So You Think You Can Dance Australia. A former dancer with Queensland Ballet, Talia pipped Dubbo Hip Hopper Charlie Bartley, 19, for the $200,000 winner's cheque. Third place went to Gosford Lyrical dancer Amy Campbell and fourth place to Gold Coast Jazz dancer Ben Veitch. After a national tour with our Top 10, Talia will head to the States to perform on So You Think You Can Dance America. And not just any show. Nigel Lythgoe revealed tonight that Talia will dance on the Season 5 Finale before an audience of more than 20 million! A brilliant technician with extraordinary dramatic range, she will be a fantastic ambassador for Australia and Australian dance. Congratulations, Talia! Spectacular Kelley Abbey Opening Routine Kelley Abbey has produced some brilliant group routines this season but her spectactular opening number for our Grand Final put everything else in the shade. To the Global Deejay's anthemic "Everybody's Free", a cast of Top 100 dancers provided a drop zone as our Top 4 descended on red silk banners, drawing shrieks of delight from the audience. Nigel Lythgoe & Mary Murphy spring a surprise Creator Nigel Lythgoe and special guest judge Mary Murphy dropped in from Las Vegas to give their congratulations to our Top 4. But they had an amazing surprise too. Tonight's winner won't perform on just any SYTYCD America show – they will dance on this season's Finale!!! Top 4 Sarah Boulter Contemporary For the last time, Amy, Ben, Charlie and Talia danced together in a Sarah Boulter routine about the trials and tribulations of friendship. The track was "Broken Strings" from James Morrison (featuring Nelly Furtado). Selected Top 20 and Choreographers – "Kill Bill" Selected members of the Top 100 and the show's choreographers performed a Nacho Pop and Juliette Verne routine to a number from the "Kill Bill" soundtrack. Leading ladies Lamb and Chanelle were supported among others by Don, Emmanuel, Sisqo, Pania, Danny, Max and Jesse, and by mentors Adam Williams, Travers Ross, Tiana Joubert, Nacho Pop, Marko, and Simon from Project Moda. NY Dance Company Pilobolus NY Dance Company Pilobolus might have appeared on Oprah and the Oscars but this will surely top that – a guest slot on the Grand Final of So You Think You Can Dance. Forever returns Jason's favourite dancer from this season's auditions, Forever, returned for the Finale, supported by soprano Joseph Bourke and an extraordinary orchestra. Optus Dance Crew Winners Winners of the Optus Dance Crew competition received their $5,000 prizes in person from Kelley Abbey – and got a free dance lesson that one young girl said made it "the best day of my life". The 3 lucky winners were the Newcastle Dance Academy, which lost its studios in the 2007 floods; Ipswich High, which desperately needs a demountable dance hall; and the Graham Academy of Dance in Innisfail for much needed air conditioning. We can't wait to see one of these young dancers appear on the show in the coming years. Thanks Optus! Talia's Old Company appears on Dance Talia left Queensland Ballet to pursue her Dance dream. On this most important night of her life, her old company was here to support her – backed by two percussionists from Taikoz. Last chance - Supple Top 10 Routine That crazy guy, Supple, choreographed our amazing Top 10 in a Hip Hop routine to "Bounce/Boom Boom Pow" by MSTRKRFT feat. N.O.R.E. /Black Eyed Peas. This was the Top 4's last chance to impress the voters before the lines were closed for 2009. Australian Ballet "Nutcracker – The Story of Clara" They wowed us last time. They've done it again. This time dance legend Graham Murphy was the choreographer with his retelling of Tchaikovsky's famous Nutcracker. The Australian Ballet Dancers were Danielle Rowe and Andrew Killian. Loredo & Talia's "Love Story" wins Macca's moment of the year We've had some amazing routines on this year's show but few would argue with this result. Talia & Loredo's "Love Story", choreographed by Amè Delves is the winner of the McDonald's "i'm lovin' it" moment for the season. Congrats to Talia, Loredo, Amè – and Taylor Swift for the track. Amy & Damien – "Stepping Stone" Suitcase Rumba In Top 16 week, this was Amy's "defining moment" – the routine that turned her from being a Bottom 3 dancer at Top 20 into a Top 4 contender for the title. Here she danced it again with partner, Damien. Did you notice the different ending? This time she left him. The choreographer was Jason Gilkison and the track was Duffy's "Stepping Stone". Ben & Pania – "Talk like that" Ben & Pania went back to the very beginning – to the very first routine from the Top 20 by Marko Panzic to The Presets' "Talk like that". You've come a long way, Ben. Talia & Loredo – "Love Story" Lyrical Jazz It was as good as we remembered. Talia & Loredo played Romeo & Juliet again in a Lyrical Jazz piece by Amè Delves to Taylor Swift's "Love Story". Can we see it again please? Penny & Charlie – "Single Ladies" The season ended as it began with Penny & Charlie bringing the house down with Tiana Joubert's routine to Beyoncé's "Single Ladies". How hard did they pop? How good was it to see Penny dancing again? Bonnie joins Jason G in choreography Judge Bonnie Lythgoe joined Jason Gilkison to choreograph Damien, Ash-Leigh and other exquisite dancers in a ballroom extravaganza to Bond's "Explosion". Verdict time – Top 4 becomes Top 3 Our Top 4 were invited onto the stage to hear Australia's verdict. Amy and Talia were singled out and found that they were safe. That left Charlie and a very nervous Ben. Unfortunately it was Ben who missed out and tears welled in the eyes of this beautiful man. Ben's tearful farewell After viewing his incredible journey, Ben thanked everyone including the production crew – "Jenny and Carlos, you rock" – but reserved special mention for his Mum, and his beautiful girlfriend, Zoe. Chicago – "All that jazz" As Amy, Charlie & Talia were left to ponder how much further they were going in the competition, Caroline O'Connor and the cast of the Chicago came on to perform "All the jazz". Top 3 Becomes Top 2 The first dancer through to the final round was Charlie, leaving Amy and Talia with a 50/50 chance of making Final 2. Alas, for Amy, she would go no further. But she did emulate exactly her role model, Kate from last year – making Top 3. Amy's Farewell Her farewell package reminded us of all her fabulous work and then she thanked her Mum, Dad, her sisters and the collective Central Coast population. Top 2 Dance Jason Gilkison routine To take into account all possible outcomes, Jason Gilkison created and worked up three fabulous Top 2 routines and Talia & Charlie were the lucky ones who got to perform it. Nice work, Jason G. The ultimate verdict With just two wonderful dancers left, Natalie announced that the winner of Season 2 of So You Think You Can Dance was Talia. Talia said that this had been "the most amazing personal growth journey" for her and she was now going to do "anything" because she was over her "insecurities" and was so much more confident because of her Dance experiences. Matt said Talia had been "the dark horse" of the competition, Bonnie said that she would "wow" the States, and Jason said that he wanted the winner to be the person who would best represent Australia. He believed we had got that. Commiserations, Charlie. Congratulations, Talia! Well done, Australia. That was the season that was That's it. Unfortunately, there is no more Dance for 2009. If you want more Dance kicks, you'll have to catch our Top 10 on their National Tour – or relive the "Best Moments of Dance 2009". Thanks for all your support. See you next year!
1 votes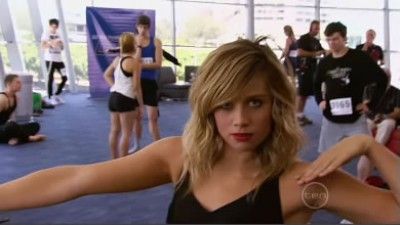 #9 - Auditions - 1
Season 3 - Episode 1
SYTYCD returns with a fresh batch of outstanding performers who are ready to step up and dance for your vote. Judges Jason Coleman, Bonnie Lythgoe & Matt Lee return with host Natalie Bassingthwaighte. But it will be the Australian public who will decide!
2 votes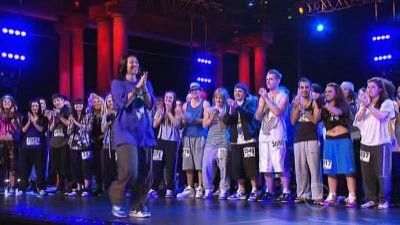 #10 - Top 100 + Top 20 Reveal
Season 3 - Episode 4
2 votes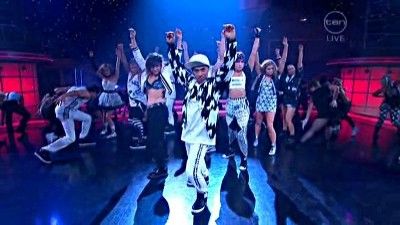 #11 - Finale
Season 3 - Episode 23
Who will be the most popular Australian dancer in 2010? This is the finale.
1 votes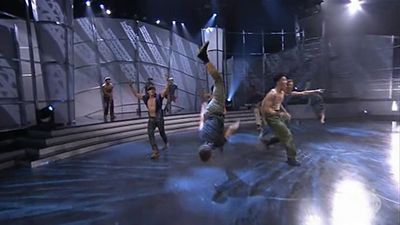 #12 - Top 20 Opening Night
Season 4 - Episode 4
The Top 20 perform for the first time tonight and sharing the stage with the contestants is superstar Robbie Williams performing his new single. Will your favourite impress the judges and Australia?
8 votes
#13 - Grand Final
Season 4 - Episode 13
This is it - the grand finale and we pit the final four dancers against each other one last time. Who will be crowned Australia's favourite dancer? Tune in to find out!
8 votes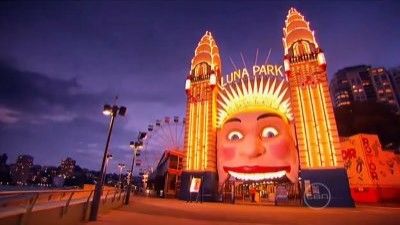 #14 - Sydney Auditions
Season 3 - Episode 2
2 votes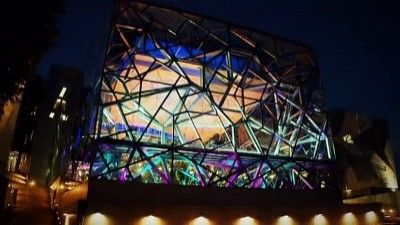 #15 - Melbourne Auditions
Season 3 - Episode 3
2 votes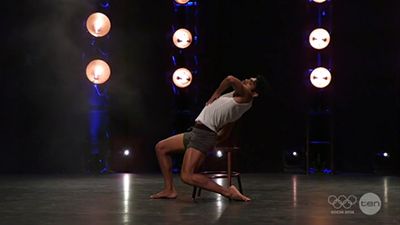 #16 - Top 100 Dance-Off
Season 4 - Episode 2
With the nail biting challenge behind them, the heat has been turned up for the dancers who survived last night's elimination. Having proven they are the best in their genre, the dancers take on a new challenge.
9 votes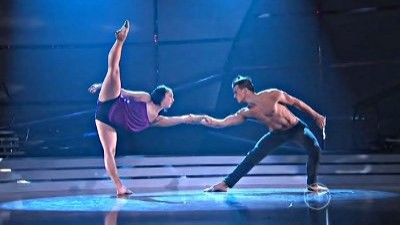 #17 - Top 16 Performance
Season 3 - Episode 10
1 votes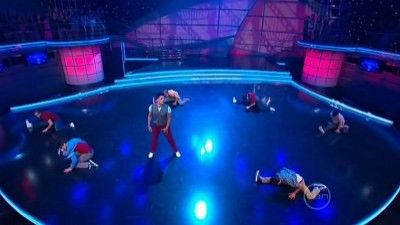 #18 - Top 14 Performance
Season 3 - Episode 12
1 votes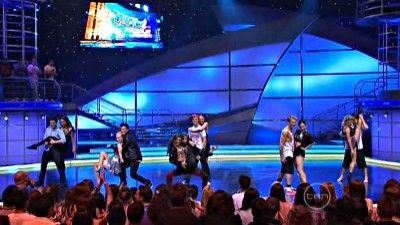 #19 - Top 12 Performance
Season 3 - Episode 14
2 votes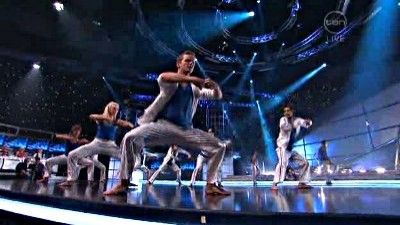 #20 - Top 12 Results
Season 3 - Episode 15
2 votes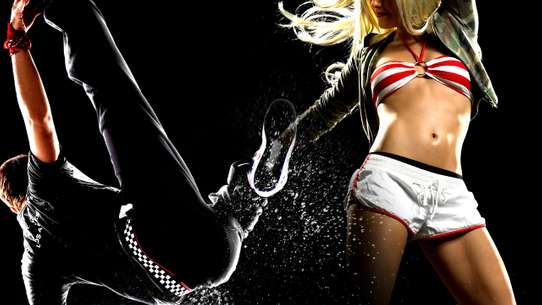 #21 - Top 10 Performance
Season 3 - Episode 16
1 votes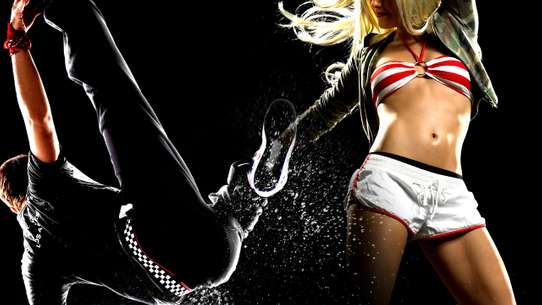 #22 - Top 10 Results
Season 3 - Episode 17
2 votes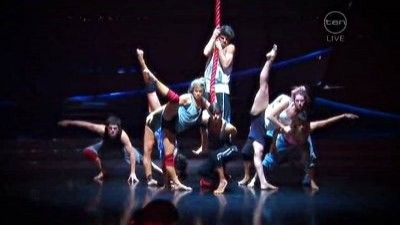 #23 - Top 8 Results
Season 3 - Episode 19
Top 8 Results
2 votes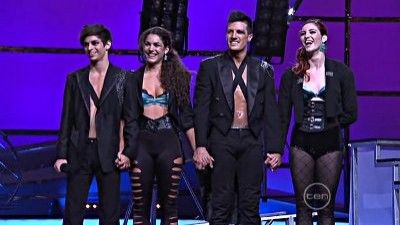 #24 - Top 4 Performance
Season 3 - Episode 22
Tyce Diorio visits Australia and is the choreographer of the opening number of the top 4.
1 votes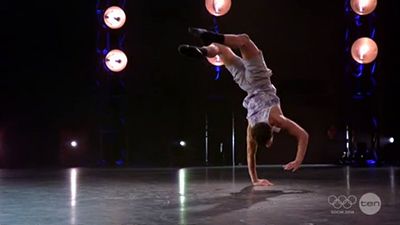 #25 - Green Mile
Season 4 - Episode 3
After weeks of blood, sweat and a whole lot of tears, our Top 100 dancers have been whittled down to a Top 32. But there's one more step, will your favourite make it through to the top 20?
10 votes