The BEST Episodes of Roadkill
Every episode ever - ranked by fan votes!
Last Updated: Jul 5, 2019
Ride along with HOT ROD's David Freiburger and Mike Finnegan as they continue their love/hate relationship with hot rods, street machines and other highly strung performance vehicles. In Roadkill, Freiburger and Finnegan hit the road in everything from a 1968 Ford Ranchero to a 1500 horsepower Camaro called the F-Bomb. Just getting to their destination is an adventure.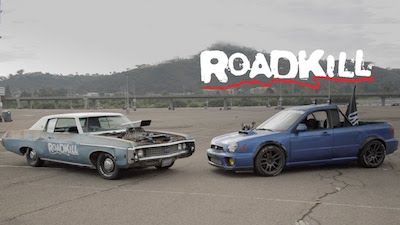 #1 - Roadkill vs. Mighty Car Mods!
Season 5 - Episode 14
This is the episode fans of Roadkill and Mighty Car Mods have been demanding for two years! It's also a bonus episode of Roadkill powered by Dodge—the 13th installment of the 2016 season! David Freiburger and Mike Finnegan finally got together with Marty and Moog of Mighty Car Mods, Australia's most popular YouTube show for gearheads. The four guys came to an agreement: RK would build the most American car possible for the MCM blokes, and then Marty and Moog would assemble an absurd icon of Mighty Modding for the Roadkill boys. Both teams gave all: Roadkill jammed together a 1969 Chevy Impala stuffed with the supercharged, 489ci big-block Chevy that was formerly in the Crusher Camaro; and Mighty Car Mods hacked the Subarute out of a hapless turbo WRX. There's no way to imagine the fun that explodes across the language barrier when these four get together for some killer burnouts and mad skids!
1 votes