The BEST Episodes of RiffTrax
Every episode ever - ranked by fan votes!
RiffTrax is comedy narration to your favorite movies & TV shows, plus some wonderfully terrible films. Written and performed by the stars of the award-winning TV series Mystery Science Theater 3000, RiffTrax brings the unique humor of "Satellite of Love" MST3K partners Michael J. Nelson, Kevin Murphy and Bill Corbett to Hollywood's hit movies. Season 1: Official RiffTrax Season 2: RiffTrax Presents Season 3: Shorts Season 4: iRiffs Season 5: Total Riff Off Season 6: RiffTrax Live!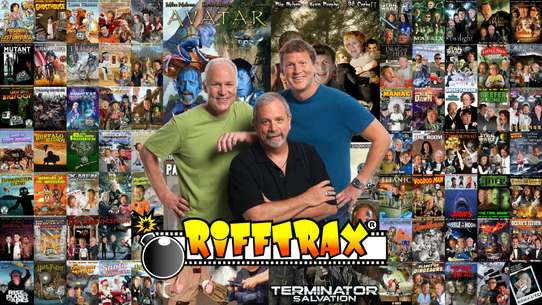 #1 - The Lord of the Rings: The Fellowship of the Ring
Season 1 - Episode 16 - Aired Nov 21, 2006
The greatest fantasy epic of all times is at last a RiffTrax! No, not Crossroads – we already did that. And not A Very Unlucky Leprechaun – which we haven't done yet but are seriously mulling over. We speak of course of Lord of the Rings: The Fellowship of the Ring, the thrilling tale of some short guys, some slightly taller hairy guys, some thin, fey, but slightly taller guys, some grungy, somewhat beefier, slightly taller guys, and a frighteningly hairy, older, slightly taller guy with a stick, and their quest to throw something somewhere hot. Mike Nelson and special guest riffer Kevin Murphy go after the ultimate comedy prize in this very special two-part RiffTrax. This RiffTrax is only compatible with the Theatrical Release, not the extended edition. It does however, work for both the single side and doubled sided versions of the Theatrical Release. Viewing Suggestion: This RiffTrax was written and performed with the whole family in mind, so if you are comfortable with your children watching Lord of the Rings, this should be perfectly appropriate for them as well. Skip the endless reruns of The War at Home and treat your whole family to the RiffTrax experience!
28 votes
Writers: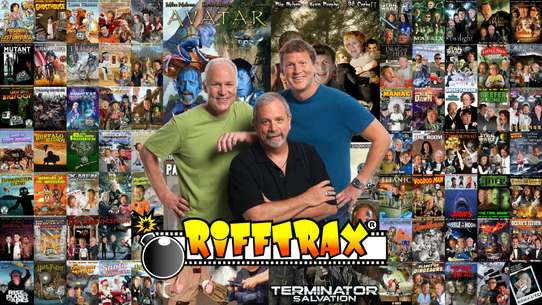 #2 - The Lord of the Rings: The Two Towers
Season 1 - Episode 60 - Aired May 23, 2008
The epic story of tiny men doing very important things continues.* In this multi-hour installment the two very different towers come into sharp focus. You see, whereas one tower is the domain of a once great but now evil sorcerer who rules over an army of orcs and is bent on destroying man and taking possession of the One Ring, the other tower is the domain of a once great but now evil sorcerer who rules over an army of orcs and is bent on destroying man and taking possession of the One Ring, but - BUT - his name begins with an "S", and also contains the letters "a", "u", "r", "n", whereas the other tower guy's name begins with an "S", contains the letters "a", "u", "r", and "n" HAS NO "m" AND ADDS AN "o"! And the differences don't end there: one of the guy's names is seven letters whereas the other has six! Mike, Kevin, and Bill strap on the wizard's hats, snap into some fortifying lembas and head on the down the road that goes ever on and on... *"The hobbits' quest to destroy the cursed ring" not "Martin Short, Michael J. Fox and Danny DeVito's performances in 'Mars Attacks'".
28 votes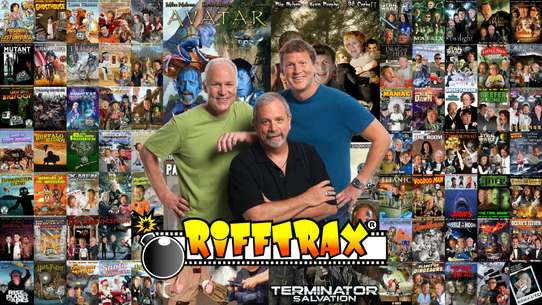 #3 - Star Wars Episode V: The Empire Strikes Back
Season 1 - Episode 82 - Aired Apr 14, 2009
Your favorite sand-phobic, midichlorian-rich super villain is back! And this time his capes are even more fabulous, his thigh-high Uggs resplendent like never before, and his burnt chicken head cloaked in the shiniest plastic helmet yet! And if that wasn't enough, Mike, Kevin and Bill are pleased to be joined by Darth Vader's bellicose but lovable brother Chad! Yes, the movie that gave us one of cinema's most startling revelations, and perhaps the most memorable silver screen quote ever ("I thought that hairy beast would be the end of me") gets the RiffTrax treatment. Lots of laughs. Lots of Chad Vader. And no pod racing.
28 votes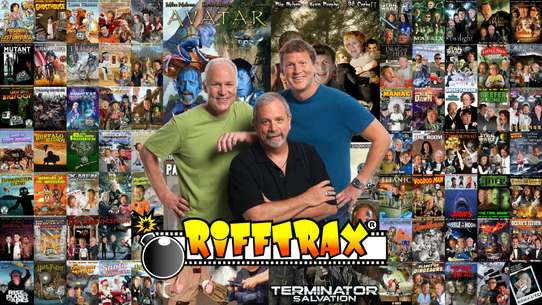 #4 - The Room
Season 1 - Episode 87 - Aired Jun 18, 2009
The typical reaction to an encounter with The Room looks something like this: puzzlement, revulsion, laughter, amazement, hunger, affection, deep depression, inability to digest milk proteins, and ultimately, an unbreakable addiction. Yes, this is the film you've probably only heard rumors about, a truly jaw-droppingly weird melodrama written, starring, produced, financed, endlessly promoted by (most famously by a high profile billboard in Los Angeles for five years), and featuring the hideous naked backside of Tommy Wiseau, the world's shaggiest and most mysterious auteur. The Room's plot seems mundane: a banker looks forward to his marriage unaware that his fiancé is cheating on him with his best friend. But beneath this quotidian veneer lurk peculiar treasures that almost literally defy description. Quite simply, you must see this. Though this film is hard to come by your efforts to secure it will be richly rewarded. Mike, Kevin and Bill are honored to be able to join you for your first viewing of The Room.
28 votes
Writers: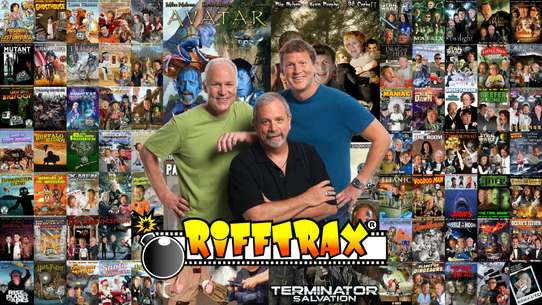 #5 - The Lord of the Rings: The Return of the King
Season 1 - Episode 103 - Aired Jun 22, 2010
One of the hardest things to do with a popular series is to give it the conclusion it deserves. Some of the greatest entertainment phenomenons of our time, be it The Sopranos, Lost or Hi Honey, I'm Home! have failed to give fans the closure that they, as uninvolved spectators watching at home for free, feel they are entitled to. The Lord of The Rings series, on the other hand has mastered the art of delivering a satisfying conclusion. And The Return of The King does it so well, in fact, that it decides to end seven or eight times. The final chapter of one of the most beloved trilogies of all time finds our characters picking up where they left off. Frodo and Sam continue onwards towards Mt. Doom, despite Frodo increasingly appearing to Sam as a walking roast turkey. Aragorn faces down one of lifes toughest questions: whether to embrace his true destiny, or to combine three flavors of Combos into one bag and lay on the couch with his shirt off eating them. Gimli and Legolas have started an organic dog biscuit bakery in Vermont. And Mushmouth is futilely trying to convince the gang to make him the Buck Buck breaker instead of Fat Albert. All the while, the fearsome Eye of Sauron is observing their movements in a style that can best be described as "pretty funny when you really think about it." There's also drunken table dancing, Elven poetry and a spider proboscis that you would best be served to never think about if you're ever considering venturing into the outdoors again. The journey through Cirith Ungol is never an easy one, so it's best to join up with Mike, Kevin and Bill, who have their very own Light of Earendil*, tin of pipeweed**, and satchel of Lembas Bread*** *Can of Raid **Big League Chew ***Bag of combos with three different flavors of Combos combined in it
28 votes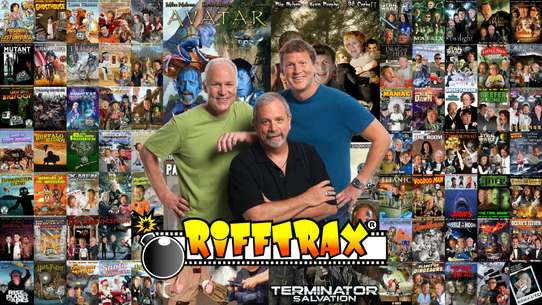 #6 - Special Jokes: Mortal Kombat!
Season 4 - Episode 519 - Aired Aug 3, 2010
28 votes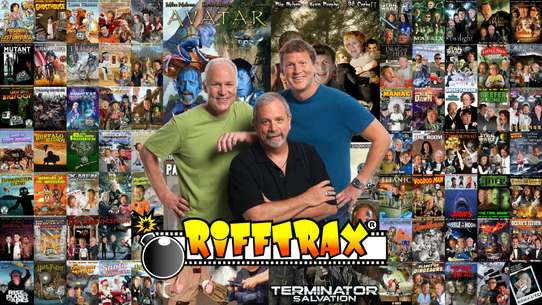 #7 - Twilight: Breaking Dawn - Part 2
Season 1 - Episode 155 - Aired Mar 14, 2013
"You see, son, sometimes, when a shirtless teenage werewolf and a newborn love each other, very, very much..." Baby girlfriends! International squads of vampires with a host of mutant superpowers that should be blood in the water to Marvel's legal department! A final, epic showdown between the forces of vampire "evil" and vampire "meh, whatever"! All that sounds amazing, right! It's what we've been building to for four movies, right??? Like, something's finally gonna happen! RIGHT?????? Ah ha ha haaaa, remarkable. Believing this series would pay off in any way... to paraphrase Twilight: New Moon songstress Lykke Li, "There's no posssibilityyyyyy." This movie is mostly about an extended vampire family gathering to show support for Bella, its newest, most insipid and simpering member. Because that's why people love vampires -- to see them form coalitions of understanding, and talk out their differences. But there's hope, in the form of effete ancient men in red - that's right, more Volturi than ever before! And the great Michael Sheen offering a cackle of delight so extraordinary that the petition to make it part of his eventual Oscar death reel should begin NOW. Join Mike, Kevin, and Bill as they hide in the mustache of Mustache Dad for one last journey into the land of vampire sensitivity, Twilight: Breaking Dawn Part 2!
56 votes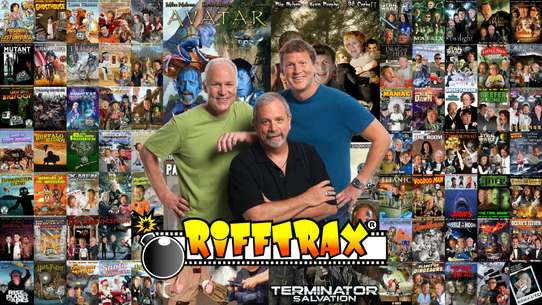 #8 - Christmas Circus with Whizzo the Clown!
Season 1 - Episode 236 - Aired Dec 22, 2016
Our Christmas special this year stars Whizzo the Clown. Whizzo's not one of your big, flashy, Hollywood clowns who relies on clichés like "scripts" or "coherency." Whizzo's got huge, gross feet, a terrible catchphrase, and he's ready to fly some kids to the North Pole on his streamer-powered magic carpet. And yes, for this movie, that qualifies as a plot description. After thirty seconds with Whizzo, you'll find yourself thinking, "Yeah, I can see where The Grinch was coming from." Or maybe, "You know, Mr. Potter had some good ideas…" In fact, it might just be the movie to turn your coulrophobia into pantophobia! RiffTrax Christmas Circus also features a short about Christmas trees that have human faces and communicate psychically with houseplants before dying and going to tree heaven. It is by far the most normal, sane part of this Christmas special.
28 votes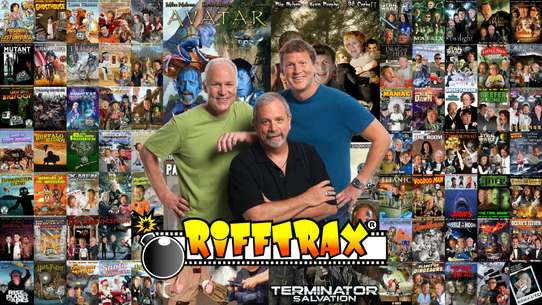 #9 - RiffTrax Live: Summer Shorts Beach Party
Season 6 - Episode 24 - Aired Jun 15, 2017
We're heading back to Nashville, the Beach Party Capital of the South, for one hilarious night of educational shorts - riffed LIVE in front of a huge audience at the Belcourt Theatre! Mike, Kevin and Bill return to the stage with RiffTrax regulars Bridget Nelson and Mary Jo Pehl, along with some special guests, to take turns riffing shorts in various permutations. The live show will culminate in a RIFF-A-PALOOZA with everyone on stage at the same time!
28 votes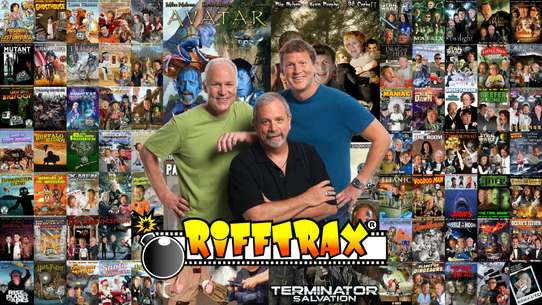 #10 - Soapy the Germ Fighter
Season 3 - Episode 287 - Aired Jul 26, 2017
Live show riff available for the first time! We riffed this sparkling sudsy gem of a short LIVE in Nashville before our Mothra show in 2016, and now you can soap it up at home! Uh, sorry, that sounded kinda weird. But then, so is Soapy the Germ Fighter. Over the years we've faced down a host of shorts featuring anthropomorphic objects coming alive to haunt children in their rooms, from Coily to Mr. Paperbag to A Talking Car to Norman (okay, Norman never actually did that, but you know he WOULD if he could). Somehow, Soapy the Germ Fighter manages to be the least inspired AND oddest monster of the bunch. Least inspired because he's just a giant bar of soap named Soapy. Oddest because he has arms and legs and dresses in Renaissance garb for no apparent reason. You'll find him in the tub, waiting, watching, judging, and tuning his lute. Uh, again, sorry, that sounded kinda weird. But then... well, you know. You're not clean, and Soapy knows it. Soapy knows everything. Get yourself sorted out and scrub the fear away with Soapy the Germ Fighter, riffed live by Mike, Kevin and Bill!
28 votes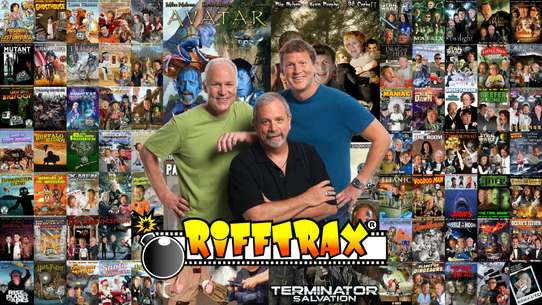 #11 - RiffTrax Live: Doctor Who - The Five Doctors
Season 6 - Episode 25 - Aired Aug 17, 2017
The Doctor is in the house! The RiffTrax house, that is! The stars of Mystery Science Theater 3000®, Mike Nelson, Kevin Murphy and Bill Corbett, are back on the big screen for a legendary riffing of the 1983 Doctor Who film "The Five Doctors." Someone is taking the Doctor's past selves out of time and space, placing them in a vast wilderness - a battle arena with a sinister tower at its center. As the various incarnations of the Doctor join forces, they learn they are in the Death Zone on their home world of Gallifrey, fighting Daleks, Cybermen, Yeti and a devious Time Lord Traitor who is using the Doctor and his companions to discover the ancient secrets of Rassilon, the first and most powerful ruler of Gallifrey. Join Mike, Kevin and Bill as they join the Five Doctors for one of the most thrilling Doctor Who adventures ever!
28 votes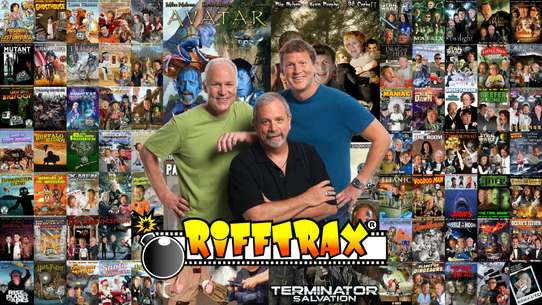 #12 - Farm Family in Summer
Season 3 - Episode 288 - Aired Aug 30, 2017
Everybody in the station wagon, we're headed to rural Wisconsin to learn about life on a farm! Ever considered the goings-on of a Farm Family? Well now consider FURTHER the same family in the summer! Sure, it's less about everyday farming activities and more about scoring some funnel cakes, but it's really the journey — not the destination (especially if the destination involves funnel cakes). Join Bridget and Mary Jo as they hang out with a Farm Family in Summer - doing everything from milking cows to wearing colorful shirts at the county fair!
28 votes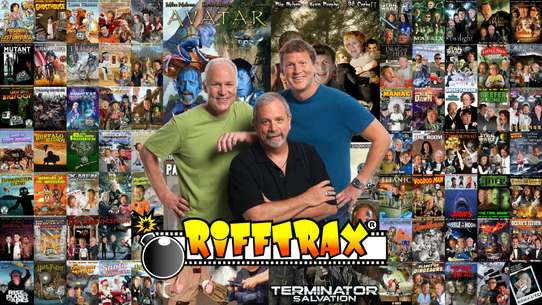 #13 - Deadly Instincts
Season 2 - Episode 38 - Aired Sep 8, 2017
via https://www.rifftrax.com/deadly-instincts A meteorite has crashed in the quad of a women's college in the faraway land of Boston/Scotland. Its passenger, an alien monster, mates with the student body to carry on his hideous species. Only the art professor, his star student/girlfriend, and the monster's girlfriend (who's been trying to break up with him) can save the campus before the big homecoming dance! Also known as Breeders, Deadly Instincts is just another fine example of weird, sci-fi schlock. Plus, lots of college! Join Bridget and Mary Jo as they navigate Deadly Instincts!
28 votes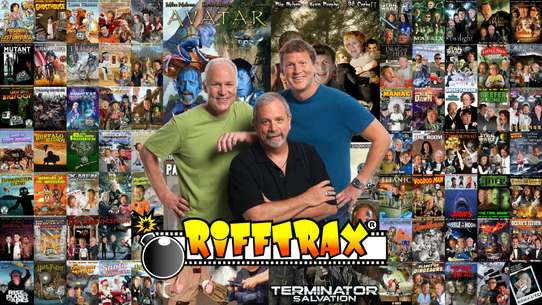 #14 - Kill and Kill Again
Season 1 - Episode 255 - Aired Oct 13, 2017
Hey! It's not Kill and Take The Afternoon Off to Catch Up on Reading, it's Kill and Kill Again! So get off your lazy duff and back to work! Who's doing all this killing and follow-up repeat killing? Mostly Steve Chase, the world's greatest martial artist. You wouldn't know he's the best from seeing his martial arts, but the movie tells you several times he's the best, so he must be. The South African government needs him to rescue a scientist who's been kidnapped and forced to create an army of martial artists to conquer the world. And if you can think of a more efficient way to conquer the world, you can just keep it to yourself! Steve Chase and his long, shiny hair get the old ragtag crew together for this one last job. And they truly are the ragtaggiest of ragtag crews, the "recruiting a guy who rents a box at the junkyard" scene is not to be missed. Oh, and also? The entire plot centers around making fuel from potatoes. So yeah, it's your standard South African martial arts extravaganza based around root vegetable gasoline. You're gonna love it, and love it again, with Mike, Kevin and Bill!
28 votes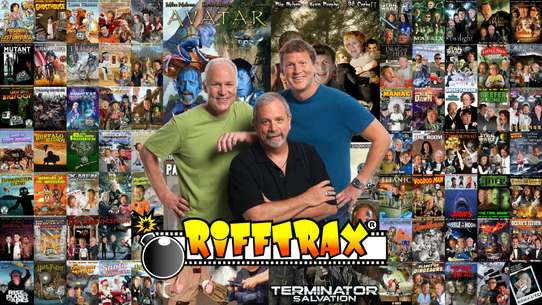 #15 - The Bourne Identity
Season 1 - Episode 40 - Aired Aug 7, 2007
Imagine waking up in an unfamiliar place, unable to recall where you live, what you're doing there, or even your own name. Now imagine for the first time in your life it wasn't a direct result of your downing eleven pints of Guinness and then agreeing to do a Lemon Drop shooter with Jimmy T., Spleef, and Hondo the night before at Durty Nelly's. Now imagine that you began to discover you had mysterious talents -- talents that didn't involve the ability to stand next to the open refrigerator door in your underpants and drink a half gallon of Minute Maid Pulp Free directly from the pitcher without stopping for air. Now imagine you are Matt Damon. Why, the mere thought of it is to stare into a bottomless well of agony. Yet Matt Damon awakes to that fresh horror every morning of his life (the horror of discovering that he remains Matt Damon, not all that stuff about his memory. That happens to his character in that one movie – what's it called? – The Bourne Identity. My memory's not so good.) Anyway, the point is that Bourne Identity is a pulse-pounding thriller that goes from the exotic…um, somethings of somewhere to the even more exotic – look, it's tough to recall all the little things, I'm just a little fuzzy today. Suffice it to say that Bourne Identity makes for a terrific RiffTrax – and the fact that Mike is joined by Kevin Murphy and Bill Corbett, well, that's just -- what do you call it, that brown runny stuff – gravy!
56 votes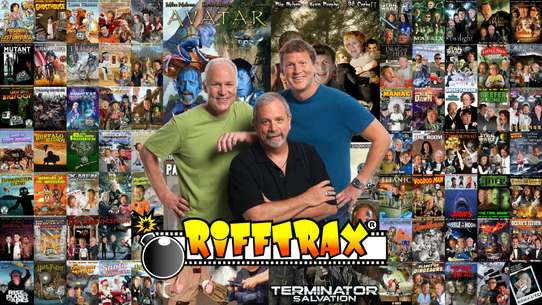 #16 - Star Trek VI: The Undiscovered Country
Season 1 - Episode 24 - Aired Feb 9, 2007
"To boldly go where no man has gone before," and if you don't count the 79 television shows and 5 movies that came before it then Star Trek VI does exactly that. Yes, it's bold enough to have lauded stage actor Christopher Plummer glue on a few hideous plastic appliqués and shriek out lines from Shakespeare's plays at inappropriate times. It's bold enough to hire Kim Cattrall for her acting experience alone in a role that has nothing whatsoever to do with sex. And it's bold enough to pretend with a straight face that the cast of the original series shouldn't have been dry docked 20 years prior to this film. To handle this mess, Mike enlisted the aid of Bill Corbett and Kevin Murphy, his riffing companions from Mystery Science Theater 3000. You'll laugh, you'll cry, you'll say to yourself, Who is John Shuck and how can I avoid his work from now on?
28 votes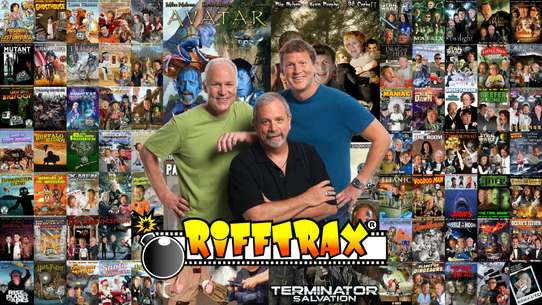 #17 - Grey's Anatomy: Pilot (2)
Season 1 - Episode 36 - Aired Jun 11, 2007
This is the second part of the "Grey's Anatomy Season One Pilot" episode and should not be numbered separately from the first part.
27 votes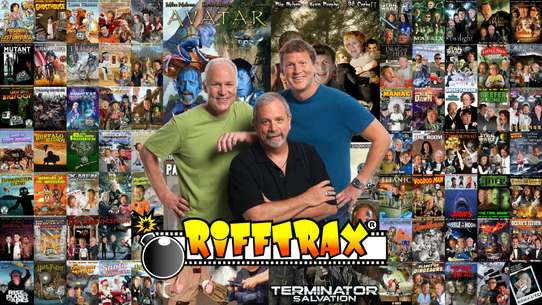 #18 - Star Trek VII: Generations
Season 1 - Episode 38 - Aired Jul 2, 2007
Star Trek: Generations – truly a loving gift from one generation to the next. Much like that 15-pound, 10 percent water-added Danish ham that your uncle Clark who lives in Rockford mailed to you on Thanksgiving, the one that cracked open in transport and arrived at your doorstop in a brine soaked box, stinking like a week old corpse. Yes, this is the legendary Star Trek that at long last teams two of the series' most enduring elements – Scotty, and a size 74 uniform. Not to mention a performance by respected British actor Malcolm McDowell that can only be described as, well, dis-un-respect-ulating. And Klingon cleavage? Generations has it in great heaping mounds! Mike and Kevin Murphy climb once more unto the breach for a fun-filled, intergenerational riff.
56 votes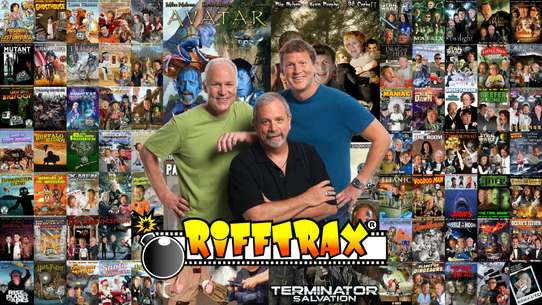 #19 - Iron Man
Season 1 - Episode 66 - Aired Oct 14, 2008
In the tradition of I, Robot comes I, Ronman, the story of a shy college student who is bitten by a radioactive guy named Ron. Our hero's DNA is transformed, his body taking on the attributes of Ron until - hang on. Apparently we got that wrong and there's nothing remotely that cool going on here. It's Iron Man and from what we're told it's just a guy in a metal suit. Kind of looks like a Transformer. Fights another guy who looks like a Transformer. And you get to see Gwyneth Paltrow's back. And it's directed by the guy who did Zathura. Not only that, it made a gajillion dollars, no doubt because people got confused and thought they were seeing I, Ronman. But Mike, Kevin and Bill put aside their collective disappointment over it not being I, Ronman and give it the most iron fortified RiffTrax yet!
28 votes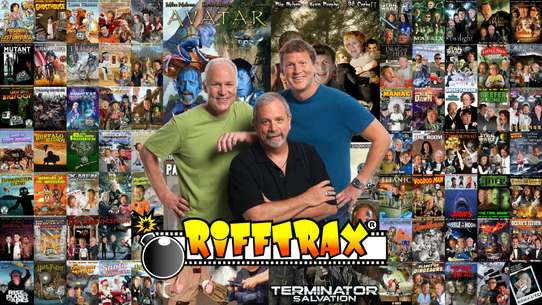 #20 - The Happening
Season 1 - Episode 67 - Aired Oct 21, 2008
The Happening is a departure for director M. Night Shyamalan: he abandons his trademark conceit of the twist ending to tell a straight-forward tale of horror. It's like going to a Gallagher show where he refuses to smash watermelons with a giant mallet. The only difference is that Gallagher's comedy is grim and depressing and The Happening is hilarious. Yes, the plants of the Northeastern United States are fed up with how we've been treating them and decide to simultaneously release a toxin that causes humanity to commit suicide in various comical ways. Evidently this is something that is entirely scientifically valid, because a hot-dog obsessed lunatic says so at one point in time during the movie. Mark Wahlberg baffles as a Lemon Drink-eyeing science teacher and the part of Zooey Deschanel is ably played by a Tarsier. Mike, Kevin and Bill lend intentionally funny riffs to this masterpiece of unintentional comedy. (Unless there's some sort of real-life Happening, in which case they pre-emptively announce their allegiance to the plants.)
84 votes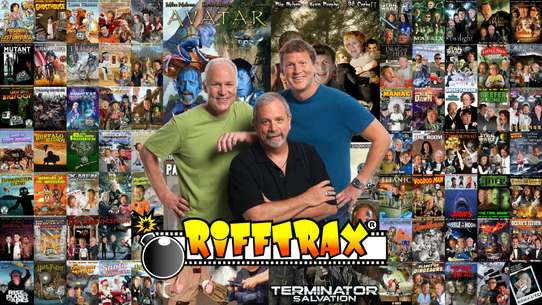 #21 - Indiana Jones and the Kingdom of the Crystal Skull
Season 1 - Episode 68 - Aired Oct 28, 2008
The most beloved franchise in film history returns to the screen and quickly becomes one generally well-liked franchise among many in film history! Yes, Indy is back, and this time he has a skull. And he has Shia "Dumb and Dumberer: When Harry Met Lloyd" LaBeouf's infectious logorrhea! And as promised, the filmmakers gave in to the forceful and ceaseless cries of "GIVE US MORE RAY WINSTONE!"* Mike, Bill and Kevin took their own skulls into the studio to create a RiffTrax for the ages! *Experts concede that demand for Ray Winstone may have been overstated. In fact, the cries have been traced back to one guy, Bill Tillerstot of Port Washington, Wisconsin, and his actual quote was "Give us NO Ray Winstone."
28 votes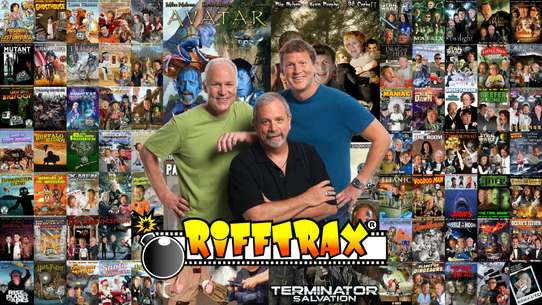 #22 - Twilight
Season 1 - Episode 83 - Aired Apr 21, 2009
RiffTrax was caught up in the Twilight frenzy, and not surprisingly, given that we are staffed almost exclusively by 13 year-old girls. So when we heard rumors of the feature film—the whispers of John Goodman being cast as Edward were especially worrying—we sent so many texts beginning "OMG!!!1!!!!11!!" we nearly shut down our SMS service. At the movie's premiere we were there among the throngs, shrieking with girlish glee when Robert Pattinson got out of his limo (it turns out we had mistakenly gone to the premiere of The Changeling and were actually shrieking for John Malkovich, but the point still stands.) And when it was finally released on DVD we ruined our first three copies by hugging them too much. But we've overcome these obstacles to give you the best RiffTrax for a sparkly-emo-vampire film that we know how to make, and we say with as much humility as we can muster, that's a pretty darn good sparkly-emo-vampire RiffTrax! Turn off that Ashley Tisdale download, tell the clerk at Hot Topic you'll buy that hoodie later, and cozy up with Mike, Kevin and Bill for the mopiest RiffTrax ever!
56 votes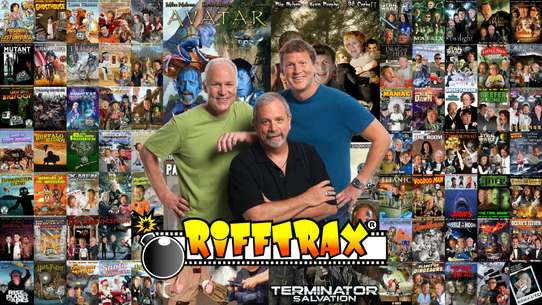 #23 - Are You Popular
Season 3 - Episode 8 - Aired Apr 8, 2008
(1947) It's time to face the question head on, to stop pretending that the crowds of people following you, jeering, throwing rocks and half-eaten burritos are there because of your charm and animal charisma. You've suspected it for some time, from the moment you were rejected by CompuServe because you just weren't cool enough. The short Are You Popular? will help you solve the question once and finally: the question, "Are you popular?" There are no easy answers, friends (that is, the answer is "no", of course, which is not always easy to hear) but Mike, Kevin and Bill are more than happy to be your guides.
28 votes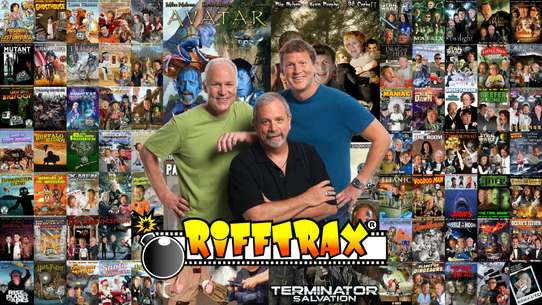 #24 - Down and Out
Season 3 - Episode 12 - Aired Jul 1, 2008
If you like your safety shorts served with a heavy dose of groovy, then this is for you! Down and Out lays out a litany of dangers inherent in your every move from one location to the other, no matter how small. Bone-shattering death awaits around every corner. Every surface, every object, every molecule conspires with all others on earth to kill you dead! See your own tragic fate played out again and again, all backed up by a smooth drum-based soundtrack. You WILL die in an accident, but Down and Out will make the few moments until you do all the more pleasant. Mike, Kevin and Bill share the pain.
28 votes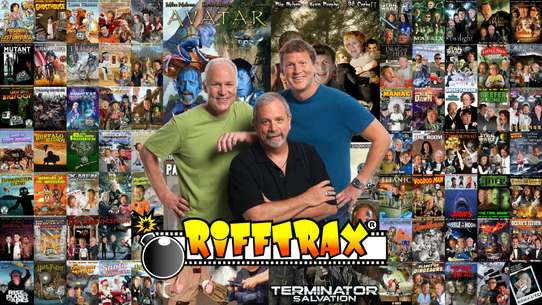 #25 - Patriotism
Season 3 - Episode 13 - Aired Jul 3, 2008
When you hear the word "patriotism" what's the first name that pops into your head? Wrong! The answer is Bob Crane. And not "Hogan's Heroes" Bob Crane, but rather creepy, post-"Hogan's Heroes" Bob Crane, home video, um, "pioneer". There is no one - NO ONE - better equipped to imbue America's youth with a sense of pride in their magnificent country - you know, once you get past the overwhelming, suffocating creepiness. Fear not, feelings of discomfort soon turn to laughter thanks to true patriots Mike, Kevin and Bill.
28 votes