The BEST Episodes of Moomin
Every episode ever - ranked by fan votes!
Last Updated: Sep 24, 2019
In the remote and mysterious Moomin Valley live the Moomin trolls, gentle and peaceful creatures. Young Moomin and his family experience many strange adventures, both magical and mundane. Based on the children's stories by Tove Jansson.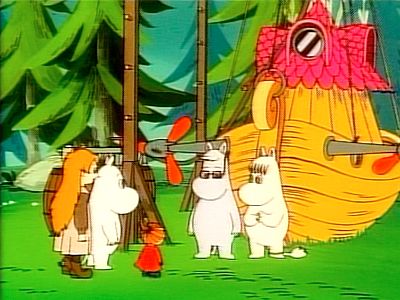 #1 - The Great Race (1)
Season 1 - Episode 77
Finally the Snork`s flying ship is ready for its test flight, but the Snork is beset by trouble. His balloon leaks and when, on top of that, another aviator in a balloon arrives, the Snork is very dejected, indeed. The stranger and the witch arrange a race between them in which the Snork cannot take part. Indeed, will he get his flying ship off the ground at all ?
4 votes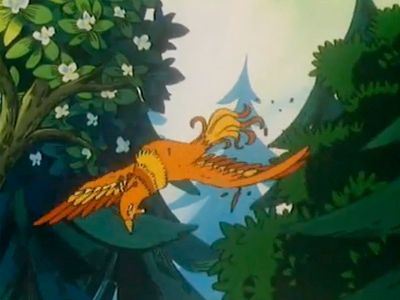 #2 - The Phoenix
Season 1 - Episode 69
Moomin and his friends carry home a wounded bird, which has been brought down by some hunters. The bird is large and very beautiful, quite old, and not to be found in any book on birds. Not even the Hemulen has seen it before. Her grandma being away Alicia is staying with the Moomins for a few days, and it is she who finally finds out what bird it is, and what it wants. The request is quite strange but they comply with it, helped by all the villagers to bring about a staggering transformation.
4 votes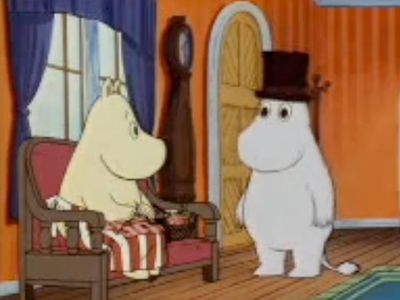 #3 - Mymble's Diamond
Season 1 - Episode 54
Mymble has found a ring on the ground with a big, sparkling stone and gives it in to the Inspector. When no one comes forth to claim it he gives it to her and she is very, very happy, deciding it must be a diamond. She parades it all around Moominvalley, until she is informed by Fillyjonk that if one has a huge diamond like that one must dress accordingly. Not only that, but one must behave accordingly and live accordingly and even though Mymble is helped by Little My and Stinky she soon finds that although diamonds may be a girl`s best friend, they should be so in moderation..
6 votes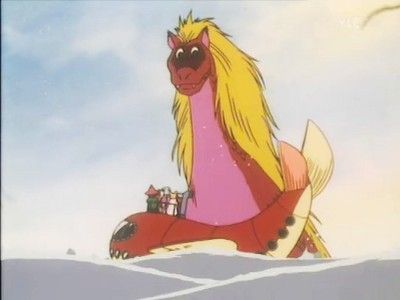 #4 - Adventures of Moominpappa: Part 3
Season 1 - Episode 68
Again, Moominpappa is talked into telling the others about his stormy youth - never a difficult task with autobiographers. He tells us about how the Fuddler met the Muddle and how they came to share the buttons and the coffee tin; about the re-appearance of the ghost and how he came to share quarters with Moominpappa, about how Fredriksson finally finished his new Oshun Oxtra which brought them up first into the air and then down into the sea, from which they were saved by Edward the Booble, and last, how he came to meet the charming young Moomin maiden who later was to become Moominmamma.
3 votes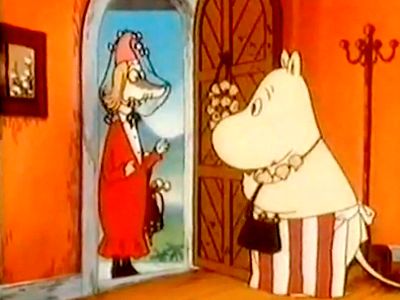 #5 - The Vampire
Season 1 - Episode 66
Horror strikes Moominvalley when a vampire escapes from the Zoo, and everyone tries to cover himself up in gauze or bandages to keep from being bitten. Not exactly knowing exactly what sort of vampire it is, most people aslo use garlic to be on the safe side. The blood-thirsty beast is finally found, having taken refuge in the Moominhouse kitchen, and takes an immediate shine to Moominmamma, who refuses to give it up to the Zoo, that not being the way guests are treated in Moominhouse. Meanwhile, everyone is walking around in garlic an gauze, and the Moomins realize they have to do something about it. As is often the case with them, their solution is perhaps not the best one...
3 votes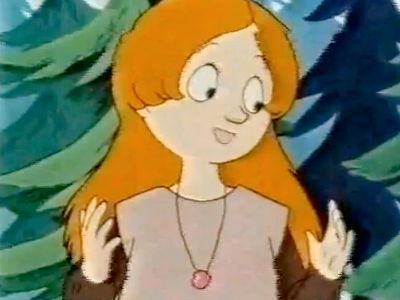 #6 - Witch-Walking
Season 1 - Episode 62
Great things are happening in Moominvalley. Snorkmaiden`s brother, the Snork, has finally completed the model of his new flying ship and it seems to work, being a bit more sensibly constructed than the first one. On the not-so-scientific front the witch`s granddaughter, Alicia, has graduated to her first instruction in real witchcraft, a stunning feat which the snork immediately tries to emulate. And finally Snufkin and the Hemulen try to catch the Mameluke, a fish that is not only very, very large, but also very, very hungry.
4 votes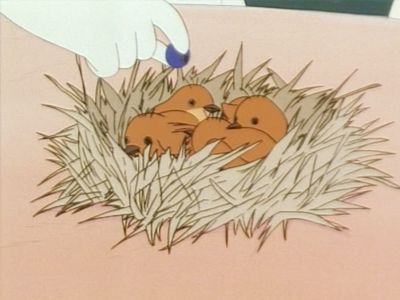 #7 - Moomin and the Birds
Season 1 - Episode 64
Inspired by the Hemulen, who has temporarily left plants aside for a study of birds, Moomin and his friends go out to study Nature, armed with a book on the subject, and find a lot of things they haven`t even noticed before. They also find a bird`s nest high on a cliff, the mother bird being attacked by a kite. Both mother and fledglings are taken to Moominhouse, and while the mother is patched up the big problem arises - how to get her babies to eat ? They won`t take a thing from foreign hands...
5 votes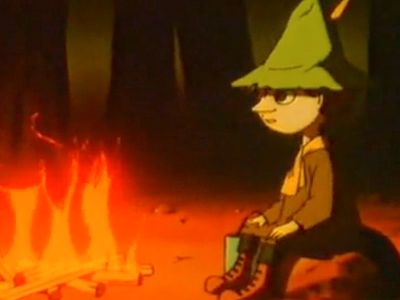 #8 - Hurry Up Snufkin
Season 1 - Episode 24
Wintering away from bed can't be very good for Moomins, for when spring comes Moomin has a terrible cold, and takes to bed when all the others get up. This year Snufkin is very late and Moomin worries far more than is good for him. Finally Snorkmaiden sets off to try and find Snufkin and bring him back, hoping this would bring about a speedy recovery. Stinky makes a bedside call, and agrees to help Moomin go out to look for Snufkin. Poor Stinky - he learns that when you have a bad reputation good deeds don't really help much.
13 votes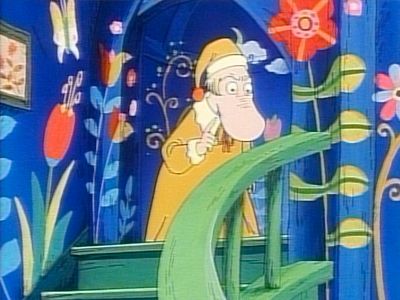 #9 - Painting a House
Season 1 - Episode 76
There is no end to the catastrophes that befall the Hemulen - barely has the hailstorm destroyed his beloved plants when a terrible wind makes off with part of his roof, and then Little My descends on him, making the hole in the roof even bigger.She and her friends decide to do all the necessary repairs, and get so caught up with their work that when it is finished they decide to re-paint everything inside, too. This is very kind of them, but sometimes people like their old walls, even if the paint may peel a bit...
3 votes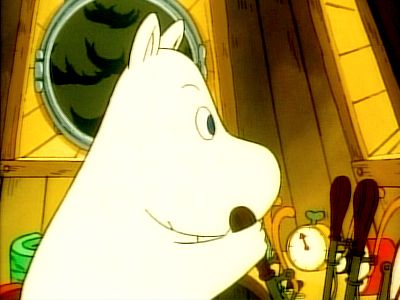 #10 - Going South (2)
Season 1 - Episode 78
At last the Snork`s flying ship is working properly, and everyone is getting a ride in it - some very hazardous ones. Winter is just around the corner, and while the Moomins hibernate as usual, practically everyone else decides to go south for long trips. Snufkin is going too, of course, but before he goes he give Moomin a very special present.
4 votes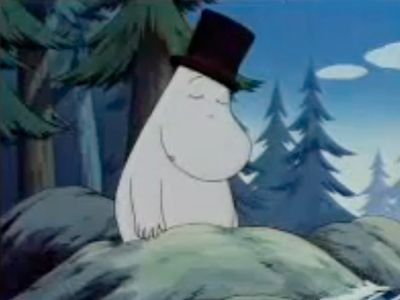 #11 - Moominpappa's Second Youth
Season 1 - Episode 55
One day something remarkable happens in Moominvalley, Moominpappa goes for a walk without his hat. When mad aware of this he is greatly distressed, fearing that his forgetfulness is a sign of approaching senility. he takes up the most strenuous physical exercises to regain his lost faculties, and makes day into night in an attempt to get out of the ruts of his life. To get him back to normal takes quite a jolt; a very gently one which is administered by Moominmamma - who else ?
4 votes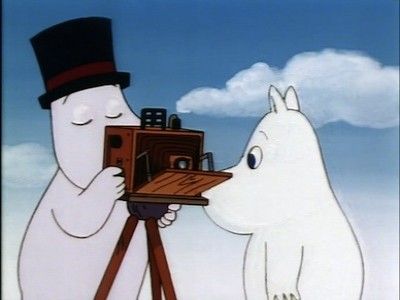 #12 - Artists in Moominvalley
Season 1 - Episode 58
Ever believing in his own ability Moominpappa enters a photo contest for the best nature shot. The spectacular and dramatic results draw a throng of painters to Moominvalley, where the big annual exhibition of paintings is to be held. Moominpappa is much intrigued by the many different approaches to paint an apple tree, and decides to try his hand at that, too. Sudden ( and unusual) misgivings about his own talent make him decide not to enter his version, but apparently Moominmamma`s belief in his art is stronger than his own.
4 votes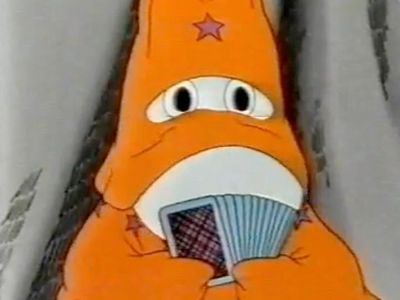 #13 - Moomin's the Fortune-Teller
Season 1 - Episode 61
Sniff is at it again; trying to get rich quickly. Unfortunately for Moomin he figures as the short-cut to riches in a dream Sniff has had, and when Sniff drags him off to masquerade as a fortune-teller, Moomin as usual finds it far too difficult to say no. Helped by Sniff`s tampering ever so slightly with Fate they get off to a most promising start, but then nemesis hits, as is her wont at least where Sniff is concerned, leaving Moomin to help Snorkmaiden with her costume for a fancy dress competition.
4 votes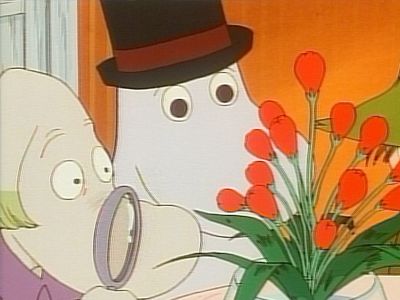 #14 - A Wonderful Present
Season 1 - Episode 74
Thingumy and Bob finally decide to go back to Moominvalley for a visit. As usual they lug their - to them enormous suitcase along. Remembering the equally enormous ruby it used to contain Stinky takes the suitcase from them. On arrival at Moominhouse Thingumy and Bob are desolate, because the suitcase held a wonderful present they were going to give to the Moomins, in fact a present for which they had exchanged their ruby. Stinky finds the present both worthless and inedible, and Thingumy and Bob get it back. But it doesn`t seem to do what was promised...
4 votes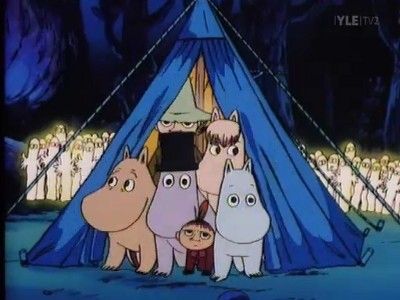 #15 - The Hattifatteners (3)
Season 1 - Episode 5
Our friends have forgotten to tie their boat up in the storm and are attacked by hordes of electrified Hattifatteners, who want their sacred barometer back. Swimming about after the storm Moomin and Snorkmaiden find the most exciting things brought by the storm, but the most exciting find is undoubtedly made by Snufkin.
10 votes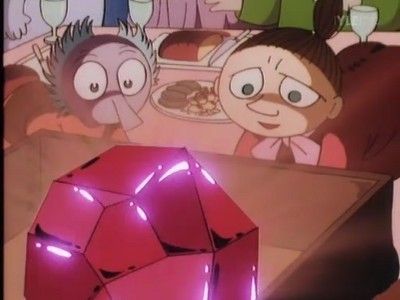 #16 - The Hobgoblin (3)
Season 1 - Episode 8
The Groke has gone, having been given a very special sea-shell which was a gift from Snorkmaiden to Moomin, who is now in trouble. Moominmamma's handbag disappears, and she promises the finder a huge party. It seems the Groke was not the only one interested in the contents of the suitcase, however...
10 votes
#17 - Snorkmaiden's Lost Memory
Season 1 - Episode 15
During a spell of rainy weather Snorkmainden has crammed herself with stories about princesses and chivalrous knights. On the first sunny day she and Moomin climb a mountain, where Snorkmaiden sees what she believes is, an Edelweiss. Needless to say it isn't (no such things in Moominvalley), but they have to climb down to get it. Snorkmaiden slips, rolls down the mountainside and winds up in a faint. When she comes to she has forgotten all, and thinks she is of royal blood...
8 votes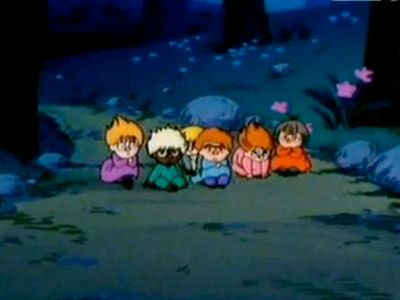 #18 - The Lost Children (2)
Season 1 - Episode 29
8 votes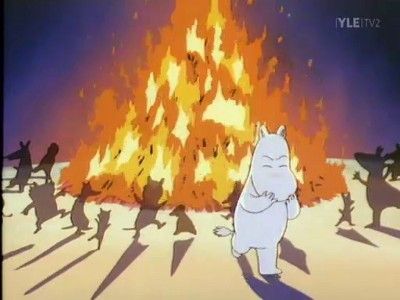 #19 - The Midwinter Bonfire
Season 1 - Episode 37
6 votes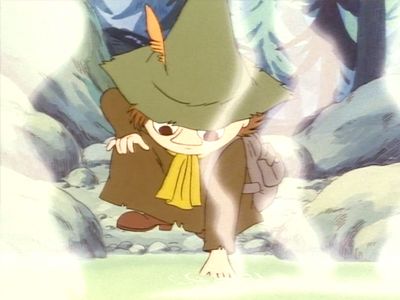 #20 - The Hot Spring
Season 1 - Episode 47
6 votes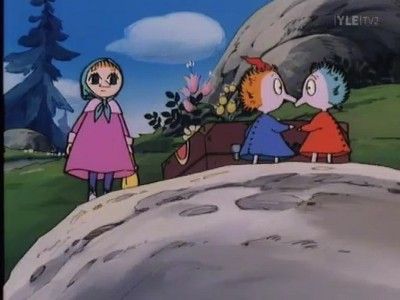 #21 - Tiny Guests (1)
Season 1 - Episode 6
One day two very small guests arrive at Moominhouse. They bring a suitcase, so Moominpappa knows they have come to stay and builds a small bed. Everybody is dying to know what`s inside the suitcase, which Thingumy and Bob guard day and night. The terrible Groke knows, however, and she is coming to get it.
11 votes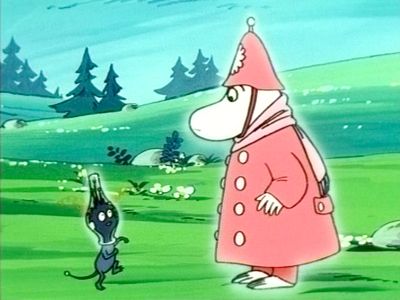 #22 - A Close Encounter with Aliens
Season 1 - Episode 16
One day a flying saucer lands in Moominmamma's vegetable garden. It is apparently unmanned and she and Moomin salvage a strange box-like apparatus which looks rather home-made, but which has many remarkable properties. The Inspector is on the war-path trying to nab extra-terrestrials and when the Moomins find one, a runaway child, they have to hide him, quickly deciding that he has probably not come to invade Moominvalley. Their task isn't made any easier by the fact that the box-like apparatus has now made the Inspector iridescent, this fascinating the child so that he follows the Inspector everywhere.
10 votes
#23 - The Fancy-Dress Ball
Season 1 - Episode 65
Moominhouse is filled with feverish activity, because everyone in Moominvalley has been invited to a fancy-dress ball in the old Manor, and attics and closets are savoured for suitable items. Fillyjonk has promised to introduce Snorkmainden to a young man of Family, and both she and Little My are beside themselves with excitement. Moomin is totally engrossed in a project of his own down by the river, a secret, nobody knows about until Snufkin happens by. This does not matter, but then Stinky finds out, and that is very serious, also coinciding with the ball, to which Moomin is supposed to accompany Snorkmaiden as Tarzan...
4 votes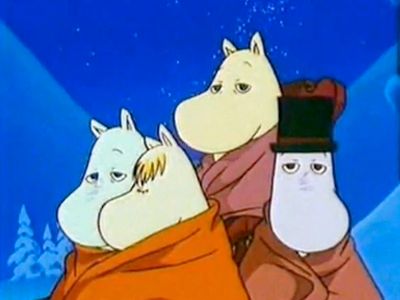 #24 - Christmas Is Coming
Season 1 - Episode 36
7 votes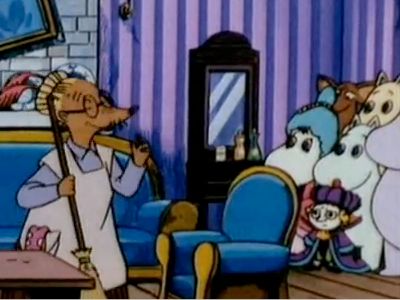 #25 - The Floating Theatre (1)
Season 1 - Episode 28
6 votes