The BEST Episodes of Moomin
Every episode ever - ranked by fan votes!
Last Updated: Aug 25, 2020
In the remote and mysterious Moomin Valley live the Moomin trolls, gentle and peaceful creatures. Young Moomin and his family experience many strange adventures, both magical and mundane. Based on the children's stories by Tove Jansson.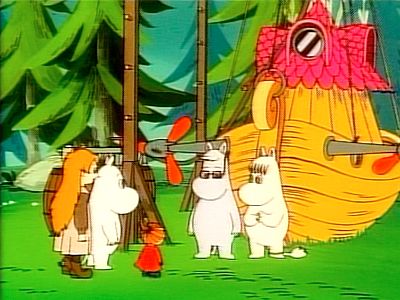 #1 - The Great Race (1)
Season 1 - Episode 77 - Aired Oct 3, 1991
Finally the Snork`s flying ship is ready for its test flight, but the Snork is beset by trouble. His balloon leaks and when, on top of that, another aviator in a balloon arrives, the Snork is very dejected, indeed. The stranger and the witch arrange a race between them in which the Snork cannot take part. Indeed, will he get his flying ship off the ground at all ?
32 votes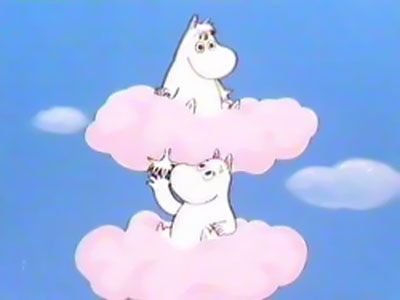 #2 - Spring in Moominvalley (1)
Season 1 - Episode 1 - Aired Apr 12, 1990
Spring has come to Moominvalley, and Moomin and his family come out of their winter hibernation. Up in Lonely Mountains Moomin, Snufkin, Sniff and Little My find a large top Hat, which they bring home. Too big to be worn they use it as a waste paper basket, but it is a Hat of magical qualities, and anything thrown into it changes into something completely different...
105 votes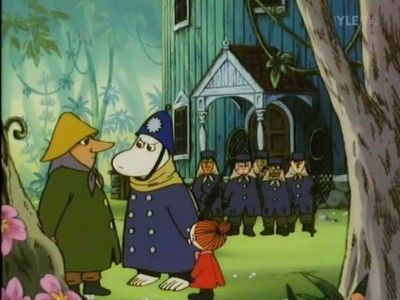 #3 - Moomin Saves the Tigers
Season 1 - Episode 20 - Aired Aug 23, 1990
Moominfamily have befriended all the wild animals that Stinky let out of the zoo (except the crocodiles and who wants to be friends with a crocodile, anyway?) and when the zoo-keepers come to take the animals back, the Moomins, aided by the Inspector, fend them off. But, also, the hot spell doesn't last. Autumn comes, the jungle withers in the cold and the animals huddles, shivering, in front of open fires, wondering if chilly freedom is really better than a warm zoo.
66 votes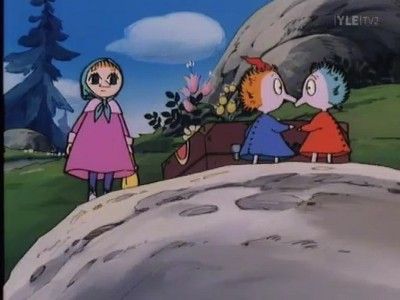 #4 - Tiny Guests (1)
Season 1 - Episode 6 - Aired May 17, 1990
One day two very small guests arrive at Moominhouse. They bring a suitcase, so Moominpappa knows they have come to stay and builds a small bed. Everybody is dying to know what`s inside the suitcase, which Thingumy and Bob guard day and night. The terrible Groke knows, however, and she is coming to get it.
70 votes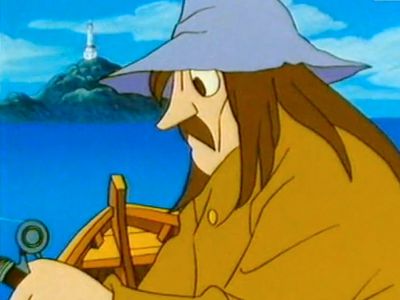 #5 - The Lighthouse (1)
Season 1 - Episode 25 - Aired Sep 27, 1990
Once again the very fine weather is boring Moominpappa to tears and this time he decides to take the whole family with him and sail for a lighthouse on a small island, not bigger than a fly-speck on the chart. Loaded down they set off and arrive next morning after a harrowing experience with a ghost-ship during the night. They meet a small boat with a man and a boy fishing, but when they get to the lighthouse it is empty, thick with dust and the beacon has gone out. What has happened?
64 votes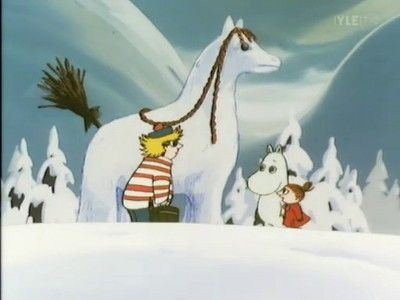 #6 - Moomin and Little My's Adventure (1)
Season 1 - Episode 22 - Aired Sep 6, 1990
For no special reason Moomin wakes up in the middle of winter and can't go back to sleep. This is quite unheard-of. He is unable to wake the others, and finally, shivering, he makes his way outside into the bleak, unfamiliar whiteness. He meets Little My, who has woken up even before him, and Too-tick who lives in the bath-house. He meets the invisible mice, who also stays there for winter, and he almost meets the Lady of the Cold, the most fearsome of all winter`s manifestations...
66 votes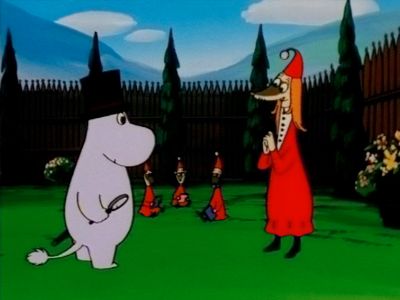 #7 - Our Neighbour is a Tough Teacher
Season 1 - Episode 14 - Aired Jul 12, 1990
One day, Fillyjonk moves into the Moomin Valley with her three children. Although the Moomins hold a welcome party with a lot of unique idea's meant to please them, Fillyjonk just dismisses them as harmful to the upbringing of her children, strictly prohibiting them from playing with Moomintroll and his company. Her children try to follow their mother's BEHAVE-YOURSELVES type of orders at first, but their natural instinct as children gradually draws them into Moomintroll's circle of playmates.
67 votes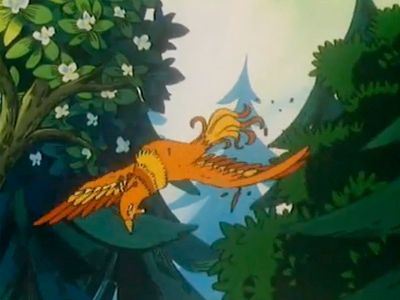 #8 - The Phoenix
Season 1 - Episode 69 - Aired Aug 8, 1991
Moomin and his friends carry home a wounded bird, which has been brought down by some hunters. The bird is large and very beautiful, quite old, and not to be found in any book on birds. Not even the Hemulen has seen it before. Her grandma being away Alicia is staying with the Moomins for a few days, and it is she who finally finds out what bird it is, and what it wants. The request is quite strange but they comply with it, helped by all the villagers to bring about a staggering transformation.
32 votes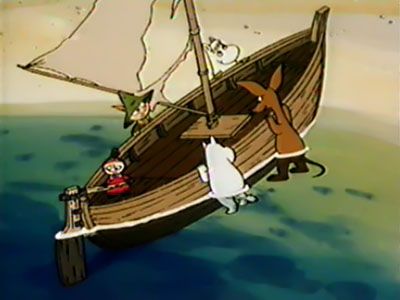 #9 - The Wreck (1)
Season 1 - Episode 3 - Aired Apr 26, 1990
Moomin and his friends go mountain climbing, encounter a very depressed Hemulen, sunk in gloom because his stamp collection is finally complete and he has nothing more to collect They learn from him about a sailboat wrecked on the beach. They start repairing the boat, hoping to sail the seven seas. Deciding to start collecting plants instead, Hemulen gets over his depression, and they all go for a trial sail.
75 votes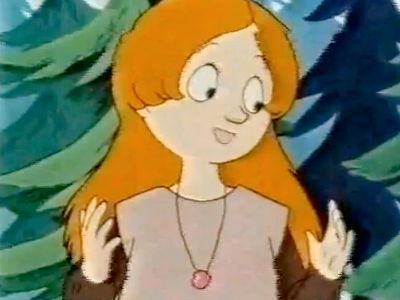 #10 - Witch-Walking
Season 1 - Episode 62 - Aired Jun 13, 1991
Great things are happening in Moominvalley. Snorkmaiden`s brother, the Snork, has finally completed the model of his new flying ship and it seems to work, being a bit more sensibly constructed than the first one. On the not-so-scientific front the witch`s granddaughter, Alicia, has graduated to her first instruction in real witchcraft, a stunning feat which the snork immediately tries to emulate. And finally Snufkin and the Hemulen try to catch the Mameluke, a fish that is not only very, very large, but also very, very hungry.
32 votes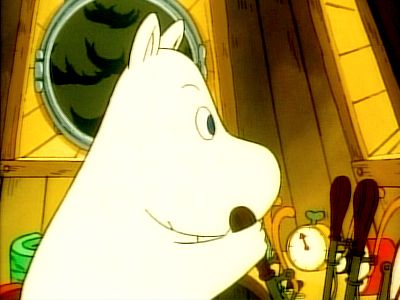 #11 - Going South (2)
Season 1 - Episode 78 - Aired Oct 3, 1991
At last the Snork`s flying ship is working properly, and everyone is getting a ride in it - some very hazardous ones. Winter is just around the corner, and while the Moomins hibernate as usual, practically everyone else decides to go south for long trips. Snufkin is going too, of course, but before he goes he give Moomin a very special present.
33 votes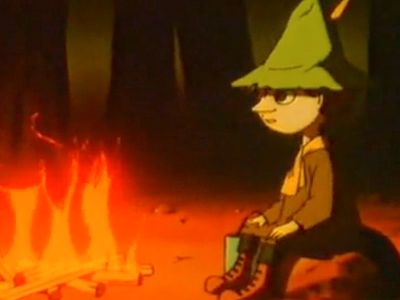 #12 - Hurry Up Snufkin
Season 1 - Episode 24 - Aired Sep 20, 1990
Wintering away from bed can't be very good for Moomins, for when spring comes Moomin has a terrible cold, and takes to bed when all the others get up. This year Snufkin is very late and Moomin worries far more than is good for him. Finally Snorkmaiden sets off to try and find Snufkin and bring him back, hoping this would bring about a speedy recovery. Stinky makes a bedside call, and agrees to help Moomin go out to look for Snufkin. Poor Stinky - he learns that when you have a bad reputation good deeds don't really help much.
70 votes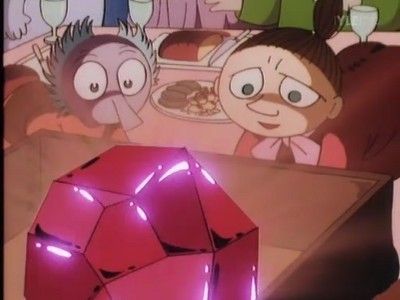 #13 - The Hobgoblin (3)
Season 1 - Episode 8 - Aired May 31, 1990
The Groke has gone, having been given a very special sea-shell which was a gift from Snorkmaiden to Moomin, who is now in trouble. Moominmamma's handbag disappears, and she promises the finder a huge party. It seems the Groke was not the only one interested in the contents of the suitcase, however...
68 votes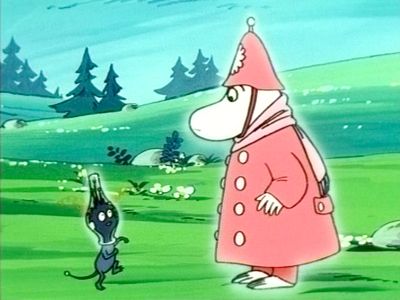 #14 - A Close Encounter with Aliens
Season 1 - Episode 16 - Aired Jul 26, 1990
One day a flying saucer lands in Moominmamma's vegetable garden. It is apparently unmanned and she and Moomin salvage a strange box-like apparatus which looks rather home-made, but which has many remarkable properties. The Inspector is on the war-path trying to nab extra-terrestrials and when the Moomins find one, a runaway child, they have to hide him, quickly deciding that he has probably not come to invade Moominvalley. Their task isn't made any easier by the fact that the box-like apparatus has now made the Inspector iridescent, this fascinating the child so that he follows the Inspector everywhere.
96 votes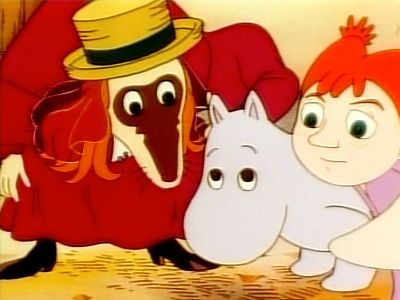 #15 - Adventures of Moominpappa: Part 1
Season 1 - Episode 59 - Aired May 23, 1991
As it seems Moominpappa has left his turbulent youth out of his memoirs (with the usual self aggrandizement of autobiographers he thought them too turbulent for print), he one day decides to at least tell about it so it won`t be completely lost to posterity. We learn about his escape from the terrible orphanage and how he meets Fredriksson and sails off with him in his ship "The Oshun Oxtra" (his friend the Fuddler isn` a very good speller), how they managed to launch the ship and, finally, whom Moominpappa inadvertently managed to rescue.
32 votes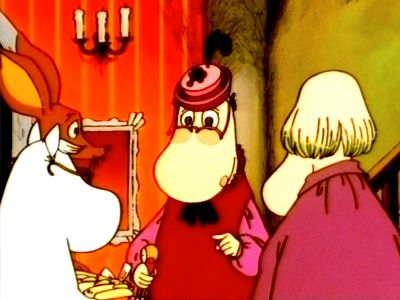 #16 - Aunt Jane
Season 1 - Episode 27 - Aired Oct 11, 1990
One day, Moominpappa gets a very rare thing, a letter! It is from Aunt Jane, a stinkingly rich relative of whom Moominpappa is rather scared. She is great on duty, and particularly on one's duty to money, so Moominpappa packs a knapsack and flees before she arrives. And very wisely, too, for she wants Moominpappa to look after her gold doubloons when she gets too old! There are, however, those in Moominvalley who need gold for their pet projects - and those who need gold just because they like it.
65 votes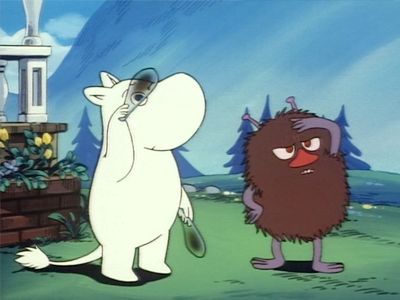 #17 - The Solar Eclipse
Season 1 - Episode 42 - Aired Jan 24, 1991
34 votes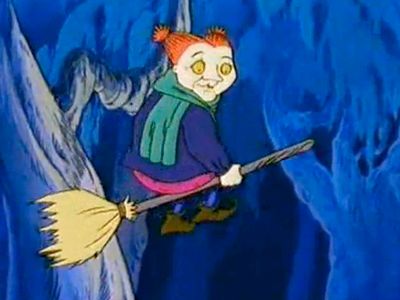 #18 - The Witch
Season 1 - Episode 35 - Aired Dec 13, 1990
33 votes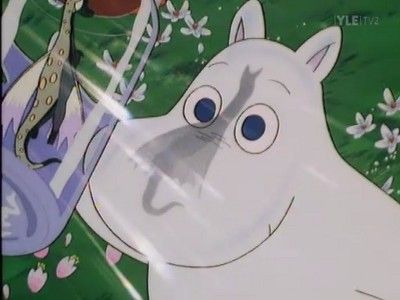 #19 - The Last Dragon on Earth
Season 1 - Episode 13 - Aired Jul 5, 1990
After a tremendous downpour Moomin finds a very small dragon in a puddle. Smothering this most exotic of pets with love he expects great devotion in return, but finds that love is a fickle thing indeed, and particularly difficult to contain in a glass jar.
66 votes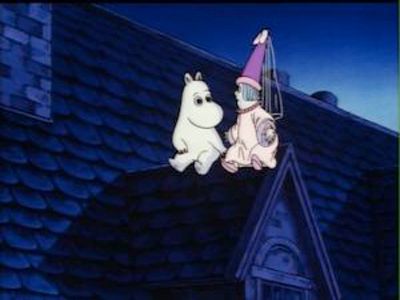 #20 - Dame Elaine
Season 1 - Episode 46 - Aired Feb 21, 1991
36 votes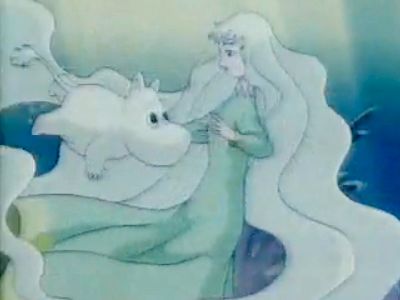 #21 - The Water Nymph
Season 1 - Episode 53 - Aired Apr 4, 1991
One day, in the aftermath of the gold fever, Sniff walks off upstream to look for gold in the river-bed. He gets lost in a thick mist, and suddenly comes upon a small pond, created by a pile of driftwood. What he sees there makes him completely spell-bound and he walks home in a trance. Learning about this Moomin tails Sniff when he goes back next day - and finds himself spell-bound in just the same way. This happens to most men in Moominvalley, until the women decide they have to do something about it - but before they can act Nature decides to take a hand.
36 votes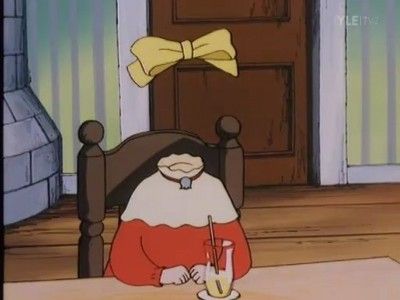 #22 - The Invisible Child (2)
Season 1 - Episode 10 - Aired Jun 14, 1990
Very slowly Ninny comes back into view, but her face is still missing. Stinky does his best to stop her from becoming visible, resorting to very nasty tricks when the children play hide and seek. It appears that anger and shouting loud is even better than medicine and kindness for getting your shape back.
67 votes
#23 - The Desert Island (2)
Season 1 - Episode 4 - Aired May 3, 1990
Moominfamily and their friends set out for adventure in their new sailboat, and finally arrive at a seemingly uninhabited island. It is, however, populated by some very strange creatures with whom Hemulen has an unpleasant encounter. A terrible storm hits the island and they decide to stay over night, pulling up the boat as far as she will go and taking taking refuge in their tent.
73 votes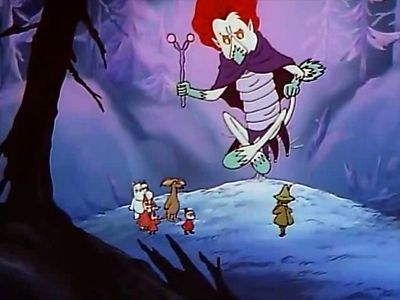 #24 - The Imp
Season 1 - Episode 50 - Aired Mar 21, 1991
34 votes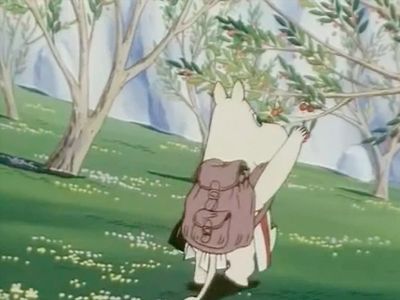 #25 - The Secret Dish
Season 1 - Episode 56 - Aired May 2, 1991
Is Moominmamma`s family really getting tired of her cooking ? It seems impossible, but Little My unabashedly claims that she is getting very bored with always having pancakes, and Moominpappa at least implies that the best dish he ever had was one not cooked by his beloved wife. As always, when in a quandary, Moominmamma consults Grandma`s book of recipes and cures and, sure enough, finds "What To Do When Your Family Grows Tired of Your Cooking". Taking Snufkin along, she embarks on the journey that the recipe calls for, to find the secret ingredient necessary for the Irresistible Dish.
34 votes