The BEST Episodes of Miraculous: Tales of Ladybug & Cat Noir
Every episode ever - ranked by fan votes!
Last Updated: Aug 22, 2019
Miraculous: Tales of Ladybug & Cat Noir - In modern-day Paris, there's a teen junior high school girl named Marinette Dupain-Cheng and her classmate, Adrien. When evil arises, Marinette transforms into Ladybug while Adrien transforms into Cat Noir. However, neither know each other's secret identities. Together, they fight to protect Paris against the mysterious villain Hawk Moth.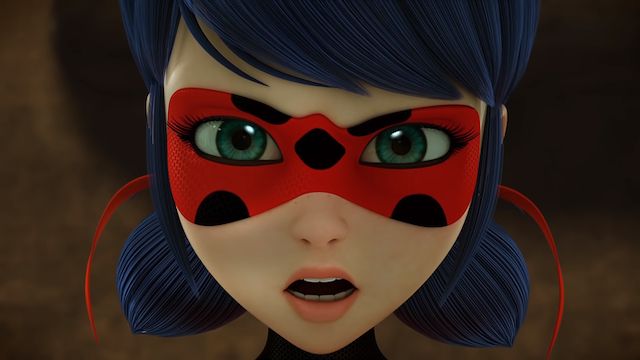 #1 - Timetagger
Season 3 - Episode 12
Ladybug and Cat Noir confront Timetagger, a supervillain coming from the future to seize their Miraculouses. Paris' fate is in their hands!
13 votes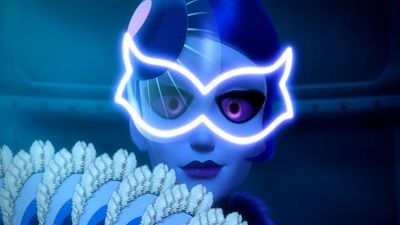 #2 - Mayura (Heroes' Day - Part 2)
Season 2 - Episode 25
Hawk Moth puts his terrible plan into action by reakumatizing many of his previous villains with the help of Catalyst. Will Ladybug and her team of super heroes succeed to defeat Hawk Moth and his extraordinary army?
29 votes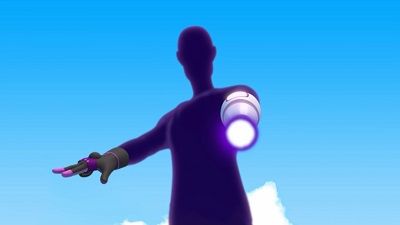 #3 - Oblivio
Season 3 - Episode 7
Ladybug and Cat Noir have lost their memory and a mysterious villain is prowling around Paris. Will our amnesiac heroes manage to defeat Oblivio and turn him into just a bad memory?
21 votes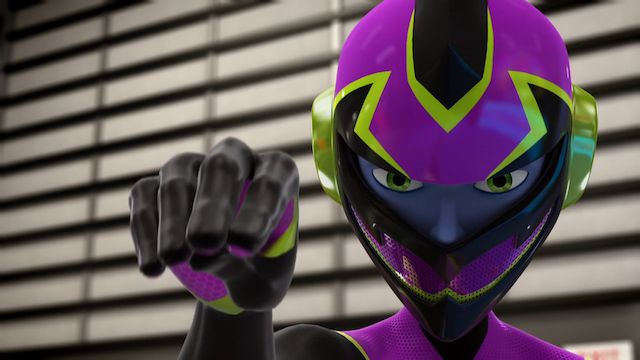 #4 - Silencer
Season 3 - Episode 6
Ladybug and Cat Noir challenge Luka, who is akumatized into Silencer. Ready to make your voice heard?
23 votes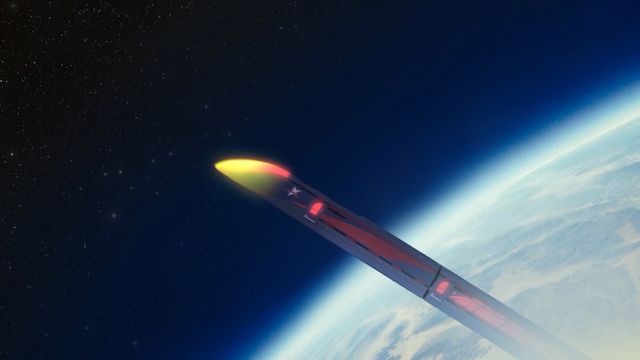 #5 - Party Crasher
Season 3 - Episode 20
Ladybug and her team face Wayhem, who has become Party Crasher. Will our heroes manage to put a smile back on his face?
13 votes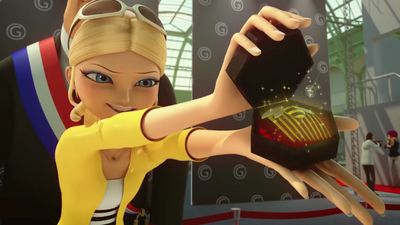 #6 - Queen Wasp (Queen's Battle - Part 2)
Season 2 - Episode 22
After transforming into Queen Bee to try and impress her mother, Chloé gets akumatized into Queen Wasp. Will Ladybug and Cat Noir manage to stop this superhero turned supervillain?
30 votes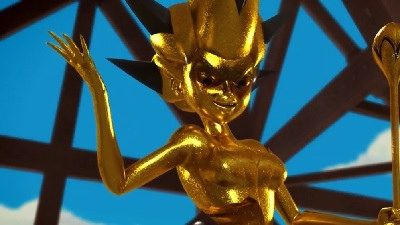 #7 - Style Queen (Queen's Battle - Part 1)
Season 2 - Episode 21
After being humiliated by Gabriel, Chloé's mother Audrey is akumatized into Style Queen, a yellow-flashy supervillain armed with a scepter, and attacks Adrien. Chloé is given the Bee Miraculous, with the command of Pollen the kwami, and transforms into the bee-themed superheroine, Queen Bee.
29 votes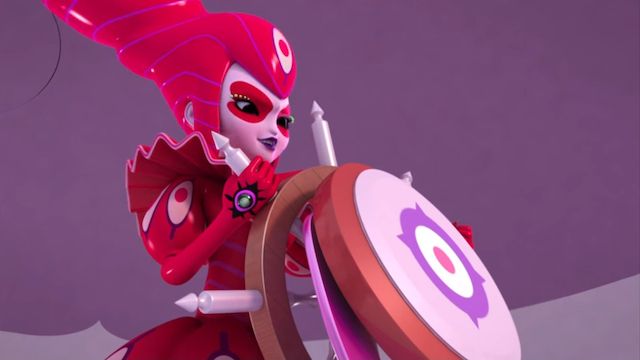 #8 - Gamer 2.0
Season 3 - Episode 13
Ladybug and Cat Noir once again face Max, now Gamer 2.0. Let the game begin!
19 votes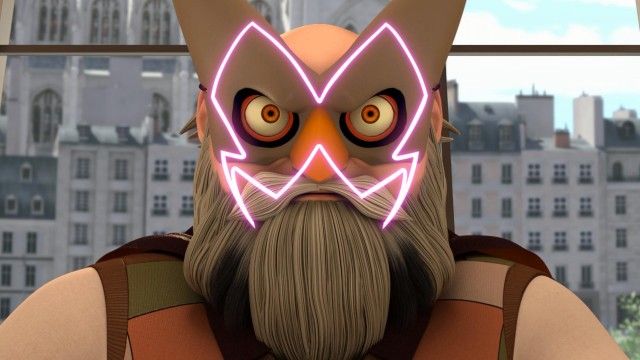 #9 - The Dark Owl
Season 2 - Episode 8
After school principal Damocles is akumatized into Dark Owl, he traps Ladybug and Cat Noir in a warehouse and tries to uncover their true identities.
49 votes
Writers:
Thomas Astruc

,
Matthieu Choquet

,
Fred Lenoir

,
Sébastien Thibaudeau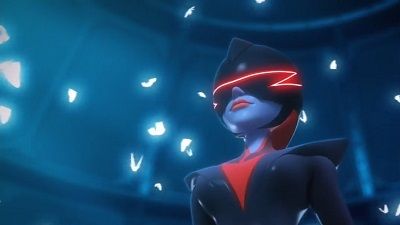 #10 - Catalyst (Heroes' Day - Part 1)
Season 2 - Episode 24
It's the Day of Heroes in Paris and everyone must prepare a good action for others. Bogged by her activities as Ladybug, Marinette did not have time to prepare hers. For fear of disappointing her friends by announcing that she has not prepared anything, Marinette lies to them and finds herself quickly overcome by her own lie. Her nightmare is just beginning... Hawk Moth has akumatized his assistant Nathalie into Catalyst, a supervillain that will allow him to put into action the plan he's been concocting for a long time, that will finally make it possible to defeat Ladybug and Cat Noir.
30 votes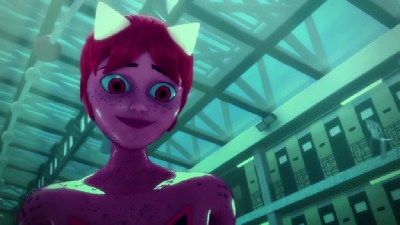 #11 - Syren
Season 2 - Episode 14
While Ladybug, Cat Noir, and Rena Rouge are handling overrun domestic trouble, Kim and a talented swimmer, Ondine, are at the swimming pool when Ondine tries to send a love message to Kim, but he is so dense he leaves without reading it. Sensing Ondine's broken heart, Hawk Moth finds her a perfect prey to akumatize and turns her into "Syren", a mermaid supervillain flooding the city. Water is surging all over Paris and Syren captures Kim to rule the underwater city with her "prince". Meanwhile, Adrien is expressing doubts being a superhero since Ladybug is keeping too many secrets from him lately, then he and Master Fu officially meet. Fu has applied the both heroes a new aquatic power that modifies the kwami to breathe underwater. Gabriel also learns about the hidden power of the kwamis and he wants these for his own kwami, but since only a Guardian of the Miraculouses knows the secret formula, he is determined to find the Guardian, wherever he is.
34 votes
Writers:
Thomas Astruc

,
Matthieu Choquet

,
Fred Lenoir

,
Nolwenn Pierre

,
Sébastien Thibaudeau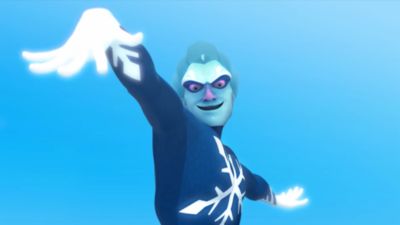 #12 - Frozer
Season 2 - Episode 20
A figure skating trainer named Philippe gets akumatized into Frozer; armed with evil ice skates, he wants to turn Paris into a kingdom of ice.
30 votes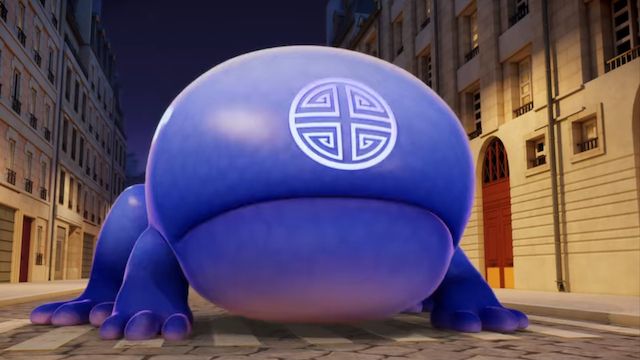 #13 - The Puppeteer 2
Season 3 - Episode 21
Ladybug and Cat Noir face the Puppeteer at the Grévin Museum! Our heroes will need to put on a show to stop her!
12 votes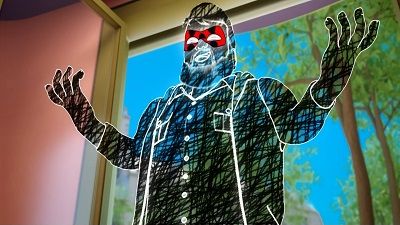 #14 - Animaestro
Season 3 - Episode 4
Ladybug and Cat Noir challenge a producer. Now Animaestro, he wants to show the world what an animation producer is made of.
22 votes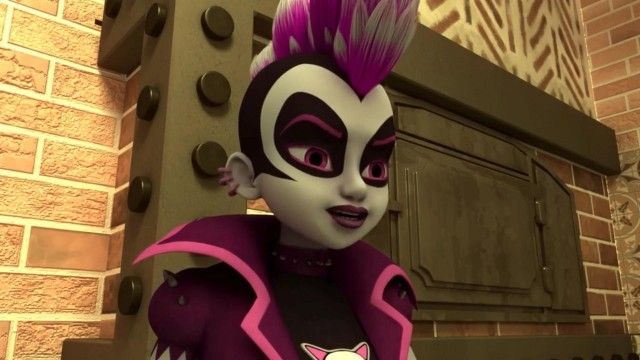 #15 - Troublemaker
Season 2 - Episode 16
Jagged Stone decides to guest star in a live-recording television show, Fill My Shoes, where a person is taking part in another person's job, and the show featuring him is taking place at Marinette's parents' bakery. Wanting to impress Jagged, Penny is running back and forward till everything goes out of control and the intermission accidentally gets disrupted, demanding Penny to solve it all. Hawk Moth takes advantage of the pressure on Penny and akumatizes her as "Troublemaker", a villain capable of switching from tangible to intangible, making a big mess, and urges to get back at those who shunned her. Throughout the commotion, the discovery of Adrien's photos in Marinette's room has Ladybug completely nervous. Not ready to tell how she feels, Marinette later manages to convince Adrien that she is just a fan and he invites her to one of his photoshoots.
36 votes
Writers:
Thomas Astruc

,
Mélanie Duval

,
Fred Lenoir

,
Sébastien Thibaudeau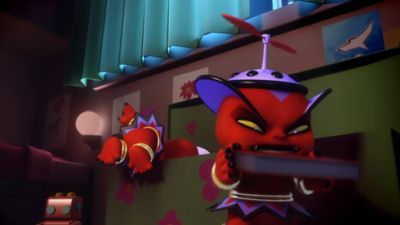 #16 - Sapotis
Season 2 - Episode 10
Marinette helps Alya babysit the latter's twin sisters, Ella and Etta. When they keep staying up and refuse to go to bed, Alya forbids them from going to the amusement park the next day and confiscates one of their hats. The twins, sad over the fact they now can't go the amusement park and have to listen to their older sister's orders, are fighting over the other hat, then Hawk Moth akumatizes them both into "Sapotis", a pair of small but totally unpredictable monsters that multiply and cause havoc. When Ladybug and Cat Noir are overwhelmed by the creatures, Ladybug is prompted by her Lucky Charm to visit Master Fu, who loans her the Fox Miraculous. Ladybug gives the Miraculous to Alya, who, with the command of Trixx the kwami, transforms into the fox-themed superheroine, Rena Rouge. After the three heroes overcome the Sapotis menace, Alya reluctantly returns the Fox Miraculous to Ladybug and keeps the details of her adventure a secret.
51 votes
Writers:
Thomas Astruc

,
Matthieu Choquet

,
Mélanie Duval

,
Sébastien Thibaudeau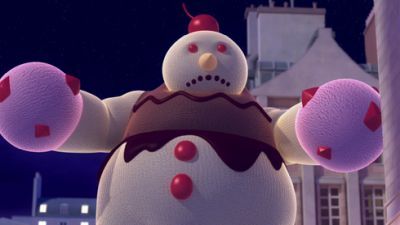 #17 - Glaciator
Season 2 - Episode 9
Legendary Parisian ice-cream maker André gets akumatized by Hawk Moth. Now Glaciator, he turns people into ice cream... which starts to melt! Ladybug and Cat Noir cannot get cold feet if they want to stop him!
55 votes
Writers:
Thomas Astruc, Matthieu Choquet, Fred Lenoir, Sébastien Thibaudeau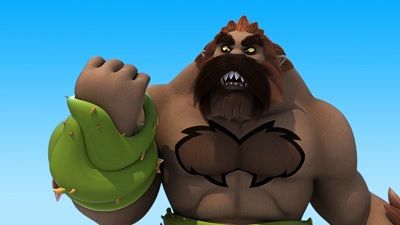 #18 - Weredad
Season 3 - Episode 2
When Chat Noir seems to understand that Marinette is Ladybug, Marinette panics and makes him believe that she is in love with him to divert his attention. But her parents attend her declaration, and Tom, absolutely delighted, decides to invite Chat Noir for lunch at the Dupain-Cheng's. But when the superhero confesses to them that he is not in love with Marinette, Tom is heartbroken and is akumatized by Hawk Moth. Now Weredad, a huge monstrous man-guard dog, he locks up Marinette in a jail of brambles to protect her from the outside world and heartbreaks. Separated from Tikki, Marinette can not transform! Will Chat Noir manage to make Weredad listen to reason? And will Marinette find Tikki in time to stop her father?
24 votes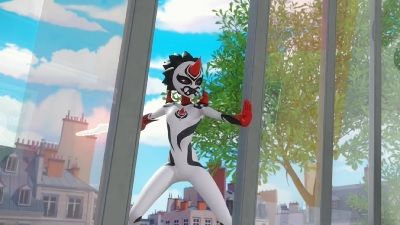 #19 - Onichan
Season 3 - Episode 10
Ladybug and Cat Noir challenge Kagami, now Oni-Chan. Jealous of Lila, she wants to stop her from getting close to Adrien... forever!
17 votes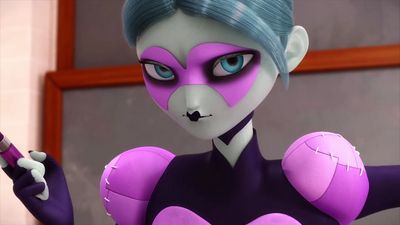 #20 - Zombizou
Season 2 - Episode 13
Sweet and lovely Miss Bustier gets akumatized into Zombizou. Armed with an evil black lipstick, she wants to spread love in the city, by force.
38 votes
Writers:
Thomas Astruc

,
Wilfried Pain
#21 - Volpina
Season 1 - Episode 26
Adrien discovers a book in his father's safe with pictures of the different Miraculous heroes and steals it to learn more. Later, a new student named Lila arrives who claims to be good friends with Ladybug in order to wow Adrien. Jealous and upset by Lila's lies, Marinette begins to tail her, during which time she watches Lila steal the Miraculous book from Adrien. Tikki notices the cover design and insists upon taking the book for further study. Lila then tells Adrien that she is descended from the Miraculous holder Volpina, prompting Marinette to transform into Ladybug and call Lila on her lies in front of Adrien. Embarrassed, Lila runs off and becomes influenced by Hawk Moth, who transforms her into "Volpina", a superhero with the power to create illusions, with the hope that she can gain Ladybug and Cat Noir's trust and betray them. The plan fails, though Hawk Moth is not concerned, proclaiming that his "big day" is at hand. Afterwards, Tikki's suspicions about the book are confirmed: it is the long-lost book of lore that contains coded secrets about the Miraculouses. She then brings Marinette to meet the Great Guardian, Master Fu.
51 votes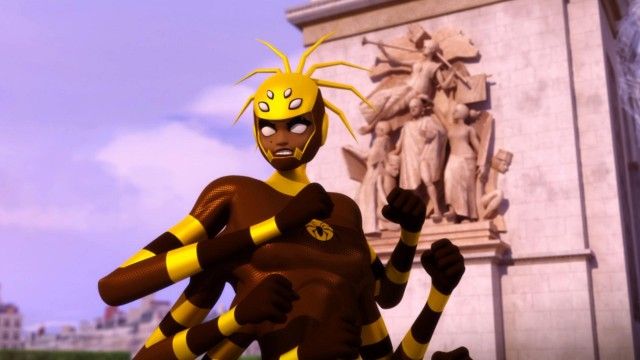 #22 - Anansi
Season 2 - Episode 17
Nino and Alya are playing a battle dancing game in sync while Marinette chats with Adrien via phone. When Alya plans to go see the World Cup fireworks, her sister Nora objects that it's dangerous, considering the number of times Alya had been directly involved with Hawk Moth's villains. She challenges Nino to arm-wrestling to see if he has what it takes to be a man, and Marinette cheats to secure his victory. Unappreciated, Nora does get akumatized into the spider-themed villain "Anansi". She traps Alya and Cat Noir on the Arc de Triomphe, provoking Nino to fight her. With Anansi too strong for a distraction, Ladybug is encouraged to see Master Fu. This time, she recommends his Turtle Miraculous. Ladybug introduces Wayzz to Nino and he transforms into the turtle-themed superhero, Carapace. Once Anansi is defeated, Nino returns the Turtle Miraculous to Ladybug. Though defeated again, Hawk Moth proclaims the heroes will soon be "outnumbered". Marinette apologizes to Nora and the gang rejoices.
37 votes
Writers:
Thomas Astruc

,
Mélanie Duval

,
Fred Lenoir

,
Sébastien Thibaudeau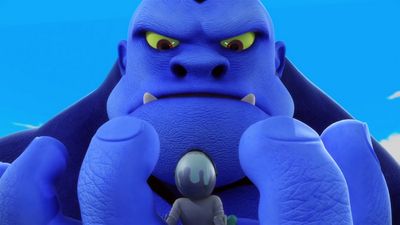 #23 - Gorizilla
Season 2 - Episode 11
Adrien sneaks out to watch a particular movie, Solitude, in which his mother plays the lead role, but gets mobbed and runs into Marinette whom he turns to for help. Meanwhile, Gabriel suspects his son may be Cat Noir. He sends Adrien's bodyguard after him; when the Gorilla just got his car towed for illegal parking, Gabriel transforms into Hawk Moth and decides to akumatize the frustrated bodyguard to get faster results. The Gorilla becomes "Gorizilla", a giant ape with enormous strength and a keen sense of smell, and begins to follow Adrien all through Paris. Ladybug jumps into action to save Adrien, while the latter tries to hide and transform into Cat Noir to help Ladybug. In the end, when the villain is defeated, Gabriel is convinced he was wrong about Adrien being Cat Noir since he saw both them at the same time (but he actually saw one of Adrien's fans, who disguised himself as Adrien). When the real Adrien returns home, Gabriel shows him the movie he wanted to watch, in order to gain more of his trust.
48 votes
Writers:
Thomas Astruc

,
Matthieu Choquet

,
Fred Lenoir

,
Sébastien Thibaudeau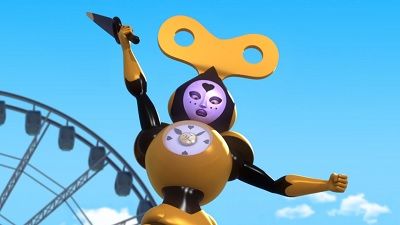 #24 - Backwarder
Season 3 - Episode 1
Ladybug and Cat Noir confront a friend of Master Fu. Transformed into Backwarder, she wants to catch up on wasted time by stealing others'!
35 votes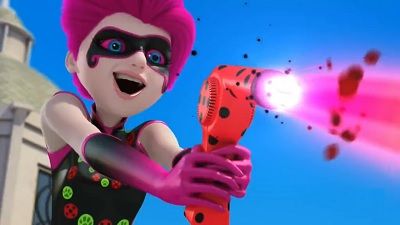 #25 - Miraculer
Season 3 - Episode 11
Sabrina gets akumatized by Hawk Moth. Now Miraculer, she can steal the powers from superheroes and is determined to show Chloe that she is just as worthy of her interest as Ladybug.
18 votes