The BEST Episodes of Kaiji
Every episode ever - ranked by fan votes!
Last Updated: Dec 22, 2019
Itou Kaiji is a bum who steals car emblems and slashes tires on what seems to be a regular basis. This routine changes one day when he is paid a visit by a man in a trench-coat. Once the two get talking, it seems that the visitor (Calling himself Endou) is a debt collector. The reason for his visit is an unpaid loan which kaiji had previously co-signed for a work-mate (Furuhata Takeshi). The original loan was 30000 yen and once Takeshi had disappeared, the loan then fell on Kaiji. Kaiji is then told of a way to clear the interest compounded debt (which stood at 3,850,000 yen), which involved getting on a boat with others in his position. Once on the boat the debtors would then have to gamble with loaned money, which would end with a few winning, and others getting into deeper debt and having to work to pay of their debts. After some coercing kaiji accepts a position on the boat, in order to clear himself and make a bit of money as well...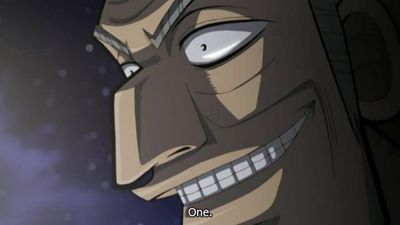 #1 - Dying Spirit
Season 1 - Episode 14 - Aired Jan 9, 2008
At the Starside Hotel 8 people now remain on the 74m bridge-crossing of death. Faced with imminent death, they all want to give up but Yukio Tonegawa ignores their pleas of mercy and in a mere 3 minutes only Kaiji, Sahara and Ishida remain.
12 votes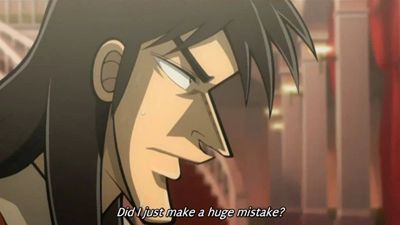 #2 - Iron Hammer
Season 1 - Episode 8 - Aired Nov 21, 2007
There are only 5 minutes left and only Funai is left, so Kaiji challenges him to a final match wagering 5 stars. Kaiji has the edge because he knows that either way he will be sent to the "other room" but Funai is reluctant to except this unfair wager. In the other room Kaiji pins all his hopes on being resurrected.
15 votes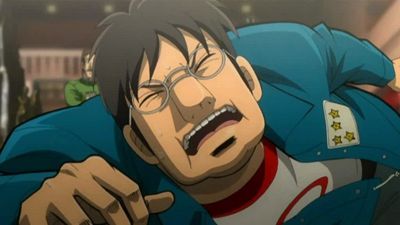 #3 - Resurrection
Season 1 - Episode 9 - Aired Nov 28, 2007
Kaiji is in the other room waiting to be resurrected by his comrades, however Andou is having second thoughts and decides to betray Kaiji by selling his stars. It doesn't take much for his last hope, Furuhata to betray him as well. Will Kaiji be able to crawl his way out of the pit of despair?
17 votes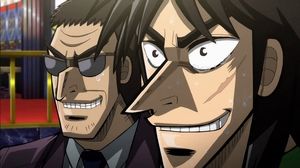 #4 - Tears of Resentment
Season 2 - Episode 25 - Aired Sep 21, 2011
8 votes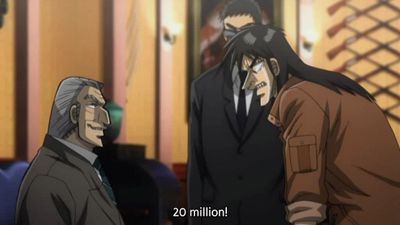 #5 - Fury
Season 1 - Episode 16 - Aired Jan 23, 2008
Now that the ticket he had from the bridge-crossing is void, Kaiji cannot leave empty handed, so the mastermind of this offers him a chance to gain up to ¥100million. The game is "E-Card" and there are 3 types of cards (Citizen, Emperor & Slave). The rules may be simple but there's a lot more to this psychological battle, especially since Kaiji will be facing Yukio Tonegawa.
13 votes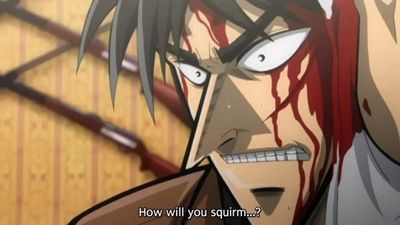 #6 - Departed Souls
Season 1 - Episode 20 - Aired Feb 20, 2008
Kaiji has figured out Tonegawa's method of cheating and decides to use this to his advantage by recklessly wagering the maximum remaining length available (18mm). But this isn't completely reckless, since he's thought of an idea to win the 2 remaining Slave rounds.
12 votes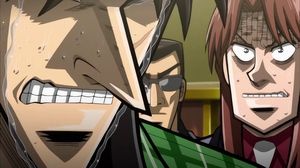 #7 - Wandering Silver Balls
Season 2 - Episode 24 - Aired Sep 14, 2011
8 votes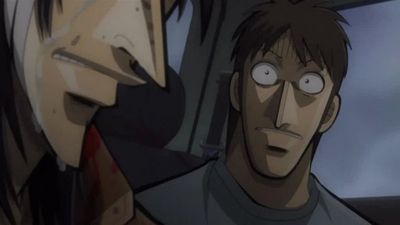 #8 - Afterglow
Season 1 - Episode 26 - Aired Apr 2, 2008
The final scene of the night of lunacy begins. The name of the game is "Tissue Box Raffle" and Kaiji's plan, to win on the first draw seems to have run into a dead end. Will Kaiji's desperate prayers reach the heavens?
9 votes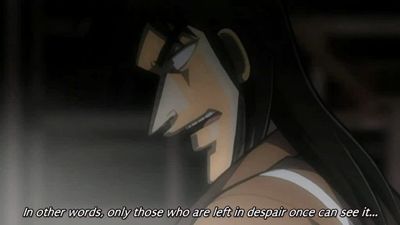 #9 - Heavens
Season 1 - Episode 15 - Aired Jan 16, 2008
With only 2 people remaining, Sahara is the first to survive the bridge-crossing of death however there is something sinister behind the window, before him. With all options out of the question, Kaiji is at a loss of what to do but he eventually finds a loophole that is potentially a path to salvation.
12 votes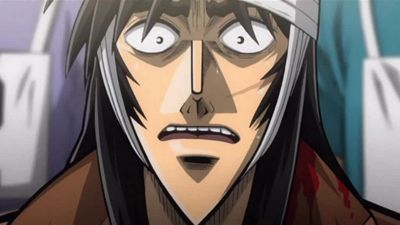 #10 - Condition
Season 1 - Episode 24 - Aired Mar 19, 2008
Through Kaiji's persistence, the chairman finally accepts his challenge but Kaiji must find a way to get the chairman to accept the idea of a "Tissue Box Raffle". Kaiji's plan seems to be going smoothly but then the chairman decides to lay out three conditions that must be followed.
6 votes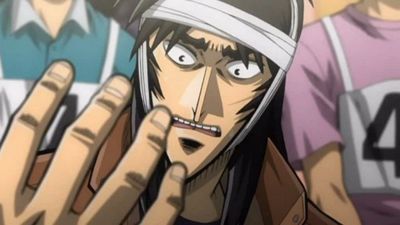 #11 - Pallid
Season 1 - Episode 25 - Aired Mar 26, 2008
The night of lunacy continues; with Kaiji putting his ¥20million and 4 fingers on the line, for a ¥100million gamble. The game is Tissue Box Raffle and something unexpected occurs, which completely throws away Kaiji's sure-fire way to win.
6 votes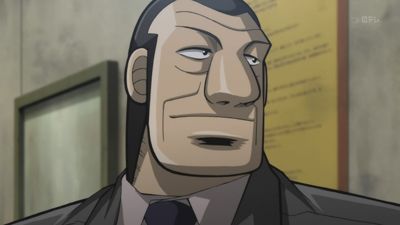 #12 - Applause, and Then...
Season 2 - Episode 9 - Aired Jun 1, 2011
6 votes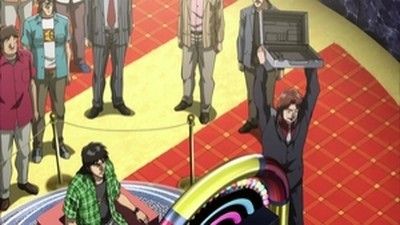 #13 - Certain Victory
Season 2 - Episode 21 - Aired Aug 24, 2011
7 votes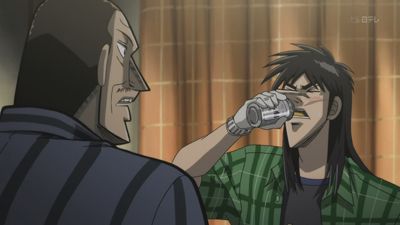 #14 - Last Gamble
Season 2 - Episode 10 - Aired Jun 8, 2011
8 votes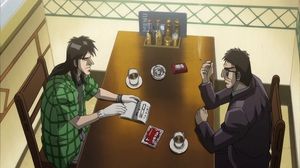 #15 - Iron Gate
Season 2 - Episode 18 - Aired Aug 3, 2011
9 votes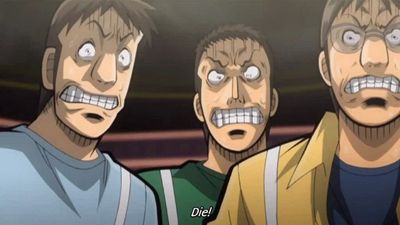 #16 - Heart and Soul
Season 1 - Episode 21 - Aired Feb 27, 2008
Onto the final match of E-Card and Kaiji decides to go for another life or death gamble, as he has come up with a way to take advantage of this disadvantaged situation. Kaiji is determined not to leave without ¥20million but how far will that determination take him?
10 votes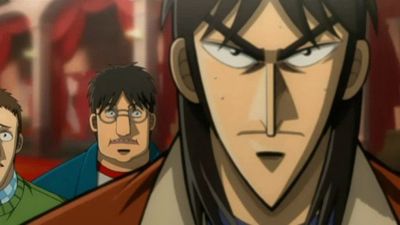 #17 - Proclamation
Season 1 - Episode 7 - Aired Nov 14, 2007
The 4 hour game of "Restricted Rock Paper Scissors" is nearing its end and Kaiji's group is forced to join Funai's idea of reshuffling all the cards amongst the remaining participants. However soon afterwards they are stuck in their tracks with no one to play against. Kaiji was finally able to stop Funai from getting any more matches, after revealing his cheating plan and also comes up with a risky plan to survive.
15 votes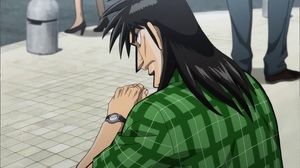 #18 - A Future For Us...
Season 2 - Episode 26 - Aired Sep 28, 2011
35 votes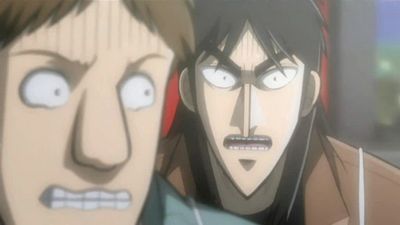 #19 - Revelry
Season 1 - Episode 11 - Aired Dec 12, 2007
Kaiji accepts the invitation to the next party at the Starside Hotel and he recognizes a few familiar faces from the dreadful night on the Espoir. Kaiji is really determined this time not to fall for any tricks however the gambling event this time is "Human Derby" which the spectators are gambling on.
13 votes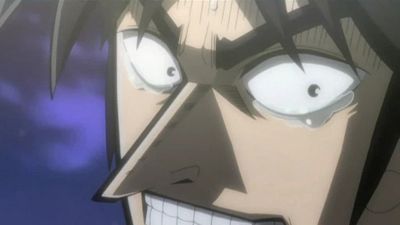 #20 - Degradation
Season 1 - Episode 12 - Aired Dec 19, 2007
The event is Human Derby, a sick game which plays on ones mind and body and Kaiji must decide to push or be pushed. What will Kaiji choose to do? By the end of the Human Derby, only 21 people out of the total 60 contestants survived. Yet this is not the end of it, as there is a new deadly challenge that waits for them.
13 votes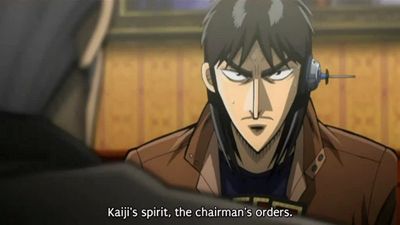 #21 - Trifled
Season 1 - Episode 18 - Aired Feb 6, 2008
The game of E-Card that Kaiji put his hearing on the line continues into the 2nd Round and even though Kaiji has come up with a plan, it still doesn't stop him from losing the next match. Confident now that he has found a way to win, Kaiji bets 10mm for the next match but it may end up causing an upset for the rest of the game.
11 votes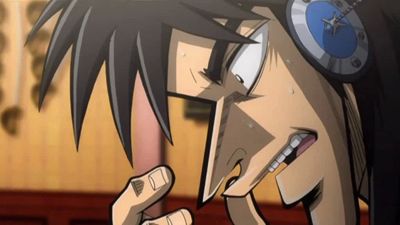 #22 - Limit
Season 1 - Episode 19 - Aired Feb 13, 2008
Onto the 9th match, this is the most crucial point for Kaiji who only has 4 more matches and 4mm till destruction. His mind is full of so many conflicting thoughts and even without the confidence in his choice he somehow managed to win to ensure his safety. Yet something feels off about the whole turn of events and through his deductive skills Kaiji realizes that they are cheating.
10 votes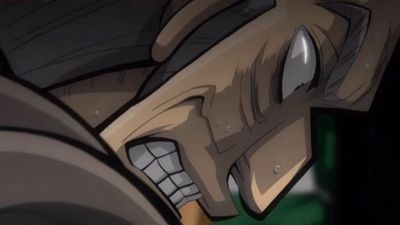 #23 - Execution
Season 1 - Episode 22 - Aired Mar 5, 2008
The final judgement has been met by Tonegawa, as he believes he has discerned Kaiji's plan of purposely splattering the cards with his blood but he was only being lead by Kaiji's true plan. Now all that's left is for certain formalities to be taken care of; for Kaiji to receive is money and for Tonegawa to sincerely apologize.
7 votes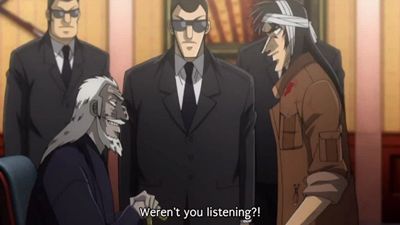 #24 - Unconventional
Season 1 - Episode 23 - Aired Mar 12, 2008
Even after his unbelievable feat of beating Tonegawa, Kaiji does feel satisfied unless he beats the chairman. In the restroom Kaiji thinks of some kind of rigged lottery, "Tissue Box Raffle" to beat the one in charge of all this. With all preparations met he heads out to challenge the chairman to one more gamble.
10 votes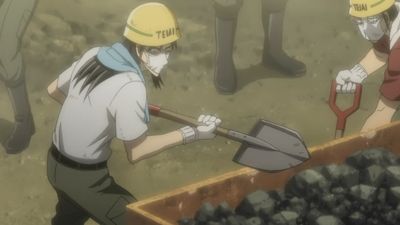 #25 - Hell on Earth
Season 2 - Episode 1 - Aired Apr 6, 2011
Months after the events at the Starside Hotel, Kaiji runs into loan shark Endoh in a chance encounter. Kaiji is forced into labor in the Teiai Group's underground mines to pay his enormous debts. Workers are paid a slave's wage in scrip called Perica, making what amounts to ¥350 a day. Those who save up enough Perica are allowed a one-day furlough above ground. Kaiji resolves to do so, but is soon tempted by the foreman Otsuki.
37 votes