The BEST Episodes of Judge Judy
Every episode ever - ranked by fan votes!
Last Updated: Oct 28, 2019
This courtroom series stars former family court judge Judith Sheindlin. Each episode finds Judge Judy presiding over real small-claims cases inside a televised courtroom. Judge Judy brings her trademark wit and wisdom to the widely successful half-hour series where justice is dispensed at lightning speed.
#1 - S07E43
Season 7 - Episode 43
An airplane passenger assaults a retired beer salesman; a teenager's mother says it's not her responsibility to fix the quadrunner he borrowed and wrecked.
1 votes
#2 - S06E15
Season 6 - Episode 15
AAA locksmith sues for assault by client's family who said she had dementia and he should not make her car keys; woman sues ex-fiance for cost of wedding dress.
1 votes
#3 - S06E181
Season 6 - Episode 181
A high-school student gives her inheritance to her boyfriend; lovers fight over a wrecked car.
1 votes
#4 - Kids in Rolling Car Collision; Thieving Cousin?
Season 18 - Episode 122
After his parked car, with two children inside, rolls and collides with another vehicle, a father asserts that the vehicles never made contact; a teen accuses a friend's cousin of stealing her tablet computer.
1 votes
#5 - Dying Cat's Rescue; Crashes and Lies
Season 18 - Episode 136
Accusations of adultery, a dying cat and the cost of emergency surgery divide sisters-in-law; a Halloween-night crash leaves a car totaled and sisters fighting.
1 votes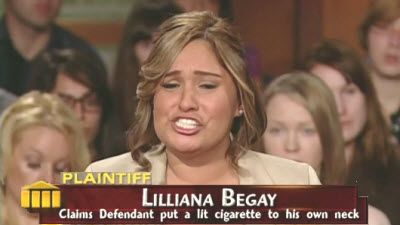 #6 - S15E157
Season 15 - Episode 157
A man says his ex-girlfriend burned him with a cigarette during a domestic dispute - she says he burned himself to "ruin" her.
1 votes
#7 - Homeless and Happy?; Insurance Scam or Practical Joke?
Season 18 - Episode 211
Woman pregnant by man her son's age when they were homeless together; a car's owner says his friend confessed to totaling the vehicle in a practical joke gone bad.
1 votes
#8 - Comatose Mother, Criminal Son?; Fresh Mouth Takedown!
Season 18 - Episode 214
A man insists he did not take advantage of his mother's severe illness by stealing her money and car; the judge dresses down a man who ridicules his ex's expenditures on car repairs.
1 votes
#9 - Jilted Lover or Loony Roommate?
Season 18 - Episode 216
A relationship begun online ends in assault, accusations and death threats.
1 votes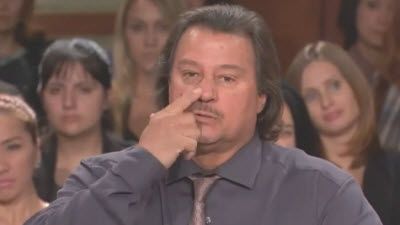 #10 - Man Held Hostage?; Teenagers Gang-Up
Season 18 - Episode 219
A man says his neighbor accused him of hitting a fence and held him hostage while calling police; a former roommate says three teens kicked her out and sued her for an additional month of rent.
1 votes
#11 - Domestic Violence or Victimized Father?; Pedestrian Meets Hood of Car!
Season 18 - Episode 220
A young father goes to jail for breaking into his own home and Judge Judy blasts defendant for fake domestic violence; a woman sues for medical bills after being hit by a car as she crossed the street.
1 votes
#12 - S05E17
Season 5 - Episode 17
Used car buyer believes "As Is" means "As the salesman says it is"; woman sued for unpaid loan quotes Ephesians in her defense (and gets it wrong).
1 votes
#13 - S07E40
Season 7 - Episode 40
A man sues ex-girlfriend for the return of his cat; woman sues ex-boyfriend for unpaid loans and cost of tuxedo rental.
1 votes
#14 - S07E41
Season 7 - Episode 41
Woman sues ex-boyfriend for throwing her belongings into the ocean in a jealous rage; woman sues aunt for unpaid utility bills.
1 votes
#15 - S07E44
Season 7 - Episode 44
A woman wants her ex-boyfriend to pay for her restraining order against him; a man takes back his former girlfriend's car.
1 votes
#16 - S07E45
Season 7 - Episode 45
Woman sues former friend for series of unpaid loans during which time he neglected to mention he got married; a man wants his ex-girlfriend to pay for tools and cars he gave her to safeguard while he was incarcerated.
1 votes
#17 - S09E119
Season 9 - Episode 119
A woman accuses her cousin of stealing her credit card and her new computer; former lovers argue over his favorite chair, a barbecue pit and charges of assault.
1 votes
#18 - S13E58
Season 13 - Episode 58
A teen is accused of spitting in the face of and taunting another teenager and an angry mother says false charges of assault and battery were filed against her son.
1 votes
#19 - S14E173
Season 14 - Episode 173
While allegedly resisting arrest, a man is accused of damaging a woman's walls with his handcuffs; a 10-year-old breaks another child's collarbone during a fight at school.
1 votes
#20 - Surprise Witness!; Injured Pomeranian
Season 18 - Episode 37
Divorced parents fight over furniture; a pregnant teen's dog was injured while in her mother's care.
3 votes
#21 - The Joy of Music... Murdered?!; It Was Not an Engagement Ring!
Season 21 - Episode 194
A woman grieves her loss of musical enjoyment when, she says, her violin teacher sells her a subpar violin; a woman claims she has video evidence to prove that the $9,000 ring her ex-lover gave her was not to signify an engagement.
3 votes
#22 - Back Kicking a Toddler?!
Season 18 - Episode 83
Parents accuse a lodger of back-kicking their 2-year-old during an assault.
4 votes
#23 - Hardworking Mom Woes; Cheap Jeep?!
Season 17 - Episode 148
A mother of four says her daughter's ex-boyfriend got the teen evicted from student housing; preschool teachers fight over the balance on a vehicle.
2 votes
#24 - Teen Behaving Badly; Good Samaritan Shakedown
Season 17 - Episode 147
A woman sues her neighbor for missing property; a woman takes in her former friend, then sues him for unpaid rent.
2 votes
#25 - Pro Basketball Player Sued; Car Conundrum
Season 18 - Episode 30
A professional basketball player accuses a plaintiff of exaggerating the cost of furniture; woman sues ex-boyfriend for money owed on a Prius.
5 votes