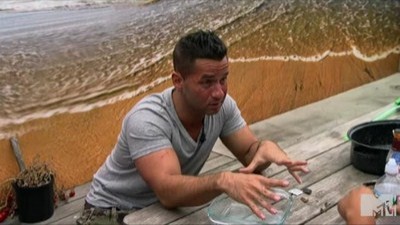 #1 - One Meatball Stands Alone 8.39
Season 5 - Episode 10
A huge fight breaks out after Mike tells Jionni he hooked up with Snooki; Deena faces a difficult truth about Joey; some of the roommates go camping while Pauly and Vinny pull off a big prank.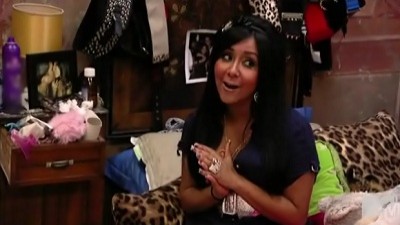 #2 - Where Is My Boyfriend? 8.34
Season 4 - Episode 8
Snooki and Deena are released from the police station after their accident. Later, Snooki's boyfriend Jionni visits, but their romantic reunion comes to an abrupt halt, and a sobbing Snooki ends the night alone on the streets of Florence.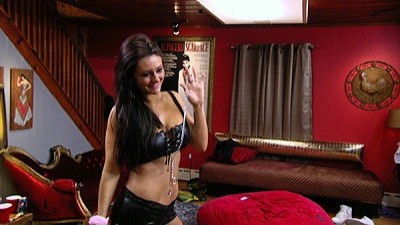 #3 - Cabs Are Here! 8.08
Season 3 - Episode 7
Ronnie and Sam end their tumultuous relationship with a nasty breakup that prompts Ronnie to destroy all of Sam's belongings. Later, she considers leaving the shore for good.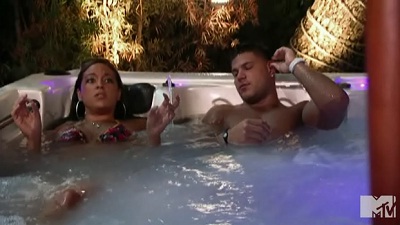 #4 - Back Into the Fold 8.06
Season 2 - Episode 13
The roommates say goodbye to Miami and head home in the Season 2 finale.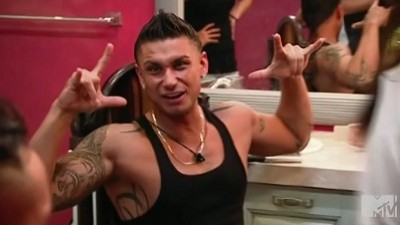 #5 - Fist Pump, Pushups, Chapstick 8.05
Season 4 - Episode 6
Pauly and Vinny put on a "guido-theme" comedy show; Snooki becomes so distraught over her relationship woes that the girls decide to intervene; Ron and Sam try to patch things up once again.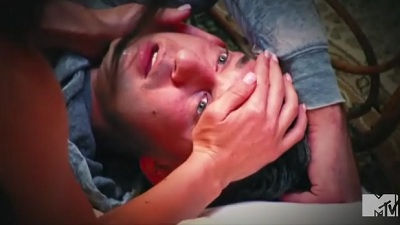 #6 - And The Wall Won... 8.03
Season 4 - Episode 5
The Situation gets knocked out during a fight and Ronnie and Sammi wonder if their relationship is beyond repair.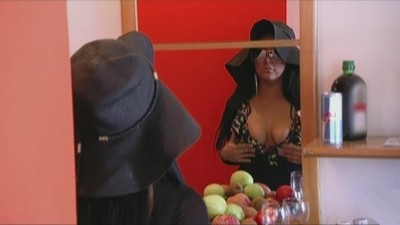 #7 - Meatball Mashup 8.01
Season 4 - Episode 7
Snooki and Deena party too hard; Team Meatballs have a run-in with the Italian police.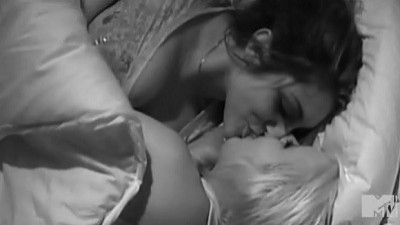 #8 - Twinning 7.96
Season 4 - Episode 3
With twins in the mix, it's double trouble as bi-curious Deena pulls the robbery on both The Situation AND Vinny. Plus, The Situation's "secret hook-up" with Snooki is revealed. Is Snooki a cheater or is The Situation just trying to start drama?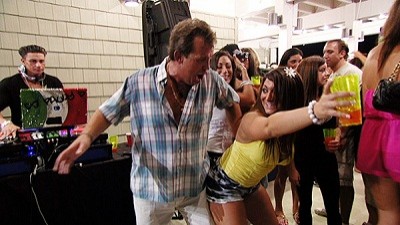 #9 - At The End Of The Day 7.95
Season 3 - Episode 13
The roommates say goodbye to another summer at the Jersey Shore. While one couple reaches a crossroads in their relationship, another couple makes it official.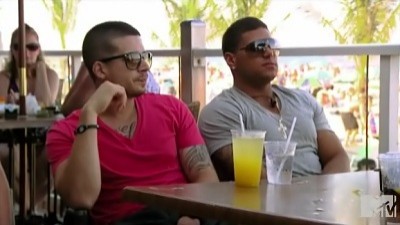 #10 - Nothing but Nice 7.93
Season 5 - Episode 5
Vinny returns and everyone celebrates. The Situation tries hard to be nice but ends up annoying the boys. Snooki struggles with an uncomfortable condition.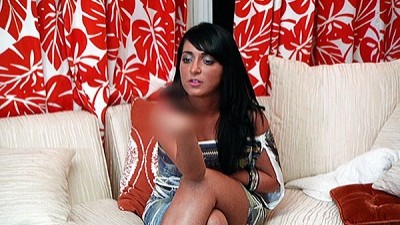 #11 - Sleeping With the Enemy 7.92
Season 2 - Episode 7
The roommates deal with fallout from the girls' fight; Angelina starts dating Jose, a guy from the club; and Jenni and Snooki don homemade HazMat suits to clean up the Smush Room in preparation for Snooki's hook-up.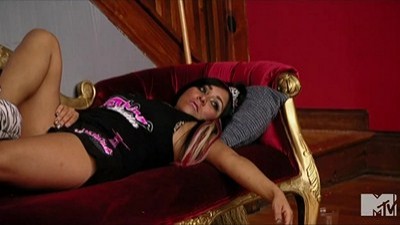 #12 - Love at the Jersey Shore 7.90
Season 5 - Episode 7
All of the roommates are focused on courting their current flames, but there is never peace in the house. One of the roommates causes drama with Snooki and Deena, while JWOWW's skimpy outfit creates a problem for Roger.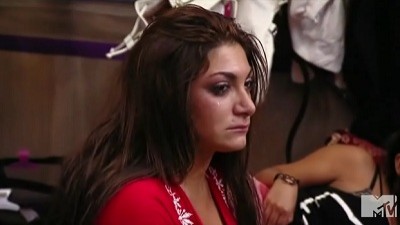 #13 - Crime and Punishment 7.89
Season 4 - Episode 4
The boys harass Deena for stealing a girl from Vinny's bed, leading her to anxiety and self-doubt about her relationship with the roommates. Ronnie and Sammi are back to their old ways, but this time The Situation is involved in their drama.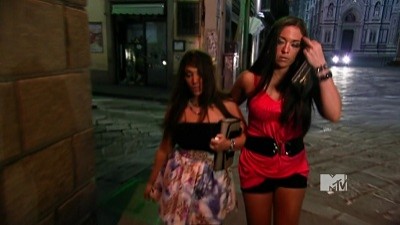 #14 - Like More Than a Friend 7.83
Season 4 - Episode 2
Ron and Sammi try to work on their friendship, but prove that old habits die hard. Also, Mike tries taking his friendship with Snooki to the next level, while Pauly and Deena consider doing the same.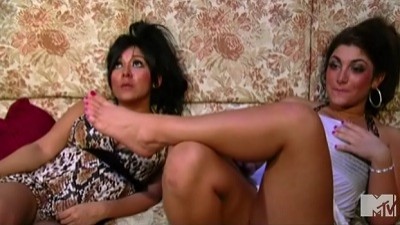 #15 - Situation Problems 7.75
Season 4 - Episode 11
Deena once again is on the prowl for Pauly D. The Situation continues to instigate drama in the house and everyone turns on him and later in a club Team Meatballs are not treated well again and end up getting into another brawl.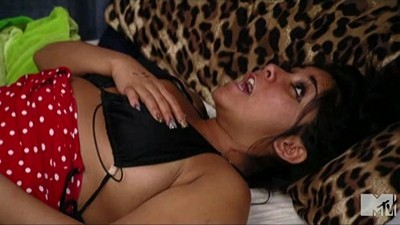 #16 - Free Vinny 7.69
Season 5 - Episode 4
Mike returns and learns about Danny's threat to find new tenants; the girls hire X-rated entertainment for Pauly and Mike's birthday party; the gang heads to Staten Island in hopes of persuading Vinny to come back to the shore.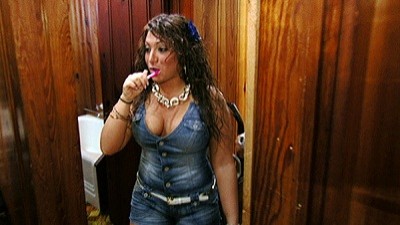 #17 - A House Divided 7.67
Season 3 - Episode 12
The Situation continues to instigate drama between Ronnie and Sammi, and Snooki has a falling out with Vinny.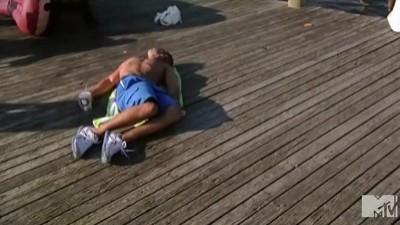 #18 - Sharp Objects 7.62
Season 5 - Episode 8
J-Woww confronts Pauly's stalker; Snooki's boyfriend denies her affections, prompting her to pursue Vinny; the roommates go fishing despite their fears of a shark attack.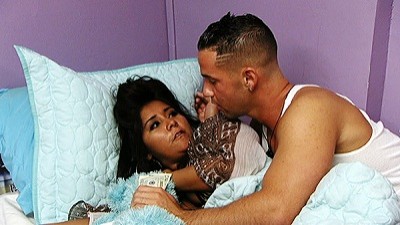 #19 - Deja Vu All Over Again 7.61
Season 2 - Episode 12
Mike gets on everyone's last nerve after his obnoxious antics get them all kicked out of a club. Even Pauly is frustrated after Mike proves twice that he's a failure as a wingman.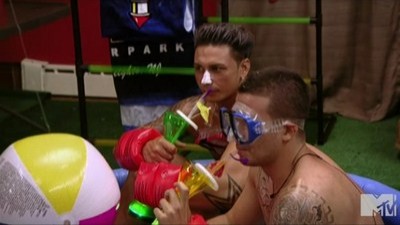 #20 - We Are Family 7.59
Season 5 - Episode 11
Another summer in Seaside Heights comes to a close as Hurricane Irene batters the East Coast in the Season 5 finale. As the gang prepares to leave, Mike continues to cause trouble by starting a rumor about Deena's sister, while Pauly and Vinny pull one more prank on the roommates.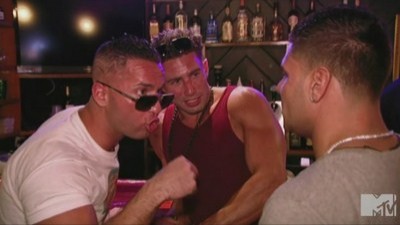 #21 - Hurricane Situation 7.58
Season 5 - Episode 1
The roommates return from Italy and couldn't be more excited to get back to the Jersey Shore. But a drama storm is brewing as The Situation threatens to destroy Snooki's relationship with Jionni.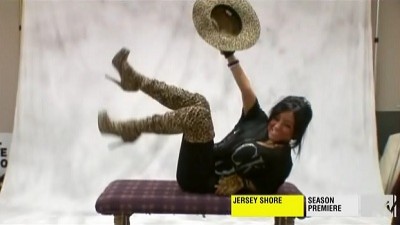 #22 - Going To Italia 7.57
Season 4 - Episode 1
The housemates pack up their hair extensions and Shore Store T-shirts and jet off to Italy for a European adventure. But, the culture shock that awaits them is nothing compared to their shocking adventure.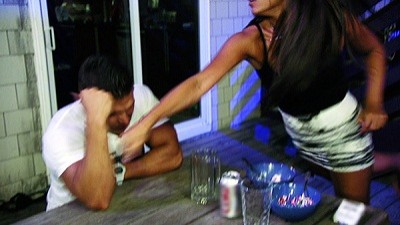 #23 - Drunk Punch Love 7.56
Season 3 - Episode 5
Snooki's friend Ryder stops by for a visit and lucky enough its her birthday. Snooki and Jenni return to Jersey with Jenni's dogs who are welcomed at the house by everyone. Sammi and Ronnie's relationship continues to strain and after a heated argument after the club, Ronnie throws all her stuff around the room and tells her to leave. Ronnie starts to second guess himself. Jenni comforts him and they bury the hatchet from Miami. Mike brings home a girl, but her friend is wandering down the house so Vinny pulls out the Grenade Whistle to warn Mike. Vinnys girl's family comes to pick her up which make Vinny uncomfortable. Jenni gives Ronnie a hug which is caught by Sammi. Sammi loses it and thinks she is all alone in the shore house. As a response to the newfound friendship between Ronnie and Jenni, she punches Ronnie in the face. She quickly plans to leave but with the help of everyone she apoligizes to Ronnie and stays. Jenni and Roger continue to date and also Deena and Dean, but Mike finds out a dirty secret which ends their relationship. Also Snooki and Vinny buy a stripper pole for the house and Sammi and Jenni make up and become friends again.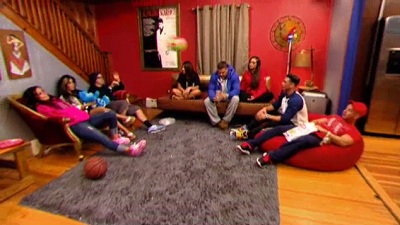 #24 - Blues, Balls & Brawls 7.56
Season 6 - Episode 4
Jenni plans a surprise birthday party for Roger that goes south. Deena auditions Danny to be a meatball. The roommates finds themselves in the middle of a big brawl at the club and one of them gets caught in the melee.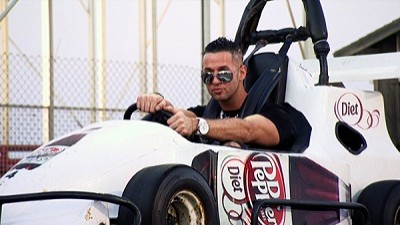 #25 - The Great Depression 7.54
Season 3 - Episode 8
After Sammi leaves the house, Ronnie is an emotional wreck. With the girls taking Sammi's side and the guys not knowing how to cheer him up, Ronnie feels like he has no friends left in the house. Meanwhile, The Situation tries to hook up with Pauly D's ex-girlfriend.