The BEST Episodes of Hetalia - Axis Powers
Every episode ever - ranked by fan votes!
Based on a popular web-released manga series by Hidekazu Himaruya, this has been described as a "cynical gag" story set in Europe in the years between WW1 and WW2 (1915-1939), using exaggerated caricatures of the different nationalities as portrayed by a gaggle of bishōnen boys. For example, the Italia Veneziano character is into pasta and women. Italy, once home of the strongest empire in the world, has changed. This is the story of Italy, now a cowardly pasta-loving fool, and his friends (other personified countries of the world) as they live through strange moments in world history.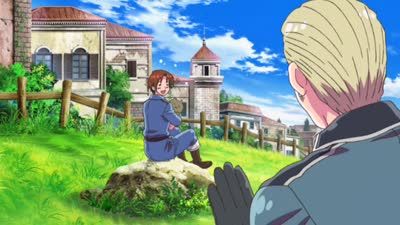 #1 - More Canada
Season 1 - Episode 38 - Aired Oct 19, 2009
Continuation of The Pact Of Steel, along with more of Fly, Canada-san, Fly!
30 votes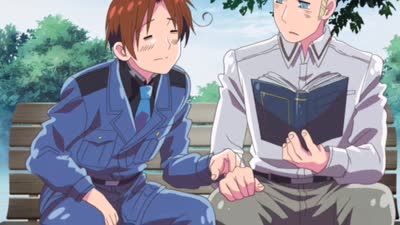 #2 - England's Secret Weapon
Season 1 - Episode 48 - Aired Jan 4, 2010
England's latest secret weapon to win the war is a failure. In another story, Chibitalia finally grows up, but one change is a shock to Austria.
29 votes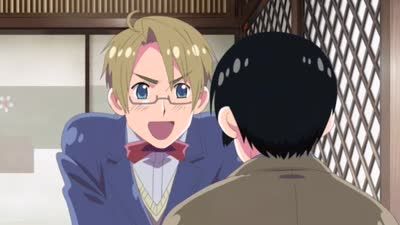 #3 - Japan Keeps Westernizing
Season 1 - Episode 50 - Aired Jan 18, 2010
30 votes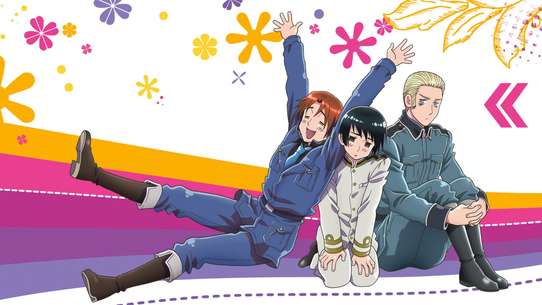 #4 - United States of Hetalia 2
Season 2 - Episode 45 - Aired Jan 29, 2011
After intercepting a message, the Allies travel to a beach to meet up with the Axis Powers. However, America and China get separated from the others and have to survive on their own. Also, Poland and Lithuania play chess.
30 votes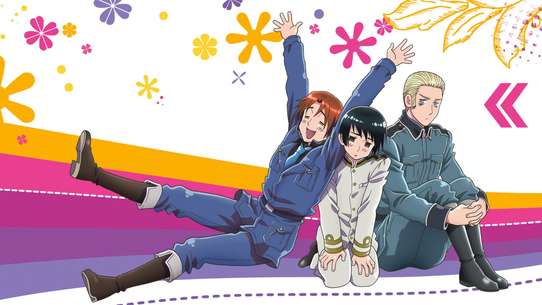 #5 - Japan and America 2
Season 2 - Episode 47 - Aired Feb 12, 2011
America continues on his mission to get Japan to open up. When England learns about his adventure, he offers to be America's friend.
30 votes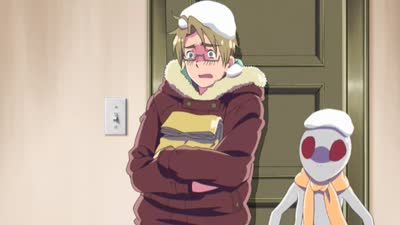 #6 - America and Japan in the Spring
Season 1 - Episode 36 - Aired Oct 5, 2009
America and Japan both prepare for the New Year and the coming of spring.
29 votes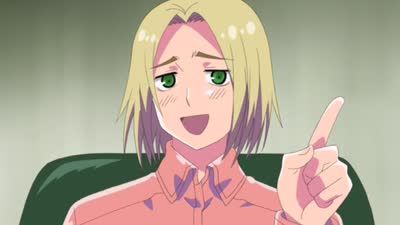 #7 - England Visits Poland and Bemoans America
Season 1 - Episode 47 - Aired Dec 28, 2009
England and France visit Poland, who has recently bought a fleet of ponies to help him in the war. In other stories: Chibitalia feels sad over the departure of Holy Roman Empire, while England finds that America grows up too fast.
29 votes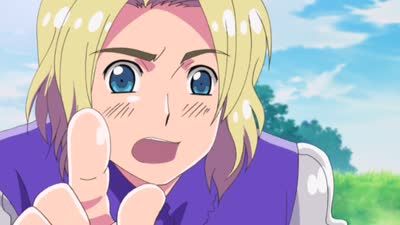 #8 - Everyone Wants America
Season 1 - Episode 39 - Aired Oct 26, 2009
A baby America is discovered in the "New World", though this discovery also sets off a fight for ownership of him.
30 votes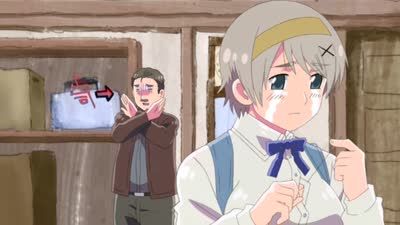 #9 - Russia's Sisters
Season 1 - Episode 42 - Aired Nov 16, 2009
Russia tells the story of his sisters, Ukraine and Belarus.
30 votes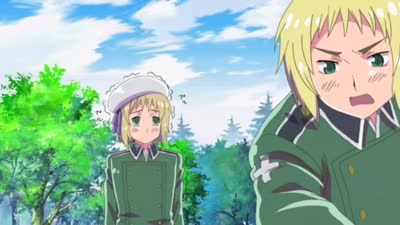 #10 - Canada and Switzerland's Aggression
Season 1 - Episode 44 - Aired Dec 7, 2009
Switzerland tries to teach Liechtenstein self-defense. In other segments: Japan finds America's strange desserts photograph-worthy, while Canada (in more of Fly, Canada-san, Fly!) tries to tell America off but fails.
30 votes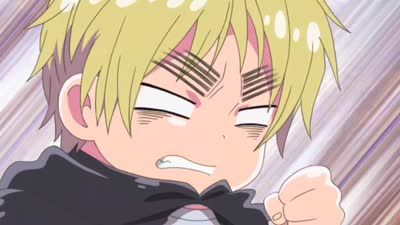 #11 - England and France's History
Season 1 - Episode 46 - Aired Dec 21, 2009
England is the perpetual bed-head, and we go back to the past to remember a time when France was at his most flamboyant and mischievous - teasing England by showing off his long hair, and then cutting England's hair when his own plan to grow his hair long doesn't go according to plan.
30 votes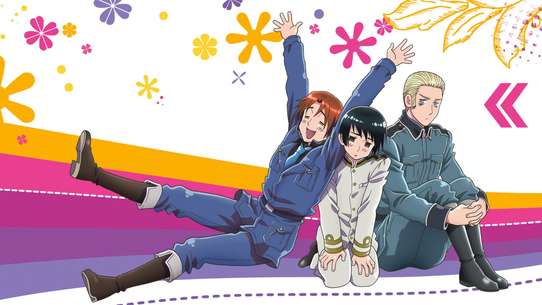 #12 - A Slight Feeling of Responsibility
Season 2 - Episode 27 - Aired Sep 24, 2010
Chaos erupts. Madness ensues. Panic and mass hysteria spreads across the land. The world stops spinning. The universe turns upside down. Why? Germany refuses a beer!
30 votes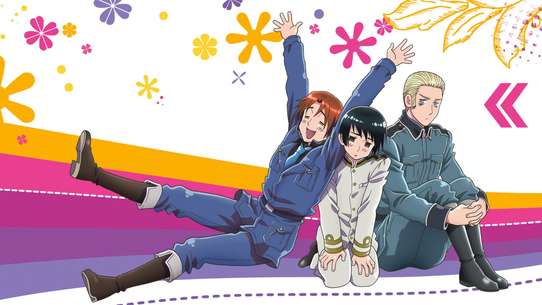 #13 - United States of Hetalia
Season 2 - Episode 35 - Aired Nov 19, 2010
Germany and Italy fail at sneaking around in the bushes. Later, after the Japan joins his Axis buddies on the beach, he's compelled to make a journal entry about Italy's peculiar habit of walking around without pants.
30 votes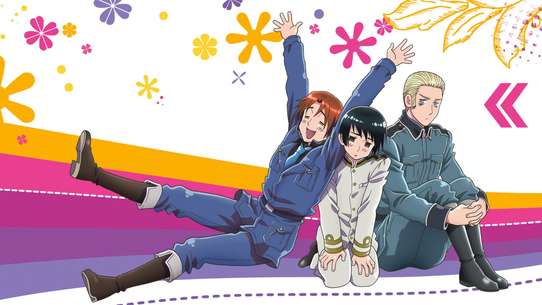 #14 - The First Time Poland Rule Was Used!
Season 2 - Episode 43 - Aired Jan 15, 2011
Poland puts on a brave face for his negations on a matrimonial alliance with Lithuania, but his demands regarding a particularly sensitive piece of property are way out of bounds!
30 votes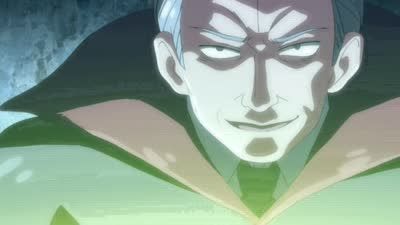 #15 - America and Ghosts
Season 1 - Episode 51 - Aired Jan 25, 2010
Adapts America's Situation With Ghosts.
29 votes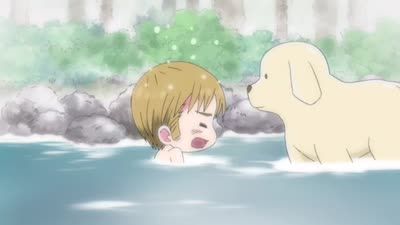 #16 - Holy Rome and More Canada
Season 1 - Episode 52 - Aired Feb 1, 2010
Adapts more of Fly, Canada-san, Fly! and Holy Roman Empire's Playtime In The River.
29 votes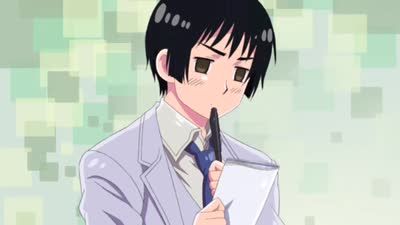 #17 - Japan Westernizes and Canada Flies
Season 1 - Episode 49 - Aired Jan 11, 2010
Adapts from Japan And The Footsteps Of Westernization, along with a segment from Fly, Canada-san, Fly!.
31 votes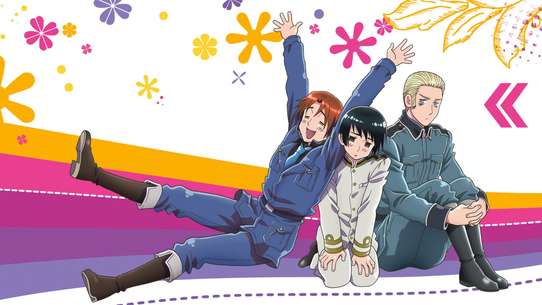 #18 - Can't Escape from Italy (Conclusion)
Season 2 - Episode 34 - Aired Nov 12, 2010
Germany explains why he's always able to stop England from escaping the Italian prison. Of course, after Germany explains it all, England might have a better chance of finally getting away. Meanwhile, ROCKET PUNCH!
31 votes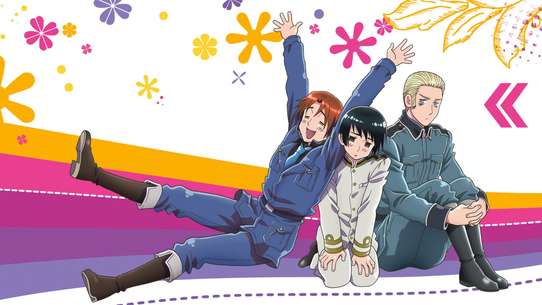 #19 - Japan's Emotions
Season 2 - Episode 36 - Aired Nov 26, 2010
In this episode: Italy attempts to make Japan smile! Later, a pasta shortage leads to the possibility of stinky cheese for dinner! Also, Japan and Switzerland sing and dance together in the snowy Alps!
31 votes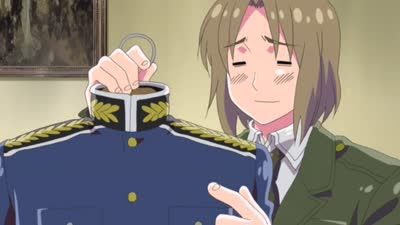 #20 - Russia is Germany's New Best Friend?
Season 1 - Episode 37 - Aired Oct 12, 2009
Russia and Germany form an alliance, while Italy fears that the other Axis Powers will eventually abandon him.
30 votes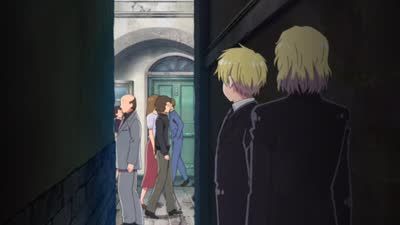 #21 - France's War Style
Season 1 - Episode 41 - Aired Nov 9, 2009
Adapts Big Brother France And The Information Manipulation Activities! and Reduce Your Opponents' Willpower, American-style!.
30 votes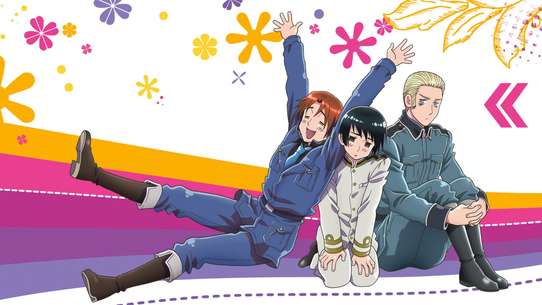 #22 - Court and Aristocracy
Season 2 - Episode 29 - Aired Oct 8, 2010
Austria and Germany argue over whether Beethoven is an Austrian or a German. Meanwhile, France spies on both of them and is then caught taking pictures of Austria at England's request.
30 votes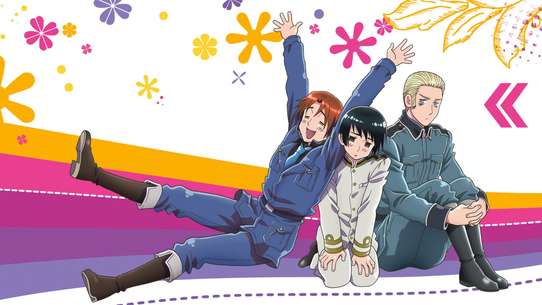 #23 - Let's Think About the G8 Members!
Season 2 - Episode 30 - Aired Oct 15, 2010
It's time for another G8 meeting! While America thinks it might be time to lose a member or two, France wants to bring Spain into the fold. Later, kitty Japan adorably expresses his adorable love of tuna. Simply adorable!
30 votes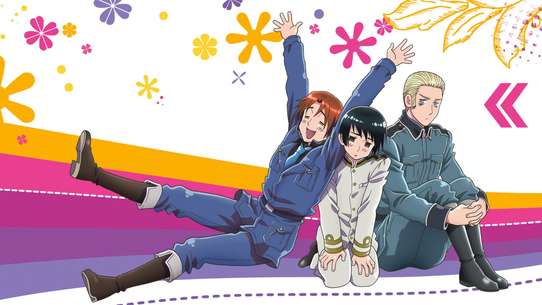 #24 - China's (A Little Too Early) Start of the Age of Exploration
Season 2 - Episode 31 - Aired Oct 22, 2010
China goes back to his homeland and brings some souvenirs to the Emperor. Meanwhile in Nekotalia, Russicat tries to separate Romanoneko and Itaneko while Germouser wakes Caustria.
30 votes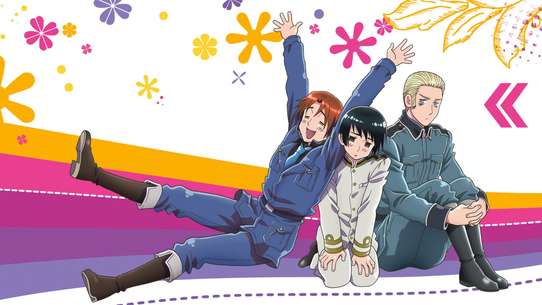 #25 - Prussia and Hungary
Season 2 - Episode 38 - Aired Dec 11, 2010
Japan and America ponder one of the most important questions of the modern age: How many french fries are found in the perfect order of french fries? Also, Prussia takes a leak and Hungary gets all hubba-hubba.
30 votes