The BEST Episodes of Happy Tree Friends
Every episode ever - ranked by fan votes!
Last Updated: Dec 9, 2019
What's cute, cuddly and horribly wrong? The adorable and extremely dangerous lives of the Happy Tree Friends, of course. Join these cute, sweet little critters as they picnic in the trees, frolic happily in the forest, step on bear traps, and into the paths of speeding cars. So join in with all your favorite furry animals, their great adventures and graphically horrific accidents and dismemberments and don't forget to wash your hands first!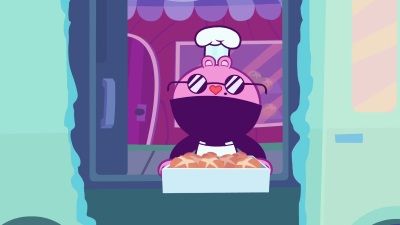 #1 - Buns of Steal
Season 4 - Episode 3
3 votes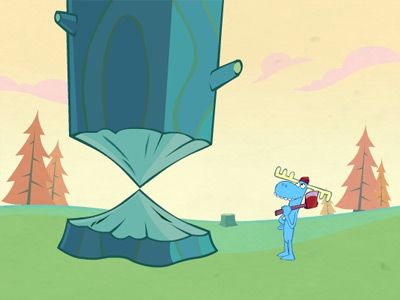 #2 - Out on a Limb
Season 2 - Episode 16
Lumberjack Lumpy yells "Timber!" then help!
8 votes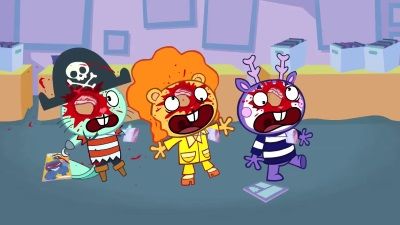 #3 - Wrath of Con
Season 3 - Episode 8
5 votes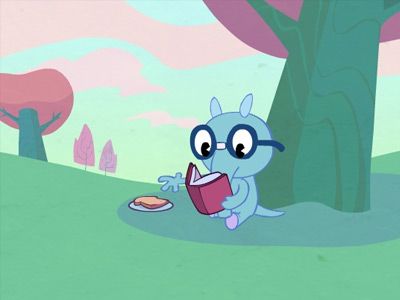 #4 - A Hard Act to Swallow
Season 2 - Episode 18
Sniffles the Anteater can't help but eat the ants, and the ants set out to make him regret it.
8 votes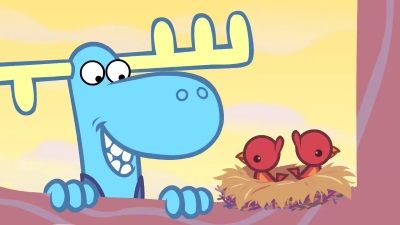 #5 - All Flocked Up!
Season 3 - Episode 9
4 votes
#6 - Hide and Seek
Season 1 - Episode 14
Be prepared for your first introduction to Flippy, the troubled war vet bear who suffers regular flashbacks. Flippy is the only Happy Tree Friend that intentionally inflicts harm on his fellow friends, which is how an innocent game of hide and seek turns deadly.
10 votes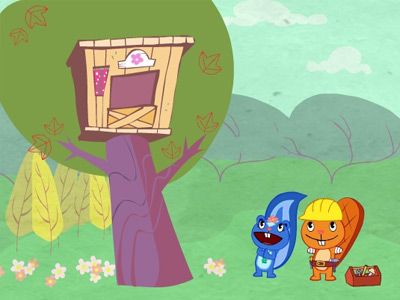 #7 - House Warming
Season 1 - Episode 2
Petunia's new house is finally finished, and the house warming party's hot! Really hot! Really, really...EVERYONE OUT!
55 votes
Writers:
Kenn Navarro

,
Rhode Montijo

,
Warren Graff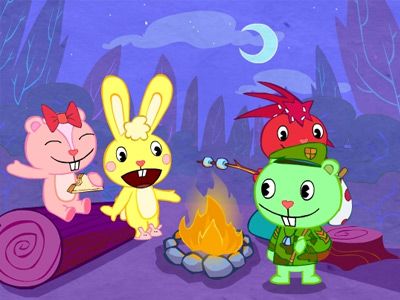 #8 - This is Your Knife
Season 1 - Episode 26
It's so much fun to go camping and roast marshmallows with your friends! But sparks soon fly as Flippy warps into his post-traumatic alter-ego. Remember those horror stories you told around the campfire? Watch out, cause this one comes true!
7 votes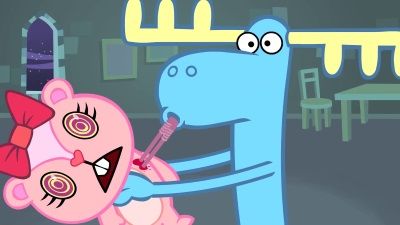 #9 - All in Vein
Season 3 - Episode 16
4 votes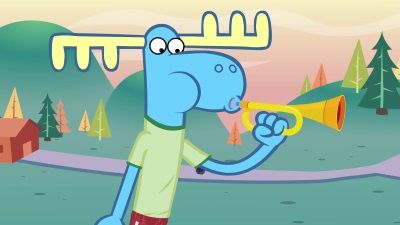 #10 - Camp Pokeneyeout
Season 4 - Episode 8
2 votes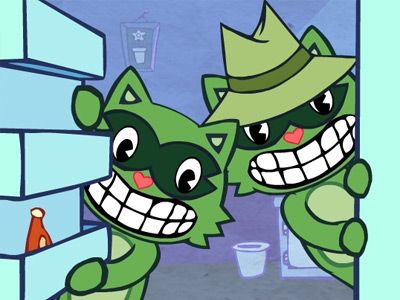 #11 - Meat Me for Lunch
Season 1 - Episode 20
The kleptomaniac raccoon brothers are at it again, stealing meat from Lumpy the butcher. They learn the hard way that crime doesn't pay, and Petunia ends up with the just desserts.
9 votes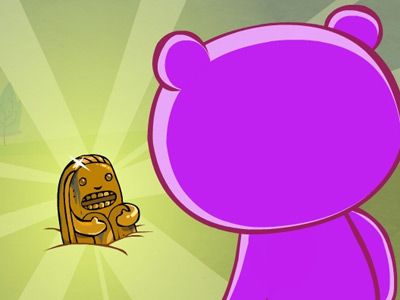 #12 - Treasure These Idol Moments
Season 1 - Episode 11
The gang that plays together... dies together! The idol makes a starring appearance in this show and proves just how dangerous it can be to play with hidden treasures. Some fans think this episode was based on the Brady Bunch (remember their vacation in Hawaii?), and others say Raiders of the Lost Ark. What do you think?
10 votes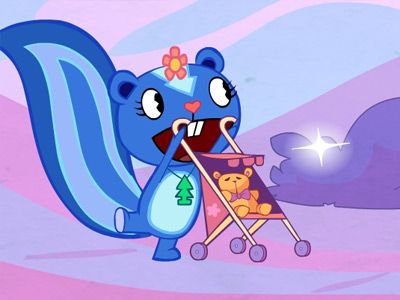 #13 - Hello Dolly
Season 2 - Episode 25
Petunia finds a statue in the park and picks it up to take with her. This statue starts to wreak some unexpected havoc.
8 votes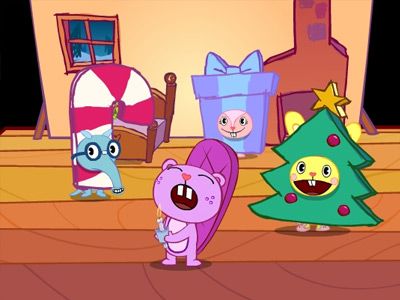 #14 - Class Act
Season 2 - Episode 10
The Happy Tree Friends yell "FIRE!" during a Christmas play.
7 votes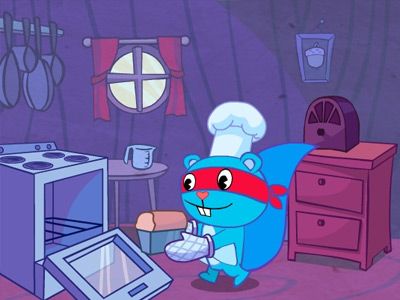 #15 - Better Off Bread
Season 2 - Episode 12
Splendid the Superhero is making bread when he suddenly senses trouble in the neighborhood! Can he save his furry friends in time?
7 votes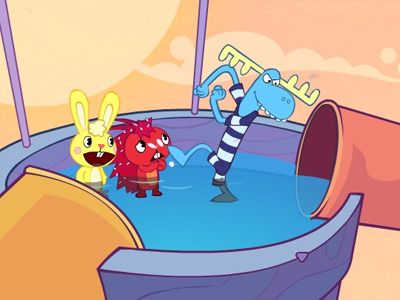 #16 - Let it Slide
Season 2 - Episode 24
The gang goes swimming at the local water park for some slips, slides and severs.
7 votes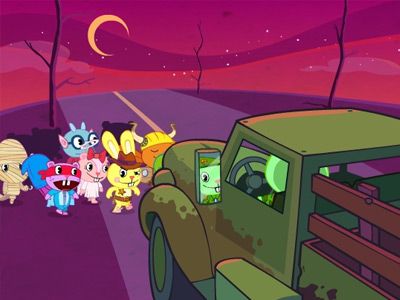 #17 - Remains to be Seen
Season 2 - Episode 19
Trick-or-treating takes a beating when Flippy flips and runs over all the Happy Tree Friends while transporting some nuclear waste. Lumpy gives everyone a proper burial, but it seems no one is ready yet as they've all been turned into zombies!!
7 votes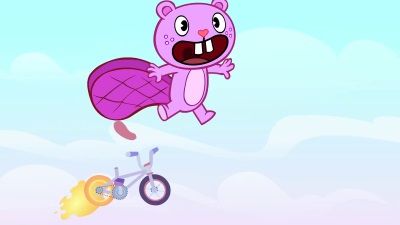 #18 - Brake the Cycle
Season 3 - Episode 20
4 votes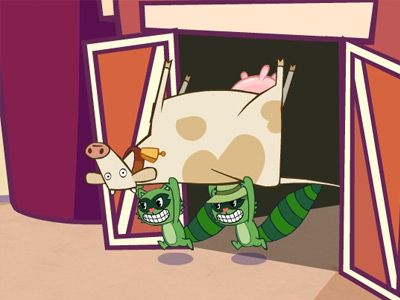 #19 - Milkin' It
Season 2 - Episode 8
Things are not as simple as they seem down on the farm. Lifty and Shifty make off with Lumpy's cow, only to get tangled up in some electrifying events.
6 votes
#20 - Happy Trails (1)
Season 1 - Episode 27
School's out and it's time to go home and play! It's no surprise that trouble abounds on the school bus and Lumpy just can't pull it together to save the gang from harm. What happens to our lovable cast? Do they survive? Will they return? Our only cliffhanger episode leaves fans clamoring for more!
7 votes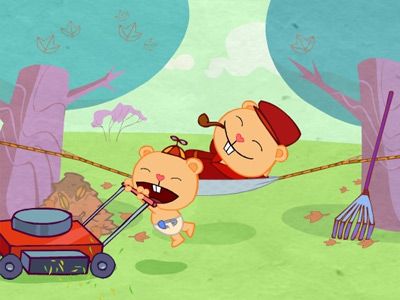 #21 - Chip Off the Ol' Block
Season 1 - Episode 12
Ah, the smell of fresh cut grass... and blood and guts. When your parents tell you not to stick your hands in the machinery, you better listen! Oh, and don't play with fire either. It's really, really dangerous!
8 votes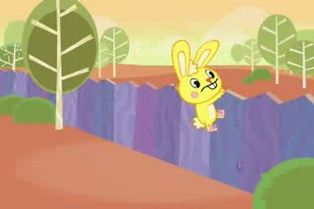 #22 - Can't Stop Coffin
Season 3 - Episode 7
When Cuddles jumps a fence to go after a baseball, he finds himself in quite a spot.
8 votes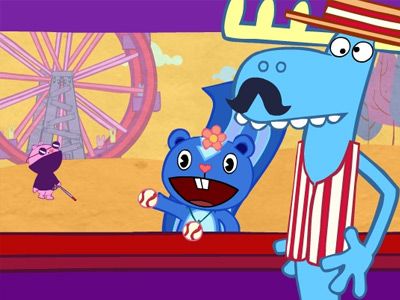 #23 - Pitchin' Impossible
Season 1 - Episode 9
What's more fun than trying your luck at midway games? It might be harder than you think if you can't see, but Mole gives it his best shot and wins a squeezable prize!
14 votes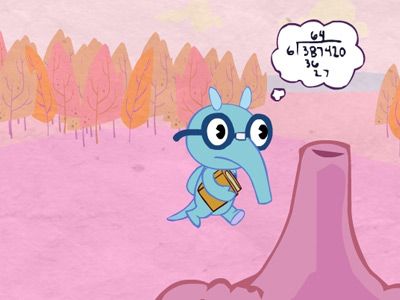 #24 - Crazy Ant-ics
Season 1 - Episode 4
Sniffles the anteater is about to dine on some yummy ants straight from the hill. Little does he know he'll be having his tongue handed back to him, or will he?
18 votes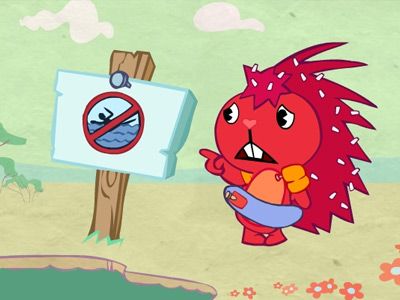 #25 - Water You Wading For?
Season 1 - Episode 6
Cuddles and Flaky go to the old swimmin' hole. Then get eaten whole.
17 votes