The Best Episodes of Enlisted
Enlisted is based on Kevin Biegel's relationship with his siblings. The comedy follows three very different brothers working together in the Army at a small base in Florida.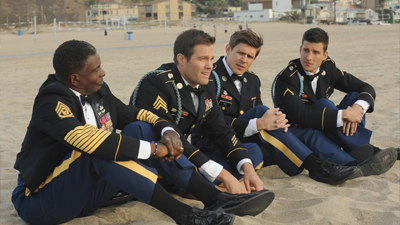 #1 - Alive Day
Season 1 - Episode 13
The Hill brothers celebrate Pete's one year anniversary of almost dying in Afghanistan, otherwise known as his "Alive Day." After the funding has been cut for the annual ball, which was going to honor Major Cody, Pete enlists the platoon to create their own ball to honor him.
171 votes
Watch on Amazon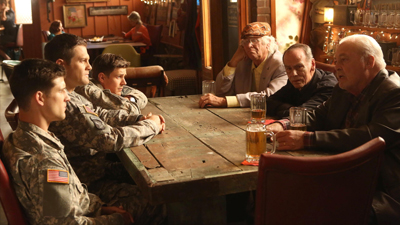 #2 - Vets
Season 1 - Episode 8
Pete, Derrick and Randy are tasked with looking after three veterans, but when they realize the men are future versions of themselves, it causes them each to evaluate their own lives and make changes
215 votes
Watch on Amazon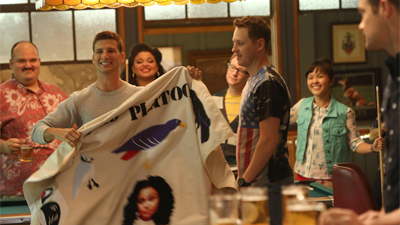 #3 - Prank War
Season 1 - Episode 10
When a prank war between Pete and Jill's platoons reveals Pete's hidden weakness, Derrick and Randy must help their brother maintain the respect of the platoon. Meanwhile, desk-bound Cody gets a chance to put his old soldier skills to work.
176 votes
Watch on Amazon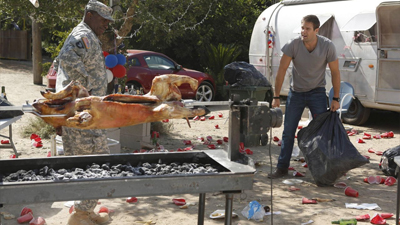 #4 - Pete's Airstream
Season 1 - Episode 3
Still adjusting to life back in the states, Pete tries to distance himself from his brothers and the platoon, which, of course, backfires.
283 votes
Watch on Amazon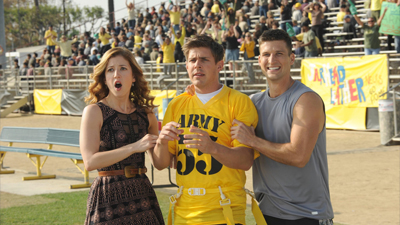 #5 - Homecoming
Season 1 - Episode 4
While trying to impress the girl he likes, Derrick accidentally promises to bring her son's father home from war. Randy helps plan the sort of tear-soaked soldier reunion that he never had with his own father. Meanwhile, Pete and Jill must set aside their differences to lead the platoon in a game of flag football against the athletically superior Marines.
273 votes
Watch on Amazon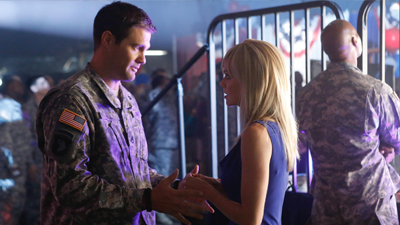 #6 - Brothers and Sister
Season 1 - Episode 6
Pete is confronted by a girlfriend with whom he never broke up, before deploying to Afghanistan, and Jill must help him through the split. Meanwhile, Derrick and Randy test their "dating skills" without each other as wingmen and come to some startling revelations
238 votes
Watch on Amazon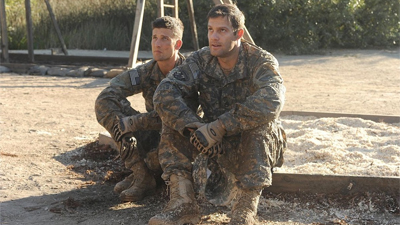 #7 - Army Men
Season 1 - Episode 12
Randy and Pete partake in Sgt. Major Cody's Army Ranger trials, reigniting their intense competition over everything. Things take a turn when Jill joins the trial and both brothers think they're in love with her. Meanwhile, Derrick feels emasculated by Erin's ex, and enlists the platoon to make him seem more capable of manly tasks than he really is
175 votes
Watch on Amazon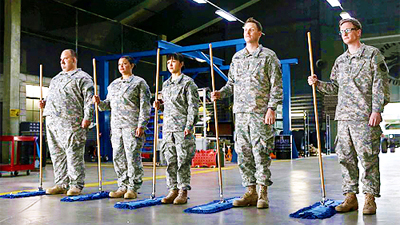 #8 - The General Inspection
Season 1 - Episode 11
Anticipating a visit by a General, Cody pushes Pete to maintain insanely high standards among the Rear D. Meanwhile, Jill gains newfound respect for Randy after she is paired with him to prepare for the inspection.
178 votes
Watch on Amazon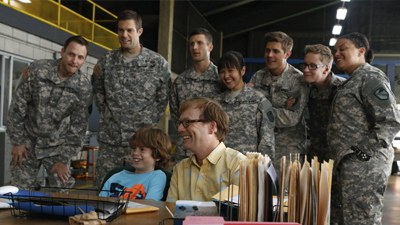 #9 - Rear D Day
Season 1 - Episode 5
Pete's new attitude of embracing his Rear D duties is challenged by the husband of a deployed soldier. When things go too far, Pete must make amends. Meanwhile, Cody enlists Jill's help with a private matter.
237 votes
Watch on Amazon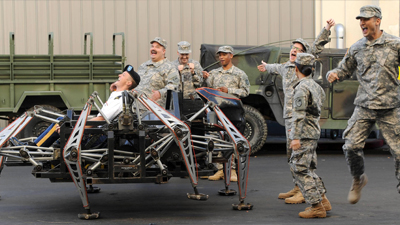 #10 - Paint Cart 5000 vs. The Mondo Spider
Season 1 - Episode 9
Second Lieutenant Tyson Schneeberger tricks the platoon into being test dummies for his experimental automobile, "Mondo Spider," causing its victims to run for the latrine. So Pete attempts to rescue them. Meanwhile, Sgt. Major Cody asks Derrick to take his self-portrait, but he turns out to be a very difficult subject.
200 votes
Watch on Amazon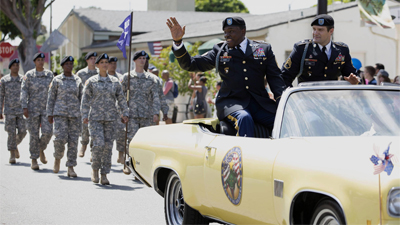 #11 - Parade Duty
Season 1 - Episode 7
After Cody assigns the platoon "Parade Duty," Pete tries to inspire his team, but finds he is being sabotaged by his own brother. After things go terribly wrong, all three brothers learn a bit more about what it means to be a soldier in Rear D.
215 votes
Watch on Amazon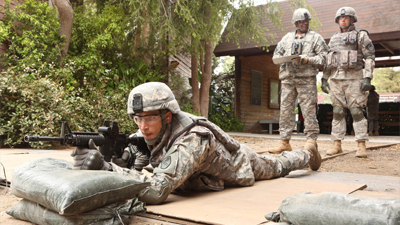 #12 - Randy Get Your Gun
Season 1 - Episode 2
When Randy questions his place in the Army after his marksmanship test, Derrick helps him embrace a new mindset in order to pass... but at what cost? Meanwhile, Pete and Jill compete in an unorthodox series of challenges to determine who the better soldier.
305 votes
Watch on Amazon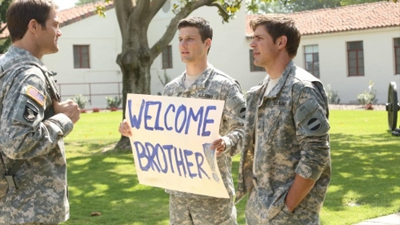 #13 - Pilot
Season 1 - Episode 1
After striking a superior officer, bona fide super-soldier Sgt. Pete Hill is reassigned from Afghanistan to a Rear Detachment Unit stateside where he is given the seemingly sisyphean task of whipping a platoon of misfits (which counts his two younger and clearly less gung-ho brothers among its members) into shape. While Pete's time is spent trying to turn the dysfunctional band of oddballs into viable soldiers, their impact on him may turn out to be even more worthwhile.
395 votes
Watch on Amazon