The Best Episodes of Doomsday Preppers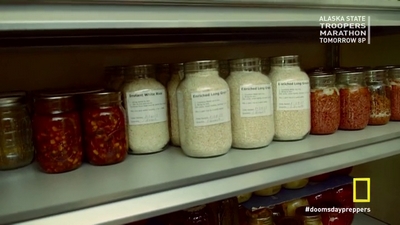 #1 - Survival is an Ugly Beast 8.62
Season 3 - Episode 9
To protect his family from Doomsday marauders, Rob is devising the ultimate booby-trap system. He's securing his Texas property's perimeter with an elaborate system of alarms, traps and defense mechanisms. In Tenn., Greg is preparing for a financial catastrophe by building an invisible tree house where he hopes to be safe from looters. If the build goes as planned, his family will have a tree house 12 feet into the forest canopy, with mirrored paneling and a stockpile of food, water and ammo.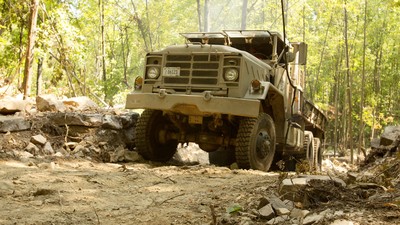 #2 - Solutions Not Problems 8.11
Season 2 - Episode 13
Prepping for an economic collapse, Jeff is converting a decommissioned missile silo into the perfect bug-out getaway. But that's not all Jeff is focused on. With an online dating profile, he is also searching for a special someone who can share his love for prepping. We'll see Jeff, a bachelor on the lookout for love, not only work on his bunker, but also go on multiple dates to find his prepper mate. We also meet Doug, who lives in the mountains of Tennesse and is known by locals as "Rockman".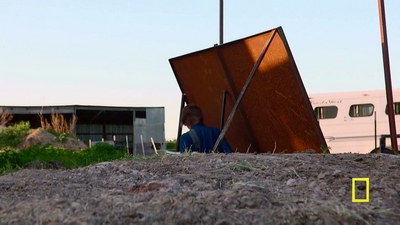 #3 - Shepherds and Wolves 8.05
Season 4 - Episode 3
Roger Dougan lost his home in a fire seven years ago. He's working to become self-sufficient through prepping, so he never has to feel helpless again. Before the 2000 New Year, Curtis bought a generator and stocked up on food and water, but it occurred to him that if something serious did happen, he wasn't nearly as prepared as he should be — so he became a prepper. Karissa Baca lost her job during the 2008 financial crisis, causing her to realize how fragile the economy is and begin prepping.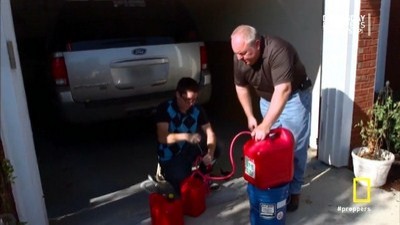 #4 - Nine Meals Away from Anarchy 7.97
Season 1 - Episode 6
For Mike Messiner civil unrest is just round the corner and he is getting everyone ready; Colorado computer programmer Preston White has collected over 11,200 types of seeds and plans for biosphere living in a Fukushima radiated future while friends Shane and others provide supportive help; Riley Cook spends his days supporting the prepper society building underground structures.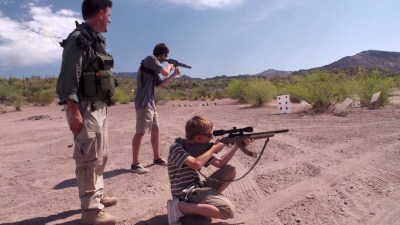 #5 - Back to the Stone Age 7.95
Season 1 - Episode 3
Tim Ralston - A survival tool manufacturer himself (the Crovel), loses part of a thumb during firearms practice for the show; Jason Charles, The New York City Fireman/Prepper demonstrates expert urban survival skills; Jules Dervaes has prepared well for the collapse of the industrial food system; Pat Brabble insists on surviving hyperinflation by planning ahead.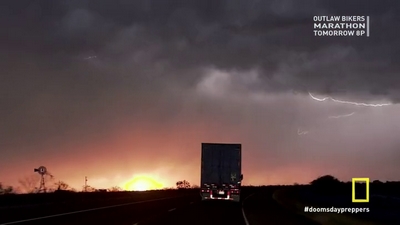 #6 - Total Destruction 7.91
Season 3 - Episode 8
A devastating EF-5 tornado, like the one that struck Oklahoma in May of this year, can throw buildings into the air and hurt hundreds of people. In Tennessee, Tracy is preparing for just that. Tracy has spent six years prepping his farm for a super tornado, but if it does hit, he doesn't plan on hunkering down — he plans on gathering his family and making a getaway in his mobile safe room.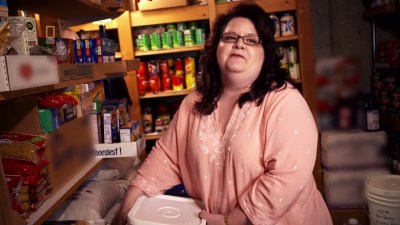 #7 - I Hope I Am Crazy 7.85
Season 1 - Episode 2
David Sarti a Youtube "firearms instructor" and self-taught survivalists is prepared for an electrical grid failure; Kellene Bishop a Utah resident has stored away the finer things in life for a financial collapse; Kathy Harrison, the Doris Day of Doom has prepared her local community for a New Madrid earthquake; Dennis Evers brings the family together to survive global chaos caused by hyperinflation.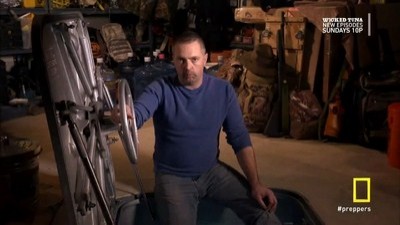 #8 - Disaster Doesn't Wait 7.85
Season 1 - Episode 10
Barry, Pink and Cole have the ultimate urban underground foxhole right in the garage. Hooray! one if the best we have seen; Steve Pace a hometown survivalists is ready to take on long term electric failure; Carolina resident Laura Kunzie has concerns to a rapid airborne flu outbreak and is preparing so.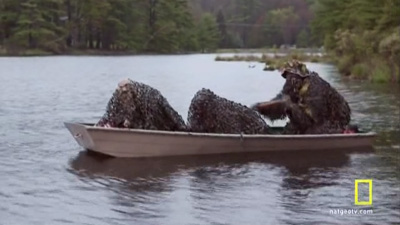 #9 - You Can't Let Evil Win 7.84
Season 2 - Episode 1
Some American families have drastically altered their lifestyles in order to survive what they fear will be the end of the world. Johnny O fears a terrorist attack on nuclear power plants, and his prepping philosophy is always having backups for your backups. He is a husband and father of two who lives with his wife and his wife's twin sister, who also knows their bug out plan.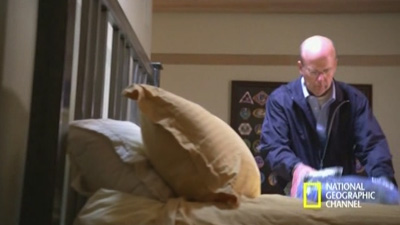 #10 - Taking From the Haves 7.81
Season 2 - Episode 5
Jeff Bushaw plans to fly his family to safety following the eruption of the Yellowstone supervolcano; Allen and Franco have built sustainable food production systems in preparation for worldwide food shortages; John Adrain has invented numerous security gadgets to turn his estate into a technological fortress safe from a wide range of disasters.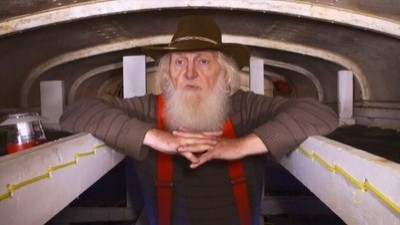 #11 - It's Gonna Get Worse 7.79
Season 1 - Episode 8
Bruce Beach a lifelong prepper is focused upon nuclear wars and saving children in his 42 underground buses; Jeremy and Kelly, are concerned parents in Salt Lake City, preparing for the collapse of society due to peak oil depletion; Bradford Frank of San Diego, California works around the clock in case of a worldwide pandemic that will end life as we know it.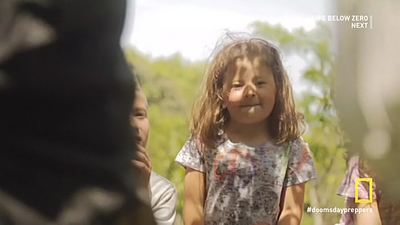 #12 - We are the Marauders 7.79
Season 3 - Episode 7
While many preppers believe defense is the best strategy for surviving a Doomsday scenario, one family in Tacoma, Wash., is banking on a good offense. Tyler, his wife and his cousin have assembled a group of like-minded, would-be marauders from their neighborhood in preparation for a catastrophic domestic terrorist attack. They have only six months' worth of food because they plan on taking what they need in order to survive — and to stay safe, they're developing the ultimate suit of armor.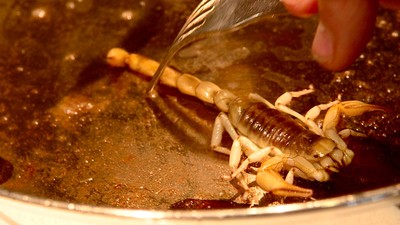 #13 - Gonna Be a Big Bang 7.78
Season 2 - Episode 17
Brad and Krystal prep hard prepare for an economic collapse. They've stockpiled canned goods, cached weapons and secured bulletproof vests. But their holy grail of prepping is an underground bunker, which they've been struggling to obtain. Kevin and his family live the American Dream, but now they're bugging out to Costa Rica. They believe an economic collapse will make America unlivable. With just weeks until moving day, see how Kevin and his wife prepare their family for a new life.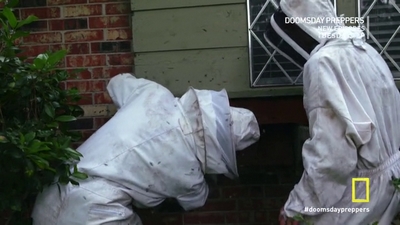 #14 - Live Bees, Live Ammo 7.75
Season 3 - Episode 10
Meet two families who both fear the end of the world is fast approaching. In Texas, John Tucker and his family are preparing for Category 5 hurricanes that they believe will change the landscape forever. After living in a home that was split in two during a hurricane, John vowed he would never again be unprepared. And in Utah, brothers Bret and Shane are preparing for a complete economic collapse. To protect their families, they are building a sniper post complete with the ultimate sniper rifle.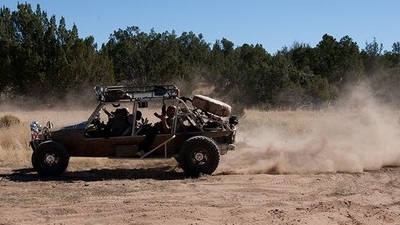 #15 - Whatever it Takes 7.75
Season 3 - Episode 3
Could an explosion on the surface of the sun cause mayhem on Earth? Jason and Jacob are a father-son team from Alabama who are prepping for exactly that: a global solar flare with the potential to wipe out power grids around the world. Jason was almost stranded for good in the wilderness when he was 19, but that will not stop him from prepping in those very same woods by molding his own ammunition and preparing his 20-piece bug-out pack.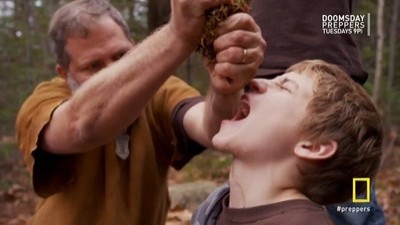 #16 - Friends Can Become Enemies 7.73
Season 1 - Episode 5
James Patrick Douglas a man of the land in Maine shows off many needed homestead techniques to the viewers based upon overpopulation fears; Larry Hall the survival underground missile bunker builder invests in making sure his and other families are safe during any event; Becky Brown a gorgeous yet very inventive prepper (Grab n Go Food Storage) is making sure she and others are ready for martial law.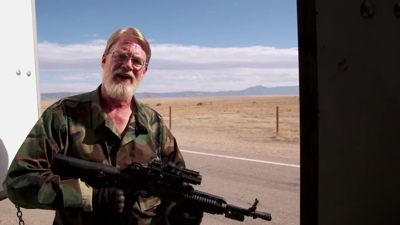 #17 - It's All Gonna Hit the Fan 7.72
Season 1 - Episode 4
Martin Colvill lives on the road with his wife as a "survival trucker" and looks to prepare for the upcoming economic collapse; Donna Nash is prepared to quarantine all her family members to protect against a global pandemic; Kevin O'Brien is concerned about losing his home due to rising sea levels created by global warming or a polar shift.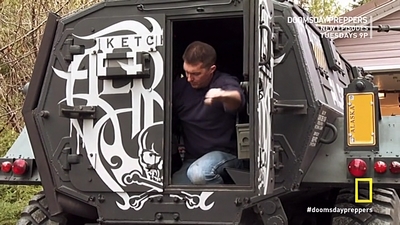 #18 - Take Our Country Back 7.71
Season 3 - Episode 5
Deep in Oregon's backcountry sits an 80-acre off-the-grid estate that prepper Curt and his family have designed as a fortress in the event of an economic collapse. Isolation is one of their greatest strengths, but the protective measures are endless: a 3,000-square-foot greenhouse, a lake with 1 million gallons of water, infrared cameras and a high-tech software system — not to mention the children are trained in marksmanship.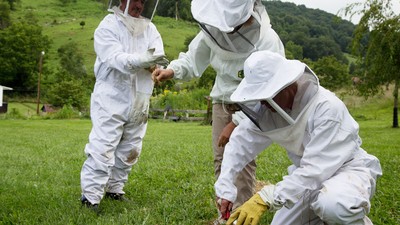 #19 - Hit the Ground Running 7.71
Season 2 - Episode 12
Former firefighter medics John and Kelly are motorcycle riders living on a prepping homestead in the mountains of Virginia in preparation for a total economic collapse. Frank, who owns a construction company in Maine, spends his golden years flying his private plane and preparing for the upcoming economic collapse. Finally, we meet mobile prepper Brian as he prepares for his fear: a terrorist attack. Brian spends the majority of his time on the road in his ultimate bug-out vehicle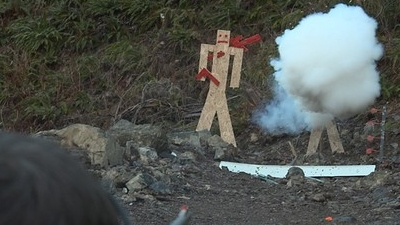 #20 - The Gates of Hell 7.71
Season 3 - Episode 2
An economic collapse could mean total chaos for the U.S. -- looting, riots and civil unrest are top concerns. In Washington state, Steve works with a stern hand to prep his family for the potential threat. South Carolinian David Appleton is a comedian, but the idea of a devastating earthquake is no joke to him. His job doesn't always pay the bills, so David must Dumpster dive to find supplies to make a DIY camouflage net to hide his preps.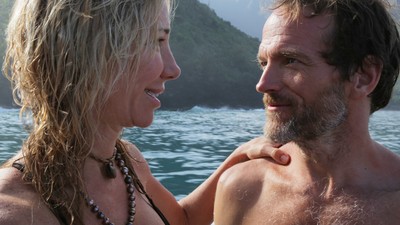 #21 - Lone Wolves and Lovers 7.69
Season 2 - Episode 18
Think you've got what it takes to survive the end of days? NGC will study the full spectrum of prepper types, from lone wolves to full-fledged neighborhood networks. We'll look at a variety of our best preppers from season 2 to see how their prepping styles differ. Join us as we learn about bunker stew, bunker living and prepping as a team. Doomsday preppers come in all shapes and sizes. From freshly initiated spouses to ex-military types to grumpy kids, there's a prepper to be found anywhere.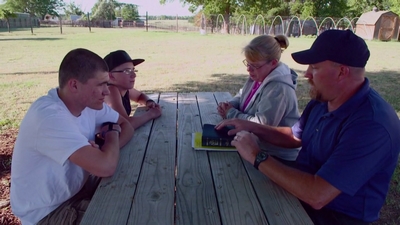 #22 - Back to the Dark Ages 7.69
Season 4 - Episode 4
Chuck Vessey fears that an electromagnetic pulse will take out the power grid near his Texas home. He's concealing his goods in intricate spots around his house and building a wind turbine to generate electricity. Lisa Roulette preps for global climate change and teaches her sons the ways of living off the land. Tom and Beth Tailer prepare their land and community in rural Vermont for massive oil shortages by engineering a seemingly indestructible eco-dome shelter.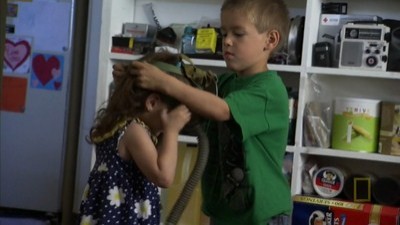 #23 - Bullets, Lots of Bullets 7.69
Season 1 - Episode 1
Paul Range and friends prepare for a "polar Shift"; In California Christopher Nyerges demonstrates urban jungle survive skills in the event of a massive earthquake; Deep in the heart of Houston, Texas Megan Hurwitt hopes to survive on her own after the all the oil and gas runs out.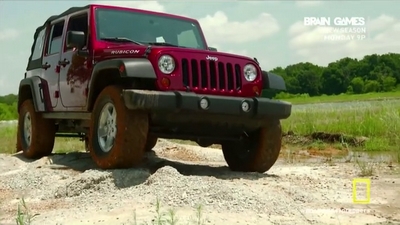 #24 - Nobody Will Be Ready 7.67
Season 3 - Episode 13
Meet two Tennessee families who are both preparing for an earthquake in the New Madrid Seismic Zone. David Mays believes all roads and bridges leading out of his neighborhood will be destroyed, so he's devising the ultimate Doomsday drone fleet. Meanwhile, 100 miles away, do-it-yourselfer David Nash is building a geodesic dome -- considered one of the most stable structures on earth as it eliminates the need for load-bearing walls -- that will house his family during the earthquake's aftermath.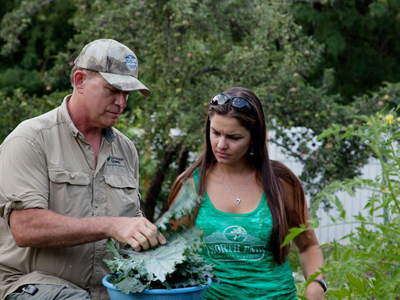 #25 - Prepper's Paradise 7.65
Season 2 - Episode 11
Doomsday Preppers visits the household of Amanda Bobbin, who began prepping after being warned in her sleep of imminent danger. These days Amanda and her husband Scott spend their time hidden away in the mountains, where they practice sustainable living to prepare themselves in the event of a comet hitting the earth's atmosphere.