The BEST Episodes of Alan Carr: Chatty Man
Every episode ever - ranked by fan votes!
Last Updated: Jan 6, 2022
Alan Carr hosts a brand new entertainment chat show, packed with sketches, topical chat, news and audience participation. Alan is joined on the sofa each week by three celebrity guests from the world of showbiz, with a top musical act playing out at the end of the show. Other regular items include topical sketches featuring occasional celebrity cameos, Alan's irreverent take on the week's showbiz news, plus unique and offbeat highlights from the world of telly and the web.
Watch Now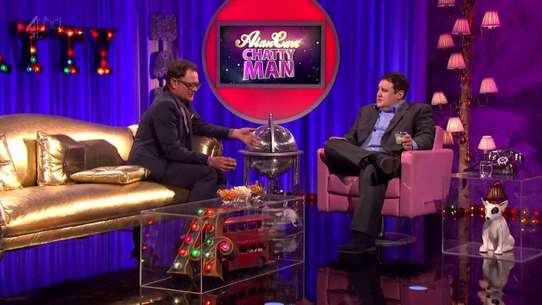 #1 - Pharrell Williams, Cher Lloyd and Nicole Sherzinger
Season 12 - Episode 12 - Aired Jun 13, 2014
For the final show in the current series, the funnyman is joined by guests including singer-songwriter and producer Pharrell Williams, who talks about his new single Marilyn Monroe, while singer-songwriter Cher Lloyd discusses her latest album Sorry I'm Late. Plus, former X Factor judge Nicole Scherzinger performs her latest track Your Love live in the studio. Last in the series.
3 votes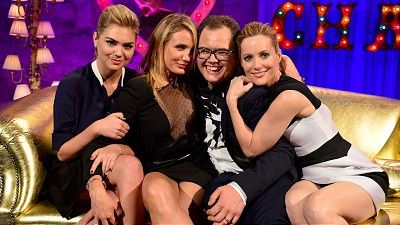 #2 - Cameron Diaz, Leslie Mann, Kate Upton, Paul Hollywood, Paddy McGuinness, Katy B
Season 12 - Episode 4 - Aired Apr 18, 2014
The host is joined by US film stars Cameron Diaz, Leslie Mann and Kate Upton, who talk about their new comedy The Other Woman, TV chef and baker Paul Hollywood discusses the Get Your Bake On UK tour, and presenter and comic Paddy McGuinness provides an insight into his new TV game show Amazing Greys. Katy B performs her latest single Still
4 votes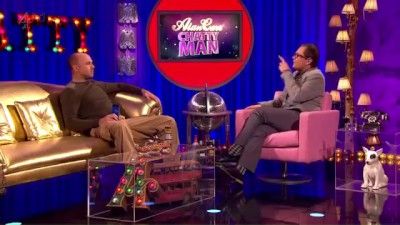 #3 - Michael Sheen, Amanda Holden, Jared Leto, Karl Pilkington
Season 11 - Episode 9 - Aired Oct 25, 2013
Alan Carr is joined by Michael Sheen, who discusses his new Channel 4 US show The Masters of Sex; Amanda Holden, who chats about her new autobiography; actor and musician Jared Leto, who talks about his rock band Thirty Seconds to Mars; and Karl Pilkington, who drops in to chat about his new show The Moaning of Life. Plus music from Swedish duo Icona Pop.
5 votes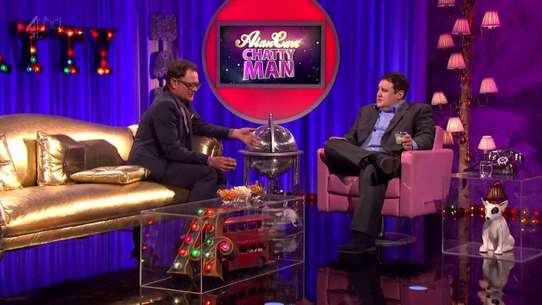 #4 - Jack Whitehall, Jon Richardson, Matt Forde, Kasabian
Season 13 - Episode 1 - Aired Sep 12, 2014
The bespectacled funnyman returns for a 13th series of musical performances and banter from celebrity guests, from whom - if a little alcohol-fuelled - he hopes to draw out their biggest secrets. Alan has lined up another star-studded array of international and home-grown personalities, including comedian and actor Jack Whitehall, stopping by to discuss the return of his sitcom Bad Education. Also dropping in are fellow comedians Jon Richardson and Matt Forde, while music for the evening will be provided by Kasabian with a performance of their latest single Bumblebeee
5 votes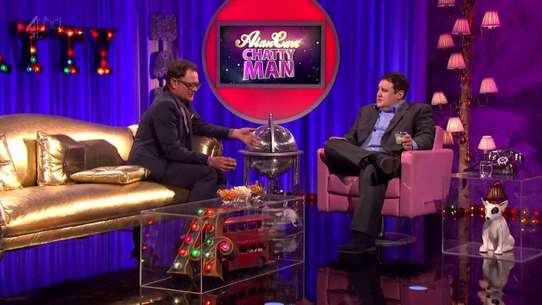 #5 - Russell Howard, Dawn French, Little Mix
Season 15 - Episode 10 - Aired Nov 13, 2015
Guests include Russell Howard, who chats about his current series of Russell Howard's Good News, comedienne Dawn French, who discusses her new novel According to YES, and Little Mix, who perform their new single Love Me, Like You live in the studio
5 votes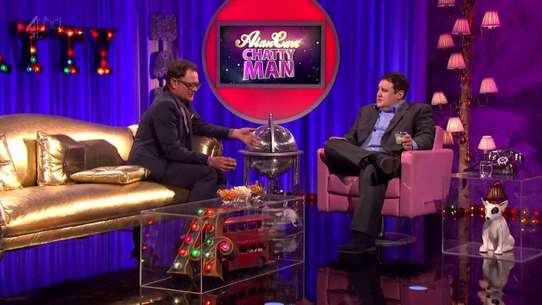 #6 - Rob Delaney, Sharon Horgan, Catherine Tate, Adam Lambert, Roisin Murphy
Season 15 - Episode 6 - Aired Oct 16, 2015
The host is joined by comedy actors and writers Rob Delaney and Sharon Horgan to talk about the second series of their sitcom Catastrophe, while actress Catherine Tate chats about her new film SuperBob. Plus, musician Adam Lambert discusses his latest single and Irish singer-songwriter Roisin Murphy performs Evil Eyes.
6 votes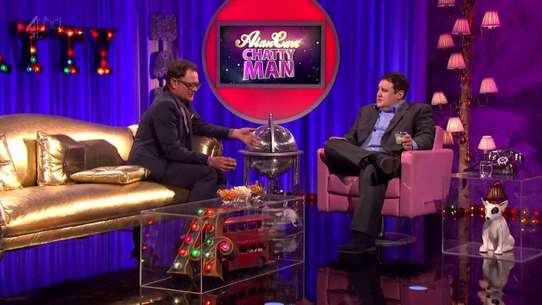 #7 - Nick Grimshaw, Jason Manford, Years & Years
Season 15 - Episode 8 - Aired Oct 30, 2015
DJ Nick Grimshaw discusses about his role as judge in The X Factor and Radio 1's Teen Awards. Plus, comedian Jason Manford drops in to talk about his new Dave show The Money Pit, and electronica trio Years & Years perform their latest single Eyes Shut.
6 votes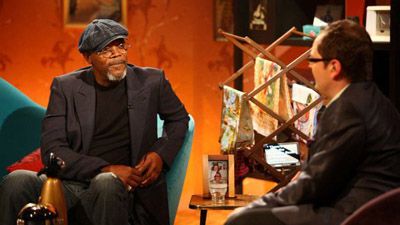 #8 - Samuel L Jackson, Ivana Trump, Katy Perry
Season 1 - Episode 2 - Aired Jun 21, 2009
This week, Alan chats in his own inimitable style with Samuel L Jackson about his life and career, and also discusses Ivana Trump's extraordinary life with her. Plus, Katy Perry drops by for a chat and a performance of her latest single, Waking Up in Vegas
2 votes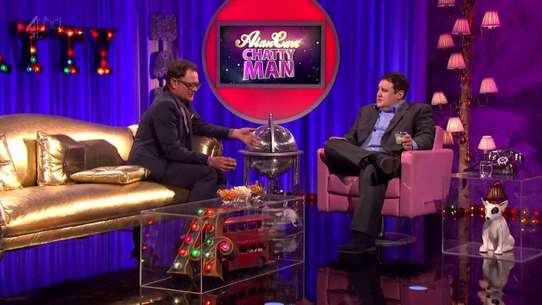 #9 - Mariah Carey, Noel Fielding, Simon Pegg
Season 2 - Episode 1 - Aired Nov 19, 2009
Chatty Man is back!! In the first show, Alan will be joined on the sofa by Mariah Carey who will also perform her single, I want to Know What Love Is... star of The Mighty Boosh, Noel Fielding, and comedy actor Simon Pegg, pop in for a chat.
2 votes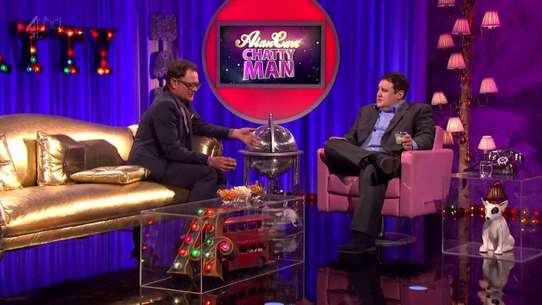 #10 - Ricky Gervais, Katie Price, Vinnie Jones and Corinne Bailey Rae
Season 3 - Episode 1 - Aired Feb 4, 2010
In this opening episode, Alan is joined on the sofa by comedy superstar, Ricky Gervais. Fresh from hosting the Golden Globes, Ricky talks to Alan about the DVD release of his latest film The Invention of Lying and his forthcoming world comedy tour. Also joining Alan is model and reality TV star Katie Price, who chats about her TV new series What Katie Did Next. Plus, Vinnie Jones, who spills the beans about his time on Celebrity Big Brother and music from the talented Corinne Bailey Rae who performs an exclusive track Paris Night/New York Morning from her latest album.
2 votes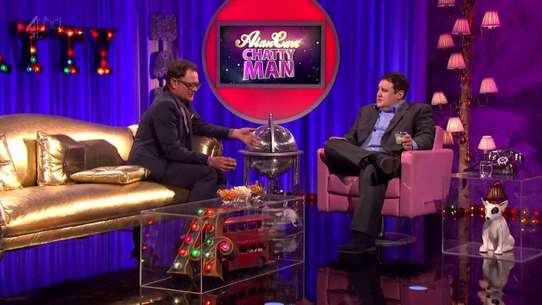 #11 - Paul O'Grady, Katy Perry, Davina McCall and Brandon Flowers
Season 4 - Episode 12 - Aired Sep 5, 2010
Katy Perry chats and also performs her new single, Davina McCall talks about 10 years of Big Brother, and Paul O'Grady discusses his new book and TV show. Plus, music from Brandon Flowers.
2 votes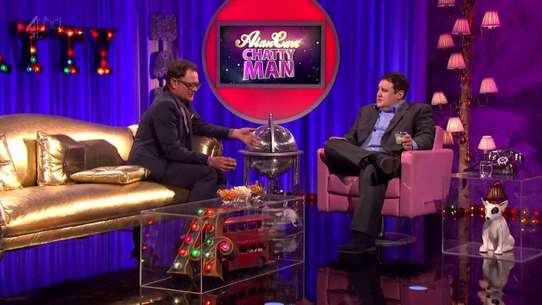 #12 - Elle MacPherson, Bruce Forsyth, Louis Walsh, Kaiser Chiefs
Season 6 - Episode 2 - Aired Jun 24, 2011
In the second episode, Alan is joined by Elle MacPherson and Bruce Forsyth. Louis Walsh joins Alan to give the lowdown on all things X Factor, plus there's a chat with new girl-band Wonderland. Music comes from the Kaiser Chiefs, who perform a track from their latest album, Little Shocks.
2 votes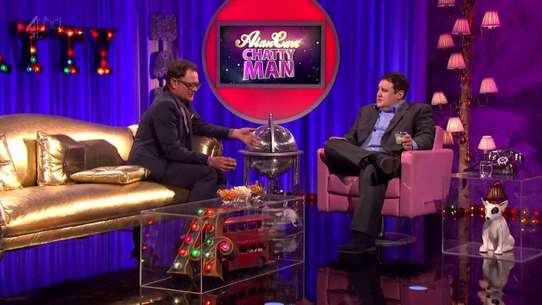 #13 - Thandie Newton, Ben Miller, Jo Frost, Liam Gallagher
Season 6 - Episode 3 - Aired Jul 1, 2011
In this show Alan is joined by Thandie Newton and Ben Miller, who talk about their latest movie, Huge. Supernanny Jo Frost discusses her new book and series, Jo Frost's Extreme Parental Guidance, while music and chat comes from Liam Gallagher, who will be performing The Beat Goes On with his band - Beady Eye.
2 votes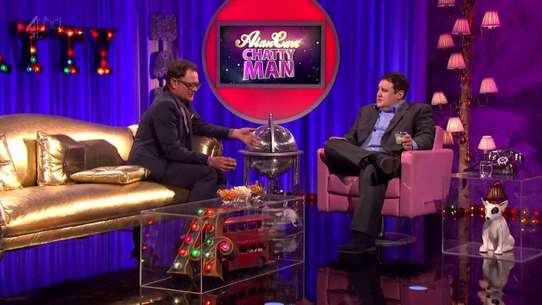 #14 - Jimmy Carr, Tulisa, The Saturdays, Paul Weller
Season 8 - Episode 1 - Aired Apr 27, 2012
Alan Carr is joined by Jimmy Carr and pop star and X Factor judge Tulisa, who talks about her new single, Young. Plus The Saturdays and Paul Weller.
3 votes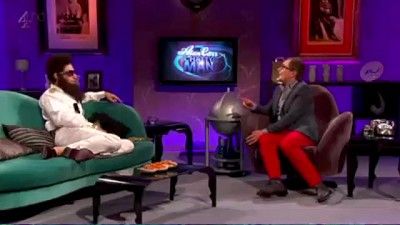 #15 - Sacha Baron Cohen, Ray Winstone, Phillip Schofield, Holly Willoughby
Season 8 - Episode 3 - Aired May 11, 2012
In this week's episode, Supreme Leader Admiral General Aladeen of Wadiya is on the show to promote his new film The Dictator, actor Ray Winstone joins Alan to chat about his latest film, Snow White and the Huntsman, plus all the news from This Morning hosts Phillip Schofield and Holly Willoughby. Musical guest Rebecca Ferguson performs Glitter and Gold.
3 votes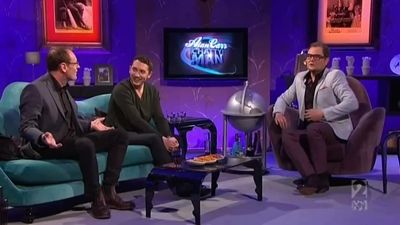 #16 - Kim Kardashian, Sean Lock, Jon Richardson, Nelly Futardo
Season 8 - Episode 4 - Aired May 18, 2012
In this episode, US TV star Kim Kardashian pops in for a chat, 8 Out of 10 Cats team captains, Sean Lock and Jon Richardson join Alan to talk about Channel 4's Comedy Gala at the 02 in aid of Great Ormond Street Hospital due to air on Channel 4 next week, and musical guest Nelly Furtado performs her new single Big Hoops.
2 votes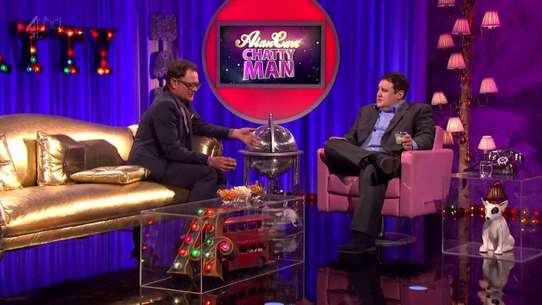 #17 - Gok Wan, Adam Hills, David Weir, Eleanor Simmonds, Alex Brooker, Jody Cundy, Pink
Season 9 - Episode 1 - Aired Sep 14, 2012
Opening the series Alan's special guests are Gok Wan, Adam Hills, Alex Brooker and Paralympic medal winners Ellie Simmonds, David Weir, Jody Cundy plus music and chat from Pink.
2 votes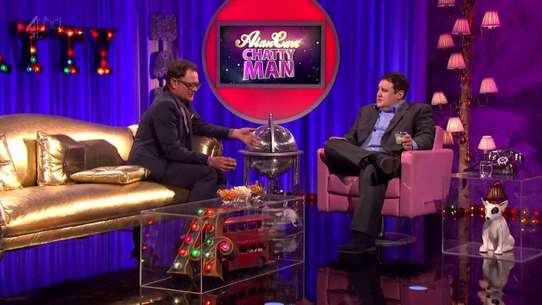 #18 - Jessie J, One Direction, Kevin McCloud, Alicia Keys
Season 9 - Episode 3 - Aired Sep 28, 2012
Alan is joined by Jessie J who chats about her autobiography Nice to Meet You, and One Direction talk about their new album and single. Kevin McCloud drops in to talk Grand Designs. Plus, there's music from US singer Alicia Keys.
2 votes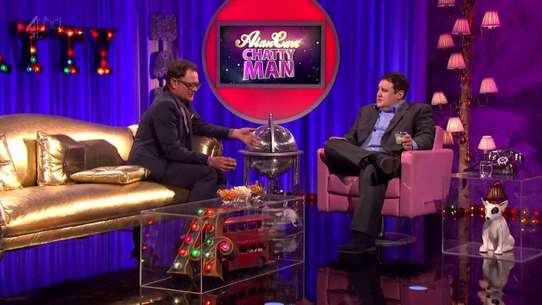 #19 - Lee Evans, Keeley Hawes, Dragon's Den, Sharon Osbourne, Rizzle Kicks
Season 11 - Episode 1 - Aired Aug 30, 2013
Alan Carr is joined by two of the stars of the forthcoming West End comedy play Barking in Essex - Lee Evans and Keeley Hawes. Plus the stars of Dragon's Den, and Sharon Osbourne who talks about her return to The X Factor. Music is from Rizzle Kicks. Plus music from Rizzle Kicks, who perform their single Lost Generation.
3 votes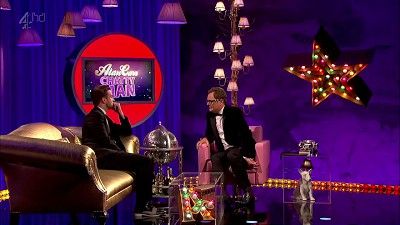 #20 - Justin Timberlake, Rihanna, David Haye
Season 11 - Episode 5 - Aired Sep 27, 2013
Join BAFTA award-winning Alan Carr as he celebrates 100 glorious episodes and 11 series of his hit Channel 4 chat show. Throughout the years Alan has welcomed over 400 guests onto his sofa, featuring some of the biggest and brightest international and homegrown stars in showbiz, including; Lady Gaga, Grace Jones, Robbie Williams, Jamie Foxx, Rod Stewart, Liam Gallagher, Adele and many, many more. This 100th episode follows in those star-studded footsteps once again, as Alan is joined by the fantastic Justin Timberlake, who will be chatting about his new film Runner Runner, and performing Take Back The Night from his new album. Alan will also be talking fighting and fitness with Heavyweight Boxer David Haye ahead of his monumental match with Tyson Fury, before gossiping with music icon Rihanna, who will also take to the stage to perform What Now, taken from her Unapologetic album.
3 votes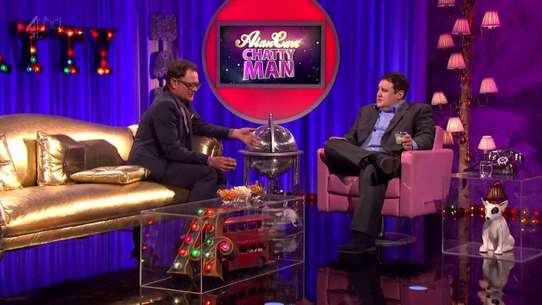 #21 - Britney Spears, Mo Farah, Joseph Gordon-Levitt, Jake Bugg
Season 11 - Episode 8 - Aired Oct 18, 2013
Guests include pop superstar Britney Spears who chats exclusively about her new single Work Bitch. London 2012 Olympic hero and long distance runner Mo Farah discusses his new autobiography, while US movie star Joseph Gordon-Levitt talks about his new film Don Jon. Plus music from Jake Bugg who performs What Doesn't Kill You in the studio.
4 votes
#22 - James Corden, Tom Hiddleston, Joan Collins, Tinie Tempah
Season 11 - Episode 10 - Aired Nov 1, 2013
Alan Carr welcomes guests James Corden to chat about the DVD release of his latest series The Wrong Mans; Tom Hiddleston discusses his role in Thor: The Dark World; while Joan Collins shares some of her latest memoirs. Plus music from Tinie Tempah who performs Children of the Sun.
4 votes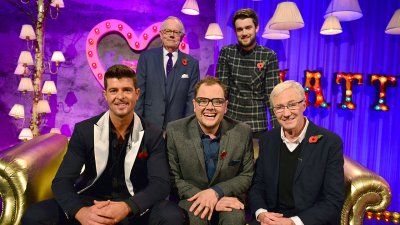 #23 - Robin Thicke, Paul O'Grady, Jack Whitehall
Season 11 - Episode 11 - Aired Nov 8, 2013
Alan's guests include Robin Thicke performing his latest single Give It 2 U, Paul O'Grady drops in for a good old natter about his new chat show and comedian Jack Whitehall and his father Michael discuss their new book.
4 votes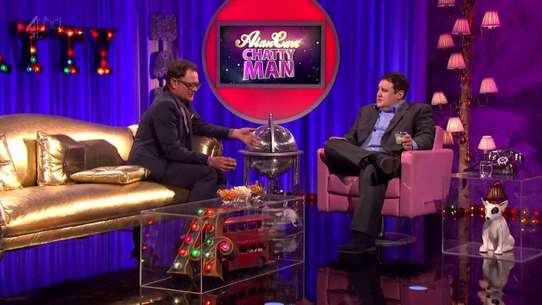 #24 - Lady Gaga, John Bishop, Heston Blumenthal
Season 11 - Episode 15 - Aired Dec 6, 2013
This week's guests include Lady Gaga, who tells Alan all about her new album Artpop and gives an exclusive performance of Do What You Want. Also John Bishop, who talks about his Supersonic 2014 tour, and top chef Heston Blumenthal.
5 votes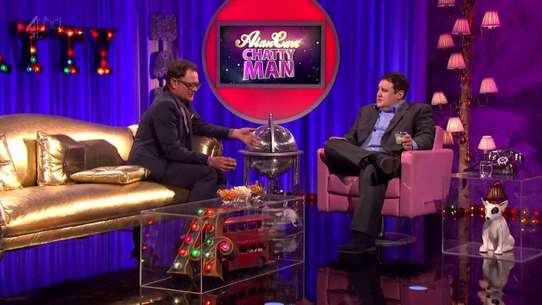 #25 - Davina McCall, Russell Brand, David Dickinson, Little Mix
Season 11 - Episode 18 - Aired Dec 25, 2013
Russell Brand talk about his new DVD Messiah Complex, while host of Channel 4's The Last Leg, Adam Hills, discusses his Happyism DVD. Plus a chat with Derren Brown, and a live performance from The Wanted.
3 votes
Want to see where all
188
episodes of Alan Carr: Chatty Man rank?
Join Episode Ninja Pro
$5 monthly/$50 annually