The BEST Episodes of 24 Hours in A&E
Every episode ever - ranked by fan votes!
Last Updated: Nov 2, 2019
We're all just one wrong step, one sudden illness or one unlucky break away from A&E. It's a place where dramatic stories of love, life and death unfold every day. With 90 cameras filming round the clock for 7 weeks, this series offers unprecedented access to one of Britain's busiest A&E departments, at St George's Hospital in London. Each programme focuses on patients who were treated within the same 24-hour period. The series captures the joy and heartache faced by patients and their families, as well as the hard work and professionalism of the A&E staff. From life-threatening traumas to embarrassing mishaps, 24 Hours in A&E is an intimate, powerful and sometimes comic insight into life - and death - on the frontline of the NHS.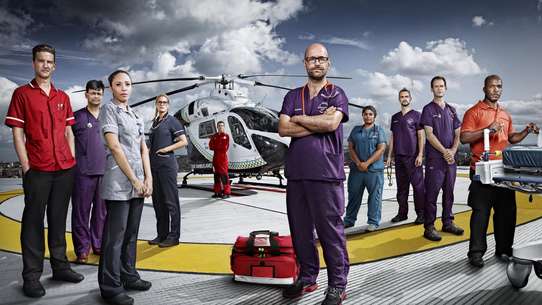 #1 - Walk Like a Man
Season 3 - Episode 7 - Aired May 22, 2013
This episode takes a moving - and sometimes light-hearted - look at when boys become men, and passing the baton between the generations. Twenty-six-year-old Nicholas has been punched in the face in a random attack. His jaw is fractured and dislocated and he can't close his mouth or speak. Consultant craniofacial surgeon Rob, a world-renowned specialist, puts Nicholas's jaw back in place with his 'magic thumb'. Tyrell has damaged his big toe playing football. The 17-year-old's blackened toe nail needs to be removed and his dad, Adrian, uses the opportunity to lecture him that experiencing pain is what separates men from boys and about the importance of knowing his family tree as well as he knows Spanish football. Ho, who's 26, has brought his 78-year-old grandma Amoui to King's after finding her collapsed in her flat. Amoui came to Britain during the Vietnam war and she's been like a mother to Ho. The thought of losing her is almost too much for her grandson to bear. Meanwhile, consultant Rob, the first person in his family to go to university - 'or, for that matter, to do an A level' - recalls his own rite of passage to becoming a man, with his father, who left school at 13 to work in a brick yard to support his family.
2 votes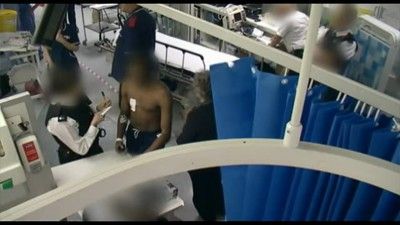 #2 - Episode 3
Season 1 - Episode 3 - Aired May 25, 2011
In the third programme, eleven-year-old Kofi is rushed into Resus, critically injured after being hit by a van. His father, Wayne, sits by Kofi's bedside praying for his recovery: 'I remember when Kofi was born I counted all his fingers and toes and held him in the air'. Meanwhile, 73-year-old Roger Jackson is coming to terms with his own mortality. A member of The Tornados, the first British group to top the US chart in the Sixties, Roger confesses that, despite having cancer, he wouldn't give up his rock 'n' roll fame for his health. Back in Resus, senior consultant Chris Lacy is tested to the limit when three trauma patients arrive in quick succession: one has been shot in the face, another has been stabbed in the chest and a third has been knifed in the head. As armed police arrive and a gang gathers outside A&E, tempers flare and Chris calls for calm as Kofi fights for his life.
3 votes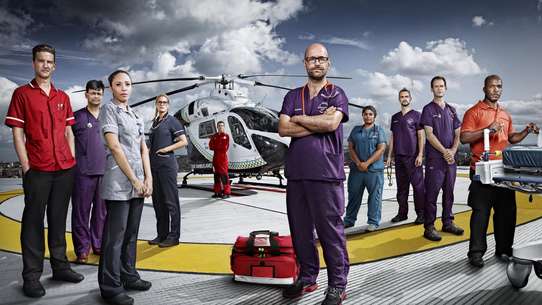 #3 - Duty of Care
Season 3 - Episode 11 - Aired Jun 19, 2013
This touching episode explores the responsibility of caring for elderly relatives, while reflecting on the full, and often colourful, lives that some of the older patients at King's have led. Ninety-four-year-old Douglas is a highly decorated Second World War veteran who served in an elite commando unit. He's been brought in to A&E by his youngest daughter Sylvie because his breathing has deteriorated. Sylvie, who's an amputee, has been his full-time carer for the last 20 years. Douglas has four children, 17 grandchildren, 19 great grandchildren and a cheeky sense of humour. Another nonagenarian, Hector, has been brought in by ambulance with life-threatening problems: his airway is in danger of collapsing and his blood pressure is dangerously high. Hector is on his own and keeps asking for his grandson, Glen: his only living relative. 'He reckons that the key to long life was to live a decent life and make sure you eat your porridge,' says Glen. 'If my sons are half the man he was I'd still be happy.'
2 votes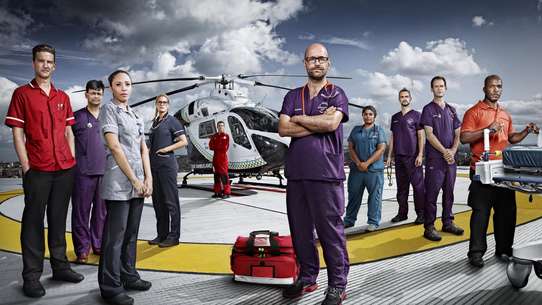 #4 - Tough Love
Season 3 - Episode 17 - Aired Jul 31, 2013
A young man who has had a severe reaction to a recreational drug is wheeled into Resus by paramedics, and senior sister Jen and the medical team face a challenge to calm their patient down so they can treat him. A 65-year-old woman is brought in by her best friends after hitting her head when she fell off a chair while playing bingo, and a 31-year-old man with multiple sclerosis is rushed in after developing a fever at home
2 votes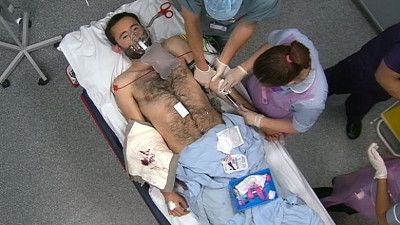 #5 - Do No Harm
Season 8 - Episode 4 - Aired Jan 28, 2015
Eleven-month-old Isabel is rushed to St George's after suffering a fit and losing consciousness, while 22-year-old Felix is brought to A&E with a self-inflicted stab wound to his stomach. Retired engineer Bill, 68, fell 15ft from a ladder while cutting a leylandii hedge. He arrives by air ambulance with breathing difficulties and suspected multiple fractures.
3 votes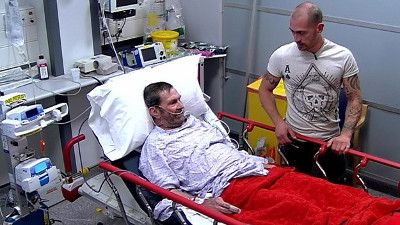 #6 - Free Fall
Season 8 - Episode 8 - Aired Feb 25, 2015
Keen rugby player Robert has a dangerously high heart rate and may need to have a pacemaker fitted - a scary thought for the nine-year-old's father. Mark, 32, has fallen 30ft from scaffolding while doing some DIY, and there's concern he may have damaged his spine. Christine, 74, arrives in A&E after an accident in her garden, and she's suffered nasty injuries to her face.
7 votes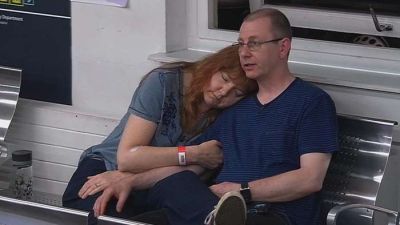 #7 - You're All I Need to Get By
Season 18 - Episode 12 - Aired Jul 23, 2019
Paul, who is 66, is brought to A&E with a dangerously high heart rate. Meanwhile, Nicky has a swelling in her throat, and seven-year-old Kit has injured his chest in a golf buggy.
9 votes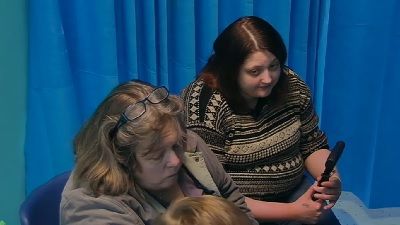 #8 - City of Angels
Season 5 - Episode 5 - Aired Feb 5, 2014
While some have obvious symptoms, others initially baffle the medical team. Consultants Graham and Firas are running A&E and tensions run high as police suspect a patient has come to King's with a concealed weapon. 'I guess it's part of King's - you expect the unexpected,' says Firas. Mother-of-four Hillary, who's 58, arrives in Resus by air ambulance with a severe head injury after falling from her horse. Hillary stopped breathing at the scene of the accident, blew a pupil and was put into an induced coma. Firas suspects a life-threatening brain injury and Hillary is put in the specialist neurological unit while two of her children rush to King's to be by her side. Meanwhile, Icylyn comes to King's with a bloated abdomen. Consultant Graham initially thinks she might be pregnant, but tests rule that out and her symptoms throw the medics. Icylyn will have to wait overnight for diagnosis, but Graham is concerned that her symptoms could be the result of something serious. Icylyn is accompanied by her best friend Tony, who talks about their relationship and ponders what's really important in life. And 14-year-old Chloe is in Resus after getting involved in a fight after school. Doctors are worried that she may have injured her neck. As she's treated, Chloe talks about her love of high street fashion, the importance of having her nails painted regularly and what the people in her life mean to her.
6 votes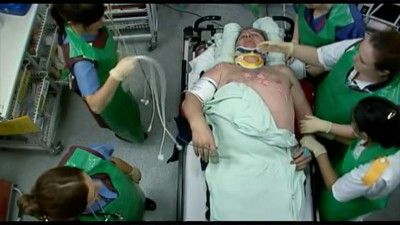 #9 - Episode 2
Season 1 - Episode 2 - Aired May 18, 2011
The second programme in the series reveals the stories of individuals who started the day with little in common, but found themselves being treated by the King's A&E team in the same 24-hour period. A day that, for many of them, would change their lives. The 'red phone' from the ambulance service rings, signalling the imminent arrival of a seriously ill patient. Thirty-one-year-old Brendan has had a head-on collision between his motorbike and a car, 'bulls-eyeing' the windscreen. Brendan's broken both his wrists, but he's most worried about injuries to his testicles: he's so bruised that his penis looks like a 'purple carrot'. And he's decided to hang up his bike keys. Teenager Alex turns up with nasty injuries to his hand after punching through a window. Will he learn a lesson once he's been patched up by the A&E staff? Meanwhile, sisters Pat and Alice are concerned about when they can get a sandwich from mobile tuck-shop operator, Pritpal. And after the Resus team struggle to revive two patients in their eighties, they discuss what they would want done for them in a similar situation.
5 votes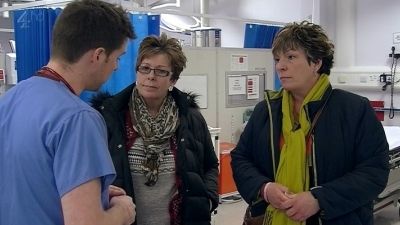 #10 - Three Sisters
Season 3 - Episode 2 - Aired Apr 17, 2013
The RTS award-winning series continues with a moving and tender episode about three daughters' love for their mother and the fear of losing her. Eighty-year-old Rose has fluid on her lungs and is having trouble breathing. Her three daughters Christine, Sandra and Debbie put on brave faces around their mother's bedside, convincing her that everything will be all right, but in the relatives' room there is high emotion as they tearfully contemplate life without her. Debbie wants to get the grandchildren to the hospital before it's too late, but older sister Sandra thinks all the family being there will make their mum think it's her last rites. Sister Claire, who is looking after Rose, knows only too well the torment the families go through around end of life decisions: 'As doctors and nurses, we have to accept we can't change everything and there's not always a miracle cure,' she says. 'Once you accept it is happening you have to get it right. You can't get dying wrong'. Also in resus is Kevin, a 55-year-old trucker who jack-knifed his lorry, 'bullseyed' the windscreen and rolled down a verge. He was trapped in the wreckage for an hour before being cut free and air lifted to King's by the Kent air ambulance. He has injuries to his pelvis, neck and head. His wife Janet waits anxiously to find out how serious it is.
4 votes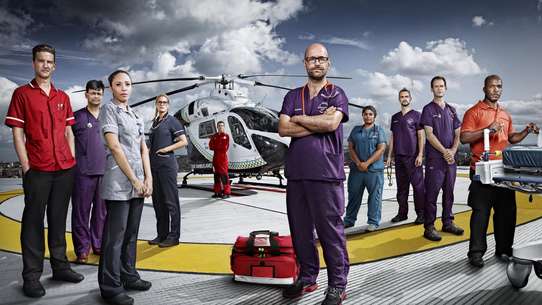 #11 - Bolt from the Blue
Season 5 - Episode 8 - Aired Feb 26, 2014
This episode explores how life can change in the blink of an eye and how life or death depends on the actions of those around you when things go wrong. Leanne is the sister in charge of Resus today. Kevin, who's 78, is rushed to A&E by ambulance after suffering a cardiac arrest while exercising at the gym. Luckily for Kevin, gym instructor Jeff was nearby and was trained to use the gym's portable defibrillator to save his life. Kevin's wife Maureen was next door in the gym's swimming pool while all this was going on and came out of the changing rooms to find out that her husband's heart had stopped for a minute. Kevin begins to stabilise and he's sent to the specialist cardiac catheter lab for an emergency procedure. Meanwhile, 23-year-old paramedic Declan has been brought into A&E by his colleague Amy. He's feeling dizzy and junior doctor Sammy is concerned that there are signs he may have a problem with his brain so she sends him for an emergency CT scan to find out what's happening. And 83-year-old Monica has been rushed to King's after falling at home. Monica suffers from osteoporosis and is complaining of numbness in her leg after the fall. Her initial x-ray appears to indicate that she's suffered a broken neck. As she's treated, Monica talks about scrumping apples as a child, missing out on being a mother and losing her husband in a tragic accident.
4 votes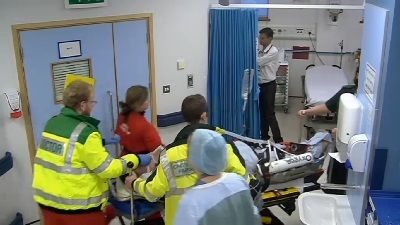 #12 - Wake Up Call
Season 5 - Episode 4 - Aired Jan 29, 2014
This episode shows how a trip to A&E can act as a long overdue wake-up call. Malcolm, who's 56, has been rushed to King's after suffering a cardiac arrest, and is on life support. His wife Heather found him when his heart stopped and she managed to resuscitate him after two minutes, before the paramedics arrived. Heather and Malcolm's daughters feel that his survival was fate as Heather wouldn't usually have been at home to save him. Phil, who's 36, has come to King's with chronic pain in his back and side. Nightclub host Phil lives on tequila and milk, with virtually no solids. It's clear that Phil's party lifestyle, including over 100 units of alcohol a week, is taking its toll. As he's treated, Phil reflects on living the life of a 21-year-old at 36. Meanwhile, 12-year-old Kamilla is rushed to King's after being knocked down by a car on a pedestrian crossing on her way home from school. Doctors are worried that she has injured her head and neck. While Kamilla is scanned by doctors, her mother Nora talks about coming to England from Lithuania, her first impressions of London and her strong bond with her daughter. Finally, 61-year-old Bob has come in to A&E after developing numbness in his arm. Medics discover that Bob has suffered a stroke. His son Steven talks emotionally about what his father means to him, while he tries to keep a sense of humour.
7 votes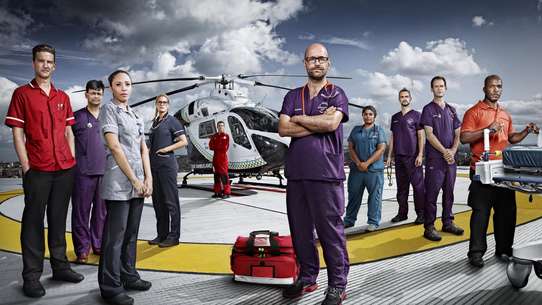 #13 - No Regrets
Season 3 - Episode 8 - Aired May 29, 2013
This episode is about living life to the full and not looking back. Forty-seven-year-old Gary was on his motorcycle when he had a head-on collision with a car. The single father of two is a code red trauma and is flown 50 miles to King's by air ambulance. He's on life support with serious head, chest and limb injuries and has been put in a medically-induced coma to reduce the risk of brain damage. A&E consultant Chris is leading a trauma team of 20 and her immediate concern is keeping Gary alive: 'You're thinking what will kill him first... you're always thinking of the chances of survival,' she says. In minors, 69-year-old charmer Steve has a fishbone stuck in his finger. It happened while he was preparing supper for a female friend. 'I was showing off my skills in cooking fish,' he says. 'I got somewhat distracted by her beauty, I just got complacent and that's when it happened.' His fear of pain and needles make it a challenge for the nurse to anaesthetise his finger and remove the bone. A year ago, 58-year-old Terry was diagnosed with lung cancer and given two weeks to live. But Terry's a fighter and won't give up easily. He's in A&E with his friend and carer Sandy, who looked after Terry's identical twin brother, Tom, during his last months and promised she would do the same for Terry.
3 votes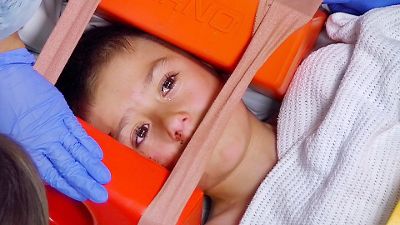 #14 - Candle in the Wind
Season 12 - Episode 21 - Aired Apr 10, 2017
This episode focuses on some of the youngest patients who visit A&E and the staff who care for them. Eight-year-old Billy is rushed to St George's after being crushed by falling bricks that were being stored on his front drive. His dad Shaun recounts the horror of finding out about the accident: 'I was in the back garden... I heard a scream and I wasn't too sure if it was Billy, when I ran out there it was just horrible, absolutely horrible.' An X-ray reveals that Billy has fractured his femur and he faces emergency surgery to give him the best chance of walking normally again. Six-year-old Luther has a metal washer stuck on his finger.
17 votes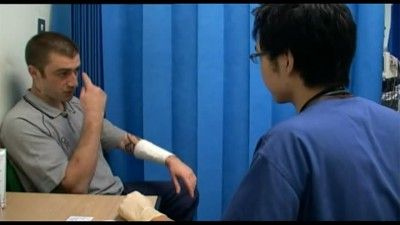 #15 - Episode 9
Season 1 - Episode 9 - Aired Jul 6, 2011
The medical team faces a range of sport and drink-related injuries on a busy Saturday. But things turn darker when a family party goes horribly wrong, leaving a father and son with life-threatening injuries. Every year 750,000 people are treated at A&E for injuries suffered during recreational activities, mostly at weekends. Ball games account for 300,000 of those, with football the number one culprit, closely followed by rugby. But as evening approaches, sporting injuries begin to make way for the results of another favourite British recreational pastime - drinking. It's a huge issue: there were three million alcohol-related admissions to A&E last year, with half of the patients under 25. Two 19-year-old girls are waiting for treatment after falling when the bar they were dancing on collapsed, while bricklayer Colin has been badly cut by someone trying to mug him. But the evening takes a dramatic turn when a father and son, Morris and Jamie, are rushed into A&E badly injured after being attacked by gatecrashers, one armed with a Samurai sword, at a family birthday party.
4 votes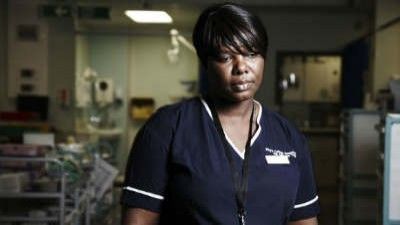 #16 - Allergic to Pain
Season 2 - Episode 4 - Aired Jun 6, 2012
This warm-hearted episode explores the different ways that grown men deal with pain and injury. Fifty-year-old builder Jim arrives in A&E screaming in agony after dislocating his shoulder in such an unusual way that it takes a five-strong team to pull it back into place, while 30-year-old Temi is in minors with a broken toe. But Temi is actually more concerned about whether the crutches he's given will match his sense of style! Meanwhile, a patient who had to have one of his legs amputated in 2009 has just returned from holiday with his remaining leg dangerously swollen, and 83-three-year-old James has a cyst on his knee but is in so much pain that he's refusing treatment. It's senior sister AnnMarie's job to persuade James to stay in overnight...
4 votes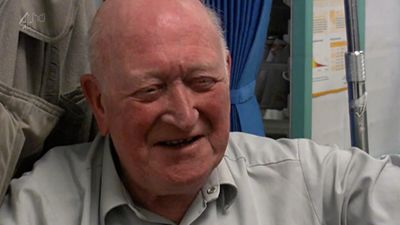 #17 - A Good Life
Season 2 - Episode 7 - Aired Jun 27, 2012
This episode focuses on some of the elderly patients who are treated at King's College Hospital, including a 93-year-old war veteran who arrives with life-threatening injuries after being knocked over by a hit and run driver just outside the hospital. Ernest was walking to get his pension when he was hit by a vehicle while crossing the road. He's rushed straight to resus, conscious but with injuries to his head and pelvis. Consultant Malcolm and his team are determined to do everything they can to keep Ernest alive. But as the team tend to Ernest's injuries, his heart fails and he goes into cardiac arrest. Malcolm needs to keep Ernest's heart going manually before his injuries can be assessed and he can be treated. Ernest's niece, Maureen, arrives to hear the terrible news that her beloved uncle - who raised her and her sisters in the absence of their father - is critically ill. On the same day, 83-year-old William's finger is mangled and bleeding after he's caught it on a machine at his metal working business. He was born in the year of the Wall Street Crash, but still loves working. He's not been to see a doctor in over 40 years and, like many older patients, he's worried that, despite his injuries needing urgent attention, he's a burden to the NHS, and apologises to the team treating him at King's. Another octogenarian who arrives at King's is 80-year-old Joyce. But she's not the patient; it's her son, Kevin, who collapsed at home. Fifty-one-year-old Kevin has learning difficulties and Joyce is fearful about what Kevin's life will be like once she passes away, so strong is their bond.
2 votes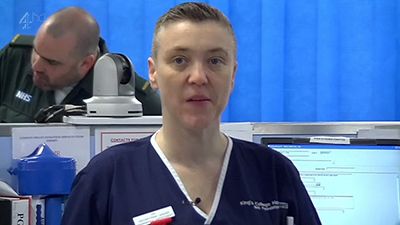 #18 - Mum
Season 2 - Episode 9 - Aired Jul 11, 2012
This episode focuses on mothers, daughters and mortality. Seventy-one-year-old Josephine has been brought to King's College Hospital with chronic breathing difficulties by her daughter Jackie. Terminally ill with cancer, which has spread throughout her body, Josephine is nearing the end of her life. Josephine is so ill that decisions need to be made on whether she would choose to be resuscitated should her condition worsen. It's an impossibly difficult decision to make and a painful moment for Jackie, who's not ready to let her mum go. Nurse Abbie is treating Josephine. Before coming to King's, she worked in palliative care: 'It would be my worst nightmare if I had to look after one of my parents if they were passing on, but here's this person that you love so much, who brought you into this world, lying in a bed and their life is slowly coming to an end,' says Abbie. In the waiting room 67-year-old Azize is with her 44-year-old daughter Sara who's been bitten by her cat. It seems like a minor injury, but Sara has recently had radiotherapy for breast cancer and her immune system is very weak. Azize has moved back from Turkey to be with Sara during her treatment. Meanwhile five-year-old Olivia is having stitches on a head wound with her dad; and 12-year-old Mattheus is helping out by translating for his Brazilian grandmother, who has injured her wrist.
2 votes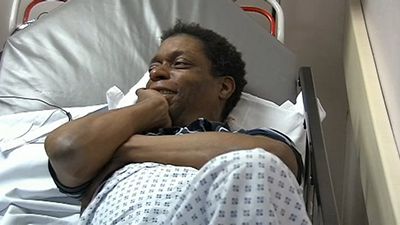 #19 - We Are Family
Season 2 - Episode 10 - Aired Jul 18, 2012
Staff nurse Sophie has moved from the Lancashire coast to work at King's, leaving her family behind for the first time. She's been at King's for just three weeks and it's been an eye-opening experience. Sophie's first patient today is 22-year-old chef James. He's come to King's after a stabbing, but in this case it was self-inflicted: James accidentally stabbed himself in the thigh with a paring knife while chopping tomatoes at work. He's bleeding heavily; he requires deep tissue stitches, and has to make a tricky phone call to his worried mum. As James is transferred to a ward, another patient arrives following a call on the red phone; Sophie must try to keep them alive manually with chest compressions. As night falls, 54-year-old dad-of-two Bernard is brought to resus. He's fallen against a car and hurt his head. He was apparently unconscious for ten minutes and doctors are concerned about damage to his head, neck and spine. As Bernard is joined at the hospital by his daughter Cassie and his ex-wife, it soon becomes clear that his accident is a result of an evening's drinking. Meanwhile, 83-year-old Ruby arrives with severe knee pain, accompanied by her worried daughter Sarah.
2 votes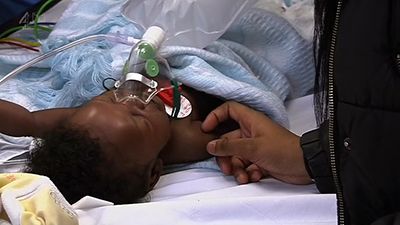 #20 - The 'Q' Word
Season 2 - Episode 12 - Aired Aug 1, 2012
This week the series focuses on the bond between parents and children and features the youngest patient ever featured on the series and what happens after the roles have to be reversed due to illness. Three-month-old Jaziah has been rushed to resus with breathing difficulties. He's severely underweight and has an enlarged liver. Consultant Jacqui needs to act fast to keep Jaziah alive, while his mum, Kenita, can only watch as the specialist paediatric team is called in to assist. Doctors are concerned that Jaziah's swollen liver signifies that there's a problem with his heart and that he may need immediate surgery to save his life. Meanwhile, in paediatric A&E, 18-month-old Charlie's mum Kerry is waiting for urine test results that could explain why he's been feeling unwell for five days. Ronald, who's 81, has been brought to King's by his daughter Tracey. He's had a suspected stroke, which is affecting his speech. He needs a CT scan to assess how serious it is and what his hopes of rehabilitation are. Registrar N'daba has been working with stroke patients for many years and has seen how quickly the parent/ child relationship is reversed. And as night falls, 19-year-olds Emily and Amber are waiting for news on Charlie, who they brought to the hospital after he hurt his hand. They've never met him before, but didn't want him to have to come to the hospital alone.
2 votes
#21 - Cause Unknown
Season 2 - Episode 13 - Aired Aug 8, 2012
This episode focuses on patients whose illnesses prove tricky to diagnose. Nine-year-old Tino is rushed to resus after slumping over her desk at school. Usually a lively young girl, she can't remember what day it is or her surname. She doesn't even recognise her own mum. Consultant Liz is concerned that Tino is displaying the symptoms of encephalitis, a viral infection that causes swelling of the brain and that can have devastating consequences. In majors, 45-year-old Karen is experiencing numbness down her left side and needs a scan. But it soon becomes clear that Karen's condition is more complicated than it first appears. Karen's been told by various doctors over the years that her issue isn't physical, but psychological, but she won't accept it. Meanwhile, 11-year-old Bailey has been brought to King's after he was run over outside school by a slow moving car. He's broken his leg and has cuts to his face and body and has to endure the excruciating pain of having his broken leg physically re-straightened before it can be pinned.
2 votes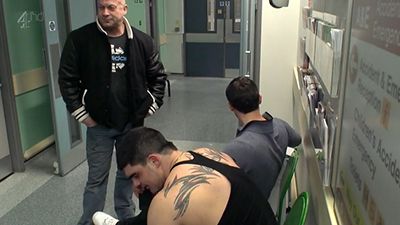 #22 - Life's Little Hiccups
Season 2 - Episode 14 - Aired Aug 15, 2012
The final episode of the series focuses on men with very different problems who are all being treated at the King's Emergency Department on a busy night shift. Stacey, a 37-year-old dad of six, and grandfather, has come to King's with his girlfriend Tara. He's suffering from breathing difficulties. He had a collapsed lung eight years ago and is afraid the symptoms have returned. Stacey demands a bed and a sandwich as well as immediate attention from senior staff nurse Laura, who's in charge of the busy Minors section. But it becomes clear that his attitude masks vulnerability about being in hospital. Twenty-six-year-old Andrew trains at the gym every day with a group of friends who call themselves 'The Spartans', but he arrives at King's with back pain after being knocked off his motorbike by a car. Sam has been rushed to resus after being kicked and punched in the head and body outside one of London's most exclusive nightclubs. The 20-year-old is weak and numb, but has another reason not to want to be at King's: his dad died at the hospital. As well as possible injuries to his neck and spine, Sam also has a broken nose, and he's worried that he may have lost his looks. And Henry has had hiccups for three days. He's got a vital electrician's exam in the morning and registrar Faheem is determined to diagnose his problem and get him well in time.
2 votes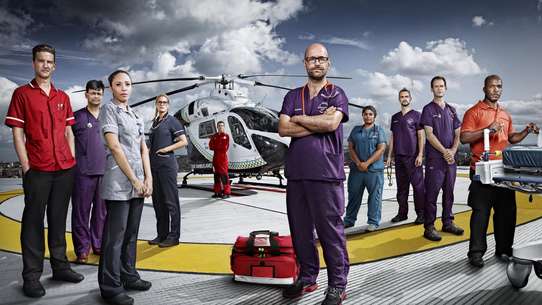 #23 - For Better or Worse
Season 3 - Episode 12 - Aired Jun 26, 2013
At King's, husbands and wives reflect on their enduring marriages and the changing nature of love, while the A&E staff talk about the wisdom that comes with experience. Scott is the senior nurse in charge of a very busy shift in Resus. All the beds are full, a trauma has just arrived and an air ambulance trauma is on its way. Pauline, who's 56, has had a fall at home, hitting her head on a table. She smashed her teeth, but the main concern is injury to her spine and neck. Pauline's propensity for accidents is a constant worry for her husband, John. Soon after, the air ambulance brings in satellite and aerial-fitter David from Sussex. The 62-year-old has fallen 30 feet head-first from a roof. He has life-threatening injuries to his head, chest and abdomen. His wife Pam is being blue-lighted into London by the police. Opera critic John and his wife Gudrun are in minors. John injured his leg on a skiing holiday and has pain in his ankle. They've been together for 48 years and John admits the longevity of their relationship probably comes down to his wife being in charge. Meanwhile, window cleaner Alfred, who still works at the age of 78, has had to come to terms with life without Peggy, his wife of nearly 60 years, who recently died in a nursing home.
4 votes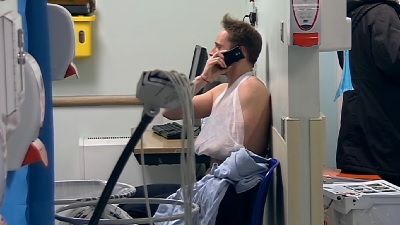 #24 - The Fall
Season 5 - Episode 6 - Aired Feb 12, 2014
This episode focuses on the huge variety of cases that come in to King's A&E every day and the even more varied life stories that the patients and their relatives have to tell. Sister Jen is on duty in Resus. She's looking after 48-year-old Bobby, who's been brought to King's by his partner, Jackie, after having seizures at home. Bobby has spent most of his adult life in prison, with a number of convictions for violent crimes. While doctors control Bobby's seizures he talks about his life, from being sent out by his parents as a six-year-old child to steal dinner, to being put into care, an approved school, borstal and eventually prison. And he reflects on how Jackie has helped him to turn a corner and change his life. Seventy-year-old Ronald is brought to King's by paramedics. He was celebrating his 46th wedding anniversary with his wife Carole when he had problems breathing and she had to call an ambulance. As doctors examine Ronald to find out what has happened the couple talk about their life together and the difference between nagging and asking. Meanwhile, seven-year-old Rienelle is rushed to A&E after falling two metres from the top of a climbing frame at school, landing on her back. She's come to King's with her teacher, while her parents are on their way to the hospital. It's a paediatric trauma call and for consultant Chris this makes it particularly challenging.
6 votes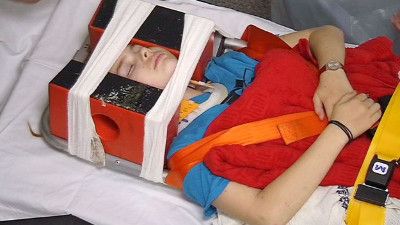 #25 - Take Care
Season 9 - Episode 4 - Aired Jun 17, 2015
The A&E documentary series turns its attention to care and kindness at St George's Hospital in south-west London, highlighting altruistic acts from staff, patients and visitors alike. A 13-year-old cyclist experiencing bouts of unconciousness is sent for a CT scan, and 84-year-old Ursula, who was born in Germany, arrives in resus having lost a lot of blood during a series of severe nose-bleeds. Plus, 76-year-old Margaret is brought in to St George's after suffering a suspected stroke during a routine appointment at another hospital, and the doctors must quickly administer a clot-busting drug if they are to prevent further damage to her brain
18 votes