The Super Hero Squad Show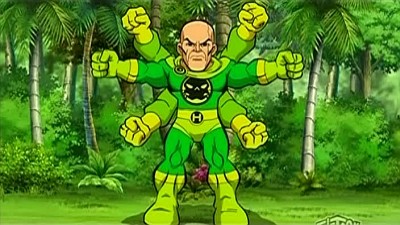 #1 - Brouhaha at the World's Bottom! 9.00
Season 2 - Episode 21
As Mister Fantastic and Ms. Marvel make a desperate attempt to rescue the Squaddies from their extra-dimensional exile, the evil HYDRA besieges their distant Antarctic outpost.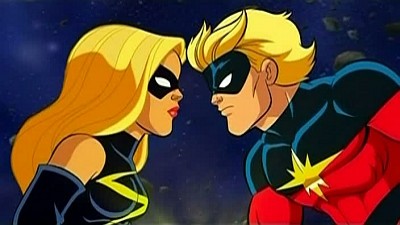 #2 - Soul Stone Picnic! 8.80
Season 2 - Episode 24
Ms. Marvel leads the Squaddies on a mission to rescue her namesake Captain Marvel from the Dark Surfer. But when the fight traps the Squaddies in the Soul Stone, it's Captain Marvel who performs the ultimate sacrifice.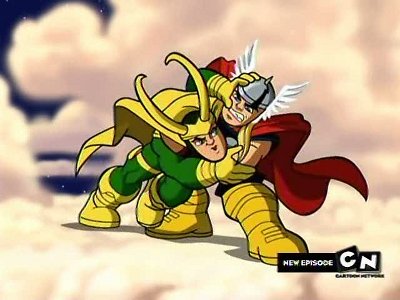 #3 - Oh, Brother! 8.75
Season 1 - Episode 7
Loki teams up with Doctor Doom in a plot to take over Asgard. Meanwhile, the latest Infinity Fractal causes Thor to lose his memory and it's up to Iron Man and Hulk to help him remember who he is.
#4 - Revenge of the Baby Sat! 8.73
Season 2 - Episode 23
The Super Hero Squad suffers a time mishap that transforms several of the Squaddies into toddlers! It's up to the unaffected heroes to find a way to fix the Super Hero Toddlers before they are stuck that way forever.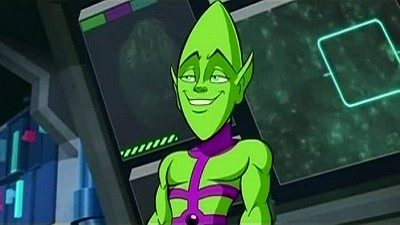 #5 - Missing: Impossible! 8.67
Season 2 - Episode 22
When the Impossible Man's wife kicks him out, the irrepressible funster ends up crashing with the Super Hero Squad. But to save his marriage, Impossible Man attempts to do something no one else has been able to do – defeat the Dark Surfer.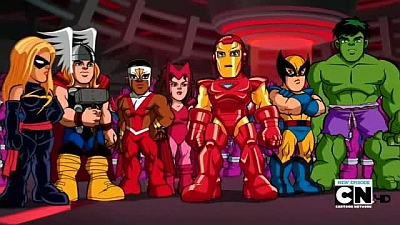 #6 - Another Order of Evil! Part 2 8.64
Season 2 - Episode 2
After the Super Hero Squad gets imprisoned by the Skrulls, Falcon's trump card, in the form of Scarlet Witch, is the only hope to stop the war between the Kree and the Skrull and to defeat Thanos and his Soul Gem.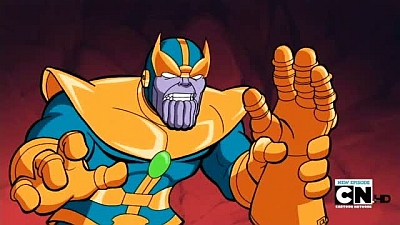 #7 - Another Order of Evil! Part 1 8.60
Season 2 - Episode 1
When Captain Marvel goes missing during a peace conference between the Kree and the Skrull, Ms. Marvel forces the Super Hero Squad to come together again to get to the bottom of this, unaware that Thanos is behind this. Meanwhile, Doctor Doom plans a prison break with Wrecker and Thunderball.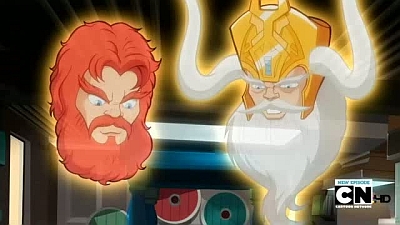 #8 - Support Your Local Sky-Father! 8.53
Season 2 - Episode 5
Jealous of the actions of Thor on Earth, Greek god Zeus challenges Odin to a battle between the God of Thunder and his son Hercules. Reptil sneaks along to help Thor out while the Invisible Woman is forced to broadcast the god-challenge to Superhero City to raise money for the Mayor.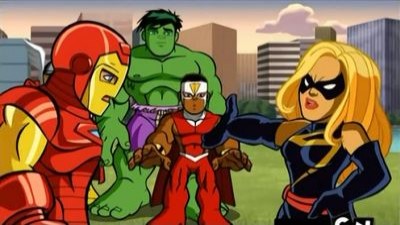 #9 - Night in the Sanctorum! 8.51
Season 1 - Episode 9
When Falcon is presumed the cause of crashing The Helicarrier, The Squad is forced to relocate. Meanwhile, Enchantress and M.O.D.O.K. plan to attack Superhero City while the squad is tired from moving from place to place.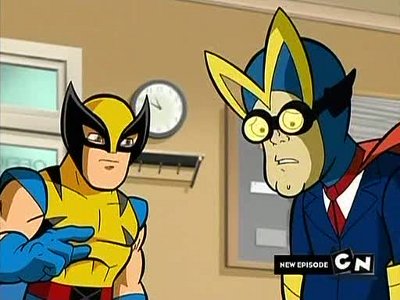 #10 - Election of Evil! 8.50
Season 1 - Episode 20
The Mayor's re-election bid goes awry when Egghead wins by a landslide (thanks to a little mass mind-control). But his reign at city hall makes life in Super Hero City a bureaucratic nightmare for heroes and villains alike. Wolverine and the Mayor are up against every hero and villain in a desperate attempt to free everyone from Egghead's control and stop the villains' planned invasion.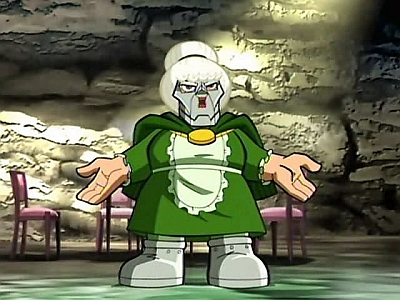 #11 - Mother of Doom! 8.50
Season 1 - Episode 24
Dr. Doom conquers Chthon's mystical dimension to free his mother Coco Von Doom. Though Doom ends up with Chthon's evil powers, he also finds himself dealing with his mother's monstrous nagging.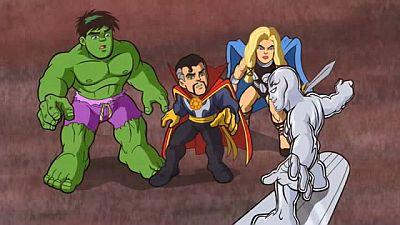 #12 - Invader from the Dark Dimension!
Season 1 - Episode 16
When Baron Mordo possesses Iron Man turning him into the Iron Menace and escapes from the Dark Dimension, he plans to take over Super Hero City and Villainville. When Wolverine, Falcon, and Redwing end up under Baron Mordo/Iron Man's control, Hulk, Silver Surfer, and Thor must team up with Doctor Strange and Valkyrie to form a team of Defenders and stop Baron Mordo's evil plot. Doctor Doom and MODOK reluctantly help them when Iron Menace takes control of Abomination.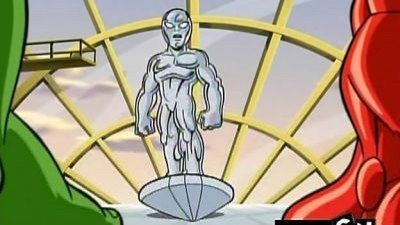 #13 - This Silver, This Surfer! 8.50
Season 1 - Episode 3
Silver Surfer is having a difficult time trying to fit in on Earth and chooses to leave the squad. Things get complicated when Dr. Doom kidnaps him.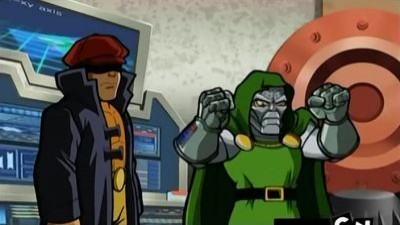 #14 - From the Atom...It Rises! 8.45
Season 1 - Episode 8
A new villain named Scorpio shows up in superhero city. Nicky Fury disguises himself as a villain to infiltrate Doom's Headquarters to stop Dr. Doom from using a fractal to control a black hole.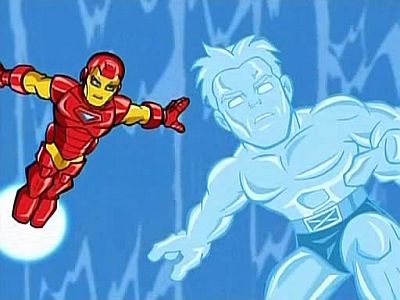 #15 - The Ice Melt Cometh! 8.43
Season 1 - Episode 22
Doctor Doom sends his "Team Toxic" (consisting of Pyro, Trapster, and Zzzaz) out in a Fractal-retrieving activity at the north pole only to run afoul of Iron Man, Thor, and Wolverine. While Flatman and Reptil lecture about the polar ice caps, the world starts flooding after Trapster sets off their super-spinner machine to self-destruct. Now Iron Man must convince Iceman to help save the day.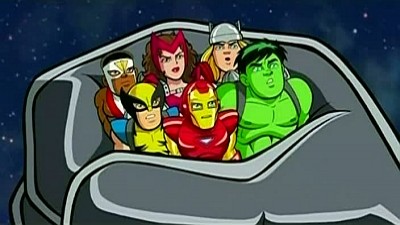 #16 - The Final Battle! ('Nuff Said!) 8.43
Season 2 - Episode 26
The Six Squaddies must each face the Dark Surfer one on one, in a final battle for the fate of destiny for the fate of reality that takes them to the edge of the universe-and a last stand at the cosmic Infinity Pool!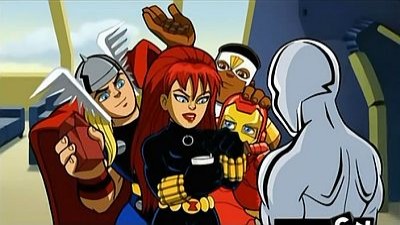 #17 - Deadly is the Black Widow's Bite! 8.40
Season 1 - Episode 13
After helping the Super Hero Squad in a battle against Screaming Mimi, Abomination and M.O.D.O.K., Black Widow joins the team. However, unknown to them, she is actually Mystique in disguise sent by Dr. Doom to steal the Infinity Fractals from the Vault.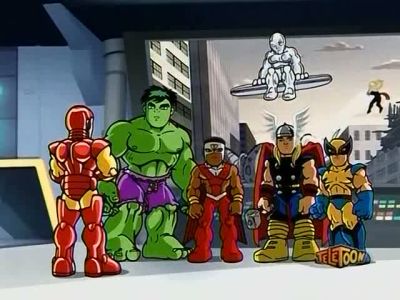 #18 - And Lo... A Pilot Shall Come! 8.36
Season 1 - Episode 1
As the celebration to mark Villain Ville being closed off from Super Hero City turns into a disaster area, Iron Man, Falcon and Wolverine do battle with the Mole Man to retrieve an Infinity Fractal. Meanwhile, Ms. Marvel leads Hulk, Thor, Silver Surfer, and Storm in battle against Mole Man's creatures, Manoo, Megataur and Tricephalous.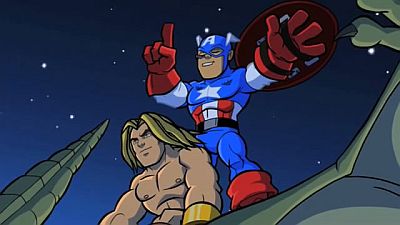 #19 - Stranger from a Savage Land! 8.35
Season 1 - Episode 18
When a smilodon is brought to Super Hero City from the Savage Land, a mysterious jungle lord named Ka-Zar shows up stating that the smilodon is actually his companion Zabu. When the Super Hero Squad encounter Ka-Zar, they learn of his mission and help him rescue Zabu. Meanwhile, Doctor Doom sees the Star Quartz (which will bind and merge any metal in the presence of Vibranium) around Zabu's neck and sends Toad, Thunderball, Sabretooth, and Batroc the Leaper to steal Zabu in a plot to reforge the Infinity Sword.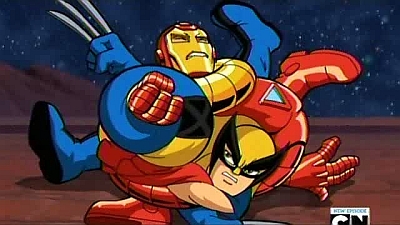 #20 - Fate of Destiny! 8.33
Season 2 - Episode 14
As Thanos gets all the Infinity Stones, the Squaddies face betrayal at the hands of one of their own! In this mind-shattering climax to the Infinity Gauntlet Saga, the very fate of the universe hangs in the balance.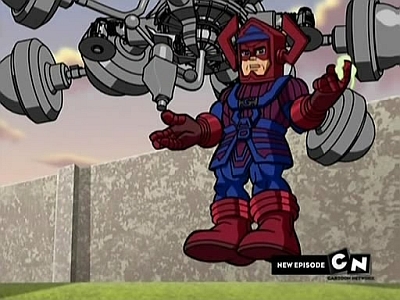 #21 - This Al Dente Earth! 8.33
Season 1 - Episode 26
Galactus arrives in Super Hero City to devour the Earth! The fate of the planet hangs in the balance, but all of the city's heroes are powerless before Galactus; omnipotence.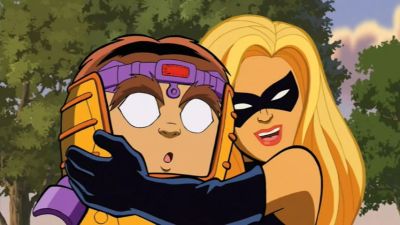 #22 - Mental Organism Designed Only for Kisses! 8.31
Season 1 - Episode 15
Dr. Doom is fed up with the Super Hero Squad constantly foiling his plans, so Enchantress decides to help by casting a love spell on Thor to make him fall in love with her. However, the love spell accidentally hits Ms. Marvel instead, causing her to fall in love with M.O.D.O.K. Meanwhile, Skurge intends to defeat Thor himself so Enchantress will love him.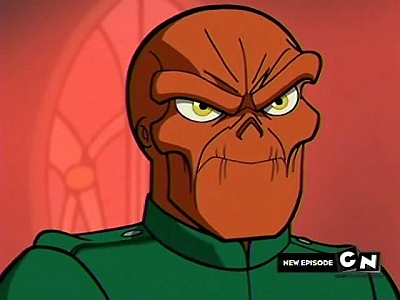 #23 - Wrath of the Red Skull! 8.29
Season 1 - Episode 23
It's Captain America's birthday and all he wants to do is celebrate it with his fellow Super Hero Squad members and Nick Fury. In order to show his minions what real villainy is like, Doctor Doom thaws out the WWII villain Red Skull. Captain America isn't pleased to find his old enemy up to his old tricks while Doctor Doom isn't thrilled about Red Skull's enormous ego.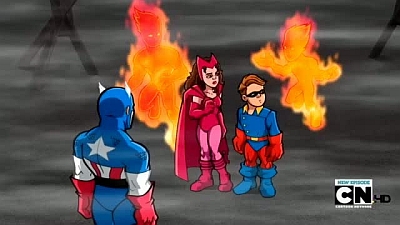 #24 - World War Witch! 8.26
Season 2 - Episode 3
A mishap between Thanos' new Time Gem and the Scarlet Witch's hex powers sends her back to World War II, where she must assist Captain America and the Invaders stop Red Skull from launching a rocket that will destroy Europe.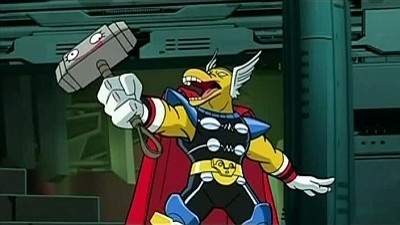 #25 - The Ballad of Beta Ray Bill! (Six Against Infinity, Part 1) 8.25
Season 2 - Episode 15
After being thrown into a portal by Dark Surfer, Thor befriends a Korbonite janitor named Beta Ray Bill, and must give up Mjölnir in order to prove that he has excellent fighting skills.