Ben 10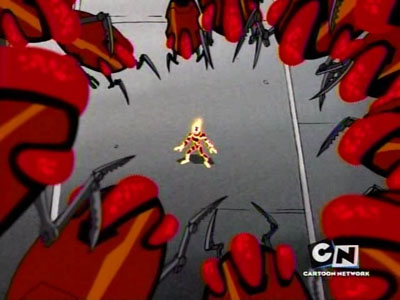 #1 - Secrets 8.28
Season 1 - Episode 13
With Vilgax's injuries fully-healed, he decides to retrieve the Omnitrix personally. Ben gets a message from Vilgax in a dream about his imminent arrival. This worries Grandpa Max greatly, and he insists that they get to Mount Rushmore as quickly as possible. Unable to pinpoint the exact location of the Omnitrix, Vilgax begins to lay waste to nearby Rapid City in order to flush its holder out. He succeeds, despite Grandpa Max's protests, and manages to capture Ben. Meanwhile, Grandpa Max makes it to Mount Rushmore with Gwen and shows her a huge facility beneath the mountain. There, he's stored a weapon that can defeat Vilgax. Unfortunately, the weapon fails, leading to a showdown between Vilgax and the combined Tennyson family.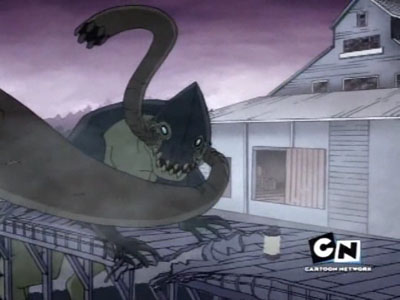 #2 - The Krakken 8.08
Season 1 - Episode 3
While camping and swimming at a lakeside campsite, Ben encounters a sea-monster in the lake right after his joke on Gwen. Ben manages to escape, but Grandpa Max and Gwen don't believe Ben about his sighting. The next day, they go fishing and meet their fishing captain, Captain Shaw, who identifies the sea-monster as the Krakken. Throughout this adventure, Ben will meet untrustworthy people, hulking monsters, and he will also encounter his new found form: Ripjaws.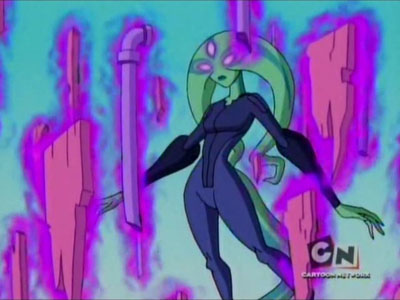 #3 - The Visitor 7.90
Season 3 - Episode 13
While snowmobiling, two guys accidentally release an alien named Xylene from a strange container. At a park, Ben (as Wildmutt) steals Gwen's kite, so she casts a spell to make dogs attracted to him. Grandpa Max seems sad to be in St. Louis since it is where he met his wife. Xylene attacks, and Grandpa Max comes to defend, only to recognize her. Xylene reveals that she came to find the Omnitrix since she lost it when Vilgax attacked her ship. While Grandpa Max and Xylene talk about the past, a robot emerges from the area where Xylene was and attacks Ben and Gwen. The mechadroid attacks twice, taking Grandpa Max with him. Now Ben must work with Xylene (to his dismay) to save Grandpa Max.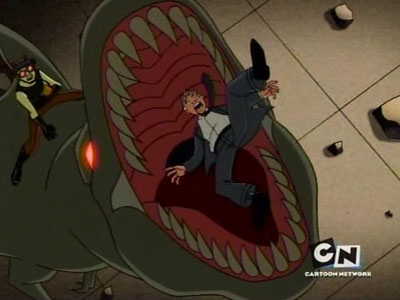 #4 - Washington B.C. 7.87
Season 1 - Episode 2
After Ben saves a child and parent in a burning building, Gwen and Grandpa Max come along with more bad news. In addition, there is a mad scientist roaming around Washington D.C. with a device that can change normal animals to mutant giants and also reanimate fossils of dinosaurs. The mad scientist, Dr. Animo, first encounters Ben, Gwen, and Grandpa Max at the M-Mart. After a grueling battle without the help of a hero, they chase down Animo to the Museum of Natural History. Gwen is then taken by a mutant bird, and Ben and Grandpa Max save her. Dr. Animo is then caught and restrained from receiving "the award he deserves," the Verities Award for science. Ben learns though an important lesson here: you don't always get what you might deserve.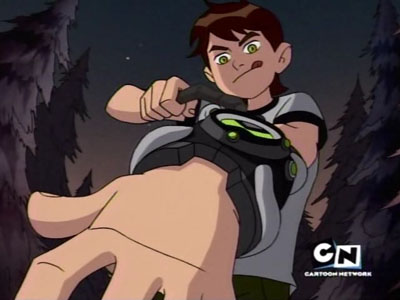 #5 - And Then There Were 10 7.81
Season 1 - Episode 1
After the final school bell rings, Benjamin "Ben" Tennyson is ready to head out for a camping adventure with his Grandpa, Max Tennyson, and unfortunately, his rival cousin, Gwendolyn "Gwen" Tennyson. After the trip to the campsite and the unruly aspects of dinner, Ben wanders out into the forest and meets up with a meteor bearing an alien device: the Omnitrix. The Omnitrix jumps onto Ben's wrist, and he now becomes the wielder of ten different alien superheroes. After experimentation and trouble with robot droids and bounty hunters sent by the evil Vilgax, Ben, Gwen, and Grandpa Max begin their odd summer camping trip.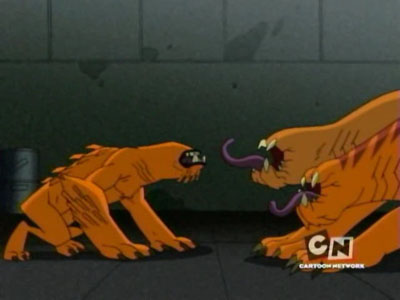 #6 - Truth 7.72
Season 2 - Episode 1
After the battle with Vilgax, Grandpa Max retells his story to Ben about his past. He was with an organization that was not known to exist, referred to as "The Plumbers," a group of people who track down extraterrestrial life. Meanwhile, they meet Phil, an old partner of Grandpa Max. But they soon find out that he steals a device, called the Null Void Projector, to selfishly use it to make money by appearing to capture aliens that he alone released himself.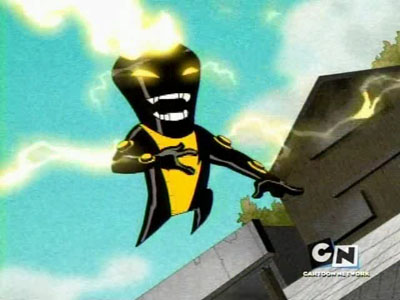 #7 - Tourist Trap 7.59
Season 1 - Episode 6
After having a gross-out contest with the kid in the car next to him, Ben finds a propane truck tipped over, about to catch fire and cause a huge blast. With that taken care of, Ben and the gang are off to Sparksville, a town which brings new meaning to the words "tourist trap." After exploring all of Sparksville's many attractions, Ben and Gwen head over to see "it," Sparksville's main attraction. When they finally see "it," they are thoroughly disappointed and decide to pull a little prank. After Ben turns into Four Arms, he looses control and sends "it" flying and destroying the town. Ben says he will move it back, but the Omnitrix powers down and Ben accidentally unleashes Megawhatt, a small little alien with a big sense of humor. Now, Ben must stop this creature from destroying Sparksville.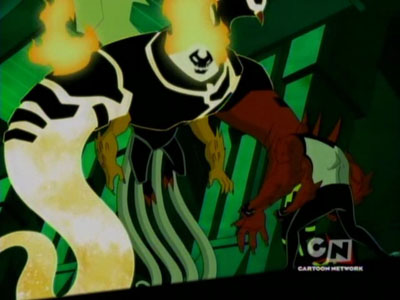 #8 - Ken 10 7.58
Season 4 - Episode 7
In the future, Ben gives his son, Ken, an Omnitrix for his 10th birthday. However, Ben will have to learn to trust him with that power.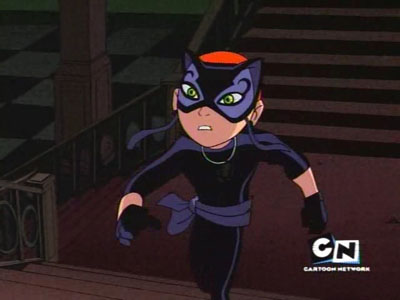 #9 - Lucky Girl 7.55
Season 1 - Episode 10
A magician named Hex, whose powers come from mystical charms, is defeated by Ben using XLR8 and a little help from Gwen and Grandpa Max. Afterwards, XLR8 takes all the credit for the victory and even gets one of Hex's charms as a souvenir. When Gwen complains that Ben is getting all the glory and recognition, as well as all the cool stuff, he gives her the charm he got from Hex. The charm gives Gwen perfect luck in everything she does, and she becomes her very own superhero, Lucky Girl. Unfortunately, her luck has a price, and Ben is the one who ends up paying for it.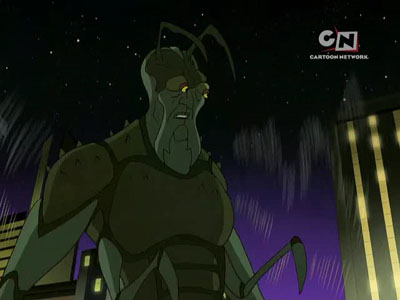 #10 - Ben 10 Vs. Negative 10 (1) 7.52
Season 4 - Episode 8
The Forever King sets his plan in motion and recruits the most powerful enemies Ben has ever faced in order to steal the world's most powerful energy source.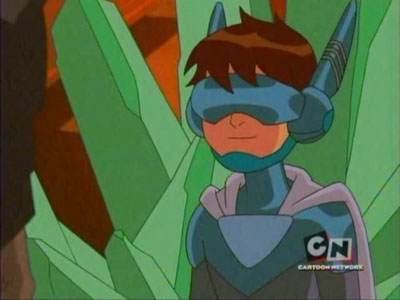 #11 - Perfect Day 7.47
Season 4 - Episode 1
Enoch and the Forever Knights return, putting Ben in a dream world where he's tricked into having the perfect day. However, his dream quickly turns into a nightmare.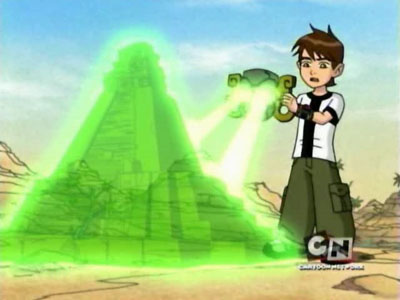 #12 - Ultimate Weapon 7.47
Season 2 - Episode 8
In Texas, a group of men discover a mysterious mask belonging to Ah Puch, the Mayan god of death and destruction. The mask is the key to the ultimate weapon in the world, known as the Sword of Ekchuah. However, when Grandpa Max and his grandkids learn that the mask is discovered, he impatiently sets out to obtain the mask, so that it does not fall in the wrong hands. Unfortunately, they find out that Enoch of The Organization is after it as well. The kids worry of how Grandpa Max has become, but with Enoch in the way, will Grandpa Max find the sword before him?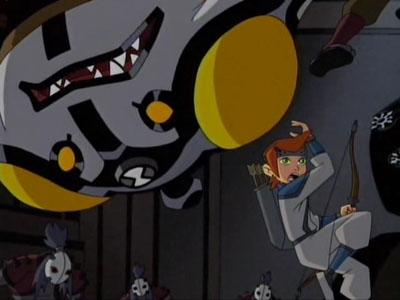 #13 - Game Over 7.42
Season 3 - Episode 6
The Tennysons stay in as it rains outside, and Ben plays a video game to pass the time by. When Gwen decides to join in, Ben is jealous of how she's a far superior player. Instead, Ben decides to transform to Upgrade, and merges with the game console. Gwen makes an attempt at shaking him off, but suddenly, a lightning strike causes them to transfer into the video game itself. The only way Ben can use the Omnitrix is to find coins with the different aliens on it. To get out, they must find the Upgrade coin before an evil being uses it to escape into the real world.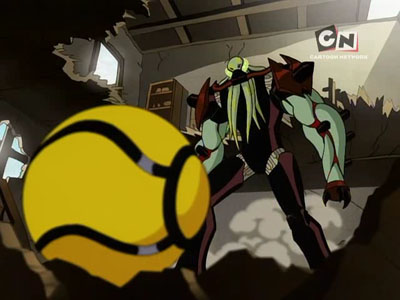 #14 - Goodbye and Good Riddance 7.37
Season 4 - Episode 10
With summer over, Ben goes back to school. Unable to tell anyone about the Omnitrix, Ben finds that regular life is much more boring than he imagined. However, the arrival of Vilgax promises to rectify that situation.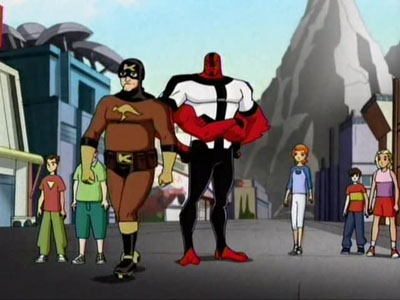 #15 - Super Alien Hero Buddy Adventures 7.35
Season 3 - Episode 7
Ben's alien heroes are starring in a silly network cartoon called Super Alien Hero Buddy Adventures and his favorite action hero Kangaroo Commando has been pulled off the air by the same network, so Ben tries to get him back on television and get credit for the alien heroes.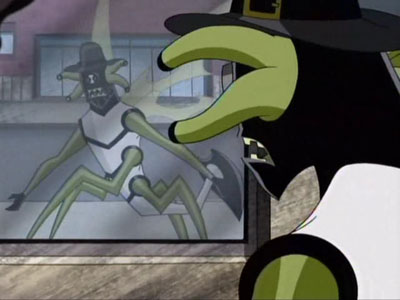 #16 - A Change of Face 7.34
Season 3 - Episode 3
Dressed as Pilgrims, to honor their history, while in the streets of Salem, MA, Ben, Gwen, and Grandpa Max witness an explosion of a nearby building. But when Ben rushes to the rescue, Charmcaster is there waiting with a spell to take over Ben's body and the Omnitrix. Only things go awry and Gwen and Charmcaster switch bodies. Gwen goes to prison and the sorceress is brewing a plan to gain the Omnitrix. Now Gwen must find the way to get out of prison, alert her family against Charmcaster, and get her own body back using every trick up her sleeve... or Charmcaster's.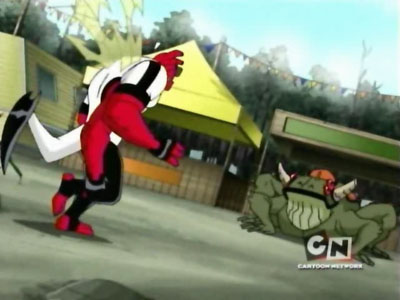 #17 - Dr. Animo and the Mutant Ray 7.33
Season 2 - Episode 12
The Tennysons arrive at a swamp, where a festivities of Gatorfest start first thing the next day. Gwen finds Ben playing around with the Omnitrix, and she warns him that it may create unusual problems. Without heeding Max and Gwen's warning, he pops the face out, and the Omnitrix acts up. Right away, something was wrong, though it was gone unnoticed, at least, until the next day. Gator-fest was going along well, but the giant frog of Dr. Animo comes in to disrupt it. Dr. Animo has returned, and he wants to take revenge on Ben. But when Ben goes alien, he transforms into a hybrid alien with unbalanced attributes. Will Ben ever learn his lesson in listening for a change?
#18 - Ben 4 Good Buddy 7.31
Season 4 - Episode 5
While on a desert highway, the RV gets stolen by a group of modern-day pirates, who use it to go on a robbery.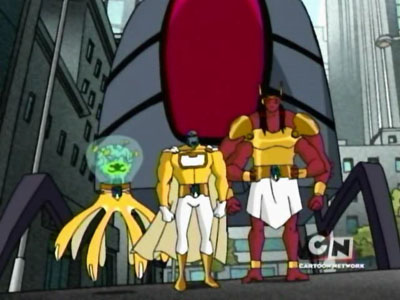 #19 - The Galactic Enforcers 7.29
Season 2 - Episode 6
At a museum, Ben sits and reads a comic, daydreaming about himself as a super hero. As Gwen interrupts him, she is not happy how Ben treats the artwork. His day has been a bore, but when an alien vessel arrives, an alien named Volcanus and the bounty hunter Sixsix come to pursue the Biocenthium alloy to complete a mixture with Element X to create a bomb, strong enough to destroy a whole solar system. Suddenly, Ben meets The Galactic Enforcers, a group of three who serve in protecting the galaxy under the conduct code. Ben is intrigued by their heroic appearance, but are they really something to be looking up to?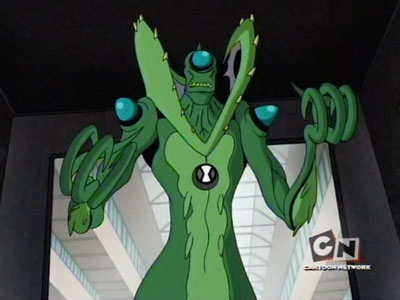 #20 - Midnight Madness 7.28
Season 3 - Episode 2
When Ben is hypnotized, he begins breaking the law while sleepwalking. Once the evil hypnotist called Sublimino discovers the aliens at his disposal, he plots to put hundreds of people under his control forever.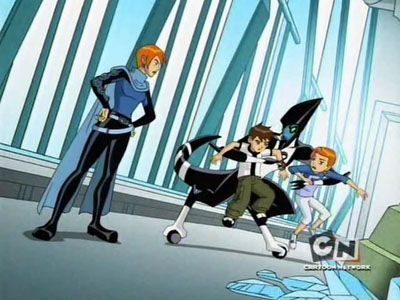 #21 - Ben 10,000 7.28
Season 3 - Episode 1
When Gwen is abducted, Ben as XLR8 follows her abductor to the future where they discovered that her abductor is the future Gwen and they discover his future version of Ben and Grandpa Max. In the future, Dr. Animo revives Vilgax and plots to open the Null Void chamber. Both Bens must work together to stop them.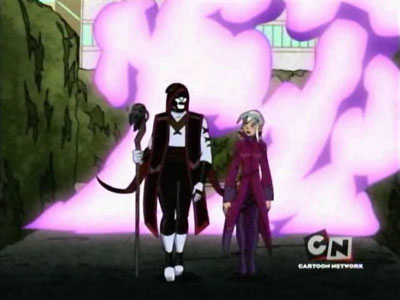 #22 - Tough Luck 7.28
Season 2 - Episode 9
Hex's niece, Charmcaster, enters the underground prison he's held at to release him out of his cell. With her help, Hex was able to regain most of his powers after being given his magical staff. Meanwhile, Ben, Gwen, and Grandpa Max head to a magic convention held in Las Vegas, and in there, Gwen finds the legendary Keystone of Bazell. With it, she gains the powers of Lucky Girl once again, but will it last after finding out that Hex and his niece are after it?
#23 - The Big Tick 7.26
Season 2 - Episode 2
At Yellowstone Park, Ben and Gwen inadvertently discover a new form on the Omnitrix: Cannon Bolt, an armadillo-like alien that Ben isn't too fond of. Soon after, a meteor comes crashing down to the park, containing a planet-devouring, tick-like alien. On top of that, three other aliens arrive with it, and worship it as their savior, the "Great One." Powerless to stop the planet-eater with his regular forms, Ben must rely on a new form he knows nothing about.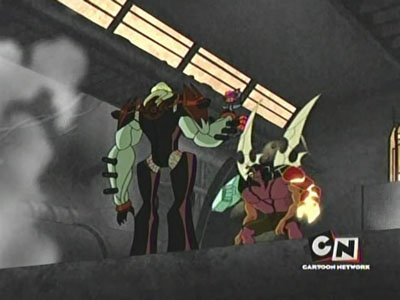 #24 - Back With a Vengeance 7.24
Season 2 - Episode 13
The Megacruiser flies solo in space, and inside Kevin examines the giant ice block found in space. Inside the mass, held Vilgax, and Kevin underestimated his current situation. He was very much alive and well, and they soon create a partnership after learning that they were both after the same person. On Earth, Ben plays around with the Omnitrix, hoping to find a better way of controlling it. Eventually, he finds the master control of the Omnitrix, giving him the ability to alternate between aliens, as well as prolong his duration with a form. Although his discovery has given him a stronger advantage, will it be enough to stop the danger that lies ahead?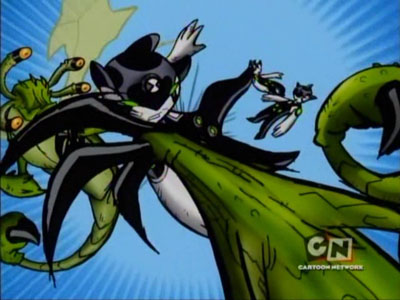 #25 - Divided We Stand 7.23
Season 4 - Episode 2
Ben gains another Omnitrix hero to use, which he calls Ditto. Gwen can't stand being around the multiplying Dittos, and they end up giving her headaches. The Dittos, though, prove to be real helpful against Dr. Animo and his multiplying Stinkflies after he extracted some of Ditto's DNA.