The Boondocks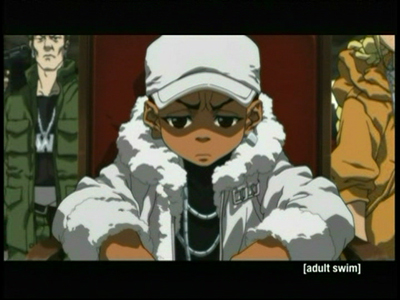 #1 - The Fundraiser 8.62
Season 3 - Episode 7
Riley organizes a fundraiser with Cindy McPhearson and other kids from Woodcrest.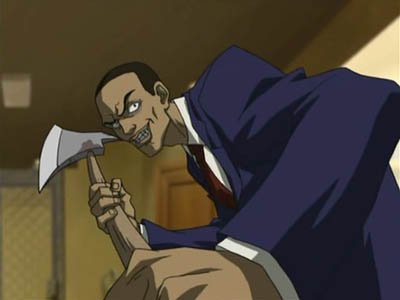 #2 - Stinkmeaner Strikes Back 8.32
Season 2 - Episode 4
Huey has a dream of Stinkmeaner and Granddad says that he was a menace and he sent him to hell like he deserves. Stinkmeaner's spirit later inhabits Tom Dubois' body and goes looking for revenge against Granddad. Huey must stop him from killing Granddad.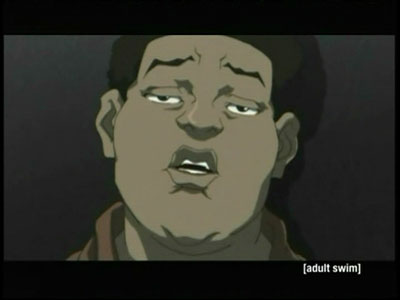 #3 - Smokin With Cigarettes 8.31
Season 3 - Episode 6
When Riley befriends juvenile felon Lamilton Taeshawn, he is having the best time of his life as they go around, causing trouble. Things take a turn for the worst when Lamilton wants to cause more than just trouble when he shows Riley a real handgun... A parody of the now infamous web video where the little boy steals his grandma's Durango and goes joy riding after she refuses to buy him chicken wings at the grocery store.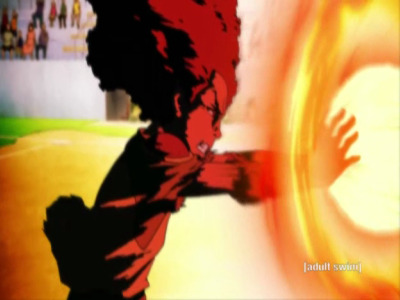 #4 - The Red Ball 8.30
Season 3 - Episode 3
Kickball legend Huey Freeman returns after a self-imposed exile from the game.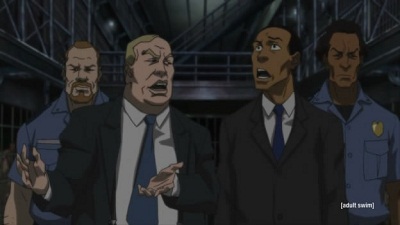 #5 - A Date With the Booty Warrior 8.28
Season 3 - Episode 9
Having conquered his fear of prison rape, Tom volunteers to lead Huey, Riley, and some classmates on a trip to jail as part of a Scared Stiff program. But when a riot breaks out, Tom has to get the kids, and his delicate backside, out of jail in one piece.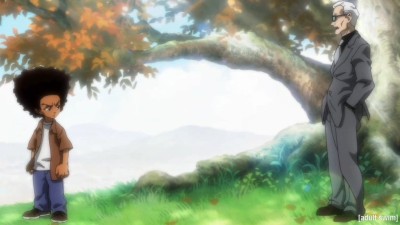 #6 - It's Goin Down 8.27
Season 3 - Episode 15
A terror attack near Woodcrest is imminent, and retired domestic terrorist Huey Freeman is the main suspect. With super-agent Jack Flowers on his tail and Ed and Rummy on the loose, can anyone save the day?
#7 - Home Alone 8.21
Season 2 - Episode 10
Granddad takes a vacation, leaving the boys alone, but just who is in charge?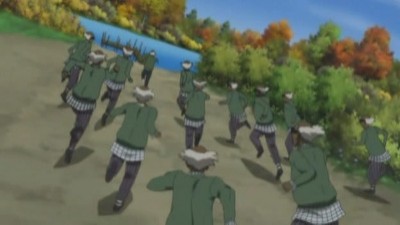 #8 - Stinkmeaner 3: The Hateocracy 8.20
Season 3 - Episode 5
The Freemans are in trouble when Stinkmeaner's gang decide to come after them in retaliation for his death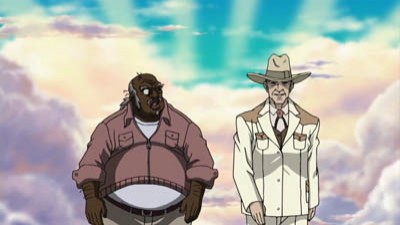 #9 - The Passion of Reverend Ruckus 8.19
Season 1 - Episode 15
While Ruckus spreads the word of White Jesus to get into White Heaven, Huey desperately tries to save his friend from death row.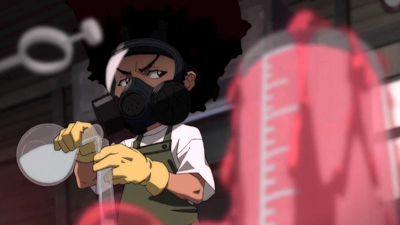 #10 - Breaking Granddad 8.17
Season 4 - Episode 3
The Freemans sell an explosive hair product and contend with the black market.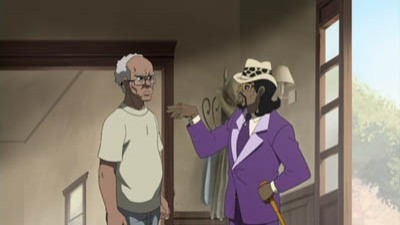 #11 - Guess Hoe's Coming to Dinner 8.16
Season 1 - Episode 3
Huey and Riley try to convince Grandad that his new girlfriend Cristal (like the champagne) is actually a prostitute. Of course, Grandad doesn't believe them, even when she spends all his money. But when A Pimp Named Slickback shows up, the truth is revealed.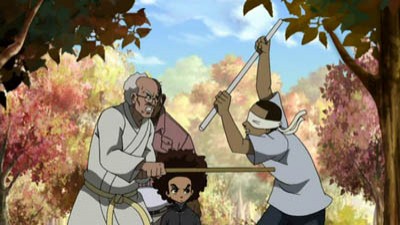 #12 - Granddad's Fight 8.12
Season 1 - Episode 4
Grandad and Colonel Stinkmeaner have a beef. One man's blind. One man's feeble. Both are really, really old. Let "The Slugfest In Woodcrest" commence!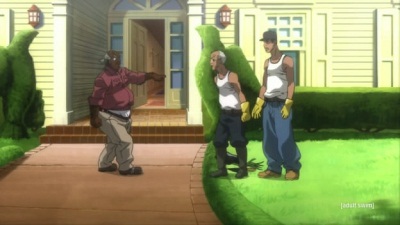 #13 - The Story of Lando Freeman 8.11
Season 3 - Episode 10
There's a new handyman in the neighborhood undercutting Uncle Ruckus... which is all good for Granddad and his garden until the man claims to be his long lost son, Lando. Will Granddad take responsibility and be a father to his child? Not without a talk show paternity test.
#14 - Riley Wuz Here 8.10
Season 1 - Episode 12
When Riley's affinity for grafitti goes too far, Grandad sends him to an art teacher that actually encourages him to do grafitti, only painting murals instead. Meanwhile, Huey discovers a black woman died from watching too much black TV, and decides to watch black TV for 2 weeks to see if that was the cause.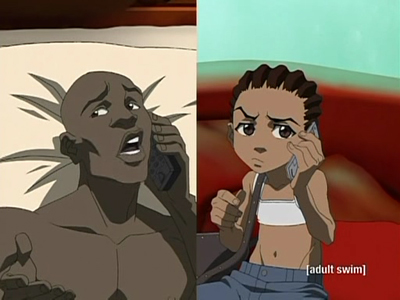 #15 - The Story of Gangstalicious Part 2 8.07
Season 2 - Episode 13
Granddad worries about Riley's sexuality when he notices that he begins to dress and act like "in-the-closet" rapper, Gangstalicious.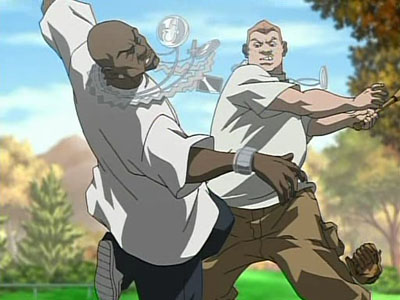 #16 - Shinin' 8.07
Season 2 - Episode 7
Riley joins Thugnificent's Lethal Injection crew. Meanwhile, a local bully steals Riley's prized chain.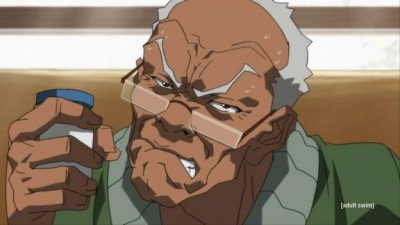 #17 - Mr. Medicinal 8.07
Season 3 - Episode 12
After a checkup, a doctor warns Granddad that he could die any day if he doesn't get his stress levels down. Not wanting to become dependent on pills, he decides to take Thugnificent's suggestion and turns to marijuana.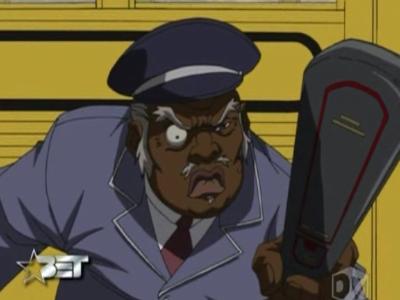 #18 - The Uncle Ruckus Reality Show 8.07
Season 2 - Episode 15
Uncle Ruckus is given his own reality show by BET.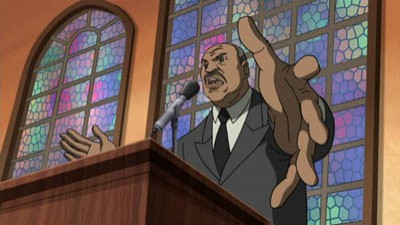 #19 - Return of the King 8.06
Season 1 - Episode 9
When Martin Luther King Jr. comes out of a coma after 32 years and finds himself thrust into the 21st and life in the post "September 11th" lunacy, his "turn the other cheek" philosophy quickly takes him from beloved national hero to dispised terrorist sympathizer.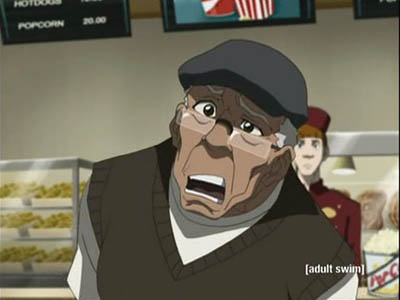 #20 - ... Or Die Trying 8.05
Season 2 - Episode 1
Granddad, Huey, Riley and Jazmine must avoid guards after they sneak in to a theatre to watch Soul Plane 2: The Blackjacking.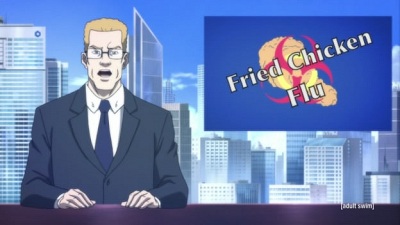 #21 - The Kentucky Fried Flu 8.04
Season 3 - Episode 13
When a chicken franchise run out of its newest recipe introduction, things go from bad to worse when a viral outbreak is linked to the same chicken. Thankfully, Huey has prepared a survival outline in just such an emergency, but it's all threatened when no one can seem to stick to the simple plan.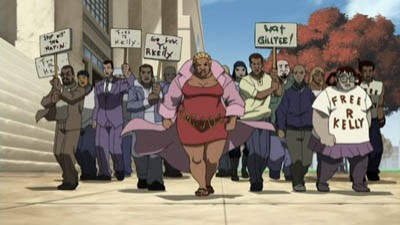 #22 - The Trial of Robert Kelly 8.04
Season 1 - Episode 2
When the trial of R&B star R. Kelly comes to town and Tom Dubois is the ADA, Huey and Riley are on opposing sides of the hot-button "underage peeing" issue. Meanwhile, Granddad and Uncle Ruckus argue about white people during a game of checkers.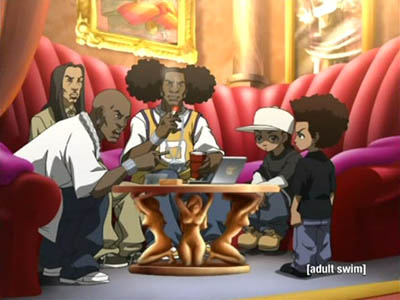 #23 - The Story of Thugnificent 8.03
Season 2 - Episode 5
The infamous rapper Thugnificent moves to the neighbourhood with his friends Macktastic and Flonominal, eventually leading to Granddad becoming annoyed with his new neighbours. Their feud inspires Thugnificent to create a diss-track called "Eff Granddad".
#24 - The Color Ruckus 8.02
Season 3 - Episode 14
On a final visit to Woodcrest, Ruckus's terminally ill Nana wants to die in Robert Freeman's house.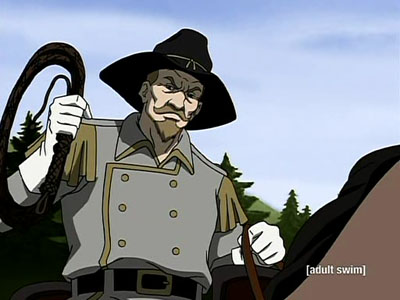 #25 - The Story of Catcher Freeman 8.02
Season 2 - Episode 12
Huey and Riley listen to different perspectives on the story of their ancestor Catcher Freeman.