BoJack Horseman
#1 - Fish Out Of Water 8.64
Season 3 - Episode 4
BoJack takes an underwater trip to the Pacific Ocean Film Festival for the "Secretariat" premiere, where he tries to reach out to Kelsey. At the same time, he attempts to return a seahorse baby to its mother.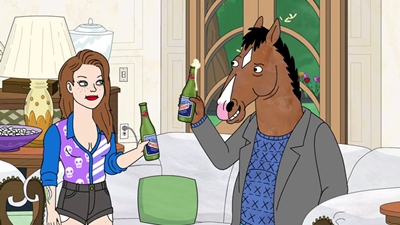 #2 - That's Too Much, Man! 8.54
Season 3 - Episode 11
On a drug-fueled bender, BoJack and Sarah Lynn crash an AA meeting, and BoJack decides to make amends to the people he hurt.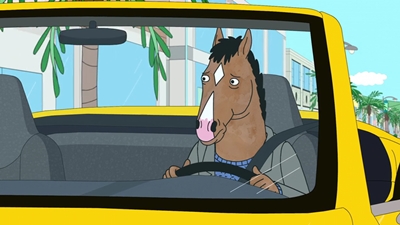 #3 - That Went Well 8.48
Season 3 - Episode 12
Mr. Peanutbutter saves the day. Todd gets exciting news. BoJack, Diane and Princess Carolyn pursue new opportunities.
#4 - Escape from L.A. 8.43
Season 2 - Episode 11
BoJack goes on a road trip to visit an old friend, and gets a taste of existence outside the Hollywoo bubble.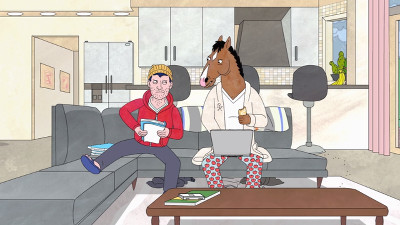 #5 - Downer Ending 8.30
Season 1 - Episode 11
BoJack embarks on a project in his typically gonzo style, leading to a drug-fueled revelation.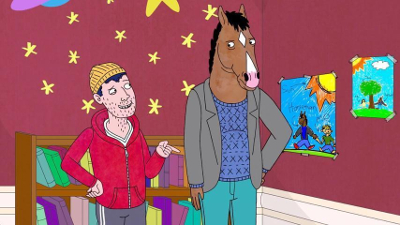 #6 - Out to Sea 8.29
Season 2 - Episode 12
The important things in life becomes clear to BoJack when Todd moves out to join the improv comedy group on their special cruise ship.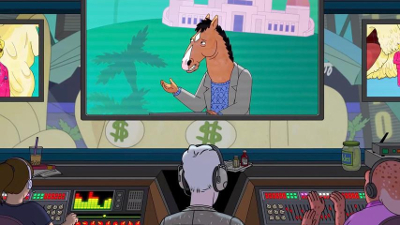 #7 - Let's Find Out 8.15
Season 2 - Episode 8
BoJack is one of the celebrity guest stars on the first episode of Mr. Peanutbutter's game show, but the game doesn't go as expected.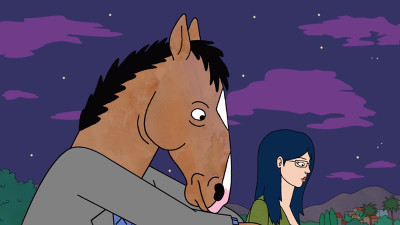 #8 - Later 8.09
Season 1 - Episode 12
Months after his memoir is released, BoJack's being considered for a role that's a lifelong dream.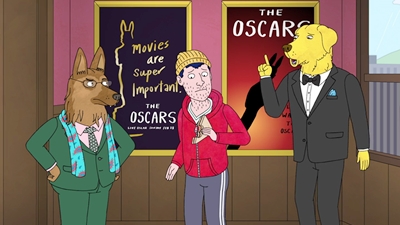 #9 - It's You 8.07
Season 3 - Episode 10
Mr. Peanutbutter announces the Oscar nominees. BoJack surrounds himself with admirers, but his real friendships are falling apart.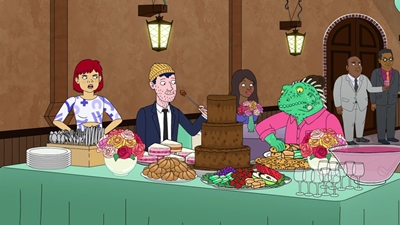 #10 - Love And/Or Marriage 8.02
Season 3 - Episode 5
While Todd and BoJack crash a rehearsal dinner, Diane gets high with a client. Princess Carolyn goes on a series of blind dates.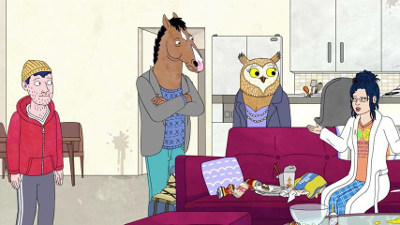 #11 - Yes And 8.00
Season 2 - Episode 10
Todd gets sucked into the cult of improv comedy. Wanda thinks Diane is a bad influence on BoJack when he has to deal with a career crisis.
#12 - Stop the Presses 7.98
Season 3 - Episode 7
Todd builds a giant papier-mâché Todd head. A customer service rep gives BoJack some sound advice when he tries to cancel his newspaper subscription.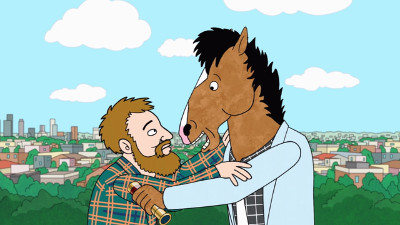 #13 - The Telescope 7.89
Season 1 - Episode 8
When he learns that his old friend from "Horsin' Around" is dying, BoJack tries to mend fences.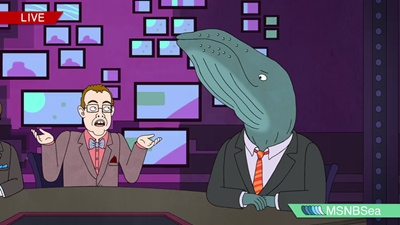 #14 - Brrap Brrap Pew Pew 7.89
Season 3 - Episode 6
Diane's tweet lands Sextina Aquafina in hot water. Prankster and A-list actor Jurj Clooners gets under BoJack's skin.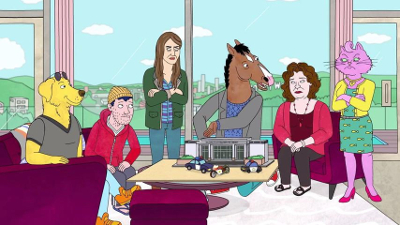 #15 - The Shot 7.85
Season 2 - Episode 9
BoJack cooks up a scheme with Kelsey, Todd, Princess Caroline and Mr. Peanutbutter to steal a crucial shot for the Secretariat film.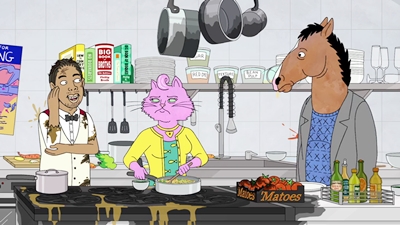 #16 - Best Thing That Ever Happened 7.85
Season 3 - Episode 9
BoJack meets Princess Carolyn at Elefante, leading to a night of soul-searching as they help the staff impress a food critic.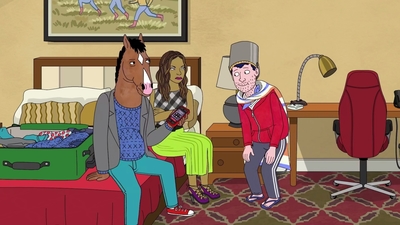 #17 - Start Spreading the News 7.78
Season 3 - Episode 1
Ana Spanakopita sends BoJack to New York to do interviews, and Todd tags along. Princess Carolyn tells Mr. Peanutbutter to get back to work.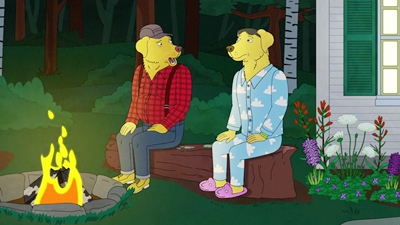 #18 - Old Acquaintance 7.77
Season 3 - Episode 8
BoJack is up for a part in David Pincher's latest film. Diane meets Mr. Peanutbutter's brother, and Todd takes the business in a new direction.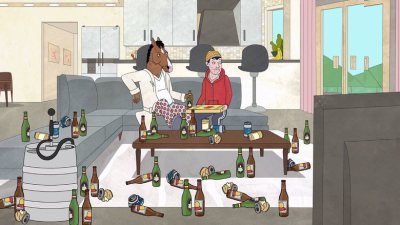 #19 - Hank After Dark 7.77
Season 2 - Episode 7
Diane goes off book during BoJack's book tour, jeopardizing Mr. Peanutbutter's new show. Todd gets involved in international affairs.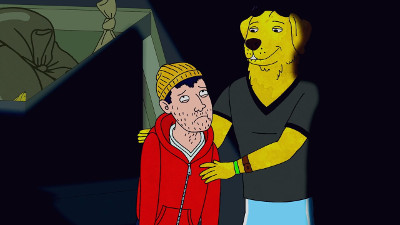 #20 - Horse Majeure 7.75
Season 1 - Episode 9
A lovestruck BoJack tries to sabotage a wedding; Todd accepts a surprising new professional role.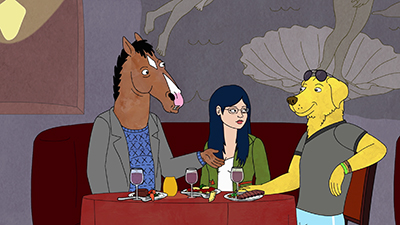 #21 - Our A-Story Is A 'D' Story 7.73
Season 1 - Episode 6
BoJack is jealous of Diane's relationship with Mr. Peanutbutter; Todd's in a new environment.
#22 - One Trick Pony 7.72
Season 1 - Episode 10
BoJack shoots a movie at Mr. Peanutbutter's house; Diane finishes her book.
#23 - The BoJack Horseman Show
Season 3 - Episode 2
In 2007, Princess Carolyn finds a new project for BoJack, Diane meets Mr. Peanutbutter at the coffee shop where she works, and Todd kisses a girl.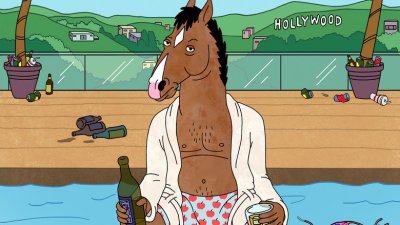 #24 - Yesterdayland 7.71
Season 2 - Episode 2
BoJack is drawn to the one female in town who has no idea who he is (because she was in a coma). Todd opens a theme park.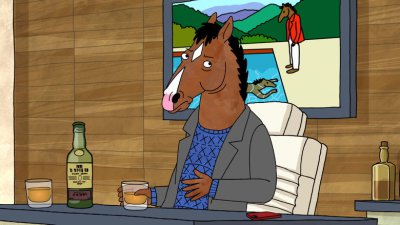 #25 - Higher Love 7.70
Season 2 - Episode 6
Princess Caroline sees an opportunity when Mr. Peanutbutter's agent dies. BoJack flips when he says the "L" word out loud to Wanda.