Shark Week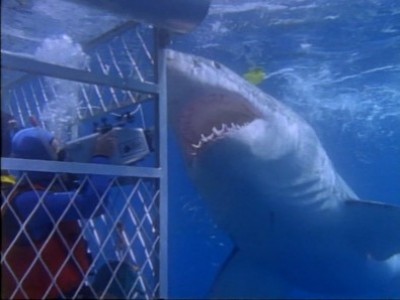 #1 - Prehistoric Sharks
Season 1998 - Episode 1
the most bizarre and unusual sharks to ever swim the earth's waters.
#2 - Sharks of the Shadowland
Season 2015 - Episode 11
Mysterious sharks threaten government divers in remote New Zealand waters. Attack survivor Jenny Oliver and researcher Kina Scollay are on a quest to find out if the mysterious sevengill sharks are targeting divers…and are they hunting in packs?
#3 - Sharks 3-D
Season 2000 - Episode 0
#4 - Dirty Jobs: Jobs That Bite
Season 2006 - Episode 1
To kick off Shark Week, fearless host Mike Rowe (of Discovery's Dirty Jobs series) travels the globe to meet people whose jobs really "bite" — the dedicated men and women who work with sharks. For this two-hour world premiere special, Mike visits South Africa, Florida and the Bahamas to encounter a variety of sharks, from great whites to reef sharks. In South Africa, Mike joins Captain Brian McFarland aboard the boat he uses to take tourists to view great white sharks. After helping the crew prepare chum (a yummy mixture of fish parts and blood used to attract sharks), Mike descends inside a cage into the ocean to meet face-to-face with the majestic great white. Next, Mike rolls up his sleeves and gets dirty at a Florida company that makes replicas of sharks that have been caught by fisherman, and are later released. Back in South Africa, Mike boards a research vessel at the Marine Coastal Management Agency and helps the team tag great whites with satellite devices that are used to provide researchers with important information about the sharks' migration patterns. He also tries his hand at "shark spotting" with men and women hired by the South African government. Their job is to stand on cliff sides and watch for sharks that might be swimming near public beaches. Here, Mike learns the tricks of the trade from a man who's been protecting the beaches of South Africa for nearly ten years. Heading next to the Bahamas, Mike teams up with a company dedicated to making repellants that protect swimmers who come in contact with sharks. As Mike learns, a key ingredient of shark repellant is rotten sharks. After spending an afternoon chopping up rotten sharks covered in flies, Mike meets a chemist who shows him how the repellant is created. Then, in his dirtiest Shark Week job yet, Mike heads into the water to test it out … on himself.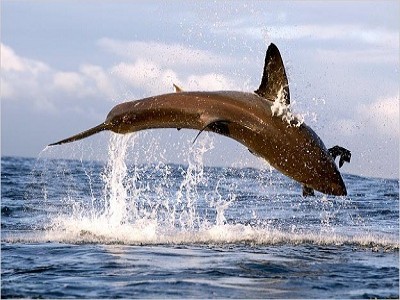 #5 - Air Jaws: Apocalypse
Season 2012 - Episode 1
Picking up where 2011's Emmy®-nominated "Ultimate Air Jaws" left off, photographer, author and shark expert Chris Fallows and legendary natural history producer Jeff Kurr embark on a quest to learn more about the great white sharks of Seal Island, South Africa — and one shark in particular. Colossus is a massive 14-foot great white that dominates all other sharks in the area. Kurr and his team push the envelope even further with a new camera specially designed for the shoot, new angles and new hair-raising encounters... even if it means risking their lives for the ultimate close-up with Colossus. And what they discover in this yearlong filming expedition is a true scientific breakthrough: dozens of great whites clustered in shallow water, feeding on smaller sharks and rays — with Colossus dominating the grounds and nearly eating the camera.
#6 - Great White Invasion
Season 2011 - Episode 1
Great white sharks, in large numbers, are now suddenly being found swimming among surfers and vacationers just off beaches from South Africa to Australia, and up and down the coast of California. Just why they're there and just what they're doing is a mystery that Chris Fallows and an international team of sharks scientists are trying to figure out.
#7 - African Shark Safari
Season 1993 - Episode 1
#8 - Live From a Shark Cage
Season 1999 - Episode 1
SHARK WEEK goes live with a special two-hour live program from the Pacific's Bikini Atoll.
#9 - Caged in Fear
Season 1988 - Episode 1
#10 - Air Jaws: Countdown to Shark Week 2013
Season 2013 - Episode 1
Air Jaws programming has pushed and expanded our understanding of Great Whites sharks and has become one of the iconic SHARK WEEK programs. In AIR JAWS: COUNTDOWN TO SHARK WEEK 2013, a documentary crew goes behind the scenes to see how Air Jaws has changed what we know about these incredible creatures and to give SHARK WEEK viewers a sneak peek into the next Air Jaws special, Finding Colossus, which will air during SHARK WEEK 2014.
#11 - MythBusters: Jaws Special
Season 2005 - Episode 1
#12 - Mythbusters: Shark Special
Season 2008 - Episode 1
Using their signature sci-tech style of explosive experimentation, the MythBusters hit the deep blue from California to the Bahamas to investigate myths about sharks. They are honing in on some doozies this year: Do dogs attract sharks? Do the vibrations caused by a flapping injured fish attract sharks? Does chili powder repel sharks? And hosts Adam Savage and Jamie Hyneman create the ultimate SHARK WEEK build – a 16-foot-long robo-shark!
#13 - Ocean of Fear: The Worst Shark Attack Ever
Season 2007 - Episode 1
This two-hour premiere special kicks off the primetime 9 PM hour of SHARK WEEK's 20th Anniversary and is narrated by Richard Dreyfuss, who memorably played Matt Hooper in Jaws. The special tells the gripping story of the crew of the U.S.S. Indianapolis, sunk by two torpedoes in the Philippine Sea on the night of July 30, 1945. Eight hundred sailors, many maimed and burned, were plunged into the water … and floated helplessly for four days, having to deal with hunger, driven mad by thirst and menaced by hundreds of sharks. Assisted by George Burgess, America's foremost investigator of shark attacks, Discovery Channel re-opens the official shark attack file on the Indianapolis – the first time this incident has ever been scientifically investigated. Ocean of Fear examines why the sharks attacked the way they did (and why they sometimes did not), and investigates the survival strategies of the men in the water, including those who fought the sharks. Survivors recall their ordeal on camera and remarkable reconstructions, filmed with real sharks, reveal the drama from both the sharks' and the humans' perspectives.
#14 - Surviving Sharks
Season 2008 - Episode 2
Survivorman's Les Stroud hosts this look at how best to play it safe in the water, while testing popular theories of how to survive shark encounters. Les travels to the Bahamas and South Africa to test whether the behavior of Caribbean reef sharks and great whites changes depending upon the time of day. While in South Africa, Les and marine biologist Jeremiah Sullivan conduct an analysis of the great white's bite, and test whether kicking and splashing attracts sharks, and if it's safer to stay in a group or tread water alone if stranded in the ocean.
#15 - Deadly Stripes: Tiger Sharks
Season 2007 - Episode 2
At nearly 20 feet in length, with hundreds of razor-sharp teeth and a weight of over 1,300 pounds, the tiger shark is one of the world's best-equipped predators. Nicknamed the ocean's garbage disposal for their not-so-picky eating habits, tiger sharks are believed to be solitary animals. This premiere SHARK WEEK program examines an unusual and mysterious event off the South African coast. Each year, tiger sharks gather en masse off Aliwal Shoal and then, as suddenly as they appear, they vanish. South African shark expert Mark Addison, who has worked with tiger sharks for over 20 years, has a theory that these sharks are actually the same individuals year after year -- and he hatches a plan to prove it via satellite tracking. To do so, Addison braves the waters without a shark cage, chain mail suit or scuba gear. He also free-swims without an oxygen tank, to allow him to get up close to tag the sharks with a satellite tracking device -- risking not only being bitten by the tiger sharks, but also drowning.
#16 - Jaws Comes Home
Season 2011 - Episode 2
Jaws Comes Home tells the story of passionate shark expert and U.S. Fisheries scientist, Greg Skomal, as he documents six remarkable months following five great whites with names like Curly and Ruthless. His mission: to understand more about their recently discovered, 1,200-mile journey up and down the eastern seaboard and to reveal all he can about these much-maligned hunters.
#17 - Air Jaws: Fins of Fury
Season 2014 - Episode 1
Air Jaws programming has pushed and expanded our understanding of great white sharks and has become one of the iconic SHARK WEEK programs. In Air Jaws: Fins of Fury Natural History producer Jeff Kurr and his team return using incredible new cameras and high tech underwater gadgetry to track down the missing "mega-shark" named Colossus.
#18 - Sharks on the Brink of Extinction
Season 1993 - Episode 2
#19 - Tiger Beach
Season 2016 - Episode 1
#20 - Tiger Shark Attack: Beyond Fear
Season 2004 - Episode 2
#21 - Into the Shark Bite
Season 2010 - Episode 2
Go where humans don't dare to in INTO THE SHARK BITE. Watch the power of a shark bite filmed with the latest high-speed, high-definition cameras from extraordinary angles - ending up literally inside the jaws of sharks.
#22 - Danger Beach
Season 1996 - Episode 2
#23 - Sharks - Predators or Prey
Season 1988 - Episode 2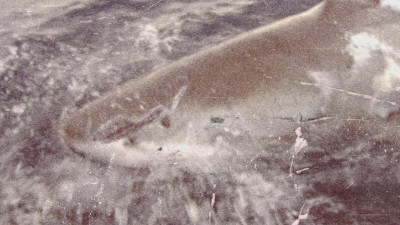 #24 - Shark of Darkness: Wrath of Submarine
Season 2014 - Episode 2
Shark of Darkness: Submarine Returns explores the legend of "Submarine," an enormous great white shark off the coast of South Africa. This 30-foot shark is said to be the largest great white shark of all time. Locals believe that this shark is responsible for countless fatal attacks, but its existence has never been proven. This documentary explores the evidence and asks the question: can Submarine exist?
#25 - Day of the Shark 2
Season 2009 - Episode 3
In this Episode, it was shown that what happens, when a great white breaks through a 300-pound aluminum shark cage and traps the divers inside. Shark week 2009 Episode 3 story is about a member of a Navy Seals who was attacked in the water of Florida by sharks.