River Monsters
#1 - Piranha
Season 1 - Episode 1
In 1976 a packed coach crashed into the Amazon killing 39 people. By the time the bodies were pulled out by rescuers some had been so viciously mutilated by piranha they could only be identified by their clothes. Tracking down survivors and eyewitnesses of piranha attacks, Jeremy Wade reveals why the piranha fills our nightmares.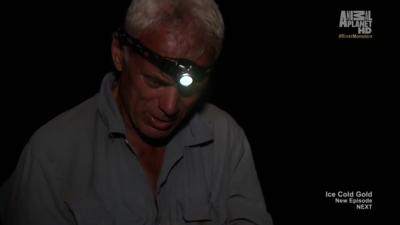 #2 - Colombian Slasher 8.27
Season 5 - Episode 4
A honeymoon bride is dragged to her death in the Colombian Amazon. The most dangerous country in South America, Colombia is known for drugs, remote jungles and hostage-taking rebels. Jeremy Wade's investigation is turned on its head by a crucial piece of evidence. He concocts a farfetched hypothesis about the bride's death and in proving it he uncovers a little known method of killing which reveals the true horror of this tragic story. To complete the puzzle Wade pushes himself and his gear past the breaking point to understand what killed the bride in Colombia's Rivers of Blood.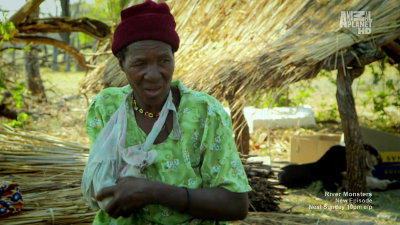 #3 - Pack of Teeth 8.26
Season 4 - Episode 2
In Southern Africa there are rumors of a terrifying river monster lurking in the eerie waters of the Okavango Delta. Witnesses say the fish have shark-like teeth and hunt in frenzied packs on schools of fish — and maybe even on human bodies. It sounds mysteriously like the work of giant piranhas, but there's nothing like that here. Or is there? Jeremy Wade sets out to uncover the truth.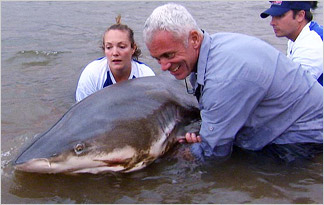 #4 - Hidden Predator 8.25
Season 2 - Episode 7
The biggest bull shark ever recorded was caught in South Africa, in a river. Was this monstrous freshwater catch a horrifying fluke, or are there more shark giants prowling this river? Jeremy Wade heads to South Africa to see if he can land a monster!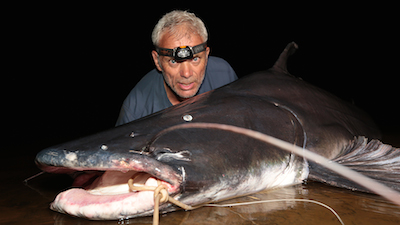 #5 - Amazon Apocalypse 8.22
Season 6 - Episode 1
Looks back at one of the Amazon's largest maritime disasters, the sinking of the Sobra Santos. Witnesses and surviving passengers retell the story of the event, in which as many as 200 passengers lost their lives. Something in the water is being blamed for many of the deaths, and Jeremy Wade wants to find out what that might have been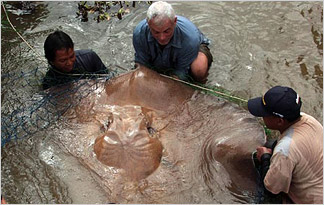 #6 - Death Ray 8.21
Season 2 - Episode 2
Jeremy Wade heads to The Mekong River in Thailand in search of one of the world's largest, most terrifying river fish, the Giant Freshwater Stingray. Armed with a venomous 10 inch barbed tail, this 700-pound monster tests Jeremy to his physical limit.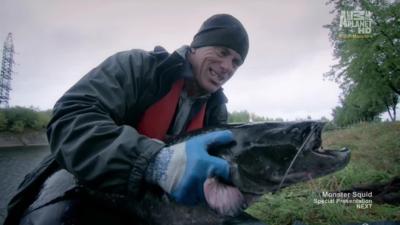 #7 - Atomic Assassin 8.15
Season 5 - Episode 2
Extreme angler Jeremy Wade is on the trail of a monster that leads him to the site of the worst nuclear accident in history - Chernobyl. In a nerve-shredding race against radiation and time, he searches for the perpetrator of a series of grizzly attacks.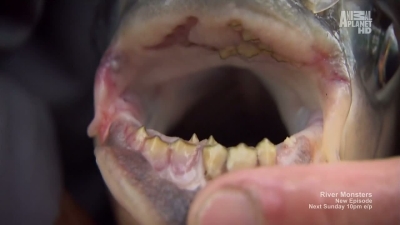 #8 - The Mutilator 8.15
Season 3 - Episode 1
Jeremy Wade travels to Papua New Guinea to investigate a spate of bizarre deaths on one of the world's last great unexplored rivers, the Sepik. A creature there is tearing chunks from unsuspecting fishermen and devouring certain male body parts. Jeremy has never fished in this part of the world and knows little of what might be there. Nothing could prepare him for what he discovers.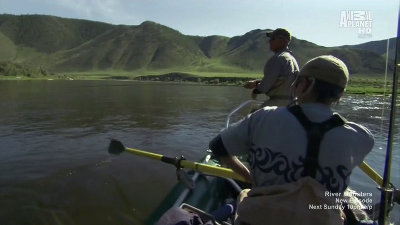 #9 - Mongolian Mauler 8.13
Season 4 - Episode 6
In Mongolia, Jeremy Wade hopes to reel in a rare river monster that's become legendary. Pound for pound, this man-sized monster is said to be one of the world's strongest fighters. Could the rivers here still be home to a beast that many have heard about but few have seen? While Wade is on the hunt, he may be hunted himself as armed outlaws lurk in the wilderness surrounding the remote river.
#10 - Amazon Flesh Eaters 8.11
Season 1 - Episode 6
A man swallowed whole by a fish. A body eaten alive from within. Another penetrated in a most unnatural fashion, and yet more with multiple stab wounds. Jeremy Wade is in pursuit of these notorious killers to discover the facts — to determine if their crimes are real and their methods as gruesome as reported.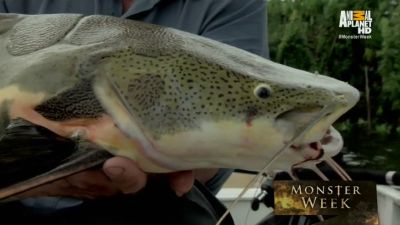 #11 - Bone Crusher 8.09
Season 6 - Episode 5
When a corpse is found with highly unusual injuries, Jeremy Wade instinctively knows he's on the trail of a new monster. Digging deeper, he soon uncovers the dead body is only the tip of the iceberg - there's also been a spate of unexplained disappearances. And, people have seen a huge unknown creature patrolling the water. Could all three things be connected? To solve this mystery Jeremy confronts one of his biggest fears and encounters a river monster that he's NEVER dealt with before.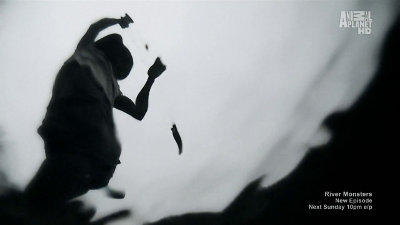 #12 - Invisible Executioner 8.08
Season 4 - Episode 3
It's common knowledge that crocodiles and hippos are deadly predators in Zambian waterways, but it seems there's another monstrous beast stalking the treacherous Zambezi River. The locals call this river monster "the Mazunda" but Jeremy Wade is unfamiliar with any fish by that name. Will he uncover what the sinister creature — said to be able to swallow a child — really is?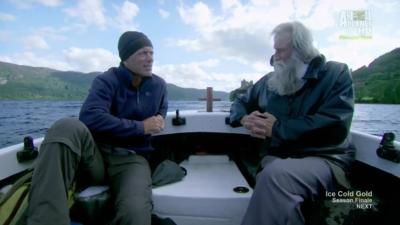 #13 - Legend of Loch Ness 8.07
Season 5 - Episode 6
For more than 30 years, hardened angler Jeremy Wade has taken on the world's most legendary river monsters bar one - the Loch Ness Monster. It's a challenge he's been reluctant to take on … until now. But can the freshwater detective succeed where so many have failed and uncover the true identity of the creature behind the myth? On an epic mission to track down the world's most famous cryptid, he travels from the depths of Loch Ness to the volcanoes of Iceland and beyond. But will his Nordic Odyssey really uncover the mother of all monsters, the legend of legends?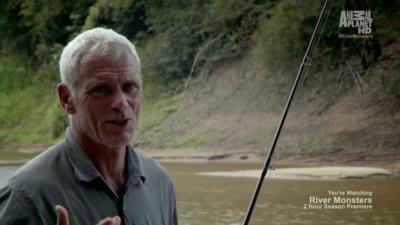 #14 - Face Ripper 8.07
Season 5 - Episode 1
Angler Jeremy Wade investigates his most disturbing case yet - the story of a man who had his face ripped off in a remote Bolivian river. The journey through dangerous jungle ends with a confrontation with one of his oldest adversaries.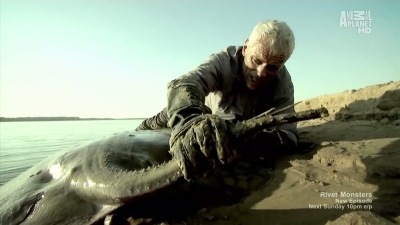 #15 - Silent Assassin 8.05
Season 3 - Episode 3
Jeremy Wade travels to the Paraná River in the remote northeast corner of Argentina to investigate the death of a young girl. Once there, he discovers a second death. The people who live along this river bank fear the creature they call "River Dog." This is a new species to Jeremy, a river monster that somehow got under his radar. His discovery is not only the most alien of all river monsters, it is also the largest totally freshwater river monster Jeremy ever has caught!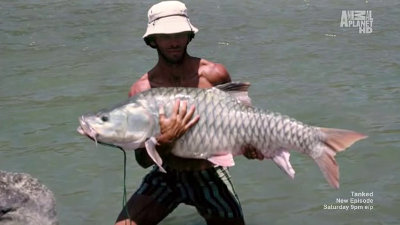 #16 - Asian Slayer 8.00
Season 4 - Episode 4
When Jeremy Wade travels to India's Himalayas to investigate grisly river attacks, he is surprised to learn that the suspected culprit is a sacred animal. Does he heed warnings from the local people that he'll be cursed for life if he touches the creature, or will he pursue his need to solve the mystery?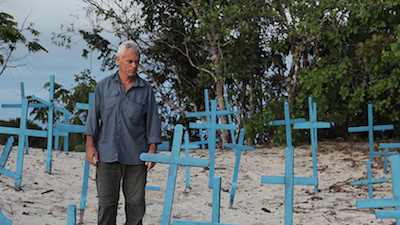 #17 - Jungle Terminator 8.00
Season 6 - Episode 2
Three mysterious deaths in three countries lead Wade on an adventure where he must team up with a remote and secretive tribe that has a unique and death-defying way of catching these culprits.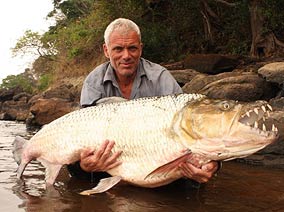 #18 - Demon Fish 7.98
Season 2 - Episode 1
Jeremy Wade journeys to the infamous Congo River in Africa in search of the world's most ferocious fish. This supernatural monster predator pushes Jeremy to his physical and mental limit. It requires all of his skills and the help of a witch doctor.
#19 - Killer Snakehead 7.93
Season 2 - Episode 3
Angler Jeremy Wade sets his sights on an aggressive Far Eastern predator that's now invading America's backyards. Accused of homicide, and said to breathe air and crawl on land, the Snakehead is a monster that sounds more like a gangster than a fish.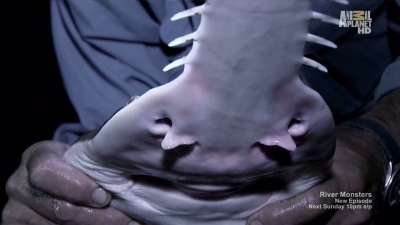 #20 - Chainsaw Predator 7.92
Season 3 - Episode 4
Jeremy Wade heads to a remote river in the Australian Outback to try and catch the rare but fearsome freshwater sawfish. This shadowy predator is reputed to reach 18 feet long and attacks boats — but does the fact that it could slash Jeremy to shreds make it a killer? And why is this bizarre-looking sea monster swimming hundreds of miles inland?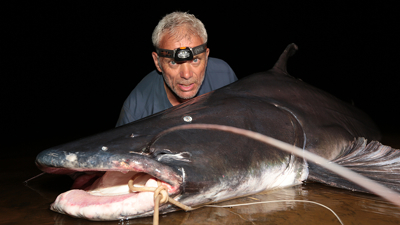 #21 - Man-Eating Monster
Season 6 - Episode 4
All over the Amazon, Jeremy Wade has heard stories of a monster fish that grows so large, it's said to swallow men whole. Locals call it the lau-lau but after 20 years of searching, from Peru to Brazil and Colombia, the evidence Jeremy needs - a single colossal specimen - stills eludes him. Now though, he's discovered a secret, untouched location deep in Guyana's remote rainforests where he suspects they may be thriving. Embedding himself in the wild jungle, this time it's different: he's not coming back until he catches it.
#22 - Death Down Under
Season 8 - Episode 2
Jeremy travels to the scene of an ocean aircraft crash in Australia that left a group of Aboriginal elders brutally murdered almost without a trace. He embarks on one of his toughest investigations ever, taking on some of the deadliest animals on the planet in order to track down this elusive killer.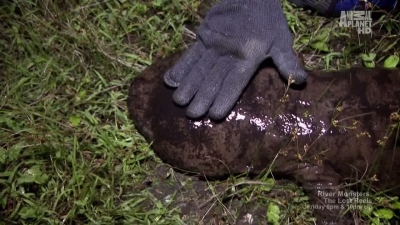 #23 - Cold-Blooded Horror
Season 3 - Episode 6
Having never been to Japan, Jeremy Wade is entering new territory in more ways than one. The river monsters there are like no others he ever has encountered, from the devastating "Namazu," which legend says causes earthquakes, to a child-snatching killer called the "Kappa." Can our extreme fisherman uncover the truth behind these legends? Can he catch a monster in the rivers of Japan that reveals the reality behind these horrific tales? He is about to find out.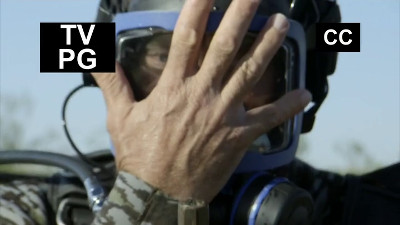 #24 - Africa's Deadliest
Season 7 - Episode 6
Jeremy Wade returns to Africa's Okavango Delta to investigate a pack-hunting carnivore blamed for mauling the victims of a capsized boat. This time, Jeremy decides to put on his dive gear and offer himself as live bait in croc-infested waters.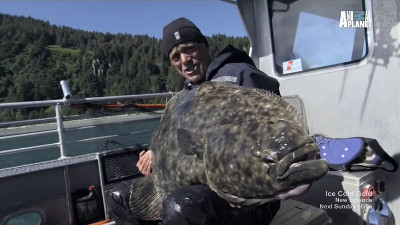 #25 - Alaska's Cold Water Killer
Season 7 - Episode 4
Recent reports of fishermen vanishing without a trace on Alaska's south coast leads Jeremy to America's Last Frontier on a mission that takes him on the hunt for one fish he's never hooked before -- the mighty king salmon. When the investigation takes an unexpected turn, Jeremy finds himself in shark-infested waters, observing the salmon shark! Jeremy makes himself shark bait to prove that these fish won't attack a human - even if that human is diving right into the middle of their feeding frenzy.