JAG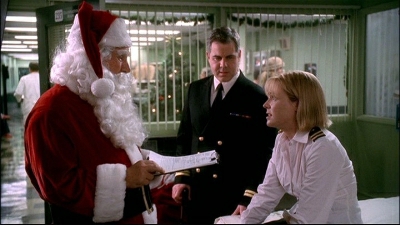 #1 - All Ye Faithful 8.54
Season 8 - Episode 11
On board the aircraft carrier USS Coral Sea, Harm & Admiral Boone await the arrival of the transport plane to take them back to DC. Harm was onboard the carrier to review the new Atlantic Fleet JAG command structure, while Admiral Boone was onboard making a business representation to the CAG of the Coral Sea. Admiral Boone, reassigned when SecNav Nelson was replaced, tells Harm that he's retired for good. Just before they board their aircraft, the CAG tells Adm. Boone he was impressed with his presentation, but when Harm goes to shake the CAG's hand goodbye, the CAG refuses to take his hand, brushing him aside. Harm is left wondering why the CAG, who he had never met, appears not to like him. They then exit to the flight deck in time to see their plane about to land. The landing however, doesn't occur, since their tailhook broke away & landed on the deck. The COD initiates an emergency take-off, leaving the two friends with the realization that they will spending this Christmas E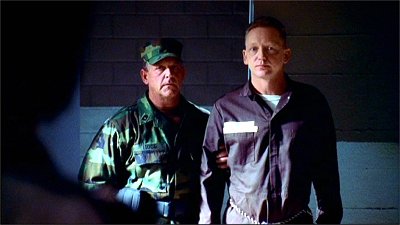 #2 - Life or Death 8.54
Season 5 - Episode 13
Mac is assigned the personally distasteful task of representing a fellow Marine who is appealing his death sentence for the murder of three other Marines. She believes that the defendant, Kenneth Farmer, should receive the death penalty, but she must argue otherwise in court. Brumby, who doesn't believe in capital punishment, must argue in favor of it. However, in attempting to overturn the original guilty verdict, Mac must argue inadequate counsel by the corporal's previous lawyer: then-Commander A.J. Chegwiggen. The appeals court lets stand the original guilty verdict, but orders a new sentencing hearing. Mic is recalled by the Royal Australian Navy and must leave within 72 hours. As a result, Harm is assigned to replace Brumby at the new sentencing hearing. Despite Mac's arguments to the defense of Corporal Farmer that was not raised by then-Commander Chegwiggen, Corporal Farmer is again sentenced to death. Admiral Chegwiggen throws a goodbye party for Mic at the local bar. Ever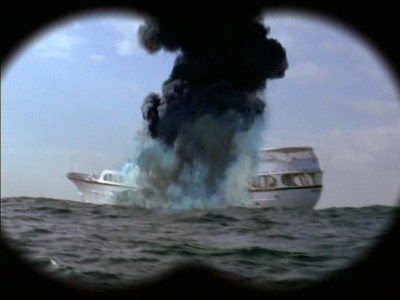 #3 - Yesterday's Heroes 8.53
Season 3 - Episode 15
When a luxury yacht owned by a reputed South American drug trafficker mysteriously sinks and the Navy is suspect, Harm, Mac and Bud are put on the case. Meanwhile, Artemus Sullivan, a World War II Navy veteran, with the help of his aged cronies, devises plans from a nursing home to make sure the drug dealer responsible for Sullivan's grandson's death is brought to justice. But when Sullivan is kidnapped by the drug dealers, his mettle is tested, as is that of Harm and his team as they race to rescue the war hero.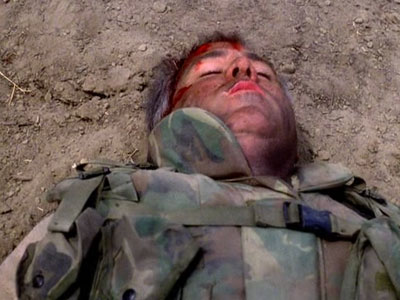 #4 - Critical Condition (3) 8.53
Season 8 - Episode 1
The episode starts with a short recap of where we left off last season: Bud & PO Coates walking along a dirt road enroute to attend the ground-breaking of the new school, when they spot a small boy playing in a field that had yet to be cleared of mines. As Coates runs for help, there is an explosion behind her. She turns in time to see Bud injured in the explosion and runs to his side. Coates insists that Bud must be transported on the helo that brought them in, that Bud won't be able to wait for the proper medevac chopper. Bud is airlifted to a field hospital, critical, but still alive. As luck would have it, ZNN reporter Stuart Dunston just happens to be at the base camp when Bud is brought it. Dunston reports the arrival of an injured JAG officer that was brought it, but does not report the name. Chegwiggen advises Harriet, but reminds her he is still on the Seahawk. She tries to contact him by instant messaging, but does not receive a reply. Onboard the USS Seahawk, Harm & M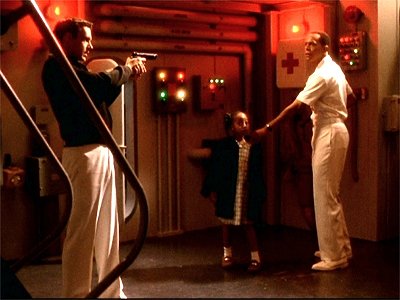 #5 - Goodbyes 8.51
Season 4 - Episode 24
As Harm considers his future at JAG, he learns that Charlie Lynch -- the ex-Navyman responsible for the murder of Annie, the abused child whose death still haunts Harm -- has resurfaced, placing the little girl's twin sister, Dar-lin, in danger. Putting his career decision on hold until he closes the chapter on Lynch, Harm tracks him to a shipyard where the vicious killer is holding Dar-lin hostage. Overflowing with anger against all Lynch's grisly acts of murder, Harm finds himself in an intense stand-off with him that will leave only one man standing.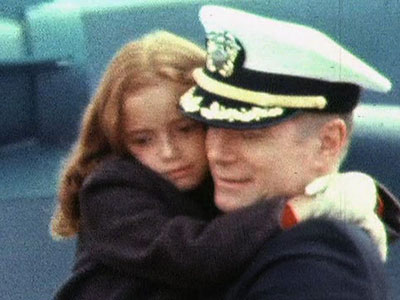 #6 - Need to Know 8.51
Season 8 - Episode 7
Harm, Mac and Turner go up against the CIA's top counsel when the agency tries to keep a 1968 Navy sub tragedy, in which 129 men died, classified. In so doing, they must find a way around the CIA's classified information rules in order to follow the orders of the new Secretary of the Navy.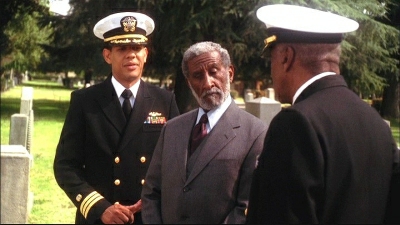 #7 - Port Chicago 8.50
Season 7 - Episode 20
In 1944, in the midst of World War II, a disastrous explosion rocked the U.S. Navy's Port Chicago near San Francisco, killing more than 350 sailors, most of them African-Americans. Following the blast, a group of 50 sailors refused to return to work until changes were made to assure their safety. They were charged with mutiny and court martialed, but later their convictions were reversed. Now, a surviving sailor wants his record and those of all the other ""mutineers"" cleared. Asked to handle the investigation discreetly, Cmdr. Turner discovers that an injustice was done and goes head-to-head with Lt. Singer in the courtroom. Meanwhile, Harm goes house shopping with Lt. Sims.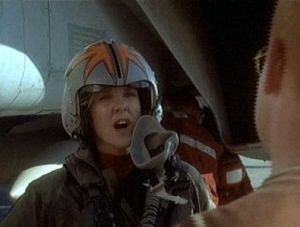 #8 - A New Life (2) 8.48
Season 1 - Episode 2
Harm & Kate continue to investigate the death of Lt. Angela Arutti, all the while the carrier remaining on combat status.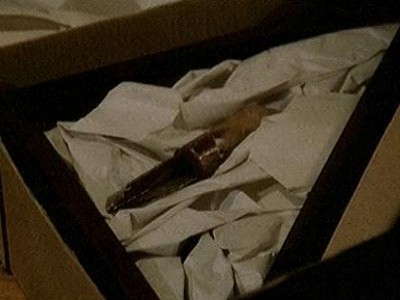 #9 - Salvation 8.47
Season 6 - Episode 19
A Marine sergeant in prison needs Harm's help again when his prints are found on a murder weapon.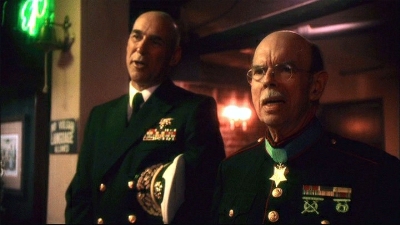 #10 - Hero Worship 8.47
Season 7 - Episode 18
Adm. Chegwidden agrees to help the White House with an event honoring Medal of Honor recipients, but only if he can investigate the case of a vet who was dropped from the list because of a shoplifting arrest. Meanwhile, Mac and Harm look into a fire aboard a destroyer.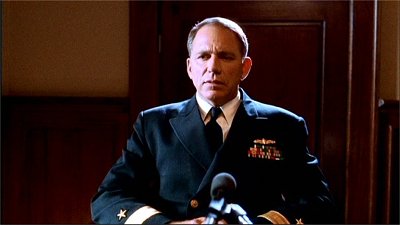 #11 - Psychic Warrior 8.44
Season 5 - Episode 6
When a Navy research project involving psychic phenomena goes awry and results in the death of one of its research subjects, Harm defends the admiral in charge of the project. As Mac prosecutes, she steadfastly proves that the admiral's ESP theories are wrong. But when her friend Chloe disappears and Mac experiences a vision that could save her life, she begins to have second thoughts about the paranormal.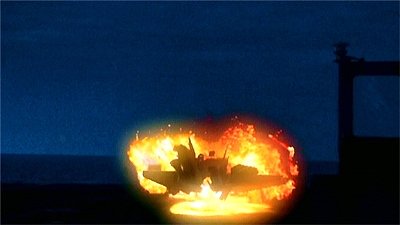 #12 - Mishap 8.43
Season 5 - Episode 10
Lt. Elizabeth ""Skates"" Hawkes, Harm's former RIO (radio intercept officer), comes under fire after the crash landing of a Tomcat aboard the USS Patrick Henry. The ship's captain and Skates' commanding officer both place the entire blame of the crash on her shoulders and press for her court-martial. Barred from the initial investigation because of his relationship with Skates, Harm is finally able to help when he's called upon to defend his friend at her court-martial and employs all of his legal skills to save her military career.
#13 - Answered Prayers 8.42
Season 7 - Episode 11
When a pretty female petty officer is arrested by the MP's for impersonating a Salvation Army 'bell-ringing' Santa & pocketing the cash, Harm is assigned as her attorney. However, since she has a history of unauthorized absences, she is ordered to be held in custody. But with the holidays, the brig & pre-trial detention center are unavailable, she is estranged from her father, so she must spend the holiday with Harm or with Mac. Cmdr. Ted Lindsey (as the SecNav's administrative assistant) notifies Bud's brother Mikey that each year, the SecNav nominates 170 enlisted personnel for admission to the Naval Academy and that Mikey is being considered for one of those nomination spots. Bud & Mikey's father, a retired Master Chief though is not at all thrilled with having another son becoming an officer and insures that everyone knows it. PO Tiner notifies the Admiral of a lawsuit filed against the Navy by Rudolph, Dasher, Dancer, et al. It seems a group of reindeer broke through a runway
#14 - Surface Warfare 8.41
Season 5 - Episode 25
Bud's underachieving brother is accused of making a mistake during a training exercise that nearly killed 15 Marines. But establishing his innocence proves to be a difficult task, thanks to the age-old tension between the Navy and the Marines. Adm. Chegwidden frets over a speech he must give when he is to be given an award. Mic Brumby returns unexpectantly to the States; Mac & everyone are stunned when he announces that he has resigned his Royal Australian Navy commission so that he could move to the USA and be by the ""woman he loves.""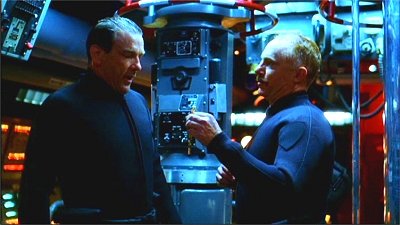 #15 - Rogue 8.41
Season 5 - Episode 7
As lowest ranking lawyer at JAG, Bud is assigned to accompany Raglan, a former special Forces operative who is hired by the Pentagon to test security at military bases. Raglan's current mission is to test the security around a U.S. nuclear attack submarine. But when Raglan goes too far and hijacks the sub with Bud on board, Harm is called in to chase the sub down by second guessing his old friend. The cat and mouse game becomes deadly, though, when it appears that Raglan has switched sides, demanding millions of dollars in ransom or he'll take aim on a U.S. target.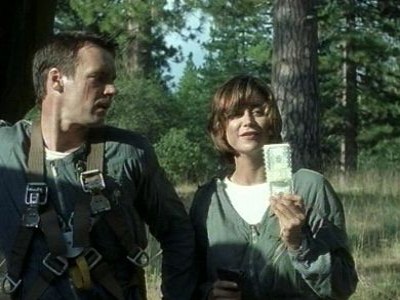 #16 - Gypsy Eyes (2) 8.40
Season 4 - Episode 1
Having been shot at by Russian fighters, Mac & Harm are forced to eject from their plane, which then noses into the bottom of a very deep lake. The Russians announce to the world that Harm & Mac have been killed, which is broadcasted back to the USA by ZNN reporter Chuck DePalma. Webb tries to convince the Admiral that they have been killed, but when A.J. learns their bodies haven't been found, A.J. becomes irate and vows to go to Moscow himself to look for them. The SecNav orders A.J. not to go, who replies that the SecNav doesn't want to try & stop him. In Russia, A.J. meets with DePalma who tells A.J. that he doesn't believe the Russians, that certain things in their story don't add up. In the woods, a husband & wife gypsies come across Harm & Mac. They are disappointed when they learn that Harm & Mac are not American Spies as at least the spies have gold coins to give to Russians that help them. Mac states they don't have gold coins, but shows them a wad of US dollars and asks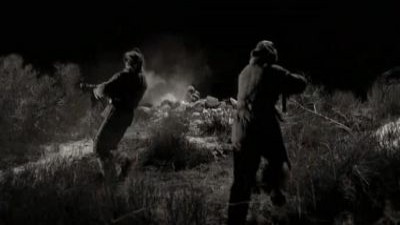 #17 - Retreat, Hell 8.39
Season 6 - Episode 16
When Gunny goes to New Mexico to bring back a Korean War hero accused of desertion, he is ambushed by people trying to kill the man.
#18 - In Country (1) 8.39
Season 7 - Episode 23
Harm and Mac investigate a ""collateral damage"" incident in Afghanistan when an attack on an Al Queda terrorist kills three innocent civilians. With the help of forensic pathologist Cmdr. Teresa Coulter, Mac and Harm try to find out if any of the remains can be identified as belonging to Al Queda leaders. Meanwhile, when Harm and Mac lose control of their Humvee, they are thrown into a minefield where they're forced to spend the night together figuring out how to extricate themselves from the trap.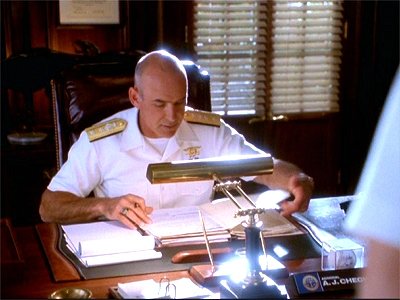 #19 - Yeah, Baby 8.39
Season 4 - Episode 23
With Harm's eyesight fixed, Harm decides to go ahead and submit a request to be transferred to a fighter squadron. When Lt.Cmdr Parker finds his written request, she is upset at the prospect of Harm being gone for months at a time. Afterwards, Harm goes over to Mac's apartment who has Chloe spending the night with Mac before she is reunited with her real father. Harm informs Mac of the eye surgery and his plans. Mac is equally upset at the prospect of losing Harm. Mic shows up at Mac's apartment after Harm leaves attempting to court Mac's feelings. After Mic leaves, Chloe tells Mac that Brumby and Harm have a crush on her and begins teasing Mac: ""Harm & Mac, sitting in a tree, k-i-s-s-i-n-g."" Admiral Chegwidden passes Harm's request to be transferred onto the SecNav. Not willing to do any favors for Harm, the SecNav is reluctant to intervene. But, when the SecNav considers that it will get Harm away from Washington and the Admiral will owe the SecNav a favor, he tells the Admira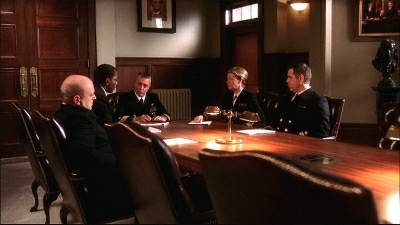 #20 - Odd Man Out 8.39
Season 7 - Episode 14
Harm faces Mac in court when he defends a Navy medical corpsman accused of murdering a Marine sergeant during a training exercise. When he finds himself serving on the jury, Bud, feeling like an expert, uses his knowledge of the law during deliberations to help the jurors question the facts of the case, but then discovers the hard way that sometimes things in the courtroom are not what they seem. Cmdr. Turner goes to New London to assist in the deployment of the submarine USS San Antonio. Once there, he helps a young sailor keep his marriage together when his wife intends to file for divorce due to the deployment. When its learned that Harm has two tickets to the Super Bowl, everyone in the JAG office jockey for position in an attempt to be selected to go with Harm to the game. However, it turns out the ""tickets"" to the game are not necessarily the best seats for ""watching"" the game. Sergei adjusts to trying to live in America by navigating the complex immigration laws in an attempt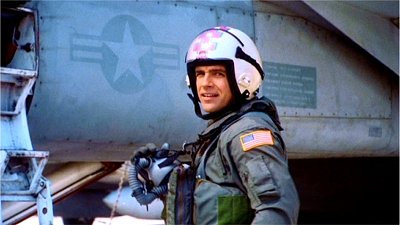 #21 - True Callings 8.39
Season 5 - Episode 3
Harms fitness report is coming up and the realization that maybe it really is too late to be a fighter pilot. During a dangerous mission over hostile Serbian territory, Harm's wingman's plane is shot up and Harm performs top-gun maneuvers to keep the disabled plane aloft until it's over friendly territory. Meanwhile, with a new Gunny in the office, Bud & Tiner fall over themselves as they compete against each other in an online auction to purchase tickets to a concert, in order to impress the Admiral. They end up looking foolish when it is discovered that the Gunny got the same tickets for free.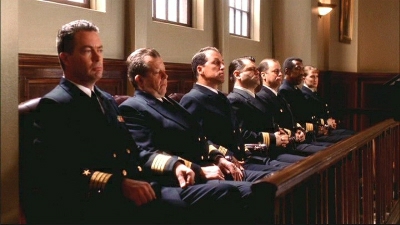 #22 - Code of Conduct 8.38
Season 7 - Episode 13
Harm defends a Navy SEAL accused of disobeying orders when his return to a hostile area in Afghanistan to retrieve a wounded comrade results in the death of another officer. Complicating the issue is the dead officer's pregnant widow who is determined to have justice served even though the accused man was her husband's best friend. Meanwhile, Admiral Chegwidden is asked to resign when he's charged with slapping a high school student.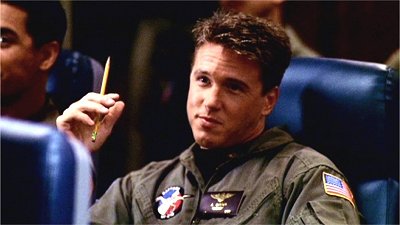 #23 - King of the Greenie Board (1) 8.37
Season 5 - Episode 1
While patrolling the Mediterranean near Yugoslavia and against the orders of Harm, his division commander, Lt. Buxton fires on what he believes is a Serbian armored car about to attack Kosovar refugees. As Buxton and his pals are celebrating his victory back aboard the aircraft carrier, however, the grave news arrives: those ""Serbs"" Buxton attacked and killed were, in fact, Russian peacekeepers, and Buxton made the mistake while under Harm's command. Mac prosecutes what appears to be an open-and-shut case of a Marine weapons expert accused of reckless endangerment.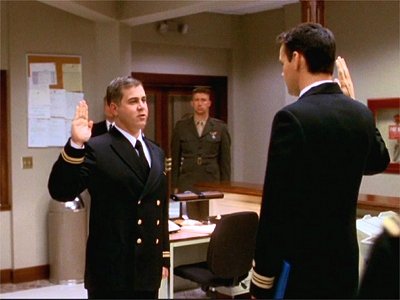 #24 - The Adversaries 8.37
Season 4 - Episode 19
Bud's first case as a newly sworn in JAG attorney is to defend his father, a retired Navy Chief who's been accused of having been involved in defrauding the Navy when he was in charge of Ship's Stores. Though the two have been estranged, Bud feels a strong obligation to his father, who specifically requested him to be his attorney. Harm is the designated prosecutor, which spooks Bud, as he knows he's going up against the best.
#25 - Cabin Pressure 8.37
Season 5 - Episode 14
Harm is trapped below deck on a sinking ship with a sailer, who has been accused of murder, and a guard. Some rescue equipment collapses, blocking the only escape route. As water begins to fill the room, the three men are certain that the situation is hopeless.