Family Ties
#1 - Not With My Sister You Don't
Season 1 - Episode 2
As head of the household while his parents are away for the weekend, an overly confident Alex throws a big bash, but when his sister Mallory leaves the party with the school Romeo, he's filled with guilt and anger. A little wary about leaving the kids alone for the first time, Steven and Elyse finally depart for a weekend with their friends, the Davis's. While the romantic holiday turns into a marathon sports competition instigated by Ron Davis and resented by Elyse, there's trouble brewing on the home front. Teenage brother and sister clash when Alex assumed the attitude of an overprotective father and lectures Mallory for arriving home late from her date with sports hero/lothario Eric Morrison. However, when Eric arrives at the Keaton doorstep with flowers to apologize, it's clear that Alex has jumped to a false conclusion. He must now restore peace and tranquility by the time his parents return home.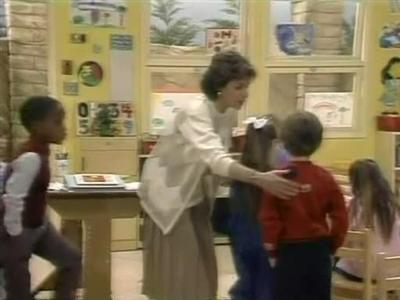 #2 - Sign of the Times
Season 6 - Episode 26
While Alex prepares little Andrew's resume for future kindergarten elections, Elyse proudly tells the family that Andy has been chosen as ""Buddy for the Day"" at school, which means he will be responsible for showing a new classmate around. The new student, Josh Richards, turns out to be deaf. Accompanied by his mother, Josh is introduced to Andy by Andy's teacher, who explains that although Josh can't hear, he can speak by signing with his hands. Tentative at first, Andy leads Josh off to ""show him the ropes"", telling his curious classmates about Josh's deafness and his ability to sign. When several of Josh's schoolmates begin to tease him, Andy becomes very upset and rushes to defend him. He becomes even more disturbed at the end of the day when Josh confesses that the other children's cruelty does indeed hurt him. Experiencing the beginnings of a solid friendship, Andy begins to brood about Josh's handicap and stops talking altogether in sympathy for his friend. Troubled by the situ
#3 - The Freshman and the Senior
Season 5 - Episode 3
Mallory is teamed with 66-year-old Margaret Hollings on a college sociology project and fins that she has a lot to learn about honesty, sensitivity and older people when she almost causes the woman to quit the class. As Mallory facves the fact that te widowed senior citizen has her own special problems as a college freshman, Alex takes a special interest in the terms of the last wills and testaments of his parents.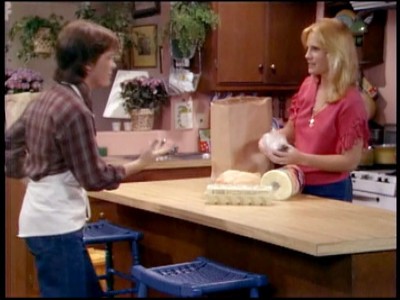 #4 - Summer of '82
Season 1 - Episode 4
Seduced by an ""older woman"" of 21, the hitherto inexperienced Alex is devastated to learn that she thinks of their relationship as casual. When Alex delivers groceries to pretty college senior Stephanie Brooks, there's an immediate intellectual and physical attraction between them. Later, Stephanie phones and invites Alex to an economics lecture. However, the events following the lecture prove more instructive to the teenager. Just when he begins to fantasize about marriage, an unexpected situation brings him rudely back to reality.
#5 - The Homecoming
Season 2 - Episode 2
When Mallory's boyfriend Jeff arrives home from college and wants to go steady, she's elated, but it's soon apparent that he's a little awed by school and merely grasping at the familiar and she must decide whether to ""let go"" and accept the change in their relationship. Mallory is nervous that Jeff may have met someone new, outgrown her or forgotten her. When the opposite appears true, and he announces plans to quit school, she refuses at first to see the obvious; that he's just a little overwhelmed by college. What's thrilling to her is self-destructive on Jeff's part.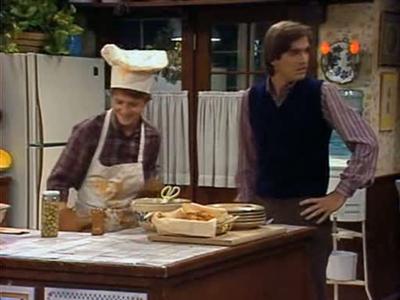 #6 - Love Thy Neighbor
Season 3 - Episode 4
Little Jennifer is thrilled about a visit from Scott, a former neighborhood pal she hasn't seen in five years, but her happiness at the reunion is shattered when he ignores her in favor of her older sister, Mallory. To win Scott's attention, Jennifer dresses up in a flirtatious outfit and goes to the restaurant where he is having dinner with Mallory.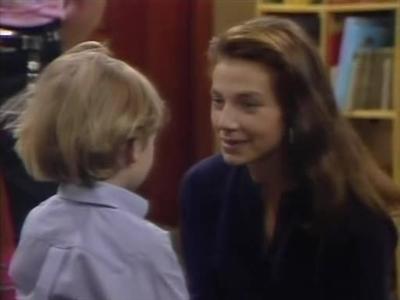 #7 - The Other Woman
Season 6 - Episode 4
While Nick entertains the Keatons with a demonstration of the ""salesmanship"" he's using in his new job selling lightbulbs over the phone, an impatient Andrew waits for Alex to come home so they can watch a special edition of ""Wall Street Week"" together. When Alex finally arrives, Andy is depressed to see that he has brought his new love, Lauren Miller. To make matters worse, Alex forgoes watching ""Wall Street Week"" in favor of spending time with Lauren, which only adds to Andy's frustration. As the evening wears on, Andy is the only Keaton who isn't enjoying Lauren's company. She amuses the family with an analysis of Steven and Mallory's dreams, while Andy vies unsuccessfully for Alex's attention. Andy suffers the final insult when the weekend arrives and Alex, having completely forgotten his promise to take Andy to the coin show, goes off with Lauren to a touch football game. Angry and rejected, Andy retreats to his room, convinced that Alex doesn't love him anymore. When Alex shows u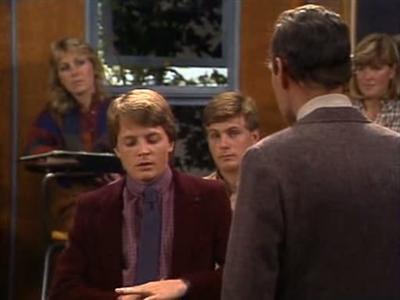 #8 - Little Man on Campus
Season 3 - Episode 3
Alex is thrilled to be taking a college course taught by one of his personal heroes, Professor Ephraim Bronski, but in his eagerness to impress the teacher he gets off to a bad start and is humiliated by his idol when he fails the first class assignment.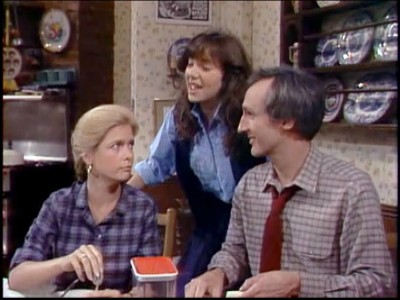 #9 - Pilot 7.73
Season 1 - Episode 1
The smitten Alex is thrilled at the thought of escorting pretty, budding socialite Kimberly Blanton to her country club's dance, but Steven and Elyse are appalled that their son would set foot in a restricted club and agonize over whether to impose their values on him. Kimberly's status-conscience, snobbish ways were immediately apparent when she had dinner with the Keatons. Alex is intent on impressing her with fabricated tales of his family's heritage and wealth. Alex's ""I'm not out to change the world"" attitude clashed with that of his parents, who retain the ideals of the Woodstock generation. On the night of the dance, Steven shows up at the Carleton Country Club in an effort to persuade the horrified Alex to come home. Later, when father and son air their feelings at home, each is able to understand, if not accept, the other's point of view.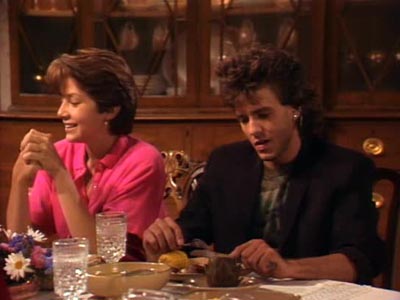 #10 - Mr. Wrong
Season 4 - Episode 3
Mallory brings home her new boyfriend, Nick, a Rambo-type environmental artist, to meet her family, but Steven and Elyse are shocked by his crude appearance and gruff manner.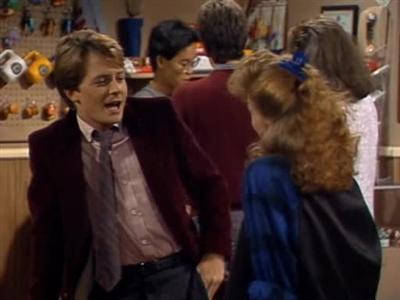 #11 - Starting Over
Season 5 - Episode 2
Distraught that his girlfriend Ellen has gone to Paris on a dance scholarship, Alex desperately tries to find someone to take her place, but finally realizes that falling in love again will take time. Alex mopes around the Keaton house pining for Ellen until Sharon, a pretty waitress, attracts his attention. Once on a date with her however, Alex tries to transform her into another Ellen, with disastrous results.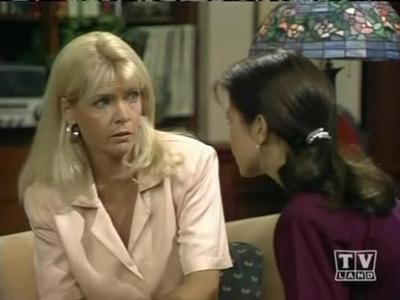 #12 - Dear Mallory
Season 6 - Episode 3
Mallory is thrilled to follow in ""Dear Abby's"" footsteps when she's tapped to write the personal advice column in the Columbus Shopper's Guide. She manages to involve the entire family, even Alex, in reading and answering the growing stack of mail, while searching for the perfect letter to launch her career in psycho-journalism. Mallory finally settles on a note from a lovesick teen who signs her correspondence ""First Love"". When Mallory's first column is published, Steven and Elyse are dismayed to discover that she's printed the family's phone number and address in her article. Explaining that she has to be warm and accessible to her readers, she becomes personally involved in ""First Love's"" relationship, while answering hundreds of letters and phone calls. Despite her exhaustion, she remains exhilarated by the idea that she's helping so many people, and plans an open house for many of those to whom she has given advice. When her ""fans"" begin arriving, Mallory learns that for every g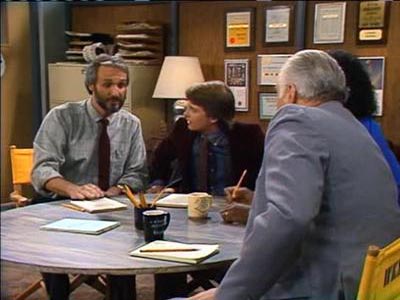 #13 - Keaton and Son
Season 3 - Episode 5
Alex reluctantly accepts a part-time job with his father at the non-profit station, and his dad is bursting with pride to have him following in his footsteps, but Alex feels his talents are being wasted. Steven is excited to have Alex working with him and begins planning their future together, but Alex tries to convince his dad that he has other goals.
#14 - Dream Date
Season 6 - Episode 5
Jennifer is appalled when nerdy sophomore Simon Wickerson falls head over heels in love with her. Although Jennifer rejects his advances, Simon is undaunted. He follows her home and tries to shower her with expensive gifts, but Jennifer only has eyes for Roger, a sophomore ""hunk"" who doesn't even know she's alive. Simon pleads with Jennifer to attend the sophomore dance with him and at first, she refuses. She finally relents, however, when she realizes that Simon is her only chance to attend the dance, thereby giving her the opportunity to run into Roger. Although she is reluctant to use Simon no less be seen with him Alex reassures her that manipulation is the way of the world. Despite Elyse's warnings that she's doing the wrong thing, Jennifer has made up her mind. At the dance, she scans the room for Roger and Ignores Simon, who is deliriously happy to be with her. When she finally approaches her idol, he is rude and insensitive and obviously has no desire to get to know her. Then,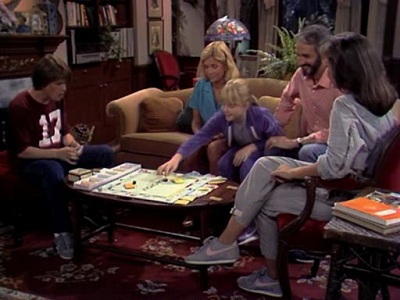 #15 - Speed Trap
Season 2 - Episode 6
When Alex takes diet pills for a lift during mid-terms, his dependency level increases daily. Alex is studying for several tests and convinces Mallory to obtain diet pills to help him stay awake. At his hyperness and irritability increase, so does his dependency on the pills. When he finally gets so desperate that he threatens Mallory to get more drugs, she becomes worried that he is headed for a ""crash landing"".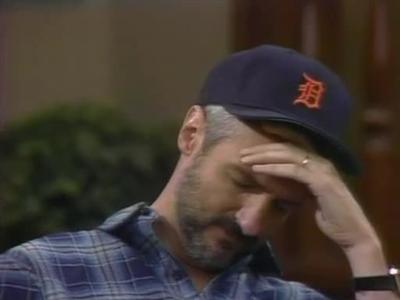 #16 - Heartstrings (2)
Season 7 - Episode 6
While Steven fights for his life in surgery, the family fights to remain optimistic about his condition. When Steven's surgery extends beyond the expected five hours, tension in the waiting room increases. A nervous Alex, however, begins to express acute concern only for himself fearing that he has inherited a weak heart, he searches in vain for his pulse. Lauren soon makes Alex realize that he is fixated on his own health to block the anguish he really feels for his father. While the Keatons wait, they receive hope and encouragement from Mrs. Hobart and Mr. Meyers, whose spouses are also undergoing surgery. Everyone's spirits are lifted when Mr. Meyers is joyfully reunited with his wife. But shortly afterward, their happiness turns to grief when it is learned that Mrs. Hobart's husband, who had actually been in recovery, has suddenly died. As the Keatons search for a way to comfort her, they become even more anxious about Steven. When Elyse begins to panic, Alex finally realizes that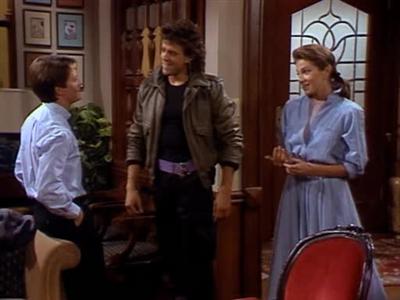 #17 - Mrs. Wrong (1)
Season 5 - Episode 6
Nick and Mallory make sudden plans to elope when Steven and Elyse vehemently oppose their marriage plans and threaten to ground their teenaged daughter. During a quiet evening together, Mallory pops the ""big question"" to Nick. They are ecstatic until they learn that the entire Keaton family is solidly against the idea.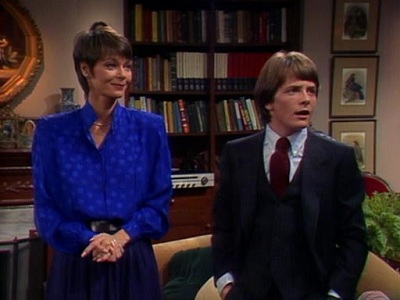 #18 - Sweet Lorraine
Season 2 - Episode 7
While working as a DJ at the school radio station, Alex strikes up a telephone friendship with caller Lorraine Ferrar, who shares his love of swing music, and he and the attractive 40-year-old meet and develop a special relationship. Drawn to Lorraine's sexy voice and love of swing music, Alex invites her to a Big Band concert. On arriving at her home for the date, he's shocked to find that she's an older woman and the mother of one of his sister's classmates. But they develop a platonic relationship, enjoying each other's company and discovering a wide range of shared interests. When Alex and Lorraine continue to ""date"", Steven and Elyse try to accept it but eventually ask her to stop seeing their son.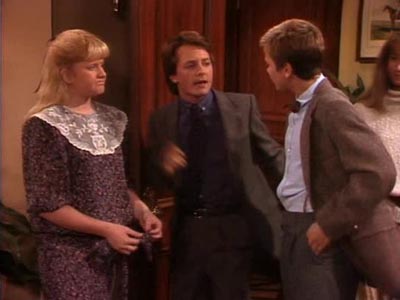 #19 - My Tutor
Season 4 - Episode 7
Alex hires a tutor to help him with math, but his ""teacher"" turns out to be a 13-year-old genius who suddenly becomes more interested in Jennifer than in helping Alex. When Eugene, Alex's tutor, meets Jennifer he loses his concentration and Alex comes up with a scheme that will benefit both him and Eugene.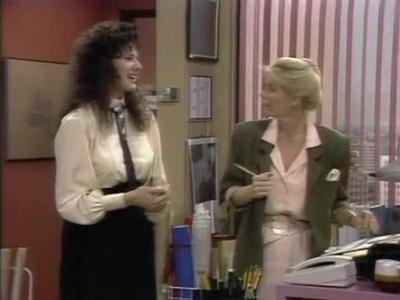 #20 - Super Mom
Season 6 - Episode 6
As Elyse wraps up a major project for her firm, she realizes that her busy architectural career is causing her to neglect her family, especially Andy. Although Elyse feels terrible about not devoting more time with Steven and the kids, she doesn't want to give up her rewarding position at the firm. Just when she expects a breather, Elyse's boss dumps a prestigious project into her lap. Inspired by the challenge, she accepts the enormous job, despite initial misgivings. Later that afternoon, when a teacher calls to tell Elyse that no one has come to pick Andy up from school, ""Super Mom"" begins to feel like a failure, unable to juggle her private and professional demands. Though Steven remains supportive and understanding, the kids exert pressure on Elyse to quit and she is ridden with guilt. The next time Steven picks up Andy from school, he drops him off at Elyse's office to spend the afternoon. But a tired and cranky Andy ends up asking Elyse's boss to fire her so she can be at home.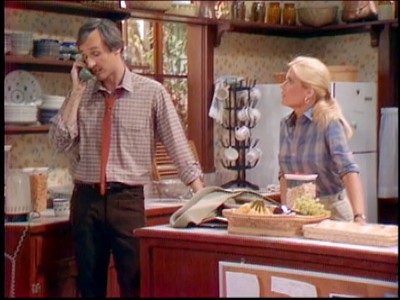 #21 - I Know Jennifer's Boyfriend
Season 1 - Episode 3
Peer pressure to shun the opposite sex causes 9-year-old Jennifer to give up her friendship with Justin Perkins, but thanks to her mother Elyse, the kids come together at a jitterbugging ""Nifty Fifties"" birthday party. Jennifer is upset by threats from little girls who say they won't be her friend as long as she associates with Justin. Finally she capitulates. In a mother-daughter talk with Jennifer, Elyse explains the importance of developing good friendships with boys. Jennifer's ""Nifty Fifties"" birthday party begins with the boys on one side of the room and the girls on the other, but with a little encouragement from Steven and Elyse and a ladies' choice dance, the kids get into the swing of things.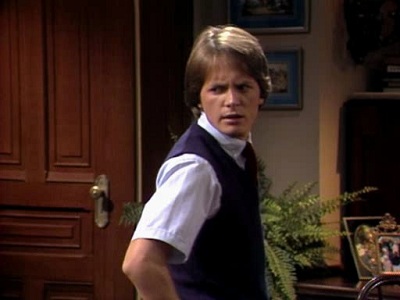 #22 - Tender is the Knight
Season 2 - Episode 1
When pretty Carrie Newman and her mother Julia come to visit the Keaton's, Carrie's forward behavior sends Alex into a panic.
#23 - 4 Rms Ocn Vu
Season 3 - Episode 8
While Steven and Elyse are away on vacation, the Keaton house becomes a hotel for the weekend after Mallory accidentally crashes her parents' car into a telephone pole and the kids need to raise money for auto repairs. A lot of people are in town for the Leland homecoming game, so Alex decides to take advantage of the situation and rent out rooms but suddenly he's swamped with renters and the house looks like a three-ring circus.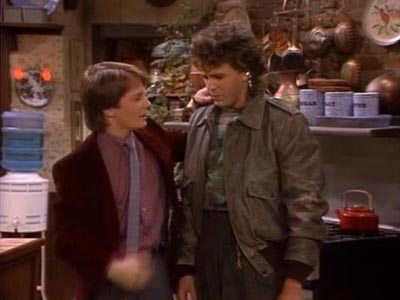 #24 - Mr. Right
Season 4 - Episode 8
Mallory's boyfriend, environmental artist Nick Moore, swaps his T-shirt, camouflage pants, combat boots and earrings for a three-piece suit and a haircut to impress Mallory's parents, but while Steven and Elyse love the new Nick, Mallory is ready to leave him.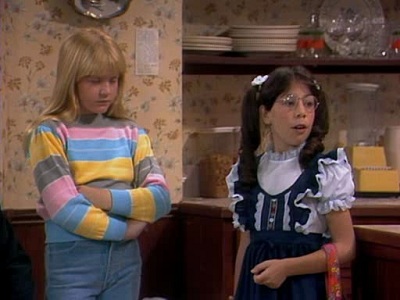 #25 - Batter Up 7.00
Season 2 - Episode 8
Steven and Elyse worry that Alex, who is the new coach of Jennifer's softball team, is pushing the girls too hard when Jennifer fails to jog all the way home he orders her to do 20 extra pushups. Alex takes his coaching duties seriously and his players are leaving the team in droves. Two days before the championship game they don't even have enough players to qualify as a team unless Alex can convince Jennifer to persuade Skippy's klutzy sister Arlene to join the team. Arlene is happier making dresses for her turtles, but desperately wants Jennifer's friendship and agrees to play ball with some disastrous consequences.