The Cosby Show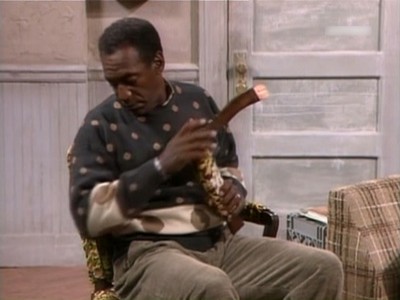 #1 - Call of the Wild 8.84
Season 4 - Episode 1
The newlywed Sondra and Elvin return from their honeymoon with shocking news for Cliff and Clair: they want to abandon their dreams of being a lawyer and doctor and open an outdoorsman's "wilderness store." Geoffrey Owens (Elvin) becoms a regular cast member.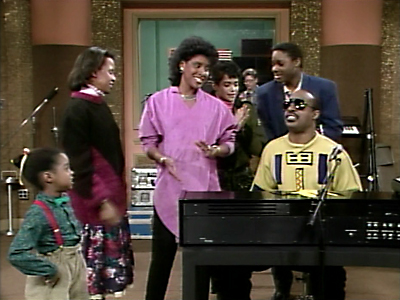 #2 - A Touch of Wonder 8.53
Season 2 - Episode 18
After his limo collides with Denise's car, Stevie Wonder (appearing as himself) invites the Huxtables to a recording session. Wonder performs "I Just Called to Say I Love You" with Clair and the family. Absent: Sabrina Le Beauf as Sondra Huxtable.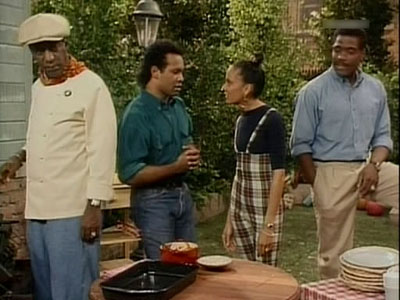 #3 - The Last Barbecue 8.52
Season 7 - Episode 3
The Huxtable family erupts in a battle of the sexes after Theo suggests having a stripper at Martin's post-wedding bachelor party.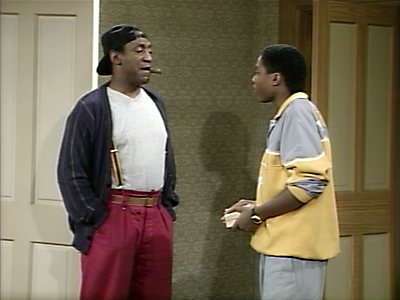 #4 - Theo's Holiday 8.49
Season 2 - Episode 22
After Theo claims that he'll have no problem making it in the "real world", the Huxtables convert their house in the "Real World Apartments" and teach him a lesson about the real world; i.e., needing employment and references to get an apartment, income to get a bank loan, having to pay for his meals, etc. Carl Anthony Payne II as Cockroach.
#5 - Say Hello to a Good Buy 8.41
Season 3 - Episode 15
Cliff buys a new car. Rudy cuts some animal pictures out of Cliff's expensive books for school. Guest appearance by Sinbad, who would later portray Walter Oakes on the Cosby Show spinoff, A Different World. Watched by almost 65 million viewers when it originally aired, "Say Hello to a Good Buy" was the series' highest rated episode.
#6 - Theo and the Joint 8.41
Season 1 - Episode 17
Clair discovers a marijuana joint in one of Theo's school books. She and Cliff confront him about it, and accept his explanation—another boy slipped it in. Theo confronts the boy and brings him home to confess in order to remove any uncertainty from his parents about his telling the truth. Theo and the boy actually start to become friends. Stephen Thompson as Anthony Braxton, Iman as Mrs. Montgomery. Rudy says her full name in this episode, Rudith Lillian Huxtable.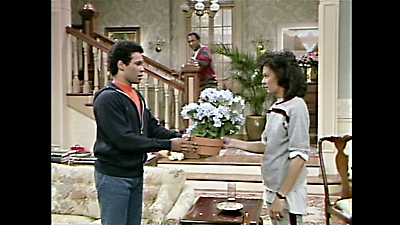 #7 - Cliff in Love 8.41
Season 2 - Episode 4
Sondra breaks up with her boyfriend Elvin and is depressed, taking it out on the family. Cliff and Clair aren't exactly unhappy; they find Elvin rather annoying. Later, he appears at the house with flowers and tries to apologize. While there, he offers some of his sexist rhetoric to Clair, who quickly becomes annoyed. First appearance of Geoffrey Owens as Elvin. Joseph C. Phillips appears as Daryl (Phillips joins the cast in Season 6 as Denise's new husband, Navy Lt. Martin Kendall)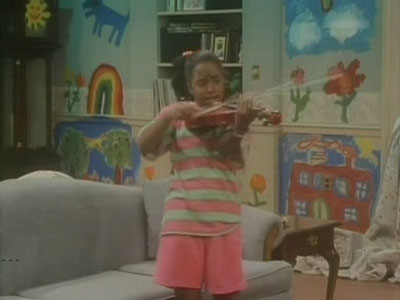 #8 - Nightmare on Stigwood Avenue 8.39
Season 7 - Episode 22
Rudy has a nightmare about Olivia always getting her way.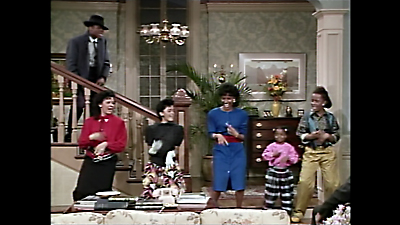 #9 - Happy Anniversary 8.37
Season 2 - Episode 3
For Russell and Anna's 49th wedding anniversary, the family commissions a portrait of the couple as newlyweds, and offers them a cruise to Europe. Later in the evening, the whole family performs Ray Charles' "Night Time Is the Right Time", with Theo, Rudy and Cliff each lip-synching a solo. Earle Hyman as Russell. Clarice Taylor as Anna.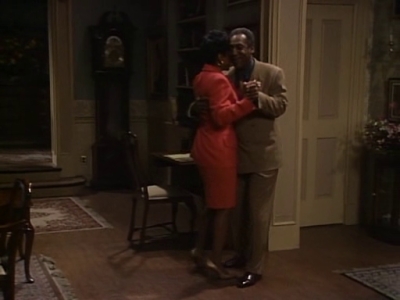 #10 - And So We Commence (Part 2) 8.36
Season 8 - Episode 25
Theo graduates from NYU, Denise reveals that she is pregnant and Olivia leaves to join Denise and Martin in Singapore.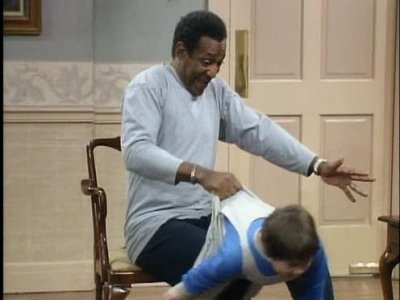 #11 - Slumber Party 8.33
Season 1 - Episode 22
Rudy invites all of her friends over for a slumber party. It's Cliff's job to watch over them, and he demonstrates some unique games to wrangle the youngsters. In the end, Russell drops by and demonstrates the perfect way to deal with kids-bribe them!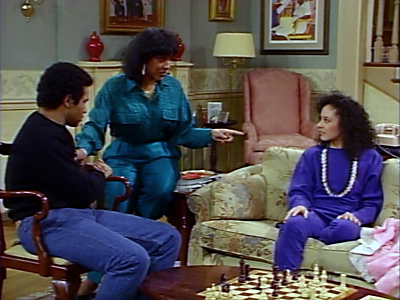 #12 - I Know That You Know 8.33
Season 3 - Episode 21
When Sondra and Elvin announce their engagement, Clair and the children use the news to play a practical joke on Cliff, who launches a counter-offensive of his own. Geoffrey Owens as Elvin.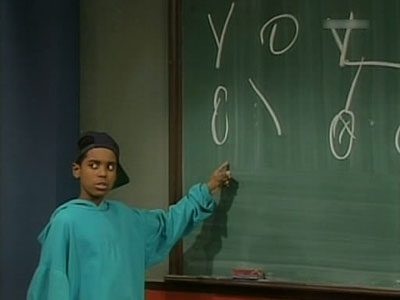 #13 - Theo and the Kids (2) 8.32
Season 7 - Episode 26
Theo continues his attempts to help Stanley and the other children at the community center.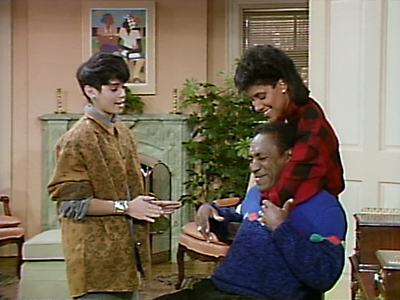 #14 - Denise's Friend 8.32
Season 2 - Episode 11
Denise asks Cliff to talk to her friend, who has a medical problem. Cliff diagnoses the girl as having a mild bladder infection, but learns that she was wary of telling her parents without certainty. Cliff and Clair decide to show the kids that they can tell them anything, but the children quickly point out that their parents will just get angry. Cliff admits that anger is part of problems, but tells the children that no matter what, they will be loved.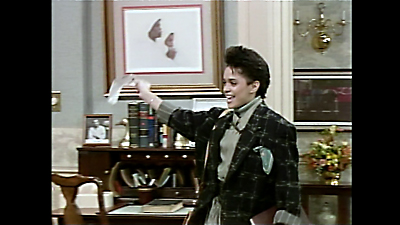 #15 - Denise Drives 8.31
Season 2 - Episode 8
Denise wants to buy a car. She plans to use her savings to do so, but Cliff and Clair quickly point out flaws in her plan. The answer to everyone's problems comes from friend Mr. Lucas, who has an old car he is willing to sell. Denise proves herself a good driver, and the car is hers. David Langston Smyrl as Mr. Lucas.
#16 - First Day of School 8.31
Season 2 - Episode 1
Cliff and Clair are overjoyed with the arrivial of the new school year, as their children are finally out of the house.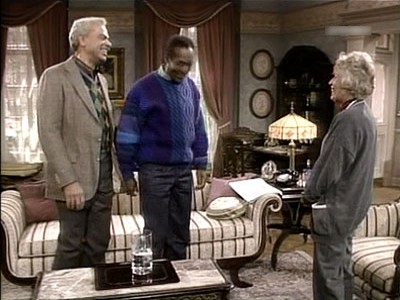 #17 - Autumn Gifts 8.30
Season 4 - Episode 7
Rudy goes to an older widowed lady's house each afternoon to have tea and play cards, but notices that she refuses to take her daily medication for diabetes. She tells Cliff, who devises a plan to try to convince her that she needs the meds to live. Eileen Heckart appearance. Keshia Knight Pulliam appears on the episode of A Different World which airs later that evening.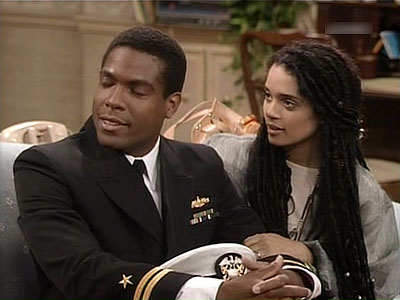 #18 - Denise: The Saga Continues 8.30
Season 6 - Episode 1
Denise returns from Africa, with a new husband and stepdaughter in tow. Joseph C. Phillips and Raven-Symoné join the cast as Martin and Olivia Kendall. Last appearance of Peter Costa as Peter.
#19 - I'm 'In' With the 'In' Crowd 8.29
Season 6 - Episode 3
Vanessa and her friends get drunk playing a drinking game. Pam Potillo as Janet. Elizabeth Narvaez as Kara. Guest appearance by Bill Cosby's real-life daughter Ensa Cosby, upon whom the character Vanessa is loosely based.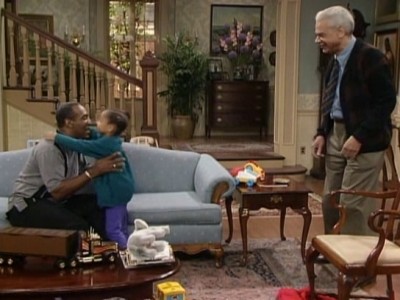 #20 - It's Apparent to Everyone 8.28
Season 8 - Episode 6
Winnie and Nelson drive Cliff and Clair crazy while Elvin and Sondra wait to move into their new house.
#21 - Mrs. Westlake 8.27
Season 2 - Episode 12
Theo's math teacher comes for dinner, to Theo's extreme consternation. He thinks she plans to tell his parents of a bad grade on a math test. To his surprise, Mrs. Westlake comes to dinner looking young, attractive, and even with a sense of humor; and she has a very good surprise! Mrs. Westlake also gives Theo his test-he actually gets an 89, and he proceeds to embrace her, much to his shock. Sonia Braga as Mrs. Westlake.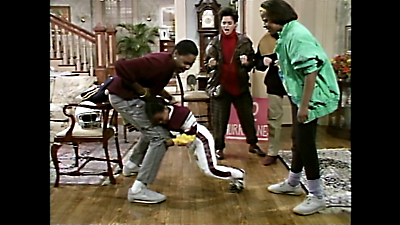 #22 - Rudy Suits Up 8.26
Season 2 - Episode 7
Rudy plays football and becomes a star, much to the chagrin of Clair, who worries she'll get hurt. But reluctance turns to excitement when Rudy is the star of her first game. Ethel Ayler as Carrie Hanks. Peter Costa as Peter.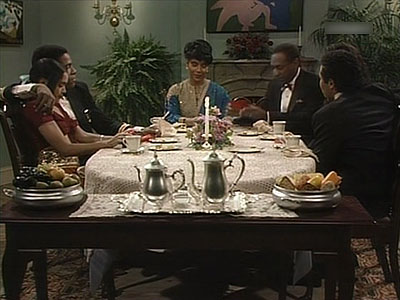 #23 - Isn't It Romantic? 8.25
Season 6 - Episode 20
Cliff, Elvin and Martin secretly compete to determine who is the most romantic husband in the Huxtable family.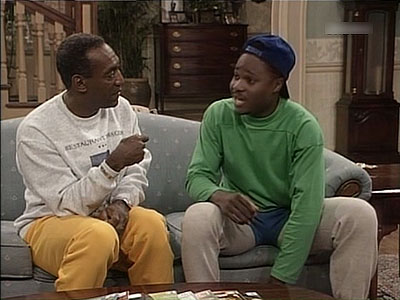 #24 - Theo's Gift 8.23
Season 6 - Episode 5
Theo is diagnosed with dyslexia, a learning disability which contributed to the academic problems he has had over the years. Michelle Thomas as Justine.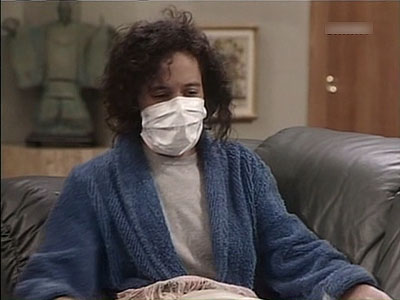 #25 - Day of the Locusts 8.22
Season 5 - Episode 25
Sondra comes down with strep throat, prompting her mother Clair and Elvin's mother Francine to "steal" the babies.