Curious George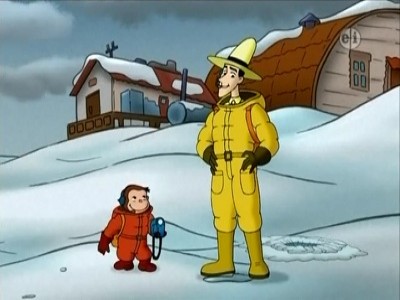 #1 - Ice Station Monkey 6.43
Season 3 - Episode 1
George and the Man in the Yellow Hat travel to the Antarctic to film a rare breed of penguins, but a pesky sea otter makes their job more difficult.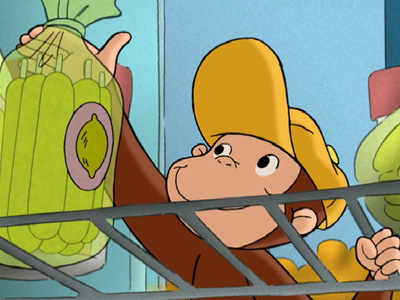 #2 - George the Grocer
Season 1 - Episode 46
George wants to earn money to buy a toy oven, so he gets a job at the grocers.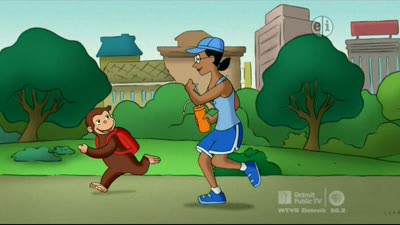 #3 - Curious George Personal Trainer
Season 4 - Episode 1
George learns about stretching, keeping hydrated and pacing to help Professor Wiseman win a race.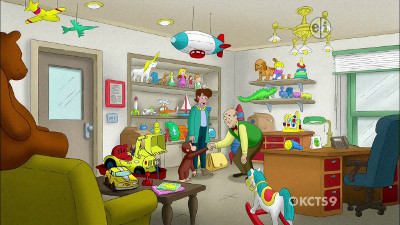 #4 - Toy Monkey
Season 8 - Episode 1
George takes his broken toy to a toy factory and finds a room of broken toys and no one to fix them.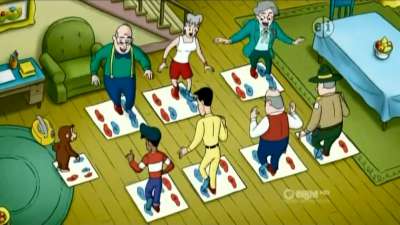 #5 - School of Dance 7.12
Season 6 - Episode 1
George creates a footsteps dance step map to help Bill prepare for Allie's dance party.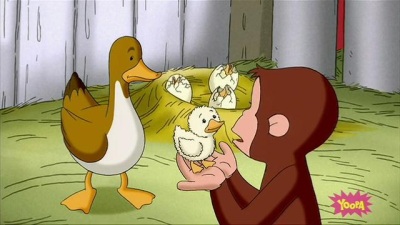 #6 - A Monkey's Duckling
Season 5 - Episode 2
George is so anxious for Dumpling Duck's eggs to hatch that he takes over as chief egg-sitter when Dumpling takes a break. When the first duckling emerges and sees George, he thinks the monkey is his mama!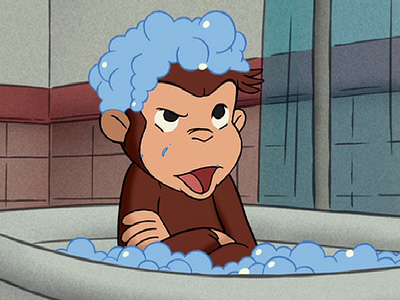 #7 - Skunked
Season 2 - Episode 2
George gets sprayed by a skunk multiple times.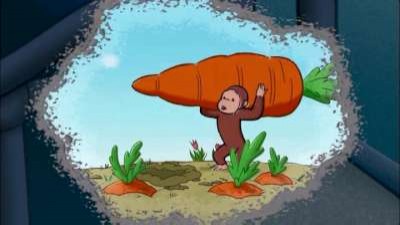 #8 - The Perfect Carrot 6.75
Season 3 - Episode 2
George grows a magnificent carrot; and helps a friend search for some missing rabbits.
#9 - Bright Lights, Little Monkey 8.00
Season 7 - Episode 2
George, Allie and Bill search for a mysterious creature known as the Perseids.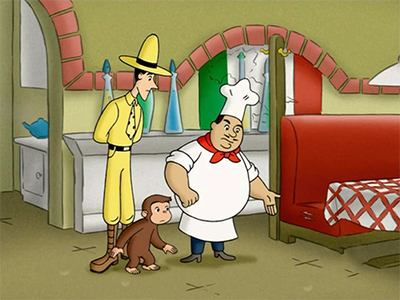 #10 - From Scratch
Season 1 - Episode 2
On their way to the museum, the Man with the Yellow Hat and George discover that Gnocchi the cat has been accused of scratching the booths in Chef Pisghetti's restaurant. George isn't sure that it was Gnocchi and sets out to solve the mystery. George uses reasoning to find out that the scratches he had seen on the booths were not like scratches he had seen Gnocchi make on the door and he uses pieces of food to measure the length and depth of the scratches.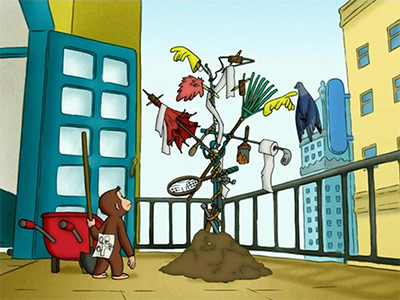 #11 - Curious George's Home for Pigeons
Season 1 - Episode 3
George has found himself a new friend in the city, Compass. One of the Doorman's homing pigeons which he keeps on the roof of the apartment building. But the only thing is, Compass has a bad sense of direction. So when the Man says George is not allowed to let pigeons inside the apartment, George decides to build Compass a new home on the balcony outside their apartment, eventually deciding on a tree. But soon George finds out building a tree is not as easy as it seems. Where do trees in nature come from if people don't make them?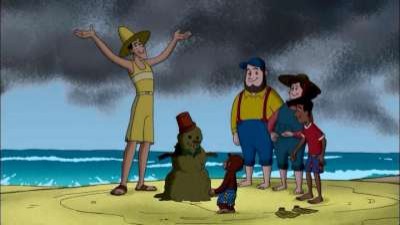 #12 - Snow Use
Season 3 - Episode 4
George wants to build a snowman, but there's one problem: It's the hottest day of the year.
#13 - George Buys a Kite
Season 6 - Episode 3
George and Bill set out to buy the ultimate kite on display at the country store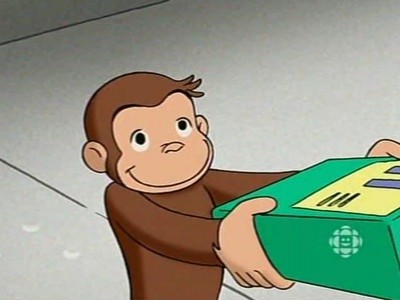 #14 - Out of Order
Season 1 - Episode 4
One day George is walking the street of his apartment building trying to find something to do when he notices a woman leaving numbered boxes outside every building. He decides to be a helpful monkey and return them to her until his friends Steve & Betsy tell him that she is a postal worker and that leaving boxes for people is her job. So they go on a race to see who can finish returning packages first. Winner plays Steve's video game. Steve has a plan to simply run fast but George and Betsy come up with a plan to sort all of the packages by the number of the buildings they go to.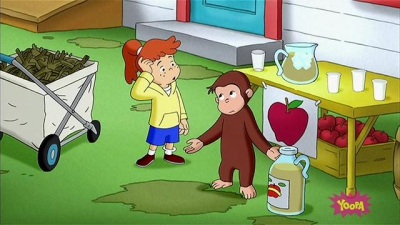 #15 - Trader George 7.53
Season 5 - Episode 3
George trades his rolling cart for some apple cider but soon wants it back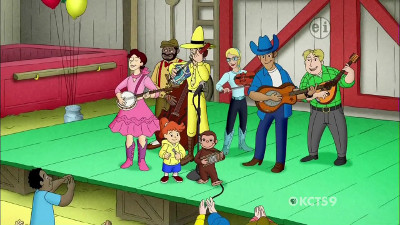 #16 - Monkey Hoedown
Season 8 - Episode 3
George and Allie decide to make a new guitar for the Man with the Yellow Hat.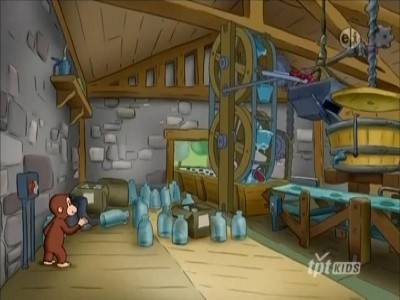 #17 - Curious George Meets The Press
Season 3 - Episode 3
George and the Man with the Yellow Hat are helping to pick apples at Renkins' Farm when George accidentally turns on the giant cider press.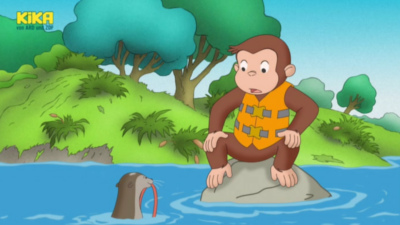 #18 - We Otter Be Friends
Season 7 - Episode 3
George is stranded when an otter swims away with Mr. Quint's boat keys.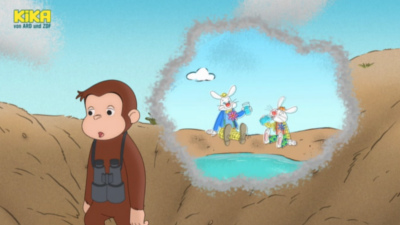 #19 - Monkey Down Under 7.67
Season 7 - Episode 1
George and the Man With the Yellow Hat enjoy an Australian outback safari adventure.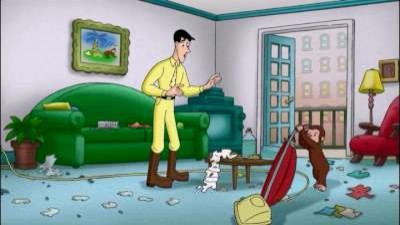 #20 - George Cleans Up 7.15
Season 4 - Episode 4
George made a mess of the living room. An upright vacuum is hard for a little monkey to control, so the Man with the Yellow Hat gets George a monkey-sized vacuum.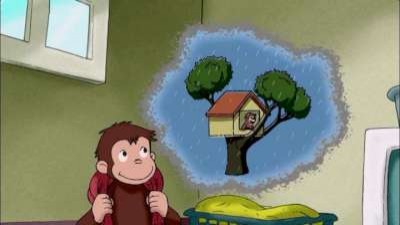 #21 - Up A Tree
Season 2 - Episode 5
Where can you paint on the walls and butter corn with your feet? Not in the country house! George sets out to build a tree house. But along the way, he accidentally steals Mr. Quint's nails and Ms. Renkin's scrapwood. And the rules are... You HAVE paint on the walls and HAVE to butter corn with your feet! When George accidentally throws the man's hat away, he has to search the town for it.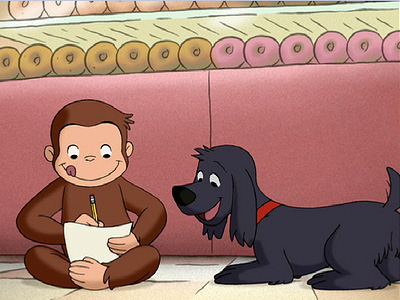 #22 - Zeroes to Donuts 7.40
Season 1 - Episode 5
On a sunny city Saturday, George and the Man decide that it is a good day for donuts and eggs. The Man tells George to write down the number of eggs they have in the refrigerator but George does not write anything because they had none. The Man then realizes that after teaching George everything for so long he forgot to teach him about nothing! He says that zero alone means nothing but when added to smaller numbers makes them bigger. The Man then sends George off to get the donuts with a paper that has an order of 1 Dozen Donuts. But George does not know about a dozen and changes the order to 100 dozen donuts. But after seeing just how many donuts 100 dozen make he tries to do anything to get away with only 1 dozen.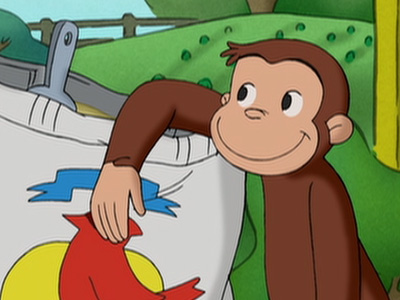 #23 - For the Birds 7.36
Season 3 - Episode 5
George tries to squirrel-proof the birdhouse when he finds Jumpy Squirrel is stealing bird seeds.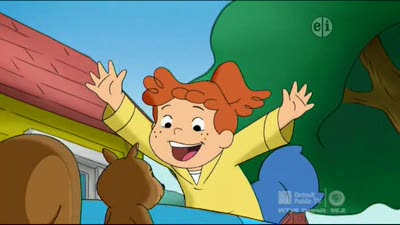 #24 - George Meets Allie-Whoops
Season 4 - Episode 5
George opens the chicken coop at the Renkins' farm and finds a little girl?! Mrs. Renkins introduces George to Allie, her 5-year-old granddaughter who's spending her summer in the country. Allie is thrilled to meet George and practically runs out of breath asking him a million questions.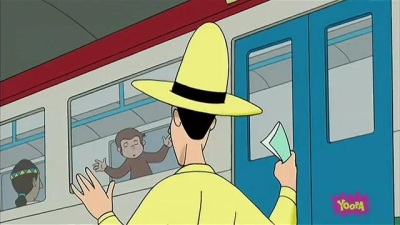 #25 - George's Super Subway Adventure
Season 5 - Episode 5
George rides the underground train to the zoo.