CHiPs
#1 - Roller Disco (1)
Season 3 - Episode 1
Jon and Getraer ride together while Ponch is busy hunting down stars for the annual CHP roller disco.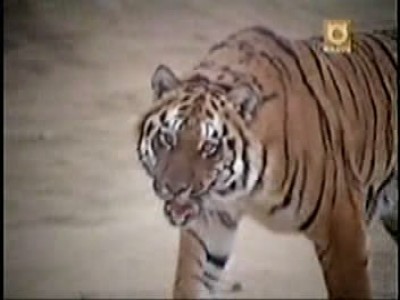 #2 - Tiger in the Streets
Season 5 - Episode 14
Jon and Ponch pursue a vengeful mechanic and an escaped tiger. The leader of a poor conditioned animal park is blaming for that but he does not tell the police. Jon and Ponch meet a pretty deputy.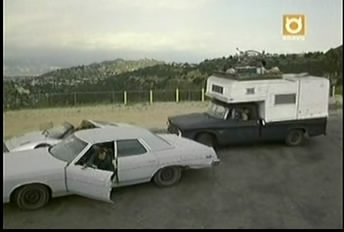 #3 - Vagabonds
Season 5 - Episode 2
A family in a camper van cause an accident to claim the insurance money. Ponch and Jon give chase.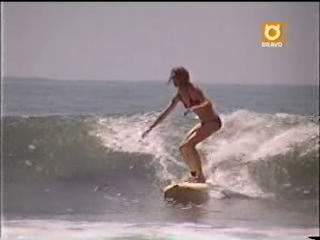 #4 - Valley Go Home!
Season 3 - Episode 3
The rivalry between two teenage gangs intensifies when each blames the other for a series of robberies. Officers mediate a feud between teenagers. Ponch and Jon intervene when some irate surfers chase the Valley kids who bumped their car. Meanwhile, a couple of thieves use trash pickup as a cover to rip off beach-goers' tape decks.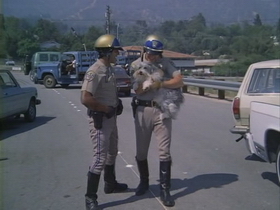 #5 - Dog Gone 7.96
Season 1 - Episode 3
Jon takes a liking to a stray pooch found on the freeway, but when the dog won't stay quiet, he leaves the pup with Ponch; after a traffic stop, a trio of young toughs decide to teach Ponch a lesson, but it may be Jon who'll pay the price.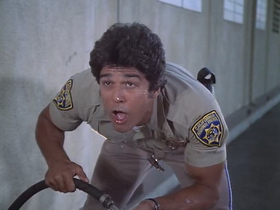 #6 - Undertow 7.47
Season 1 - Episode 2
A tow truck driver robs women who called for assistance. Ponch breathes in nitrous oxide (laughing gas) at an accident scene and becomes loopy.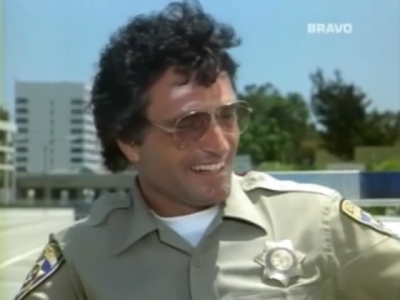 #7 - Sick Leave
Season 4 - Episode 2
Jon and Ponch try to help fellow officer Andy, who is pulling dangerous stunts at work, making warped judgment calls and causing a strain in his relationships.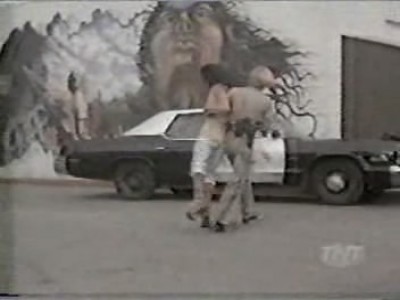 #8 - Roller Disco (2)
Season 3 - Episode 2
Jon loses the skater he's been chasing. Meanwhile, Ponch is still looking for his skater but can't find him. Jon lets troubled popstar Jimmy Tyler stay at his apartment.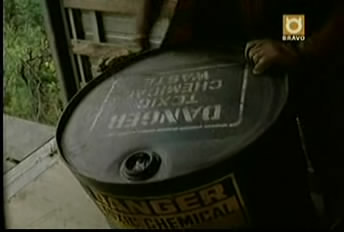 #9 - Moonlight
Season 5 - Episode 3
Ponch and Jon investigate reports of toxic waste being dumped. Meanwhile, the other officers try to get the Sarge in on a celebration of Ponch and Jon's fourth anniversary as partners.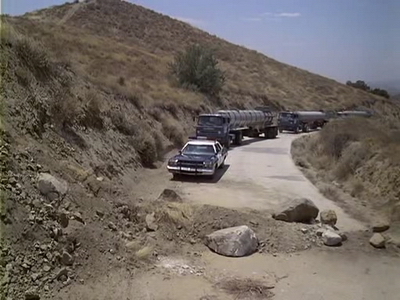 #10 - The Volunteers
Season 2 - Episode 2
Jon and Ponch must take on the dangerous assignment of escorting a convoy of trucks carrying hazardous chlorine gas.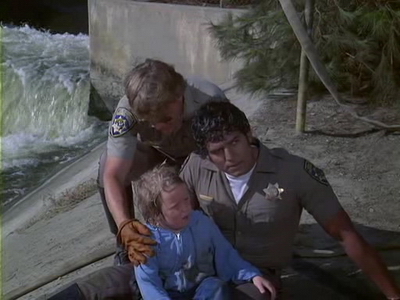 #11 - Disaster Squad
Season 2 - Episode 4
A television news crew creates negative publicity for Jon and Ponch when they air edited news segments making the officers look bad.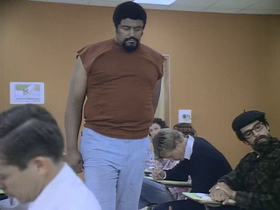 #12 - Moving Violation 7.43
Season 1 - Episode 4
While on a date, Ponch receives a ticket and decides to attend traffic school to hide the citation from Getraer.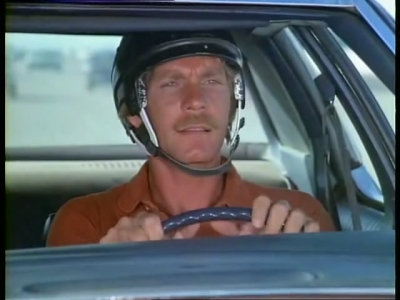 #13 - Death Watch 8.70
Season 3 - Episode 5
The death of a fellow officer sets Ponch and Jon on the trail of a stunt driver who instigates accidents to pay back insurance companies.
#14 - Weed Wars
Season 5 - Episode 5
Due to lack of laws on minors a young boy is used for drug smuggling.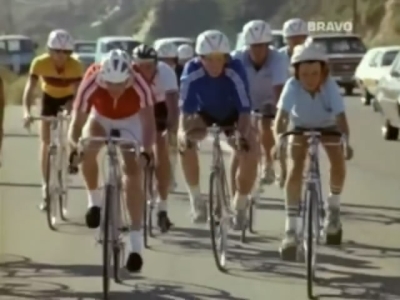 #15 - The Great 5K Star Race and Boulder Wrap Party (1)
Season 4 - Episode 5
A possible disaster at the fashionable Malibu beach and the department's annual charity fundraiser keep Jon and Ponch busy.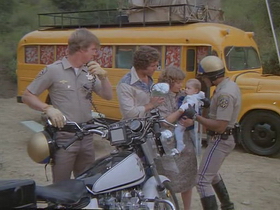 #16 - Baby Food
Season 1 - Episode 6
When an unsecured load of defective baby food spills onto the freeway, Ponch and Jon must race against time to find two of the missing cases.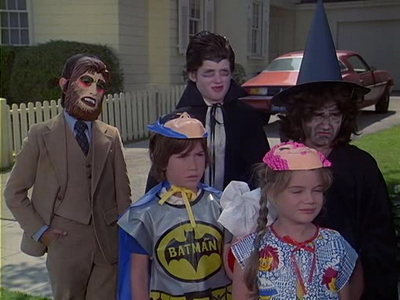 #17 - Trick or Treat
Season 2 - Episode 6
After stopping a speeding van carrying 13 black cats on Halloween, Ponch has an entire day of bad luck.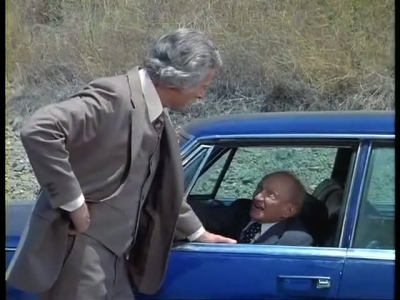 #18 - Counterfeit 7.88
Season 3 - Episode 6
A bogus clergyman prints counterfeit money that circulates to Ponch. Meanwhile, Ponch is worried that his blind date is too shallow.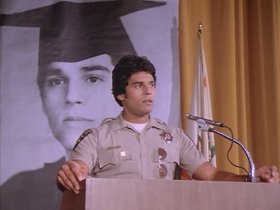 #19 - Career Day 7.56
Season 1 - Episode 5
Two enterprising hustlers use CB radios to identify and rip off homes adjacent to local freeways; Ponch's former high school principal invites him to speak at the school's Career Day assembly after he and Jon arrest some joyriding frat bothers in a hearse.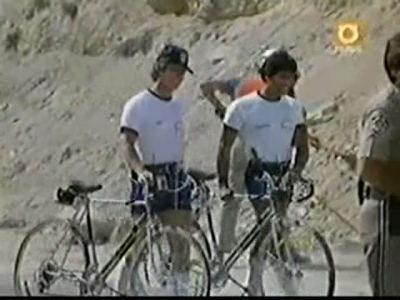 #20 - The Great 5K Star Race and Boulder Wrap Party (2)
Season 4 - Episode 6
Jon and Ponch continue with their evacuation program for Malibu residents. Two daredevil criminals plan their escape route from a mansion belonging to a film producer.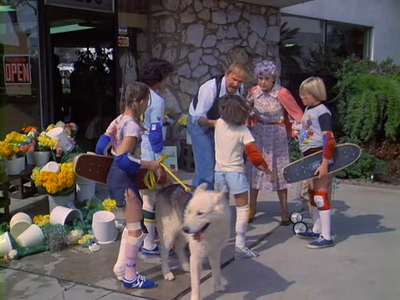 #21 - Neighborhood Watch
Season 2 - Episode 5
A group of skateboarding kids cause driving hazards, and a drunk-driver demands Ponch and Jon's attention repeatedly.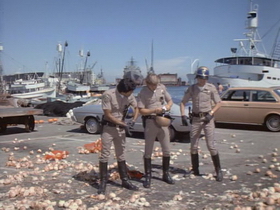 #22 - Taking Its Toll 7.43
Season 1 - Episode 7
A pair of bandits rip off wealthy targets while they're stopped at local toll booths; Jon decides to write a novel based on Ponch's misadventures.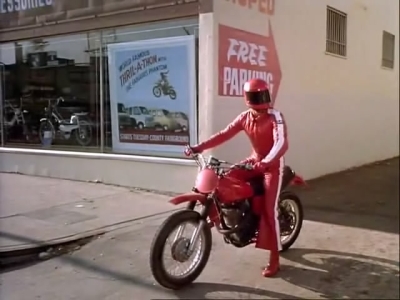 #23 - The Return of the Supercycle
Season 3 - Episode 7
Ponch ends up in hospital when he crashes while pursuing a jewelry thief on a motorbike. Jon and Ponch think it could be Roy Yarnell, who's back in town with his own stunt show. Meanwhile, a new female officer is interested in Jon, but his colleagues think she's there to spy on them.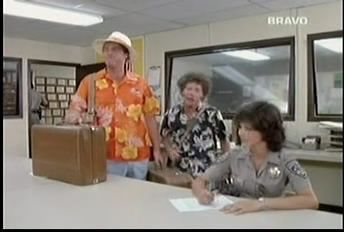 #24 - This Year's Riot
Season 6 - Episode 7
On temporary duty Ponch and Bobby hunt a drug dealer and mediate a dispute over a nude beach.
#25 - Green Thumb Burglar 7.87
Season 1 - Episode 8
Fresh plantings stolen from the highways near the command post nearly drive Getraer to distraction; a pair of psychic twins foretell gloom and doom in Ponch's immediate future