Buffy the Vampire Slayer
#1 - Once More, With Feeling 9.35
Season 6 - Episode 7
A mysterious force causes everyone in Sunnydale to reveal all of their innermost thoughts and feelings in song. Buffy tells the gang the truth about where she was when she was dead and they are devastated, none more than Willow. Tara sings a love song to Willow professing all her love, but does Willow feel the same way? Finally, Giles reveals his belief that Buffy is never going to learn to survive on her own with him around and decides to return to England for good.
#2 - Chosen 9.13
Season 7 - Episode 22
Angel arrives with an amulet which may be a weapon against the First. The battle-lines are drawn and the gang spends the night preparing for the final confrontation. A confrontation that some may not survive. Armed with an amulet they know nothing about, a scythe which holds the key to the Slayer line, and magicks which they may not be able to control, they prepare to face the assembled armies of the First Evil.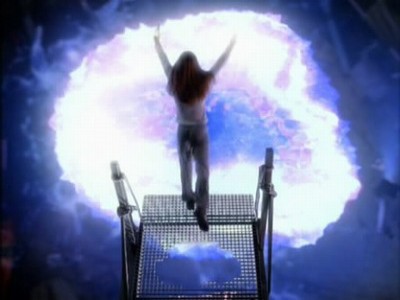 #3 - The Gift 9.10
Season 5 - Episode 22
Another imminent apocalypse is at hand in Sunnydale. Buffy must square off against a true God when Glory prepares to use Dawn to break down the walls between the dimensions and unleash all Hell on Earth but she needs Dawn's blood before her home dimension portal can be opened. Buffy, Xander, Willow, Giles, Anya, Tara and Spike go to battle with the knowledge that they may not all survive.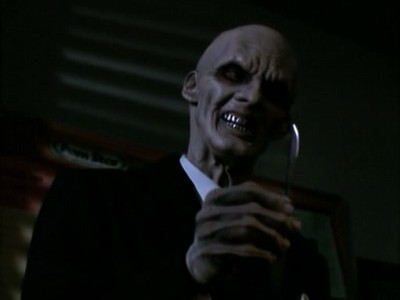 #4 - Hush 9.08
Season 4 - Episode 10
The entire town of Sunnydale goes silent when a group of fairy tale demons called The Gentlemen appear and steal everyone's voices. Without being vulnerable to the one thing that can kill them (a human scream) they are free to steal the hearts of seven people. Buffy and gang must solve the mystery and overcome the bad guys without being able to discuss anything.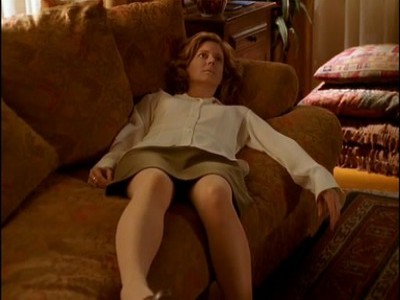 #5 - The Body 9.02
Season 5 - Episode 16
After finding Joyce unconscious on the couch, a terrified slayer calls 911. Unfortunately, it's too late to do anything. The paramedics tell Buffy that her mom had been dead for a while already. We see Dawn at school for the first time, and she's just getting over the freakout she had after finding out she was the key. Rumors were spread and Dawn was hurt by them, but she feels better after talking about it with a nice boy in her art class. Buffy interrupts this conversation though to tell her sister the bad news. Everyone is devastated by this tragedy and they spend the episode grieving, and dealing with their pain in all sorts of ways. Xander punches through a wall while Willow changes her outfit continuously. They are obviously very shaken up, especially since they were all so close with Buffy and her family. Even Anya sheds her first human tears.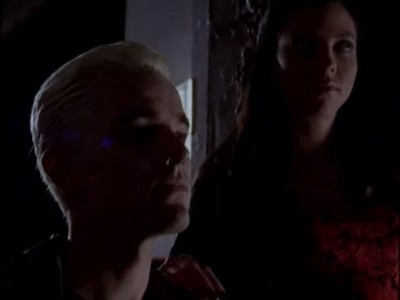 #6 - Becoming (2) 8.87
Season 2 - Episode 22
After Drusilla's attack on her friends which resulted in the death of Kendra and Giles' abduction, Buffy is arrested for the murder but escapes from the police. She heads to the hospital where she learns that Xander has a broken arm and Willow is left in a coma. They all realize that Giles was taken by Drusilla and Buffy prepares herself to face Angelus. After being stopped by another cop, Spike comes to her aid and convinces her that he wants to be rid of Angelus too and they form an unusual alliance. Buffy is forced to slay a vampire in front of her mother and tells her the truth but she does not want to accept it. When Buffy tries to leave to fight Angelus, Joyce tells her that if she goes she better not bother coming back. After retrieving Kendra's sword from the library she heads toward Angelus' mansion. Meanwhile, Willow wakes up and decides to try the spell again and Xander runs to Buffy's aid. Drusilla uses her psychic powers to make Giles reveal the secret of the ritual to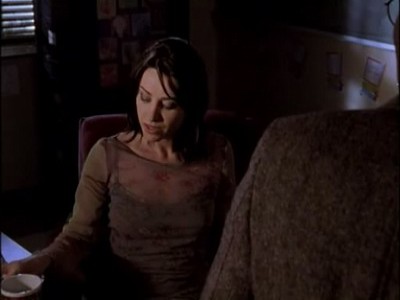 #7 - Passion 8.78
Season 2 - Episode 17
Angelus continues his obsessive torment of Buffy by visiting her during the night and leaving presents in her bed. Meanwhile Ms Calendar tries to make amends for her deceit of Buffy and Giles by attempting to translate the Gypsy curse to restore Angel's human soul, with dire consequences.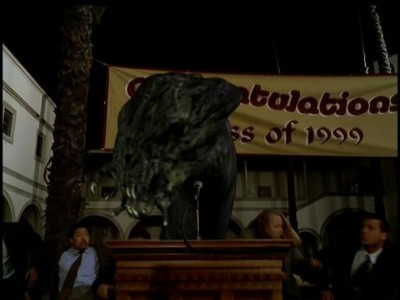 #8 - Graduation Day (2) 8.76
Season 3 - Episode 22
After their ultimate 'Fight-to-the-Death' Faith escapes from Buffy, albeit in a coma, so Buffy offers her own blood to Angel to rid his body of the poison. When she recovers the gang finally devise a plan to defeat the Mayor, rallying the students and asking for their help in fighting the resulting serpent demon before Buffy leads him into the library which has been rigged with explosives.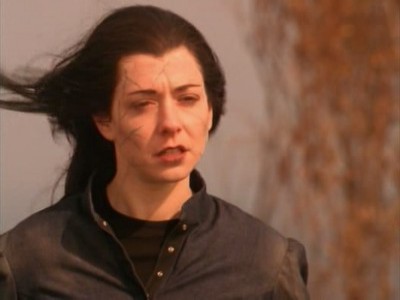 #9 - Grave (2) 8.73
Season 6 - Episode 22
Giles's new-found power brings Willow down momentarily and Giles magically binds her and leaves to catch up with Buffy. Willow telepathically controls Anya and gets her to break the binding spell. Willow draws Giles's energy into her and is hit by a sudden burst of emotion. Willow feels so much pain and hurt in the world and she decides to end it all.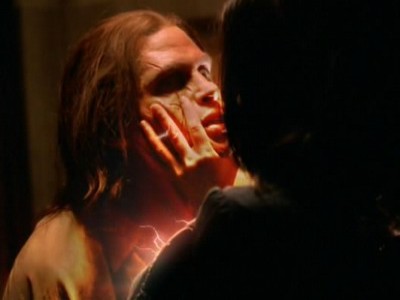 #10 - Two to Go (1) 8.61
Season 6 - Episode 21
After exacting revenge on Warren for Tara's death, an extremely powerful and vengeful Willow now vows to go after the other two members of the trio, Jonathan and Andrew, forcing Buffy into the unlikely role of nerd-villain protector. After freeing the Duo from jail and escaping from Willow, the expanded group runs to the Magic Box to find a protection spell. While all this is going on in Sunnydale, Spike undergoes a fierce challenge given by an African demon in order to become what he once was. Willow, drained of her power, finds Rack and draws his energy into her, killing him in the process. At the Magic Box, Willow catches up to them all and takes on Buffy and Anya, who is doing her best to keep a magical barrier up around Willow. Buffy is no match for Willow's power, but eventually she is drained again and they escape while she is down. Willow regains her strength and brings down Anya's barrier, tossing both her and Buffy aside. Willow heads out of the shop intent on completi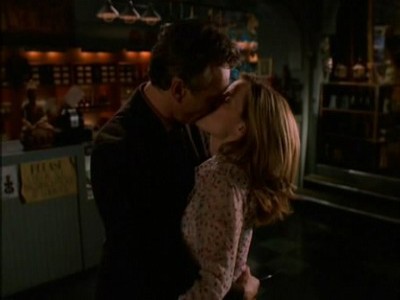 #11 - Tabula Rasa 8.55
Season 6 - Episode 8
After the gang finds out about Buffy's true afterlife, Willow does a spell to make her forget that she was actually in heaven. Unfortunately the spell goes awry and the gang all wake up with amnesia, forgetting everything about their lives including the existence of vampires and the Slayer. Because of their British accents, Giles and Spike ("Randy") think they are father and son, Giles and Anya think they are engaged, Willow and "Alex" think they are dating, and due to the absence of ID, Buffy names herself Joan. When a demon loan shark comes to collect a long overdue loan from Spike, "Joan" and "Randy" discover their true nature when they are forced to fight, while Dawn, Willow, Tara and "Alex" head out to try and restore their memories. At episodes end when they get their memories back the gang goes through some changes, with Tara breaking up with Willow and Giles finally leaving Sunnydale behind forever.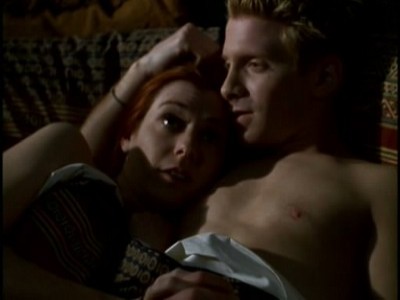 #12 - Graduation Day (1) 8.53
Season 3 - Episode 21
The gang receive some valuable information from old enemy Anya who has actually witnessed an Ascension. She reveals that the Mayor plans to transform himself into pure demon, something that has not been seen for thousands of years. When Angel is poisoned by Faith to distract Buffy, Buffy faces Faith for the final time in order to get the only cure to the poison: Faith's blood.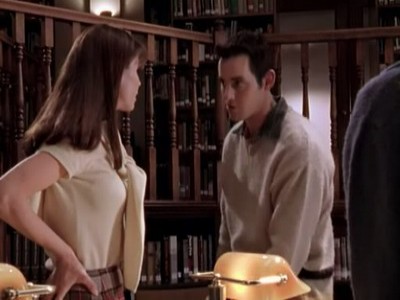 #13 - Innocence (2) 8.50
Season 2 - Episode 14
Angel is still in the street in pain but suddenly the pain stops and his first act is to kill a human. Angelus has returned as a result of he and Buffy making love. Meanwhile The Judge is returning to full power and Spike is impatient to get on with the killing when Angelus walks in and declares that he is back. The three reunited once again prepare to unleash The Judge on Sunnydale and Angelus persuades them to let him kill Buffy before they begin. Willow discovers Xander and Cordelia kissing and runs from the library only to be met by Angelus. Buffy comes in and fights him off and they ponder what could have happened to turn him evil. Buffy realises that she was the cause and runs off. Angel appears to her in a dream to warn her about Ms Calendar and Buffy confronts Jenny demanding answers. She reveals her heritage and says that the curse can only be lifted if Angel experienced a moment of true human happiness and he is no longer plagued by guilt and remorse. Distraught, Buffy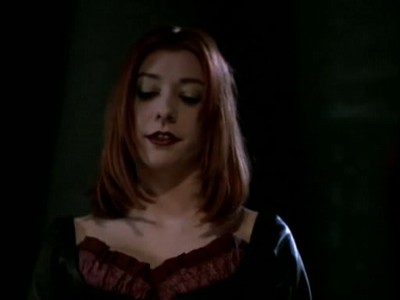 #14 - Doppelgangland 8.50
Season 3 - Episode 16
While unknowingly participating in a spell with the wish-granting demon Anyanka in order for her to get her powers back, Willow accidentally brings forth the vampire Willow from Cordelia's alternate universe. The vampire Willow sets her sights on turning Sunnydale into the vampire-ruled world she knows but when she learns of her counterpart, she decides to make Willow send her back. After trying to seduce Willow and freaking her out a bit, the vampire Willow is captured. The real Willow, dressed in her doppelganger's outfit, attempts to stop the ensuing slaughter at the Bronze and is almost killed by the vampire Willow before Buffy saves her. Giles and Anya successfully send the vampire back to her world but she arrives at the exact same moment she left, right before she is staked by Oz.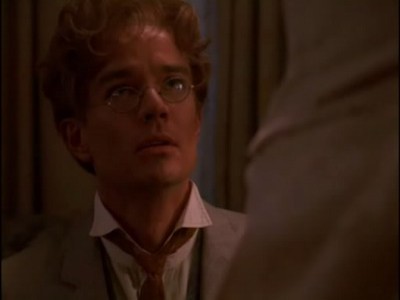 #15 - Fool for Love 8.49
Season 5 - Episode 7
When a vampire impales Buffy with her own stake, she wants to find out how her predecessors have lost in battle. Because of Giles' lack of info on the final battles of previous Slayers she turns to the only person she knows who has killed two: Spike. In exchange for cash, he not only details why his victims lost their battles, but his personal history as a vampire. Meanwhile, Joyce's condition worsens and she has to spend the night at the hospital.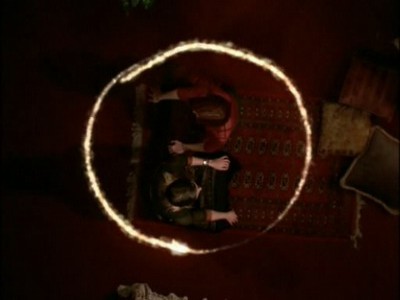 #16 - Who Are You? (2) 8.48
Season 4 - Episode 16
After Faith switches bodies with Buffy via the device that was left for her by the Mayor, she begins to slip into Buffy's life. When the police try to take away Faith (Buffy in Faith's body) she is kidnapped by a special group from the Watcher's Council. As Buffy tries in vain to convince them that she is not Faith, Faith in Buffy's body is out having a good time. Willow attempts to introduce Tara to Buffy but when Tara senses that something is amiss they perform a spell which uncovers the switch. The man/demon/machine Adam has determined that his purpose is to kill and recruits some vampires to help. The vampires take over a church and both Faith and Buffy arrive to stop them. Using a Katra that Willow and Tara conjured, Buffy gets her own body back and Faith runs and disappears without a trace.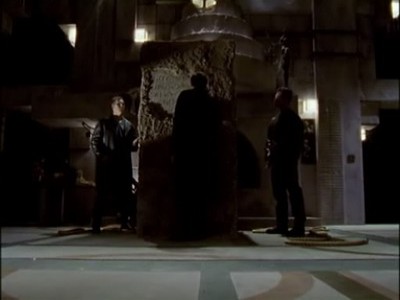 #17 - Becoming (1) 8.47
Season 2 - Episode 21
Angelus' origins from being vamped by Darla in 1753, vamping Drusilla in 1860, being cursed by the Gypsies in 1898, and meeting a demon named Whistler in New York in 1996 who shows him a better way of life are revealed while Angelus prepares to awaken Acathla, an ancient demon that will suck the Earth into the Demon Dimension. Buffy and Willow find the spell to restore Angel's soul and Willow declares that she knows enough about magic to perform it. The gang almost come to blows when Xander tells Buffy outright that she doesn't care what happened to Ms Calendar, she only cares that she can get her boyfriend back. Kendra returns to Sunnydale because a dark power is rising and comes bearing a sword blessed by the knight who first slew Acathla. Angelus tries to awaken the demon but fails. Needing someone to help him with the ritual, he distracts Buffy while Drusilla goes to collect Giles. Drusilla and her friends attack the rest of the gang but only Kendra is there to defend them, an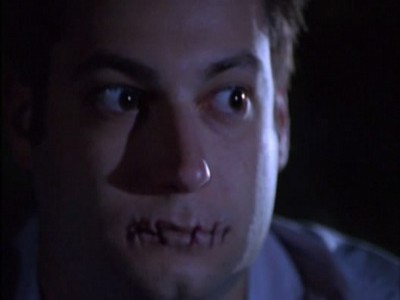 #18 - Villains 8.45
Season 6 - Episode 20
While the paramedics work on Buffy in the yard, in her bedroom Willow deperately calls on Osiris to bring Tara back to life the same way as she did for Buffy. She is told that the spell will not work for a natural human death and becomes consumed with rage and wants revenge in the worst way. She runs to the magic shop and draws the dark power from the books into her causing her hair and eyes to turn black. After saving Buffy by magically removing the bullet from her shoulder she heads out to find Warren.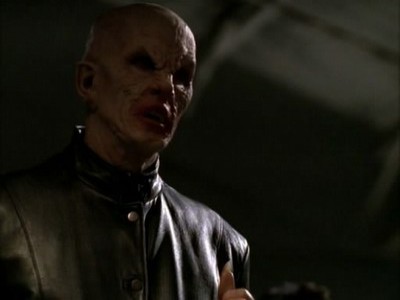 #19 - The Wish 8.44
Season 3 - Episode 9
Wanting to be rid of Xander for good, Cordelia comes to the conclusion that Buffy is the cause of all her problems and makes a wish that Buffy had never come to Sunnydale. A demon grants the wish and Cordelia's world suddenly changes.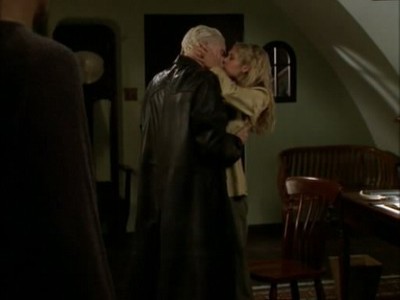 #20 - Something Blue 8.41
Season 4 - Episode 9
Willow, in her attempt to get over Oz, casts a spell that ends up causing all sorts of chaos for the gang. Giles goes blind, Xander becomes a demon magnet, and Buffy and Spike fall in love and get engaged.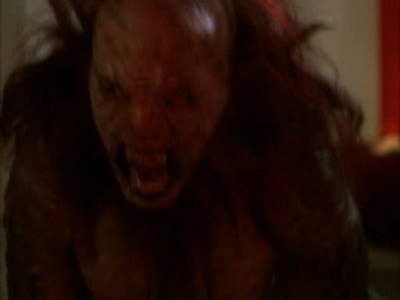 #21 - The Prom 8.40
Season 3 - Episode 20
As the all time night-of-nights for the senior students peeks around the halls, Buffy must save her friends and the rest of the school from a scorned student who has trained a pack of hellhounds to attack formalwear. Meanwhile, Angel reveals his feelings that he and Buffy could never have a normal life together and has decided to do the right thing and break up with her and plans to leave town after the Ascension. Of course Buffy saves the day and her night doesn't turn out so bad when she receives a special Class Protector award from her fellow students and Angel shows up looking very dapper in a tux and asks for one last dance.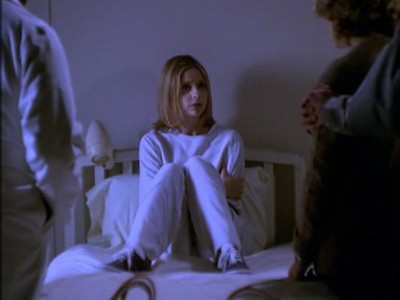 #22 - Normal Again 8.39
Season 6 - Episode 17
After being poisoned by a demon, Buffy comes to believe that she is confined to a mental hospital, her mother is alive and her parents are still together and that her life as a Slayer was all an hallucination for the past six years. Deciding that she prefers this 'normal' life with her parents a whole lot more, Buffy attempts to kill the things that tether her to the 'fantasy' life of the Slayer: the Scoobies.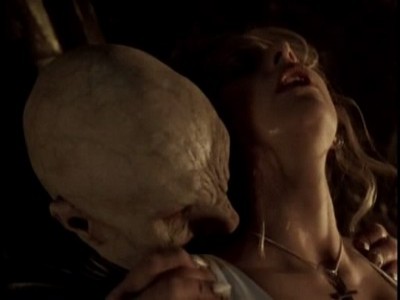 #23 - Prophecy Girl 8.39
Season 1 - Episode 12
Buffy's life may hang in the balance as Giles uncovers an ancient book that foretells not only her death, but also the end of the world.
#24 - Lover's Walk 8.37
Season 3 - Episode 8
Spike returns to Sunnydale a shadow of his bad-ass vampire self and kidnaps Willow so she can put a love spell on Drusilla. While he is out collecting magic spell ingredients and convincing Buffy why she shouldn't kill him, Willow and Xander lose their inhibitions in the heat of the moment only to be caught in the act by a rescue party in the form of Oz and Cordelia.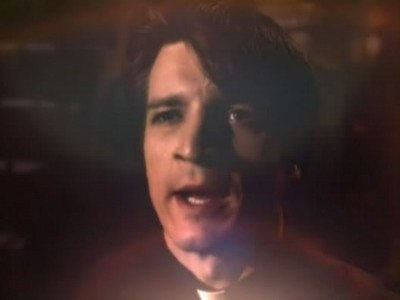 #25 - End of Days 8.33
Season 7 - Episode 21
Buffy finds the weapon The First is keeping from her: a scythe embedded in stone. Buffy easily pulls it free much to Caleb's dismay and The First tells Caleb to let her go. Faith and the potentials get caught in the explosion, leaving many dead and Faith unconscious. They are attacked by a few Ubervamps, but Buffy arrives and easily slays them all with the scythe, allowing everyone to escape. After giving Buffy his word, Xander leaves Sunnydale with Dawn against her will. Buffy and Spike are feeling awkward regarding the recent events, so she sets out for information on the scythe. She finds a tomb where she runs into an old woman. She tells Buffy how the scythe was created to destroy the last pure demon, but it was made in secret and hidden from the shadow men. Caleb arrives and snaps the woman's neck. He and Buffy wrestle control over the scythe until he gets the upper hand. As he is about to strike, Angel knocks him down, and then stands back so Buffy can finish the fight.