Brickleberry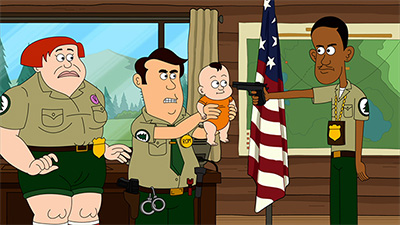 #1 - A-Park-a-Lypse 8.11
Season 2 - Episode 13
Connie gives birth to the anti-christ, which sets off a volcano within Mount Brickleberry; Denzel senses a wrongness with the new baby.
#2 - My Favorite Bear 8.09
Season 2 - Episode 12
Steve's childhood hero, Flamey the Bear, comes to Brickleberry for the re-opening of the forest.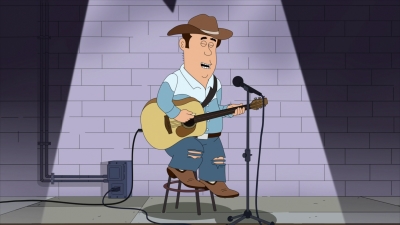 #3 - Write 'Em Cowboy 8.04
Season 3 - Episode 5
Denzel helps Steve launch a career as a gay country music star; a granted wish turns Malloy into a full-size bear.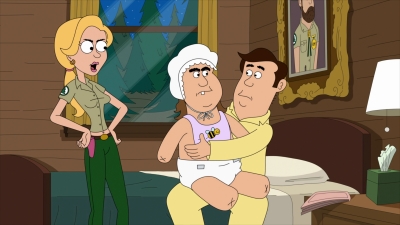 #4 - Baby Daddy 8.02
Season 3 - Episode 7
While she is drunk, Ethel sleeps with Steve and gets pregnant; the rangers get committed to a mental hospital.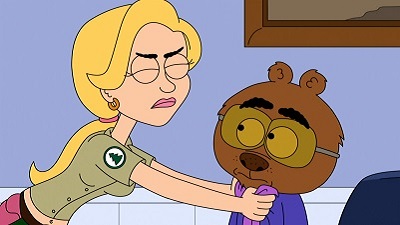 #5 - The Comeback 8.02
Season 2 - Episode 2
Woody's past life as a porn star is discovered by the rangers; Malloy tries to resurrect his career; Steve brings Denzel up to speed on the Brickleberry ghost.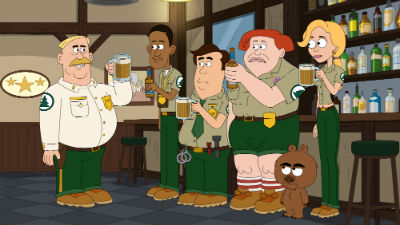 #6 - Amber Alert 8.01
Season 3 - Episode 10
Ethel feels threatened by a hot new female ranger, and Denzel is transferred to a secluded fire lookout tower.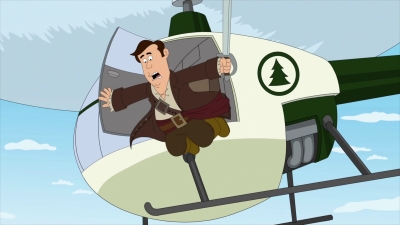 #7 - Steve the Fearless Pilot 8.01
Season 3 - Episode 8
When hypnosis on Steve goes horribly wrong, he starts acting like a swashbuckling pirate; Connie and Denzel get stranded on a lesbian island paradise.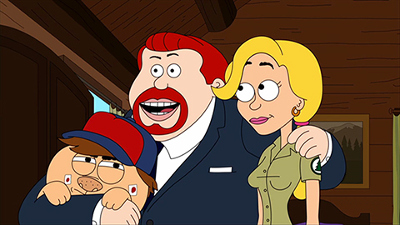 #8 - Little Boy Malloy 7.99
Season 2 - Episode 8
A visit from Ethel's more impressive sister leads her to drug and shave Malloy to pass him off as her child; Connie masquerades as her husband, Connor.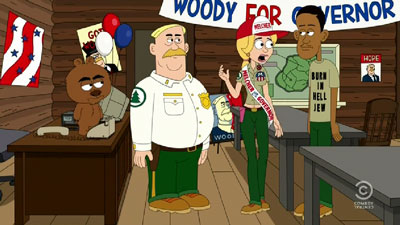 #9 - My Way or the Highway 7.97
Season 2 - Episode 7
Ethel brings the governor to Brickleberry for a political rally and Woody upsets her. When the rangers wake up the following morning to a superhighway running through Brickleberry, Woody sets out to unseat the governor.
#10 - Miss National Park 7.96
Season 3 - Episode 3
Ethel and Connie compete against each other at the Miss National Park beauty pageant; Denzel and Steve decide to have a threesome when they learn they are dating the same woman.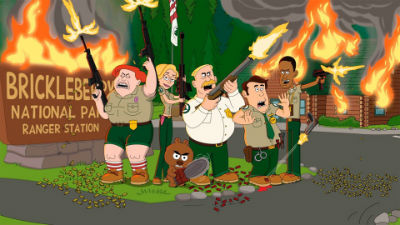 #11 - Old Wounds 7.95
Season 3 - Episode 6
The Secretary of the Interior visits Brickleberry and demotes Woody; Denzel becomes a new man after he gives up smoking weed.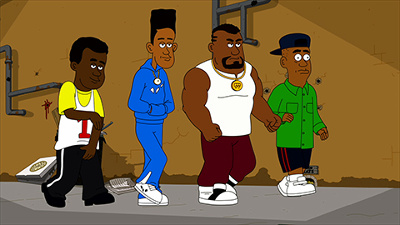 #12 - Scared Straight 7.93
Season 2 - Episode 10
Denzel calls asks his old Detroit gang to help him scare Malloy straight.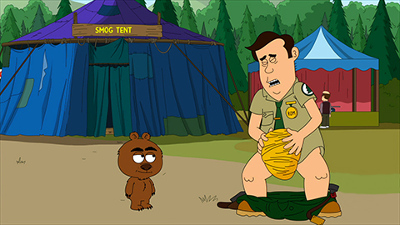 #13 - The Animals Strike Back 7.89
Season 2 - Episode 9
Led by Moose Nazir, the animals of Brickleberry revolt and want Malloy to take back the park; Steve works hard to prevent Malloy from finding out that it was actually he who killed Malloy's parents.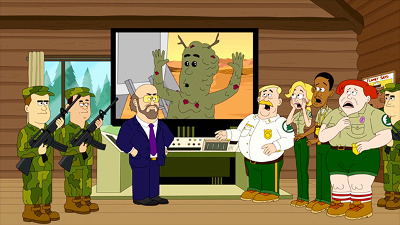 #14 - Trip to Mars 7.89
Season 2 - Episode 11
Brickleberry is selected to play a part in the Mars landing; the natives are relocated to Hazelhurst Mall.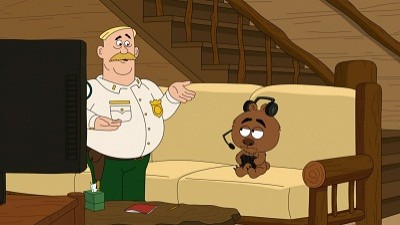 #15 - Daddy Issues 7.87
Season 1 - Episode 9
Steve finds his father, who is also the greatest park ranger Brickleberry has ever known, when he volunteers to track down what or who has been leaving the park strewn with half-eaten goats.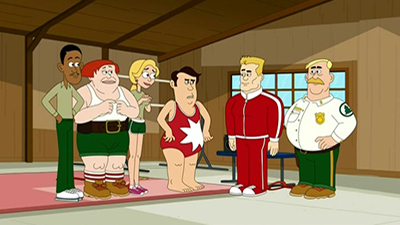 #16 - Ranger Games 7.86
Season 2 - Episode 6
Brickleberry is finally allowed to compete in the annual Ranger Games again, and hopefully unseat Yellowstone; even though Steve shows that he is good at something, that doesn't stop Woody from bringing in a ringer who turns out to be a terrorist.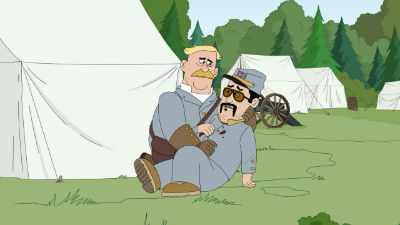 #17 - That Brother's My Father 7.86
Season 3 - Episode 4
Denzel marries Woody's mother; Connie has an unhealthy obsession with "Wheel of Fortune" host Pat Sajak.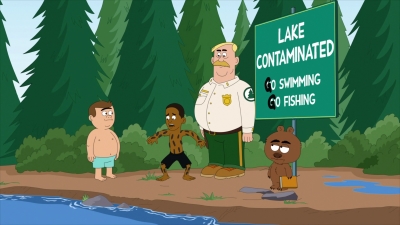 #18 - Campin' Ain't Easy 7.85
Season 3 - Episode 12
Woody transforms the park into a Native American style summer camp.
#19 - Woody's Girl 7.85
Season 2 - Episode 3
After having a stroke, Woody decides to do yoga and joins a cult led by Astral; Woody is lead to the edge of Brickleberry cliff with the rest of Astral's cult followers.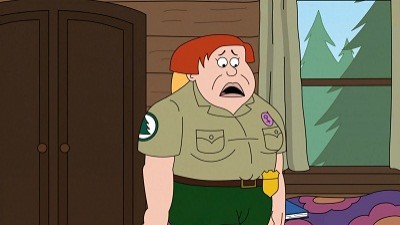 #20 - Saved by the Balls 7.84
Season 1 - Episode 3
While under cover looking for pot farmers growing their crop in Brickleberry, Steve and Denzel make a promise to the Russian mob that they can grow an entire pot crop overnight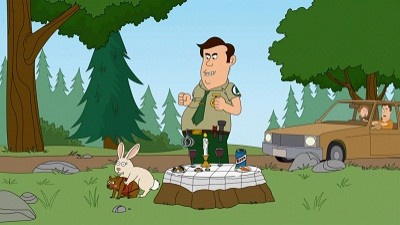 #21 - Squabbits 7.82
Season 1 - Episode 4
In an effort to compete with Yellowstone, Woody asks the team to come up with the cutest animal in the world. Steve creates a Squabbit - half squirrel, half rabbit.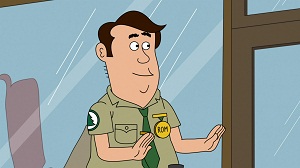 #22 - Race Off 7.79
Season 1 - Episode 5
Secretary of the Interior Kirk Sanders visits the park and in an effort to impress him, Woody sets the park on fire.
#23 - Trailer Park 7.78
Season 2 - Episode 4
When it's revealed that Bobby is actually the heir to Brickleberry, Bobby and BoDean throw the rangers out and turn Brickleberry into a trailer park.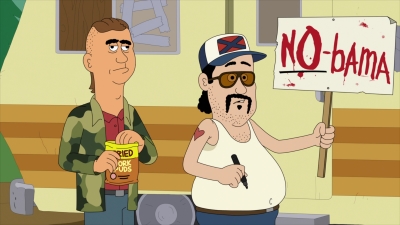 #24 - Obamascare 7.78
Season 3 - Episode 1
President Obama visits Brickleberry; Woody gets shot and realizes that a clause hidden deep within Obamacare results in him and Steve being sewn together.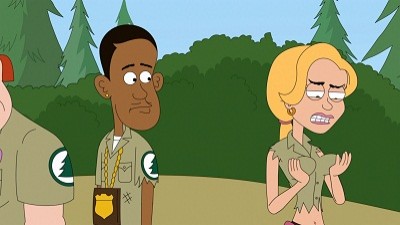 #25 - The Dam Show 7.77
Season 1 - Episode 10
The dam that holds back Brickleberry River is destroyed by fireworks set off in honor of Woody's birthday. The park floods and the rangers, along with the rest of the survivors, must re-form society on the island.