The BEST Episodes of Wolf Lake
Every episode ever - ranked by fan votes!
Last Updated: Sep 20, 2021
"There are those among us who can move at will between the world of the wolves and the world of the humans. My people call them skin walkers." Seattle police detective John Kanin has a problem. He's in love, but shortly after agreeing to marry him, his girlfriend disapears. His search leads to her home town, where people are clearly hiding information from him. One of the things they are hiding is the fact that they are all werewolves, as is John's girlfriend, Ruby.
Watch Now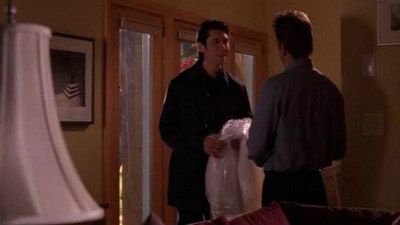 #1 - If These Wolves Could Talk
Season 1 - Episode 9 - Aired May 1, 2002
Crackpot Web adventurer Arthur Van Halen, who has been chasing shape-shifting wolves for some time, traps Ruby while she's in wolfen form after escaping from Tyler and plans to expose the Wolf Lake community to his Internet audience. Meanwhile, Luke is consumed with jealousy while spying on Sophia and orders Sophia to stay away from her new boyfriend. Not aware that Ruby is being held captive, Vivian orders a kill or capture order, for fear that her being at large will endanger the community.
10 votes
Writers:
Rick Kellard

,
Roger Director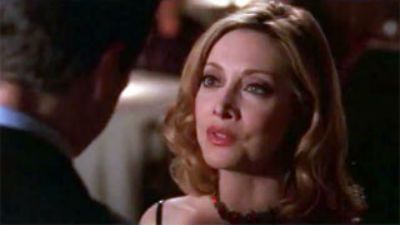 #2 - Leader of the Pack
Season 1 - Episode 7 - Aired Apr 17, 2002
A humorous episode in which Sherman Blackstone recounts the night when the pack came together to elect a new Alpha Male to replace Willard Cates. Although it's impossible to tell how much of Sherman's tale is actually true, he claims that voting for the two candidates, Tyler Creed and Gerald Carter, resulted in a tie vote. Vivian Cates tried to persuade Matthew Donner to throw his hat into the ring, but he declined and instead nominated Vivian. This caused an outcry of protests that a woman cannot lead the pack. Luke, in fear for his life, seeks Sophia's help in an attempt to leave Wolf Lake before the new leader is elected. Meanwhile, according to Sherman at least, two small-time crooks (and incestuous brothers) decided to rob the townspeople at the gathering and in the process shot and killed candidate Gerald Carter. As the two brothers held the crowd at gunpoint, Vivian offered up not only her jewelry, but also her beaded dress, and as soon as she had bared herself, transformed into a wolf and took out both the gunmen. In a show of appreciation for her obvious leadership skills, she was voted in as the new leader of the pack. Afterward, she asked Matthew, as she did 16 years earlier as well, to marry him. Sherman claims to know what the sheriff's answer was, but he's not telling.
11 votes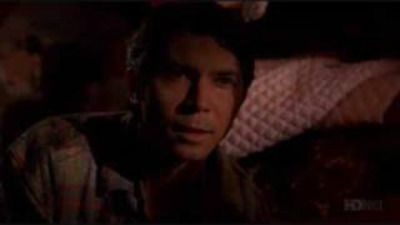 #3 - Legend of Lost Lenore
Season 1 - Episode 8 - Aired Apr 24, 2002
Kanin rents a house from Sherman and discovers to his horror that a disfigured young woman named Lenore is living underneath the home. She has many secrets about the people of Wolf Lake and what they did to her, but is reluctant to share them. Sophia, still unchanged, is approached by Luke to go to a rave. Luke's jealous girlfriend Presley confronts Sophia, saying she will never fit in with the kids from "The Hill". Presley claims Luke's interest in Sophia will vanish after her first change. Later, Sophia gets dressed up to go to the rave, but is confronted by her father the Sheriff, whom she told she was going to a friend's house. Meanwhile, Ruby confesses to Sherman Blackstone that she fears Tyler will not honor his promise to let John Kanin live. Sherman is hesitant to interfere, but says that Tyler's love for Ruby may be a vulnerability.
10 votes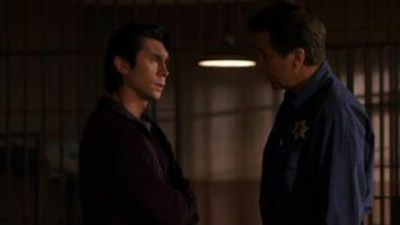 #4 - Excitable Boy
Season 1 - Episode 5 - Aired Oct 24, 2001
Miranda, the torch singer, is assaulted and raped by a wolf, and initially refuses to divulge any details of her attack. Kanin tries to persuade her to help him bring the guilty party to justice, but she explains only people "on the hill" get justice in Wolf Lake. Willard releases Ruby from her house arrest, hoping she'll marry Tyler Creed, and tells her he can't protect her and Kanin if she returns to him. Meanwhile, Sophia is accepted to the University of Florence, and Luke is upset that she may be going away. After she experiences the beginnings of a Wolfen transformation, Sophia decides to forgo the trip, much to Sheriff Donner's disappointment. Tyler Creed is suspected of raping Miranda, but he informs Willard Cates that Cates' brother Bruce, the manager of the Rendezvous Lodge, is responsible. According to Wolfen law, rape is an offense punishable by death. Bruce, fearing for his life, turns himself in to Kanin, but Willard visits him in jail and clandestinely poisons him. Willard takes a wolfen "run," to clear his head, but is caught in a trap and shot by an unknown assailant.
10 votes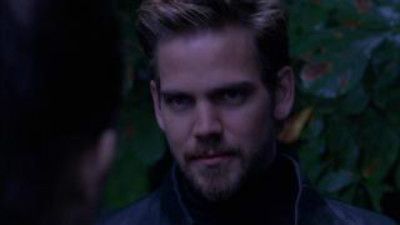 #5 - Four Feet Under
Season 1 - Episode 6 - Aired Apr 10, 2002
During what he thinks is a routine traffic stop, Sheriff Donner is shot three times and hangs on the brink of death as Sophia and Sherman try to convince him that he must become a wolf in order to save himself. In an effort to protect John, Ruby reluctantly marries Tyler. In the absence of her father, Willard Cates, whose death is still a mystery, Ruby is walked down the aisle by Sheriff Donner, who has recovered from his gunshot wounds without resorting to changing.
10 votes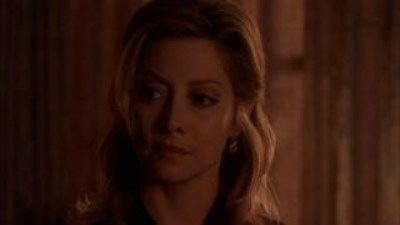 #6 - Soup to Nuts
Season 1 - Episode 3 - Aired Oct 3, 2001
Luke and his gang of wolves attack a truck carrying toxic waste for Tyler Creed, leaving the driver badly burned and the truck leaking a toxic gas. Luke visits Sophia in the night to confess, but is almost caught by her dad and flees before telling her the whole story. Sheriff Donner questions Luke about the accident, but when Luke takes him to the site, the overturned truck is gone. All that remains is a strange white residue. John Kanin is awakened in the night by a knock at his cabin door. It is Ruby, who warns him that she is being watched and that he must leave town without her. She says she never loved him and never will, then throws him against the wall and leaves. Kanin tries to follow, but it's soon clear that he's merely hallucinating from the soup that Sherman Blackstone has left him for a cold. In further hallucinations, he is visited by his parents who tell him he was adopted. Having been warned again by Sheriff Donner to stay away from his daughter, Luke rebuffs Sophia at the diner, leaving her confused. After suffering severe nose bleeds caused by the toxic gas from the truck, Luke visits Sophia later at the diner and asks her not to repeat what he had confessed to her earlier. They argue and she walks away. Later, a conciliatory Luke offers to teach Sophia how to play pool. Willard Cates encourages Vivian to start thinking about plans for herself after he dies. Having earlier refused Tyler's advances at her house, Vivian shares a romantic interlude with Tyler at his house before calling off the affair, saying that her place is with her husband. In a final hallucination, Kanin imagines Ruby seducing him. She tells him that they are two of a kind and he sees himself half-transformed in the mirror. After an argument over the future of their toxic waste scheme, Tyler kills the two men who were also involved with him. Sheriff Donner, hot on the trail, tracks Tyler to the old tannery building where Tyler has been storing canisters of toxic s
11 votes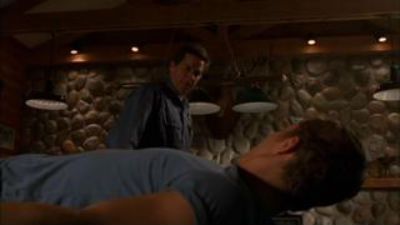 #7 - Tastes Like Chicken
Season 1 - Episode 4 - Aired Oct 10, 2001
When a serial killer strikes again in Wolf Lake after over 30 years, Sheriff Donner and Deputy Molly withhold critical information about the case from John Kanin to keep him from finding out about the town's secret. Meanwhile, Tyler brings dinner to Ruby at the secluded cabin where she's being held captive. We learn that Willard Cates has promised Ruby to Tyler for marriage, which is why she originally left Wolf Lake. A stroke leaves Willard gravely ill and Luke struggling to deal with the fact of his father's imminent death. We later discover that Vivian is actually Ruby's stepmother. After Luke takes Sophia to a wild lakeside party and tries to seduce her, Sophia heads home through the woods and is picked up by the killer who turns out to be the owner of a local hair salon with a taste for human hearts and kidneys. When Sheriff Donner discovers that his daughter is missing, he pulls out all the stops to find her. Vivian offers to help Matthew find Sophia, but also criticizes him for not having his children with her. After doing his own investigation, Kanin provides the clues that allow Sheriff Donner to save Sophia from the killer just in time. Tyler takes Ruby to the lake and tries to convince her to follow through on her arranged marriage to him so that he can take over as lead wolf after Willard Cates dies. She refuses.
10 votes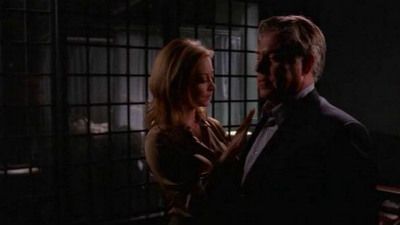 #8 - The Changing
Season 1 - Episode 2 - Aired Sep 26, 2001
When one of the local girls' first transformation doesn't go right. John thinks they are hiding Ruby, but later finds evidence that she is still around, when he discovers her twin sister's grave.
43 votes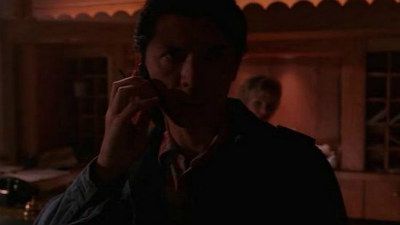 #9 - Meat The Parents
Season 1 - Episode 1 - Aired Sep 19, 2001
As soon as Seattle Detective John Kanin proposes to his girlfriend, Ruby, she disappears mysteriously. John's search for her brings him to her home town of Wolf Lake where he finds few allies and many more questions.
17 votes
Writers:
Alex Gansa

,
Rick Kellard