The BEST Episodes of Wandering Son
Every episode ever - ranked by fan votes!
Last Updated: Mar 30, 2020
The story of Hourou Musuko (Wandering Son) centers around a feminine 5th-grade boy named Nitori Shuuichi. On the first day at his new school, he is mistaken for his 6th-grade sister. He happens to sit next to Takatsuki Yoshino, a girl who wishes she was a boy. Both of them have secrets they cannot tell anyone.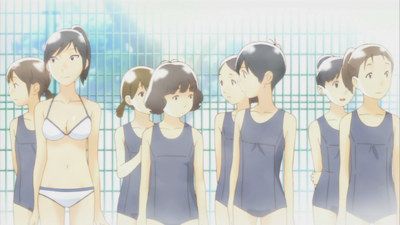 #1 - My Name is Given ~The Sound of Your Name~
Season 1 - Episode 4 - Aired Feb 3, 2011
Shuichi starts to grow concerned about Yoshino, who has been spacing out recently. While writing his screenplay, Maho's colleague, Anna Suehiro, teases him to the point of making him cry. Meanwhile, Yoshino meets up with her transsexual adult friend Yuki. While at Shuichi's house, Saori comments to him about how his screenplay represents him wanting to be a girl loving a male Yoshino. The next day, Yoshino and Shuichi go out shopping for clothes, where he asks her to play Romeo in the play so she can see him as a girl. She accepts the role, but did not interpret it as Shuichi conveying his feelings for her. Meanwhile, Anna decides to buy Shuichi a phone strap, although he is not sure what she means by it. The next day at school, the teacher suggests that volunteers help Shuichi and Saori with their script, which aggravates Saori. When Saori invites Shuichi over afterwards, he states that despite being turned down by Yoshino, he still wants to become a girl for his own sake. Saori, who still has feelings for Shuichi, asks that he does not mention Yoshino in front of her again.
6 votes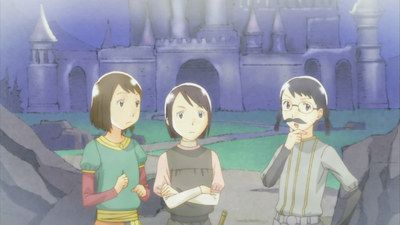 #2 - Cultural Festival ~Dream of butterfly~
Season 1 - Episode 6 - Aired Feb 24, 2011
The cultural festival is underway, with some commotion caused when Anna brings popular model Maico, who Maho works with, to the event. Shuichi, Makoto and the others have fun in the haunted house before running into Maico, who Chizuru is a fan of. Yuki and Shiina pay Shuichi and Yoshino a visit while running through their lines. As the play starts, Makoto gets stage fright, but Saori and the others manage to give him encouragement and the play manages to become a success. After the play, Saori decides to give the flowers she got from Fumiya to Makoto, acknowledging that he made a good Juliet.
5 votes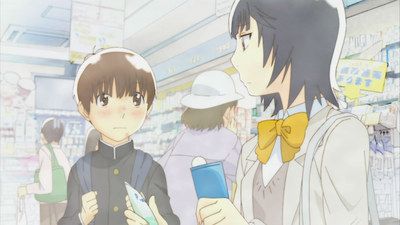 #3 - The Rose-Colored Cheek ~Growing Pains~
Season 1 - Episode 7 - Aired Mar 3, 2011
Shuichi gets his first pimple on his nose, so he asks Anna for some skincare advice. Meanwhile, both Shuichi and Saori get scouted for the drama club, with Saori still expressing her hatred for Yoshino. Shuichi soon realizes he has feelings for Anna and the two soon start dating. Makoto learns about this when he overhears Maho joking about it at a study session. Shuichi soon reveals his relationship when visiting Yuki and Shiina with Yoshino, who starts distancing herself from Shuichi. Yoshino later tells this to Saori, who starts skipping school as a result, threatening to quit. Yoshino later goes to her house in order to make up with her.
5 votes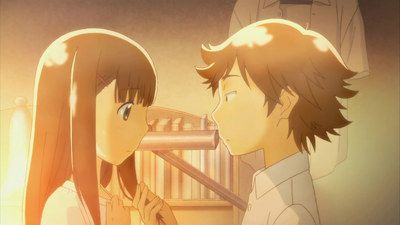 #4 - Cool Girlfriend ~Green Eye~
Season 1 - Episode 9 - Aired Mar 17, 2011
Having previously checked with Anna if it was okay to hang around Shuichi, Yoshino decides to wear a male uniform to school, much to the surprise of the other students and teachers. Wanting to meet the woman he had seen Shuichi with, Doi accompanies him and Yoshino to visit Yuki, only to be shocked to learn she is a transsexual. Doi later asks to see Shuichi while cross-dressing, telling him he should go to school dressed like a girl. Although Chizuru and Yoshino warn him that it is a bad idea, he decides to go to school in a girl's school uniform, causing an uproar when he appears before his teachers.
3 votes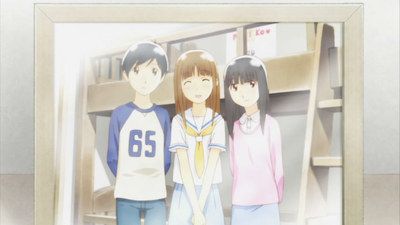 #5 - Forever A Wandering Son ~Wandering Son's Progress~
Season 1 - Episode 11 - Aired Mar 31, 2011
As each of the classes work on their projects for the upcoming festival, Shuichi reluctantly asks Doi to help him revise his script. Saori later invites Shuichi and Yoshino to try on some dresses, reminding them of the fun they had when they were younger. The festival soon arrives, with various attractions taking place. Shuichi runs into Anna, who apologizes for the mean things she said during their break up. As the play begins, Shuichi notices his voice has dropped, but he stays strong and steps onto the stage.
3 votes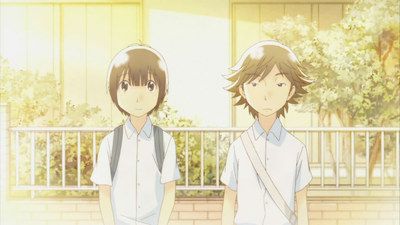 #6 - 10+11 ~Better half~
Season 1 - Episode 10 - Aired Mar 24, 2011
Following the incident, Shuichi feels frustrated that he was treated differently from the times Chizuru and Yoshino cross-dressed. Shuichi continues to be picked on by other students as he goes to school. Meanwhile, Anna becomes conflicted on how to approach Shuichi following the incident, and eventually decides to break up with him. Shuichi's class once again opts to do a gender bender play for the next school festival, with Saori suggesting he use the script he wrote the previous year. Later, Shuichi tells Doi that he hates him and will not dress as a girl at school anymore.
3 votes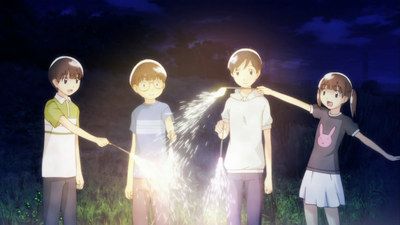 #7 - At the End of Summer ~Long, Long Shadow~
Season 1 - Episode 5 - Aired Feb 17, 2011
As the gang come over to Saori's house to work on the script, Saori reveals to Makoto that she intends to enter the running for the role of Romeo. Saori's friend from church, Fumiya Ninomiya, arrives and inadvertently reveals Shuichi's affinity for cross-dressing to the others, which annoys Yoshino. Shuichi accepts that Yoshino acts angry in his place. They eventually finish the script and celebrate with fireworks. Upon returning to school, the roles for the play are decided by a random draw, with Saori drawing Romeo and Makoto drawing Juliet. Annoyed with the outcome, Saori wants to make edits to the script so everyone gets killed off, though is eventually convinced otherwise. While delivering tickets to Yuki and Shiina, Shuichi and Yoshino run into Anna, who has the same phone strap she bought Shuichi. Meanwhile, Saori decides to do her best in her role as Romeo, encouraging Makoto to carry out his role as Juliet.
5 votes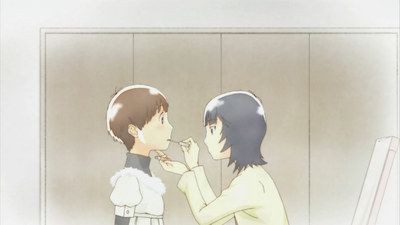 #8 - Spring ~Brand New Me~
Season 1 - Episode 8 - Aired Mar 10, 2011
A new school year starts, with the group split into separate classes. Anna notices Shuichi's affinity towards girls clothing and asks him to dress as a girl for their next date. Meanwhile, Shuichi's classmate, Shinpei Doi, notices him hanging out with Yuki and asks Shuichi to be friends with him. Yoshino and Saori end up running into Shuichi and Anna on their cross-dressing date and end up joining them to karaoke. Anna points out Saori's attitude problem, which leads Yoshino to unintentionally reveal their relations to Shuichi. Despite the awkwardness, Yoshino appreciates the fact that she, Shuichi and Saori got to hang out together like they used to do.
2 votes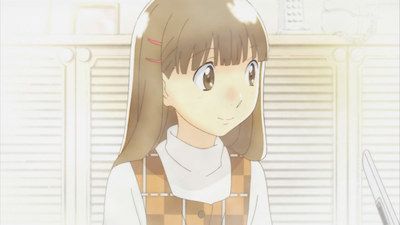 #9 - Romeo and Juliet ~Juliet and Romeo~
Season 1 - Episode 3 - Aired Jan 27, 2011
Yoshino is shocked when she is told to start wearing a bra. Per Saori's suggestion, the class decides to do a gender bender play, in which boys play as girls and vice versa, for the upcoming cultural festival, with Yoshino suggesting that Shuichi write the scenario. The next day, Shuichi stays up late thinking up ideas for the play and ends up in the nurse's office along with Yoshino, whose distaste for wearing a bra helps Shuichi come up with the idea for his script. Later, as Shuichi and Makoto become concerned about when their voices might change due to puberty, they decide to do recordings of them as girls, which annoys Maho, who has a cold, and puts her in an awkward situation when her boyfriend, Riku Seya, drops by for a visit. Meanwhile, the class teacher decides to combine Shuichi's original story with Saori's idea for a modern Romeo and Juliet, so Saori invites Shuichi over to her house to work on the combined script. The next day, Shuichi notices Yoshino wearing a bra.
7 votes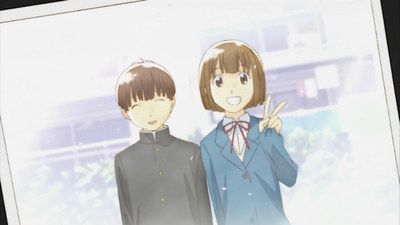 #10 - What are Little Girls Made Of? ~Roses Are Red, Violets Are Blue~
Season 1 - Episode 1 - Aired Jan 13, 2011
Shuichi Nitori is a boy who wishes to be a girl, while Yoshino Takatsuki is the opposite, and they both like to cross-dress as the opposite sex. As the two begin their life as junior high school students, they reflect on the events of their elementary school days, during which Shuichi confessed to Yoshino, but was rejected because she was not ready for love yet. During the first day of class, Yoshino is impressed by a girl named Chizuru Sarashina who came into school with a boy's uniform, while another classmate Saori Chiba lashes out at another student for bringing up rumors of Shuichi and Yoshino dating. After a day of walking around the city in a girl's school uniform, Shuichi tries on a dress belonging to his sister, Maho, and runs away when she catches him wearing it and calls him gross. He runs into Yoshino, who cheers him up and makes up with him.
37 votes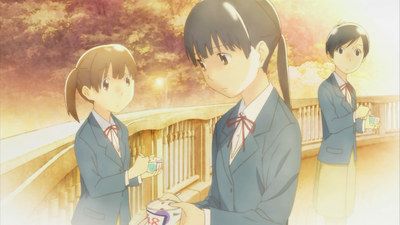 #11 - Dislike, Dislike, Hate ~Cry Baby Cry~
Season 1 - Episode 2 - Aired Jan 20, 2011
Shuichi and Yoshino are impressed with Chizuru's lively attitude, while Saori almost gets in a fight with Chizuru's friend, Momoko Shirai. Meanwhile, some second-year girls become agitated with Saori for not saying hello to them. Yoshino and Saori, who do not see eye to eye, join separate sports clubs, both of which are on the same court, which makes the situation awkward for their mutual friend, Kanako Sasa, who yells at both of them. Yoshino tries to patch things up for Sasa's sake, but Saori refuses to make up with her. Nine months previous, Saori, who liked Shuichi, got angry at Yoshino because he liked Yoshino, and Yoshino got angry at her for always making her out to be the bad guy. Shuichi and his friend Makoto Ariga convince Yoshino to make up with Saori and Sasa and they, along with Chizuru and Momoko, go together to get ice cream. Saori admits she was wrong for not greeting the second-year girls, which evokes laughter from Chizuru.
8 votes