The BEST Episodes of The Totally Rad Show
Every episode ever - ranked by fan votes!
Last Updated: Jul 5, 2020
The Totally Rad Show is the summer blockbuster of geek news shows. Every week, hosts Alex Albrecht, Dan Trachtenberg, and Jeff Cannata rip into the world of movies, video games, tv, comics, and more and pull out what's rad.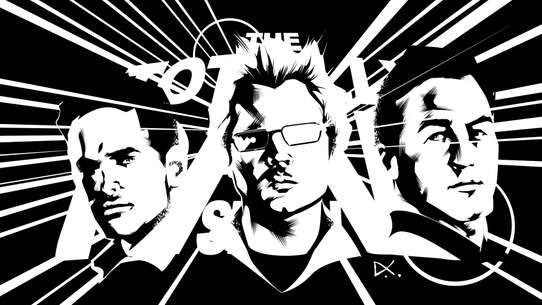 #1 - Knowledge Sack
Season 1 - Episode 39 - Aired Dec 18, 2007
I Am Legend, but should you go see me? Do Zack and Wiki shake the Wiimote in all the right ways? Princess Bride and Ghostbusters are back - as videogames? Plus, we've Scene It, but did we enjoy it?
30 votes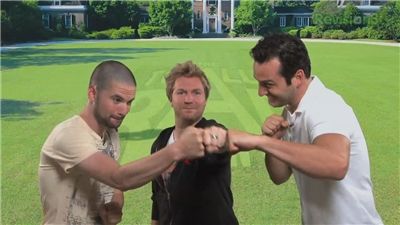 #2 - Skip Away
Season 1 - Episode 68 - Aired Jul 8, 2008
Can we sign off on Hancock? How human is Too Human? Should we fall in with Bad Company? Funny or serious Sherlock Holmes? What should be next for Eddie Murphy? Plus, we dodge fireballs!
30 votes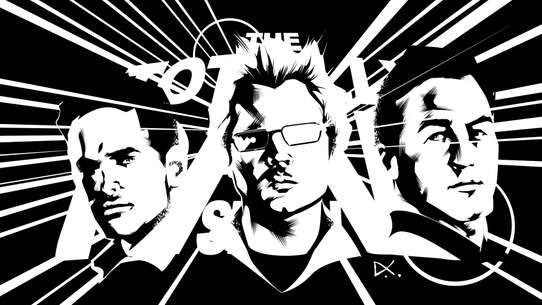 #3 - Celebratorium
Season 1 - Episode 156 - Aired Mar 15, 2010
Our 3 year anniversary episode explodes with reviews of Green Zone, Final Fantasy XIII, and Shutter Island, as well as SFIV on the iPhone, and a behind the scenes look at the show!
30 votes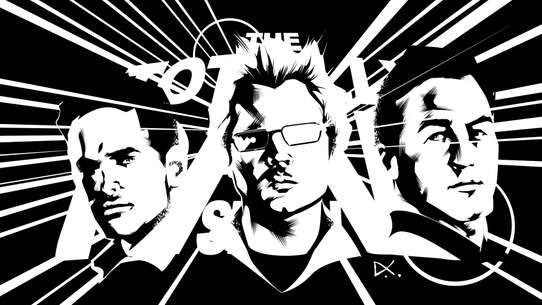 #4 - Rear Shot
Season 1 - Episode 176 - Aired Aug 2, 2010
Is StarCraft 2 worth the 12 year wait? We look back at the massive Saturday and Sunday Comic Con panels, including Marvel and DC movies, and Harry Potter! Plus, the perfect D&D starter kit?
30 votes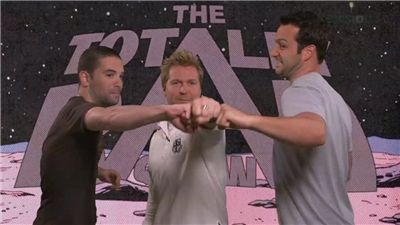 #5 - Flipping Out
Season 1 - Episode 76 - Aired Sep 2, 2008
Not just another summer sequel with Hamlet 2. Does Castle Crashers live up to its name? We discover a Traitor! Mario Super Sluggers swings for the fences. Plus, the good and bad of Warren Ellis
30 votes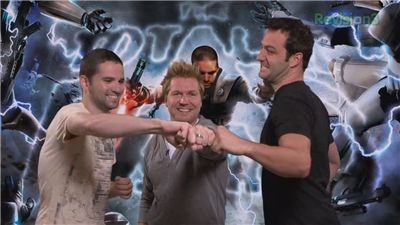 #6 - Storiented
Season 1 - Episode 78 - Aired Sep 16, 2008
Could The Force Unleashed be better than the Star Wars Prequels? Does Spore live up to the hype? Which kind of Cohen Bros film is Burn After Reading? Plus, the first wave of TV pilots, Fringe and True Blood!
30 votes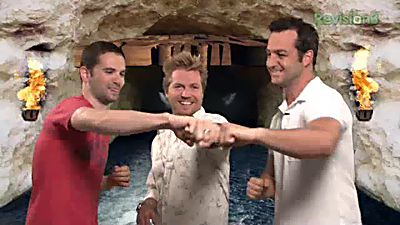 #7 - Flume
Season 1 - Episode 79 - Aired Sep 23, 2008
We get the Rock Band back together, hop on our ATVs in Pure, visit two towns with crazy names, Appaloosa and Synecdoche, New York, and top it all off with some BBQ with a special guest!
30 votes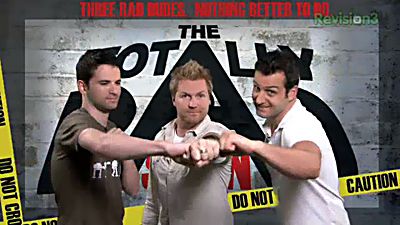 #8 - Extra Credit
Season 1 - Episode 83 - Aired Oct 21, 2008
Is Max Payne painful? We put the new Call of Duty multiplayer beta through its paces. Can we stick with World of Goo? Plus, more TV pilots, including My Own Worst Enemy, Life on Mars, and Eleventh Hour.
30 votes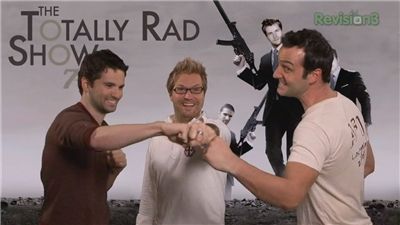 #9 - Fisticuffs
Season 1 - Episode 87 - Aired Nov 18, 2008
We try to get a modicum of consolation from Quantum of Solace. Shooter showdown with Resistance 2 vs. Gears of War 2! Plus, who wants to see a Slumdog Millionaire?
30 votes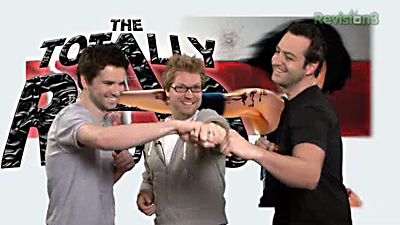 #10 - Twick
Season 1 - Episode 88 - Aired Nov 25, 2008
Is Mirror's Edge worth a leap of faith? Which one of us will be Left 4 Dead? The new Need for Speed: just Burnout for babies? Is Special special? Should u c JCVD?
30 votes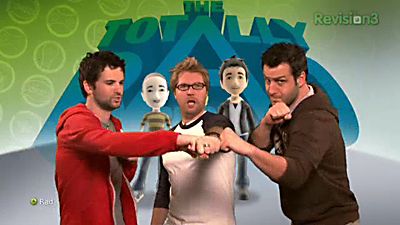 #11 - Ninetiesified
Season 1 - Episode 89 - Aired Dec 2, 2008
Is Australia fun, or do we feel like men at work? Can Tomb Raider: Underworld turn the series around? There's Superman in my Mortal Kombat? Plus, we invade the Personal Trainer Cookoff!
30 votes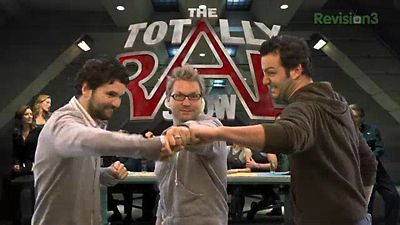 #12 - Mr. Thathing
Season 1 - Episode 97 - Aired Jan 27, 2009
Does the The Reader impress the viewers? Skate 2: tubular or bogus? Hands-on with the new Puzzle Quest! Sundance's must buzzworthy film! Plus, everything must go at BSG!
30 votes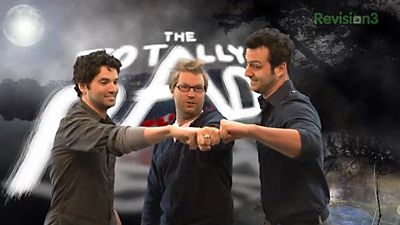 #13 - Intaint
Season 1 - Episode 100 - Aired Feb 17, 2009
We're live at the Street Fighter IV launch party! How do the Mad Catz arcade sticks stack up? Is Friday the 13th better than Jason X? We face our FEAR 2. And don't overlook The International!
30 votes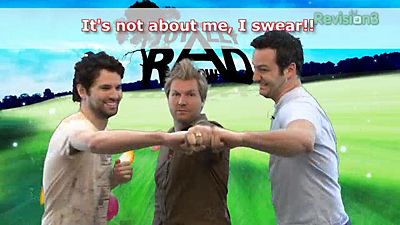 #14 - Stamen
Season 1 - Episode 101 - Aired Feb 24, 2009
Will GTA IV's new DLC make you feel Lost and Damned? The PS3 gets Flower power! Can an animated documentary work? Movie trilogies ranked! Plus, Jeff v. Alex at the Puzzle Quest release party!
30 votes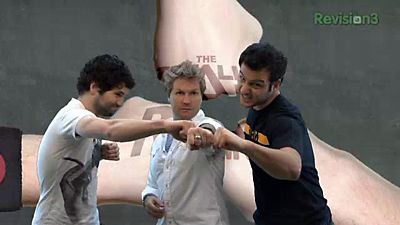 #15 - Nash Out
Season 1 - Episode 102 - Aired Mar 3, 2009
Should you enlist in the Halo Wars? Is the Legend of Chun Li a Van Damme-as-Guile level abomination of cinema? Guess who the directors are for Green Hornet and Clue now! Plus, an Oscar wager is paid!
30 votes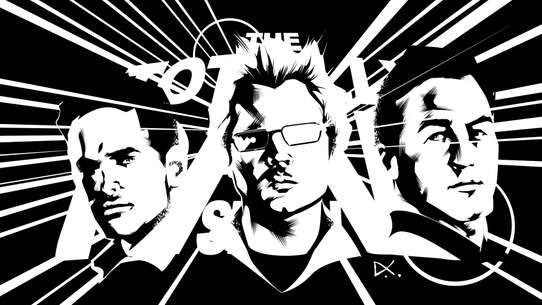 #16 - Soul Poppin
Season 1 - Episode 38 - Aired Dec 11, 2007
The Golden Compass gets us lost. Will we go, speed, go to see Speed Racer? Feeling Sony's Pain. A review of the Jeff Gerstmann/Gamespot controversy. Plus, are Computer Fairs still cool?
30 votes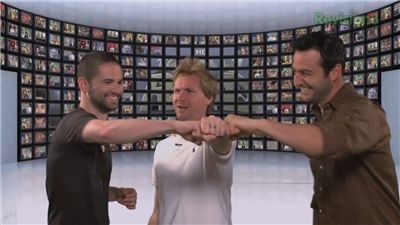 #17 - BMLC
Season 1 - Episode 61 - Aired May 20, 2008
Does Mr. Pibb + Red Vines still = crazy delicious in the new Narnia? What is the Wii good at? Steven Spielberg knows! Plus, the return of the Forum.
30 votes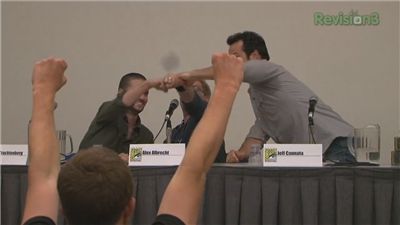 #18 - Live - San Diego Comic Con
Season 1 - Episode 71 - Aired Jul 29, 2008
This is it. The very first TRS recorded in front of a live audience. We cover of all the raddest panels of Comic Con IN the raddest panel at Comic Con. Come watch us blow the roof off the place.
30 votes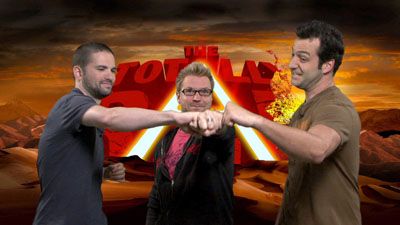 #19 - Brechted
Season 1 - Episode 72 - Aired Aug 5, 2008
Can Jet Li reanimate the Mummy? Is it too late for a new Geometry Wars? Speaking of retro evolved, how does the Ghostbusters game look? Plus, the much requested Live Q&A
30 votes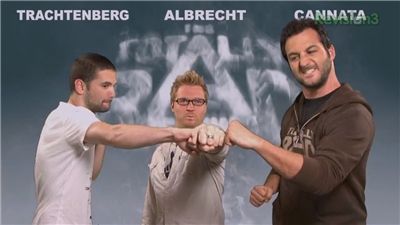 #20 - Inevitable Injury
Season 1 - Episode 73 - Aired Aug 12, 2008
A Game of the Year candidate for only $10? Try Pixeljunk Eden! Is the force strong in Soul Calibur IV? How high are we on Pineapple Express? Plus, does anyone remember how to play TV Tag?
30 votes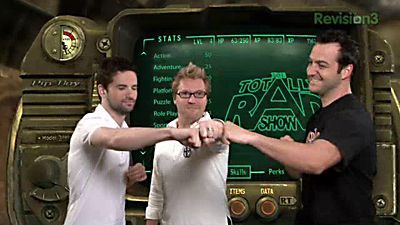 #21 - Bobble-Bibble
Season 1 - Episode 86 - Aired Nov 11, 2008
Some radioactive fallout from our Fallout 3 review! Is the new World of Warcraft expansion just more of the same? Pixar's new trailer: what's Up? Can John Carpenter uncage Nic Cage? Plus, questions from the forum!
30 votes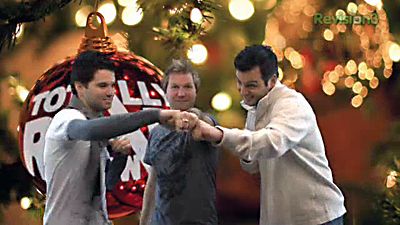 #22 - Pants Shovel
Season 1 - Episode 92 - Aired Dec 23, 2008
Is Seven Pounds just too heavy? We're certain about Doubt. Can COD: WaW live up to COD 4? New God of War and Uncharted details. Plus, holiday Gingerbread Houses!
30 votes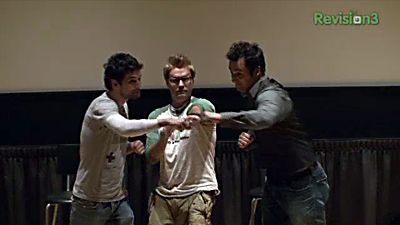 #23 - Exacerbated
Season 1 - Episode 95 - Aired Jan 13, 2009
Live from the Dolby Labs in Los Angeles, it is the 2008 Totally Rad Awards! Armed with our personal top 5 lists, we agree on the raddest movie, video game, and TV show of 2008.
30 votes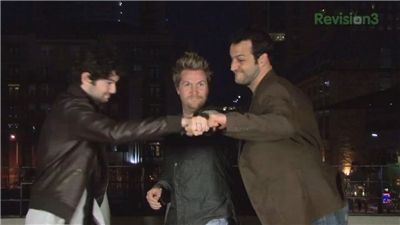 #24 - El Di Torturo - Live at SXSW!
Season 1 - Episode 105 - Aired Mar 23, 2009
This week in Movies: The SXSW film festival is a showcase for upcoming indie films, documentaries, and genre movies that you'll be hearing more and more about in the coming year. Alex, Dan, and Jeff braved the lines at the Alamo Draft House and the Austin Convention Center to check out some of the most interesting films of this year's SXSW. Among them: Ong Bak 2, the latest martial arts extravaganza from Thai action star, Tony Jaa Best Worst Movie, a documentary about the cultural phenomenon that is Troll 2, the undisputed Worst Movie Ever Made. The Horseman, a revenge thriller from Australia that may be one of the most violent movies ever made... or is it? This week in Video Games: Since they've spent the week at a film festival, a movie takes over the video game segment this week, too, but this movie is about gaming! Dungeon Masters is a documentary about Dungeons and Dragons, World of Warcraft, and the kind of people who play them. Plus: It is time, once again, for a Dan Becomes a Man - but this time it'll be in front of a live audience in Austin! And since the guys are in Texas, this DBAM had to be big - so the guys enlisted the help of Scam School's Brian Brushwood to capapult Dan into the ranks of super man!
30 votes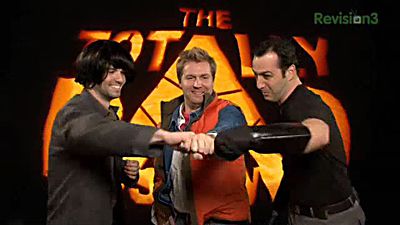 #25 - Friendo
Season 1 - Episode 84 - Aired Oct 28, 2008
Halloween 2008! Has Molyneaux spun a fantastic Fable 2? Does Eastwood deliver Changeling we can believe in? Should you Let the Right One In? A new Star Wars MMO? Plus, pumpkins!
30 votes