The Best Episodes of Squid Girl
The sea in our world has been polluted. All sorts of trash were thrown into the sea, making it unpleasant deep under the sea. One of the inhabitants of the sea, Ika Musume (Squid Girl) seeks to exact revenge on humanity for throwing trash into the sea. Clueless about the surface, she seeks to invade humanity alone, trying to rule over the world, only to find herself slaving away at one of the nearest beach-houses for breaking a side of its wall.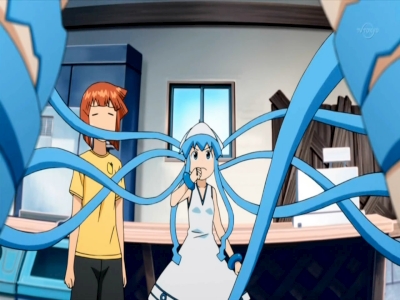 #1 - Not from this sea, are you? / Why not join the school of fish? / Wouldn't having a pet be squidtastic?
Season 1 - Episode 5
A woman named Cindy Campbell who comes from a US extraterrestrial research laboratory believes Ika to be an alien and wants to take her back to her lab. Cindy attempts to brainwash Ika into thinking she's an alien, but her appetite snaps her out of it. Later, Ika has a look around Eiko's school, believing it to be a military base. She decides to hold the principal captive and take over the school before Eiko stops her. Later, Sanae has a dream in which Eiko finds a miniaturized Ika and keeps it as a pet.
6 votes