The Best Episodes of Sons of Guns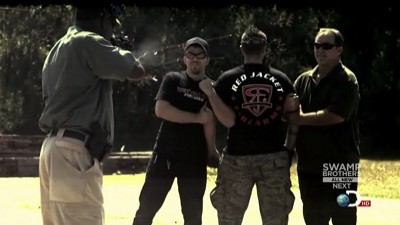 #1 - Taser Shotgun 8.60
Season 2 - Episode 7
Will brainstorms combining a shotgun and a taser for the police, but someone in the shop will need to be tased for the demonstration. The Red Jacket team revives a demilitarized WWII-era anti-tank gun to honor a veteran, while Will lays down the law for Kris who needs to back off on the front office flirting.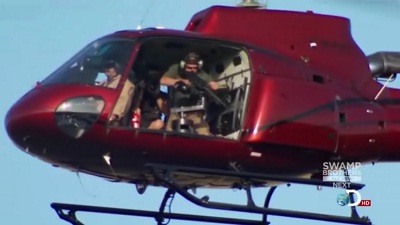 #2 - Flying Guns and Uzis 8.51
Season 2 - Episode 6
Will and the RJ crew are now building guns for helicopters! Red Jacket is building a complete Mag 58 weapons system with a unique twist -- a swivel arm. Will takes a stock Uzi and makes it competition ready. Then, Stephanie goes on a wild ride.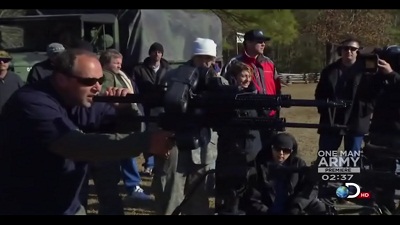 #3 - Anniversary Bash 8.49
Season 2 - Episode 1
It's been ten years since Red Jacket Firearms first opened its doors and Will celebrates the only way he knows how: with a seemingly impossible build. Will calls his mentor Tony Rumore who invented a Siamese: a double M16, which shares its gas tube system. Will wants to one-up Tony for fun and build a Triamese: 3 M16's joining in a triangular formation, also sharing the gas system. While Will works on the build, his daughter Stephanie plans the ultimate surprise anniversary bash for her dad, inviting some of Red Jacket's biggest clients.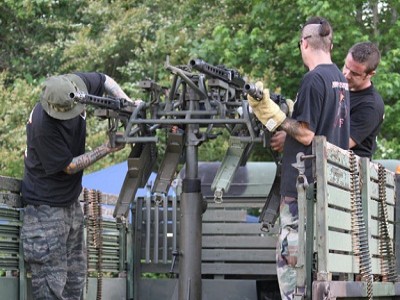 #4 - The Meat Chopper 8.46
Season 2 - Episode 4
A customer asks Will to build a quad MG 42 that he can take to a gun show that weekend. Will is hesitant given costs and timing but the customer is persistent and has the money to get the job done. Will can't say no. Meanwhile, a gun collector brings in a 19th century French Palm Pistol. Will, who has a sweet spot for historical firearms, can't help himself and buys the gun... even though it doesn't fire. Will tells Vince to fix the gun so it will fire and triple the gun's value. And a customer walks in with a right-handed AR 15, but he is left-handed shooter. He wants the action of the gun changed to fit his left-handed needs. Of course, Will and his team are just the guys to get all this done.
#5 - Free Fall Shotgun 8.45
Season 3 - Episode 16
Someone from Red Jacket must jump out of a helicopter after a special services contractor asks the team to build a tight quarters Para-shotgun. As things get hot, Will takes a call that may change Red Jacket forever...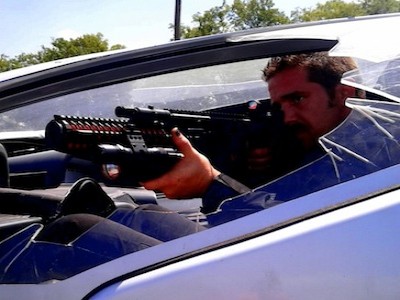 #6 - Total Recall Vector Submachine Gun 8.42
Season 3 - Episode 9
Inspired by the new "Total Recall", Kris builds a Red Jacket version of the Vector submachine gun used in the film. Sony surprises him by sending out the film's hovercars, synths, and more. Will surpises Kris even more with some secret-agent training.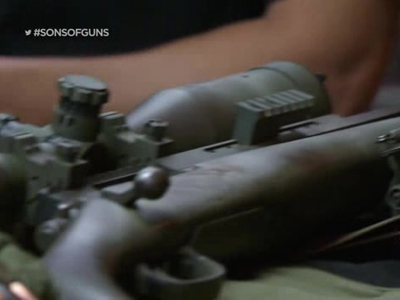 #7 - Last Round 8.33
Season 4 - Episode 8
In this season finale, Will is asked to build a sniper rifle for the sheriff but RJF isn't the only shop in the running. Will is faced with overcoming much more than a gun build. The contract and prides are at risk, when a key part doesn't arrive on time.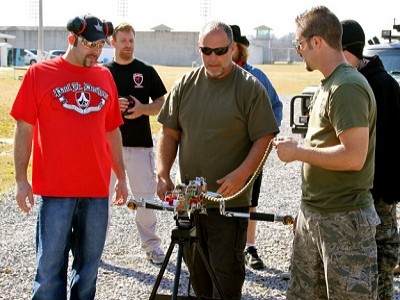 #8 - American Chopper Gun 8.30
Season 2 - Episode 3
Kris gets the idea to do a chromed out, 1919 machine gun with a dragon painted on it. Vince loves the idea and wants to add to it a handlebar trigger system. Will realizes they need experts in chrome and handlebars to pull this one off: the boys from Discovery's American Chopper. And, of course, that means an invite to Baton Rouge for Paul Jr. and team to test the tricked out gun. Meanwhile, world-class speed shooter Jerry Miculek walks into Red Jacket looking to alter a Bulgarian Krink. Will shows off his integrally suppressed AK47 when Jerry challenges Will to a bet: if he can fire this AK in single fire mode faster with his finger than someone pulling the trigger on a fully automatic AK, Will owes Jerry a custom Red Jacket gun free of charge. But can he pull it off?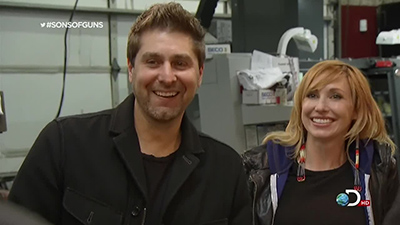 #9 - Red Jacket Challenges Mythbusters 8.29
Season 3 - Episode 13
The Red Jacket team attempts to un-bust a busted myth from Mythbusters. Tory Belleci and Kari Byron come out to Louisiana to help the team break the famous James Bond myth. Will Red Jacket be able to blow up a propane tank with a single gunshot?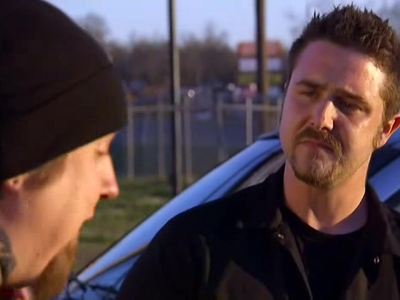 #10 - One Man Army 8.26
Season 4 - Episode 6
In an exciting challenge the crew modifies a PKM from a three man to a one-man combat unit. Will restores a Lefever rifle destroyed in a tornado. Kris makes a deal hoping he'll save Red Jacket but when Will gets bad news, he's ready to close RJF forever.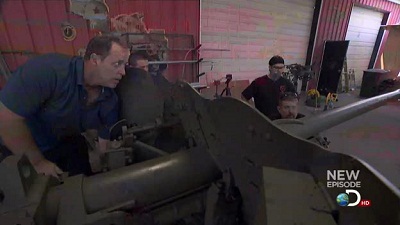 #11 - Oh My God, a Cannon! 8.24
Season 2 - Episode 9
Things get crazy when Will tackles a WWII-era 57mm cannon. Meanwhile, Vince gives an AR-15 the Red Jacket treatment for Super Bowl champion and New Orleans Saints kicker Garret Hartley. Then, things between Kris and Stephanie take an unexpected turn.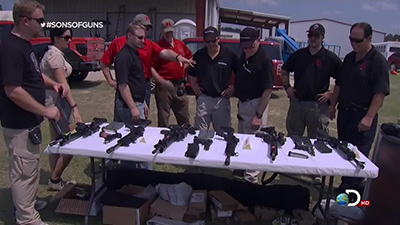 #12 - Nine Guns and a Shootout 8.24
Season 3 - Episode 15
When two clients order 3-gun competition sets for their dads, Kris decides to secretly make a third set to honor Will. The gunsmiths agree to the overtime, but late nights lead to rookie mistakes that embarrass Will when he test fires before the client.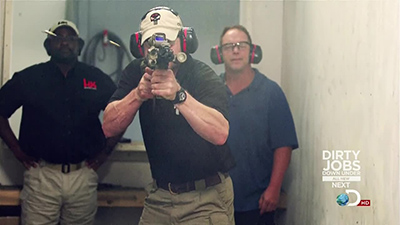 #13 - The Gun That Killed Osama 8.23
Season 3 - Episode 10
A former Navy SEAL sniper asks Will to modify a civilian H&K 416 for charity. Will agrees on one condition: that he helps the Red Jacket crew recreate the gun believed to be used to take out Osama Bin Laden, fast rope out a heli, and test their theory.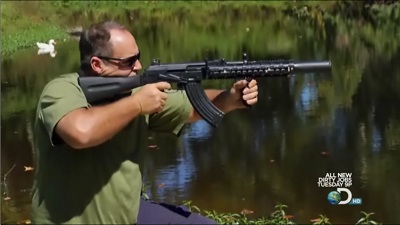 #14 - AK-47 Silencer 8.22
Season 1 - Episode 6
Will, owner of Red Jacket Firearms, is asked to do something that's never been done — build an internal silencer for an AK-47. The AK is put through sand and ballistics tests. Also, Will builds an 18th century swivel gun replica and fires it from a boat.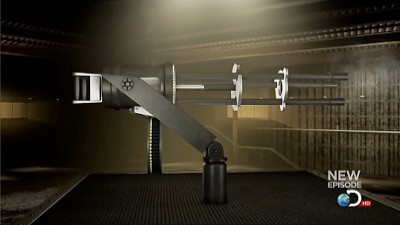 #15 - The Gatling Gun and Dueling Pistols 8.22
Season 2 - Episode 8
Will's motto "If you dream it, we can build it" is put to the test when a local scrap yard owner challenges him to build a modernized Gatling shotgun. The Red Jacket team repairs a set of antique dueling pistols, and Will is challenged to a duel.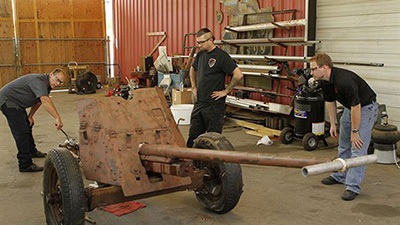 #16 - Russian Roulette 8.21
Season 4 - Episode 4
Flem modifies an MK-7 for a sub-machine gun champ's upcoming competition. In the meantime, desperate for revenue, Will agrees to overhaul a rusted out anti-tank cannon. Tempers flare between Joe and Kris as the missing SOCOM barrels put everyone on edge.
#17 - Mobile MAG-58 8.17
Season 5 - Episode 2
A snowmobile is fitted with machine guns; Charlie works on a rare Japanese rifle.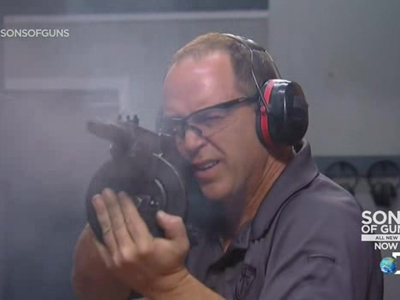 #18 - Will's Monster 8.11
Season 4 - Episode 3
With the SOCOM order still on hold Will is on edge so he decides to clean house. He builds a hybrid gun out of Red Jacket spare parts. Will keeps the boys busy on an R & D project, and has an explosive confrontation with Vince.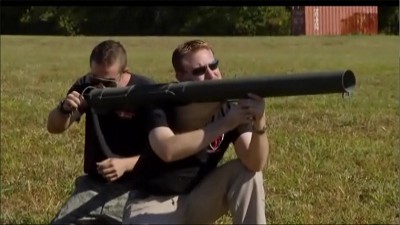 #19 - The Bazooka/Kris' Birthday 8.11
Season 1 - Episode 7
Will and his Red Jacket crew build a bazooka for a WWII re-enactment client. To ensure that the bazooka rockets are safe, gunsmith Joe Meaux test fires it — and his target is Will. Also, Will surprises apprentice Kris with a generous birthday gift.
#20 - Behind the Scenes Special 8.09
Season 3 - Episode 4
Find out what it takes to make Sons of Guns - with interviews and behind the scenes footage from the Red Jacket team and the film crew. From dangerous near misses and melting cameras to practical jokes and shooting contests, we reveal it all.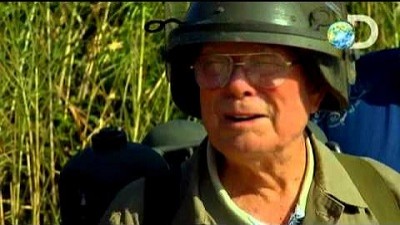 #21 - The Flamethrower 8.08
Season 1 - Episode 3
On a visit to the National World War II Museum in New Orleans, Will and Stephanie meet Woody Williams, a WWII Marine veteran who won the Medal of Honor on Iwo Jima As a tribute to this hero, Will and the team work to restore Woody's flamethrower, but Will has to conquer a childhood fear of fire just to ignite the weapon.
#22 - Steel Tornado 8.07
Season 5 - Episode 3
Will is commissioned to make a triple-barrel shotgun.
#23 - Red Jacket Reloaded 8.07
Season 5 - Episode 8
Will faces some big challenges as he chooses Red Jacket's new home and works on the 155mm Russian D20, which is the largest civilian owned gun in the world; Kris sustains an injury; Charlie works on a suppressor for a very fast gun.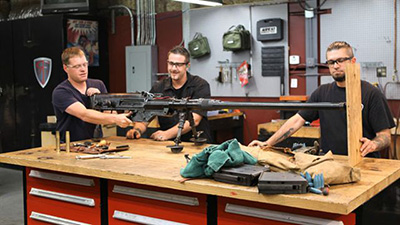 #24 - Hangfire 8.07
Season 4 - Episode 2
Will and Joe head out to Jordan for some high level meetings and leave the SOCOM order still hanging in the balance. Kris takes on a stubborn Solothurn without Will's permission. Will comes back to face a harsh reality.
#25 - Master Blaster 8.06
Season 5 - Episode 5
Joe tries to convince Will to make his building Red Jacket's new home; Will must attach a Mac 11 machine pistol to a Saiga-12 shotgun; Kris snaps; Will learns about the AK-47 deal.