The BEST Episodes of Snorks
Every episode ever - ranked by fan votes!
The Snorks are a race of small, colorful beings that live happily in the (saltwater) underwater world of Snorkland. They have snorkels on their heads, which are used to propel them swiftly through the water. As evidenced by the cartoon series, when a Snork becomes excited their tube makes a "snork" sound. They have much of the same technology as contemporary humans, adapted to their own aquatic environment. The Snorks use clams as currency ("clams" is also a slang term for money).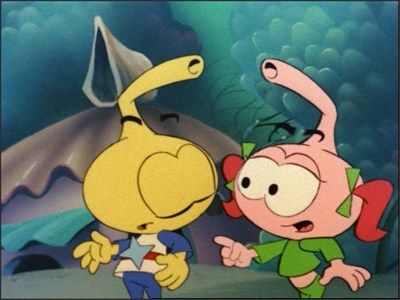 #1 - Snorkymania
Season 1 - Episode 8 - Aired Oct 6, 1984
A barrel from the world above falls into the ocean, letting out a reddish fluid that makes people frightningly zany. Meanwhile, the Snorks are performing in a talent show and Dimmy really sets a bomb with his jokes. Then the red stuff seeps in and makes everyone laugh. Of course, it gets out of hand when the entire town starts laughing crazily. The Snorks go out in the Silverfish to find the the problem at the Great Reef. The barrel is about to fall in the reef, but the Snorks get it out in time. But Junior and Occy, under the spell of the red stuff, take over the Silverfish! Eventually, Occy gets back to normal and so does Junior.
3 votes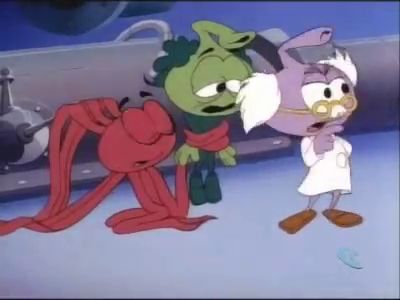 #2 - Snorkitis is Nothing to Sneeze At
Season 2 - Episode 1 - Aired Sep 14, 1985
Dimmy is very sick from Snorkitis. Galeo diagnoses it and as Tooter describes, Dimmy, Tooter catches it. Then everyone in Snorkland gets sick. Galeo wants All-Star to finish what he started a while back. He gets help from Casey and they try to get Galeo to read the notes for them. Galeo then finds the cure in snork bubbles. The Governor then recognizes Galeo as a hero.
3 votes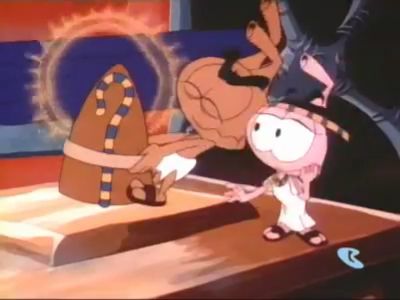 #3 - All That Glitters is Not Goldfish
Season 4 - Episode 35 - Aired Jan 14, 1989
Casey and Jo-Jo plan to surprise Corky with a vacation and Corky thinks the worst. Casey and Jo-Jo explain the concept of time-off to Corky so that he acn have some fun in his life. Casey gets on Corky for being too cautious and uptight. They decide on a picnic in the tycoons. While on their picnic, a tattered Egyptian snork needs help. Prince Eli, the tattered Snork, had a powerful empire until his evil sister Alexandra stole his scepter and took over Seagypt. Corky, Jo-Jo and Casey enlist to help him get his kingdom back. Eli and the Snorks get through some serious booby traps to get through the pyramid and get his scepter back. They go to confront Eli's sister and Eli and Alexandra get into a magical fight. When they get into the dungeon, Eli turns evil. Alexandra tells the truth about Eli, and it turns out that he was the mean seed after all. Corky comes in and they get together to pull off a plan to get Eli's power away from him so that justice can be served.
4 votes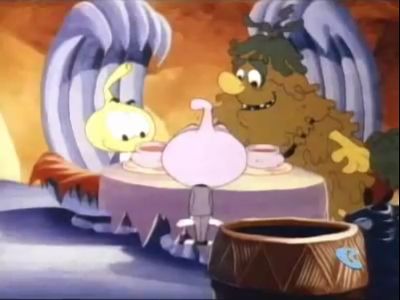 #4 - My Dinner with Allstar
Season 4 - Episode 36 - Aired Jan 14, 1989
All-Star finds a golden lamp, and Bigweed swipes it from him. A giant genie pops out and sucks them in a vortex. They enter a Wonderland where they hear cheerful music from a tuner fish. Then, a smidgen with a GIANT appetite follows them and they get sucked in a slow motion tide. When they get out, they meet the Genie and they run into a cave with the Tunerfish. Bigweed rests in a whale's mouth and they run when they realize that and falls into another vortex. They land in a place of mirrors where Bigweed steals All-Star's lamp. They break out, only to see that the tunerfish has brought them seahorses. All-Star and Bigweed come to a kelpburger stand. They meet a weird maitre 'd who gets them free food, but he's out of everything. When they eat, they put the lamp togteher, but a crab takes it apart. Bigweed grabs the piece out of the crab's claws. They find out that some of these creatures have been chasing them because of the lamp. They dress up as harem girls to see what is up. The ma
4 votes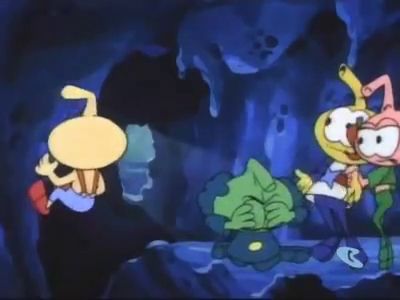 #5 - The Backwards Snork
Season 2 - Episode 20 - Aired Nov 16, 1985
All-Star and the gang meet a supposedly faceless snork who is just lonely and needs companionship. He is a backwards snork who was exiled for being different. They try to help him save his home from being town down by Governor Wetworth.
3 votes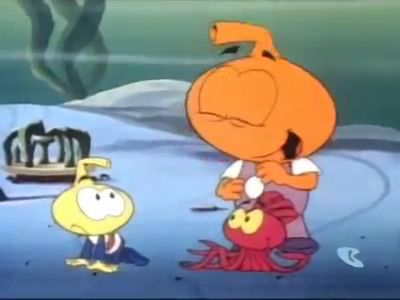 #6 - Wish or Wish Out
Season 4 - Episode 34 - Aired Jan 7, 1989
A sneaky Snail comes to town to sell his ware. Junior's brother, Willie, is discouraged because he is too little to go on the rides and stuff. Casey is discouraged as well because she seems to have a boring life. All-Star wishes he had a life like Occy. On cue, the Snailsman comes up and tries to sell stuff. He brings out a wishing pearl, a trinket that can only grant one wish. All of the get their wishes, and one by one they start to feel very successful. Then Willie starts to feel too big to do anything, Casey starts to feel the pressures of being a superhero, and All-Star gets in trouble with a dog fish catcher. All-Star then finds out that being a dog isn't all that it is cracked up to be. The Snailsman then gives them one pearl, and Casey and Willie starts fighting over it. All-Star then makes a wish for all of them back to normal.
3 votes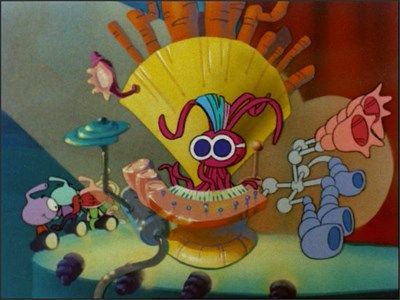 #7 - Allstar's Allstar Band
Season 1 - Episode 7 - Aired Oct 6, 1984
To make some money for All-Star's uncle Galleo, All-Star and his friends put together a band. The singing might be a little bit bad, but Occy fooling around as a keyboardist proves to be a great success. Soon, Occy is a huge star of Snorkland. Junior, however, wants to ruin Occy's success in any way he can. He even goes to his Dad, the Governor, who wants the band to stop playing so that he can promote his bad playing band. With Occy's help, that band starts playing perfectly. Both the Governor and Junior's plans backfire on them when the steam power controlling the instruments goes out of control and hits the Elder's house!
2 votes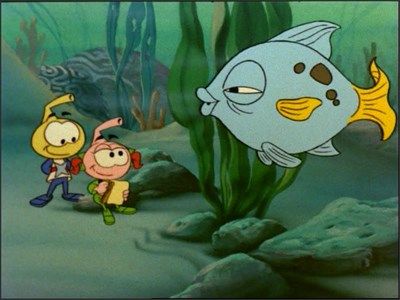 #8 - A Snorking We Will Go
Season 1 - Episode 9 - Aired Oct 13, 1984
The Snorks go on a snorking trip. Everyone is having the time of their lives, except Junior. Junior is all shook up after a story about a sea creature. While on a nature hike, they get lost thanks to Junior's ""sophisticated"" compass. While finding the way back, they come across an old sunken ship. As they explore the ship, they almost get caught by a strange giant form reaching into the ship. All-Star gets them all out safely, and he is commended for his efforts. The strange form just happened to be a diver just exploring under the sea.
2 votes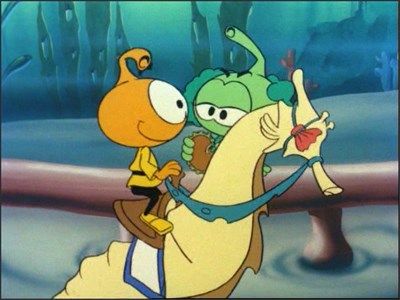 #9 - Now You Seahorse, Now You Don't
Season 1 - Episode 10 - Aired Oct 13, 1984
The Snorks enter a seahorse race. Junior, with the help of little Willie, cheats in the race. All-Star and Junior have to compete in a Snorkel chase. Junior thinks that All-Star's seahorse is all washed up because his horse ""won"". All-Star tries to prove him wrong by training his horse Sea Biscuit. Galeo creates a machine for the Silverfish with a magnetic compass. All-Star takes it by mistake and finds out that Junior and his horse cheated. All-Star and the Snorks cook up a plan to get back at Junior.
2 votes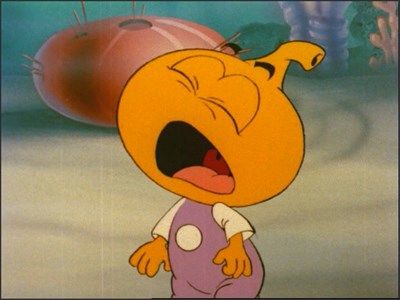 #10 - Snork Marks the Spot
Season 1 - Episode 12 - Aired Oct 20, 1984
The Snorks check out a construction site where Junior builds his empire. Occy digs up an old treasure map. Galleo tells the Snorks that the map was left by ancient Snorks. Junior steals the map and gives the Snorks a fake map to follow. They encounter a whole lot of dangers along the way while Junior thinks that the treasure is buried right in his own front yard. Galeo finds out that the treasure map is actually a warning about molten lava, an unfortunate proposition for Junior and his family.
2 votes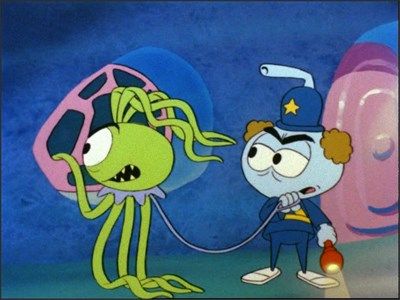 #11 - Junior's Secret
Season 1 - Episode 13 - Aired Oct 27, 1984
Junior talks about All-Star and his toy drive buit he forgets to mention that he sleeps with a toy turtle. Willie accidentally gives away Junior's turtle and Junior secretly pines for it. Junior then breaks into the school to get the toy turtle back, and gets caught by a guard. The Governor bails him out and he makes up a story about donating toys. At the toy drive, Junior tries to take his turtle back, but Baby Smallstar claims it as her own. Knowing that all is lost, Junior goes out and buys a stuffed seahorse.
2 votes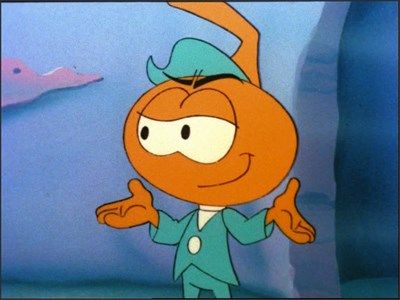 #12 - The Big Scoop
Season 1 - Episode 14 - Aired Oct 27, 1984
Junior makes up a story about a big wolf-fish for the newspaper, so he employs Willie to make his story come true. A sea current comes along and blows Willie away and Junior gets it all on film. All-Star notices that the fish was fake, and Junior vows to get a picture of a real wolf-fish. The Governor is worried about Junior (and Willie who followed him) and All-Star and the Snorks try to find him. Junior finds a real wolf-fish, and it chases him. All-Star and the rest of the gang get him in no time. The story is in the newspaper and Junior is mad again.
2 votes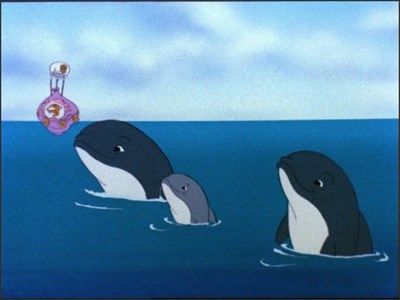 #13 - Up, Up & Awave
Season 1 - Episode 16 - Aired Nov 3, 1984
Two oceanographers are exploring communication skills of porpoises and pick up the Snorks. The Snorks are having a balloon contest. Something goes wrong with Junior's balloon and anchors All-Star's balloon to a rock. All-Star fixes it and is in the race again. In order to finish, the teams all face the wrath of Junior's cheating and a big sea current. Now, after saving Junior, they get lost and Tooter, Dimmy, and Daffney's balloon gets carried away by the porpoises. The baloons are caught by the oceanographer's net and are saved by the porpoises. Then, they are caught by a giant funnel, and the town loses hope. The porpoises save all of the balloons in time.
2 votes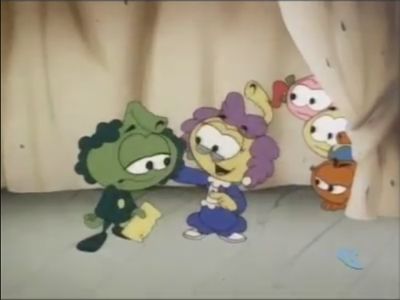 #14 - The Whole Toot and Nothing But...
Season 2 - Episode 2 - Aired Sep 14, 1985
Junior writes a speech for class and gets a C in it for using a lot of words and saying nothing. Tooter gets an F in speech and his parents decide to get him professional help. It is then discovered that Tooter picked up his toot from a day at work with his dad. Tooter then joins a band and gets very famous until Junior spoils it by ridiculing his speech impediment. Of course, Tooter ends up saving Junior from a Snorkeater by imitating a Snorkeater-eater. All-Star then tells Tooter's parents that everyone likes Tooter just for who he is.
2 votes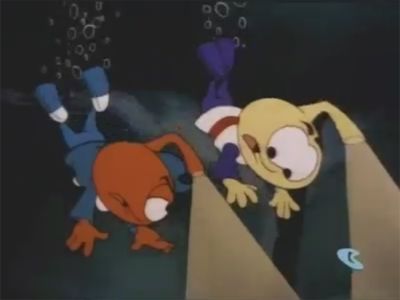 #15 - Chickens of the Sea
Season 2 - Episode 3 - Aired Sep 21, 1985
All-Star's dad is making stew and needs some salt. All-Star goes to the market where it is crowded with people wanting to get salt. All-Star goes to Galeo to see what is going on and Junior follows him. Galeo then tells him about ancient Snorks and their sea salt adventures until he falls out from dehydration. All-Star and Junior go off to find the legendary saltfish. Junior then finds some salt and takes it all for himself. He gets out but he doesn't get very far when two green guards catch him. The leader, Slugworth, gets them to start working in the salt mines. Junior gets in good with the leader, who wants more Snorks for the salt mines. Meanwhile, All-Star gets the workers to stand up to the leader. All the workers start a revolution against Slugworth. Junior then gets a well-earned lesson when the Neandersnorks want him to work.
2 votes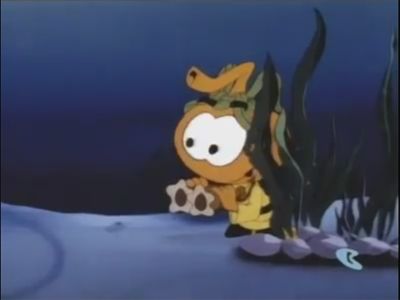 #16 - Never Cry Wolf-Fish
Season 2 - Episode 4 - Aired Sep 21, 1985
The Snorks go to see the flying fish and Dimmy's dad lets him use his new snorkoculars. Dimmy sees a wolf fish but no one believes him. All-Star and Casey gets on Dimmy for crying wolf, menaing that he shouldn't exaggerate. Then, a hawk fish takes him to its nest and keeps him there. All-Star and Casey never even knew what happened to him. In the nest, Dimmy sees a real wolf fish and protects the baby hawk fish. All-Star and Casey look for Dimmy and the wolf fish gets at them. Dimmy then gets rid of the wolf fish again. Then he tells them about the hawk fish episode and they don't believ him until the family flies by and waves to him.
2 votes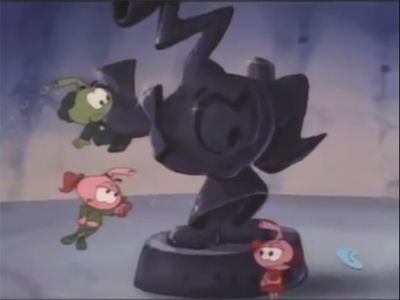 #17 - Learn to Love Your Snork
Season 2 - Episode 6 - Aired Sep 28, 1985
Daffney is unsecure about her looks when someone says that she has a big snork. Daffney's fears are confirmed when someone does a wicked stature of her. Casey then sees an ad on TV on how to shrink her snork. They get the product, but something goes wrong and Daffney's snork sticks straight up! She wears a big hat when she goes on a date with All-Star. She gets ridiculed by Junior in the movies and runs out. Then Casey looks like a sitting duck fish and everyone laughs at her. She runs away and is chased by a giant green fish. After All-Star saves herm, he tells her that she looks great the way she is.
2 votes
#18 - Allstar's Freshwater Adventure
Season 2 - Episode 7 - Aired Oct 5, 1985
While having lunch, a storm blows a creature named Lucky into Snorkland. All-Star shows him around and he loses his breath. Galeo finds out that Lucky comes from a fresh water land and has to get back immediately. Lucky and All-Star go back to the current and Lucky goes back, but All-Star gets sucked in with him. All-Star meets Riverland and Lucky's parents. All-Star finds out that he cannot stand fresh water. All-Star decides to help them with their problem for things falling from above. All-Star has to go back because of the frshwater environment and he goes through the current. Back home, All-Star makes it back for Casey's aunt's show and Casey doesn't believe a word of his adventure.
2 votes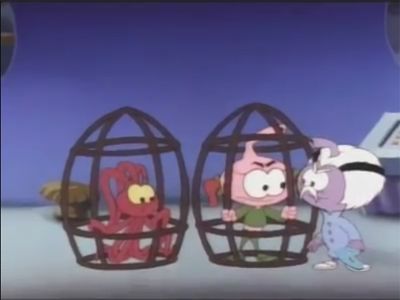 #19 - Dr. Strangesnork
Season 2 - Episode 8 - Aired Oct 5, 1985
Galeo displays his new invention called the Minaturizer, which shrinks things. All-Star watchs the invention, but Dr. Strangesnork steals it without All-Star looking. Occy then follows him and his cat to his laboratory. They are caught by the scientist, which turns out to be Galeo's brother. He uses the minaturizer to shrink his mind swapper to take over Snorkland, but he uses it to swap Occy's and All-Star's minds. All-Star (as Occy) tries to warn governor Wetworth about Dr. Strangesnork's plan, but he dismisses him. Occy (as All-Star) then guides Casey to Strangesnork's lab. Meanwhile, the Snorks find out that All-Star is really Occy. Dr. Strangesnork then goes to the auditorium where the Governor is giving his speech. The Snorks catch up to him, but he gets away. But not before Galeo swaps All-Stra and Occy back to their original selves.
2 votes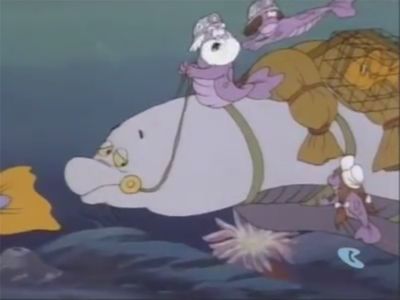 #20 - It's Just a Matter of Slime
Season 2 - Episode 9 - Aired Oct 12, 1985
All-Star meets a kelp helper who is facing a lot of trouble because of what he is. All-Star then makes friends with the kelp helper, but the grandfather is uncertain about all this. This friendship is ruined when Junior insults them. The Kelp helpers all pack up and leave. Because of all the kelp helpers leaving, Snorkland is all full of algae. Everyone has to clean up and it's all the Governor's fault. All-Star goes to the kelp helpers and apologizes to them, but they expect an apology from the governor himself. It takes a giant snorkeater terrorizing Snorkland to set the governor straight. The Kelp helpers really did make a great contribution to Snorkland after all.
2 votes
#21 - Water Friends For?
Season 2 - Episode 10 - Aired Oct 12, 1985
Daffney gets tickets to the rodeo, but Casey gets tickets to the hockey game. They get into an argument over events. Daffney goes to the rodeo and the rodeo owners get Daffney into riding one of the horses in the rodeo. Daffney really does well, due to the fact that she only rode the seahorse go round. At the hockey game, Casey is lonesome for Daffney. In the rodeo, it takes a cactus to really get Daffney's horse going! At the game, a special announcement states that Daffney is out of control with her horse. The Snorks then try to find Daffney. Daffney almost gets sucked into a whirlpool, but Casey saves her.
2 votes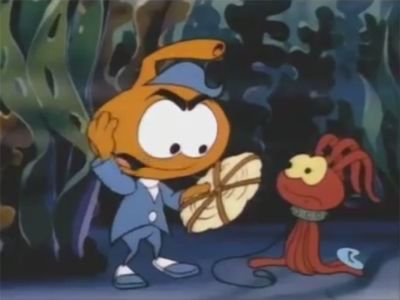 #22 - Junior's Octopuppy
Season 2 - Episode 11 - Aired Oct 19, 1985
All-Star, Daffney and Galeo enjoy a nice lunch when Junior comes yelling about a watch he has lost. Occy chases Junior off. Then All-Star tells Galeo that Occy used to be Junior's dog. Three years ago, Junior got Occy to protect him from people whom he accuses as thieves. All-Star helps him out by putting Junior's stuff back. On a field trip, Junior is training Occy, who gets stuck. All-Star and Casey help Occy out and Occy takes a liking to him. Then Junior tries to get Occy to track down and catch a butterfly shrimp. Occy leads him to a cave with a giant snorkeater. Occy leaves Junior and goes to All-Star's rescue when he is chased by the Snork eater. From that point on, Occy became All-Star's pet.
2 votes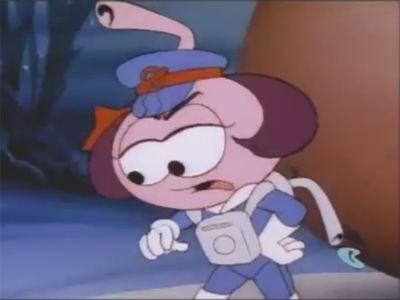 #23 - The Shape of Snorks to Come
Season 2 - Episode 12 - Aired Oct 19, 1985
Junior is thinking about running for Governor one day and goes campaigning. While chasing down local votes, he falls into a hole cause by a sea quake. The hole Junior falls down in sends him flying into the future where there the ruling is very strict. Because he says All-Star, he gets taken to court, The judge gives him 10 years in jail. While in jail, he meets old Casey. Casey tells him that All-Star was the governor's worst enemy and everything about him is illegal. Junior says Wetworth and is let out of jail. Junior gets the shock of his life when the Governor turns out to be HIM! Then the whole town escapes from jail and tehy all chase him. Junior then realizes that he has been campaigning in a bad way and plans to change his ways so it will not end up being like what he had just seen.
2 votes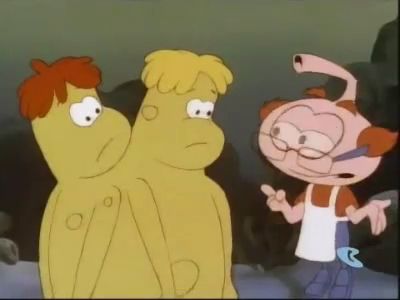 #24 - Casey and the Doubleheader
Season 2 - Episode 13 - Aired Oct 26, 1985
Casye and Dimmy meet a Doubleheader named Red and Ed. They introduce them to All-Star and Tooter. They might by two, but they are so different in every way. Red is an avid eater and ends up eating everything in sight, even Casey's mother's flowers. Then Red makes trouble while no one is looking. In the morning, Red goes around acting like an innocent bystander. Then Galeo finds out that Red and Ed caused all the trouble. Actually, Red caused all the touble, but he sees the error of his ways when they save Casey from a waterfall.
2 votes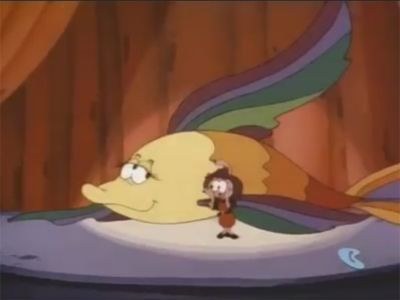 #25 - The Ugly Yuckfish
Season 2 - Episode 14 - Aired Oct 26, 1985
The Snorks visit the Undersea Fish Exhibits and are looking for the legendary Rainbowfish. Daffney doesn't want anything to do with it because it might mess up her chances for a beauty contest. Daffeny is soon pursued by a Yuckfish. Junior scares it away by taking pictures but the Yuckfish follows them as they leave. Daffney loses her purse and the Yuckfish finds it for her. The Yuckfish really likes her, but Daffney doesn't give him the time of day. She finds him a good home with a Snork rancher, who disgracefully turns the Yuckfish into a sideshow act. The Snorks break him out by pretending to be a circus trainer with a giant fish (Daffney, Casey, and Tooter). The Snorks then take Daffney to the beauty contest where she wins. The Yuckfish joins her on stage and Junior starts laughing and making fun of it. Daffney defends it by saying that it is beautiful and to everyone's surprise, the Yuckfish turns into a beautiful Rainbow Swan fish!
2 votes