The BEST Episodes of River Cottage
Every episode ever - ranked by fan votes!
Last Updated: Nov 26, 2019
In 1999 Hugh Fearnley-Whittingstall decided to quit the bustle of London and take on the life of a smallholder at River Cottage, a former gamekeeper's cottage in Dorset. The aim: self-sufficiency; to grow his own vegetables and raise his own animals for food. Over the years several series have been produced covering his experiences and watching his rural empire grow.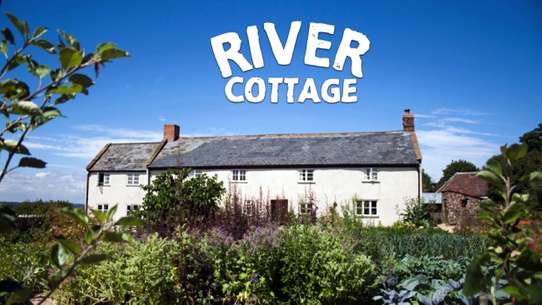 #1 - Christmas at River Cottage
Season 12 - Episode 1
This year, River Cottage celebrates a family Christmas with everyone getting involved to make this dinner their very best yet. Hugh challenges his chefs Gill and Tim to help transform the fortunes of the much maligned Brussels sprout by coming up with new recipes and brings out potatoes, onions and parsnips from the autumn stores to make the perfect trimmings.
1 votes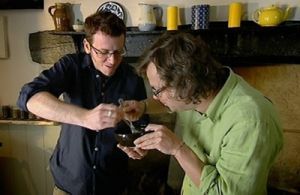 #2 - Summer's Here (1)
Season 13 - Episode 1
Hugh has been waxing lyrical about the goodness of home grown grub for years and as summer starts in 2009, he's convinced the tide is starting to turn. "Britain's definitely been bitten by the grow your own bug," grins Hugh. While Hugh's a die hard fan of many a veg patch pleasure, there's one garden goodie that excites him more than most. "If I was only allowed to grow one vegetable to get me through the summer, it would be these guys: peas." For Hugh, peas symbolise the start of summer so he heads to the kitchen with Tim the chef to rustle up tasty pea recipes. That's if there's any left after Hugh's finished scoffing straight from the bowl. Tim's cooking a chilled pea soup served as a shooter with shells and shoots used for good measure. Hugh opts for a pea and pork combo with plain boiled, buttered peas with fried chorizo. "All we've been saying is give peas a chance," grins Hugh.
2 votes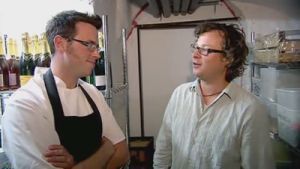 #3 - Summer's Here (2)
Season 13 - Episode 2
Hugh wants to run a 'Leftovers Night' at the River Cottage Canteen. Together with chef Tim Maddams they make canapes from leftover fish, gnocchi from roast potatoes and puddings from breadcrumbs.
2 votes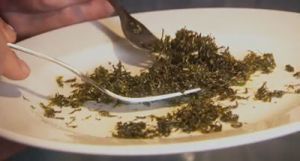 #4 - Summer's Here (3)
Season 13 - Episode 3
Hugh is particularly keen on the River Cottage garden, so when he discovers slugs have been gauging on his soft cabbages he plans some drastic action. Can Hugh turn slugs into a culinary hit?
2 votes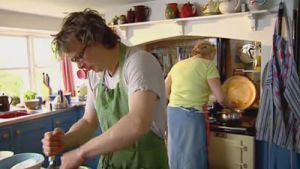 #5 - Summer's Here (4)
Season 13 - Episode 4
River Cottage is celebrating the strawberry this summer with a massive 500-person strawberry fete. In preparation, Hugh and the River Cottage gardeners plant strawberries in every available space.
2 votes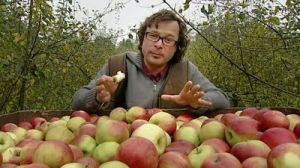 #6 - Winter's on the Way (1)
Season 13 - Episode 6
Winters On The Way as we return to River Cottage to join Hugh Fearnley-Whittingstall growing rearing fishing and foraging for an array of winter treats. With his produce he hopes to turn this traditionally chilly season into the warmest of the year. Hugh lives in cider country which presents a problem when it comes to one of his favourite fruits the pear. As well as eating and cooking with pears he would like to enjoy them brewed as an alcohol or Perry. Hugh travels to Gloucestershire where David Kaspar is still making this traditional tipple. Catching fish is one of Hughs great passions. Be it line or fly fishing potting or scuba diving hes tried a whole range of intriguing ways to sustainably gather the fruits of the sea. However there is one technique he has not tried out and that is professional free diving. After a crash course in holding huge breaths underwater he takes to the open sea to try and bag the ultimate of shellfish scallops. Hugh prepares some comforting wintery dishes including a mixed mushroom tart with fungi picked fresh from the forest scallops from the sea with mushy squash and bacon hot ham hock and split pea soup and pot au feu.
2 votes
Writers:
Hugh Fearnley-Whittingstall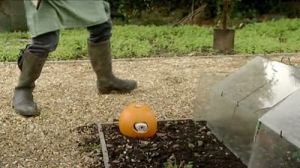 #7 - Winter's on the Way (2)
Season 13 - Episode 7
Based on the nibbled nature of his vandalised veg, Hugh suspects robbers of the rabbit kind. But in order to get incontrovertible proof he'll have to rely on Pumpkin Cam.
2 votes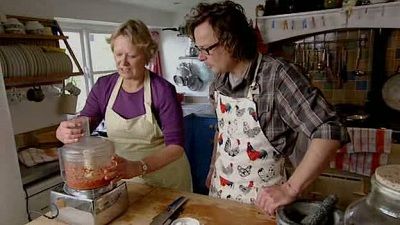 #8 - Winter's on the Way (3)
Season 13 - Episode 8
With winter just around the corner, Hugh turns to his garden for inspiration and decides to turn the heat up with a 200 person chilli-and-pumpkin party. Fast food and Hugh do not traditionally go hand in hand, but there is one exception: the Findus Crispy Pancake that he so adored as a youngster. Hugh and River Cottage chefs, Gill Mellow and Tim Maddams, take a nostalgic trip down memory lane to resurrect and refashion a childhood favourite, but with fantastic fresh ingredients including smoked pollack, bacon, cheese and sweetcorn. Hugh travels to Cornwall to join a group of fisherman who have found a sustainable and lucrative market in line caught squid fishing After an early morning at sea Hugh cooks some deep fried salt and pepper squid, with a sweet chilli dipping sauce, before the rest of their catch travels to London's sushi restaurants
2 votes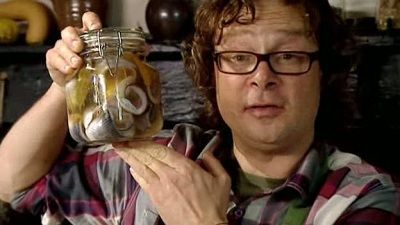 #9 - Winter's on the Way (4)
Season 13 - Episode 9
With Christmas around the corner, Hugh has a plan. Instead of giving shop-bought boxes of chocolate goodies this Christmas, he decides to make his own, conjuring up a tray of lip-smacking chocolate brownies that take ten minutes to prepare and two minutes to wrap. Hugh's slaughtered steer has now been hanging for a month. Butcher Ray Smith and Hugh set to work extracting cuts for a party Hugh is throwing: the pair can't resist making beefy canapés of biltong and pastrami. Hugh's valiant attempts to get wild rabbits back on to the British menu continues as he targets the notoriously awkward teenage demographic. Armed with deep fried rabbit legs, a mayonnaise dip and hot rabbit buns he heads to an Exeter nightclub. Hugh also hunts for the blewitt mushroom and tries to catch herring for the first time. Meanwhile, out of the River Cottage garden Hugh harvests a winter salad, to which he adds roasted Jerusalem artichoke, goat's cheese and hazelnuts for a light but mouth-watering lunch.
2 votes
Writers:
Hugh Fearnley-Whittingstall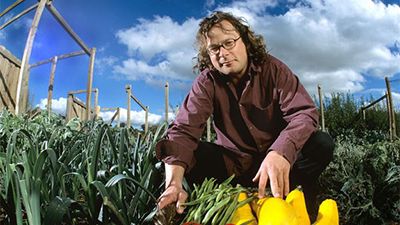 #10 - Heroes
Season 13 - Episode 11
To celebrate a bumper year at River Cottage, Hugh has some of his food heroes round for a fabulous four course dinner including rare mushrooms, ten bird spit roast and the ultimate sponge…
1 votes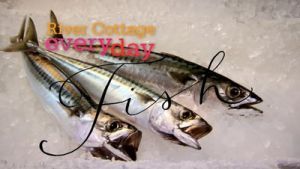 #11 - Every Day: Fish
Season 14 - Episode 2
Hugh takes on the challenge of converting a house full of student girls to the delights of fresh fish with dishes ranging from marvellous mussels to tempting Thai fish curries.
1 votes
Writers:
Hugh Fearnley-Whittingstall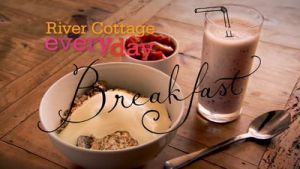 #12 - Every Day: Breakfast
Season 14 - Episode 5
Hugh Fearnley-Whittingstall sets out to prove that breakfast is the most important meal of the day. He visits a school to demonstrate how to make pancakes and drop scones, and heads to Bristol's main train station to show commuters how to start the day in style. A special canteen event also showcases a reinvention of the full English breakfast, featuring mushroom soup with brown sauce and bacon rind, and builder's tea granita.
1 votes
Writers:
Hugh Fearnley-Whittingstall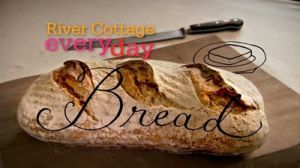 #13 - Every Day: Bread
Season 14 - Episode 7
Hugh makes bread, all kinds of loaves, from simple white to tangy sourdough, and cheese and Guinness stuffed soda breads.
1 votes
Writers:
Hugh Fearnley-Whittingstall
#14 - Every Day: Treats
Season 14 - Episode 8
Hugh Fearnley-Whittingstall turns his attention to treats, with recipes for Genoese sponge cake and lemon curd muffins, game pies, cheesy tarts and real ginger beer. As well as revamping afternoon tea for the Bridport Tea Dance, there is a visit to a pub that features a pudding league, and Hugh's son Oscar is inspired to create a vanilla and elderflower panna cotta.
1 votes
Writers:
Hugh Fearnley-Whittingstall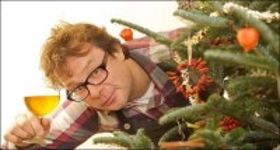 #15 - River Cottage Christmas Fayre
Season 15 - Episode 1
In an evening of traditional festive British foods, look out for luxuriously rich Christmas bread, Hugh's take on a sweet chutney, a trio of recipes for that wonderful winter root celeriac, tips on filling the perfect homemade hamper, and some deliciously different ways to stuff a roast goose. All that plus a festive foraged cocktail, a gingerbread house competition, a caroling Christmas party and hangover cures!
2 votes
Writers:
Hugh Fearnley-Whittingstall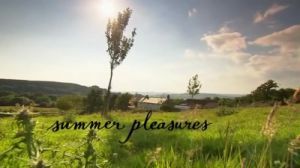 #16 - Veg Every Day: Summer Pleasures
Season 16 - Episode 4
Hugh's commitment to a summer without flesh takes a hit when he joins a fishing trip and has to pass up the fresh mackerel sushi. So he visits Sachiko in Birmingham, where a Japanese chef introduces him to the vegetarian ways of Buddhist monks, and cooking techniques entirely dedicated to wowing the palate out of any yearning for meat or fish. Back on track, Hugh plunges back into traditional English summertime and prepares a full cricket tea without a pork pie in sight.
1 votes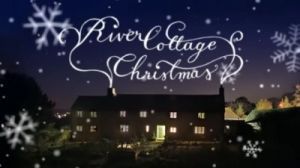 #17 - River Cottage Christmas
Season 16 - Episode 8
After a summer of eating veg, Hugh is ready to celebrate Christmas with a renewed sense of the value of meat - but also the wonders of seasonal vegetables. This year all the meat comes from the most extensively-living, free-ranging animals of them all - wild game - and more specifically those that are viewed by many people as pests.The River Cottage chefs sharpen their knives in pursuit of wild boar, muntjack deer and greylag geese. Head gardener Mark Diacono and Hugh seek to make the most of their veg patch, even in the depths of winter, unearthing some Christmas favourites, as well as some heritage varieties from off the beaten path. Forager John Wright teams up with Pam 'the Jam' Corbin to make some luxury stocking fillers. And the Canteen hosts a `12 Tasters of Christmas' night, packed with ideas to create an array of canapes and little bites, perfect for that festive drinks party.
1 votes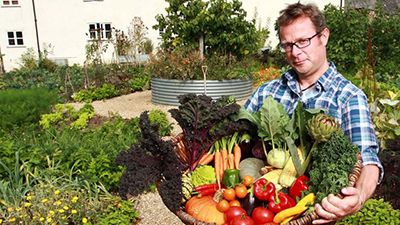 #18 - Veg Heroes (1): Professional Chef David
Season 17 - Episode 1
Hugh goes to London to meet professional chef David and family and to become inspired by the array of flavours that vegetables offer, from a Thai salad to a nut, cumin and orange salad. And Hugh sets out to see if bacon-loving workmen can be tempted by a meat-free midday meal.
1 votes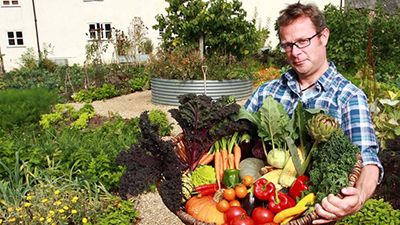 #19 - Veg Heroes (4)
Season 17 - Episode 4
Hugh cooks up a storm for a (mostly vegetarian) wild swimming team. From the ultimate power-packing pesto, pasta and potato salad to a big hearty stew, Hugh's found his new role - club cook.
1 votes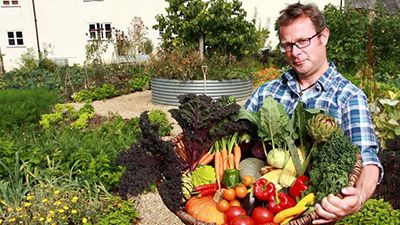 #20 - Veg Heroes (5): Sachiko Saeki and Pak Keung Wan
Season 17 - Episode 5
Hugh discovers new cooking techniques from Sachiko Saeki and her husband Pak Keung Wan, which inspire him to turn his runner beans in to Japanese pickles and tempting tempura dishes.
1 votes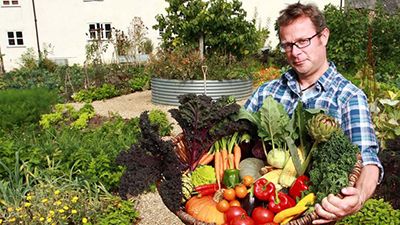 #21 - Veg Heroes (6)
Season 17 - Episode 6
Hugh's summer of vegetarianism presents him with a challenge: should he serve meat at the annual River Cottage BBQ? He sticks to his guns and dishes up a spelt, potato and carrot salad.
1 votes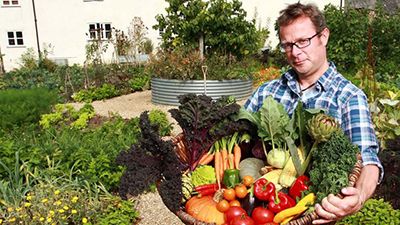 #22 - Veg Heroes (7)
Season 17 - Episode 7
To make the most of his summer as a vegetarian, Hugh turns to his love of foraging to provide some interestingly different edible options, from searching the rock pools for dulse seaweed to shimmying up a monkey puzzle tree for a never-before-tried taste of their nuts - which ultimately end up being perfect in a risotto.
1 votes
#23 - Veg Heroes (8)
Season 17 - Episode 8
Inspired by his summer of vegetarianism, Hugh has set himself the mission to spread the word that meat-free meals can be for everyone. But the carnivorous customers at the Fox and Hound pub are proud of their meat-filled main courses... What will the locals think when Hugh puts on a veg-only night? Will his spicy pakoras and mushroom stews be enough to win them over, or will he be left with egg on his face?
1 votes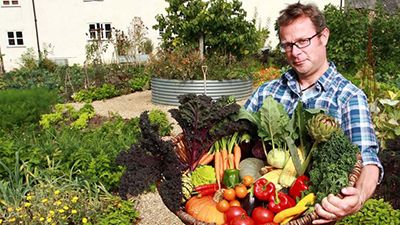 #24 - Veg Heroes (9)
Season 17 - Episode 9
With the River Cottage team already making the most of all types of cheese to flavour their veg dishes - from Hugh's Easy Peasy Cheesy pasta to cheese and broad bean brochettes and cheese fritattas - Canteen Head Chef Tim faces a cook-off competition to persuade the rest of his staff to get on the meat-free bandwagon.
1 votes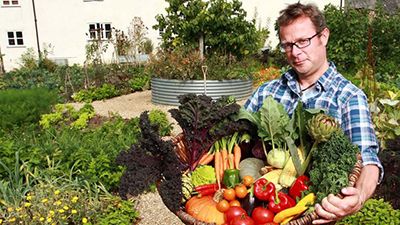 #25 - Veg Heroes (10)
Season 17 - Episode 10
It's the River Cottage team's turn to provide the tea for their annual cricket match against their local rivals. But Hugh has banished the pork pies, ham sandwiches and luncheon meat, requiring some creative, and high-scoring, efforts in the kitchen to win over the opposition. Hugh, Tim and Gill get together for some collaborative sandwich-making and experiment with post-match veggie cocktails.
1 votes