The BEST Episodes of Princess Jellyfish
Every episode ever - ranked by fan votes!
Last Updated: Jun 11, 2020
Amamizukan is an apartment complex where no boys are allowed. Kuragehime Tsukimi, a girl who adores jellyfish, lives there happily with her friends who all have nerdy obsessions of their own. Their peaceful lives gradually start to change when a beautiful woman helps Tsukimi out of a pinch. She moves into the apartments -- but it turns out "she" is really a "he."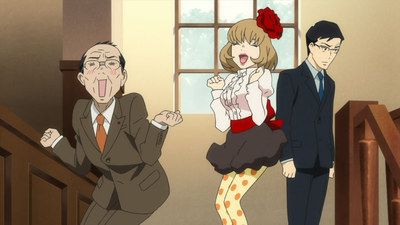 #1 - Enchanted
Season 1 - Episode 3 - Aired Nov 4, 2010
While avoiding a family business meeting to visit the Amars, Kuranosuke makes a bad impression when asking about their income. Later, he secretly takes Tsukimi to his house and gives her a makeover which she is not particularly happy about. As Tsukimi escapes, she catches the eye of Kuranosuke's brother, Shū, who takes interest in her and goes to return her clothes. While Tsukimi seems to also take interest from seeing him, Shū does not recognize her in her usual clothing.
15 votes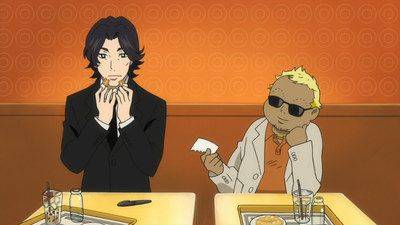 #2 - Million-dollar Babies
Season 1 - Episode 8 - Aired Dec 9, 2010
Tsukimi and Kuranosuke find various retro crockery for their flea market. Meanwhile, Shū's father has Hanamori ask his private investigator friend, Sugimoto, to tail Shū in order to find out about Inari. At the flea market, Kuranosuke discovers that a jellyfish shaped teru teru bozu that Tsukimi made sells well, so he arranges for the Amars to help her make more. Sugimoto learns that Inari is blackmailing Shū in order to seal the development deal. After seeing Tsukimi entranced by frilly material, Kuranosuke wonders if he is having feelings for her. Meanwhile, Hanamori accidentally informs Shū about Sugimoto tailing him. Assuming Tsukimi might be interested in clothes, Kuranosuke suggests they work together to make jellyfish dresses to sell.
15 votes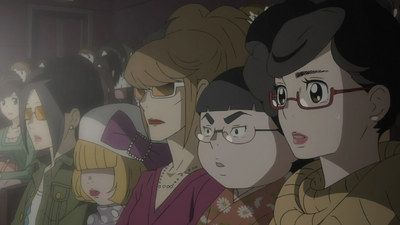 #3 - Jellyfish of Dreams
Season 1 - Episode 11 - Aired Dec 30, 2010
As Tsukimi gets excited to make more dresses, the other Amars find out about the Amamizukan, only to later learn it was a mistake from the construction workers. However, they later receive a call from Chieko's mother, which causes Tsukimi to become determined to produce more teru teru bozu to raise the money needed quickly. Kuranosuke decides to enter Tsukimi's dresses into a fashion show, where they place first in every category. Meanwhile, Inari, who appears to have developed a crush on Shū following their last encounter, ends up sharing a plane with him. Tsukimi gets a little nervous when being introduced as the designer, but manages to label her brand as 'Jellyfish'. Later, Chieko's mother returns home, who says she no longer plans to sell the Amamizukan.
13 votes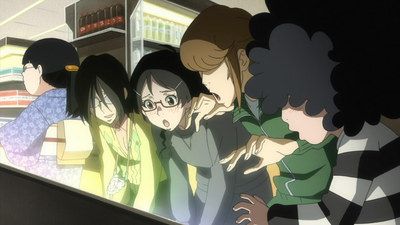 #4 - Sukiyaki Western Matsusaka
Season 1 - Episode 2 - Aired Oct 28, 2010
Tsukimi has some trouble in the morning trying to keep the man, Kuranosuke Koibuchi, from being spotted by her housemates. Later that day, Kuranosuke shows up again, disturbing the residents who are not used to the presence of chic people. Tsukimi is particularly troubled as she needs to keep his gender a secret. His over-friendliness rubs off the wrong way with the other residents and they tell him to leave. As way of apology, Kuranosuke manages to get them some high quality meat from his house, and it turns out that he is the son of a wealthy politician.
16 votes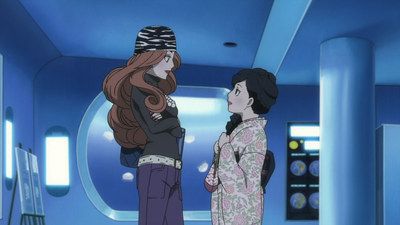 #5 - Let's Meet at the Aquarium
Season 1 - Episode 4 - Aired Nov 11, 2010
Kuranosuke learns Shū is planning to redevelop the Amamizukan into a hotel in two years time, though is surprised that none of the residents are too bothered. Kuranosuke decides to accompany Tsukimi to an aquarium and dresses her up again, convincing Shū to accompany them. As Tsukimi becomes fascinated by the jellyfish, Kuranosuke gets strange feelings from looking at Tsukimi. After changing into his male wear, he finds Tsukimi being embraced by Shū as she was crying from remembering her mother and feels jealous. After Tsukimi gets over it, she soon gets embarrassed over the hug. When she returns, she finds the resident manga author, Juon Meijiro, only has a week until her next deadline so the others have to rush to ink pages. However, she loses her concentration following Shū seeing her in her tank top. Meanwhile, Kuranosuke is disturbed to find Shū is still a virgin.
16 votes
#6 - Days of Love and Lukewarm Water
Season 1 - Episode 10 - Aired Dec 23, 2010
Kuranosuke tries to get Chieko's help in making a flower hat jelly shaped skirt, but she can only make kimonos, so she simply offers to do stitching while Kuranosuke and Tsukimi are left to figure everything else out. Meanwhile, Sugimoto is requested by Shū's father to investigate Tsukimi while Shū is still being manipulated by Inari. Tsukimi helps make progress on the skirt, but when Kuranosuke suggests moving production to his house, Tsukimi remembers about Shū and becomes depressed. When Shū calls Inari when she is way too drunk, he rushes over, only to find her faking having an overdose. He slaps her and decides to flee to Narita. Tsukimi gets out of her funk thanks to Kuranosuke and works with Chieko and Jiji to finish their dress, inadvertently using a pearl necklace given to Kuranosuke by his mother. However, when Mayaya and Banba return from Chinatown after being chased out by Kuranosuke, they find the Amamizukan encased in a construction zone.
12 votes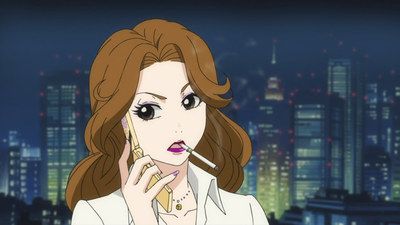 #7 - I Want to be a Jellyfish
Season 1 - Episode 5 - Aired Nov 18, 2010
Chieko, the daughter of the Amamizukan's manager, learns that her mother plans to sell the place and the residents will have to move out in a year. The Amars attend a presentation on the urban renewal project to protest, where they run into Shū (who still doesn't recognise Tsukimi in her normal wear), but they quickly leave since they can't stand being stared at. When the project leader, Inari, assumes Shū plans to back the opposition, she takes him out in order to persuade him otherwise, which Tsukimi sees. Annoyed by their willingness to give up, believing it to be the reason Tsukimi is upset, Kuranosuke decides to give the Amars makeovers so they can be taken seriously.
13 votes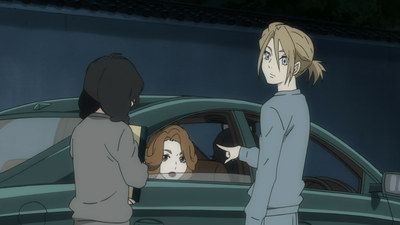 #8 - Midnight Cherry Boy
Season 1 - Episode 9 - Aired Dec 16, 2010
Inari manages to get Shū to set up a meeting with his father. Kuranosuke and Tsukimi go to his house to strategise their dress making and run into them. Kuranosuke questions Inari's lies about having sex with Shū, though when she shows off the doctored photo, Tsukimi believes it and runs off, leaving behind her sketchbook. Kuranosuke finds a sketch of a chrysaora melanaster and gets inspiration. Meanwhile, Tsukimi, having trouble sleeping, has some sweet sake to fall asleep. She is later carried to bed by Kuranosuke, with Tsukimi dreaming of her mother.
14 votes
#9 - Islands of Unemployment Cash-lending
Season 1 - Episode 7 - Aired Dec 2, 2010
While Inari makes plans to return Shū's glasses, she drops by the Amamizukan to bribe the Amars with sweets, and Tsukimi becomes depressed when she sees Shū's glasses in her bag. Before she leaves, Inari is confronted by Kuranosuke, who says they will stand against her by buying the Amamizukan from the original owner. Tsukimi later asks Kuranosuke about Inari's apparent relation to Shū and cries about it. Kuranosuke soon realises the Amars are skint, so he suggests selling some of their possessions to raise funds, which they don't take too well. As Tsukimi gets stunned by seeing Kuranosuke topless, he almost kisses her before they are interrupted by the need for a fax machine. Meanwhile, Inari lies about having sex with Shū in order to blackmail him. After convincing Meijiro to put in a down payment for the Amamizukan, Kuranosuke tries to blackmail his father for the rest, but this fails since he only made it to second base. Instead, he reserves a stand at an upcoming flea market and looks through the Amamizukan storage.
14 votes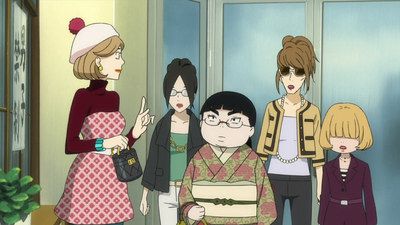 #10 - Night of the Living Amars
Season 1 - Episode 6 - Aired Nov 25, 2010
Inari takes Shū to a bar and spikes his drink in order to take advantage of him at a hotel. Meanwhile, Kuranosuke takes the newly styled up Amars to a fancy café and treats them to some high class food, and Kuranosuke is once again taken aback by Tsukimi's cuteness. As Shū recovers and believes he's been sexually harassed, he makes a run for it. Kuranosuke later learns from one of the family employees, Hanamori, about Shū's phobia of women, which originated when he caught his father cheating on his mother with another woman, Kuranosuke's mother. Later, Shū briefly visits Tsukimi to shake her hand.
15 votes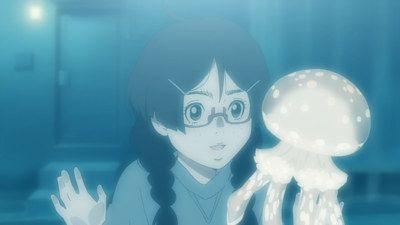 #11 - Sex and the Sisterhood
Season 1 - Episode 1 - Aired Oct 14, 2010
Tsukimi Kurashita is an 18-year-old otaku living in an all-female apartment building, Amamizukan, with other women otaku. One day, Tsukimi, who has an intense love for jellyfish, tries to go to Shibuya for a jellyfish exhibit, but turns back when she becomes apprehensive at all the stylish girls walking around Shibuya. Later, when reminiscing about her dead mother, Tsukimi goes to see a spotted jellyfish she named Clara at a local pet store to cheer her up. She is shocked to find a moon jellyfish in the same tank, as this will eventually cause the spotted jellyfish to die. Overcoming her fear of talking with the stylish male shop clerk, Tsukimi tries to explain the imminent danger to the jellyfish, but is pushed back when she tries to enter the store. She bumps into a stylish woman outside the store, who eventually reasons with the clerk to give Clara to Tsukimi, since it will die anyway. They take it back to Amamizukan and put it into the bathtub for the night. The woman stays the night, and the next morning Tsukimi discovers the woman is in fact a cross-dressing man.
18 votes