The BEST Episodes of Noel Fielding's Luxury Comedy
Every episode ever - ranked by fan votes!
Last Updated: Jun 9, 2020
The co-creator of The Mighty Boosh is back and this time he's taken it to another level. Noel Fielding's Luxury Comedy is a psychedelic character based comedy show half filmed and half animated, with music provided by Kasabian's Sergio Pizzorno. Along with animator/ director Nigel Coan (The Mighty Boosh, Bunny and the Bull), Fielding has created a joyful, charming explosion of a TV show that is in the tradition of Spike Milligan and Kenny Everett but completely modern at the same time. The show is like biting into an aurora borealis sandwich... like Salvador Dali and Mick Jagger recreating The Jungle Book using toast... Warm and strange and packed with jokes, Luxury Comedy will change the way you feel about television and your own hands forever. 'Television needs a madman - I just want to blow people's minds.'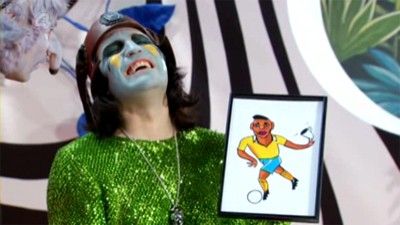 #1 - Pele
Season 1 - Episode 1 - Aired Jan 26, 2012
In this opening episode, New York Cop goes undercover in Miami, Renny & Gaviskon, the French chefs, take a trip to the moon, and Noel creates a felt-tip masterpiece with disastrous consequences.
86 votes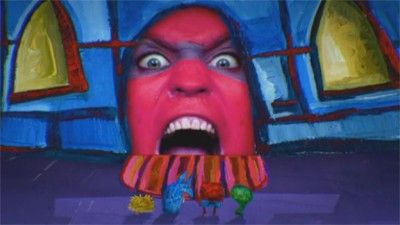 #2 - The Jelly Fox
Season 1 - Episode 2 - Aired Feb 2, 2012
In this episode Lysergic Casserole are trapped in a guitar case, Little Chrissie and Spoon Snake visit the Jelly Fox, while God ruins the party.
29 votes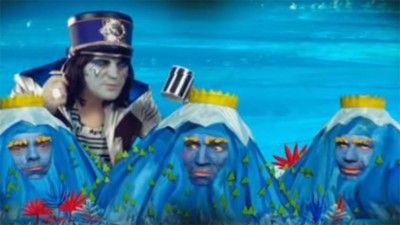 #3 - King Tutta
Season 1 - Episode 3 - Aired Feb 9, 2012
In this episode, Dolly falls in love with a hat, Roy Circles reveals how he got over the death of his wife, and Noel uses his magic typewriter to obtain the ultimate frying pan.
29 votes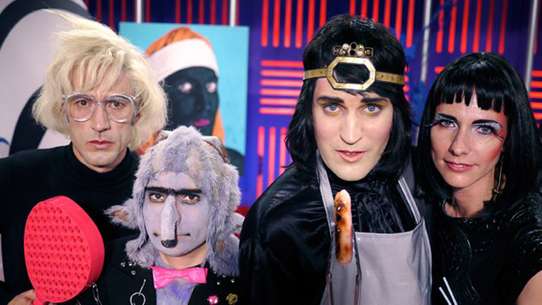 #4 - Phone Cake
Season 1 - Episode 4 - Aired Feb 16, 2012
In this show, Noel gets a really important call. Tony Reason speaks about his time working with Bon Jovi, while Fantasy Man tries to capture the Dream Tiger.
29 votes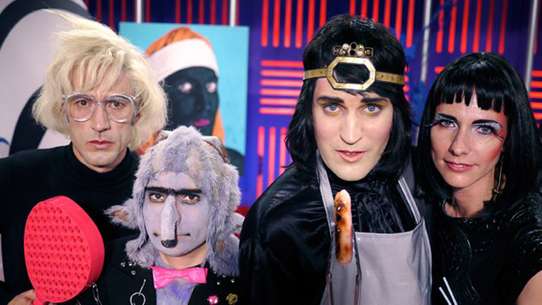 #5 - Paul Panfer
Season 2 - Episode 1 - Aired Jul 31, 2014
The second season begins with a season long title: "Tales from Painted Hawaii". The cast of Magnum P.I. try to sacrifice Noel to a volcano. All hopes of being rescued rest on Paul Panfer, an internet sensation who remakes Elvis films on his mobile phone.
29 votes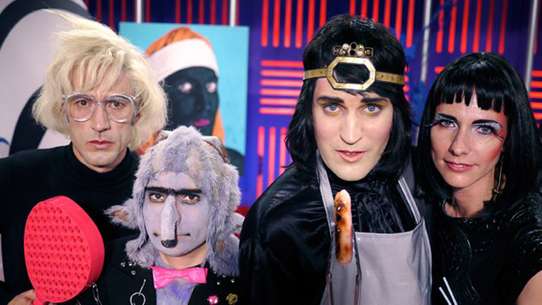 #6 - Saving Terry
Season 2 - Episode 2 - Aired Aug 7, 2014
Noel gets fantasy block (a weird strain of writer's block) and if he doesn't overcome this and write an ending to the show, Terry, his only viewer, will be killed by an asteroid
29 votes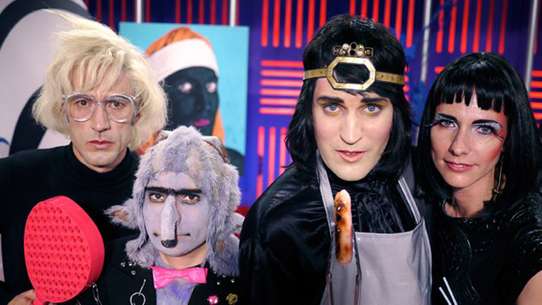 #7 - Reality Man
Season 2 - Episode 3 - Aired Aug 14, 2014
Noel's show is turned into a reality TV programme by fantasy terrorist Reality Man. Noel is evicted back to reality and gets a job working in a greasy spoon café. Luckily for Noel, Fantasy Man and Big Chief Woolabum are on hand to help, and hopefully save the day.
29 votes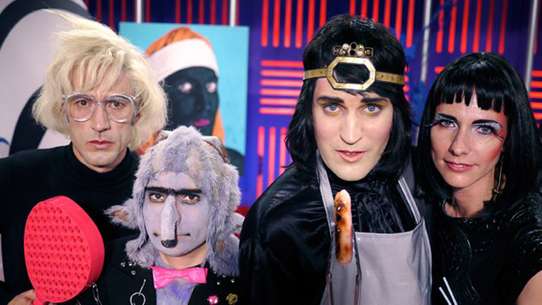 #8 - Cucumbers of Cool
Season 2 - Episode 4 - Aired Aug 21, 2014
Noel realises he is the only person in the show who isn't cool. He has until the end of the episode to become cool, otherwise he will be destroyed by a race of alien cucumbers who all worship the poet John Gay.
29 votes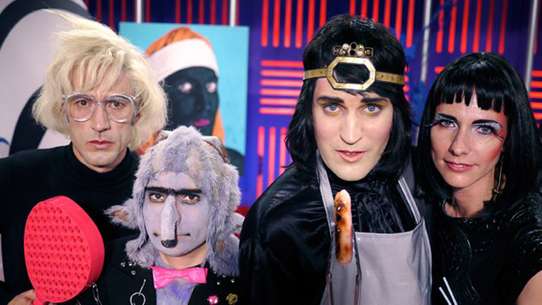 #9 - Joey And The Whale
Season 2 - Episode 5 - Aired Aug 28, 2014
Noel has until the end of the episode to boost the ratings from nine to twenty-five. If he doesn't manage to do it in time, his show will be axed and he and all his characters will be put into storage and, ultimately, incinerated. (Season 2 Finale)
29 votes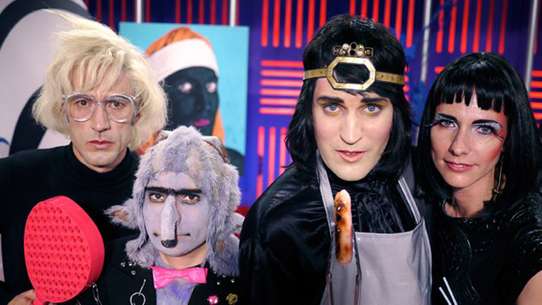 #10 - Mash Potato Utopia
Season 1 - Episode 5 - Aired Feb 23, 2012
Noel is taunted by a Dolphin Bomber, New York Cop tells the tale of the singing fishfinger, and Secret Peter reveals where Alan Hansen has been hiding.
0 votes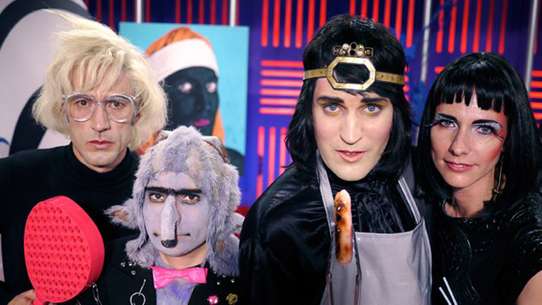 #11 - Tiger with Chlamydia
Season 1 - Episode 6 - Aired Mar 1, 2012
Noel discovers that Andy Warhol is a forgery, Tony Reason is visited by his old mucker Tod Michaels, the music-producing hammerhead shark, and the jungle is terrorised by a giant tiger with an STD.
0 votes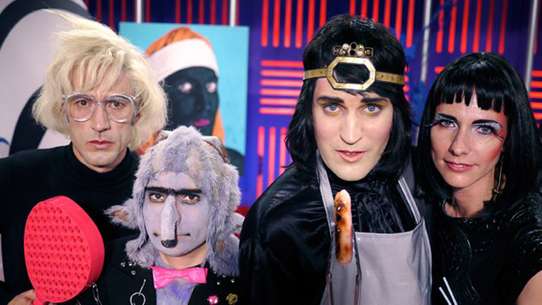 #12 - BBQ Breakdown
Season 1 - Episode 7 - Aired Mar 8, 2012
Fantasy Man gets into a scrape with some chavs, kite-headed Bryan Ferry is decapitated by a racist protractor, and Noel accidentally sets fire to the show.
0 votes