The BEST Episodes of House of Fools
Every episode ever - ranked by fan votes!
Last Updated: Sep 21, 2021
Set in Bob Mortimer's home, every episode of House Of Fools sees Bob frustrated by his uninvited lodgers, visitors and guests who constantly fill his house. Led by Vic - Beef, Bosh and Julie knit together each week to wreak havoc on Bob. Vic Reeves is the long term and mostly unwanted guest in Bob's house, always treating the place like his own, with little regard for Bob's wishes. Living alongside them is Bob's Norwegian son, Erik, who has absolutely no time at all for his 'moron' father and next door is Julie, who lives in a haze of imagined fantasies. Adding to the chaos is a constant stream of unwelcome visitors to Vic and Bob's flat. Amongst them is Beef a lady-obsessed lothario, not to be confused with Bosh, a Geordie ex-con, who has designs on moving in as well.
Watch Now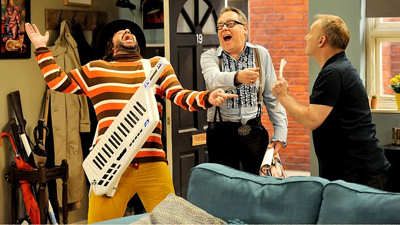 #1 - The Erik Affair
Season 2 - Episode 1 - Aired Feb 16, 2015
Vic and Bob feel Erik has come of age and decide to arrange a surprise blind date for him at Julie's Bistro with someone Beef found on the internet. Erik has problems selecting an appropriate outfit whilst Vic and Bob fall out over their band's debut performance in the Bistro. Beef saves the day with a cunning plan to reunite the pair and Erik's date goes better than anyone could have expected.
82 votes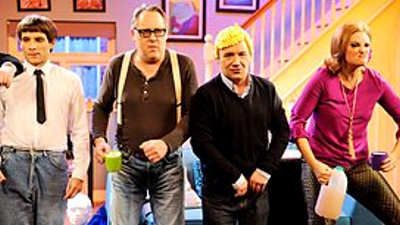 #2 - The Wig Affair
Season 1 - Episode 4 - Aired Feb 4, 2014
Bob hopes to defend his title of toupee wearer of the year but on the day of the awards, his prized toupee is stolen by their house rat. Bob offers a golden ticket to the person who can retrieve the wig for him in time for the celebrations.
143 votes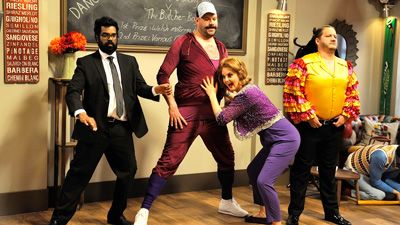 #3 - The Botox Affair
Season 2 - Episode 2 - Aired Feb 23, 2015
After stealing some unused botox equipment from a very famous residence, Vic decides to test it out on Julie and Bosh, with striking results. It's also Rachel's birthday and Bob hopes to get into Erik's good books by making it a very special and memorable day for her. Things take a turn for the worst when Beef's saucy past catches up with him, and he is forced to hide from the consequences of his actions and a very irate local butcher.
50 votes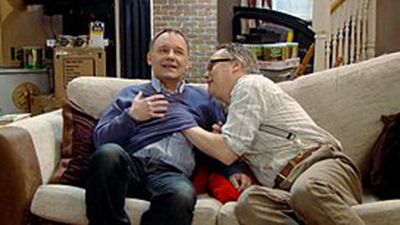 #4 - The Conan Affair
Season 1 - Episode 1 - Aired Jan 14, 2014
With the help of his friend Beef, Bob has a hot date lined-up. All he needs now is to get rid of all his unwanted house guests, so he and his new lady can watch Conan The Barbarian in peace. Unfortunately, Vic has broken the telly, and Bob tasks him with finding another one, or he risks being chucked out of the flat for good. As a last resort Vic may have to ask his randy neighbour Julie for help. When Vic's ex-convict brother Bosh turns up, Bob is still nowhere near having things perfect for his upcoming date. With a break-in, a gas leak, some crisp chardonnay and the Hindenburg Stretch maybe they will find a way to stop Bob from having to cancel the date.
162 votes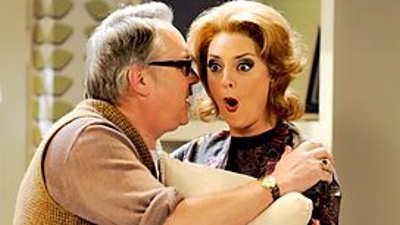 #5 - The Birthday Affair
Season 1 - Episode 5 - Aired Feb 11, 2014
When Vic invites Bob's ex-wife Erika over as a surprise for Bob's birthday, Bob is not at all pleased. Unbeknown to Vic, Erika has a death wish for Bob. Vic and Bob decide the only way for them to get Erika to leave, and guarantee Bob's safety, is for Bob to play dead. Bob has never had such a miserable birthday. But there is one more surprise in store for him.
148 votes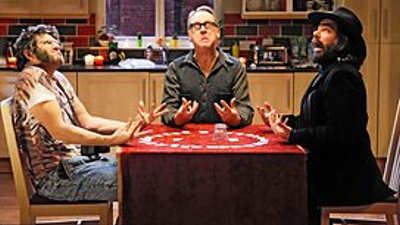 #6 - The Ghost Affair
Season 1 - Episode 6 - Aired Feb 18, 2014
When Ghost Hunter magazine offers a chimp as a prize to anyone who can provide a genuine photo of a ghost, Vic instantly begins ghost hunting around the flat. He performs a séance and successfully conjures up a spirit. If Bob wants to prevent Vic from winning the chimp he needs to ensure Vic does not get hold of the ghost photo.
115 votes
Writers:
#7 - The Pork Pie Affair
Season 1 - Episode 2 - Aired Jan 21, 2014
Julie entrusts Vic and Bob with the safety of her prize pork pie, which she plans on offering to Bruce Willis to persuade him to star in a film based on her best-selling novel. Together with Bosh and Beef, the boys can't resist the temptation, however, to sample the delicious pie. After realising their mistake they set about, with the help of Erik, to try and replace it. When the only option left is to steal a replacement pie from Ben Gunn's Pork Emporium, Bosh reveals it's owned by a maniac – his ex-cell mate Ben Gunn. They'll have to be extra careful to get away with this one unscathed, and if they don't, they'll have to suffer Julie's wrath too.
163 votes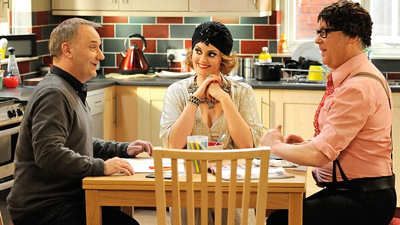 #8 - The Whip Affair
Season 2 - Episode 6 - Aired Mar 30, 2015
After receiving an exciting letter from his ex-girlfriend Mary (Sally Phillips), Vic enlists help from Julie to get ready for a big date. But when Mary has to cancel at the last minute, Beef, Bosh, Julie and Bob set about concocting an ingenious plan to make sure Vic isn't left disappointed. With a little help from Julie's disguise and Beef's magical time-stopping whip, Vic gets a date after all, but when the truth is finally revealed, his reaction is not what anyone had expected.
52 votes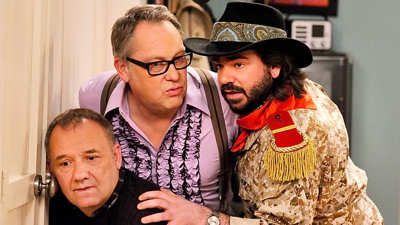 #9 - The Moth Affair
Season 2 - Episode 3 - Aired Mar 9, 2015
Julie asks Vic to create a promotional video for her new bistro, but Vic writes the script for the video on the wings of a moth with very particular eating habits which flies off and takes up residence in their kitchen. Meanwhile, a pop star with a striking resemblance to Erik has arrived in the country causing a media stir. This gives Beef an idea and they decide to plant Erik in the cafe to generate publicity. But the news story takes an unexpected turn when a mystery beast is seen flying towards the bistro.
54 votes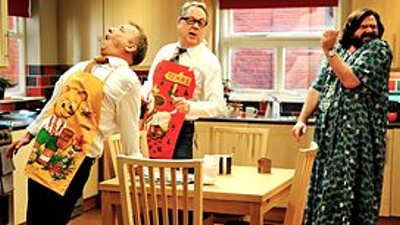 #10 - The Probation Affair
Season 1 - Episode 3 - Aired Jan 28, 2014
When Bosh's probation officer visits the flat, Bosh asks Vic, Bob, Julie and Beef to help him convince her he has finally become a decent member of society. To show that he is fully rehabilitated, they open a pop-up restaurant to wine and dine her and secure Bosh's ongoing parole.
178 votes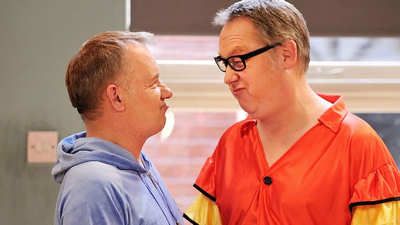 #11 - The Danceathon Affair
Season 2 - Episode 4 - Aired Mar 16, 2015
Vic and Bob are practising their special moves for the big danceathon at Julie's Bistro. When Bob reveals that the three notorious Butcher brothers will also be competing, Vic and Beef try any means necessary to get out of the event and avoid humiliation. Bob resigns himself to competing in the danceathon alone, but his son Erik has found something very special that might just save the day for them all. But that's as long as Bosh and Julie can get rid of the rat in the bistro in time.
50 votes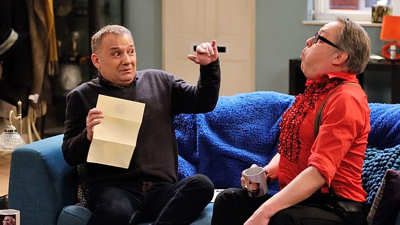 #12 - The Lost Plot Affair
Season 2 - Episode 5 - Aired Mar 23, 2015
Vic and Bob struggle to find a plot for this episode, so when a letter arrives from the White House announcing a surprise visit to their household things start to look more promising. Meanwhile, Beef brings over his truth-telling turban for everyone to try on, and a health inspector threatens to close down Julie's Bistro when Bosh unwittingly reveals the state of the kitchen.
52 votes