The WORST Episodes of Candy Candy
Every episode ever - ranked by fan votes!
Last Updated: Sep 18, 2021
This anime narrates the story of an orphan, Candice White. The story goes from her early childhood in Pony's home, to her being a nurse in World War 1. Sweet Candy is adopted by a wealthy family, who take care of her. Her best friend is Annie, an orphan too. She too is adopted by another wealthy family. Candy and Annie live their lives trough the beginning of the 20th century. The anime shows all Candy's adventures in her life, her boyfriends, love, and heartaches.
Watch Now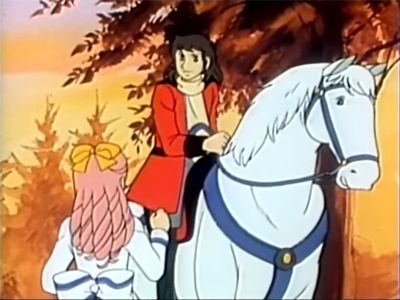 #1 - Eliza's Trap
Season 1 - Episode 47 - Aired Sep 16, 1977
Candy avoids Terry at Saint Paul's Academy, but she cannot forget the kiss. Albert is in Africa, working in a hospital to treat animals. When Candy receives a letter from him where he asks her to greet Terry for him, she feels obliged to search Terry out and share the letter. He seems happy to see her, and Candy admits to herself that he tends to make her feel good. Green with envy, Eliza warns Terry about Candy's thieving ways, but Terry points out that Eliza needs to take a good look in the mirror. Eliza gets her opportunity for revenge, when she discover how Patricia and Alistear use a hollow tree to pass secret letters to each other. Eliza uses it to set up a night meeting for Candy and Terry in the stables. Just as Candy and Terry start to put two and two together, Sister Gray arrives with a patrol and Eliza and her friend Louisa as witnesses. Sister Gray decides to remove Candy from the Academy, while Terry will be confined for a week. Candy is imprisoned in a tower that she cannot escape from and weeps profusely at the injustice of the whole situation.
57 votes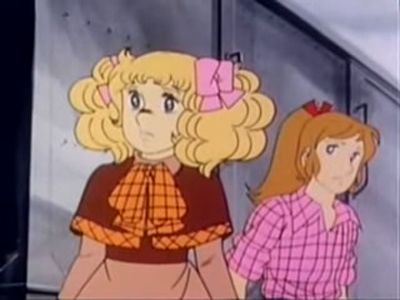 #2 - The Port Through the Window
Season 1 - Episode 57 - Aired Nov 25, 1977
Not seeing him for more than six months at times, Captain Nieven's daughter Sandra is eager for his attention and started to hang out with a gang in his absence. Thanks to Candy's care, Cookie's double fracture can be fully healed in two months. Envious of the two stowaways who get to spend time with her father, Sandra threatens to alert customs, and sends her hoodlum friends on Candy. In exchange for keeping Sandra's business with the gang secret, Sandra backs off. But when Captain Nieven gets called away on business, Sandra lets her friends into the apartment to drag Candy before their leader Charlie in a dance club. Charlie and Terry were childhood friends, and when they met recently, Terry gave Charlie his Academy suit, which Candy recognized. Captain Nieven followed Sandra to the dance club, fights one of the hoodlums and forbids his daughter to socialize with those criminals. When a gang member hopes to knife the captain, Sandra jumps to the rescue, and father and daughter make peace. Through the help of the captain, the crew and Sandra, Candy boards the train that will take her inland near Lake Michigan. Stepping off the train, out in the snow, Candy shouts after a passing carriage for a lift, but the driver never heard her. Unbeknownst to Candy, Terry is on that carriage, deep in thought, looking in her direction but never hearing or even seeing her.
56 votes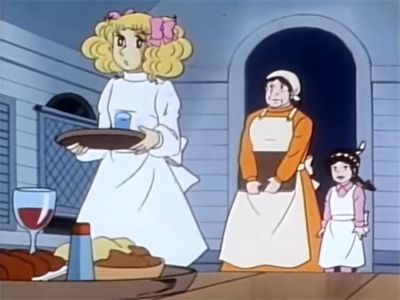 #3 - A Clinic that Doesn't Need Angels
Season 1 - Episode 104 - Aired Nov 17, 1978
Even after a successful surgery, Candy finds that the men automatically assume that accidents are fatal and that a doctor is fed better than a nurse; She also discovers that Dr. Kerry is the sister of the wanted Arthur Kerry Candy took her for on the train. Arthur got into trouble after challenging a thieving administrator in a pet shop where he worked who fired him. While defending himself against an assault, the administrator was accidentally killed. And now Dr. Kerry is in search of her brother who as a fugitive most likely can be found at desperate places such as Graytown. Candy and Dr. Kerry learn that Arthur Kerry is in Chicago through Albert's doctor, Dr. Martin who used to work together with Dr. Kerry, Archibald and Annie who put two and two together after a letter from Candy with her first adventures at Graytown. Dr. Kerry takes a week of absence to find Arthur in Chicago. But now Candy is all alone and Nelson wants her gone. His men run for the clinic all the time with their little ailments, and the work progresses less rapidly. When Candy refuses to go, he holds her prison in a tunnel.
2 votes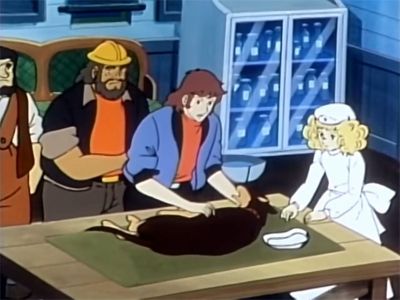 #4 - A Kind Fugitive
Season 1 - Episode 105 - Aired Nov 24, 1978
Klint helps to free Candy from her bondage and help her escape the tunnel. When Nelsonn sends his dog McKinley on Candy, a masked man intercedes o her behalf, asking for work. Because Candy wants to treat a wound of his and Klint plays with his false beard, Candy recognizes him as Arthur. She promises him that his secret is safe with her and informs him that his sister will be back from Chicago soon and sends a letter to Archibald to explain Arthur is in Graytown. Meanwhile, Eliza who went snooping in Archibald's desk found Candy's closed letter as well as copies of Archibald's letters to Candy concerning Arthur. Seeing a possibility to turn Candy into a criminal for helping a fugitive murderer, she goes to the police with the information she has. When McKinley falls ill, Nelson needs Candy's help. She knows that Arthur studied as veterinarian and he manages cure the dog. Nelson rewards them with a hearty breakfast. On the train back to Graytown Dr. Kerry overhears the sheriff talking and fears they are after Arthur. To stay ahead of the sheriff, Dr. Kerry travels the mountain track to Graytown on foot in a downpour at the risk of her own life, while the sheriff is held up at the station, because the conductor finds the weather too dangerous to travel any further by train.
2 votes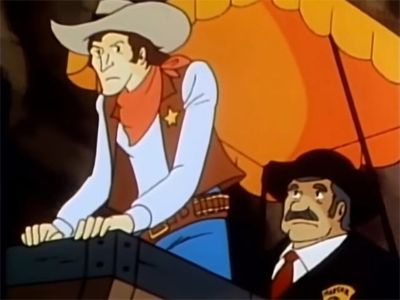 #5 - Yet Another Murderer
Season 1 - Episode 106 - Aired Dec 1, 1978
McKinley finds Dr. Kerry who fell into the ravine and leads Arthur and Candy who went looking for him to the wounded doctor. Nelson and the workers help carry Dr. Kerry to the clinic. But when Candy has to undress the doctor, she has to reveal Dr. Kerry's gender to them. When Dr. Kerry gains consciousness and sees Arthur she warns him of the sheriff and marshall coming to capture him. But Arthur has nowhere to run anymore. The construction site and tunnel lead to a dead end. Unfortunately, Nelson overhears the conversation and takes Arthur prison. But the workers and Nelson who are grateful of Dr. Kerry wish to help Arthur escape. There is only one way to do that: finish the tunnel at record time. With a man-made avalanche they manage to stall the sheriff and marshall. Arthur and his sister escape, but the sheriff and the marshall have not come to Graytown for nothing. They apprehend the cook Margot who killed a drunk while trying to protect her daughter Belle for involuntarily manslaughter.
2 votes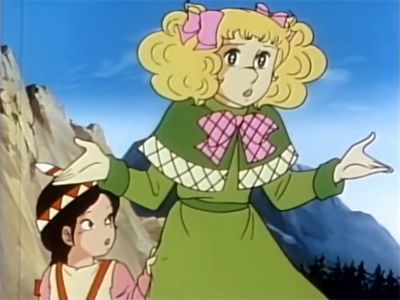 #6 - A Special Menu for One Hundred People
Season 1 - Episode 107 - Aired Dec 8, 1978
Graytown is left without a cook. Candy does her best to do both Margot's job and her own, but even with Belle helping out, Candy realizes Nelson will take Belle into the city to find her a foster family and get a replacement cook, because Belle cannot stay in Graytown without a guardian. Meanwhile back in Chicago, Eliza's plot backfires: Arthur was not found, Candy is still free, somebody else was arrested, and Archibald catches her in his room with his mail. Nelson gives Candy the responsibility to find a foster family for Belle in Chicago, and because Candy cannot find it in her heart to tell Belle the truth, Belle thinks she is going to see her mother again. But Archibald and Annie arrive from Chicago volunteering to work as cooks until Margot can come back after her trial, and Candy persuades Belle to return to the construction camp. The workers never had such a fancy dinner, but Belle is not as easily appeased as she sneaks away.
2 votes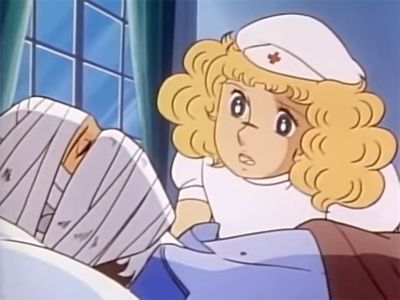 #7 - Faceless Terrius
Season 1 - Episode 81 - Aired May 19, 1978
A patient who has fallen from a moving train is brought in for a severe operation. Candy's worst fears become reality when the patient is called Terry Grandchester. Candy tries to talk to him, but the completely bandaged patient does not respond. When Eliza learns of this, she monopolizes the care for Terry and pulls strings to have Candy work at the medical section, instead of the surgical. Alistear informs Candy that a friend of his has seen Terry in another city. Annoyed by the snob's treatment of her fellow students, Franny makes sure to keep Eliza out, while Natalie urges Candy to go visit "Terry" who requested after her. "Terry" is Charlie Sanders, the gang leader Candy met with Sandra. He broke out of prison and jumped from the train, where he saw Terry, to remain uncaptured. He wishes to enlist in the army and make amends for his criminal past. When Eliza finds out the truth during a night visit, she promises to be silent if Candy leaves Chicago. Candy cannot sacrifice her career, but tries to reason with Charlie to give himself up. Meanwhile Eliza contacts the police. Officers take Charlie into custody while Candy may lose her position under suspicion of aiding and abetting a fugitive.
29 votes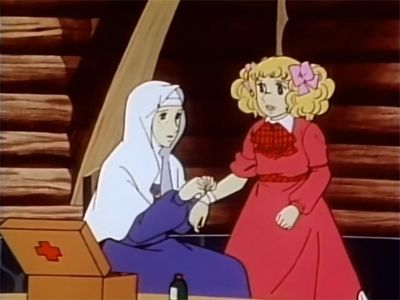 #8 - The Cross on Pony's Hill
Season 1 - Episode 102 - Aired Nov 3, 1978
En route to the Graytown construction site, the train is forced to halt because of Tom's cows passing across the tracks; When Candy recognizes him and reveals her destination, Tom advises her not to go to Graytown. He claims it are difficult conditions, not to mention full of criminals. He also tells her that Mrs. Pony is gravely ill. He helps Candy to a horse so she can ride to Pony's Home. As Candy crests Pony Hill, she comes across a cross claiming it as Mrs. Pony's resting place. But when Sister Mary finds Candy in tears she explains that a new boy Bob makes crosses of the people who are angry with him. Mrs. Pony is in perfect health, and Tom lied to divert her from Graytown and make her visit Pony's Home. Mrs. Pony and Sister Mary explain they let Bob make the crosses with names on it, because he takes pride in carpentering like his drunken father and is learning how to write. Candy orders Bob to make her signboard for the Graytown clinic. When Mrs. Pony and Sister Mary learn where Candy is going though, they hope to dissuade her from going as well. Graytown promises to be no picnic.
2 votes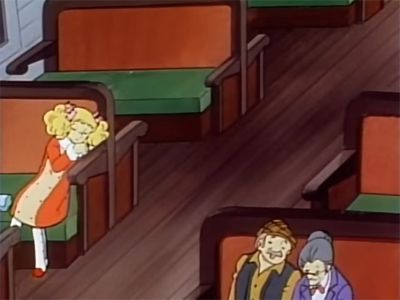 #9 - A Long and Life-Risking Journey
Season 1 - Episode 103 - Aired Nov 10, 1978
When the orphans and Tom still hope to prevent Candy from going to Graytown, Mrs. Pony explains that Graytown still needs nurses, perhaps even more so in those poor conditions. Candy sets off towards Graytown and discovers Klint as a stowaway. After having been separated from him ever since she started nursing school, she will be reunited with him again. As the journey progresses, the numbers of travelers becomes less and less, until there is only one wagon left, with just Candy and a masked wanted criminal. The stationmaster does not care about Arthur's past who wishes to join the workforce and there is no sheriff. The stationmaster urges Candy to take the train back to Chicago, while he starts the mine train towards the construction site. Candy decides to jump in anyhow and discovers that the criminal is not that bad of a person, when he protects her from an avalanche of stones. When they need to hide from a stone avalanche caused by an active blasting, they meet the foreman Nelson who cares more for the equipment than his workers. A worker has been injured, but the doctor at Graytown has fled a month ago. The foreman requires Candy to operate, which is a step too high for a nurse. To her surprise, the supposed criminal introduces himself as Dr. Kerry to the foreman who can perform the operation with Candy as his assistant. More, Dr. Kerry is a woman, but dressed as man.
2 votes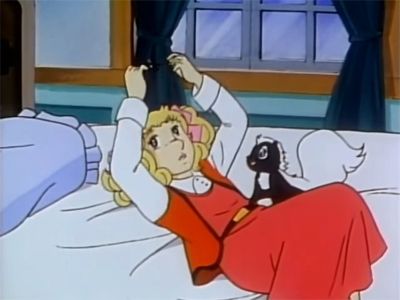 #10 - The Troublesome Love
Season 1 - Episode 110 - Aired Dec 29, 1978
Neil drives recklessly through town and wrecks his car. As always a good Samaritan, Candy bandages his scraped hand with her handkerchief. It is the second time that Candy has come to Neil's aid, and he believes himself to be falling in love with her. The next day, Neil tries to court Candy on the job by ordering her to go out with him. When this has no success he asks for advice from one of the maidservants who tells him that softness and kindness can go a long way. So, at Neil's next attempt he waits for Candy to finish her work, give her flowers and then reason she cannot refuse to go out with him, once she accepted the flowers. Candy solves the situation, by giving the flowers back to him. But Eliza witnessed the awkward exchange and is frightened to lose her partner-in-crime. First, she hopes to make Neil interested in a friend of hers, but when that does not work and she discovers Candy's handkerchief at Neil's bedside, she involves her mother and plants the idea that Neil might decide to marry Candy. Mrs. Leagan visits Dr. Leonard and threatens to withdraw the Leagan funds of the hospital if he does not fire Candy on the spot and make sure she leaves Chicago. Sadly enough, Dr. Leonard cannot afford to anger the Leagans and fires Candy.
2 votes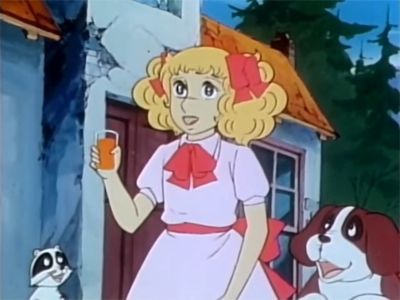 #11 - The Flowers Bloom on Pony's Hill
Season 1 - Episode 115 - Aired Feb 2, 1979
Candy is thunderstruck to discover that her benefactor "Grandfather" William Albert Ardley has been hiding in plain sight the whole time, ever since she was in anguish over Annie being adopted away from Pony's Home. Albert was too young to fill the desperately needed role of the head of the Ardley family, after his parents died and his aunt Elroy became his guardian, so he wisely applied the principle "Deceive your allies to fool your adversaries." As both recall memories of the past it becomes clear that Albert tried to be a guiding father to Candy as much as he could, while remaining hidden, not only from Candy, but all of the Ardley family. He adopted her as his daughter after Alistear, Archibald and Anthony did not want to put all their eggs in one basket by leaving it up to their great-aunt whether Candy was treated as a person or a pariah in the Ardley family. And Candy's eyes reminded him of his deceased older sister, Anthony's mother. Of course, Albert never ordained Candy to marry Neil. The "prince on the hilltop" mystery solved, Albert enthralls the kid of Pony's Home with his Scottish attire and his bagpipes while Candy leads Archibald and Annie in a race to Pony's Home where a banquet has been prepared. Annie shows Candy a newspaper that shows Terry still acting. Candy is happy for Terry who got married with Susana. Candy stays at Pony Hill with Archie, Annie, Albert, Miss Pony and Sister Mary and the rest.
29 votes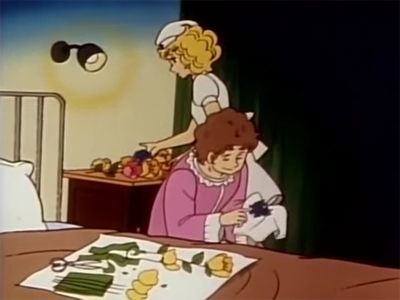 #12 - Flowers from the Heart
Season 1 - Episode 82 - Aired May 26, 1978
Dr. Robson intercedes when the police transport Charlie out of the hospital: the patient is still too fragile and risk for infection too great. Charlie gets his own private room and Candy as sole caretaker. Eliza requires Candy to pay the hospital bill for Charlie, and if she cannot pay she will require Pony's Home to cough up the hefty sum. Candy meets a patient who makes her living from making fake flowers for the theatre, and tries her own hand at it to solve her present money issue. When Charlie witnesses her making the flowers he confronts her about her motives and reveals his mother used to make such flowers. She worked in a factory in the day and made flowers at night to support him, before he ran away to fend for himself. Meanwhile, a reporter who wishes an interview with Terry about his double alerts Terry of what has happened in Chicago. Since Charlie is a friend of his from his past, he sends Candy a check to pay for Charlie's medical bill. When next Candy visits Charlie, she finds him gone, leaving her two fake flowers he made, just as he used to for his mother. Charlie has been taken to the prison's infirmary.
29 votes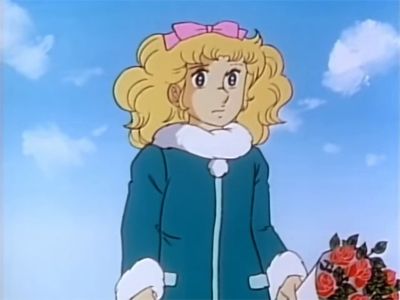 #13 - Heart-Racing Curtain Rising
Season 1 - Episode 98 - Aired Oct 6, 1978
Terry escorts Candy to her hotel room before he sets out for his final rehearsal. Terry wishes to be the most happy he can pretend to be and perform at his best for his Romeo part for Candy's sake who has traveled such a long way from Chicago. Before going home, he wishes her good night unnoticed from under Candy's window. But when he comes home, Terry finds a note from Susanna's mother who reproofs him for not visiting Susanna that day. He goes to the hospital, where her mother tells him that Susanna has started to smile again because of his daily visits. Susanna inquires after Candy, but soon tearful expresses her belief how happy they both must be and how lucky Candy is. The next day, Candy sets out for the theatre with flowers for Terry and encounters the Leagans at the entrance. In disbelief, Neil tears her ticket in pieces and Candy is denied admission. Candy sneaks in backstage and hopes Terry will act on her behalf, but it is Karen who helps her in with a personally signed program, upsetting Eliza even more. Once inside, Candy starts to overhear from other spectators what has occurred to Susanna, and how Terry is being emotionally blackmailed into marrying Susanna. Knowing that this is not love at all, Candy cannot bear to sit down the play anymore. She leaves for the hospital to confront Susanna, woman to woman.
29 votes
#14 - Their Own Love
Season 1 - Episode 112 - Aired Jan 12, 1979
But it was a trap by Neil to lure Candy to an isolated, lakeside villa in an attempt to "win" her love. Candy repulses Neil's overtures, bellowing out her anger at his childhood persecution of her. Neil locks the villa doors and plans to hold her there until she tells him she loves him. But Candy plunges into the lake and swims away. On the way home, Albert who went looking for her in his new car meets her on the road. His gift, a new dress, is of much use now that she is wet through and through. When Albert lies about not knowing Neil, he realizes that their living arrangement is most awkward and cannot last after he declares himself healed. He just wants to enjoy her company for a little while longer. At Dr. Martin's an elderly couple who come to the Happy Clinic for a check up tell Candy not to trust Albert. He does not work, but sits in a bar all day where he meets with men in suits. Candy cannot believe it, but the Animal Institute tells her they do not know any Albert. She dreads Albert may be associating with dangerous men to buy her gifts. Meanwhile, Albert finds Terry at the bar, drowning his sorrows in alcohol. When Albert accosts him, Terry picks a fight with Albert, which Albert wins easily. To teach Terry a lesson in optimism, he takes Terry to a view on the Happy Clinic, where Terry witnesses how Candy stays positive, no matter if any other hospital will not hire her. Terry fantasises that when he last held Candy, he asked her to marry him, and that they were solely separated, because she needed to think about it. But when he is in Susanna's hospital room of his memory he tells Susanna that they will marry. Terry realizes that he only needed to see Candy one more time - happy, being herself - for him to continue the path he chose. So, when Albert asks him whether Terry wants to meet Candy, Terry says no, and thus Candy never knows that Terry watched her work in Chicago after they broke up.
55 votes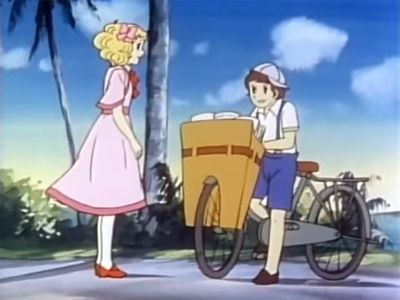 #15 - A Beautiful Rival
Season 1 - Episode 95 - Aired Sep 15, 1978
Candy soon learns upon arrival that her delivery trip is not going to be a quick in-and-out operation if Dr. Kreis and his daughter Karen have their way. Dr. Kreis introduces Candy to Karen, who is quite upset that Susanna landed the role for Juliet. Karen believes she is a far better actress and believes Susanna pulled some strings to get the part. As Candy plays the interested listener, she has done her job as confidante a bit too well. Karen decides to keep Candy in Florida. But to Candy's annoyance, Karen prays on her insecurities, claiming that Candy has already lost per definition from her rival Susanna, because actors who play Romeo and Juliet together often end up marrying each other. During the rehearsals for Romeo and Juliet, part of the lights come falling down and Susanna selflessly saves Terry at the cost of her leg that needs to be amputated in the operation room. The next day, Dr. Kreis finally gives his answer that Candy needs to return to Dr. Leonard and Karen will not hold her in Florida either anymore. Karen has already left for New York to replace Susanna. Candy is free to go.
28 votes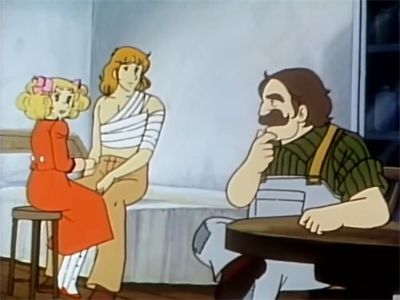 #16 - The Memories Come Back
Season 1 - Episode 111 - Aired Jan 5, 1979
As the shock begins to subside, Dr. Leonard gets right to the heart of the matter for the reason of Candy's loss of her work: Candy's dysfunctional relationship with the Leagan family. Meanwhile, Albert collapses at work and when he wakes again finds he has recovered all of his lost memories. The first memories that come to mind are those of sweet Candy, and how they share the same apartment. Though first annoyed at having to drive Eliza's friend around, Neil looks upon it as an opportunity to make Candy jealous when he sees her walking in town. But she thinks he knows of what his mother has done, and in her anger makes a dent into his car. And when Eliza tells him of her and his mother's success over Candy, he finally sees them for what they are. Dr. Martin and Albert come across Candy pondering in the park at the same time a lion has escaped the zoo and is prowling them. Albert saves the day and the lion by using his talent to make animals trust him and gets hired by the zoo over it. He takes her on a picnic and has her promise that they are friends, living together, and that she should share her troubles with him, but he fails to mention he knows his past again. Another plus is that Dr. Martin hires Candy as his nurse, though he pays for it by not having his whiskey at easy reach anymore. Neil seeks Candy out and tells her he has a job, while she is being totally honest when she says she hates him. Upset, he throws a magazine at her which tells of Terry's downfall as a star: Terry has abandoned his acting career. When next she leaves from work, a chauffeur comes to pick her up to give her a lift to a gentleman who wants to see her; that gentleman is Terry ...
28 votes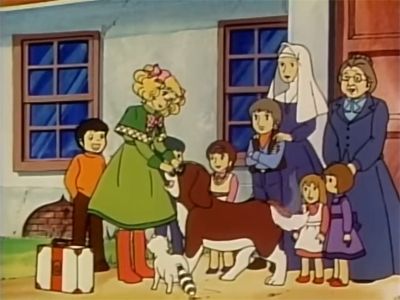 #17 - Mr. Sailor on the Hill
Season 1 - Episode 71 - Aired Mar 3, 1978
Tom drops Candy off at a silent Pony's Home: everybody is at Governor Cartwright's ranch. When she hears Terry's harmonica tune, Candy rushes inside expecting to see him, and finds Cookie instead. Cookie pretends to be on shore leave from the 'Sea Gull' with Captain Nieven, but later Cookie confesses to Candy that he was beaten by other sailors because he has no father to defend him and does not want to return to the Sea Gull. John overhears this and together with Jimmy plans to welcome Vida and Vokado who are asking around in search of Cookie with an assault. Candy makes Miena intervene. The two men admit that Cookie was beaten up, but are incensed that Cookie did not tell all. They explain to Candy that Cookie had slept while on night watch and the 'Sea Gull' was almost run over by a cruise ship, and so Cookie was punished for endangering the lives of the whole crew. Candy decides to return to the hospital and Tom comes to pick her up, bringing Cookie along as well as Mr. Steave who gets admitted into the hospital for tests. It turns out that Mr. Steave's heart is fine, but he has to lay off the drinking of whiskey.
29 votes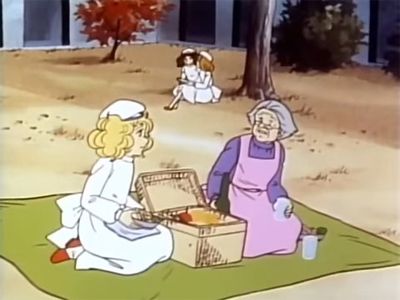 #18 - A Cupid with Wrinkles
Season 1 - Episode 93 - Aired Sep 1, 1978
Annie, Patricia and Candy discover that grandmother Marsha works as a cleaning lady in the hospital by day, at a restaurant in the evening and at a construction site by night. She does not need it for the money, but is happy she can work for the first time in her life. Marsha is an aristocrat and was never allowed to work. When Marsha learns from Patricia that Candy has a boyfriend in New York whom she has not seen for a long time, she plans to play Cupid. She puts Patricia on a train to New York to fetch Terry and bring him down to Pittsburgh, halfway between Chicago and New York. This way she also hopes to teach her granddaughter some independence. Patricia and Candy agree to the plan in return for Marsha promising to only work on one job when Patricia returns. But before Patricia is even halfway, Marsha breaks down from physical exhaustion, and Patricia needs to be recalled urgently by telegram. Because the train broke down, the Cornwell brothers have to fetch Patricia by car in Pittsburgh. Marsha recuperates as soon as Patricia arrives, as well as her co-workers from the construction site. Though Patricia never managed to complete her voyage to New York she brought back a poster of Terry in his play of Romeo and Juliet. While at first Candy only has eyes for Terry on the poster, she cannot ignore that Susanna is in his arms as Juliet on the poster as well.
29 votes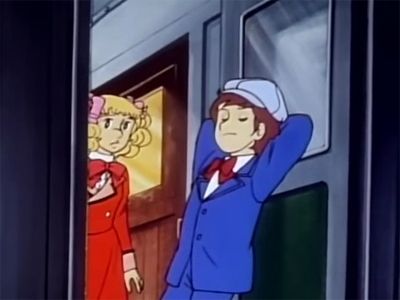 #19 - A Fellow Traveler
Season 1 - Episode 94 - Aired Sep 8, 1978
Dr. Leonard gives Candy permission to take five days of holidays, but first requires her to travel to Florida and deliver important documents to Dr. Kreis. Before boarding the train, a woman asks Candy to keep a watchful eye over her boy named Gilbert. Later, Candy learns Gilbert holds a deep grudge against all medical personnel ever since Dr. Leonard treated his father sick with cancer and Gilbert's father died. When Candy dozes off, Gilbert steals the documents to avenge himself against Dr. Leonard. When he claims he threw the papers out of the train, Candy wants to jump off. But a passing conductor wants medical help for a sick child named Carrie. Candy fears the child may have appendicitis, but there is no doctor on board. And the doctor of the village at their next stop is out of town and not expected to return before nightfall. Luckily, there is a doctor aboard the train going to Chicago. He operates and saves Carrie's life with Candy assisting him. The doctor turns out to be an old rival of Dr. Leonard. Feeling guilty for his earlier misconduct, Gilbert gives Candy back the papers he stole and hid, but did not really throw away.
29 votes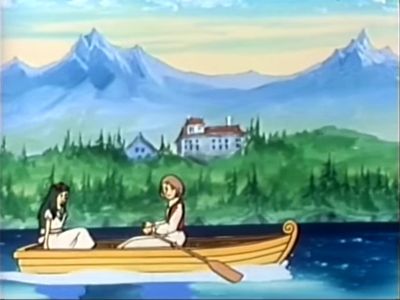 #20 - Summer School at the Shore of a Lake
Season 1 - Episode 43 - Aired Aug 19, 1977
Summer school is set at a lake, only an hour away from Edinburgh. Candy meets a mysterious shepherd boy Mark who claims he recognizes her from description by his brother. Candy seizes the opportunity when Mark's sheep wanders into the summer school garden to find its owner. Mark lives at the Grandchester summer house, but is not really Terry's brother. He is the servant's son and Terry took him under his wing. But Terry is moping in his room and does not want to be disturbed by anyone. Comparing the environment of the Scottish outdoors with Pony's Home, Candy ends up spending the rest of the day with Mark and his mother, even though the sheep has long wandered back to summer school. Sister Margaret is none too happy for Candy staying away for eight hours, but softens when Candy gives her a piece of Mark's self made cheese. In her room, Annie and Patricia tell her that Archibald and Alistear are staying in a nearby house that great-aunt Elroy rented and has Eliza and Neil staying with her. The boys plan to take the girls rowing the next day. Candy is barely interested and stares through Alistear's binoculars all night, spying on Terry's house and room. She discovers Eleanor Baker is visiting. As the Cornwell beaus row their girlfriends on the lake, Candy ventures back to Terry, coming across a weeping Eleanor Baker, while Terry is all laughter and cheers. Candy talks about having seen Eleanor Baker, but he tells her she imagined it. When he starts to shear the stubborn sheep though, he talks as if he wants to punish a mother who abandoned her son.
30 votes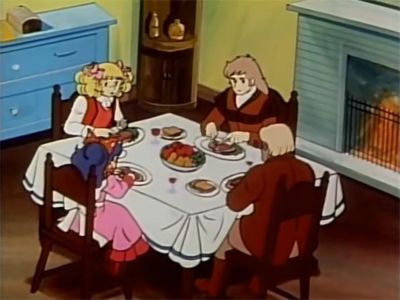 #21 - A Cute Bride
Season 1 - Episode 70 - Aired Feb 24, 1978
When Matthew comes to deliver a letter for Ms. Pony from Mr. Steave, Tom arrives and attempts to get the letter back. It is an invitation to Tom's engagement banquet. It is an arranged marriage, and Tom does not want to marry at the age of seventeen, let alone to the girl he's promised to. Candy is sure she can talk some sense and understanding into Mr. Steave, until she meets the fiancé at Tom's ranch. Diana is no older than eight years. She is cute and sweet, and hopes to do everything to please Tom, but as a child, she cannot fathom yet the impact of such a decision. Candy cannot take the engagement serious, and puts off talking to Mr. Steave. By the evening meal, Tom declares he loves Candy, not Diana. He hurts the child's feelings, Mr. Steave loses a friend and the family name is now a laughingstock. Worse, now Mr. Steave wants to celebrate Candy's engagement with Tom. The reason behind Mr. Steave's eagerness to marry off Tom tuns out to be his belief that he is dying, though he has not seen a doctor yet.
30 votes
#22 - One Day as a Naughty Teacher
Season 1 - Episode 59 - Aired Dec 9, 1977
Miss Pony charges Candy to supervise the other orphans, when she and Sister Mary have to attend a meeting, and while trying her best to command respect as a "teacher", she notices a new girl, Daisy, who does not come outside to play. Candy coaxes Daisy outside and coaches her into ascending the tree. Having accomplished the climb, Daisy shouts to her heart's content, but then faints. Meanwhile the frenzied mailman, passing by to deliver a letter from Annie, orders Candy to bring down Daisy immediately. Daisy has hemophilia and could bleed to death even with a minor wound. The next morning, the eager Daisy slips outside and ascends the tree by herself, but takes some damage. Though Daisy has lost quite a lot of blood, the doctor manages to prevent further blood loss. Feeling involved, the other orphans pray for her speedy recovery, and include her more in their adapted games afterwards. In her letter, Annie details how Saint Paul's Academy has become a dull place since Candy's departure and that the Cornwell brothers and herself feel lost and forlorn without her.
31 votes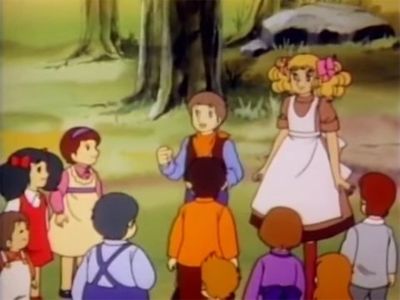 #23 - Steam Whistle Towards New Frontiers
Season 1 - Episode 62 - Aired Dec 30, 1977
While Candy anxiously awaits the letter from Merry Jane Nursing School, Jimmy organizes a competition to determine who will become the second in command after Candy, now that he is to live with Mr. Cartwright as his adoptive son. The best tree climber of the other orphans is John. When Matthew the mailman delivers positive news from the nursing school, John instructs the orphans that even if they might not like it when Candy leaves, they ought to be happy for her. Candy decides not to postpone her leaving. This time, however, she will have to leave Klint behind, who makes several attempts to stop her from leaving. Jimmy gives the other orphans a ride to accompany Candy to the train station where they say their goodbyes and promises to take care of Klint for Candy. The raccoon breaks loose and races after the rapidly accelerating train in a desperate but unsuccessful bid to catch up with her.
29 votes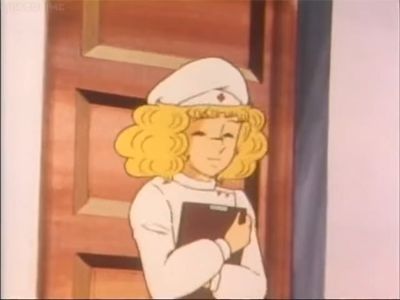 #24 - The Smiling Nurse
Season 1 - Episode 65 - Aired Jan 20, 1978
While Franny takes care of a very special guest, Candy follows the advice of her prankster patients: smile and brighten their day, instead of moping and feeling downhearted when they tease her. Before long, patients are asking for her, so much that it makes the other student nurses envious and spiteful. One night Candy discovers Franny softly crying in her bed. But the frigid girl rejects Candy's friendly questions. Upon investigation the next day, Candy witnesses Franny rush out of the room with the special patient insisting she is not a servant. And yet, Franny pretends everything is going splendidly to the others. When Candy learns that he is rich, owns a lot of land near a lake and answs to the name William, she believes Franny takes care of her mysterious benefactor, grandfather William Ardley and begs Franny whether she can take her place instead. Reluctantly, and without losing face, Franny agrees. When Candy appears before Dr. Frank the next day, he explains the room situations. She will have to speak softly before stepping out and Dr. Frank wishes Candy good luck.
29 votes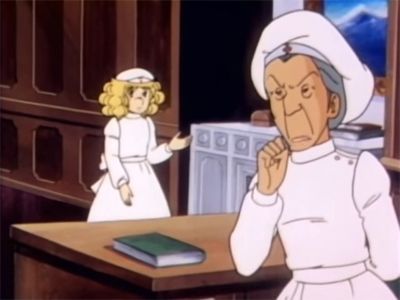 #25 - Grandfather from Dreams
Season 1 - Episode 66 - Aired Jan 27, 1978
Excited at the prospect of finally meeting her benefactor, grandfather William, Candy races into the room while he is sleeping soundly. Later, when next she visits her special patient, he is awake. Excited and nervous, Candy instantly introduces herself as his adoptive daughter. It soon turns out that her patient is William McGregor who hates the Ardleys. A dispute over the Ardleys follows, which causes chest pains in McGregor. Merry Jane gives the responsibility back to Franny and sends Candy off to the park where Candy meets an old woman who talks of the time she was in the hospital for half a year: she treated the staff badly, because she felt alone, and yet she would prefer to be ill in the hospital again, because of the kind nurses. Candy starts to realize that William McGregor may be such a grouch for similar reasons and runs back to school to ask Merry Jane whether she can tend to Mr. McGregor again. It is for Dr. Frank to decide, and he tells her no. Candy happens upon Mr. Brighton, Annie's father, who pays a visit to Mr. McGregor's window to pray for his neighbor's recovery. When McGregor sees Candy talking to Mr. Brighton, he requests for her care.
29 votes