The BEST Episodes of Better Late Than Never
Every episode ever - ranked by fan votes!
Last Updated: Jan 7, 2022
This hilarious fish-out-of-water comedy/reality show follows cultural icons Henry Winkler, William Shatner, Terry Bradshaw and George Foreman on their greatest adventure yet. Deciding it's Better Late Than Never, these four national treasures embark on the journey of a lifetime, traveling across Asia on their own with no schedule and no itinerary. The only "help" will come from Jeff Dye, a young, strong, tech-savvy comedian with an agenda of his own - who isn't above leading the men off track. Each stop is packed with hilarious cultural experiences, heartwarming spectacles and unexpected twists as our legends take on this unforgettable adventure.
Watch Now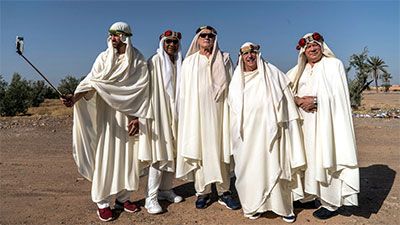 #1 - To the Sahara and Back
Season 2 - Episode 8 - Aired Feb 5, 2018
The guys get their groove on with the Gnawa Tribe and bond over a campfire in the Sahara Desert; in Marrakesh, William Shatner treats the guys to lunch before going to hear an authentic Moroccan storyteller; the men reflect over a final dinner.
86 votes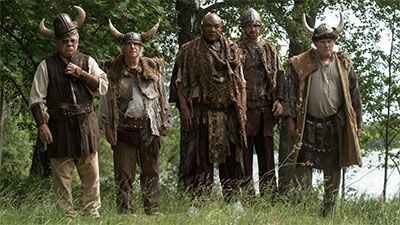 #2 - I'm a Viking!
Season 2 - Episode 2 - Aired Jan 1, 2018
Sweden: Challenges that aren't for the faint of heart, the world's smelliest dish; an etiquette class; George is surprised by a founding member of ABBA.
112 votes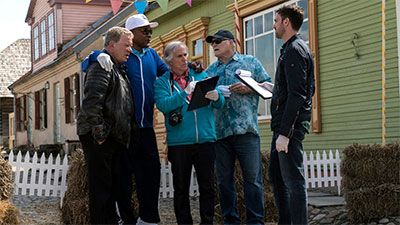 #3 - I'm King of the Castle
Season 2 - Episode 3 - Aired Jan 1, 2018
Lithuania: A goat beauty contest; a stay in an uncomfortable haunted castle; an unpleasant visit to Russia.
107 votes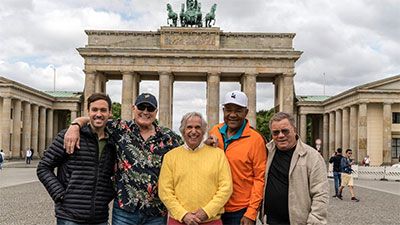 #4 - How Do You Say Roots in German?
Season 2 - Episode 4 - Aired Jan 8, 2018
Berlin: The guys head to Berlin in the hope of finding Henry's roots; they check into a communist hotel, meet a bear, visit the Berlin Wall, have a surprise run-in with Al Roker, and are treated to a special performance by David Hasselhoff.
105 votes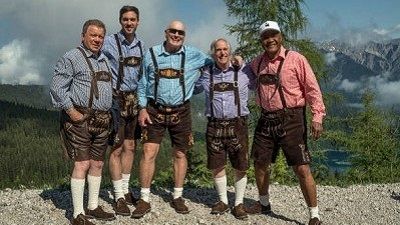 #5 - Munich
Season 2 - Episode 1 - Aired Dec 11, 2017
The men go to Munich and immerse themselves in the culture, customs, and traditions of the city, including participating in Oktoberfest, visiting a nude park, and recreating their own Julie Andrews moment in the Bavarian Alps.
156 votes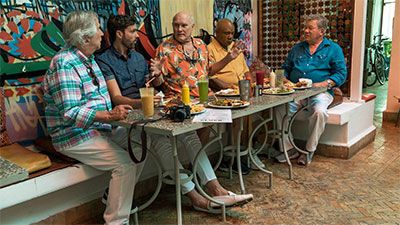 #6 - Moroccan Wishes and Camel Dreams
Season 2 - Episode 7 - Aired Jan 29, 2018
The guys head to Africa, where they explore a local market and have a special dinner, each making one last wish for the trip.
90 votes
#7 - Seoul Brothers
Season 1 - Episode 3 - Aired Sep 6, 2016
The Asian adventure continues as the guys arrive in South Korea with one mission in mind - to rediscover their youth! Their first stop is a K-pop school where young hopefuls learn how to be Korean pop stars. There they learn fun dance moves from the hit K-pop band Girls Generation and shoot a music video with them. After living the high life the week before in Hong Kong, they are back to sleeping on floors when their sidekick, Jeff Dye, arranges for them to stay at a classic Korean spa that only costs $6 a night - and for good reason. Then they get more adventure than they bargained for when Jeff tells the guys he's taking them to the DMZ, the demilitarized zone that serves as the border between North and South Korea, considered one of the most dangerous place on Earth. Later, still determined to do what the young kids do, they eat at a restaurant that serves live octopus, and visit a nightclub where each of the guys individually try to help Jeff get a girl.
278 votes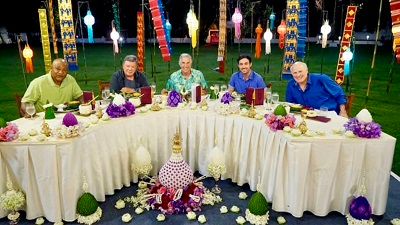 #8 - A Thai Goodbye
Season 1 - Episode 4 - Aired Sep 13, 2016
It's the last leg of their trip and their first stop is Phuket, Thailand, where the five take part in a wild water fight before celebrating Terry's 67th birthday. Jeff takes Terry to get his first-ever tattoo, while William and Henry get bent into all different directions with a not-so-relaxing Thai massage. George takes the gang to watch Thai boxing before stepping into the ring with William, and, later, Terry gets serenaded by a special guest at an unforgettable birthday dinner. Then it's off to Chiang Mai, their final destination, for a luxurious stay at an amazing hotel. In one of the most moving experiences of their trip, they spend the day at an elephant sanctuary and then visit the women and children of the long-neck tribe.
260 votes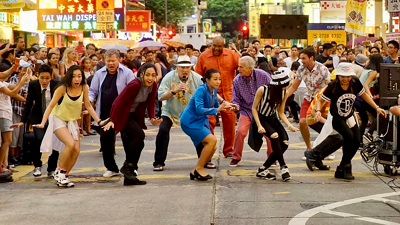 #9 - Kyoto and Hong Kong: Less Talky, More Sake
Season 1 - Episode 2 - Aired Aug 30, 2016
The fun continues across Asia for Henry Winkler, William Shatner, George Foreman, Terry Bradshaw and Jeff Dye as the adventure-seeking five visit Kyoto, Japan, a magical ancient city where William is determined to "find his Zen." They begin with a trip to a Geisha house, where they eat and drink and drink some more, and later they visit a Samurai warrior school as well as a no-nonsense monk who whips the guys into shape. Then they're off to Hong Kong, where William makes sure they live the "high life" and stay at one of the top hotels in the world, rent a yacht and have custom suits designed by the very best tailors. Later, they visit an ancient Chinese medicine shop for some unusual culinary offerings before hitting the streets for a little song and dance.
322 votes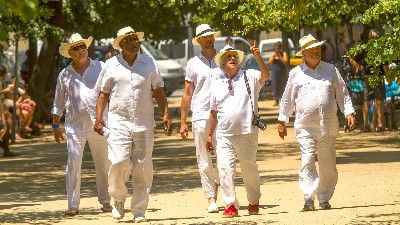 #10 - If Terry's Not Naked, Who Is?
Season 2 - Episode 5 - Aired Jan 15, 2018
Barcelona: The guys enjoy the culture of Barcelona, Spain; tango dancing; a lunch of traditional Spanish delicacies; Terry shows Barcelona what a full moon in the middle of the day looks like; Henry bares it all as a nude model for an art class.
105 votes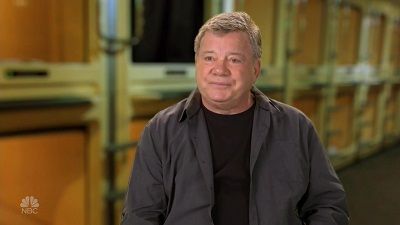 #11 - Welcome To Tokyo
Season 1 - Episode 1 - Aired Aug 23, 2016
The first stop on their six-city, four-country Asian tour is Tokyo, Japan, where they are immediately fish out of water and can't even find their way out of the train station. Highlights of their visit include staying at a capsule hotel, appearing on a popular Japanese morning show, trying crazy culinary delicacies and visiting the top of the world-famous Tokyo Tower. Then they are off to see Mt. Fuji on an unforgettable karaoke bus trip that completes the first leg of their life-changing, international excursion.
382 votes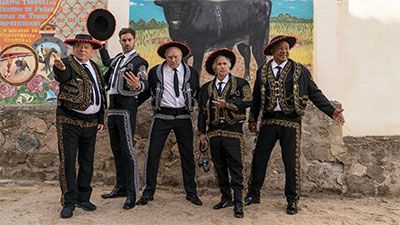 #12 - Matador Training
Season 2 - Episode 6 - Aired Jan 22, 2018
Madrid: The guys explore Madrid, Spain; matador lessons; flamenco dancing; an altered version of the Tomatina Festival.
94 votes