The Best Episodes Directed by Yasuto Nishikata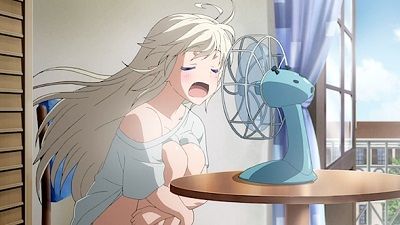 #1 - The Demon Lord's Daughter Visits a House
Fino and Raul alongside with Lore-senpai (the girl who works with machines and such)all go to repair someones magic machine which is what households run on if you have no magic. The machine doesn't have energy due to a monster or magic sucker you could say, that eats up magic. They fix it, and on they move on. There's an old lady who bought an air conditioner at Leon shop because she didn't like the way they treated her at the new magic shop, but when Fino, Raul, and Lore-senpai arrive to the house to install the A/C, the new magic shop company is also there to install an A/C. A feud comes along about which company to choose who will install the machine or not, but as they will install it, there's something that's been eating all the magic in the house. Lore-senpai gets an idea on how to remove them all, and Fino helps. Because of their help, the owner of the house, son of the old lady, chooses Leon Shop to install instead of the new company.
14 votes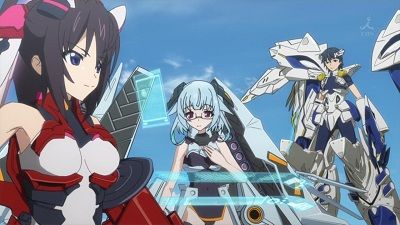 #2 - What It Takes to Be a Hero
Heavily depressed of her sister's doing, Kanzashi skips school today. Tatenashi announces the opening tag tournament at the school assembly, while Ichika goes looking for Kanzashi who's thinking how incompetent she is. Then a sudden raid, is launch onto the arena by five anti-IS units. Chifuyu commends the Personal IS pilots a combat attack. One unit lands before Kanzashi when Ichika saves her. Kanzashi activates her IS and both battle the anti-IS. Tatenashi and Houki charge spear-strike onto their anti-IS, but its armor prove too much to penetrate, thus an explosion occurs. Ichika goes to check on the scene when Kanzashi detects Tatenashi is unconscious and fights in rage at the unit until her IS weapon power runs out. Believing it's hopeless, Tatenashi protects Kanzashi and gets fatally injure. Deep within subconscious, Ichika and Tatenashi encourage Kanzashi that no matter how weak you are…a hero should never run away…and accept your well-being. Houki replenishes Ichika's energy. Kanzashi uses a charm that Tatenashi lead to her and they destroy the anti-IS, while the other units are destroyed as well. Recovering in the infirmary, Tatenashi begins to see how reliable Ichika can be and feels for him, while she and Kanzashi have a friendly sister-to-sister talk. Meanwhile, they managed to recover two of the advance anti-IS Cores, as Chifuyu decides to notify the government. Later, Kanzashi gives Ichika an anime movie as a gift, and she confesses her love to him and ran, but realizes she mistranslated that she loves anime.
28 votes