Treehouse Masters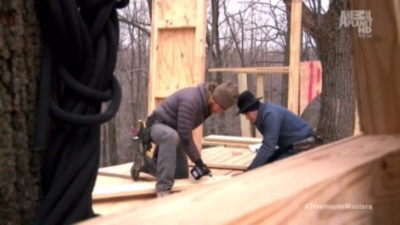 #1 - Luck o' the Irish Cottage
Season 1 - Episode 2
A Celtic-theme cottage in an olive tree in California features a circular design that includes a fireplace and a rain-maker to mimic damp Irish weather.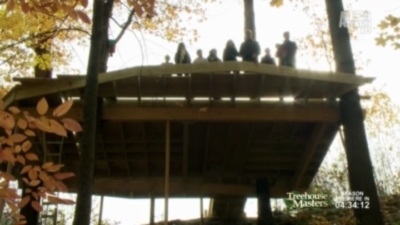 #2 - Wild Butterfly Escape 8.25
Season 2 - Episode 3
A large family from Independence, Ohio, runs a nonprofit organization Cornerstone of Hope, which provides grief services to anyone who has lost a family member. The family asks Pete to build a therapeutic space in the trees for Cornerstone of Hope, incorporating the nonprofit's symbol, the butterfly. Pete jumps at this opportunity as he strongly believes in the unique healing power of trees and treehouses. He designs a butterfly-themed treehouse that stretches across six tree varieties, including a gorgeous cluster of maple, cherry, tulip and beech trees. The treehouse features a 400-square-foot deck, loft space, a butterfly wing-shaped jungle gym, a gigantic climbing net and a breathtaking butterfly chandelier. Pete really goes above and beyond when he outfits the treehouse with mechanical butterflies that can be enjoyed all year round!
#3 - AJ's Wish Treehouse 8.21
Season 2 - Episode 17
An Arizona boy's Make-a-Wish request is granted when Pete designs a tree house with a ramp for his wheelchair and characters from the 2014 film "The Boxtrolls."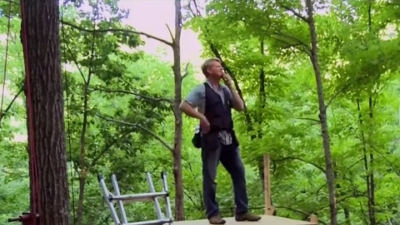 #4 - Country Superstar Speakeasy 8.19
Season 2 - Episode 16
Brian Kelley – a Southern gentleman who just happens to be half of superstar country-pop sensation Florida Georgia Line – is dreaming of a treehouse that he can "cruise" to with his gorgeous new wife in their home outside of Nashville. It is a three story whimsical, speakeasy-themed creative space built at the edge of a ravine below their home, perched in two strong oaks and a hickory tree. A sky-high bridge attached to their front porch floats through the tree branches to the second story of the treehouse, allowing the couple to easily access their private refuge. Pete incorporates wood from a treehouse that Brian's father built for him as a boy, a bedroom, office, writing room, and a fantastic music-recording studio decorated with Guatemalan fabrics and vintage light bulbs.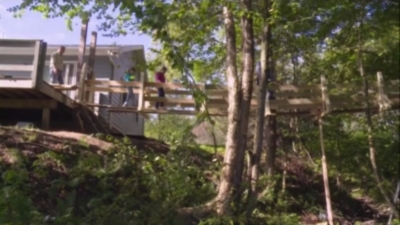 #5 - Temple of Adventure 8.19
Season 2 - Episode 1
Pete builds an incredible, adventure-themed treehouse for a young, exploration-loving family in the heart of Pennsylvania's Pocono Mountains. The family calls Pete and his crew to create a massive, two-story jungle masterpiece packed with secret doors and hidden passageways within a cluster of cherry trees! Pete delivers not just one but two bouncy suspension bridges, a daring rock-climbing wall anda living wall containing more than 700 live plants for this colossal treehouse, which overlooks a deep gorge. With a secret sarcophagus entrance, a second-sleeping loft and loads of adventurous novelties, this treehouse is sure to bring the family hours of fun, especially when Pete reveals his tailored, sentimental surprise: a tribute to the family's beloved grandmother.
#6 - Apres Skihouse Treehouse 8.18
Season 5 - Episode 5
Pete builds ski lodge-style treehouse complete with an indoor-outdoor fireplace and a rooftop snowmaker for a ski-loving family.
#7 - Magical Modern Treehouse 8.13
Season 5 - Episode 8
Busy film industry clients in Fayetteville, Ga. request a treehouse on their exuberant 63-acre plot of land, inspired by mid-century architecture and equipped with a zip line.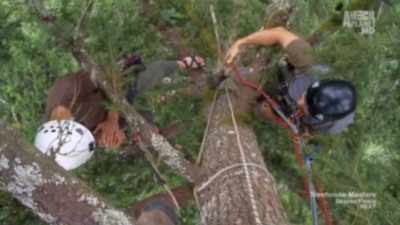 #8 - Love Is in the Air 8.11
Season 1 - Episode 8
In the Season 1 finale, Pete builds a honeymoon suite for a couple who want to get married at Treehouse Point, but all of the other accommodations are booked.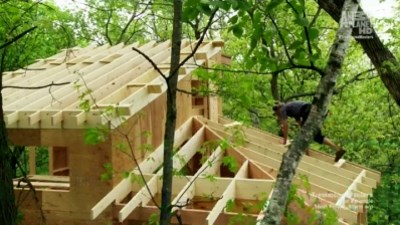 #9 - Vincent Van Treehouse 8.10
Season 2 - Episode 13
A farm in Wisconsin is the setting for a two-story tree house that features two decks; a loft; a lounge; and an art studio that has storage space for paint and canvases, a slop sink for washing brushes, an easel, drafting tables and a sewing station.
#10 - Sky-high Redwood Retreat 8.06
Season 2 - Episode 4
A nature-loving woman in Humboldt County, California, asks Pete and his crew to build a treehouse that pushes their skills to the limit. She feels cramped in her home and wants a permanent residence 60 feet up in the area's giant redwood trees. Pete and crew take the comforts of home to new heights in this bohemian-chic, tri-level treehouse, which boasts a bathroom, lounge and bedroom loft spread out throughout three floors with low-hanging lights, tapestries, modular furniture and an overall genie-in-a-bottle aesthetic. The owner dreams of being able to see the Pacific Ocean from her cozy forest perch atop the redwood canopy, and Pete knows that he and his crew are the only ones who can deliver!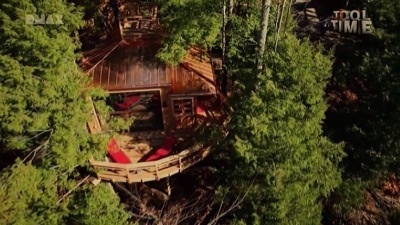 #11 - The Coolest Treehouse Ever Built 8.06
Season 3 - Episode 1
A couple who live in a one-room yurt in Portland, Maine, want a space for entertaining, so Pete builds them a tree house 19 feet high that features a rooftop crow's nest, a copper roof and a wall of windows that offers scenic New England views.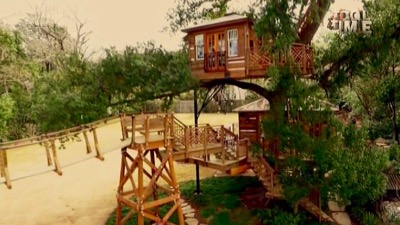 #12 - Triple Decker Record Setter 8.03
Season 3 - Episode 7
Pete heads to Louisiana to build his biggest treehouse ever; a record-breaking, 1200 sq ft, tree village features 3 separate levels and a 70 ft bridge that connects to a platform set in a trio of nearby trees.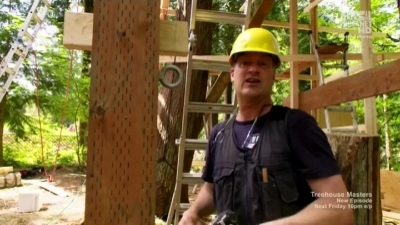 #13 - Towering Treetop Teahouse
Season 2 - Episode 12
Pete and the crew look to Buddha's teachings as they build a traditional Japanese teahouse 20 feet in the air complete with a shoji screen wall, Tatami mats, low table with sunken floor and pagoda style roof for a zen-like paradise in Seattle.
#14 - Texas-Sized Treehouse
Season 5 - Episode 1
Pete and the crew round-up the magnificent seven of cypresses alongside the Frio River and mosey on down to Leakey, Texas to build a gigantic, Texas-sized treehouse with the longest bridge in NT&S history.
#15 - Treehouse Z 7.98
Season 5 - Episode 3
Pete connects with old friends in Canton, NC to build them Zen-like sanctuary in the trees. Battling a record-fast 9-day build window, the team stays calm in constructing a retreat 15-ft high with a picture perfect view of the Blue Ridge Mountains.
#16 - View From Above 3
Season 5 - Episode 4
Pete and his crew reminisce about their adventures and answer questions from fans.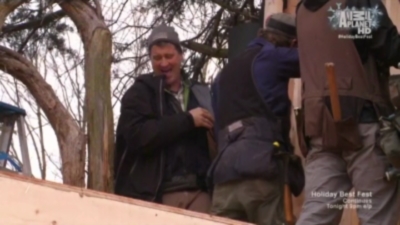 #17 - Spirit House Retreat
Season 1 - Episode 5
In search of an inspiring space to begin her first novel, a writer in Rhinebeck, New York calls on Pete to build a hideaway to embrace her creativity but instantly feels blocked when she disagrees with Pete about the chosen tree. Once Pete wins her over, he transforms the tree into a gold-leafed "Spirit House" retreat filled with Buddhist artifacts and uplifting oddities and a loft to rest the brain between chapters.
#18 - Canopy Clubhouse
Season 1 - Episode 7
A family in Bedford, N.Y., spare no expense for a tree house that features a patio for barbecuing, a living room and a playroom with chalkboards.
#19 - Backyard Bungalow
Season 1 - Episode 6
Episode Synopsis: A couple in Oregon need extra room when their daughter comes home from college, so Pete builds a guesthouse in a tree.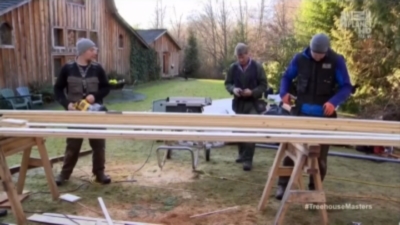 #20 - Record-High Recording Studio
Season 2 - Episode 6
A family from nearby Seattle wants to expand its already famous rural recording studio up into the trees! Up for the challenge, Pete creates a high-tech, two-story recording oasis more than 36 feet tall with in a group of cedar trees. Marrying music and nature, Pete and crew accent the treehouse with rust-colored metal, patterned, textured cork walls and a massive picture window that overlooks the wild salmon creek below. Upon completion, this musical treetop masterpiece is ready for its first recording session when a Grammy-award-winning megastar arrives at the reveal to lay down a brand-new track.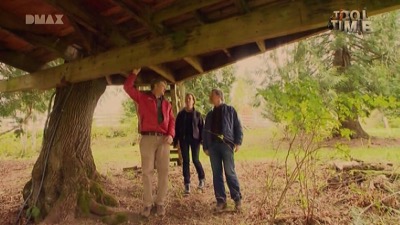 #21 - Twin Fix
Season 4 - Episode 4
Pete returns to two of his first builds to reconstruct, revamp, and revitalize a pair of treehouses in need of major makeovers. These fixes prove to be more than just a remodel job when Pete and his team give both treehouses a brand new life in the trees.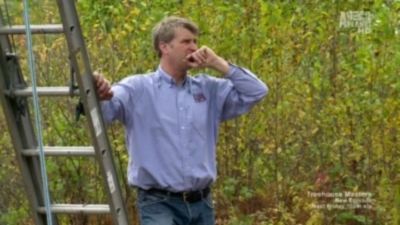 #22 - Black Bear Bungalow
Season 2 - Episode 2
Two sisters who run their family's rural inn in Farmington, Pennsylvania, present Pete with a bear of a task: build an observation treehouse on their 1000-acre property, where they can watch the black bears roaming the land. Pete is a little nervous at first when it comes to his team building in the midst of these wild beasts, but he turns his fear into inspiration by creating his first-ever mid-century decagon treehouse with walls of glass and windows, a wrap-around deck, cathedral ceilings and a closed-circuit bear-cam tracking system nestled among three white oaks and standing more than 20 feet from the ground. For the interior, Pete incorporates mission-style furniture, a roaring fireplace and a handmade oak bar.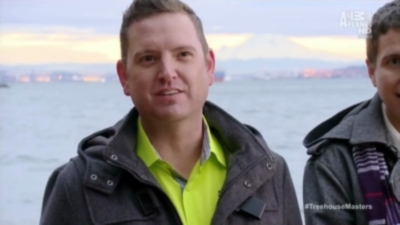 #23 - Levitating Lighthouse 7.97
Season 2 - Episode 5
A young couple has big dreams of a lighthouse treehouse atop a seaside seawall along the coast of Northwest Washington. Pete is challenged by the property's incredibly steep grade and must deliver all of his materials to the site by way of barge only! The octagon-shaped, two-story, white-and-red shingled structure, which is housed among a group of cottonwood trees, features porthole windows, a wrap-around balcony, a nautical-themed interior and rainbow-colored glass. The couple, wanting to truly live off the grid, throws Pete a curve ball by asking him for a rainwater shower system, a composting toilet and supply power (where there is none). Surprisingly, Pete delivers a custom gift for the couple's pampered pooch: a 'backyard' high in the air!
#24 - Treehouse Takeover: The Roderick Experience 7.92
Season 5 - Episode 6
Pete hands the reins over to Roderick for the next build; a spiral staircase wrapped in branches, a hexagonal tower with elegant stained glass windows and a 360 degree observation platform.
#25 - Treehive Beehive 7.92
Season 3 - Episode 3
Pete and his team undertake a sticky challenge and reinvent the classic single-tree treehouse; constructing a magnificent and whimsical beehive-like structure soaring 30-feet high in a majestic Douglas fir.