The Gadget Show
#1 - Episode 1
Season 12 - Episode 1
Jason Bradbury and Suzi Perry take part in one of their most complex challenges to date, constructing a full-sized remote-controlled vehicle capable of competing in a banger race. Jon Bentley heads for New York to put touch-screen phones to the test, and Ortis Deley swims with a colony of robotic penguins in Germany
#2 - Episode 15
Season 14 - Episode 15
Suzi and Jason go head to head in a gadget-based musical challenge, Jon remakes a classic film in order to test the latest in mini projectors, Ortis tests a special bike and Polly looks at the best bags on the market.
#3 - Episode 1
Season 23 - Episode 1
Ortis travels to Manchester to visit the home of graphene.
#4 - Episode 1
Season 6 - Episode 1
Kit out your house for next to nothing, Binoculars with Chris Ryan, The Critical List - mobile phones.
#5 - Foreign Movie Challenge
Season 16 - Episode 1
This week on The Gadget Show we kicked off the series with Ortis and Pollyanna heading off to Morroco to make a movie using consumer video tech, Jon jetted off to Italy to test the latest folding bikes and Suzi was putting a smile on the faces of some gadget volunteers to find the Top 5 Toothbrushes.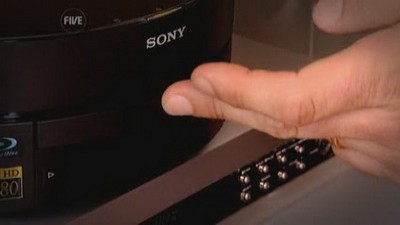 #6 - Episode 2
Season 10 - Episode 2
Jason and Dallas take technology into the great outdoors; Jon Bentley reviews media-centre PCs; and Suzi asks a celebrity dentist for her thoughts on electric toothbrushes.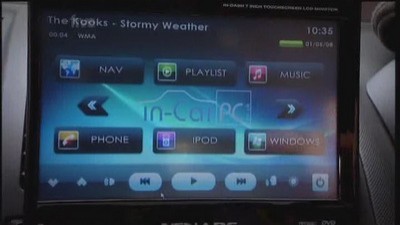 #7 - Episode 2
Season 9 - Episode 2
Jon and Suzi test their newshound instincts and a range of media tools as they post entertainment reports on the web. Elsewhere, Dallas looks at survival gadgets; and Jason examines an in-car computer.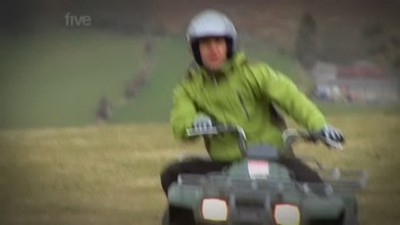 #8 - Episode 2
Season 8 - Episode 2
The presenters hit the countryside, heading for the hills with a phone that claims to be the toughest in the world. They also put the latest generation of hand-held GPS devices through their paces, see how a range of tents stand up to the elements and race around in some of the coolest off-road kit available. They also test the three main PVR services available and Jason finds out what is on offer at the London Toy Fair.
#9 - Best Gadgets Ever
Season 26 - Episode 1
What are the greatest gadgets of all time? Is it the Walkman, a microwave, a computer game or something completely different? The team argue for their favourites as they countdown to number one.
#10 - Episode 2
Season 12 - Episode 2
Suzi Perry and Ortis Deley explore whether it is possible to lead a totally wireless life, using Lamborghinis, powerboats, electric cars and trains above and below ground to race from London to Plymouth. On reaching their destination, the duo travel across a quarry via advanced motorbike and personal hovercraft. Meanwhile, chef Simon Rimmer tests hi-tech ovens and Jason Bradbury checks out a selection of free online games
#11 - Episode 1
Season 4 - Episode 1
Jon Bentley showcases the latest photo-editing software and puts it to the test by recreating famous images - from the poster for The Shining to the 1966 England World Cup squad. Suzi Perry investigates the history of video game company Atari. Jason Bradbury tries to go a day without using any gadgets, and Tom Dunmore reviews the latest MP3 players on the market.
#12 - Episode 1
Season 14 - Episode 1
New series of the consumer technology show. Suzi and Jason mount a promotional campaign to advertise the show using cutting-edge technology. Jon tests the iPhone 4
#13 - Episode 1
Season 21 - Episode 1
This week, Ortis joins Rachel and Jason to reveal why the desktop PC has gone the way of the dodo and we should be throwing the beige boxes of yesteryear on the scrapheap. Jon pays homage to a piece of retro tech. He meets up with the Beatles' former photographer Paul Beriff to follow a Beatles tribute band around Liverpool, snapping them using three of the latest digital cameras with old-school styling. YouTube gaming stars Matt and Darren are back on the show, this time testing portable gaming devices. Will any of them be good enough to convince people to stop playing games on their smartphones? Ortis takes a short hop over to Italy to visit one of Europe's most advanced technological institutes. The IIT houses a collection of robots staking their claim to become part of our daily lives, including the iCub, which can learn skills by interaction with humans. Finally, Jason and Rachel build a gadget-protection device to keep thieves at bay, using none other than Ortis Deley and the Great British public as their test subjects.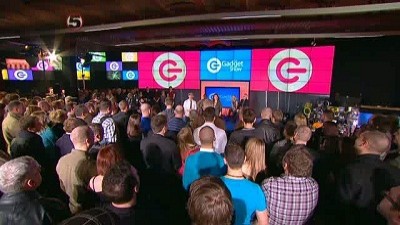 #14 - Really Wild Challenge
Season 15 - Episode 1
This week, The Gadget Show is back with a brand new series and its our first where the gang performed in-front of a live studio audience. Ortis and Pollyanna head to South Africa testing photo cameras and video cameras in very extreme conditions. And, our Live Studio audience get hands on with a whole load of robots in a raging robot race. It's going to be really wild show!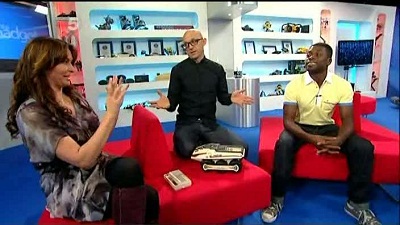 #15 - Get Rich Quick
Season 15 - Episode 2
This week on The Gadget Show Suzi and Ortis are using to gadgets to help them Get Rich Quick, Jon is joined by the fabulous Flawless to test Sports MP3 players and we bring you the Top 5 Tech you should be looking out for in 2011.
#16 - Episode 3
Season 7 - Episode 3
Jon Bentley, Jason Bradbury and Suzi Perry showcase technological toys, putting a range of outdoor gadgetry to the test and looking at the latest in combination cameras - devices designed to both shoot videos and capture still images. Plus, Suzi campaigns for honesty in broadband advertising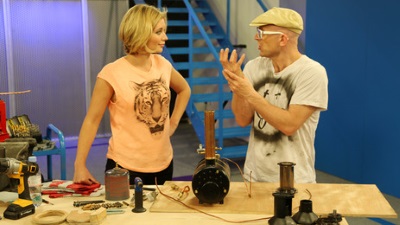 #17 - Episode 2
Season 17 - Episode 2
Rachel and Jason begin by taking a look at 4K technology, which is set to change how consumers watch television forever. In California, Polly is busy testing two of the most exciting watercraft on the market. The 50mph SeabreacherX is the most advanced submersible that Innespace have ever built. Meanwhile, Jon Bentley is in Shakespeare country, testing the latest convertible laptops for the new Windows 8 operating system. Actor Jonathan Slinger, Paralympic rower James Roe, artist Kyle Lambert and Britain's fastest touch-typist Bethan Davis help him to put three of the best through their paces. Indie band 2 Door Cinema Club are also roped in to help test a raft of streaming sites. The boys put them to the test on the UK leg of their recent tour and give their verdict. Next, Rachel and Jason attempt to take on the big boys of the coffee world, as they build their very own coffee machine and take it out onto the streets to see if it passes the public's taste test. Finally, the Lacie USB extreme key has an impressive list of indestructible features, but after the team have put it through its paces with the help of Britain's strongest man, a deep fat fryer and some liquid nitrogen, will it survive?
#18 - Episode 3
Season 10 - Episode 3
Suzi and Jason play spy games as they get to grips with the best in surveillance technology. The Hairy Bikers help Jon test food processors and Jason takes a look at the top five skateboards.
#19 - Episode 2
Season 21 - Episode 2
Presenters Jason Bradbury, Rachel Riley and Ortis Deley head off to the farm to test the strength of tablet cases. How will five of the most popular tablets stand up to a pounding from a herd of cows as well as a real game of angry birds? Back in the studio, Jon Bentley is looking at the world of digital assistants – smartphone software that claims to be able to organise our lives. Do they really work, and can Google's Now and Samsung's S-Voice really challenge Siri, used by Apple's iPhone? In his first European trip of the season, Jason is the Austrian mountains to see what happens when you mix a tank, a wheelchair and a pile of snow. The result is an extraordinary form of transport! Meanwhile, on the other side of the Alps in Italy, Ortis joins newly crowned Italian barista champion Giacomo Vannelli to test coffee machines. As the heady aroma fills the air, what does Giacomo make of the machines' claims to make the perfect coffee with just one press of a button? Back in the UK, Rachel negotiates her way through the world of satnavs and discovers how the science behind them keeps Britain moving. She also reveals how these satellites in the sky could soon be doing something much more than just helping people to get from A to B.
#20 - Episode 2
Season 23 - Episode 2
Amy travels to Kansas City, home of the tallest water slide in the world, where she tests three leading waterproof headphones. Ortis is in Japan looking at new innovations in karaoke.
#21 - Episode 3
Season 11 - Episode 3
#22 - Episode 3
Season 12 - Episode 3
Websites come under the spotlight as Jason Bradbury learns how to cook and Ortis Deley sets out to play the guitar, both using only online tutorials and resources. After one month, the presenters' progress is assessed by chef Antony Worrall Thompson and NME's news editor Paul Stokes. Meanwhile, Suzi Perry and Jon Bentley compare the technology for sale in London and Seoul, South Korea, and journalist Dawn Porter
#23 - Episode 3
Season 25 - Episode 3
Jon Bentley tests a product intended to replace both a laptop and tablet, questioning whether it really can offer the best of both worlds. Ortis Deley and Amy Williams taking on a professional car valet at his own game, hoping their state-of-the-art equipment will secure them victory. In the US, Yue Xu visits CES, the world's biggest technology exhibition, where she goes behind the scenes to reveal the gadgets ready to take 2016 by storm, and the team spends a day in the company of a man carving himself a career out of playing football video games.
#24 - Episode 3
Season 21 - Episode 3
Jon and Jason decide which home cinema system is worthy of an Oscar.
#25 - Gadget Rally
Season 15 - Episode 3
This week on The Gadget Show, Jason and Pollyanna get dirty in a Gadget Rally; Ortis ascends one of London's tallest buildings, to test the latest pedometers. And Jon gets is joined by Jessica Jane Clement to test the best ways of getting your gadgets back if they're nicked. Thanks to all of these guys who made it all happen!