Ridiculousness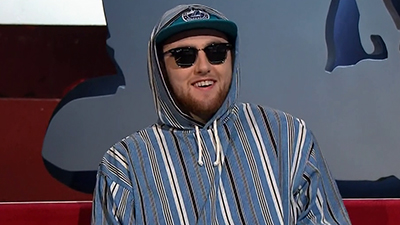 #1 - Mac Miller 8.55
Season 3 - Episode 2
Twenty-one year-old rapper, Mac Miller, joins Rob and the crew to discuss his hilarious alter ego "Hairy Levestein" and explain what it means to take a "Leap of Faith".
#2 - Cole Hernandez 8.44
Season 1 - Episode 14
Rob invites his favorite Youtube dancer to the set, and the 'Ridiculousness' gang finds out what happens when average joes go up against household electronics and Mother Nature.
#3 - Chanel and Sterling 8.39
Season 2 - Episode 7
The original 'Ridiculousness' trio watch clips of random tackles and animals seeking revenge, and Chanel swaps places with Rob for some redneck good times.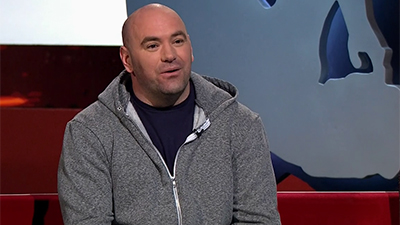 #4 - Dana White 8.33
Season 3 - Episode 5
UFC President Dana White shows the crew the meaning behind "Banned-Kinis" and goes head-to-head with the most volatile "Hot Heads".
#5 - Quinton ''Rampage'' Jackson 8.31
Season 2 - Episode 4
UFC championship fighter, Quinton "Rampage" Jackson, shows his wolf battle cry and what really sets off his Hot Button. Rob also shows videos of Crappy Endings and what it's like to get Slampaged.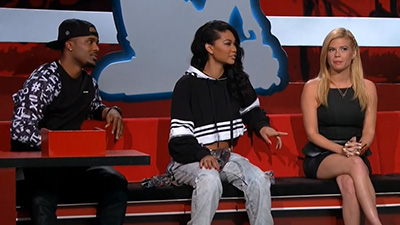 #6 - Chanel Iman 8.28
Season 5 - Episode 15
Supermodel Chanel Iman stops by to inspire hilarious categories where those who aren't as graceful as her fall in heels, fly like angels, and have strange mating noises.
#7 - Chris Drama PFAFF 8.26
Season 1 - Episode 9
Rob's cousin, and 'Fantasy Factory' regular, Chris "Drama" Pfaff joins the 'Ridiculousness' gang for some horseplay, aggressive running, and a special Brazilian lap dance.
#8 - Dan Heaton 8.23
Season 1 - Episode 12
The 'Ridiculousness' gang welcomes a world-class unicyclist, and everyone gets a taste of some of the web's wildest worst-case scenarios and band practice mishaps.
#9 - Street Bike Tommy 8.22
Season 2 - Episode 8
'Nitro Circus' stunt warrior Street Bike Tommy joins the 'Ridiculousness' gang to watch the wildest whisky throttles and gutsiest big dudes on the web.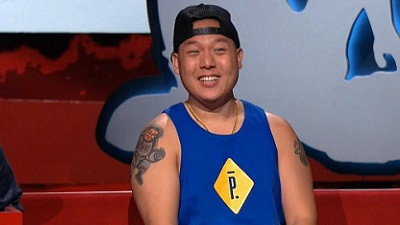 #10 - Eddie Huang 8.17
Season 5 - Episode 2
Eddie Huang joins the gang for laughs provided by bizzare meals, cringe-worthy white people mishaps, and really bad drivers.
#11 - Ryan Dunn 8.14
Season 1 - Episode 13
The late Ryan Dunn, daredevil and former 'Jackass' star, joins the 'Ridiculousness' gang as they take a look at the latest bunch of wacky web videos.
#12 - Jeff Tremaine 8.11
Season 1 - Episode 7
The 'Ridiculousness' family welcomes special guest/extreme television producer Jeff Tremaine to help share web videos featuring the hardest slams and worst friends out there.
#13 - Sara Jean Underwood 8.10
Season 2 - Episode 3
Former "PMOY", Sara Jean Underwood, visits the Ridiculousness set, where Rob shows off his Fear Face and they talk about how Cats are Weird.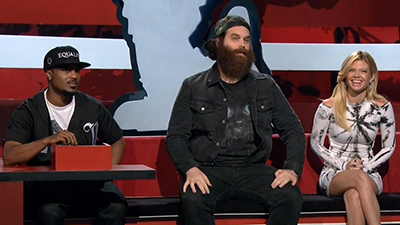 #14 - Harley Morenstein 8.09
Season 4 - Episode 20
YouTube star and 'Epic Meal Time Host' Harley Morenstein stops by to laugh at epic meal crimes, human bacon, and people who, like him, are just a bit buttery.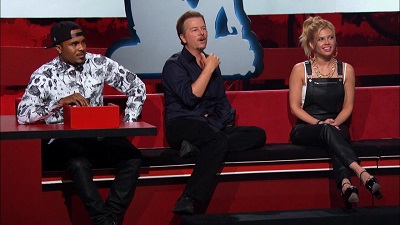 #15 - David Spade 8.09
Season 5 - Episode 3
Funny man David Spade hangs out to recall Joe Dirt glory, watch major wipeouts, and see some deer make their TV debut.
#16 - Judd Leffew 8.08
Season 1 - Episode 10
Rob shows off the ten events in the Ridiculousness Decathlon, and brings in a special guest to deconstruct some nasty bull fights on the web.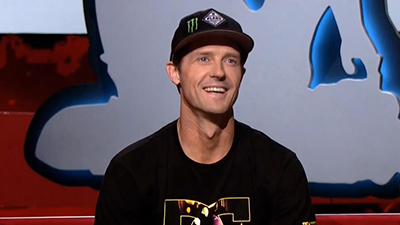 #17 - Danny Way 8.07
Season 5 - Episode 9
Legendary pro skateboarder Danny Way stops by to watch hilarious videos of missed jumps, people who can't take hits, and chatter victims of anesthesia.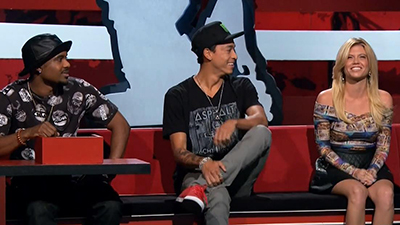 #18 - Nyjah Huston 8.06
Season 4 - Episode 14
Professional Skateboarder Nyjah Huston joins the crew to laugh at videos of ungifted kids, stunts gone wrong, and people getting road rashes.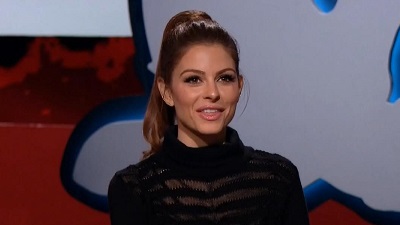 #19 - Maria Menounos 8.05
Season 5 - Episode 5
Maria Menounos joins the crew and laughs at reporter mishaps, craziness at sporting events, pranks gone wrong, and more.
#20 - Duff Goldman 8.04
Season 2 - Episode 5
"Ace of Cakes" star chef, Duff Goldman, stops by set with a scorpion cake and we see some of his Unnecessary Costumes. He and Rob also show videos of Grand Entrances and Ghost Holes.
#21 - Caite Upton - Biker Fox 8.03
Season 1 - Episode 11
Caite Upton drops by the 'Ridiculousness' studio, along with a world-renowned biking "expert," to sound off on some redneck good times and major de-facings that were caught on camera.
#22 - Floyd Mayweather 8.02
Season 2 - Episode 2
Floyd Mayweather visits the Ridiculousness studio where Rob shows him what a Pain Face looks like. They'll also endure some Romantic Injuries and learn How Not To Train.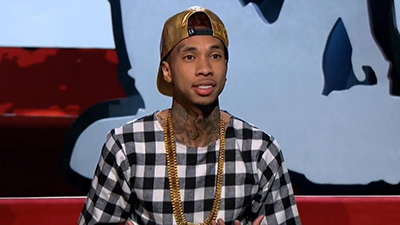 #23 - Tyga 8.02
Season 4 - Episode 18
Tyga and the gang watch videos of hit collabs, kicks in the face, and people who need to keep practicing.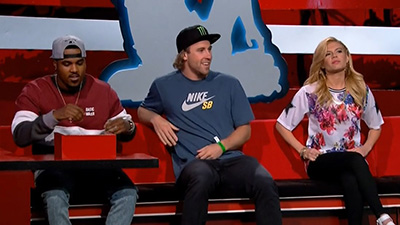 #24 - Sage Kotsenburg 8.02
Season 5 - Episode 14
Pro snowboarder and Olympic Gold Medal winner Sage Kotsenburg stops by to watch videos about snowboarding mishaps, blonde haired dare devil fails, and brothers who don't quite fit in.
#25 - Paul Rodriguez 8.02
Season 5 - Episode 10
Pro Skateboarder Paul Rodriquez hangs out on Ridiculousness and inspires categories with his board skills, time on Street Dreams, and even solving problems...