Murdoch Mysteries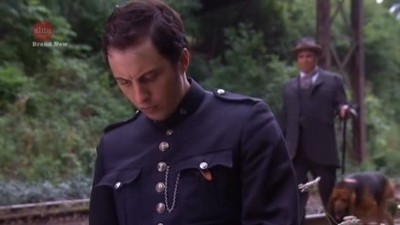 #1 - The Murdoch Identity 8.05
Season 3 - Episode 1
Murdoch finds himself with amnesia and running for his life on the streets of Bristol, England, very far from home, if he knew where his home was. Taking refuge in a pub, he gains the assistance of a vivacious barmaid who helps him reconstruct his memories, escape his pursuers, and foil an assassination plot.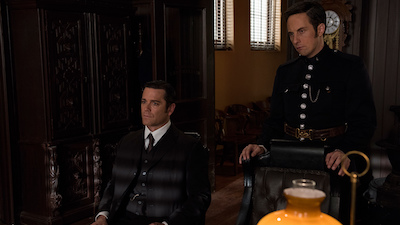 #2 - Cometh the Archer
Season 9 - Episode 18
Murdoch and Ogden's lives are threatened by the return of a dangerous adversary.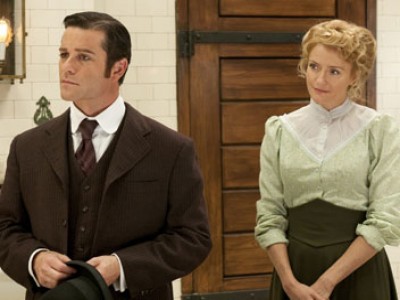 #3 - Back and to the Left 8.00
Season 5 - Episode 2
Murdoch must tread carefully when he pursues a Catholic suspect of the murder of an Alderman.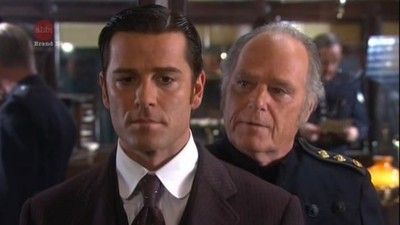 #4 - The Great Wall 8.19
Season 3 - Episode 2
Murdoch is called to Station House Five when a decorated constable is murdered and the local detective is ill. Murdoch finds that everyone is ready to blame an elderly Chinaman named Fong Choy because of something to do with his granddaughter, but she is nowhere to be found and Fong Choy won't talk.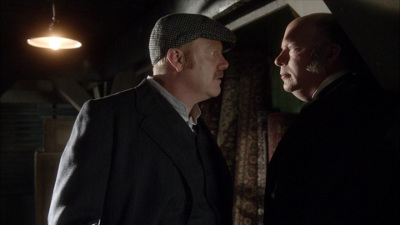 #5 - On the Waterfront (2) 8.24
Season 8 - Episode 2
Murdoch and the force have to confront more violence on the waterfront as they try and bring Brackenreid's attackers to justice. Dr. Ogden and Dr. Grace go head to head in court.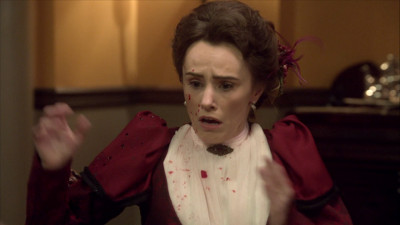 #6 - On the Waterfront (1) 8.22
Season 8 - Episode 1
Murdoch believes that the brutal murder of a waterfront merchant could be linked to the shocking assault on Inspector Brackenreid.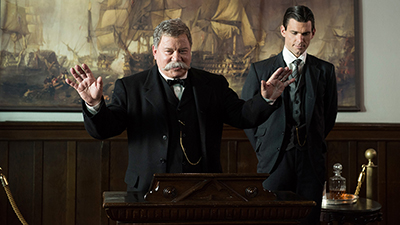 #7 - Marked Twain 7.96
Season 9 - Episode 2
Murdoch and his colleagues must protect the safety of author Mark Twain after he stirs up controversy during a speaking engagement in Toronto.
#8 - Winston's Lost Night 7.97
Season 6 - Episode 2
Detective Murdoch suspects a soldier after a veteran is slain by a sword.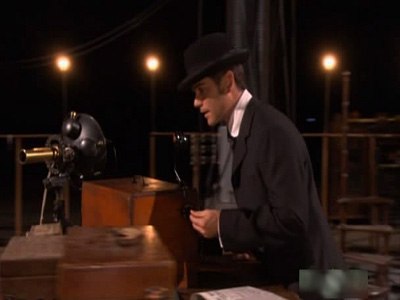 #9 - Power 7.75
Season 1 - Episode 1
Daniel Pratt, owner of Toronto Electric & Light, has made his fortune by lighting the city streets with direct current (DC). But now council is considering a new form of electricity called alternating current (AC). So Pratt – and a team of high-powered supporters –decides to mount 'dog and pony' shows across the city to prove that AC is a killer. But when Miss Toronto Electric & Light, Alice Howard, is electrocuted in a demonstration gone wrong, it's determined that the switch handle she pulled had been purposely booby-trapped. In a case that's further complicated by bribery, scandal and dirty backroom dealings, Murdoch must find out who killed Alice – and why.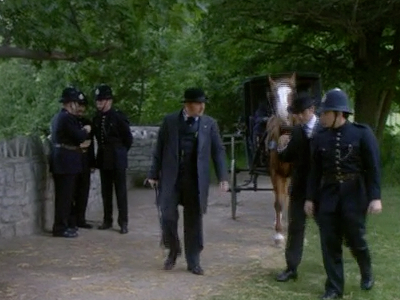 #10 - Mild, Mild West
Season 2 - Episode 1
When the traveling Buffalo Bill Cody's Western Extravaganza settles in Toronto, murders happen. Inspector Murdoch must investigate the crimes while his boss becomes enamored with Annie Oakley.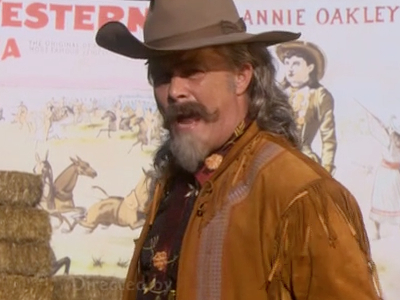 #11 - Snakes and Ladders 8.15
Season 2 - Episode 2
An investigator arrives from Scotland Yard who is after the infamous Jack the Ripper. Meanwhile, Murdoch takes dancing lessons so that he can escort Dr. Ogden to a ball.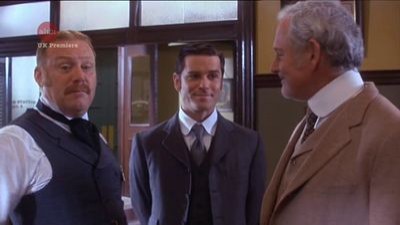 #12 - Tattered and Torn 7.86
Season 4 - Episode 1
When a strange case crosses his desk; body parts – a foot, a hand and a headless torso - have surfaced along the Don River. Ogden's replacement, Dr. Francis Philpott, insists the body parts are from one murder victim. But Murdoch has his doubts and contacts Ogden. Initially reluctant, Julia can't help but be intrigued by the case. Murdoch secretly ships her the evidence and Ogden's examination reveals they are dealing with three different victims but likely one killer.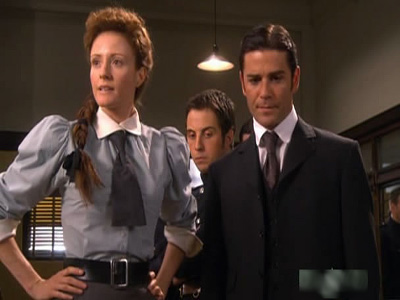 #13 - Glass Ceiling 7.70
Season 1 - Episode 2
Lawyer Percy Pollack was last seen a week ago. According to his wife, Clara, Percy had gone to a meeting with his business partner, Dr. Gilbert Birkins, but based on the condition of his body, he died just 36-48 hours ago - which leaves five days unaccounted for. When Judge Henry Scott dies of a similar wound, Brackenreid suddenly recognizes the work of a murderer long thought dead -- and that he himself might be next on the killer's list. The case deeply divides Murdoch and Brackenreid, each pursuing their own line of investigation. But, a grisly new development in Pollack's murder tells Murdoch that he's been trying to solve this puzzle without all the pieces.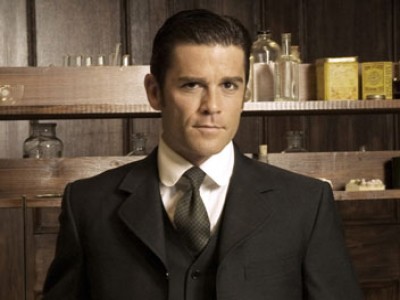 #14 - Murdoch of the Klondike
Season 5 - Episode 1
Murdoch joins the Gold Rush in the Yukon and meets radical author Jack London.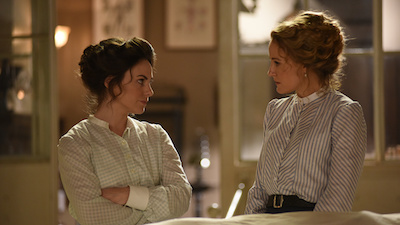 #15 - Double Life 8.26
Season 9 - Episode 3
It is the eve of Dr Grace's departure for England, when a young suffragette is murdered. Murdoch is called to investigate.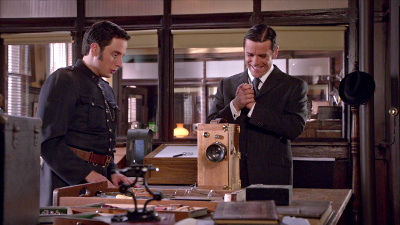 #16 - Murdoch on the Corner 8.03
Season 6 - Episode 3
Murdoch films a street corner to catch a killer.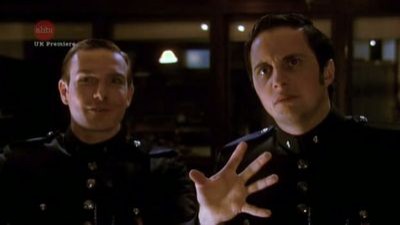 #17 - Buffalo Shuffle 7.83
Season 4 - Episode 3
Despite an unsolved break-in at the station house, Murdoch announces he's taking a vacation. His holiday turns out to be a trip in response to a telegram from Dr. Ogden requesting his help in Buffalo to solve what she thinks is a murder at The Children's Hospital. Murdoch agrees to go - thoughts of rekindling their relationship in the back of his mind. The case involves a 14 year-old terminally ill boy, Ben Wilkie, who has died under what Ogden feels are mysterious circumstances.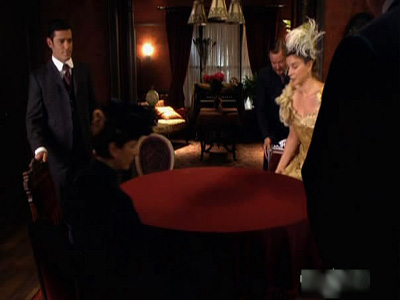 #18 - Elementary, My Dear Murdoch 7.61
Season 1 - Episode 4
Murdoch teams with his hero, Arthur Conan Doyle, to solve a murder that was revealed during a séance led by medium Sarah Pensall. It seems the victim, Ida Winston – a member of a paranormal watchdog group – had not been convinced of Sarah's abilities, which makes Murdoch wonder if Sarah killed Ida because she was about to be revealed as a fraud. Despite mounting evidence of the spirit world, Murdoch remains determined to use scientific means to solve the case. Sure enough, evidence starts to stack up against Sarah's little toady, Lisgar Gall. But when Murdoch accuses Gall of killing Ida in order to protect Sarah, he winds up in the middle of an unexpected lovers' triangle that further complicates the case.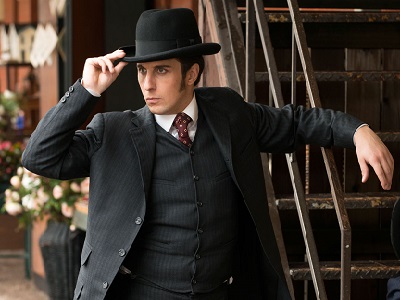 #19 - The Filmed Adventures of Detective William Murdoch 8.28
Season 7 - Episode 3
Detective Murdoch and many others attend a special showing of a film that will also include sound. The man behind the scheme is James Pendrick and his main competitor, Thomas Edison, is also present for the showing. The film includes a scene where a shot is fired but when the lights come up, one of the patrons, Pendrick's principal investor, has been shot in the head.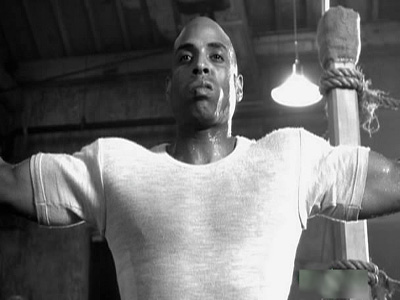 #20 - The Knockdown 7.77
Season 1 - Episode 3
While the city celebrates the Queen's birthday with a display of fireworks, Murdoch investigates a messy case of fixed fights and shady backroom dealings in the dirty world of boxing. After his victory against Sully Sullivan, boxing underdog Amos Robinson is found dead in his hotel room. Amos' wife, Fannie – found standing over her husband's bloody body with a gun in her hand – stands out as the most viable suspect. But Murdoch's strong intuition tells him otherwise, and he must act fast or Fannie will hang for a crime she didn't commit.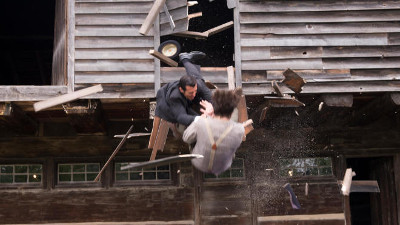 #21 - Glory Days 7.93
Season 8 - Episode 3
Murdoch and legendary lawman Bat Masterson unite to hunt for Butch Cassidy and the Sundance kid.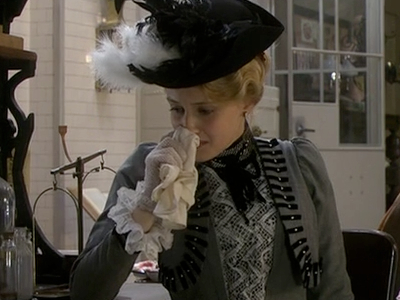 #22 - Houdini Whodunit 8.11
Season 2 - Episode 4
The young Harry Houdini becomes Murdoch's prime suspect when he investigates a daring robbery-homicide. Meanwhile, Dr. Ogden's sister comes to visit and soon becomes attracted to Murdoch.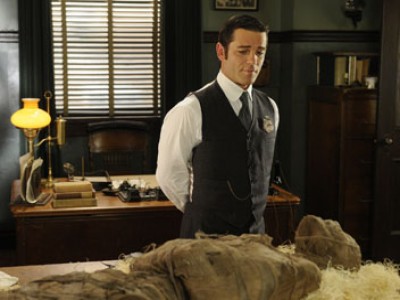 #23 - Evil Eye of Egypt 8.24
Season 5 - Episode 3
When Detective Murdoch investigates a series of deaths linked to an exhibition of Egyptian antiquities, Constable Crabtree is convinced a Mummy's curse is to blame.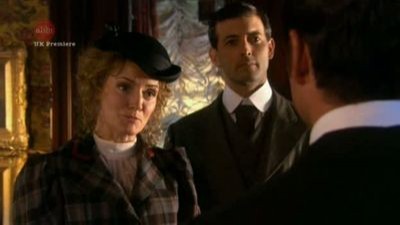 #24 - Downstairs Upstairs 7.79
Season 4 - Episode 4
When the master of a wealthy household, is found face down in his morning porridge, it would seem that Murdoch has entered into a conventional drawing room mystery. The characters are all there: The murdered Percival, his aggrieved wife and two very different sons. But whereas most drawing room mysteries revolve around the affairs of the upper class, Murdoch learns that the heart of this mystery lies in the servant's hall below the stairs, where there's a mix of unsettled emotions and grudges to bear.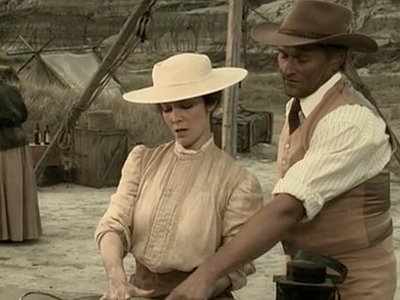 #25 - Dinosaur Fever
Season 2 - Episode 3
When the unveiling of a reconstructed dinosaur skeleton at a gala event reveals the dead body of a young man found in its jaws, Murdoch must enter the world of bone-hunters to find the culprit.