Happy Days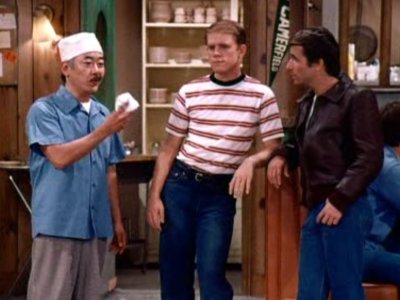 #1 - Three on a Porch 8.50
Season 3 - Episode 11
With nothing to do for the Easter holiday, Richie, Potsie, and Ralph decide to rent a cabin at Lake Whitefish. They pretend to be adult businessmen in order to secure the cabin and get girls.
#2 - Time Capsule 8.25
Season 4 - Episode 13
Richie and the guys organize a time capsule for a school project. Howard agrees to let them use the vault at his store for the capsule, and Potsie accidentally locks them all inside.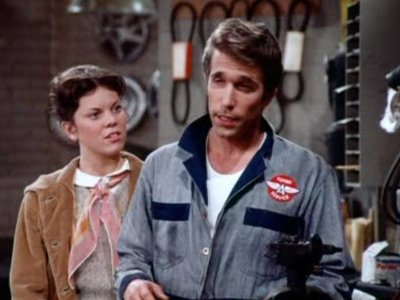 #3 - Fonzie's New Friend 8.17
Season 3 - Episode 12
Fonzie provides a drummer, who is black, to play with the band at Richie's party.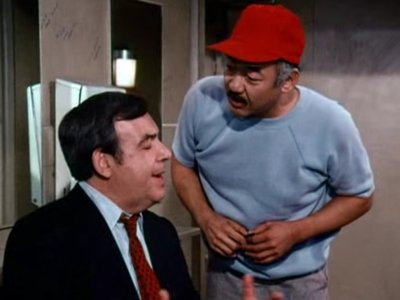 #4 - Howard's 45th Fiasco 8.14
Season 3 - Episode 8
At his 45th birthday, Howard realizes that his life has been very dull up to this point, and he attempts to run away to Tahiti.
#5 - Fonzie the Superstar 8.09
Season 3 - Episode 19
With Potsie away, the guys try to get Fonzie to take his place as the band's singer for the Senior Dance.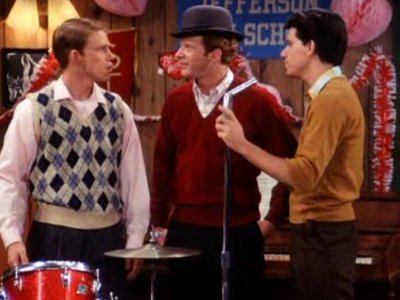 #6 - A Date with Fonzie 8.08
Season 3 - Episode 10
With Richie in a dating slump, Fonzie sets Richie and himself up on a double date with two of his girls, Laverne and Shirley.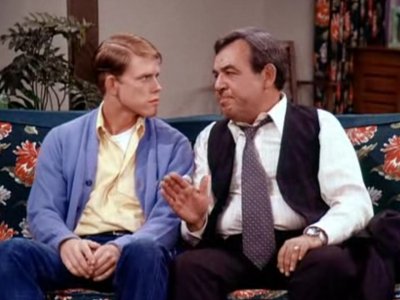 #7 - The Other Richie Cunningham 8.00
Season 3 - Episode 5
Needing to make a good impression for a prospective business deal, Howard asks Richie to take the ""Prince of Porcelain's"" daughter out on a date. Richie, however, already has big plans and asks Potsie to take his place and pretend to be him.
#8 - Kiss Me Sickly 7.89
Season 2 - Episode 22
Fonzie asks Richie to watch after his girl, Denise, while he's out of town at a demolition derby. Denise, upon hearing what Fonzie's asked Richie to do, decides to test Richie's trustworthiness. Richie succumbs to temptation and makes out with Denise at Inspiriation Point, but he later finds out that she has mononucleosis.
#9 - Richie's Job 7.86
Season 7 - Episode 5
Wanting to have some money of his own, Richie gets a job loading papers for The Milwaukee Journal. A man named Frank, who works in the same department, doesn't like Richie right from the start.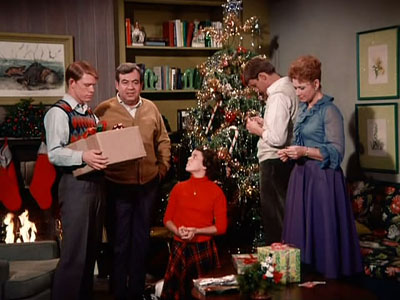 #10 - Guess Who's Coming to Christmas 7.86
Season 2 - Episode 11
Howard wants Christmas Eve to only include the family, but Richie discovers that Fonzie will be all alone.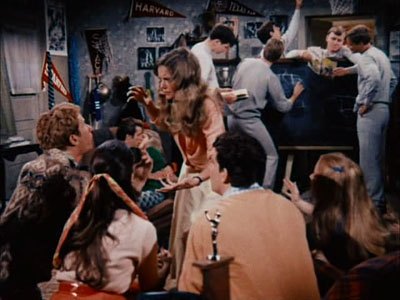 #11 - Richie Moves Out 7.85
Season 2 - Episode 1
Richie feels that he doesn't have enough privacy, so he decides to move in with Chuck. He quickly discovers, though, that bachelor life isn't quite what he expected it to be.
#12 - Football Frolics 7.83
Season 3 - Episode 18
Needing money to get tickets to a big football game, Richie, Potsie, and Ralph decide to babysit 15 children on the night of Mardi Gras.
#13 - Kid Stuff 7.83
Season 6 - Episode 6
Fonzie and his girlfriend's son are getting along together as if they were father and son, but his girlfriend reveals that she and her estranged husband are getting back together.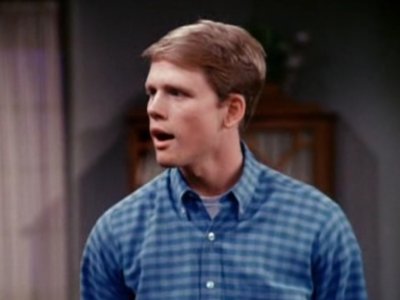 #14 - They Call It Potsie Love 7.82
Season 3 - Episode 13
Joanie develops a crush on Potsie after he sings to her at Arnold's.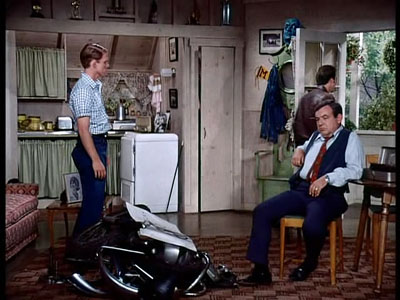 #15 - Motorcycle 7.77
Season 3 - Episode 2
Fonzie finds his his bike in pieces, and the search is on to find out who did it.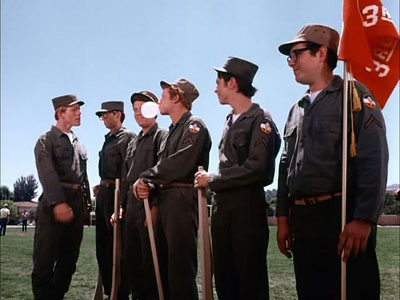 #16 - R.O.T.C. 7.75
Season 2 - Episode 5
Richie is named R.O.T.C. squad leader but has trouble controlling his squad. After several warnings to obey his commands, he puts them all on report.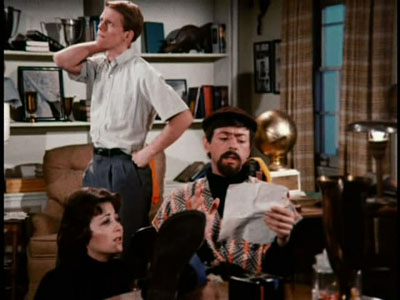 #17 - Great Expectations 7.74
Season 1 - Episode 13
Richie meets a beatnik named Diedre at the movies and gets caught up in her type of lifestyle.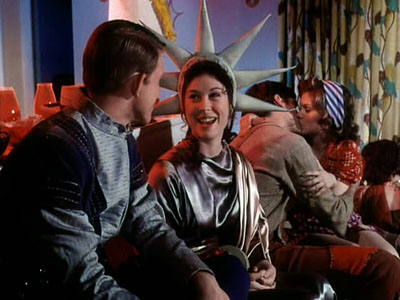 #18 - Because She's There 7.73
Season 1 - Episode 11
Richie is put in an awkward situation when he is set up with a girl much taller than he is. Meanwhile, Howard is frustrated by Marion's ineptness at playing bridge.
#19 - Fonzie's Funeral (1) 7.67
Season 6 - Episode 22
Fonzie discovers thousands of dollars in counterfeit money hidden in a casket inside of a hearse he is working on. When he doesn't return from the funeral parlor after bringing back the hearse, the guys fear the worst.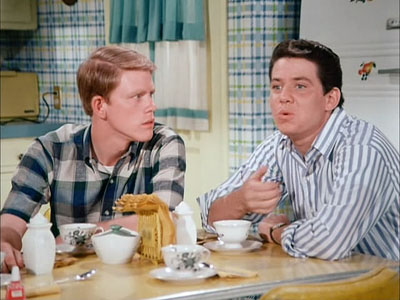 #20 - Open House 7.67
Season 2 - Episode 12
Richie and Potsie plan to host a poker night at the Cunningham house as Howard and Marion will be out of town. However, their plans change when three young women stop by after their car breaks down, and Potsie invites them to stay the night.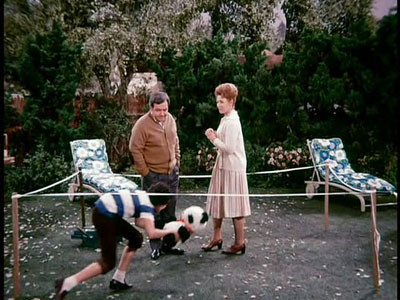 #21 - Be the First on Your Block 7.65
Season 1 - Episode 16
Howard wants to buy a bomb shelter to protect his family. Problems quickly arise when several of Richie's friends ask if they can use it.
#22 - Fearless Malph 7.63
Season 6 - Episode 8
Richie is writing a story about fears and phobias, and he finds out that Ralph is afraid of nearly everything. While Richie, Potsie, and Ralph are visiting a professor whose specialty is fear, lab mice become agitated. The professor concludes that it is a sign that a tornado is coming.
#23 - They Shoot Fonzies, Don't They? 7.60
Season 4 - Episode 8
Joanie enlists Fonzie to be her partner for a marathon dance at Arnold's. She desperately wants to outlast cheerleading captain Jill Higgins who had cut Joanie from the squad earlier. Prior to the dance, however, Fonzie's motorcycle breaks down, and he is forced to push it for 12 miles.
#24 - The Cunningham Caper 7.60
Season 2 - Episode 14
An ill Richie is home alone after the rest of the family go to see Cinerama. When he goes to see what is causing noises downstairs, he finds a burglar.
#25 - Fonzie Loves Pinky (1) 7.58
Season 4 - Episode 1
Fonzie reunites with an old flame, Pinky Tuscadero, who is in town to perform motorcycle stunts at a demolition derby.