The Best Episodes of Diners, Drive-ins and Dives
#1 - Totally Fried
Season 2 - Episode 1
Falafel's Drive-In (San Jose, CA), Ramona Cafe (Ramona, CA), Silk City Diner (Philadelphia, PA) Guy stops into a Philly diner for some fried spring rolls, a diner in Cali for deep-fried falafel, and a small town diner for fried chicken cordon bleu.
Directors:
#2 - Signature Twists
Season 11 - Episode 12
This trip, Guy's rolling out for comfort food done right. In Indianapolis, a dog-friendly neighborhood joint doing their Barking Lard BLT with homemade bacon. In New Orleans, a place from the 1890s where they're still reinventing classics like jambalaya and green bean casserole. And in Winters, California, a little spot off the beaten path doing wood fired pizza.
Directors:
#3 - Soakin' Up Maui
Season 25 - Episode 1
This trip, Guy Fieri's cruisin' the islands with his buddy, Chef Reno Henriques, on a culinary tour of Maui, Hawaii. First, a real-deal taste of regional favorites like loco moco and kalbi ribs. Then, a legit barbecue joint smoking up St. Louis-style ribs and the bomb burnt ends, and a food truck dishin' out the freshest catch served raw, baked and even deep-fried.
Directors:
#4 - Upper Crust
Season 7 - Episode 1
Bunk Sandwiches (Portland, OR), Sonny's Famous Steak Hogies (Hollywood, FL), The Depot Diner (Chicago, IL) Guy Fieri rolls in for serious sandwiches; In Hollywood, FL, a hoagie shop with home made rolls; Portland, OR, a cafe serving house-cured pork belly; And in Chicago, a diner doing Sunday pot roast on a bun.
Directors:
#5 - Brain Freeze
Season 4 - Episode 1
Doumar's (Norfolk, VA), Auny Lena's Creamery (Now Closed), The Creole Creamery (New Orleans, LA) Guy Fieri rolls out for ice cream, Triple D style: With visits to a Norfolk, Va. drive-in for an original waffle cone, an Arizona creamery making Italian gelato in all flavors and a New Orleans favorite doing huge sundaes with 400 flavors.
Directors:
#6 - Surf 'n Turf
Season 9 - Episode 1
Gold 'N Silver Inn (Reno, NV), North End Caffe (Manhattan Beach, CA), Singleton's Seafood Shack (Atlantic Beach, FL) Guy checks out his own take on surf and turf.In Mayport, Florida, a 40-year-old fish shack getting shrimp fresh off the boat every day, and serving it nine different ways. In Manhattan Beach, California, a surf town cafe where the homemade menu goes from Italian pasta to Kahlua Pig Egg Rolls. And in Reno, Nevada, a 54-year-old western diner doing beef-burgers by the pound.
Directors:
#7 - From Pork to Tofu
Season 11 - Episode 1
Memphis Taproom (Philadelphia, PA), The Golden Bear (Sacramento, CA), Tortilla Cafe (Washington DC) This trip Guy's pulling in for pork and a little tofu, too. In Sacramento, California, a pub where the chef's doing a pork sausage pizza his way - hold the cheese, hold the sauce. In Washington, DC, a Mexican-Salvadoran joint where the big seller is a Salvadoran papusa - scratch made dough stuffed with shredded pork and cheese. And in Philadelphia, a local favorite serving a vegan club sandwich with deep fried tofu and smoked coconut.
Directors:
#8 - What's For Breakfast
Season 5 - Episode 1
Harry's Roadhouse (Santa Fe, NM), Dor-Stop Restaurant (Pittsburgh, PA), Surrey's Cafe (New Orleans, LA) Guy Fieri checks out breakfast from east to southwest: In New Orleans, a juice bar makin' bagels from scratch; a New Mexico roadhouse mixin' Philly food with Southwestern favorites; and in Pittsburg, a family joint scratch-making pancakes with everything from peanut butter to pumpkin.
Directors:
#9 -
Season 22 - Episode 0
Directors:
#10 - Triple D All Stars
Season 14 - Episode 1
This trip, Guy's hittin' the road with a couple of his A-list friends. In Georgetown, Texas, Guy hooks up with Matthew McConaughey at a massive diner serving up righteous ham and waffles. And in Minneapolis, Guy's trying all sorts of new things at a neighborhood pizza joint that's a favorite of his fellow foodie Andrew Zimmern.
Directors:
#11 - Bar Food and Bon Bons
Season 12 - Episode 1
This trip Guy's rolling coast to coast for flavor. In Astoria, New York, a dive bar cranking out slow roasted lamb ribs with fresh tzatziki. In Geyserville, California, a third-generation Italian restaurant serving up the family meatball recipe in a slider. And in Indianapolis, a catering kitchen turned restaurant where something called tomato bon bons have become a local favorite.
Directors:
#12 - Seafood & Sammies
Season 13 - Episode 1
This trip, Guy's going for surf and turf between the slices. In Vancouver, British Columbia, a food truck shuckin' and frying oysters for a po boy and topping crispy fries with a mean seafood chowder. In Detroit, Michigan, the 18,000 foot joint giving savory brisket a beer batter bath and a place on a fresh panini. And in Chicago, Illinois, the Italian market scratch making meats for the meatball hero and the crispy porchetta sandwich
Directors:
#13 - Unconventional Comforts
Season 15 - Episode 1
This trip, Guy's food radar is all over the map. On the east coast of Oahu, Hawaii, the general store crankin' out traditional Hawaiian dishes like lau lau stew. In Chicago, the real deal Italian family serving up totally scratch-made Sicilian sandwiches like the schiacciata. And in Hernando, Miss., the underground cafe going bananas with their twist on French toast.
Directors:
#14 - Roadtrippin' in Beantown
Season 21 - Episode 1
This trip, Guy's parking the Camaro in Beantown for an all-Boston smorgasbord. Just outside the city in Allston, two restaurants sharing one kitchen cooking up totally different menus; Mexican street food on one side and gastropub standouts, like killer gravlax and dynamite chicken sausage, on the other. Then in South Boston, the authentic Polish restaurant dishing out righteous pierogi and an old-country fried pork favorite.
Directors:
#15 - Guy's Hometown Tour
Season 19 - Episode 1
On this special, hourlong trip, Guy's taking us on a tour of Ferndale, Calif., which is not only his hometown, but one of many small towns in Humboldt County with righteous food and a whole lotta flair. There's the generations-old apple orchard with a special place in Guy's heart, to the local's watering hole where Guy first experienced work life in the kitchen; the old-school butcher and the artisan cheese maker. This is a super chef's hometown tour you won't wanna miss!
Directors:
#16 - Fish, Fries and Feet
Season 22 - Episode 1
This trip, Guy's tackling everything from land to sea. In Des Moines, the funky fusion joint serving up unique burritos alongside off-the-chain bulgogi masa fries. Across town in the Beaverdale area of Des Moines, the Southern spot cooking up all the classics, from ribs and red beans and rice to catfish cakes and collards. And in Atlantic City, the husband-wife duo dishing out soul food standouts like turkey chops and pig feet.
Directors:
#17 - Burgers, Tacos and Dogs
Season 7 - Episode 2
Lankford Grocery (Houston, TX), Fab Hot Dogs (Reseda, CA), Cempazuchi (Milwaukee, WI) Guy Fieri samples fast food done right; In Houston, TX a joint in an old grocery store for wild burger toppings; In Milwaukee, a corner café putting a twist on classic; And in Reseda, CA, hot dogs deep fried, wrapped in bacon and even in burritos.
Directors:
#18 - Route 66
Season 2 - Episode 2
Emma Jean's Holland Burger Cafe (Victorville, CA), The Rock Cafe (Stroud, OK), Cafe on the Route (Baxter Springs, KS) Hop in for a ride down historic Route 66. Enjoy some homemade biscuits, German spaetzle, and pecan-crusted catfish.
Directors:
#19 - California Cruisin'
Season 20 - Episode 1
This trip, Guy's cruisin' the west coast for a taste of California. In Culver City, Gene Simmons from Kiss makes a surprise visit to the neighborhood hangout dishing out real deal Hawaiian. Nearby in Garden Grove, the family-run Mexican joint serving up standout tamales and traditional beef chamorro. And up the coast in Monterey, the funky fish house grillin' up fresh-caught oysters and a full-flavored pasta-seafood medley.
Directors:
#20 - Homegrown and Homemade
Season 9 - Episode 2
Mulberry Cafe (Lackawanna, NY), Poke Stop at Mililani Mauka (Mililani, HI), The Farmer's Shed (Lexington, SC) Guy hits the road for some local flavor. In Lexington, South Carolina, a farmer's market/restaurant, where the collard greens are right off the farm. In Lackawanna, New York, an Italian joint serving scratch made lasagna loaded with stuffed peppers. And in Honolulu, Hawaii, a local favorite where the chef is putting a fresh spin on a Hawaiian fish classic called poke.
Directors:
#21 - Asia, Africa and India
Season 25 - Episode 2
This trip, Guy Fieri's going international with flavors from Asia, Africa and India. In Los Angeles, a funky fast Filipino joint spicin' up house-made hot dogs and piling pork adobo onto grilled cheese. In San Francisco, a Triple-G competitor adding Ethiopian flair to chicken jambalaya and fresh catch. And in Minneapolis, a lights-out Indian joint killin' it with classics like tikka masala and naan.
Directors:
#22 - Their Own Way
Season 6 - Episode 2
Blue Water Seafood (San Diego, CA), Brandy's Restaurant & Bakery (Flagstaff, AZ), Kuma's Corner (Chicago, IL) Guy Fieri meets cooks doing things their own way: In Flagstaff, AZ, a family place where the beef stew is made from tenderloin; In San Diego, a restaurant in a fish market run by two brothers, and in Chicago, a dive bar serving nearly two dozen different burgers named for rock bands.
Directors: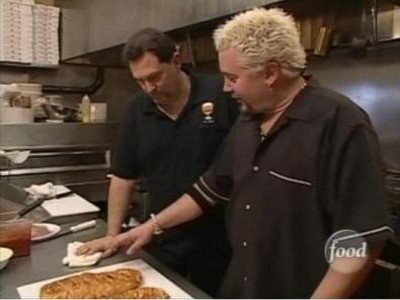 #23 - That's Italian
Season 1 - Episode 2
Four Kegs Sports Pub (Las Vegas, NV), Hullabaloo Diner (Wellborn, TX), Pizza Palace (Knoxville, TN) This week Guy sets out to find great Italian food in places that you would never expect: Pasta and meat sauce at a Tennessee drive-in; Italian sausage and peppers in a diner in Texas; and a Las Vegas bar that serves the best Stromboli that Guy has ever had.
Directors:
#24 - Like Mamma Made
Season 3 - Episode 2
Sweetie Pie's (St. Louis, MO), Smokey Valley Truck Stop (Olive Hill, KY), Roberto's Mexican Food (Phoenix, AZ) Guy Fieri goes where the recipes really do come from mama: A St. Louis landmark where a former backup singer is dishing up real deal soul food; the Phoenix gas station where everything's Mexican authentic and the Kentucky truck stop with real country cookin'.
Directors: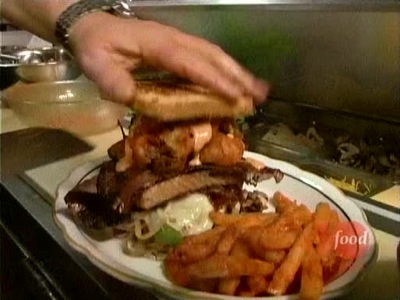 #25 - Tried and True
Season 10 - Episode 2
Bob's Clam Hut (Kittery, ME), Mama Cozza's (Anaheim, CA), Tune Inn Restaurant & Bar (Washington DC) This trip Guy's pulling up for favorites the way they've always been done. In Kittery, Maine, a roadside shack serving the same fried clam recipe since 1956. In Washington, DC, a self-proclaimed dive that's been a go to burger spot on Capitol Hill since '47. And in Anaheim, California, a 45-year-old, third-generation, Italian joint doing sauces, pizzas and parmesans ... all from scratch.
Directors: