Hardcore Pawn
#1 -
Season 1 - Episode 0
#2 - Monster Deals 8.25
Season 7 - Episode 3
After Seth rescinded his invasive search policies for American Jewelry's employees, the ladies that worked the redeem windows return to work. But Seth has a new problem -- profits are down, and he's looking for creative ways to get new customers into the store. Ashley has an idea that she tried out -- an inflatable gorilla with a banner reading "monster deals". However, Seth has a better promotional plan, which would explain why a couple of customers told Ashley to quit.
#3 - Rich Returns 8.12
Season 6 - Episode 1
Season 6 begins with the return of the banished Rich, who hopes to regain Les' trust. When Rich eyeballs a load of stolen goods, he sees a way back into the boss's good graces. Meanwhile, Seth continues his efforts to take over the store, all under Ashley's watchful and disapproving eye.
#4 - Along Came a Spider 8.06
Season 8 - Episode 21
Ashley pranks Seth to teach him a lesson about locking his door, but Seth to even the score with a prank of his own. Les takes the plunge on a prison toilet, and Bobby J tries to make a deal with an embarrassing granddad and his ventriloquist dummy.
#5 - The Trouble with Michael 8.06
Season 7 - Episode 15
Michael is a regular customer at American Jewelry, but the feeling is not mutual among the clerks, as everything he brought in was all but worthless. Ashley doesn't want him back anymore, and Bobby J especially has a hatred toward Michael, but Seth says otherwise, in the event that Michael actually had something of value. However, when Michael offered a car without a title, Seth felt that he was at the end of his rope -- until Michael offered a gold chain that might bring in thousands of dollars. Also: speed painter Dave Santia tries to paint Les's portrait in ten minutes in hopes to get money.
#6 - Les Sells Out 8.06
Season 7 - Episode 9
With over 40,000 wristbands to sell and stored in 126 boxes, Les decides to sell the watchbands one by one, starting at $2 apiece. While Seth and Ashley remained skeptical of the whole idea, they didn't realise that in the end, all it takes is a little showmanship -- and some friends in the business.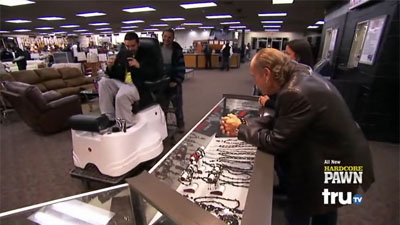 #7 - Kill Em All
Season 5 - Episode 25
Les issues an ultimatum to the staff after uncovering some damaged merchandise.
#8 - All American Jewelry and Loan
Season 7 - Episode 21
A Christian Reverend, who makes his belief of John 3:16 known on his shirts, sells Seth a rare baseball signed by Babe Ruth, complete with authentication papers. Knowing that the ball would be worth tens of thousands of dollars if genuine, Seth takes a risk and gives the Reverend a $1000 deposit, while he has it sent out to be verified. But when it came back as counterfeit, Seth and Les fear that they won't get their $1000 back.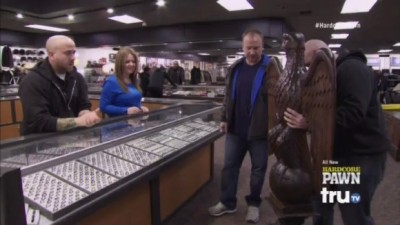 #9 - The Hot Rod
Season 8 - Episode 23
Les and Seth visit a customer with a garage full of amazing vintage cars. Against his kids' wishes, Les offers big money for one of the guy's golden oldies...but can he close the deal? A male stripper shakes his money-maker before giving Byron the slip. Karen stumbles while making a big deal and Ashley forces a customer to kiss a Gremlin for money.
#10 - Inside Job
Season 8 - Episode 22
When the Golds uncover a series of bogus pawns, their investigation leads to a trusted employee and a stunning confession. A dramatic confrontation ends with the employee escorted out in handcuffs. Karen handles a tough guy with bad manners, and Seth tries making a deal for a Big Bird with a little kid.
#11 - Junkyard Intervention
Season 6 - Episode 22
A warehouse overflowing with broken electronics prompts Seth to go behind his father's back and order a dumpster in which to deposit the junk; and Ashley has a run-in with a woman whose pawn experience isn't to her liking. Meanwhile, a man claiming to be a lawyer tries to unload some jewels that may be fake.
#12 - Shakedown!
Season 8 - Episode 20
A shakedown artist tries to make Les an offer he can't refuse, but the Golds fight back and turn the tables on the hustler. Seth and Karen feel the power of the force when a customer brings in a pair of high-end light sabers, and Ashley has her hands full with an angry customer who claims Ashley injured her.
#13 - Cousin Competition
Season 8 - Episode 16
When Les takes his niece Karen under his wing to help out at the jewelry counter, Ashley doesn't hide her jealousy well. But will her sky high bidding on a one of a kind sculpture win back her Dad's good favor? Or drive him mad? Plus, a smoking granny gets hotheaded over a fake purse with Les, while Seth and Bobby J contemplate a road trip when a retro VW bus rolls onto the lot.
#14 - The Outsider
Season 7 - Episode 25
Seth brings in a consultant in a desperate bid to increase their retail business, in the wake of the gold price crash.
#15 - Seth Snaps
Season 7 - Episode 19
Since Ashley resumed being a manager, she felt that she had every right to order Seth around, as he was still on probation. However, Ashley's regimental behavior was concerning Les, thinking that she's being a little too rough on Seth -- this included her criticizing Seth for buying things that she felt would all but take up space. But things come to a head when Ashley buys a 1950s Eljer toilet for $10, leading to Seth to buy it for $20, just so he can destroy it with a sledgehammer, before abruptly leaving the store angry.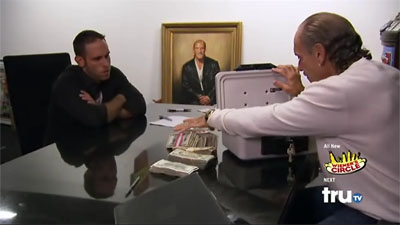 #16 - Family Traitor!
Season 5 - Episode 16
Seth makes a major blunder that could affect the store's financial situation, and Ashley dimes him out to Les.
#17 - Pay to Play
Season 6 - Episode 15
Questions arise about the authenticity of a rare guitar, necessitating a gut decision from Seth and Les; Ashley and a customer go toe-to-toe with weapons; and a famous wrestler makes an interesting proposition.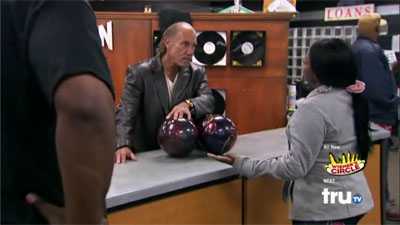 #18 - Last Man Standing
Season 5 - Episode 15
In order to prove that he can run American Jewelry, Seth takes over Les's supervision duties, while Les watches from the sidelines; however, Ashley fears that he's wearing himself too thin. Her suspicions were proven right when a man sells Seth a "new" carpet cleaner without further inspection, but a clerk later informed Seth that it was actually used and repackaged. Furthermore, on the next day, the store is short on available cash, as Seth failed to get money the day before; worse off, it's a banking holiday, and Seth's plans to have someone get more cash won't work. Also: a man tries to sell designer eyeglasses, but Les informs him he paid too much. A woman complains to Ashley that someone stolen her identity and pawned her stuff, but Ashley informed her that she's not in the system. A widowed woman sells her hospital skeleton, which Les thinks would be cool to have - if the price is right. A woman tries to sell her bowling balls, but her backtalk made them worthless to Les. A couple sells a geiger counter, but they can't agree between themselves on how much to sell it for.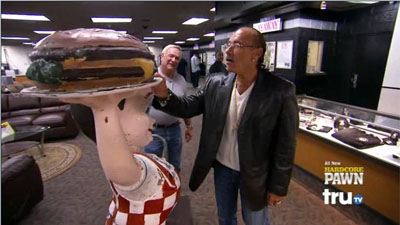 #19 - Stolen Gold?
Season 5 - Episode 3
After purchasing the new store, Les discovers a bags of jewels in an old employee's desk. But all that glitters ain't gold when he shows up to demand his goods back.
#20 - Ashley's Bad Day
Season 6 - Episode 19
Ashley's sassy attitude is costing the store business, so Les and Seth try to figure out what's bugging her; and a serial-killer groupie brings in some macabre items. Later, Rich gets to demonstrate his drum skills when a customer brings in a set.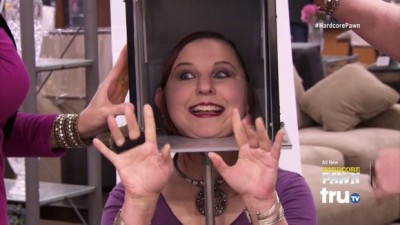 #21 - Million Dollar Deal: Part 2
Season 8 - Episode 27
The Golds' investigation into the million dollar art deal takes more twists and turns, but eventually, Les shakes hands on the single biggest purchase in store history. Then, a shocking phone call reveals the art dealers may be fraudsters and the mega-deal is in jeopardy.
#22 - Desperate Pawn
Season 2 - Episode 4
Seth takes a beating when a negotiation turns into a kung fu fiasco. Then, Ashley scrambles to find a customer's missing guitar. Plus, the Golds must stand together as they face off against a mob of desperate customers, all in a day that's brought in more business than they typically see in two weeks.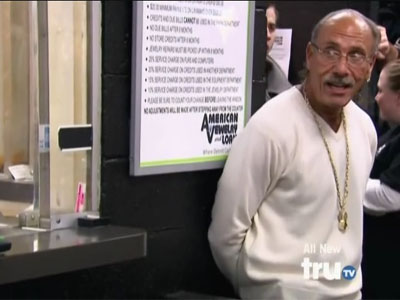 #23 - Sibling War
Season 3 - Episode 9
Seth and Ashley's bitter rivalry reaches a boiling point and turns the store upside down. Meanwhile, a vintage collector's item sparks a heated negotiation. And, employees revolt when a customer tries to sell a gold tooth, but Les sees dollar signs.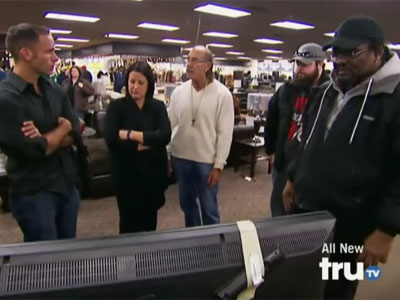 #24 - I Quit!
Season 3 - Episode 13
Les and Seth face down Ashley in a final power struggle that could change the face of American Jewelry & Loan forever.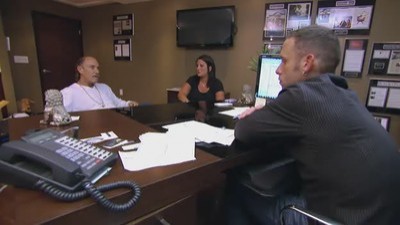 #25 - Drop the Bomb
Season 4 - Episode 12
Les' plan to celebrate the store's 30th anniversary hits a snag when he dumps the job onto Ashley and Seth with the intention of bringing them back together. In the midst of all the family drama, Les has a meltdown when a customer tries peddling him fake gold.